Styling a Summer table in the sunroom gives beautiful views into the woods and lake outside the windows. Bright cheery colors bring excitement for the season.
I'm so excited for another monthly Pinterest Challenge hosted by Cindy of County Road 407 to share a Summer table. Each month we each style a space in our own ways with inspiration from the same photo.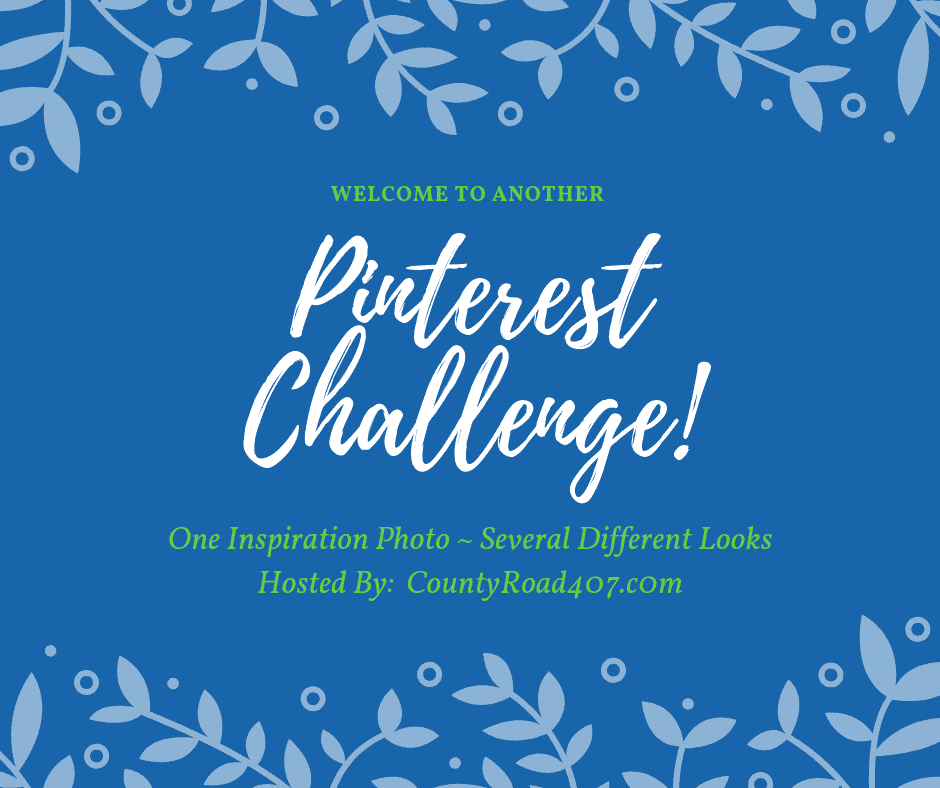 (Affiliate links are used for your convenience. Read my full disclosure here.)
Our inspiration photo this month was from Sanctuary Home Decor. Our challenge was to decorate a Summer table inspired by her photo.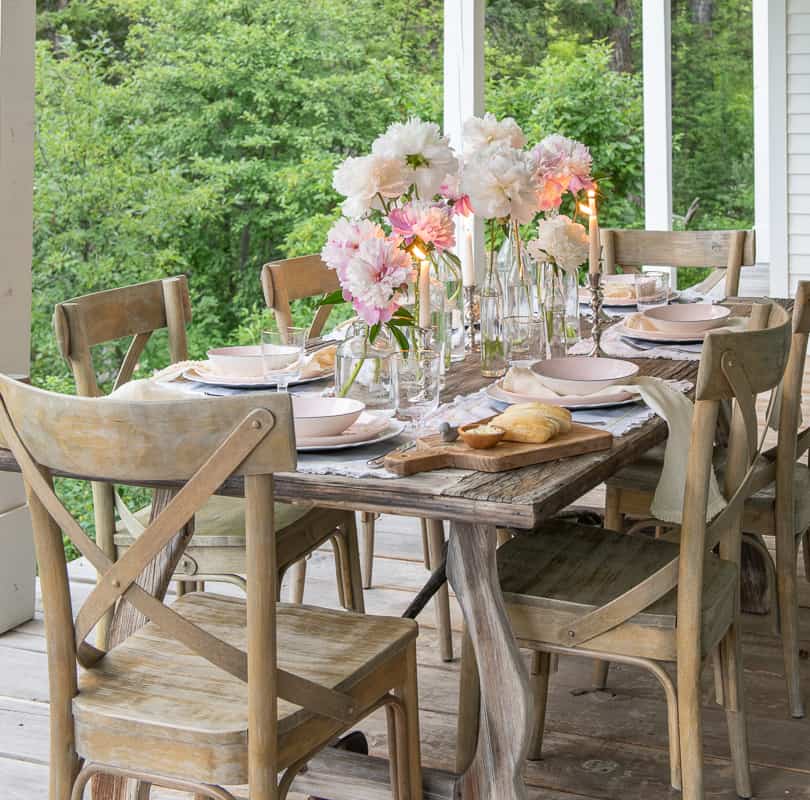 Here's what I took away from the photo and want to include in mine:
a table with a view of the outdoors
an abundance of vases
bold flowers
clear glassware
If you are coming over from my friend Paula's home, you've been visiting one of my favorites! Her blog Sweet Pea is full of inspiration and I loved her Summer Table!
I'd like to welcome my friends and followers as well as new readers to my blog White Arrows Home. The name of my blog was inspired by the nostalgic wooden white arrow signs that point your way all throughout this part of Wisconsin.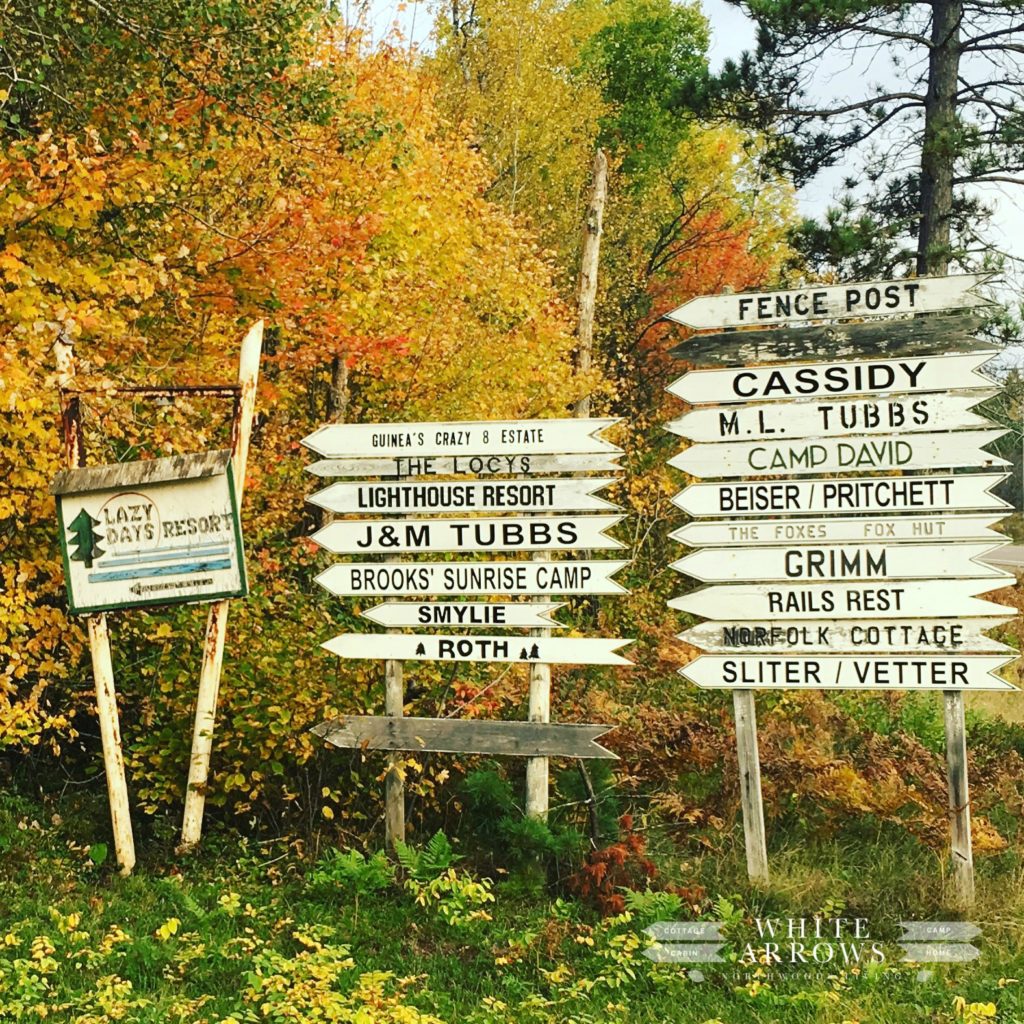 A Table with a View of the Outdoors
I love my little green legged table and red chairs! It works so well in my sunroom as a little table to sit and do work, do a puzzle, play a game or sit down to eat.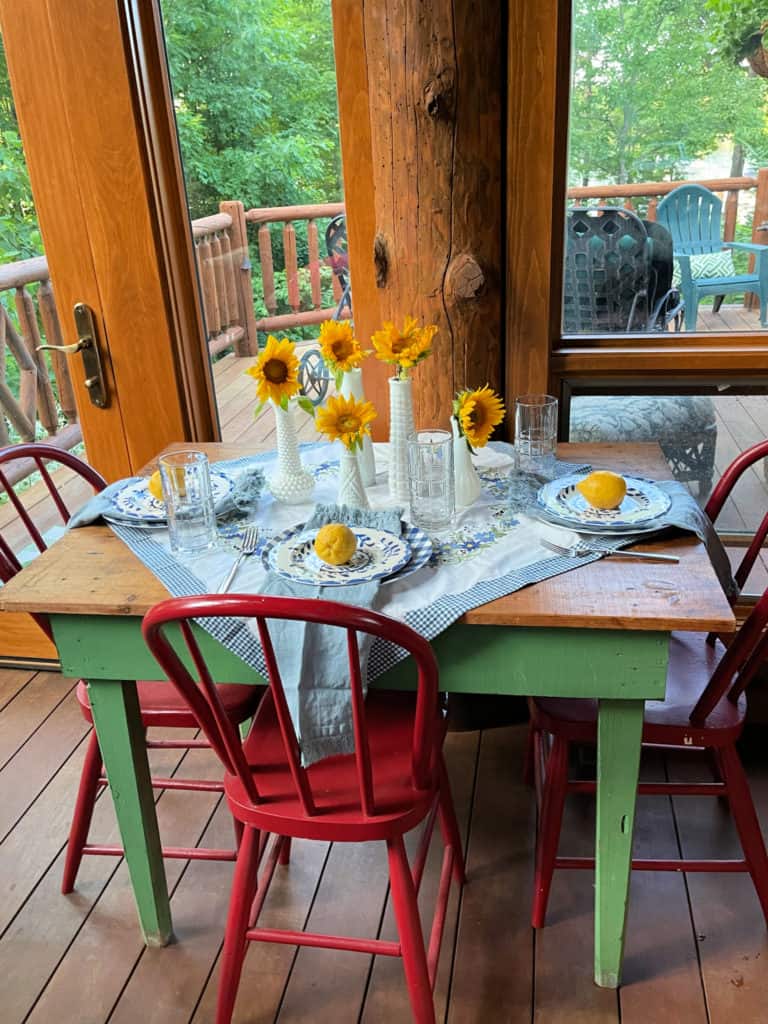 An Abundance of Vases
The inspiration photo used a bunch of glass vases. I decided to use some vases from my milk glass collection. Then I bought a bouquet of sunflowers at Trig's grocery and added one to each vase.
Milk glass are one of my favorite things to collect. They are easy pieces to find, there's a huge variety of styles and are typically very affordable, like the other items I shared in THIS POST.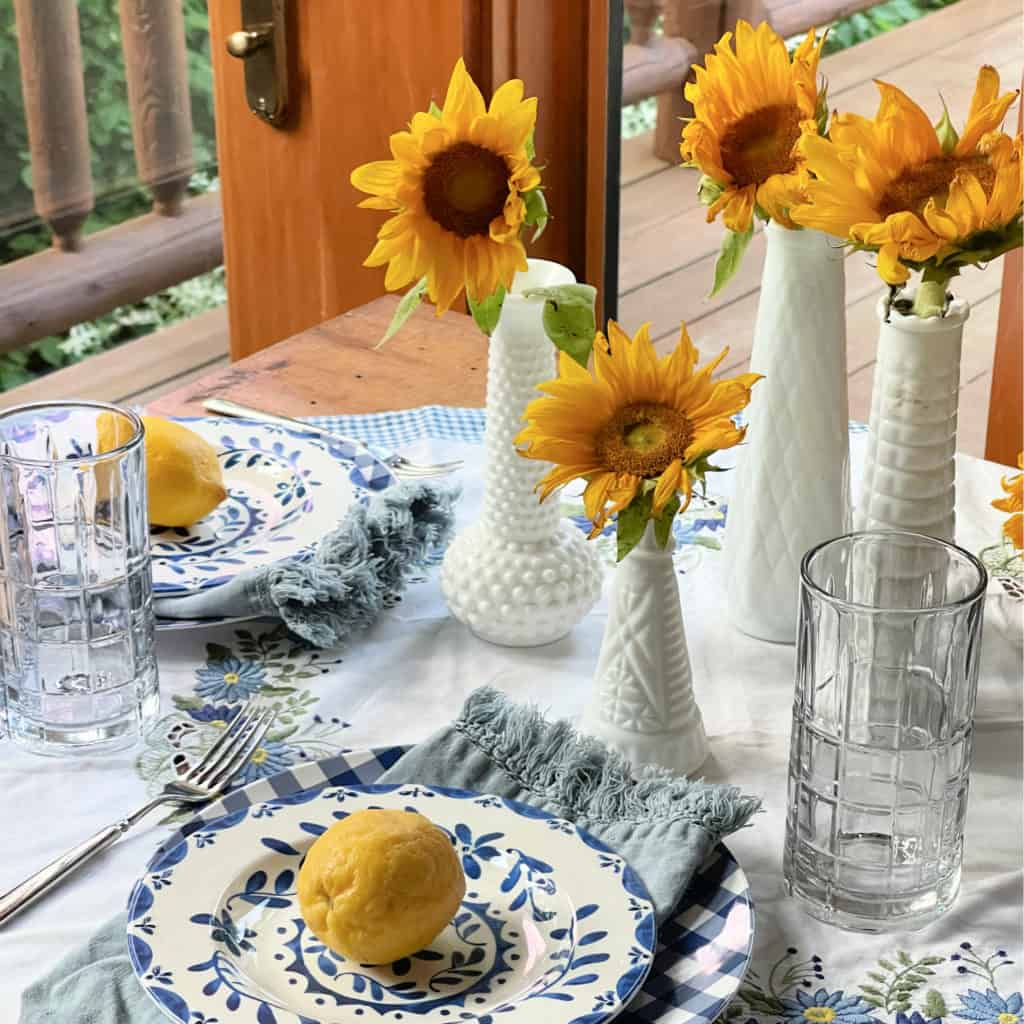 Bold Flowers
My table linen is what inspired the table for me, setting the colors I would be working with. I wanted something yellow. I decided these cheerful sunflowers were perfect!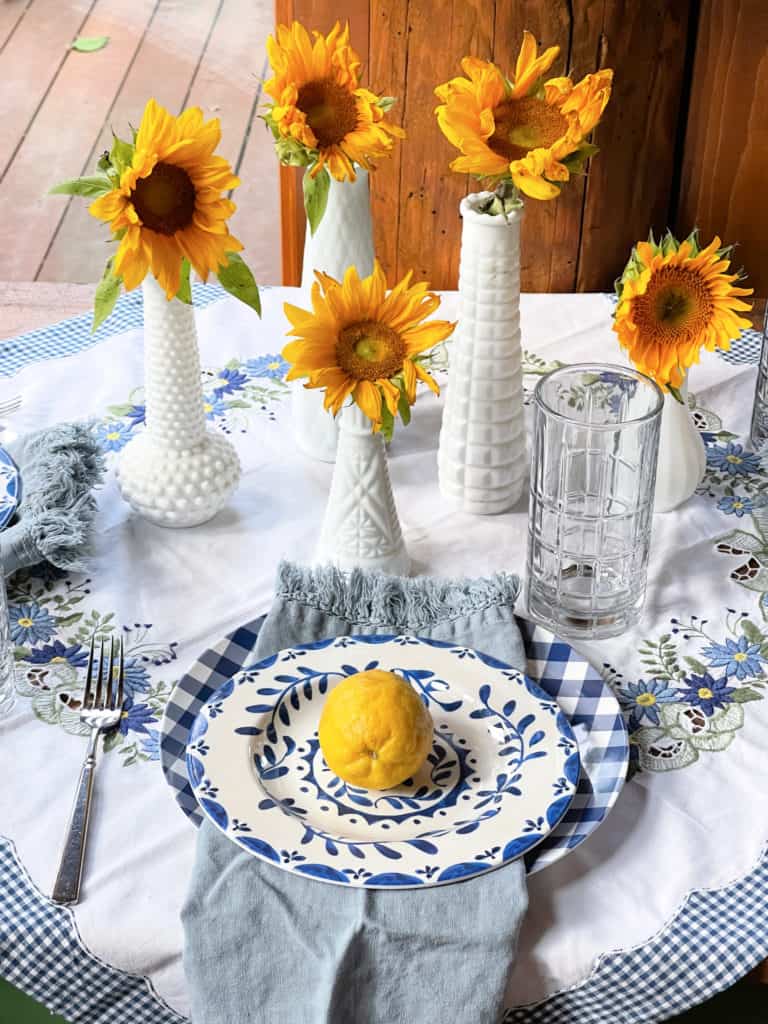 Clear Glassware
I've had these glasses now for a few years and I am in love with them! They are heavy and sturdy and classy. They look like they are plaid!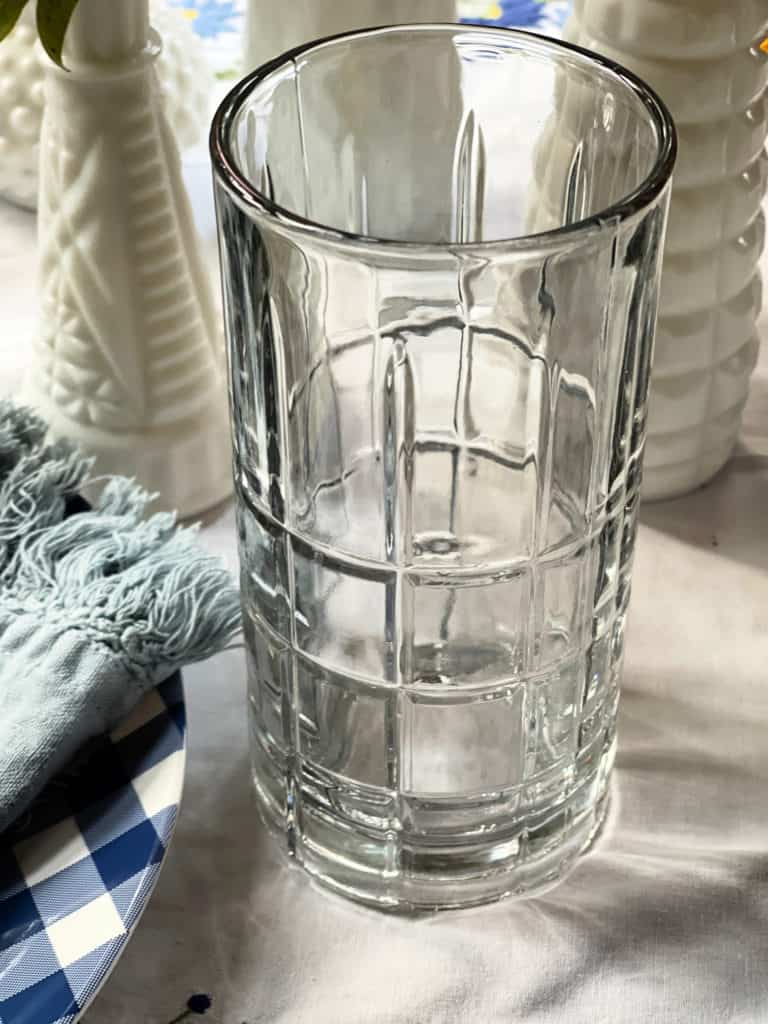 Other Elements
I used a vintage table cloth I got while #thriftingwiththegals onInstagram. Tune in each Wednesday afternoon to see what beautiful pieces we end up with from our adventures.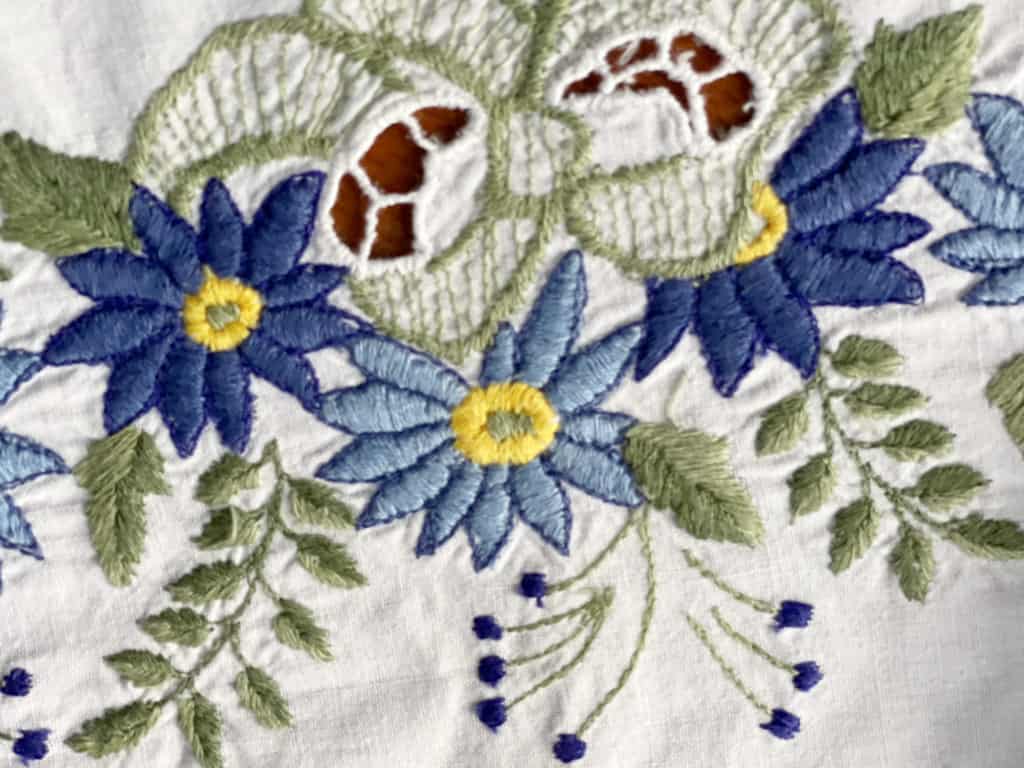 I also decided to keep with the color scheme by adding blue napkins and a pop of yellow the thelemon.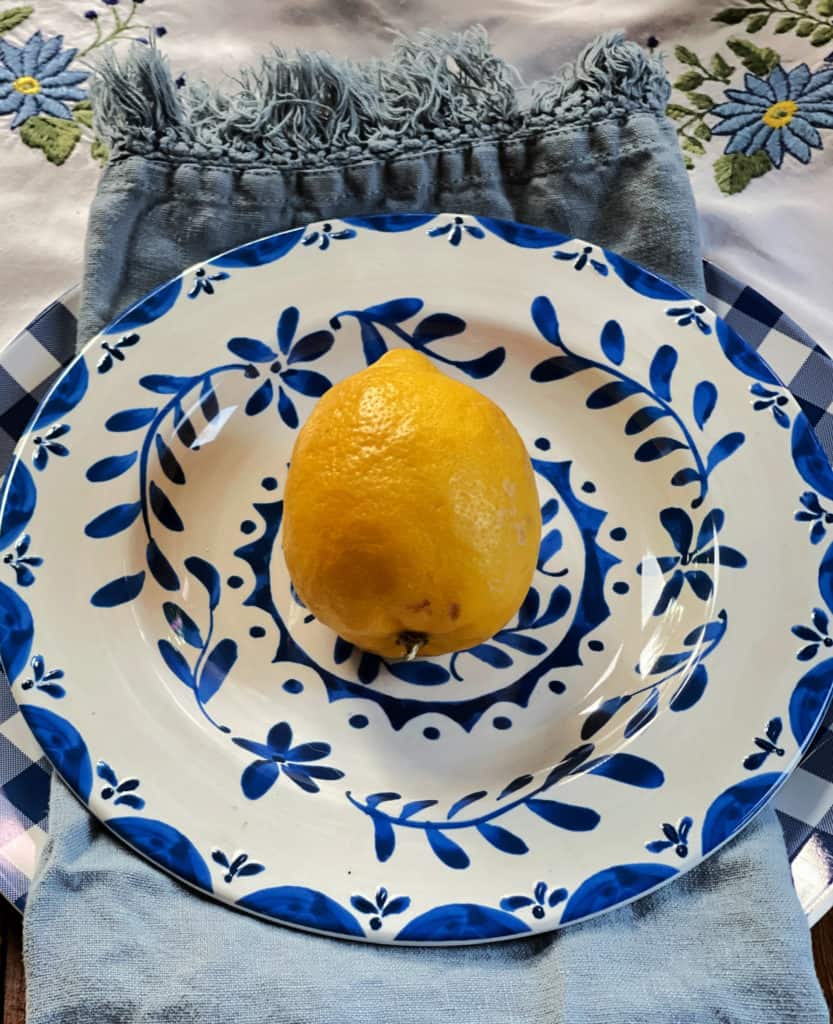 Thanks so much for visiting!
Next, on the tour you are headed to my fellow Midwesterner and friend Lora's blog in Minnesota at Create & Ponder.
Take the Tour
FOLLOW WHITE ARROWS HOME

Instagram ~ Facebook ~ Pinterest ~ Twitter ~ YouTube ~ Tik Tok