I designed a beautiful patio space inspired by Summer porch decor in blue and white.
I'm excited to be joining a talented group of blogging friends for a monthly Pinterest Challenge where we use a photo from Pinterest to inspire our own home spaces. Thank you so much to Cindy of County Road 407 for organizing all the fun! You can find a full list of participants at the bottom of this post. Enjoy seeing all the different ways one photo inspires 17 different spaces.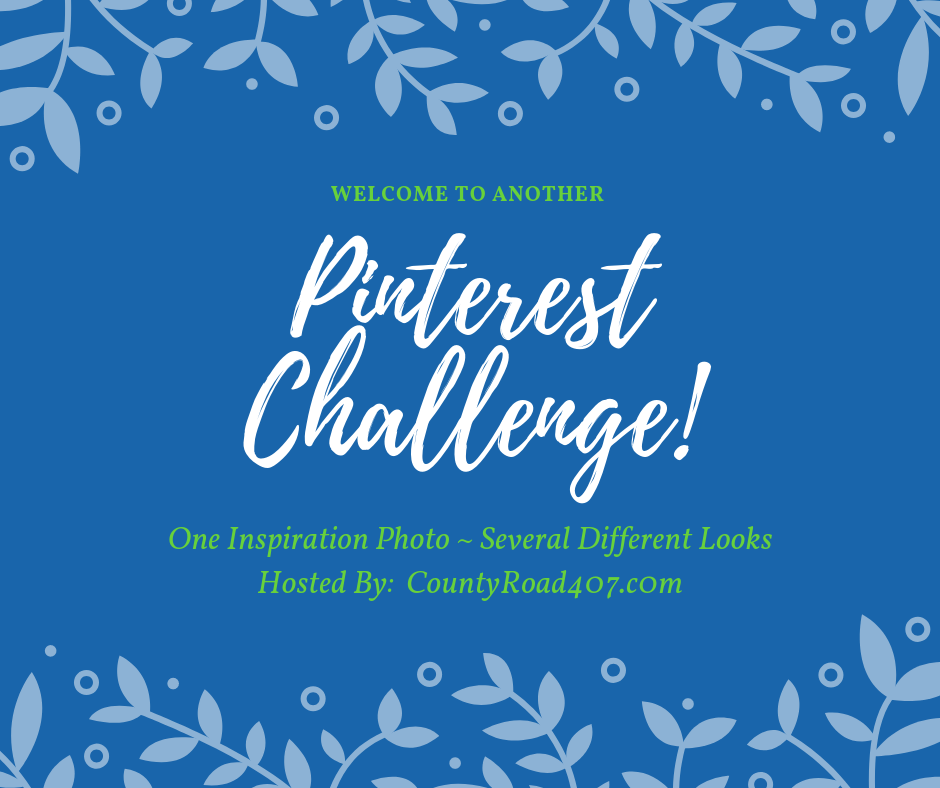 (Affiliate links are used for your convience. Read my full disclosure here.)
If you are coming over from Paula's beautiful blog, Virginia Sweet Pea welcome to Camp Paradise!
Camp Paradise is our lakeside log cabin home in The Northwoods of Wisconsin where my family lives surrounded by pine and birch forests on the shores of a gin clear lake. White Arrow Signs point your way throughout our community. The nostalgic signs inspired my blog name.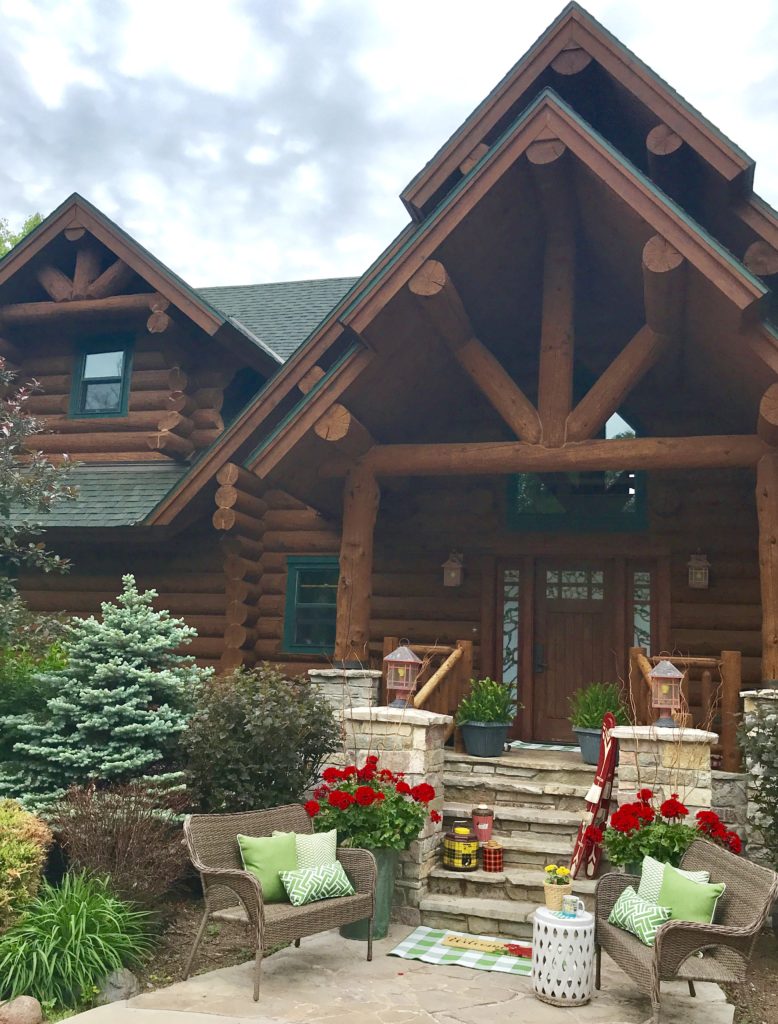 Our inspiration photo for this May Pinterest challenge was from Bria Hammel Interiors.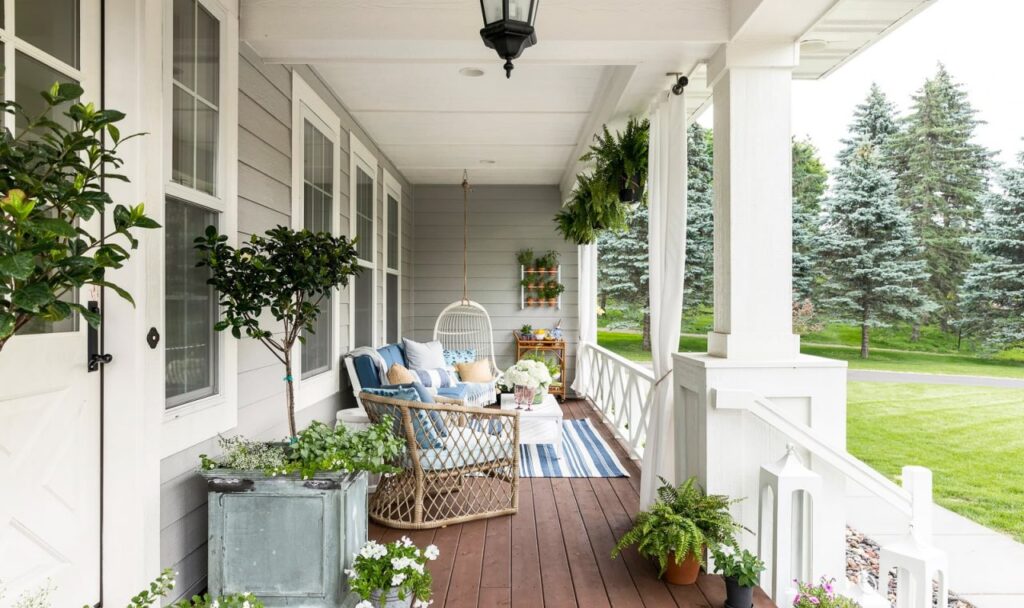 Traditionally I decorate with red geraniums and lots of greens, but last year I switched things up and used white geraniums and blues and whites with my greens. Here's a photo from last year's front porch.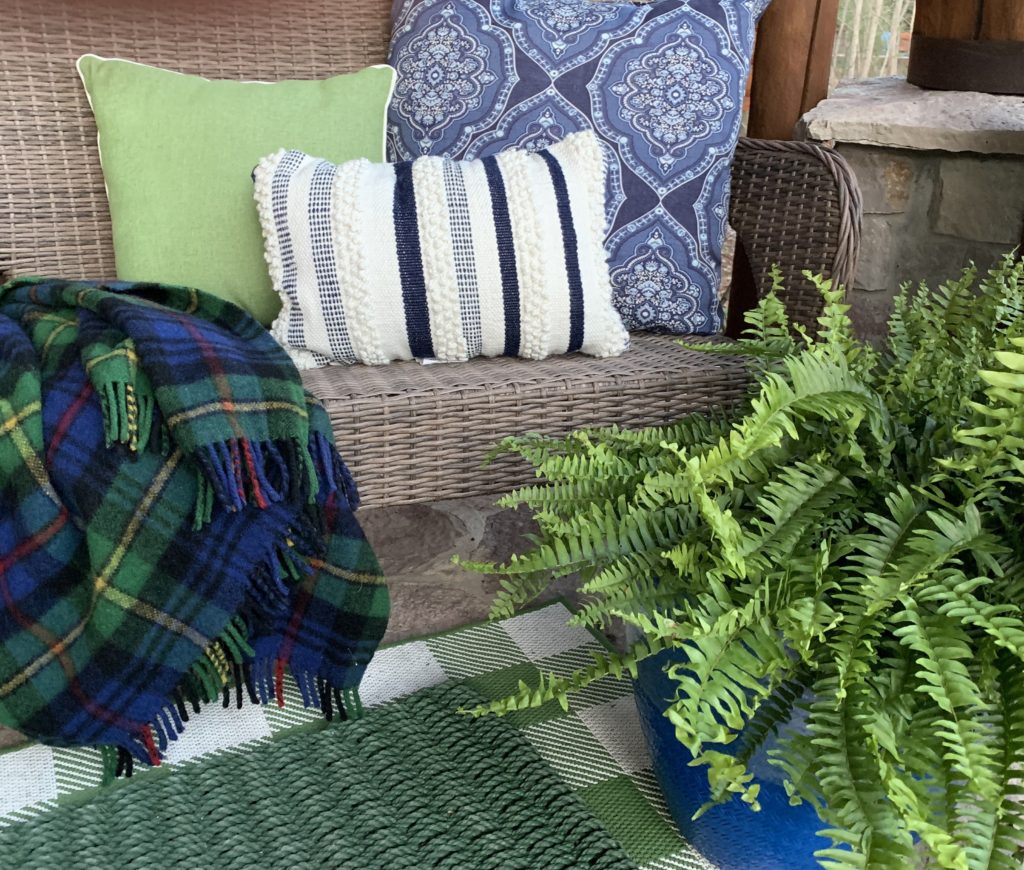 I was excited to be able to pull some of those blue and white accessories from last Summer out to help design this space.
If you look back at the inspiration photo, I knew I wanted to use:
a blue and white rug
blue pillows
a white coffee table
ferns, a potted tree and white flowers
hanging herbs
hydrangeas in a vase
pink drinkware
a bar of Pellagrino, champagne and lemons
Here's my porch after taking inspiration from Bria. The first thing I thought of when I saw her photo was to use our stone chimney as the backdrop, like the gray wall of her porch.

A Blue and White Rug
I love this rug I used last year outside of our guest house. After I put down the rug, I brought over our weathered wood glider that had been looking for a new home space.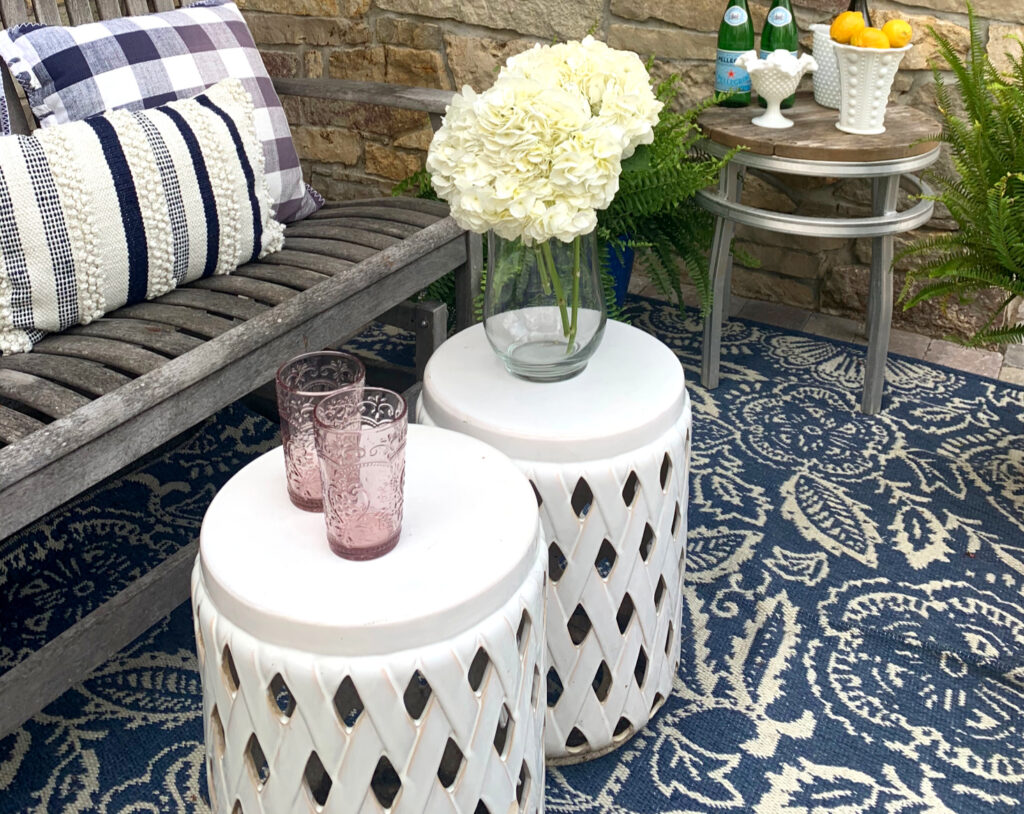 Blue Pillows
Two blue and white gingham pillows join some boho pillows to add different patterns and textures.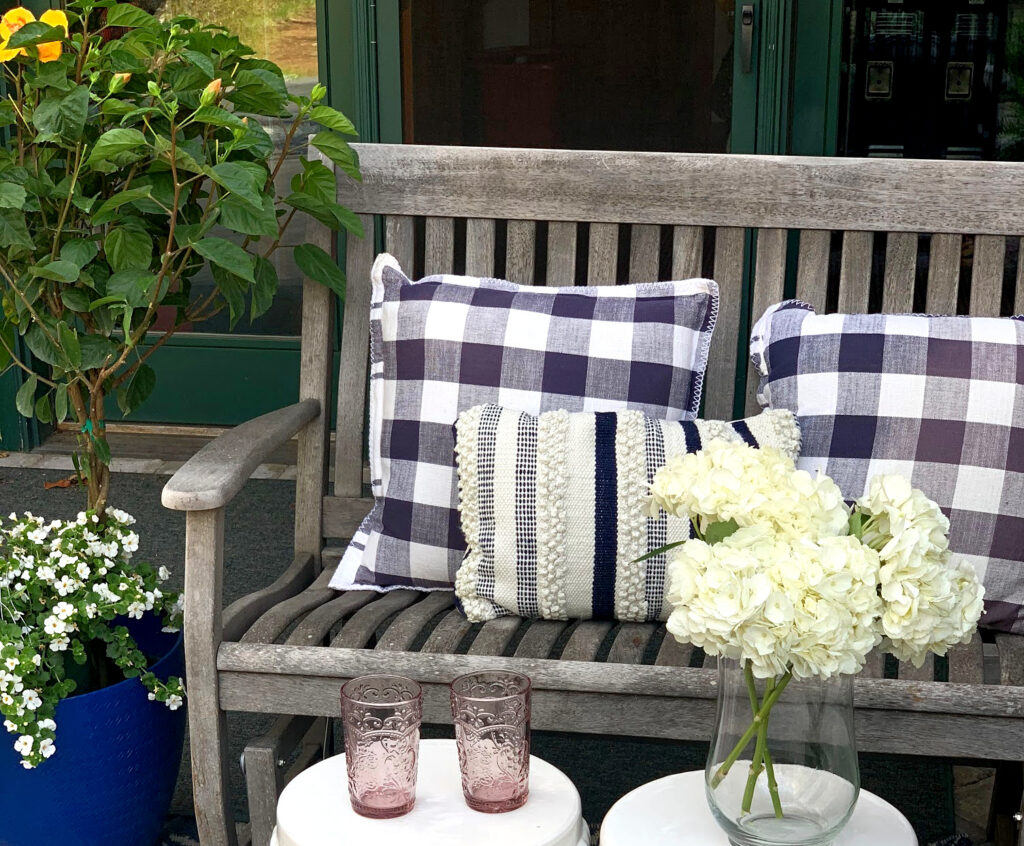 A White Coffee Table
I didn't have a white coffee table, but I did have two white garden stools so I pulled them together to make a table. I love having garden stools out on my patio, they are so versatile.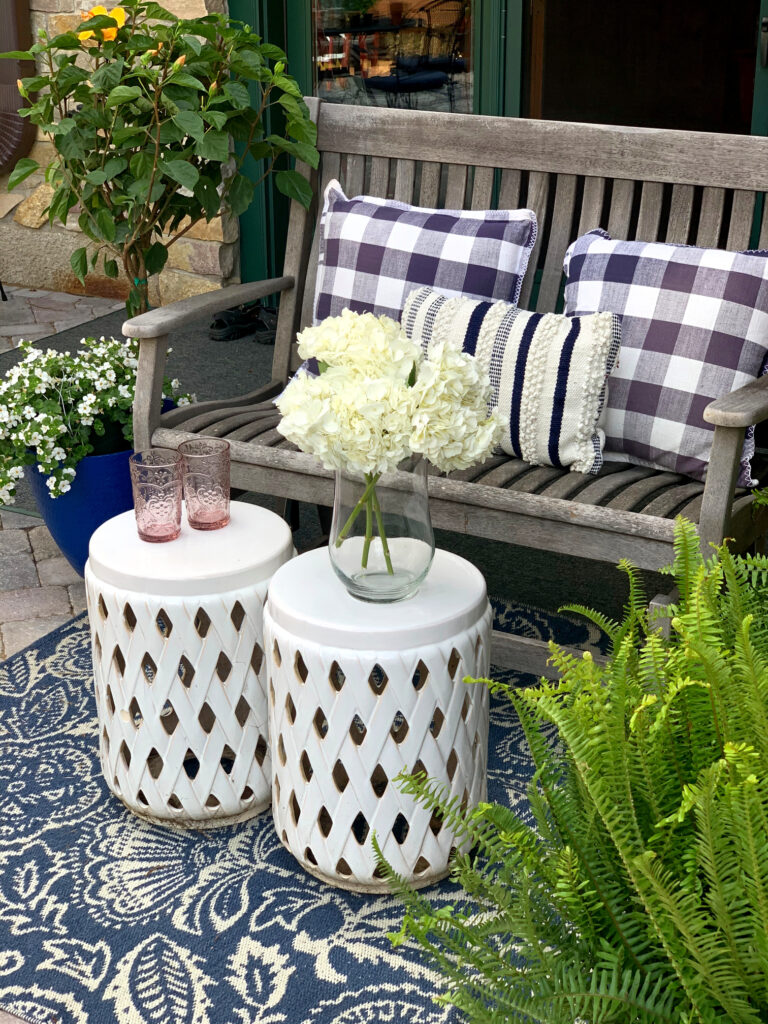 Ferns, a Potted Tree and White Flowers
I always decorate with ferns in the Summer so I gathered two of my pots and brought them into the space. I happened upon a beautiful hibiscus when I was walking into the grocery store ( I couldn't believe it!) and put it in my cart. You should have seen me shopping in the aisles pushing a tree! I took one of my hanging baskets of white flowers and planted it around the hibiscus in a blue pot.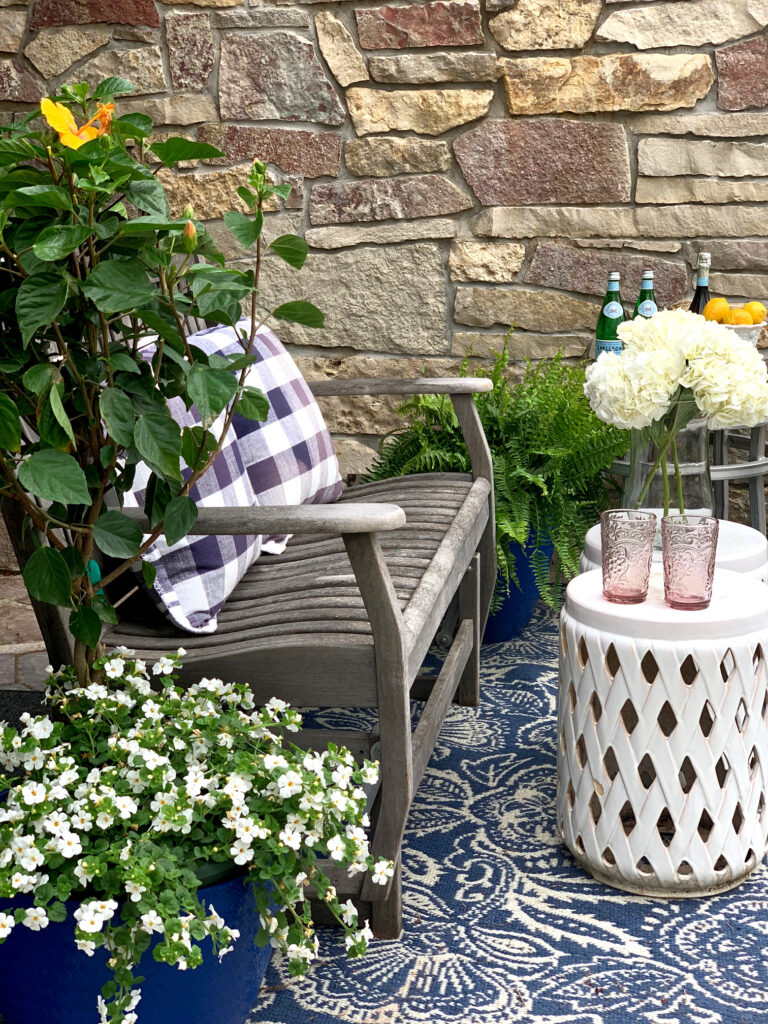 Hanging Herbs
This is what stumped me. I didn't want to hang anything from the stone chimney wall, but I had hooks from our vintage water ski. We hang towels from it in the Summer and camp blankets from it in the Fall.
I had purchased a few favorite herbs and some terra cotta pots. Using one of my vintage soda crates came to mind. I hung it with some rope and put the pots inside. It turned out so cute! See other ways I use my vintage soda crates in this post.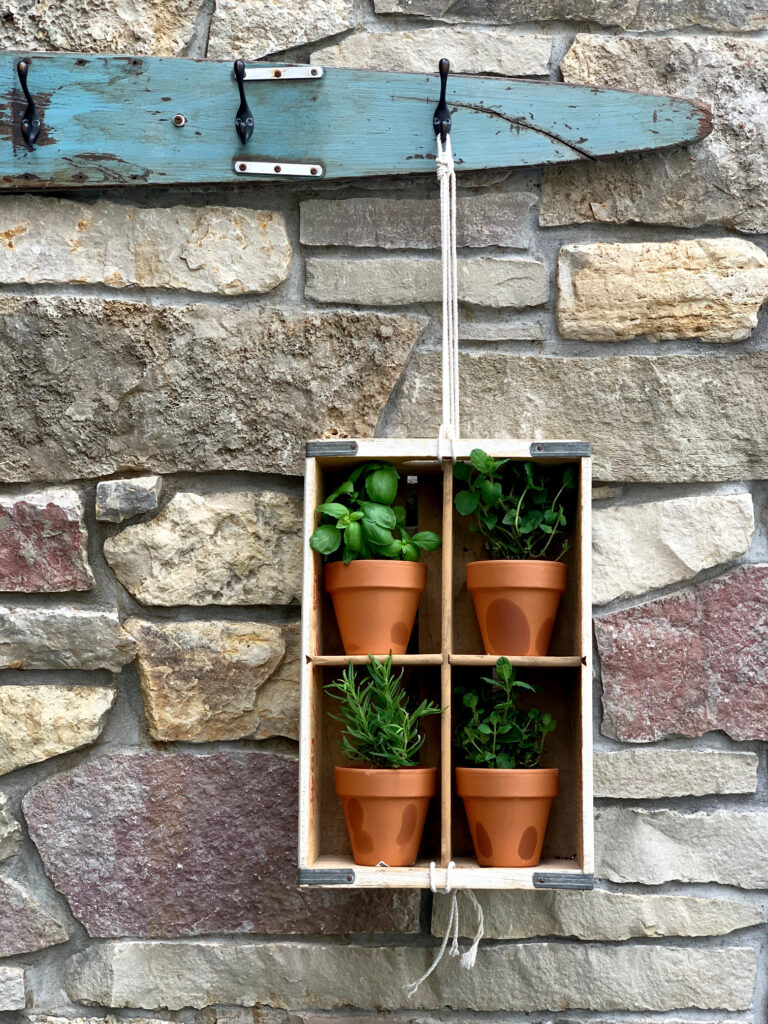 Hydrangeas in a Vase + Pink Drinkware
These pretty pink glasses look vintage, but they are from the Pioneer Woman line at Walmart. I picked up some big beautiful hydrangea blooms from the florist to put in a vase I had already at home.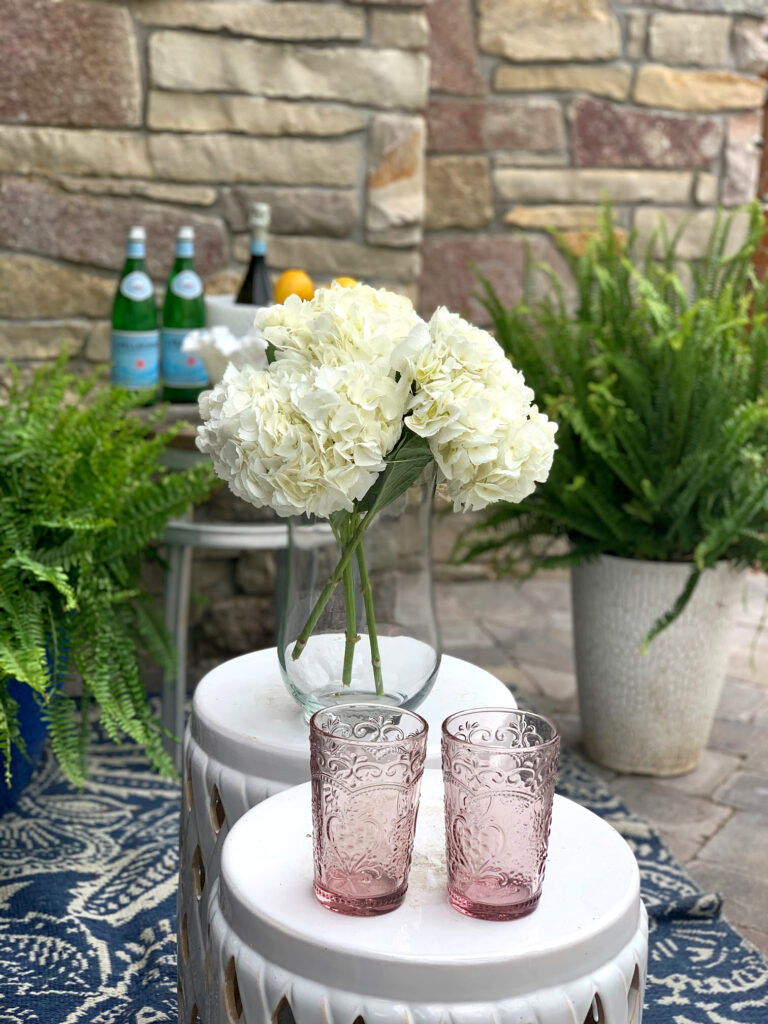 A Bar of Pellagino, Champagne and Lemons
Not having a bar cart to use, I brought over one of the tables from our dock to set up some cocktails inspired by the Pinterest photo. I loved that she used milk glass, since I'm a collector too. I filled one vase with lemons and used one as an ice bucket for the champagne. Now I just need a few friends to come over and enjoy this new space with me!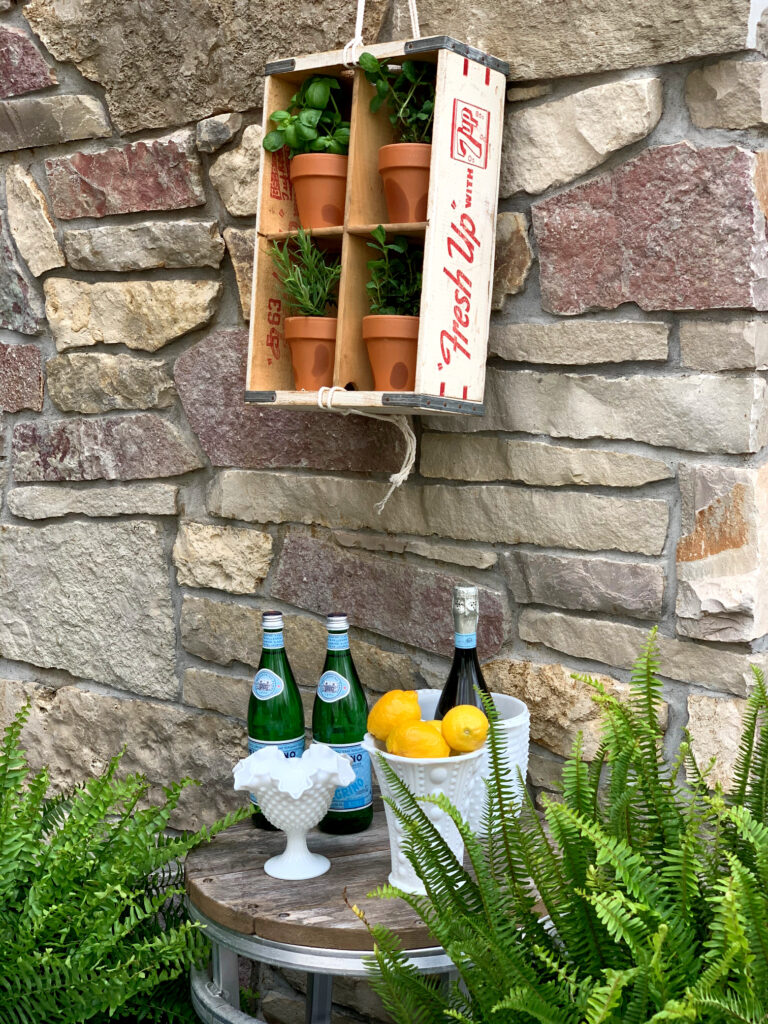 I like this space so much, and so did my family, we are keeping it here! It works so well on our patio near our grill/bar to sit and gather.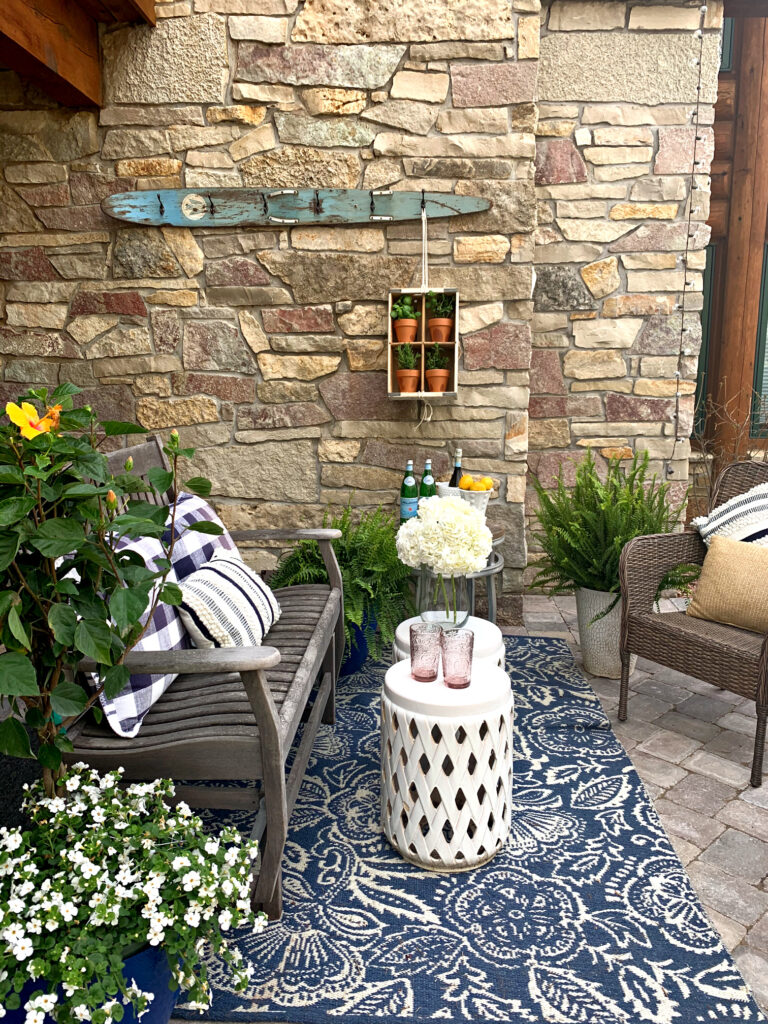 If you are following the tour in order, next you are heading to my friend Crissy's beautiful home and blog at First Day of Home. Be sure to check out the entire line up in the list below.
Get the Look


Take the Tour
County Road 407 – https://www.countyroad407.com/creating-a-summer-party-porch/
Stone Gable Blog – https://www.stonegableblog.com/?p=56753
A Stroll Thru Life – https://www.astrollthrulife.net/2020/05/may-pinterest-challenge-porch-patio.html
Our Southern Home – https://www.oursouthernhomesc.com/?p=28680
Decor to Adore – https://decortoadore.net/?p=36381&preview=true
Sweet Pea – https://www.virginiasweetpea.com/tips-for-a-summer-ready-patio
White Arrows Home – https://whitearrowshome.com/summer-porch-decor-in-blue-and-white
First Day of Home – https://www.firstdayofhome.com/patio-decor-ideas-summer/
My Wee Abode – https://myweeabode.com/summer-apartment-porch-ideas/
Art and Sand – https://artandsand.blogspot.com/2020/05/outdoor-living.html
Lora B – https://lorabloomquist.com/decorating-summer-porch-with-vintage/
French Ethereal – https://www.frenchethereal.net/2020/05/refresh-your-porch-or-patio-in-just-one.html
Thistle Key Lane – https://thistlekeylane.com/relaxing-patio-style-with-blue-and-white-accents/
Let's Add Sprinkles – https://www.letsaddsprinkles.com/2020/05/the-2020-deckthe-pinterest-challenge.html
Everyday Edits – https://everydayedits.co/summer-patio
Cloches and Lavender – https://wordpress.com/post/clochesandlavender.com/13625
Decorate and More with Tip – https://decorateandmorewithtip.com/diy-baseball-themed-wreath/
FOLLOW WHITE ARROWS HOME


Instagram ~ Facebook ~ Pinterest ~ Twitter ~ YouTube