Not only do I love setting the Thanksgiving table, but also the serving buffet table. Recipes with cranberries from The Northwoods of Wisconsin are the perfect Thanksgiving dishes.
Thanks so much for joining me at White Arrows Home for a peak into Thanksgiving. I'm joining a group of talented bloggers hosted by Chloe of Celebrate & Decorate for this Thanksgiving Tablescape Blog Hop.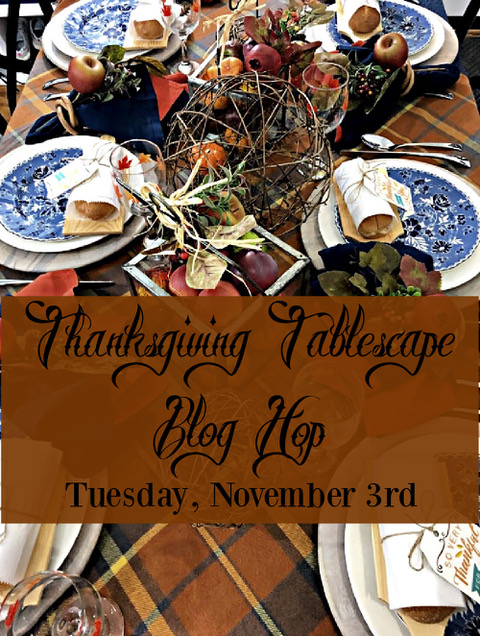 (Affiliate links are used for your convience. Read my full disclosure here.)
If you are coming over from Our Crafty Mom welcome to The Northwoods of Wisconsin and our lakeside log cabin home, we call Camp Paradise.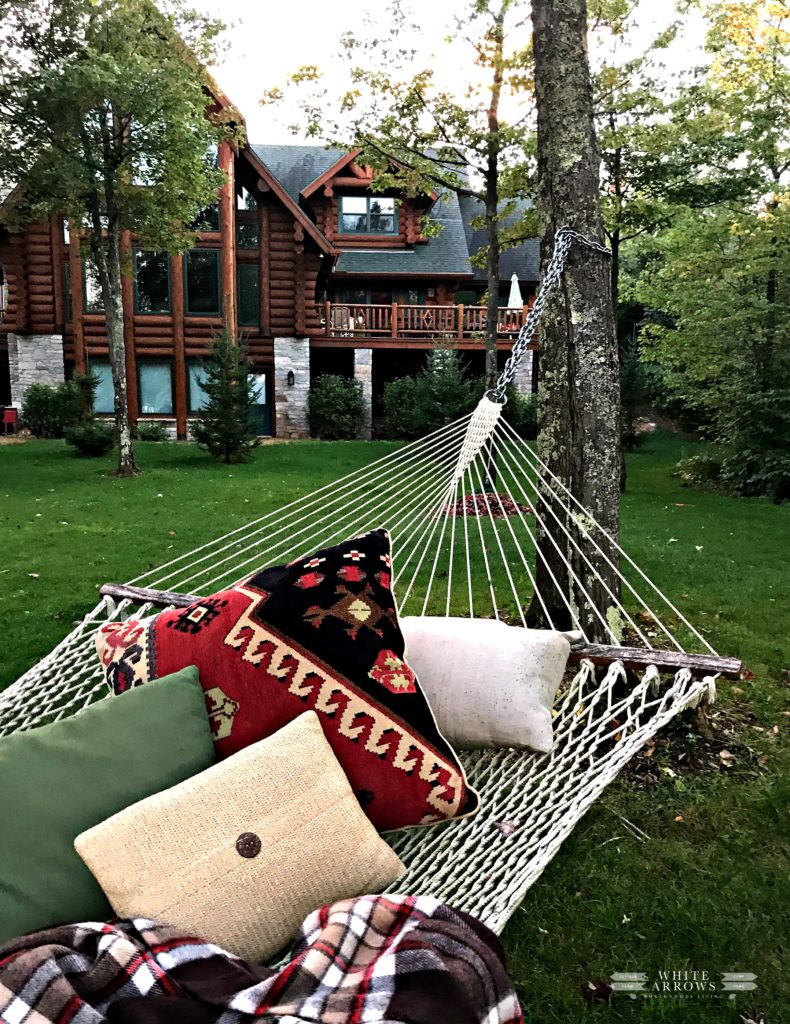 When I picture a Thanksgiving dinner it always has lots of people gathered around the table eating family style from bowls being passed around. In reality we've never had Thanksgiving that way. Whomever in my family has hosted over the years we always fill our plates buffet style and then sit down.Once everyone is sitting we say grace and begin to eat. Everyone refills their plates by going back to the buffet area.
So when setting the table for Thanksgiving, I also think about the counter, island or table that will serve as the buffet and how it will be decorated.
My starting off point for the decor this year was a beautiful set of dishes I found when thrifting with my mom and my friend Carolyn. We were at a St. Vincent DePaul shop and my mom called me over knowing I would instantly fall in love with these red and white dishes. They had scalloped edges and a pretty pattern. Even though it wasn't a full set the $40 price tag made it an easy decision. Then when I got to the checkout it ended up being half off! I got all of it for $20!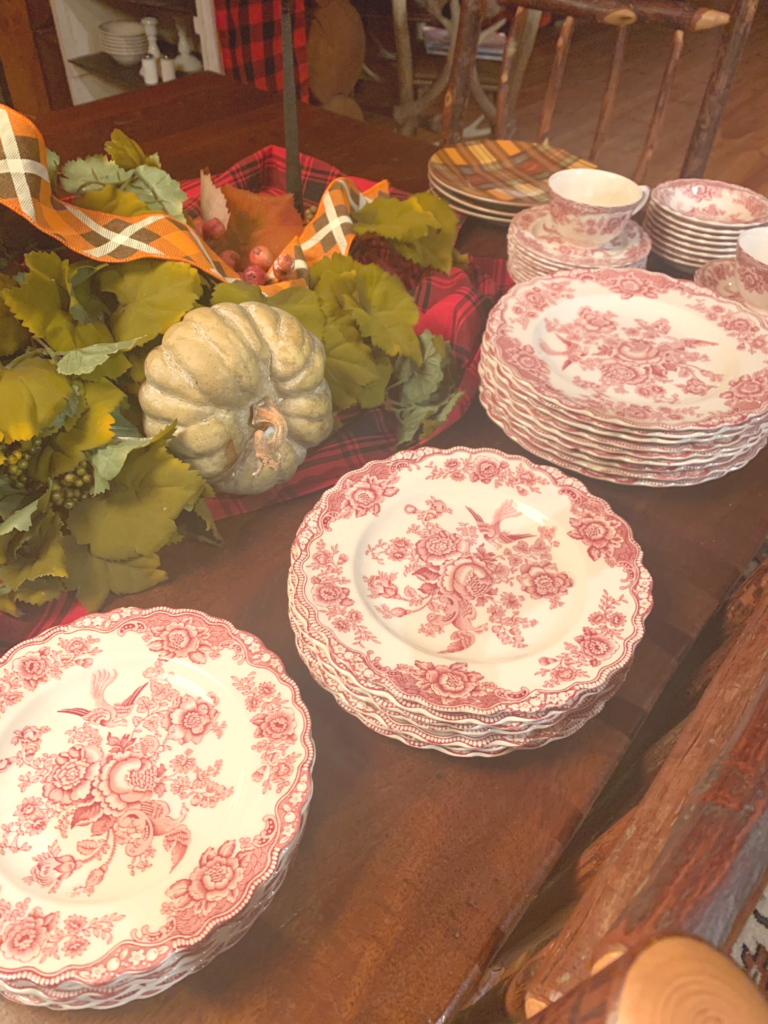 It's the perfect pattern to mix and match with my other china patterns.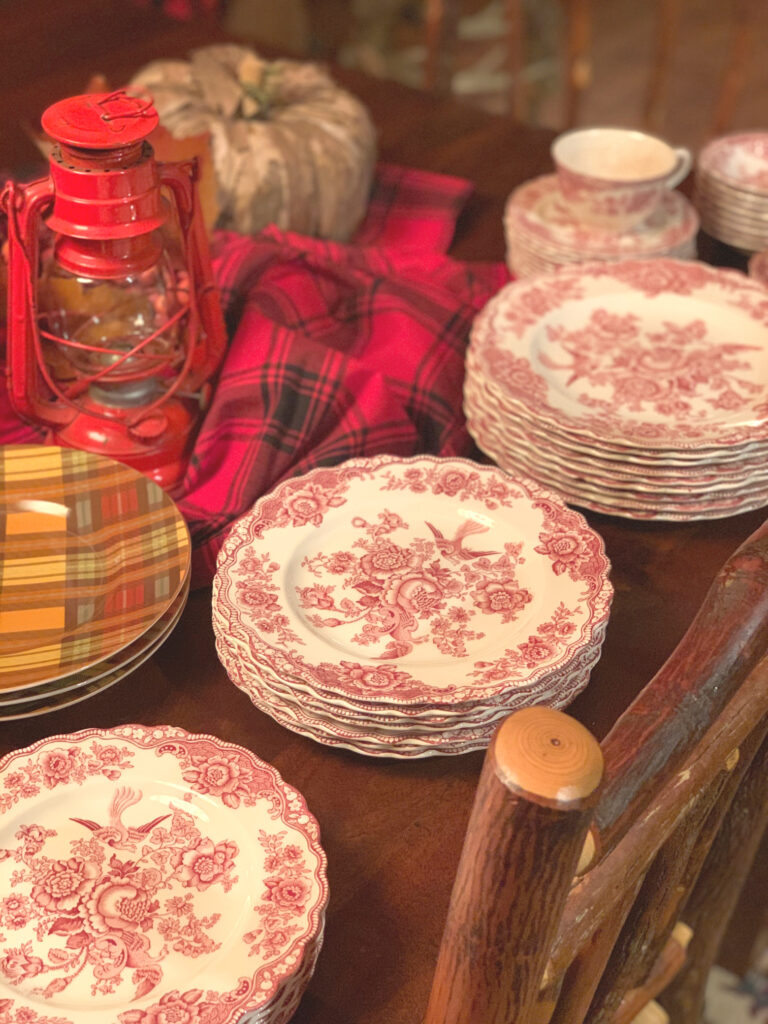 I used a vintage cranberry box in the center of the table.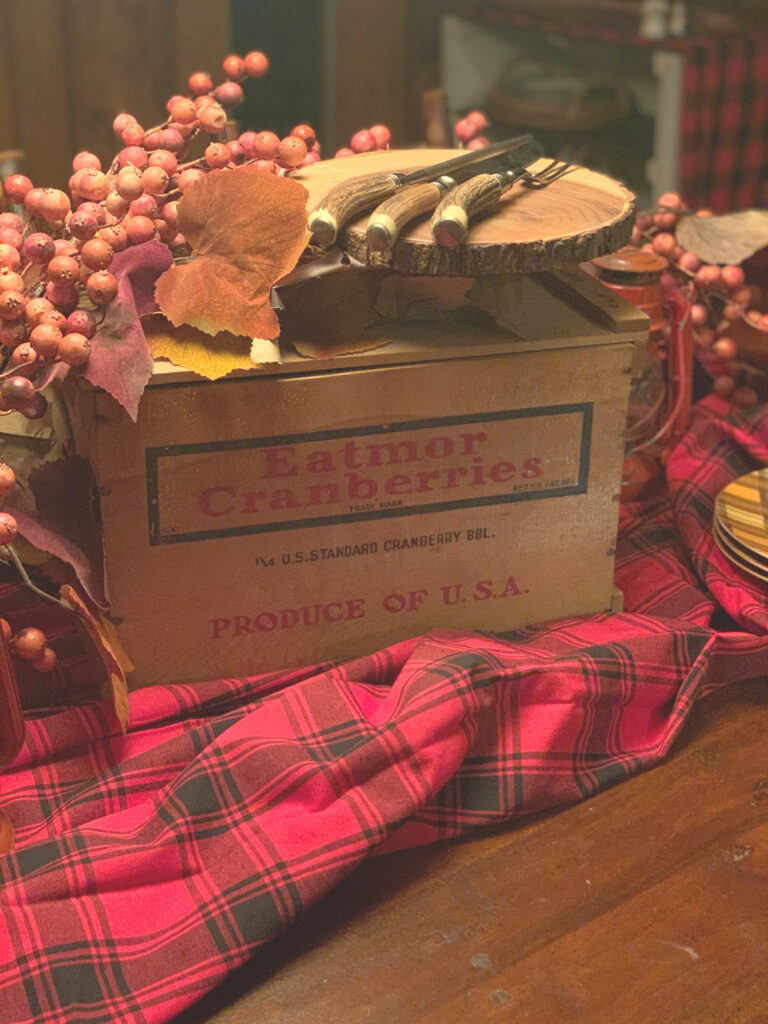 Manitowish Waters, the town just north of Mincoqua and part of the Lakeland area, has many cranberry farms. My friend, Becca's family owns and operates one of them and I've been lucky enough to visit during harvest a few times.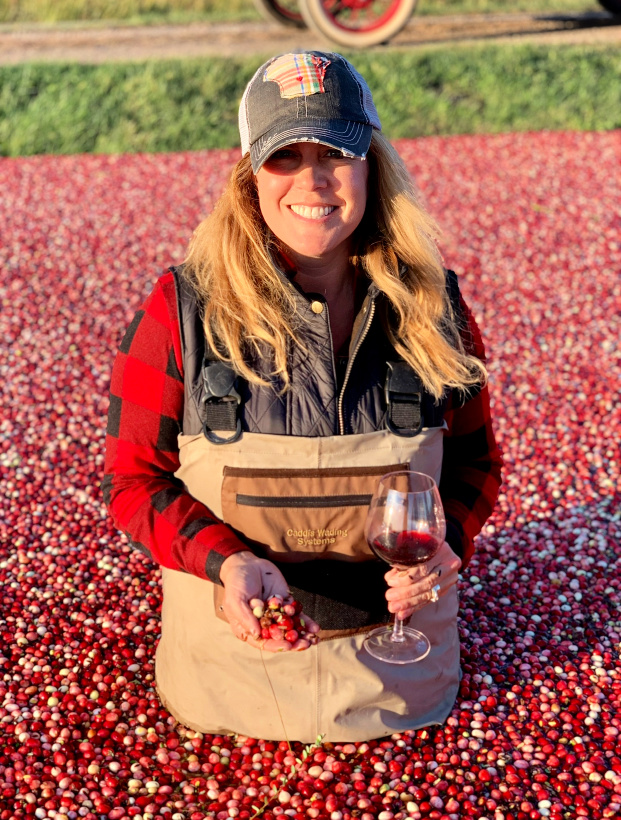 I love including local foods into our menus and it works especially well for the cranberries during Thanksgiving. Here are a few delicious cranberry recipes to try.
Cranberry Recipes
Cranberry Apple Cider Sangria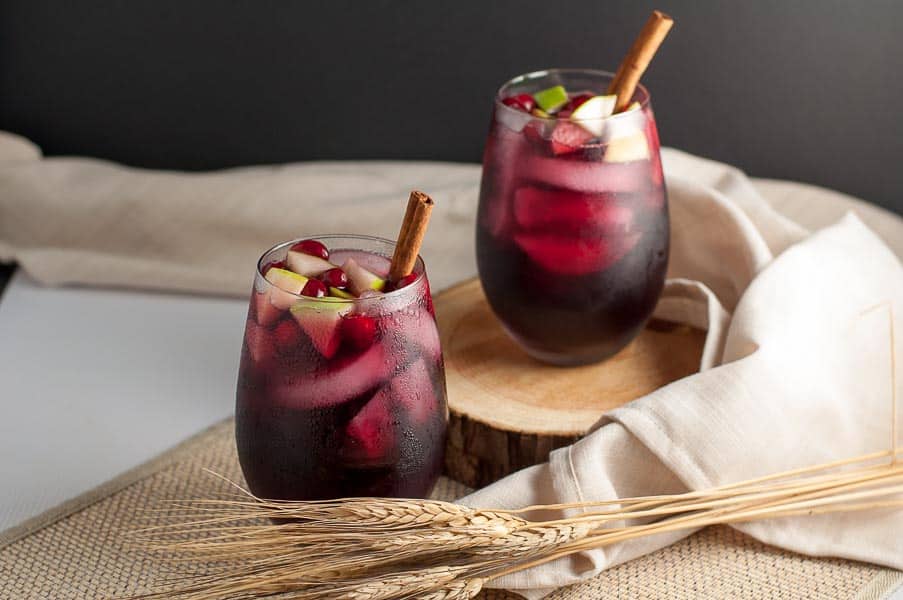 Cranberry Brie Bites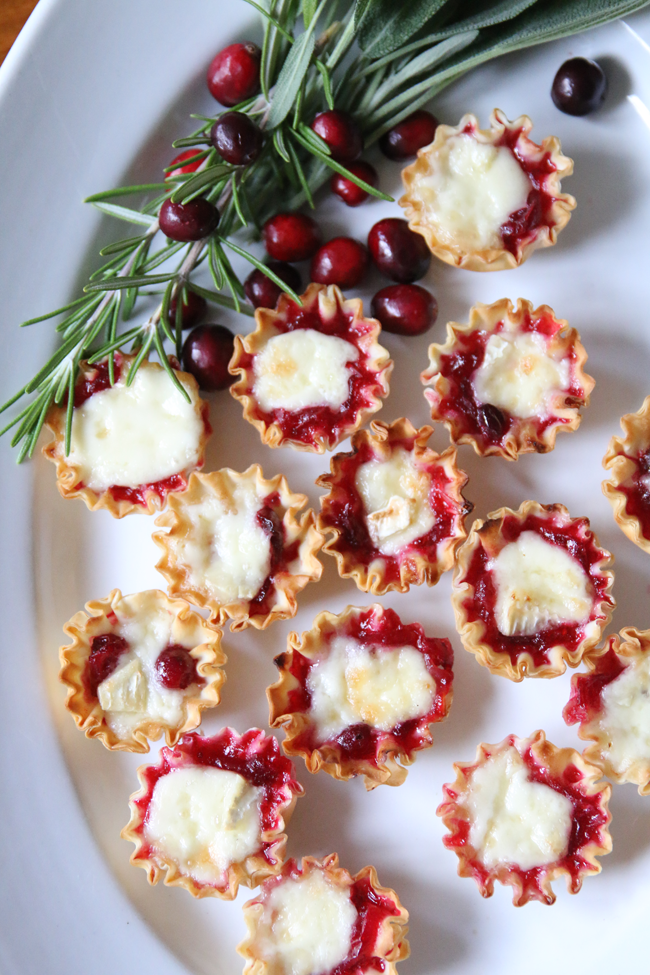 Millionaire Cranberry Salad
White Chocolate Cranberry Blondies
Cranberry Apple Sausage Stuffing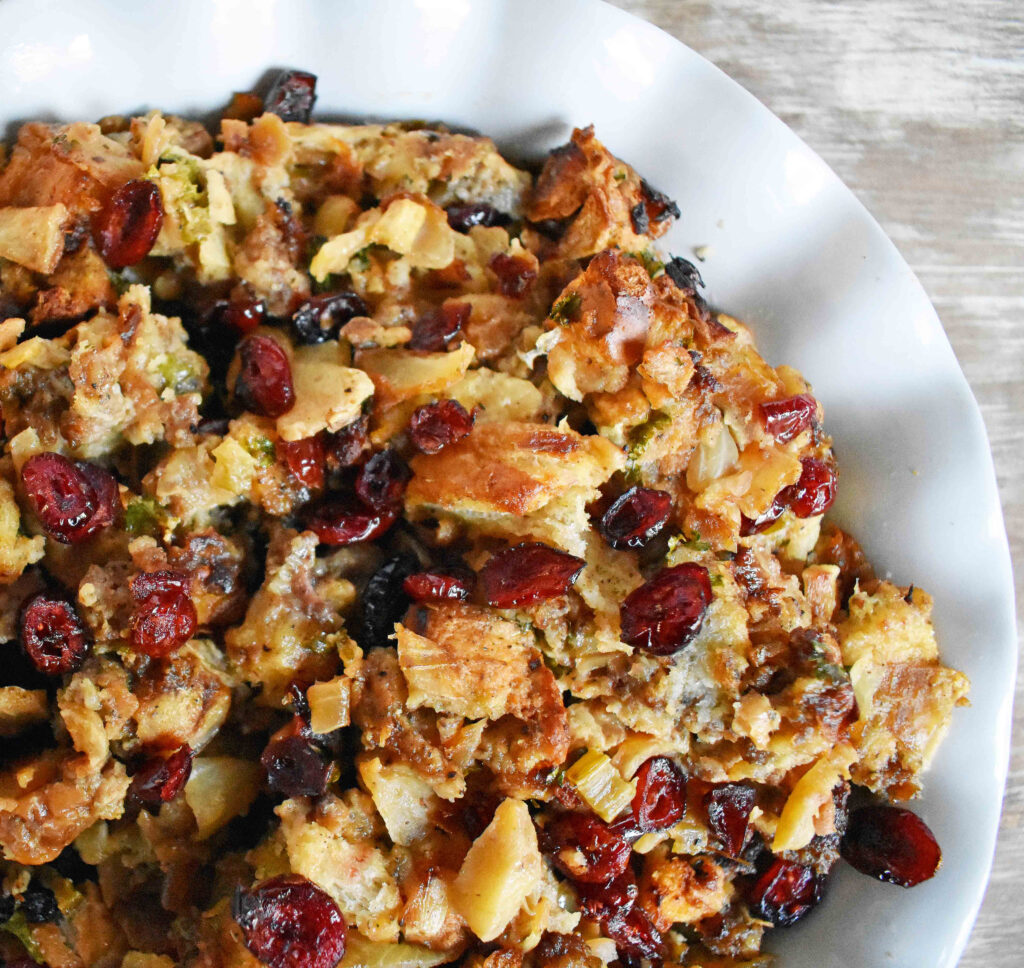 Now back to the table. You can find more of my favorite cranberry recipes in this Pinterest Board.
he black and red buffalo plaid tablecloth I found at Walmart was the perfect soft compliment to the table. My table is too long for most tablecloths I find in the store, so I often buy two or get creative. I decide to "scrunch" this one up and use it as a runner.
I love mixing reds and oranges in the Fall. For my next layer I added my orange leaf and berry garland.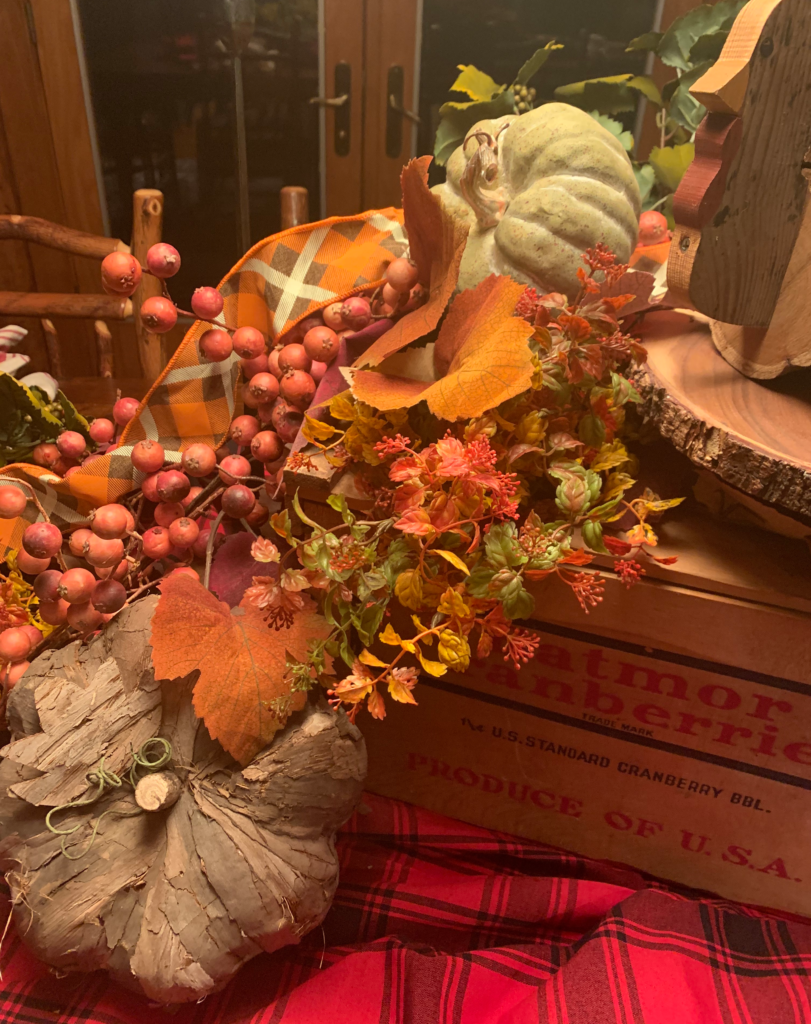 Then I stuck in some green pumpkins on picks.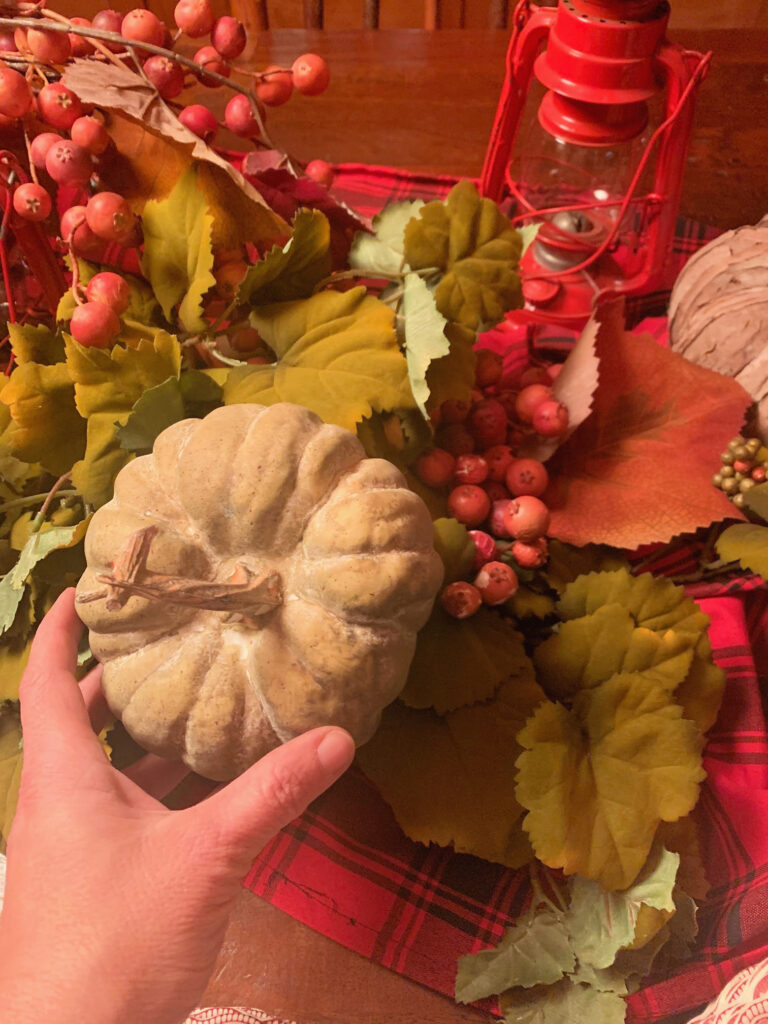 I always like to have a touch of plaid so I wove this wired organge, brown and cream plaid ribbon through. The wired edges let me bend it and get it to look like it was flowing through the centerpiece.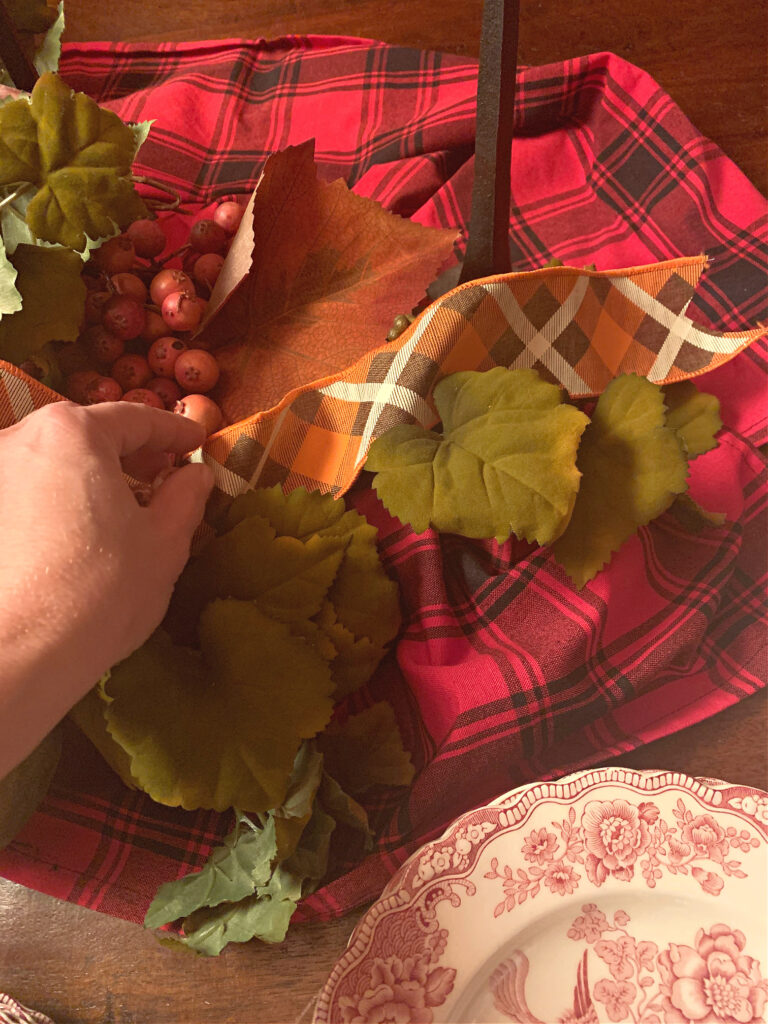 I also added in some birch bark pumpkins I found last year at Hobby Lobby. One of the things I love about Hobby Lobby is that their items are often redone a few years in a row. So if you decide you loved a dish or placemat or other item the year before and want more, it most likely will be back again. I always love to have at least 10-12 of any dish or placesetting pieces. Even though we are a family of six, there are often visitors to join us.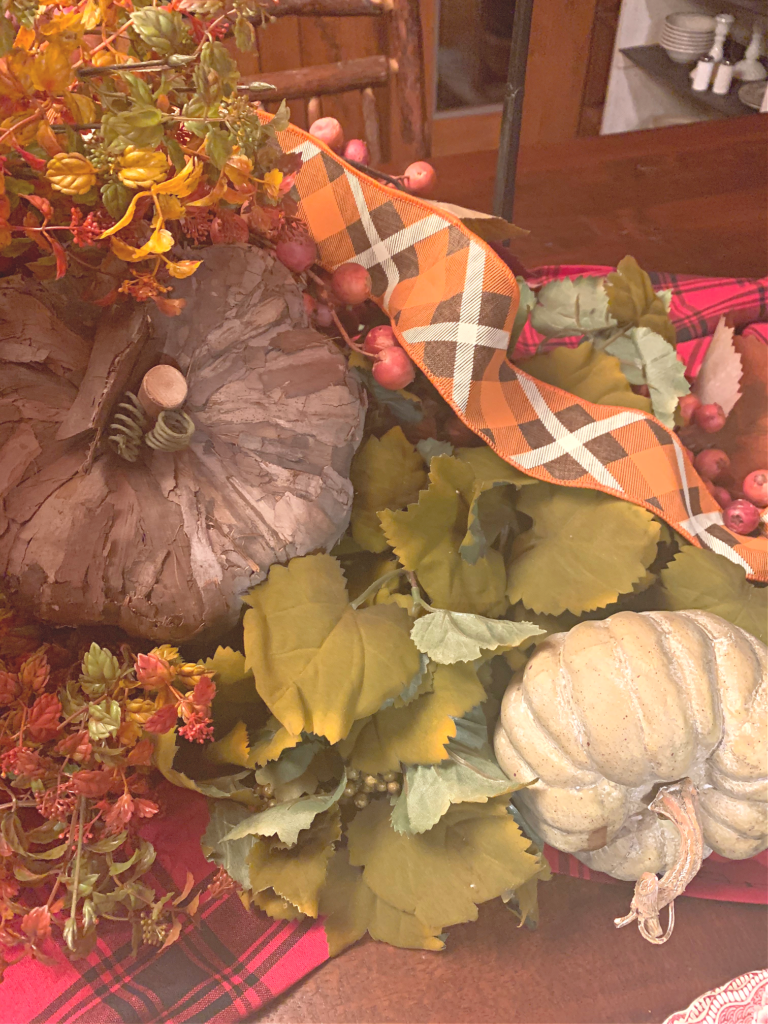 I added my rustic turkey to the table on top of a wooden cake stand.

Get the Look


Next up, find inspiration from Living With Thanksgiving. Thanks so much for stopping by today! I hope you will become a regular! You can find more printables in my SUBSCRIBER LIBRARY when you Subscribe. The password will be given to you in your welcome email as a thank you.
Now find more inspiration for your Thanksgiving Table!
Take the Tour
Celebrate & Decorate
Sweet Sensations
Me and My Captain
Belle Blue Interiors
The Little Yellow Corner Store
Panoply
Life and Linda
Our Crafty Mom
White Arrows Home
Living With Thanksgiving
Debbee's Buzz
Home is Where the Boat Is
Everyday Living
Red Cottage Chronicles
The Painted Apron 
My Hubbard Home
Calypso in the Country
Zucchini Sisters
At Home With Jemma
FOLLOW ALONG
Instagram ~ Facebook ~ Pinterest ~ Twitter ~ YouTube