White Arrows Home The Shop sells new and restored apparel.
(Affiliate Links are shared for your convenience, read my full disclosure here.)
Because so many of our items are sold in small quantities, for limited seasons or are a one of a kind to our shop, if the items you see in this post are no longer available, it still gives you an idea of they style of things we carry and continue to bring into the shop.
Shopping our apparel category on our website will keep you updated on the current inventory.

New items are added daily and everything in our shop is online.
Custom Merch
We design in house merchandise that is exclusive to White Arrows Home like sweatshirts, t-shirts and hoodies.
Our Varsity Cottage Bound sweatshirt is perfect to wear all year long in The Northwoods.
Up North it's always a good idea to keep a sweatshirt nearby for cool Summer days on the boat, Fall days by the campfire, in Winter to get cozy.

We are on our third round of Morning Sunshine sweatshirts. This hoody is a thin jersey material perfect for layering or pairing with some jammie pants and lingering over breakfast.

There are so many great towns and in the Lakeland area to enjoy on a visit Up North. This Northwoods shirt celebrates some favorites.



Come visit our brick and mortar shop in Minocqua, WI or find everything online.
We can't wait to help you find something special!



Restored Clothing
Our restored clothing are items selected when we are out and about thrifting that we find in great shape from our favorite designers and clothing brands like J Crew, Lilly Pulitzer, LL Bean, Pendleton and more.
Our restored pieces are classics ready for to make new memories with their new owners.
The pieces are one of a kinds for our shop in the size we find them in.

We love to mix our Restored pieces with new. Layers of tees, dresses, flannels, plaids, vests…

Smokey Bear is always making an appearance in The Shop.

Our Restored vests with our custom patches are consistently one of our best selling items.


Cozy wear, jammies… items that can be wore inside to lounge or outside under your snowshoe gear are favorites.

Puffer jackets and Holiday items are extra fun to offer our customers.

Accessories
Along with our apparel we sell accessories like bags, totes, duffels and backpacks.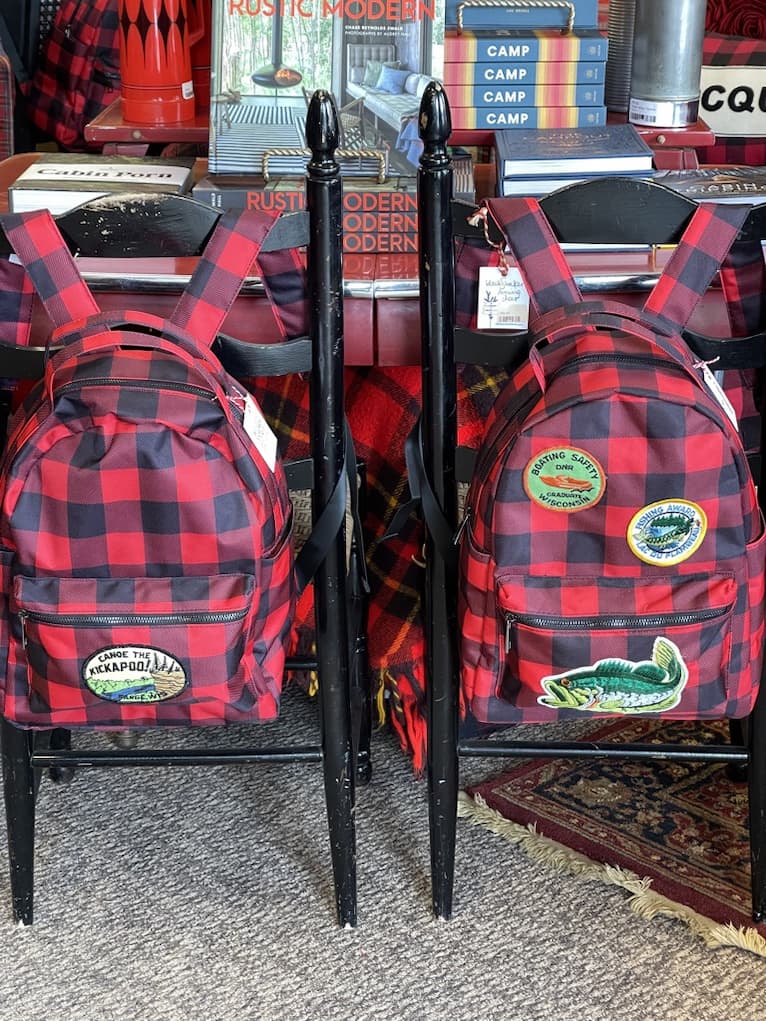 We are honored to carry some of our own personal favorite brands like Duluth Pack and Stormy Kromer.



You'll even find fun items for your pups!

We love being one of the exclusive vendors for Skotch Kooler. Their Kooler bag is great to take along on a picnic or use for work or travel.

We are hat wearing ladies here at The Shop so always have a variety of hats for sale as well.

Looking for luggage? We sell several styles of new weekender bags and we even have vintage suitcases.

Think you can't travel with vintage luggage anymore? Check out the fun we had when our White Arrows Home team took a trip to Montana together a few years ago!
Be sure to follow along to keep up with what's new and shop White Arrows Home apparel and accessories whether new or from our Restored collection. Shop HERE.

FOLLOW ALONG
Instagram ~ Facebook ~ Pinterest ~ Twitter ~ YouTube ~ Tik Tok ~ Liketoknow.it