Our winter cabin is nestled in the woods. When snow covers the ground and sits heavy on the boughs of the surrounding trees, decor inside stays cozy, and full of layers to keep everyone warm, comfortable and content. A fire is always roaring in the fireplace, a pot of coffee is always brewing and friends are always welcome.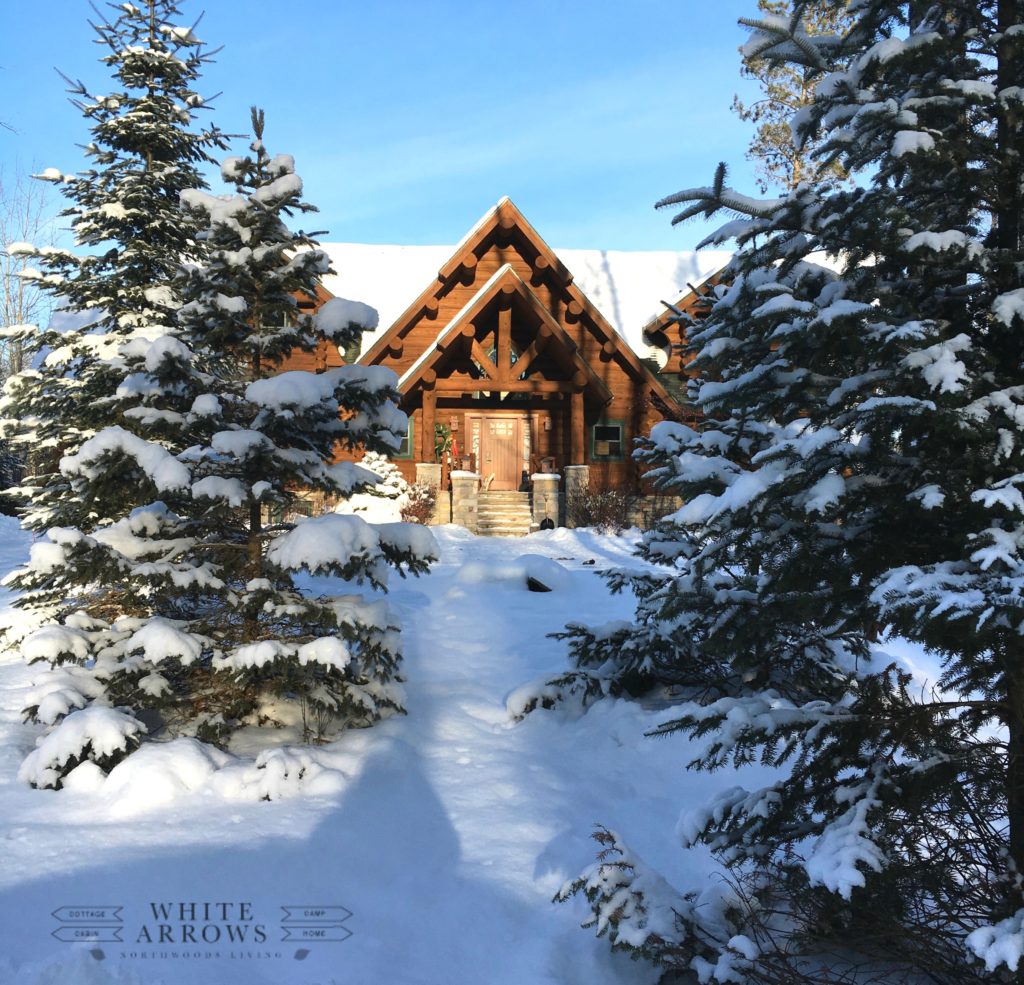 Light streams in through the stained glass windows of the front door. Slate tile is perfect for the entry area, where snow, sand and mud are carried in on the bottoms of boots all day long. It hides the mess, is easy to clean and looks beautiful and timeless.

Must haves for the entry area: a hall tree and a place to sit. We try to keep many of the hooks on the hall tree open and ready for guests so they don't have to guess where they should hang their coats. It's essential to have a place to sit, like this Hickory bench, to take off and put on boots.
(Affiliate Links are shared for your convenience, read my full disclosure here.) 

When weather in the Northwoods is boot season much of the year, it's easy to start a collection. One of my favorite pairs is my Sorel Conquest Carly II, they keep me warm, and dry even in negative temps, while still delivering on style. My other favorite brands are LL Bean, Solomon, Bogs, and Born.
Styling the entry way is easy by adding a few throw pillows. This "Woody" pillow is from Pottery Barn and was a birthday gift from sweet friends in January. (They know me so well!) My buffalo plaid pillow is from Hobby Lobby and the red cable knit, with fur trim, I found at TJMaxx.
An indoor/outdoor rug like this one from Walmart are so helpful with containing all the debris from winter foot traffic.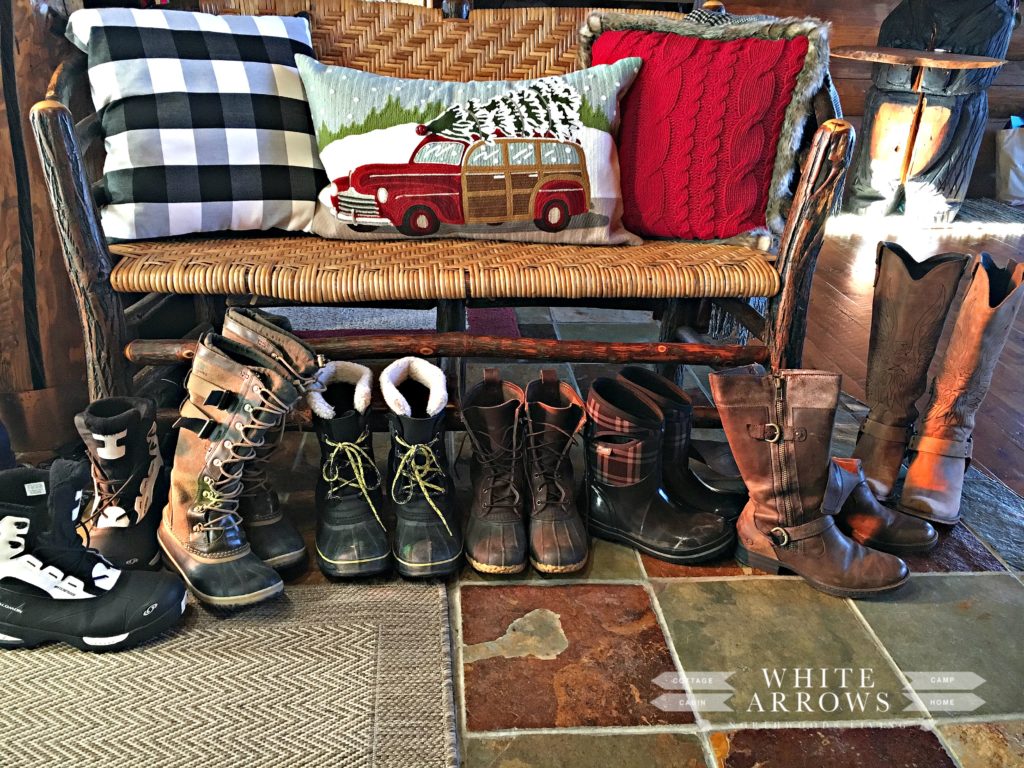 Cubbies are one of this mom's favorite pieces of furniture. I designed them with 5 kids, backpacks, sports equipment and "junk" in mind. When everything has a place to go, mittens and hats, library books and homework are rarely misplaced and it's easy to keep things picked up and organized.
The wire baskets are from Walmart. Pieces from my vintage thermos collection add campy style. The hall tree and barn wood flag are from a favorite local shop, Roughing It In Style.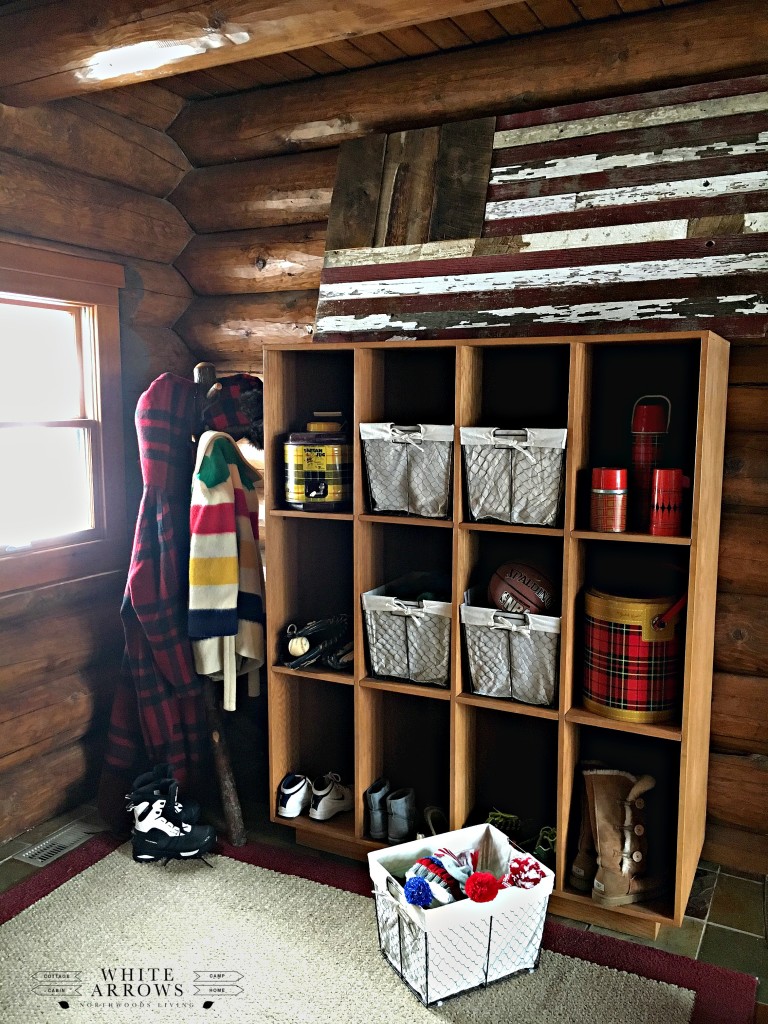 The entry way in the guesthouse welcomes visitors with a barn wood bench from Roughing It in Style. It has a built in bench with a seat that opens for storage, hooks for bags, coats and hats and a shelf. I styled around the bench with pieces from my vintage winter sports collection.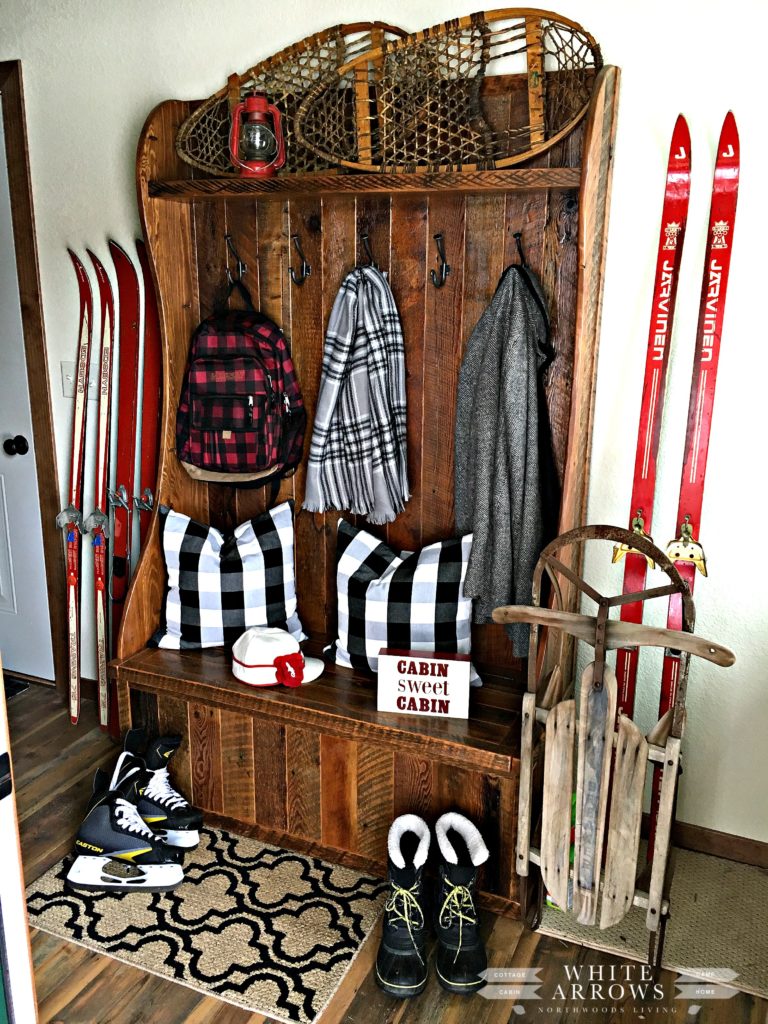 During the Christmas season a tree full of family ornaments stood at the bottom of the stairs. When the tree came down in January, I brought in bright colors and winter decor by hanging a favorite blanket from my chippy wooden ladder, loaded a bench with throw pillows and a woven basket with blankets.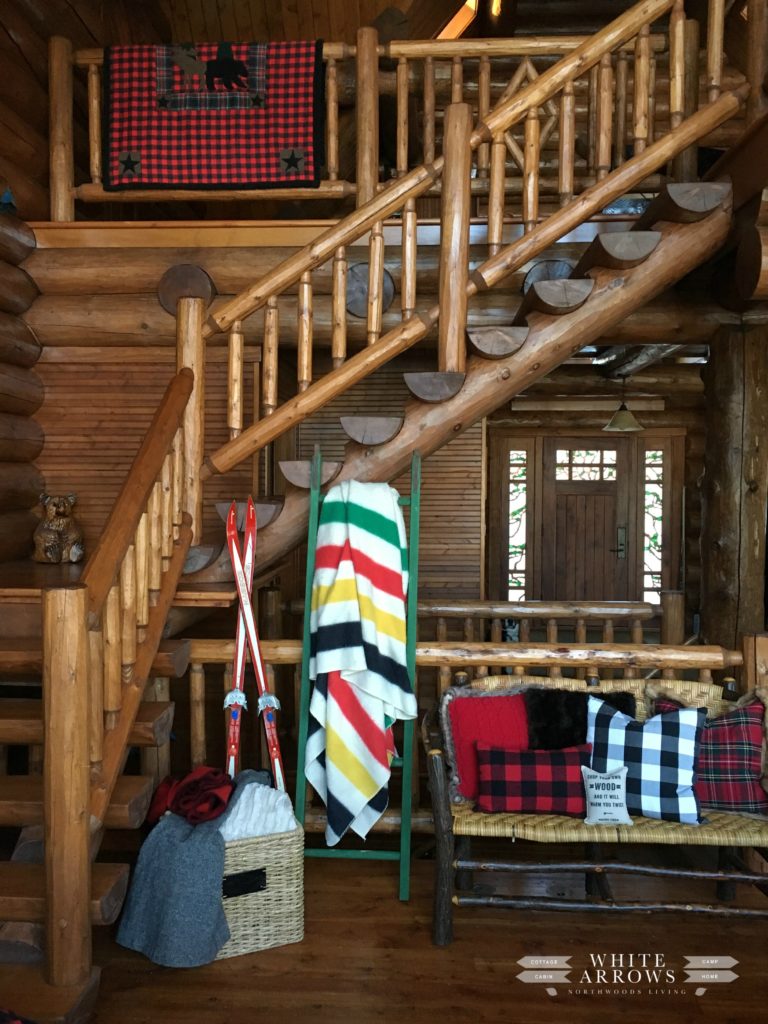 I mixed different textures and patterns- wool, fur, plaid and herringbone to add interest.

In the kitchen, an area I restyle often is used here for a homework/craft station for my two youngest. They like to stay near me when I'm making dinner and this gives them a spot to be creative and close by. Mason jars inside an antique tool tote keeps all the pencils, markers and other supplies handy and organized. Vintage stripped camp stools make perfect seats for little ones and a vintage ice chest holds all the extras.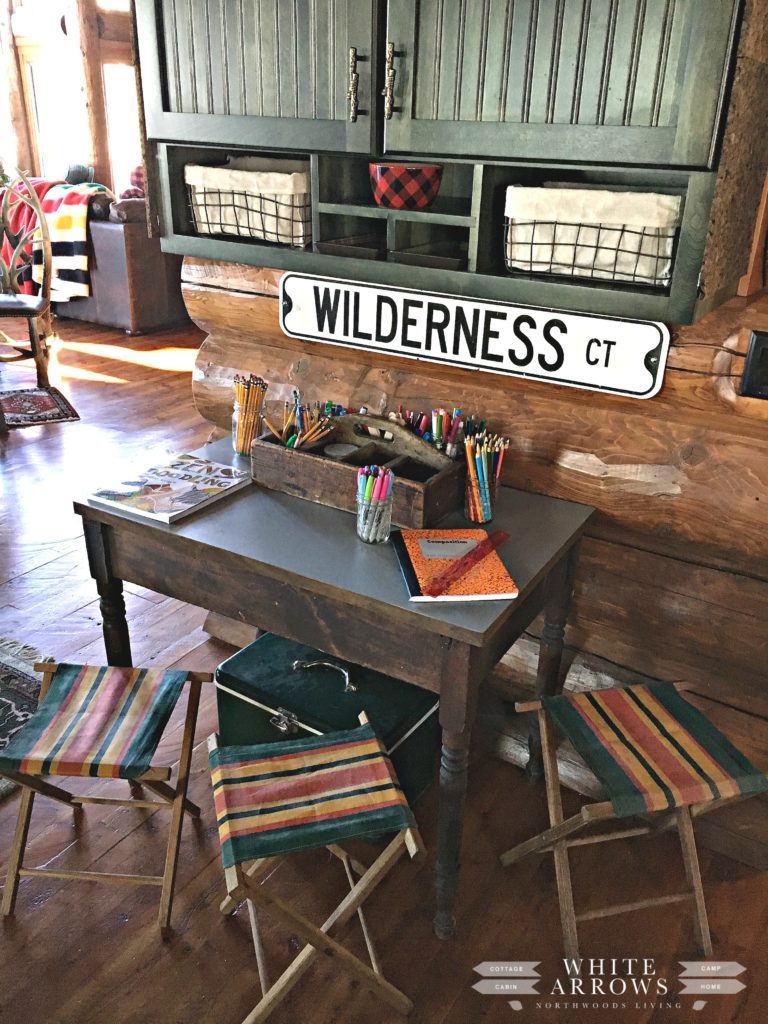 A cup of coffee and a little coloring makes for a fun and relaxing winter afternoon activity.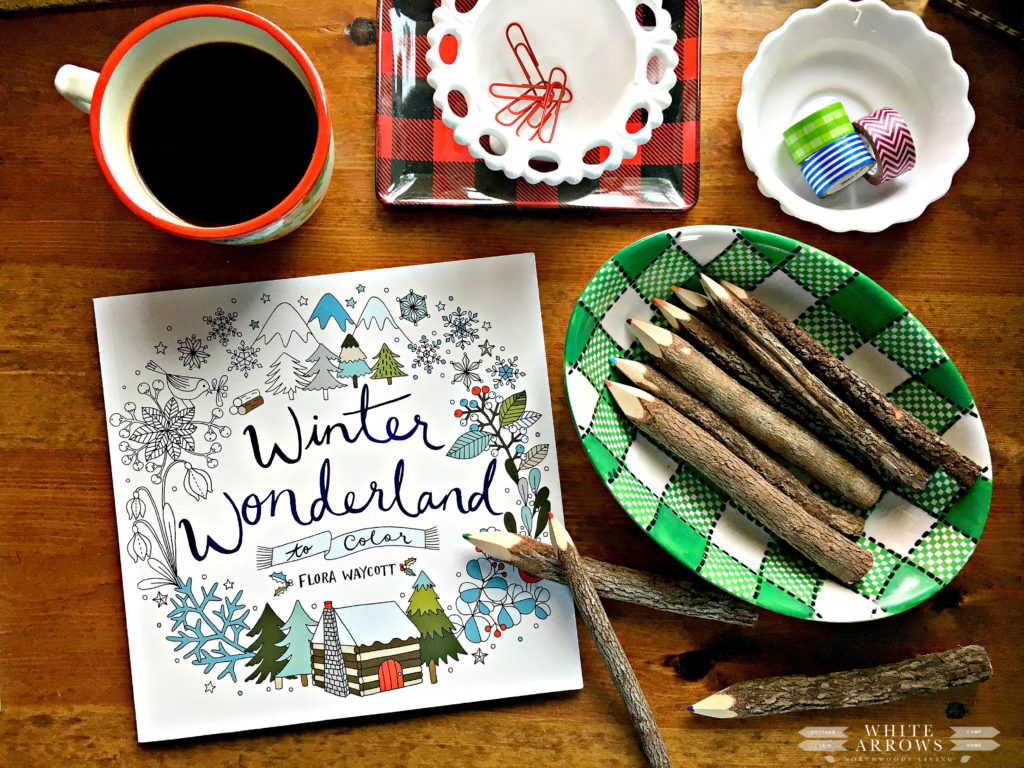 Coffee and hot chocolate are always warm and waiting on the edge of the kitchen counter. This mug rack was a great price at World Market.

I love layering my dinnerware by mixing up my vintage transferware with plaid plates I found at Hobby Lobby.

My bedding is all about layers in the winter. Flannel sheets, wool plaid and velvet pillows, fur throws and a mix of plaids and animal prints make it hard to not want to spend long mornings in bed every day.

A cozy corner of our master bedroom is a great spot to read or look out over the lake.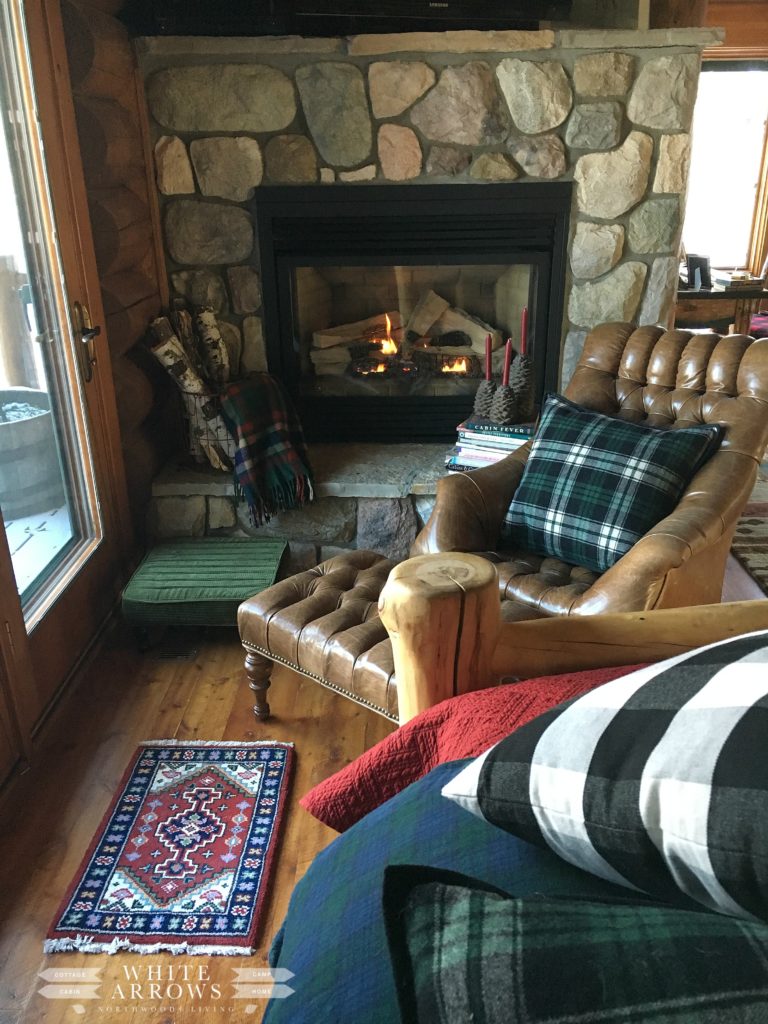 Winter decor just may be my favorite… until spring…and then summer, oh… and fall! I love decorating our cabin in all the seasons! You can see a fall home tour here , summer here and a bit of last year's spring here. I hope you will sign up for my newsletter so you won't miss a post as you continue to enjoy these glimpses of life in our cabin in the Wisconsin Northwoods.



(Affiliate Links are shared for your convenience, read my full disclosure here.) 
Get the Look