Summer may be a few months away and fun in the water will start (see some summer lake life here), but we still have lots of exciting winter activities to keep us entertained. Welcome to a peek into Winter in the Northwoods!
If you are looking for a fun location to get away any time of the year Minocqua and the Lakeland Area of Wisconsin is a perfect choice.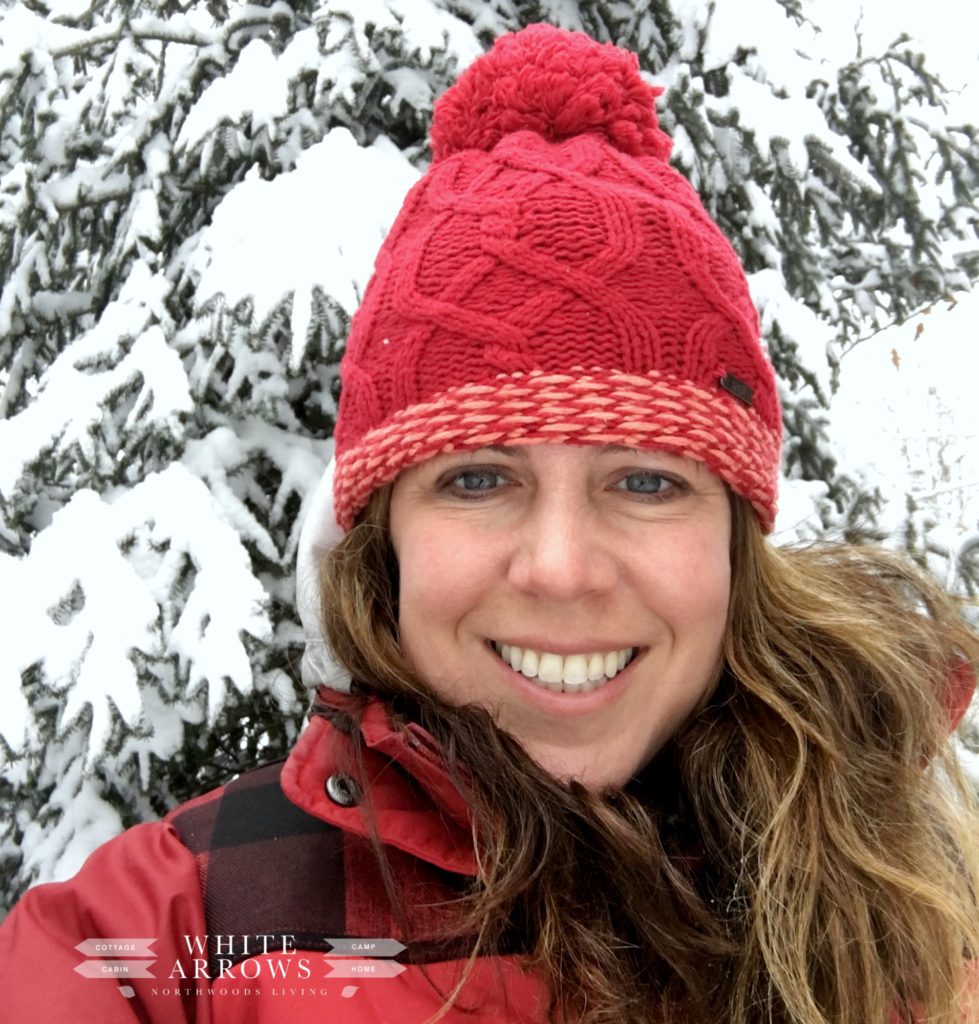 On average our area gets around 60 inches of snow a winter. Here is my husband a few years ago in the backyard with snow up to his knees!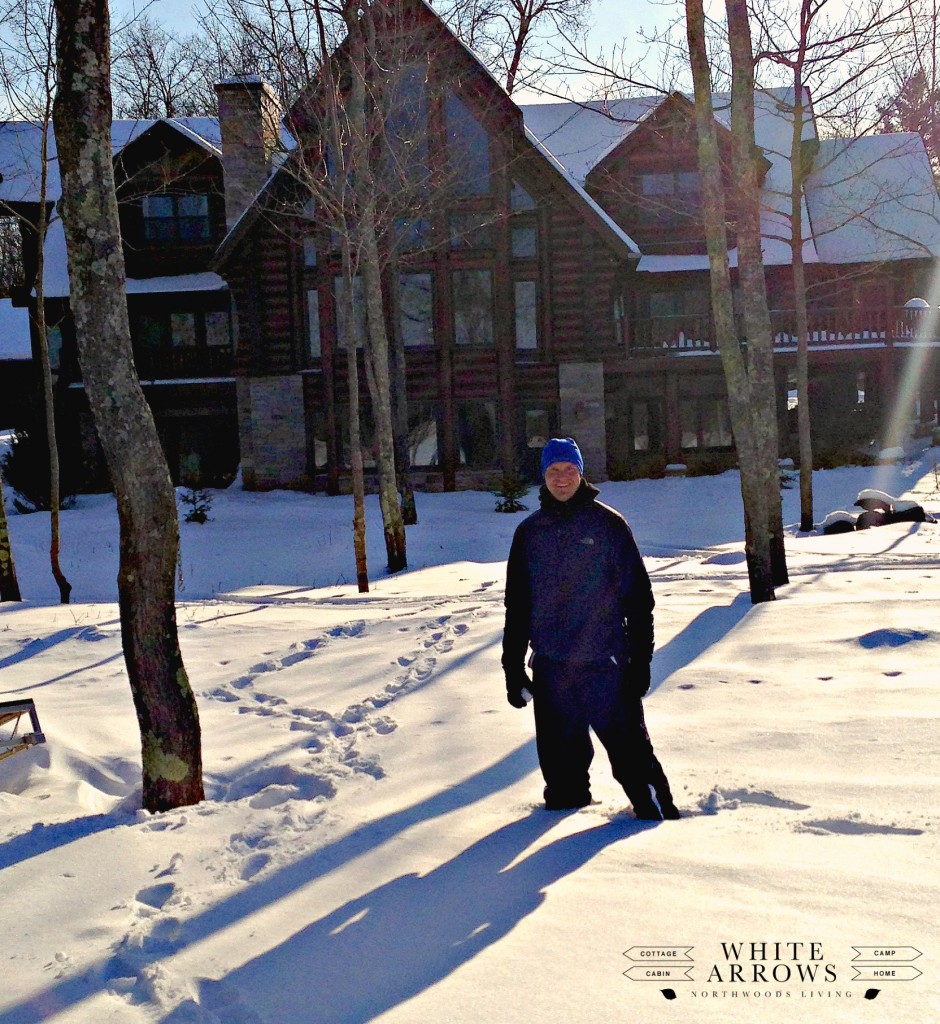 The kids love to build forts in the snow pushed into giant piles by the snow plow.
The box on the side of the garage is a generator, to keep the electricity, the septic system and the well pump running when the power goes out. You can get an idea of the amount of snow we get when you look at the overhang covering the generator.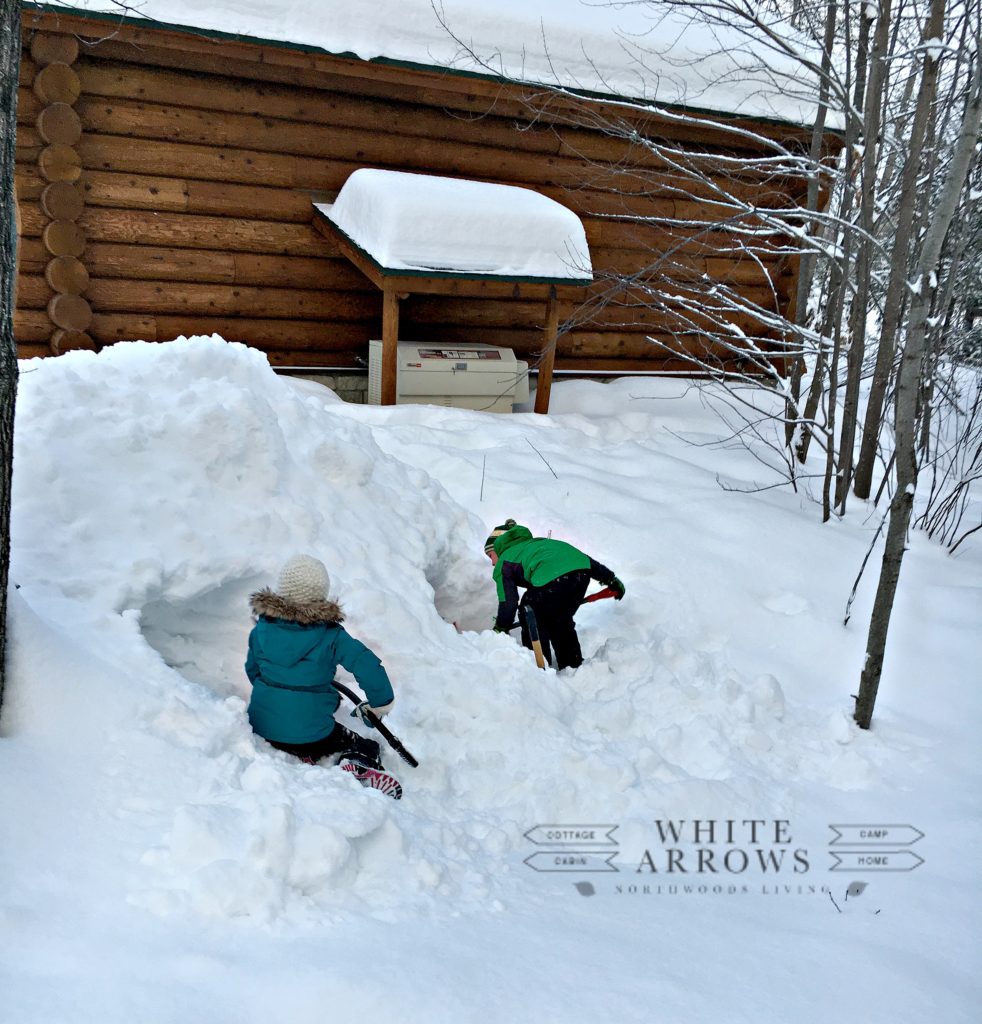 Cross Country Skiing on the many trails around the area is great exercise and a fun way to spend time with friends. My skis are from Chequamegon Adventure Company , a local shop where you can purchase or rent cross country skis, fat tire bikes or summer needs like paddle boards, canoes, etc.
My hat, quilted skirt, and leggings are from another great local shop, BJ's Sports Shop. My vest is Eddie Bauer.
Maps for Snowshoe and Cross Country Trails around the area can be found here.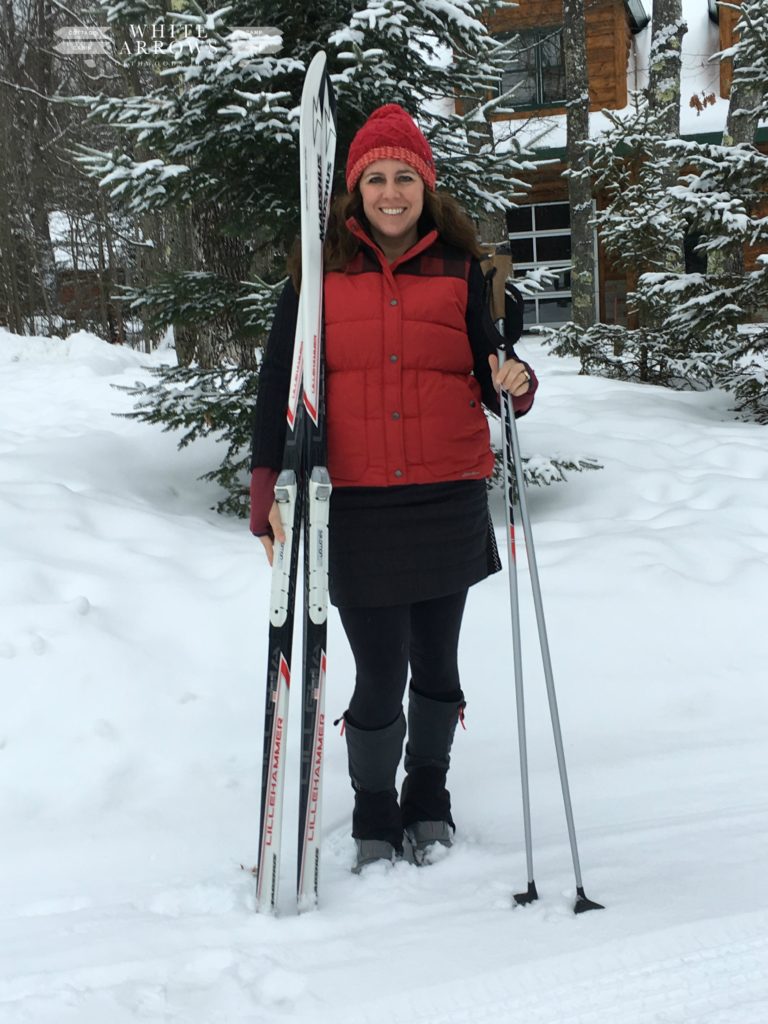 Snowshoeing around our bay on the lake is a great workout.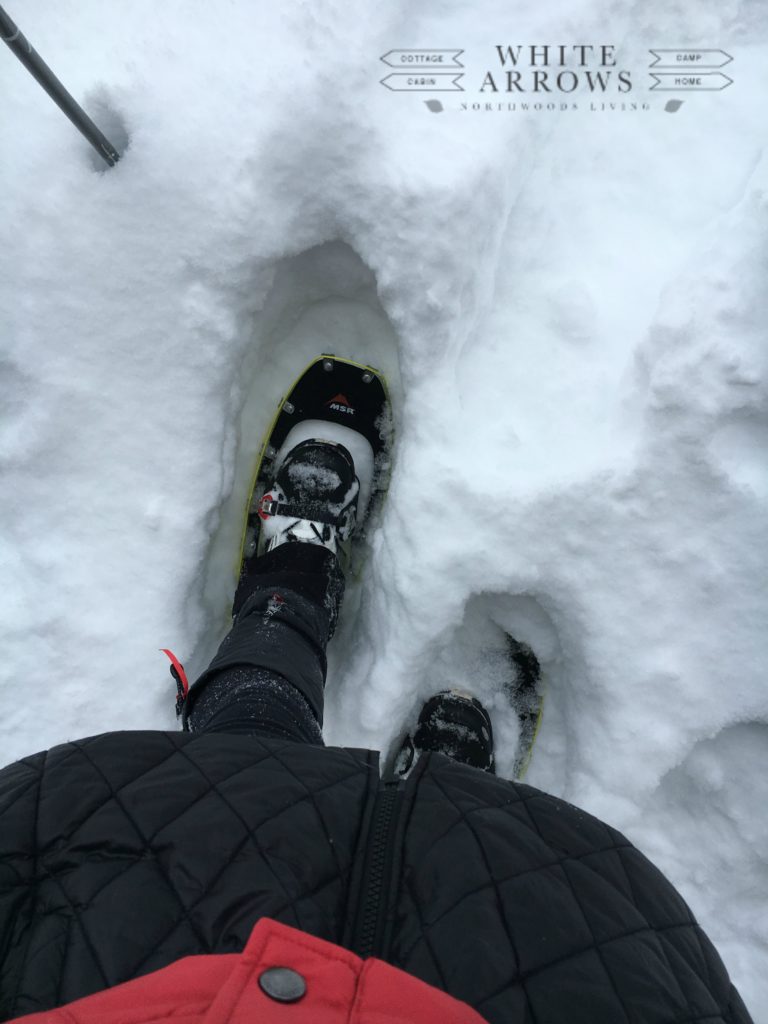 Snowmobiling is a very popular activity here in the Northwoods. Hundreds of miles of trails cross over our frozen lakes and through the forests. It's a fun way to spend the day with friends or as a family exploring the beauty of the area and stopping to eat and hang out at local restaurants along the way. Learn more and find trail maps here.
When you live here, starting in middle school, you can ride your snowmobile to school!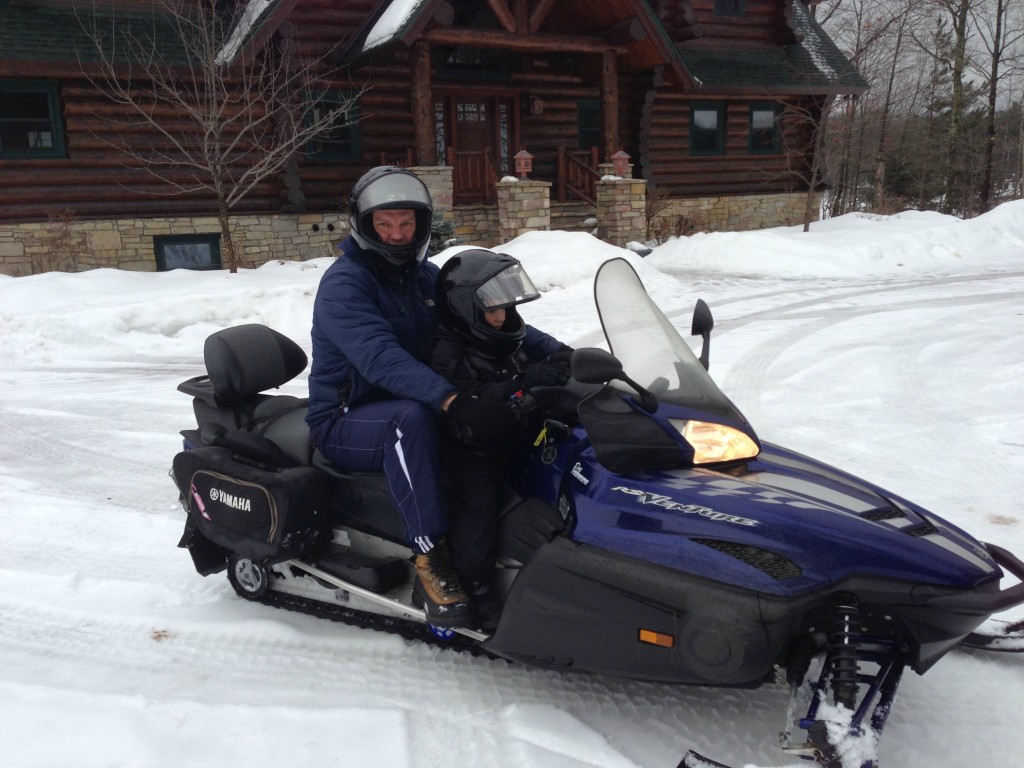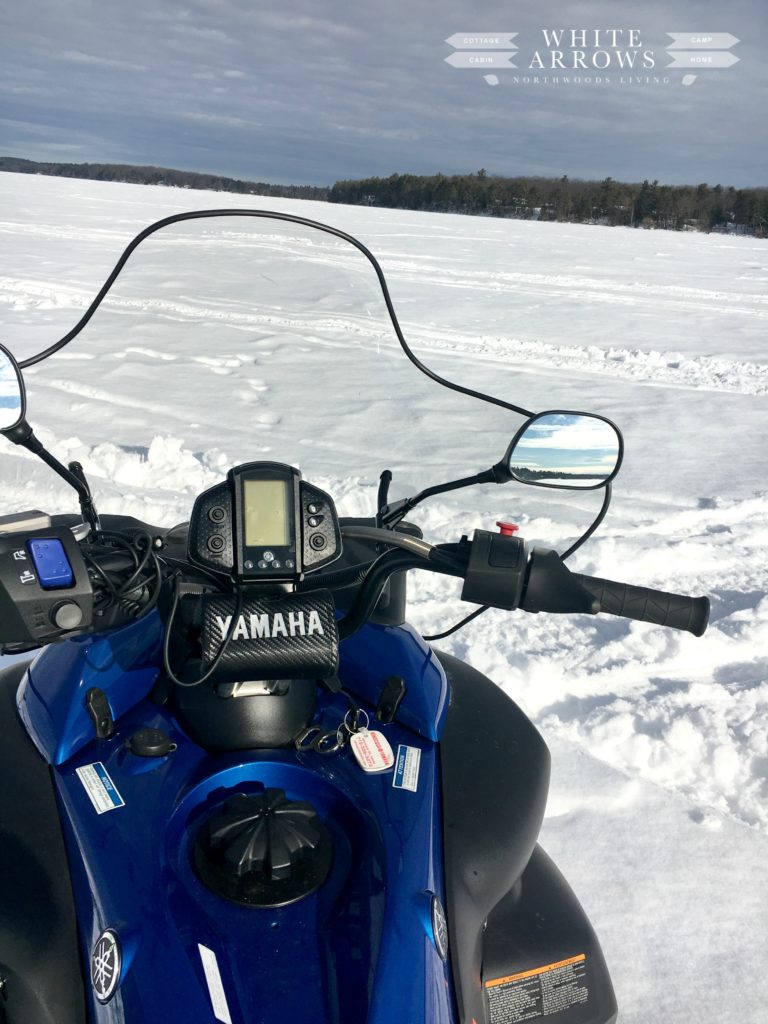 Have you seen the movie Grumpy Old Men? It's a lake movie favorite for us. (See more favorite lake movies here.)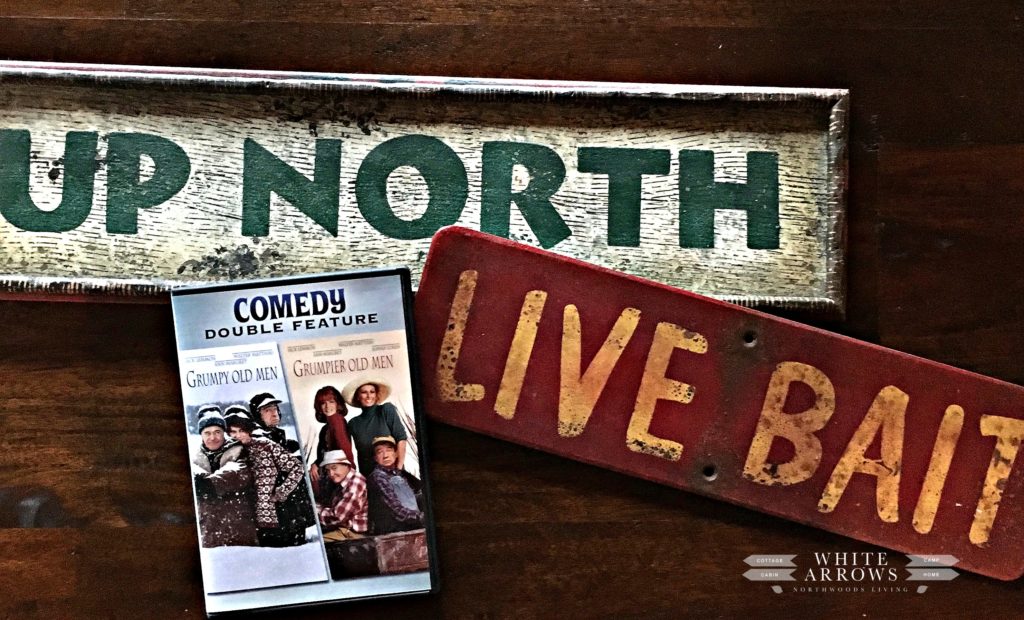 Here's our very own Grumpy Old Men Ice Shanty. Complete with a table and benches inside, card games and checkers get played while waiting for the fish to bite. We jig through holes in the floor or set tip ups out around the ice.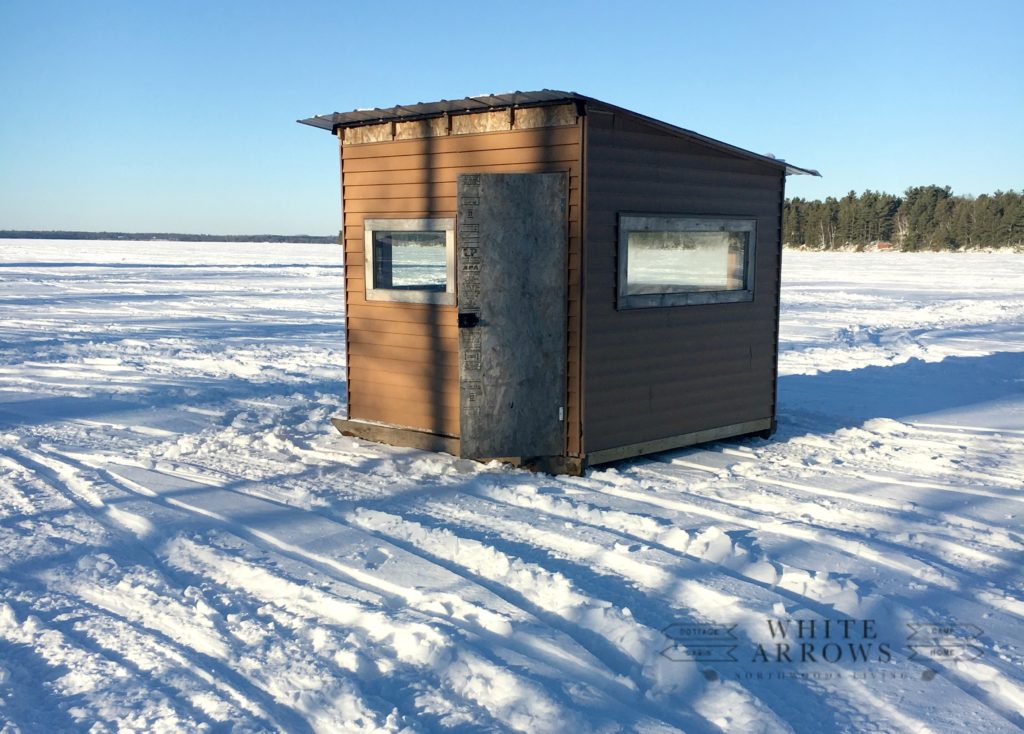 Typically the ice is 24-30 inches thick!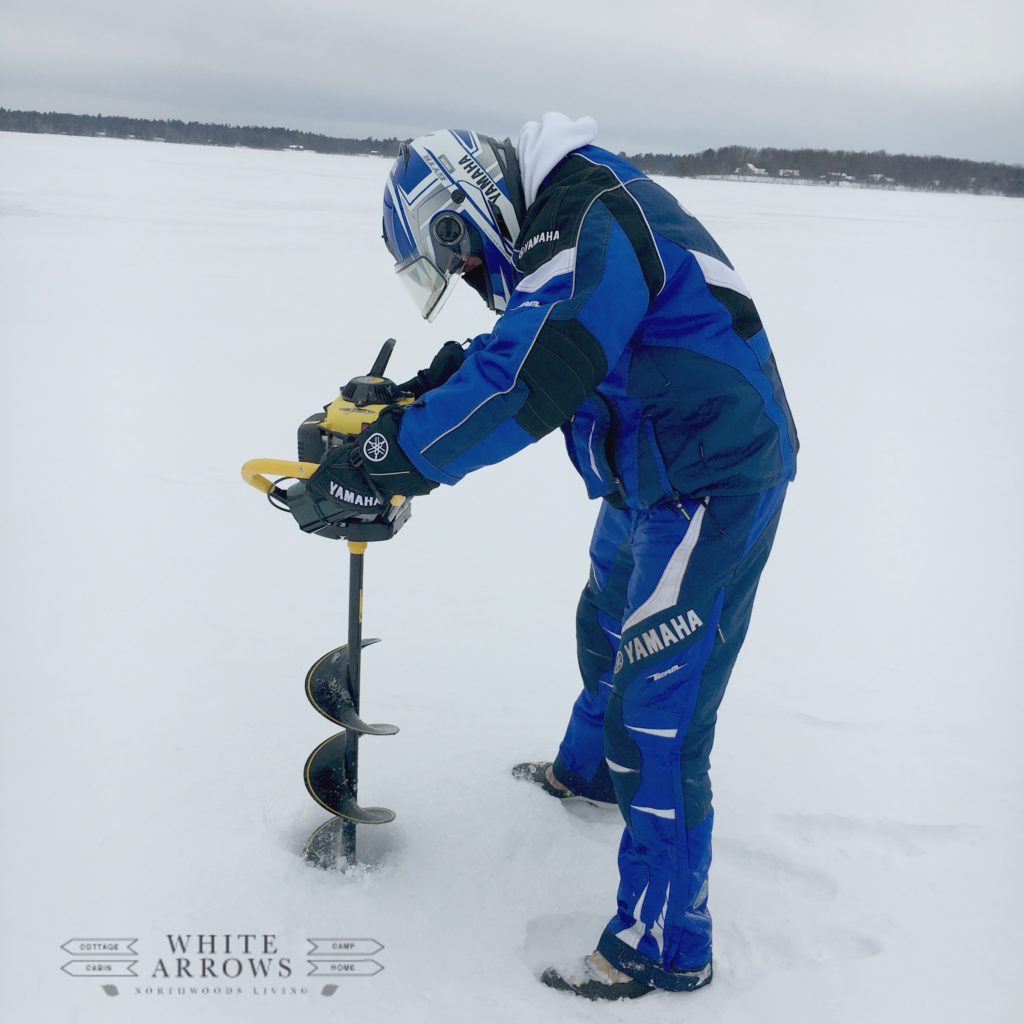 When a fish takes the bait, the flag on the tip up pops up so you know you got lucky.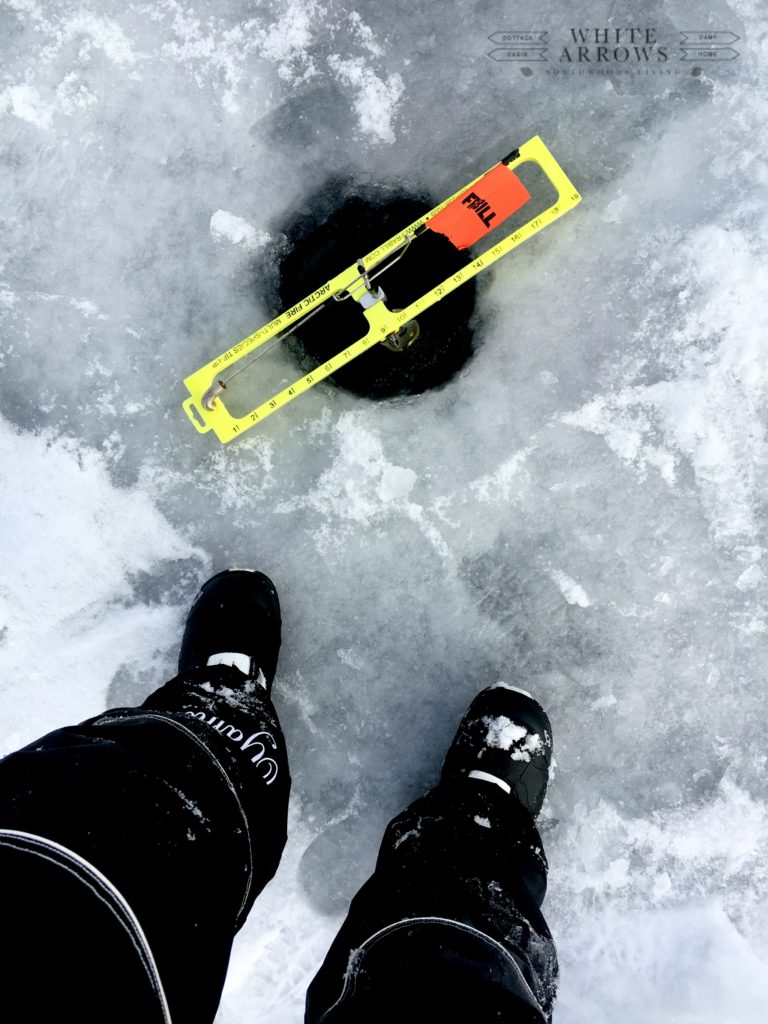 I grew up in Texas, so being able to drive a truck on the lake is still a crazy concept to me!
As long as possible we try to keep up with clearing an ice rink on the lake for skating and hockey.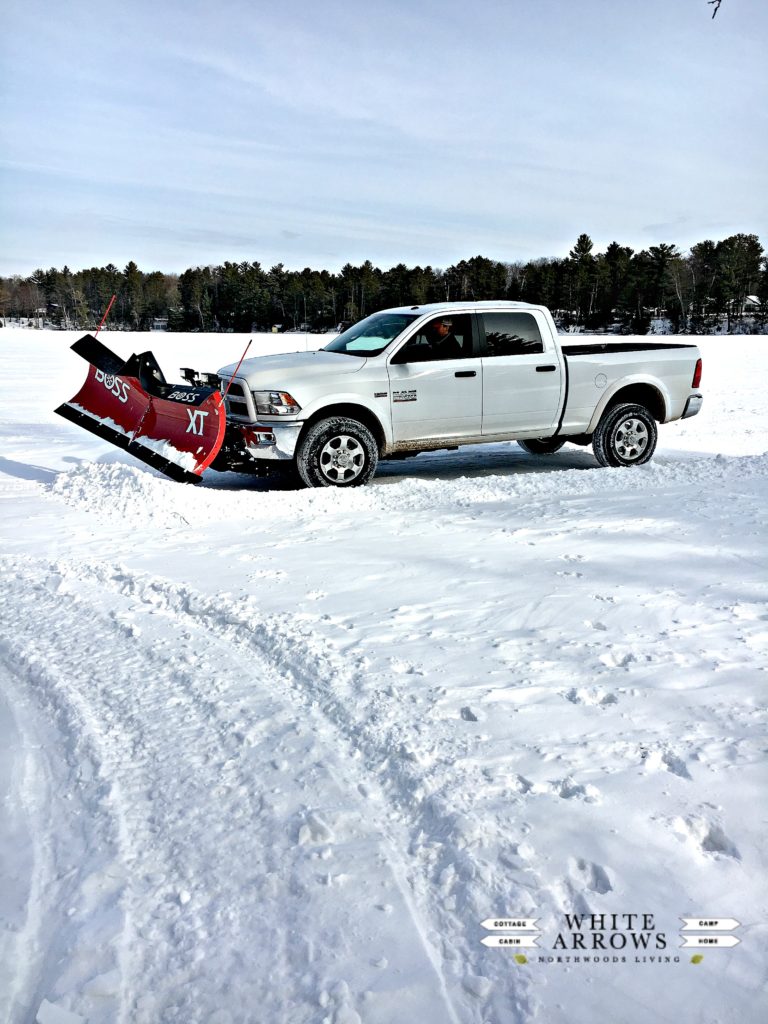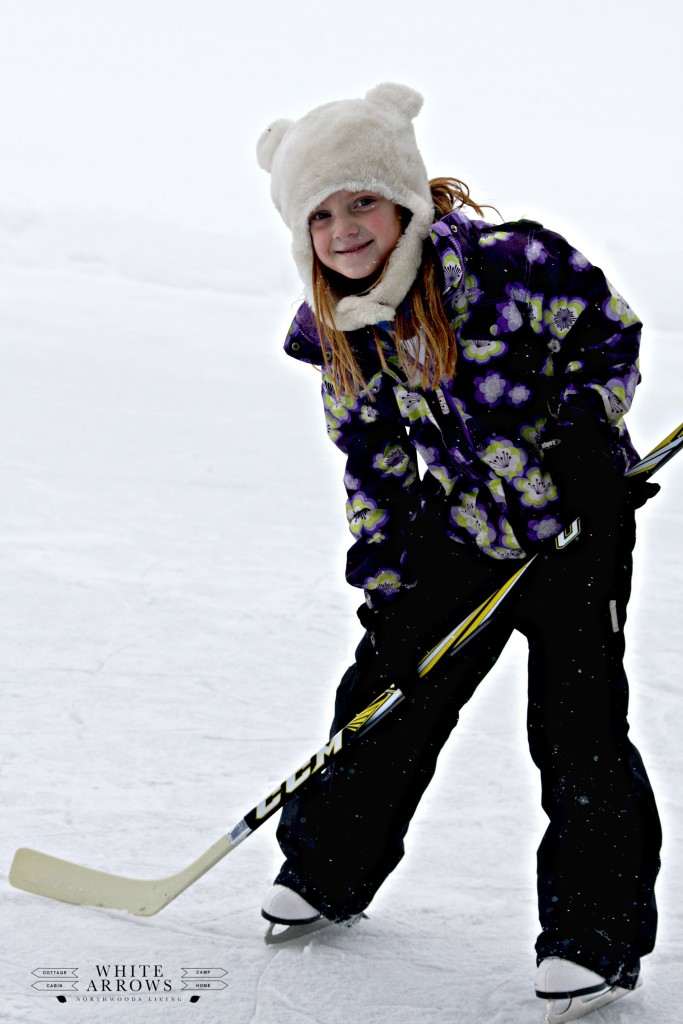 We asked at a local bowling alley for an old bowling ball and old pins and made our own ice bowling alley.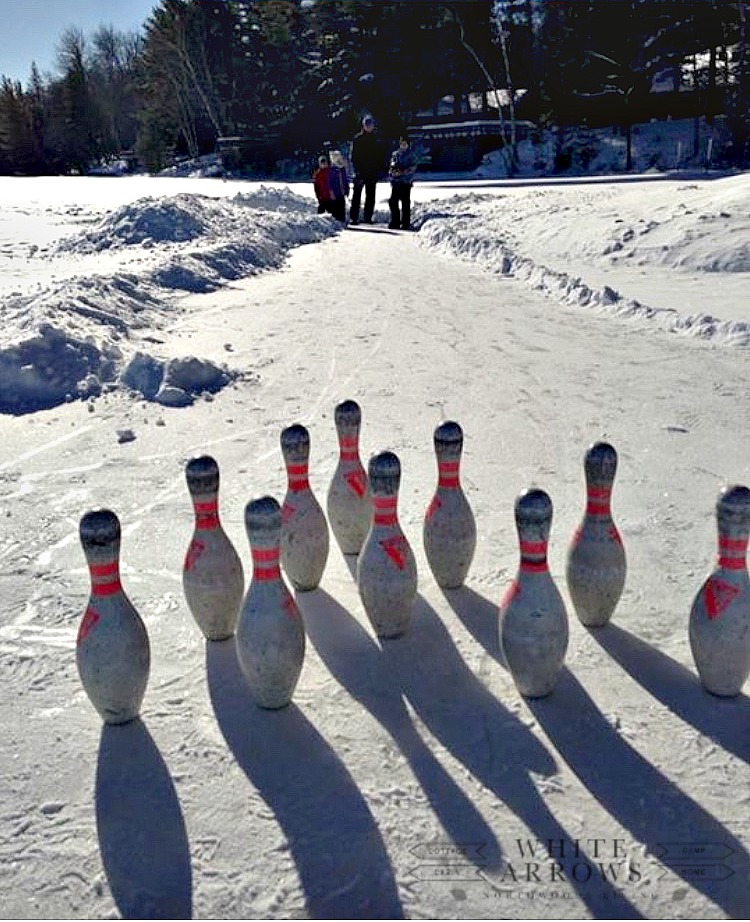 Bike riding continues to be a fun activity in the winter when you have a Fat Tire bike.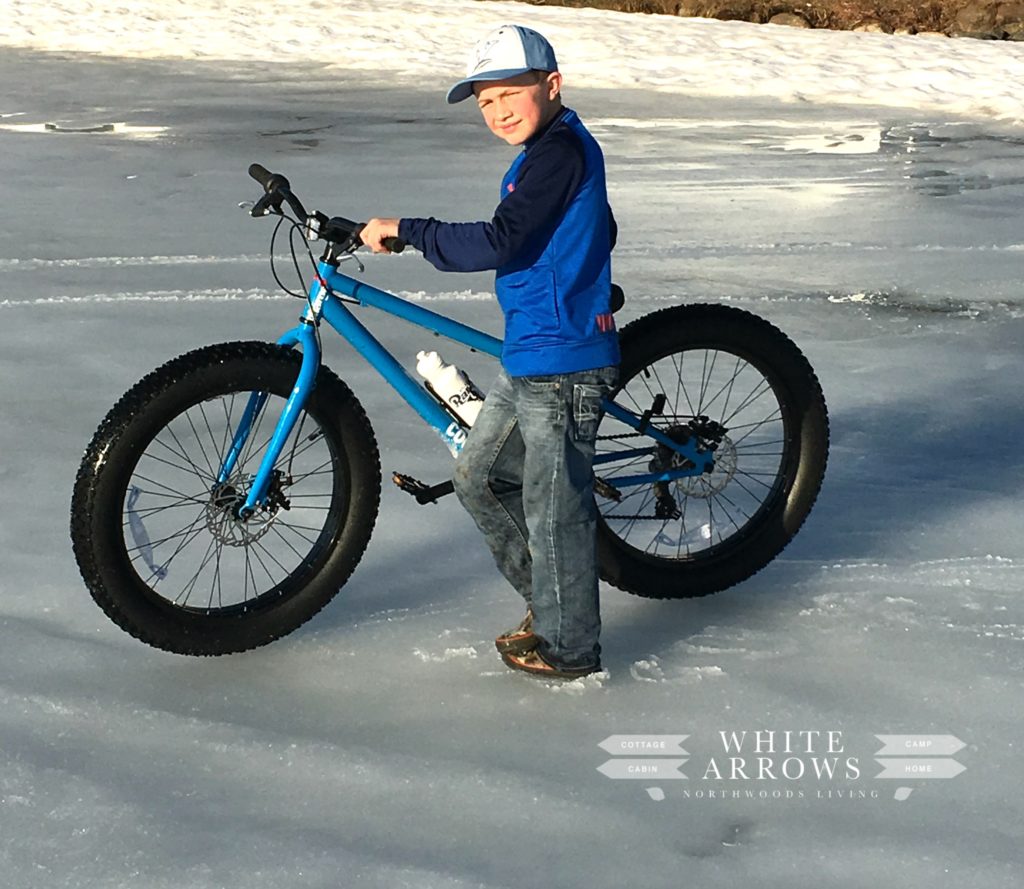 Downhill skiing opportunities abound at several resorts within an hour of Minocqua, either south in Wausau at Granite Peak or up north in the U.P. at Powderhorn, Indianhead and others.

I hope you enjoyed seeing a bit of winter life lakeside in The Northwoods. Be sure to bookmark this post if you are planning a trip north and to connect you with links as you plan an amazing vacation for next winter.
I'll be excited to share more inspiration with you each day on:
Instagram ~ Pinterest ~ Twitter ~ Facebook