A Simple Spring and Easter Decor Project styled in minutes Using Only a Few Items I already had on Hand.
I'm excited to be joining my friend Cindy of County Road 407 for another one of her Pinterest Challenge Blog Hops and a Spring Decor Project. Cindy chooses a seasonal photo from Pinterest and all of the bloggers participating style a space, vignette or make a recipe in a similar fashion, but in their own style.
It is so fun to see how different everyone's posts are even though we used the same inspiration photo!
This month our photo is from On Sutton Place, a lantern used as a cloche for a sweet Spring vignette.

I have now been joining these challenges several times over the many years. The last Pinterest Challenge I participated in was in November, where I shared a beautiful coffee table centerpiece and a trip to the local cranberry farm. You can read the post HERE.
(Affiliate links are used for your convenience. Read my full disclosure here.)
If you are coming over from my friend Laura's house in my home state of Texas, welcome way Up North to Wisconsin! I love Laura's blog, Decor to Adore, she is absolutely one of the most creative ladies I know! I loved how her Spring arrangement turned out.
Welcome to White Arrows Home
As a little girl growing up in the DFW area, I never could have dreamed I'd live in Wisconsin. Today it snowed over ten inches of snow and we were still driving around like it was a normal day! Typical Winters can get up to 100 inches a season!
March-May is an interesting time way Up North where I live, just an hour south of the UP of Michigan. We can have snow all the way 'til May. Then Spring will burst forth for a short time bringing in a breathtaking Summer like in the photo below.

Our house is a full log cabin sitting lakeside surrounded by the woods. Our area is known as Lakeland because of all the lakes making it a tourist paradise all year round.
A Simple Spring and Easter Decor Project
This decor challenge was like many in the past where I "shop" my own home to find all the elements from the inspiration photo.
In the photo I noticed:
A Lantern
A Tray
A Bunny
Grasses
Carrots
A White Pitcher
Pussy Willows
Lantern
For the lantern I headed to the garage. I keep my wreaths and porch decor stored on shelves in the garage and knew I'd find a lantern to use there. I grabbed a simple, medium sized black lantern that could easily fit on a tray on the table.
A candle from the Summer was still sitting inside and it needed a little cleaning up, but it was perfect for the vision I had.

Tray
The tray in the inspiration photo barely shows up, but I'm thinking it is woven. One of my favorite things to bring into Spring decor is baskets and basket weave items.
I recently reorganized my house, changing how some spaces are utilized. I turned the cleaning closet off our entryway and across from the kitchen into a dish pantry. A dish pantry had been a dream of mine. A place where I could store my vintage dish collections and entertaining pieces.
Inside I knew the perfect woven tray on the high shelf. I have a few in several sizes. They were used at my wedding reception to give interest and style to our buffet. I still use them all the time!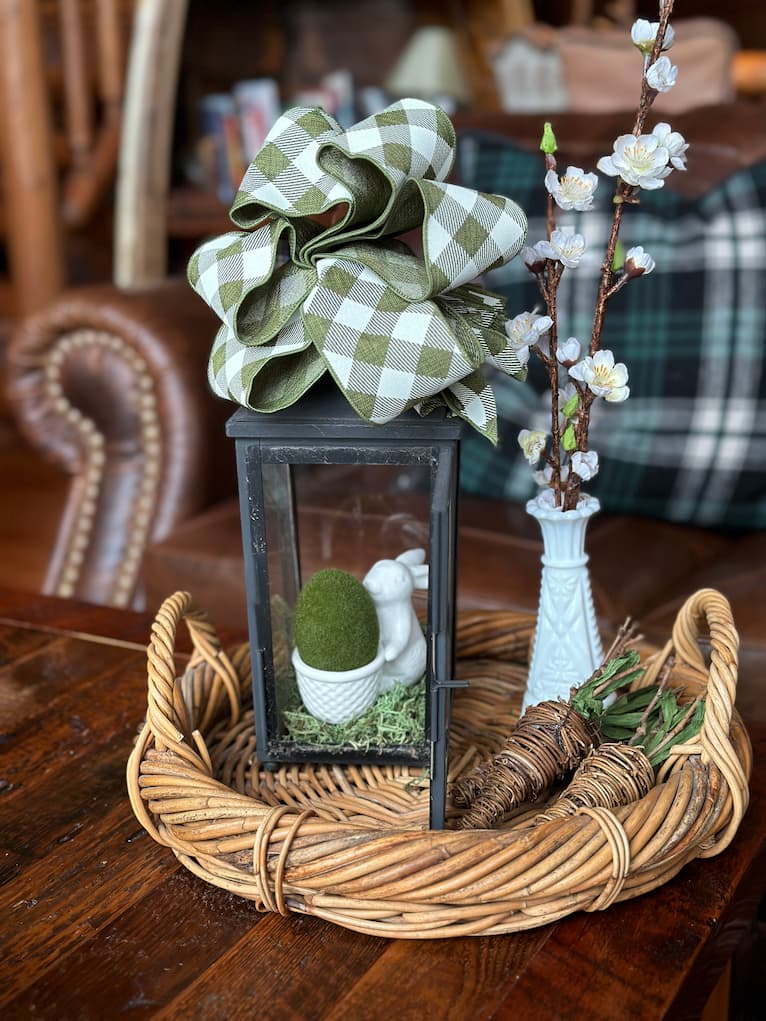 Bunny
Most of the bunnies I have in my Easter decor tub were too large to fit in the lantern. Here are two favorites that wouldn't fit.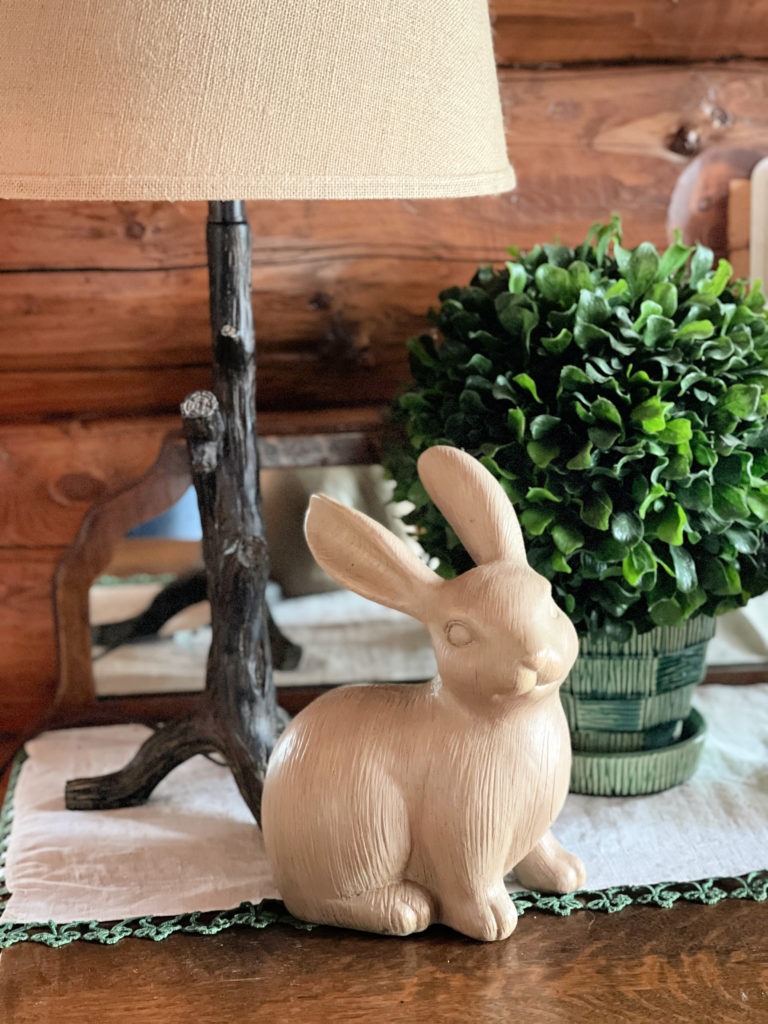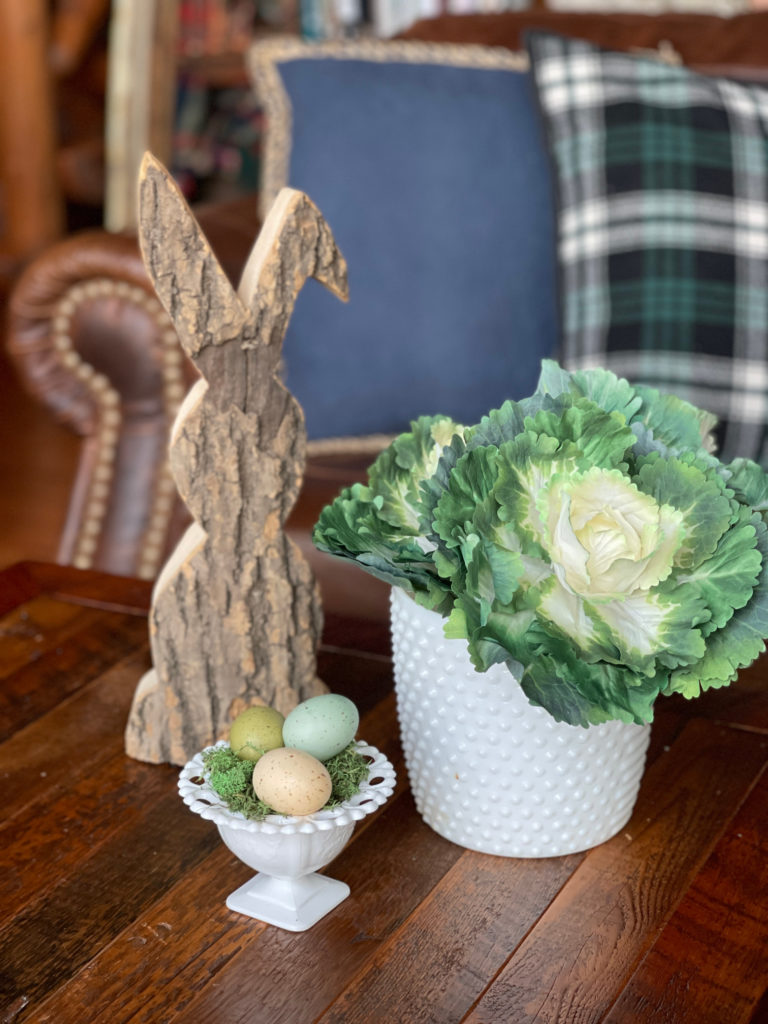 But I found a sweet one to use. It's one I picked up last year in the Target Dollar Spot. It was a pack of two white bunnies holding a basket perfect for an egg.
I loved the clean, classy pop of white of the bunny and added a moss egg to his basket.
Living in the woods, I find inspiration in the nature right outside our windows and when Spring comes around the forest will begin to come alive with moss on the floor, fallen rocks and limbs. I love adding moss like on these eggs to my Spring decor. It's fresh and reflective.

Grasses
The bunny in the inspiration photo is sitting on some grasses. Just like the moss on the Easter egg, I love using faux moss in my Spring decor. Here's a way I use it in pieces from my milk glass collection.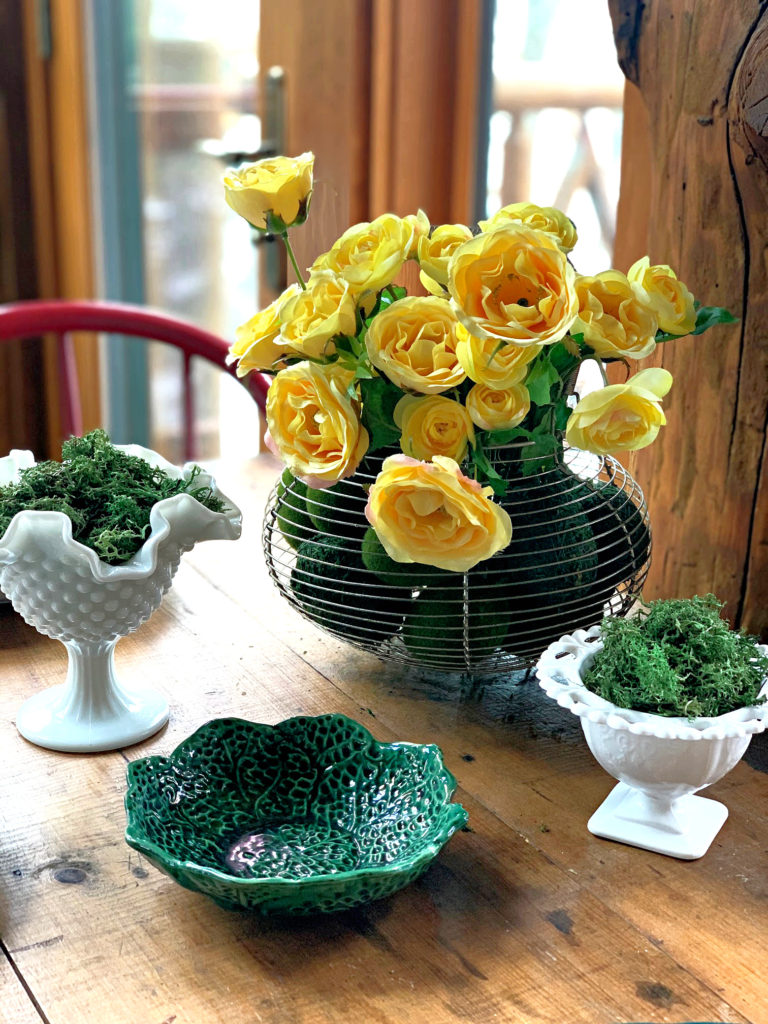 I found the moss I use at The Dollar Tree in the florist section. I added some to the bottom of my lantern for the bunny to sit on. It was a great idea On Sutton Place had and inspired me to give texture and interest to this simple decor vignette.
Carrots
Carrots were the one thing I didn't have. So instead of hanging carrots off the top, I went down into my wrapping/gift station and pulled out a green plaid ribbon to make a bow for the top.


Later on a trip to Walmart, I found some cute wooded carrots that fit our rustic decor well. I added them to the tray next to the lantern to give it balance. By having three things on the tray: the lantern, the vase and the cluster of carrots, it is appealing to the eye. It is often best to decorate in threes or odd numbers.

White Pitcher
I have a few cute ironstone and milk glass pitchers, but I ended up choosing a milk glass vase instead to hold flowers.
Milk glass is a favorite thing for me to collect because there's such a verity of items and it can be found inexpensively.

Want to get daily encouragement? SUBSCRIBE HERE so you don't miss any posts!
Pussy Willows
In my storage room I keep several different faux flowers, grasses and plants to use in my decor. Instead of pussy willows I grabbed a different set of stems with pretty white flowers.

This challenge has been so fun! What I love about it most is that it was quick, easy and used what I already have. You can do this too when you find a photo on Pinterest that inspires you. Decide what you like about it and then give it your own twist and style!
Next up you are headed over to my friend Michelle at Thistle Key Lane. Michelle is an amazing artist and stylist. She always inspires me! You'll love her lantern tray vingette.
Get the Look


Take the Tour
You are invited to the Inlinkz link party!
County Road 407 ~ DIY Beautify ~ A Stroll Thru Life ~ The Ponds Farmhouse ~Our Southern Home ~ Decor to Adore ~ White Arrows Home ~ Thistle Key Lane ~ Lora Bloomquist ~ Cottage in the Mitten ~ The House on Silverado ~ Everyday Edits ~ Peacock Ridge Farm ~ My Family Thyme ~ Bluesky at Home
FOLLOW ALONG
Instagram ~ Facebook ~ Pinterest ~ Twitter ~ YouTube ~ Tik Tok ~ Liketoknow.it