Kristin Lenz sets a table for four decorated for Fall.
This Fall we start a new journey as a family at home of four and our cabin home is transitioning with us. As the seasons change so does our life. We are learning to embrace it, find the beauty in it and thrive in each chapter.
To every thing there is a season, and a time to every purpose under the heaven: Ecclesiastes 3:1 KJV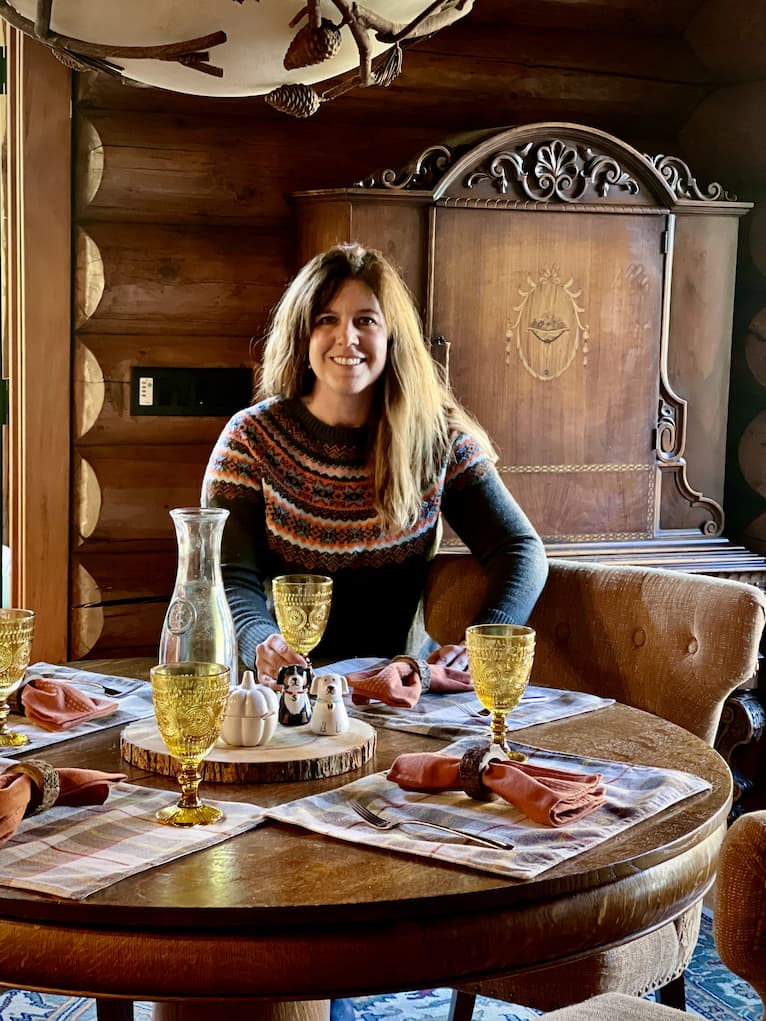 A big change happened in our house this year. I'm the mom of five kids, but now down to only two at home. Three of my five are now out in the workforce or in college. Every time one leaves the nest it changes things at home.
It's bittersweet as I watch them go off to chase their dreams and see them grow into the young adults we've raised them to be using the gifts God has given them.
(Affiliate links are used for your convenience. Read my full disclosure here.)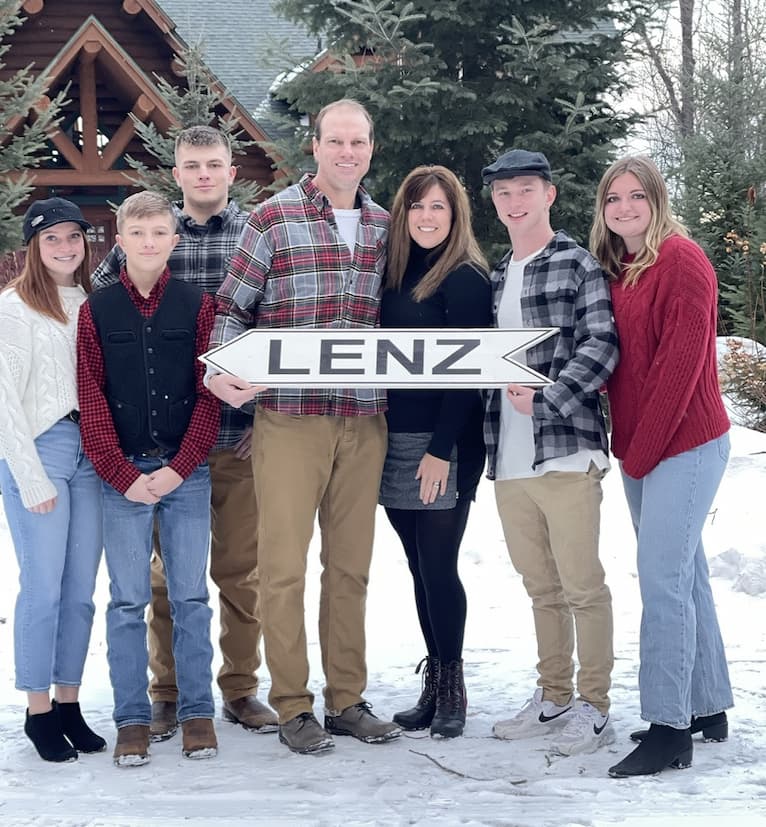 One of the big changes was time at the table. Our dining room table seats eight. Being down to four the big table reminded us of who wasn't gathered around it each meal.
Just off the dining room is our sunporch. We've tried decorating many different ways over the years. When we bought our cabin it was a screened in porch that most of the year was unusable as it was full of snow or pollen, so we enclosed it.
This Summer we decided to move the dining room table out to the sunroom and we LOVED it there! It was a beautiful space to dine in.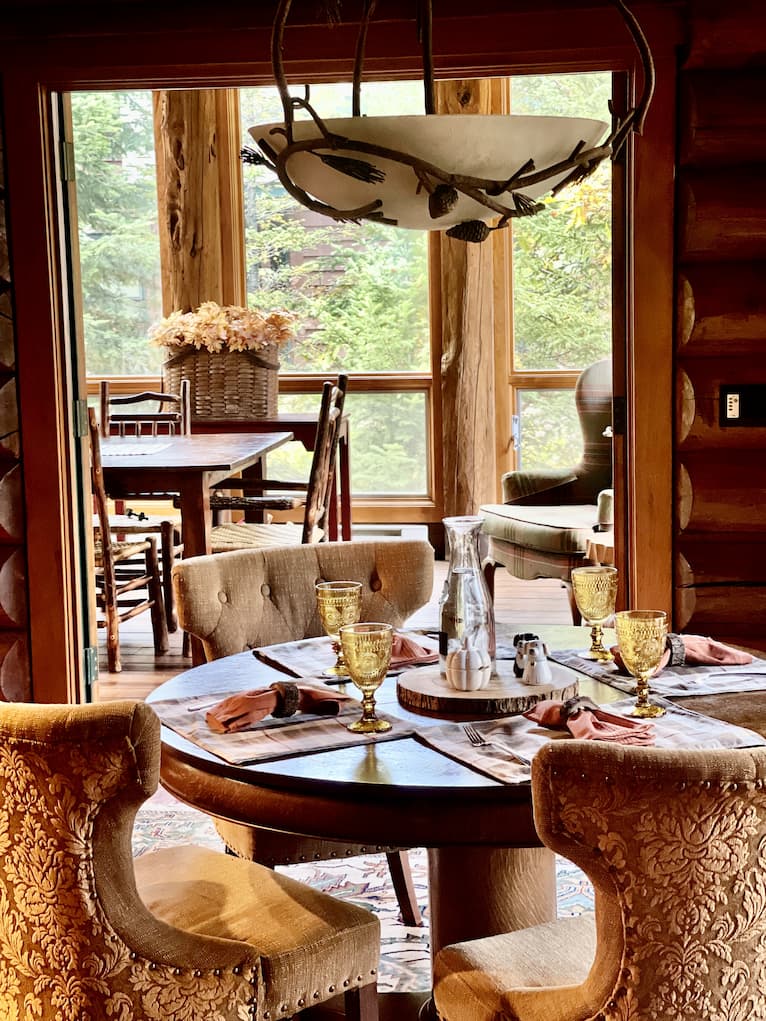 That left an open spot in the dining space off of the kitchen. I thought about making a little gathering space with four chairs and a coffee table. We tried that for a few weeks, but it didn't flow right.
Sometimes you need to try a space and see what works. It's amazing how the design of the room really affects how people use it.
I had a round table over in the guest house that I thought would be great to bring over and make a table for four and a breakfast room here.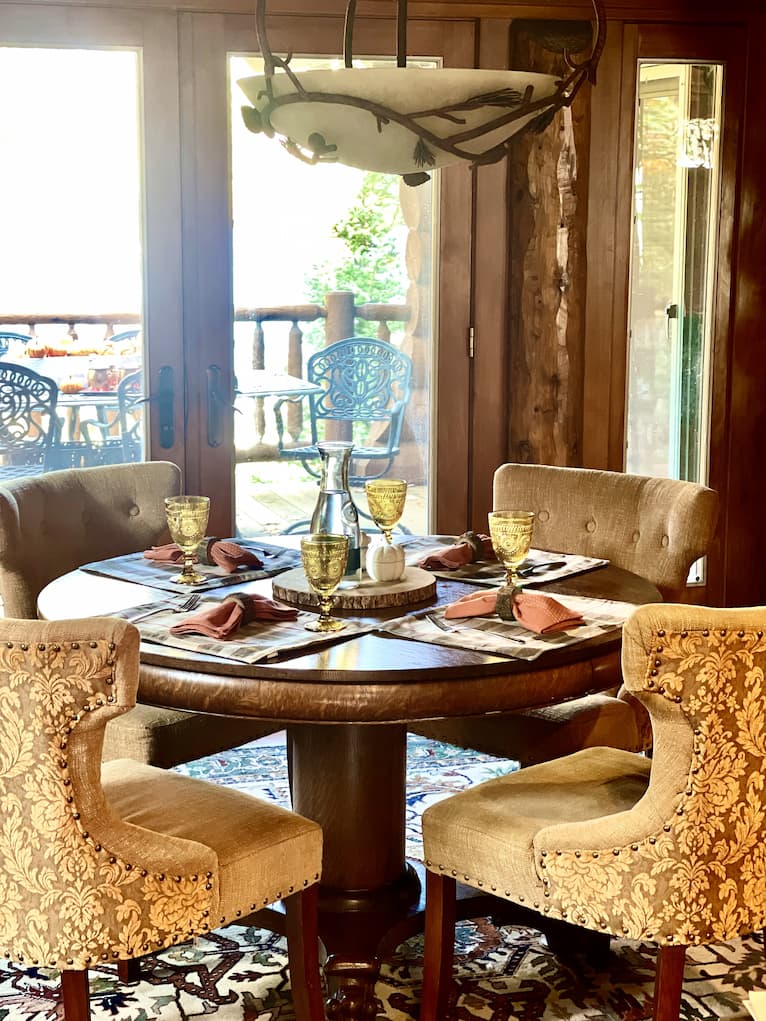 The small round table here has been working beautifully! The four of us love sitting around it for breakfast or dinner.
We find ourselves sitting her just to visit or do homework and work too.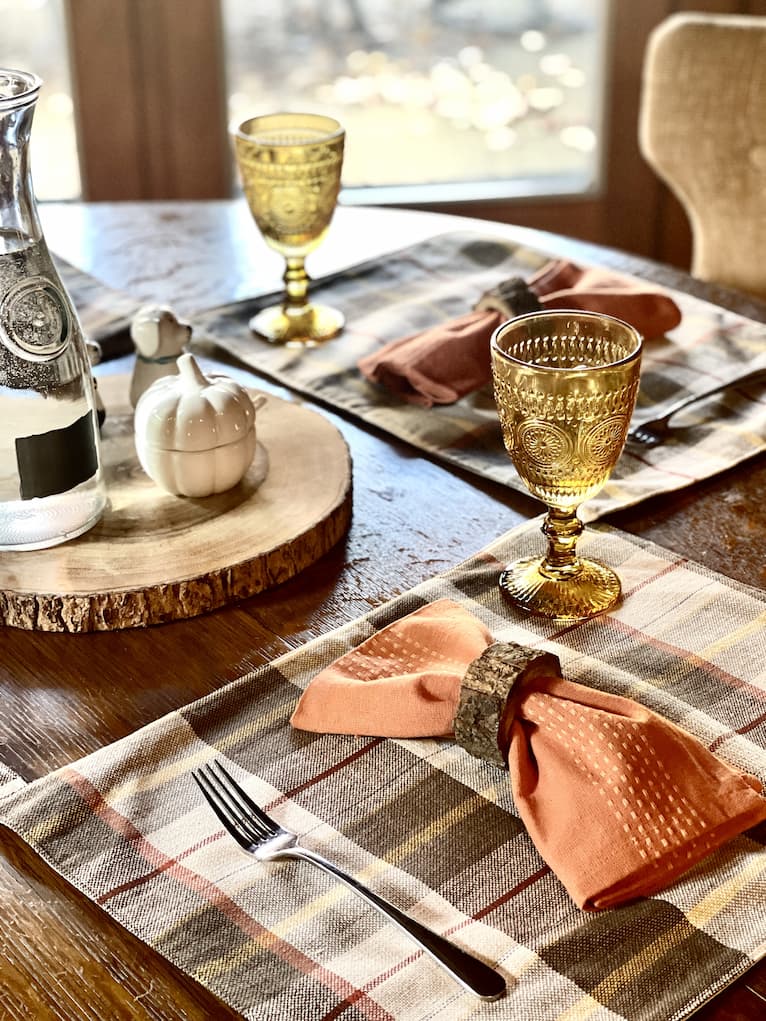 I'm also loving setting the table too for the four of us each day.
I like having the table set during the day looking inviting and ready to welcome us all back together.
A wooden charger stays in the middle of the table holding a water decanter, salt and pepper and any other condiments. In the mornings a vintage juice decanter joins the water holding Orange Juice.
The salt and pepper shakers were painted by my younger daughter at a local paint your own pottery studio to look like our dogs.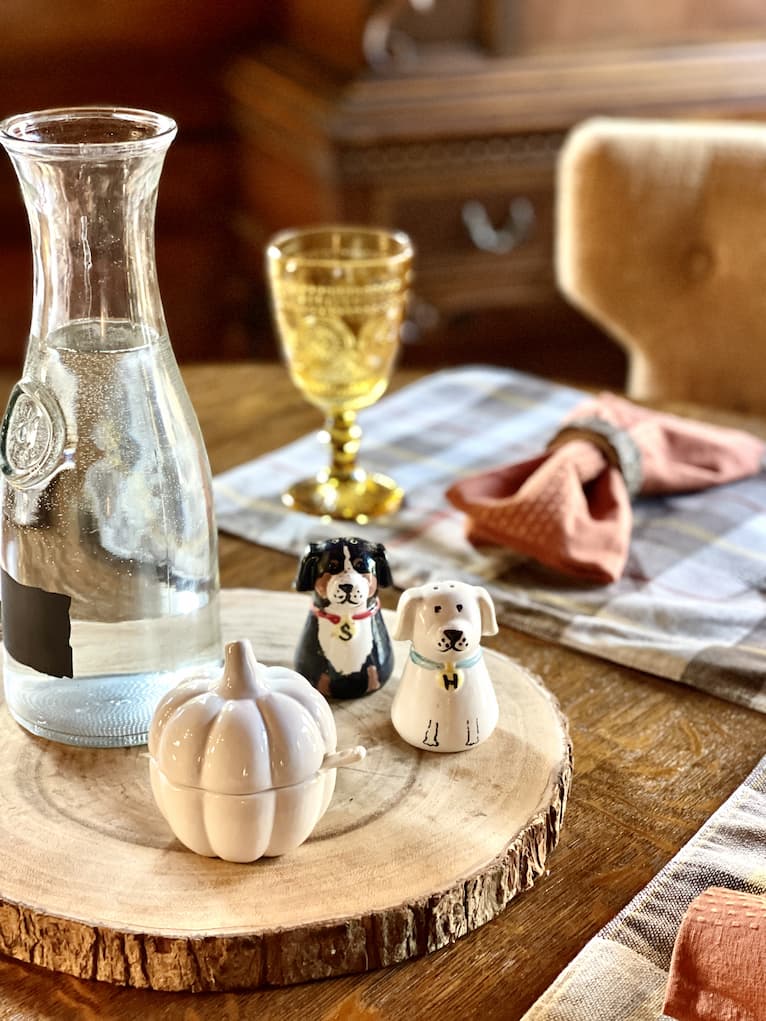 Now with the dining room on the sunporch, the porch out back and the breakfast room, we have three beautiful spots to enjoy as a family or overflow with guests and still be near each other.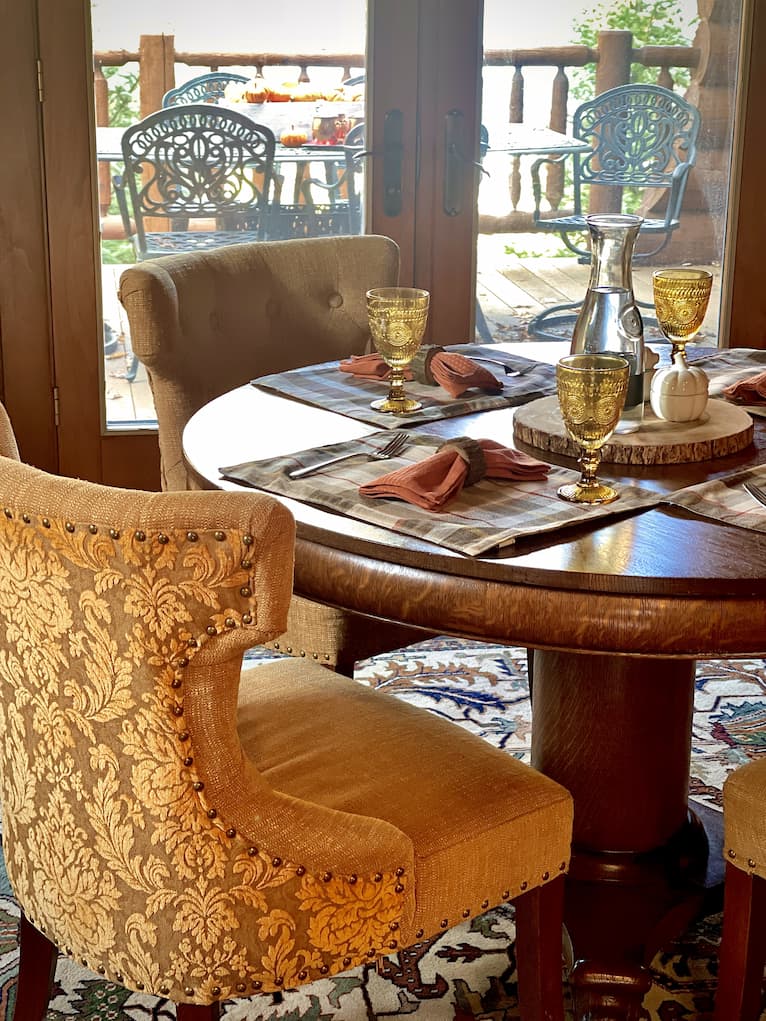 The goblets, placemats, napkins and rings are all finds from Hobby Lobby. You can find similar items from my links below.
I usually set the table to reflect the different seasons. Where we live in The Northwoods of Wisconsin we get to celebrate each season, (but Spring is a bit short).
In the background you can see a few of my vintage picnic baskets from my collection stacked in a group of three.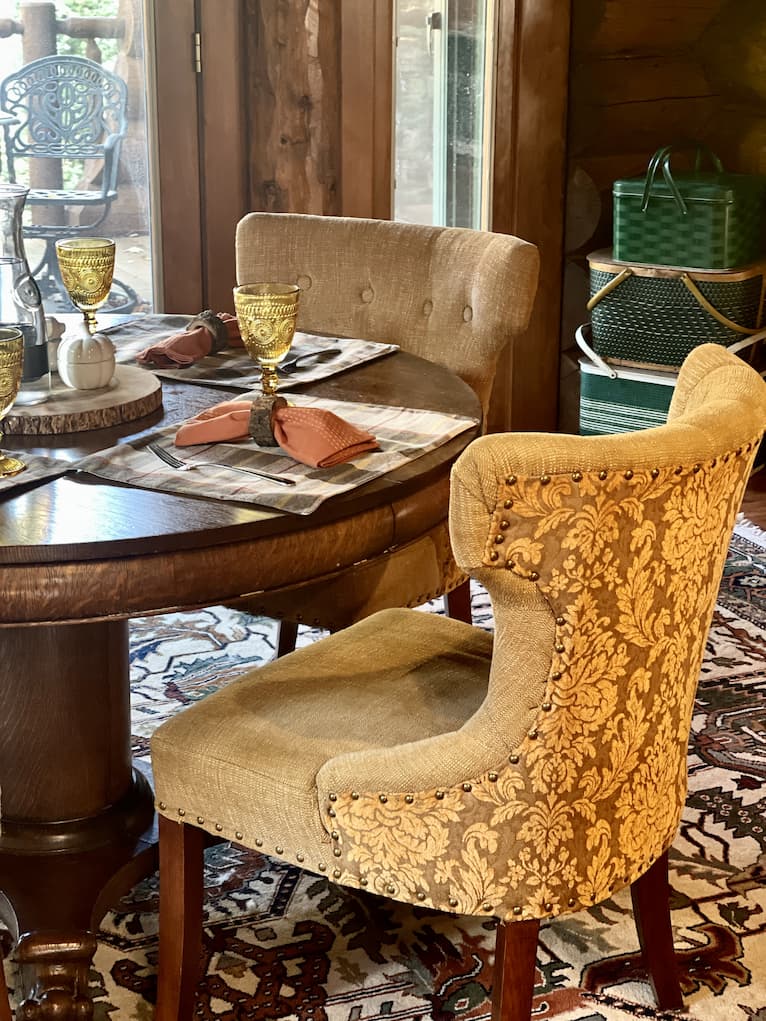 Want to get daily encouragement? SUBSCRIBE HERE so you don't miss any posts!
This new space reflects my passion for mixing old and new and style of rustic elegance.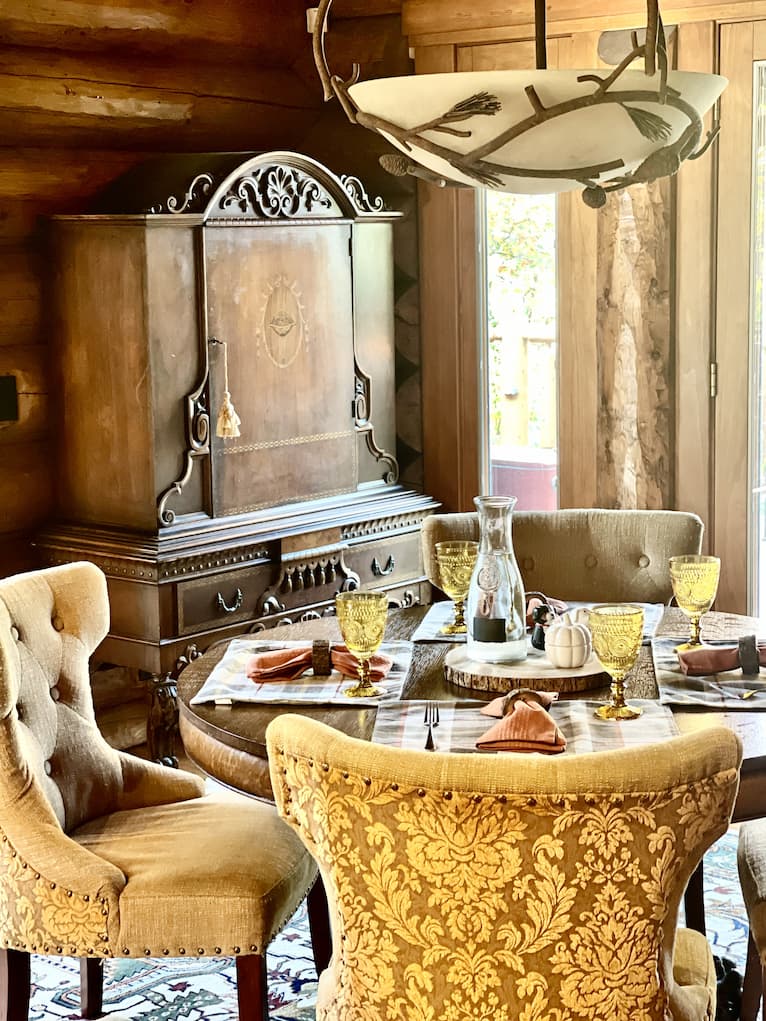 Having meals as a family is one of the most important things we've done as a family. We try to prioritize it and protect the best we can.
When our family was just staring and the kids were little, Brian worked late nights. We adjusted. I was feeling sad that we couldn't have dinner together. Rather than get frustrated and bitter or angry at Brian when he couldn't change it, I prayed about it and we made a change. I gave our family and myself grace. We stared making sure we had breakfast together.
Not only did that decision teach me a lot about how to come at a challenge, but it made breakfast a very special meal for us going forward and a wonderful way to start our days.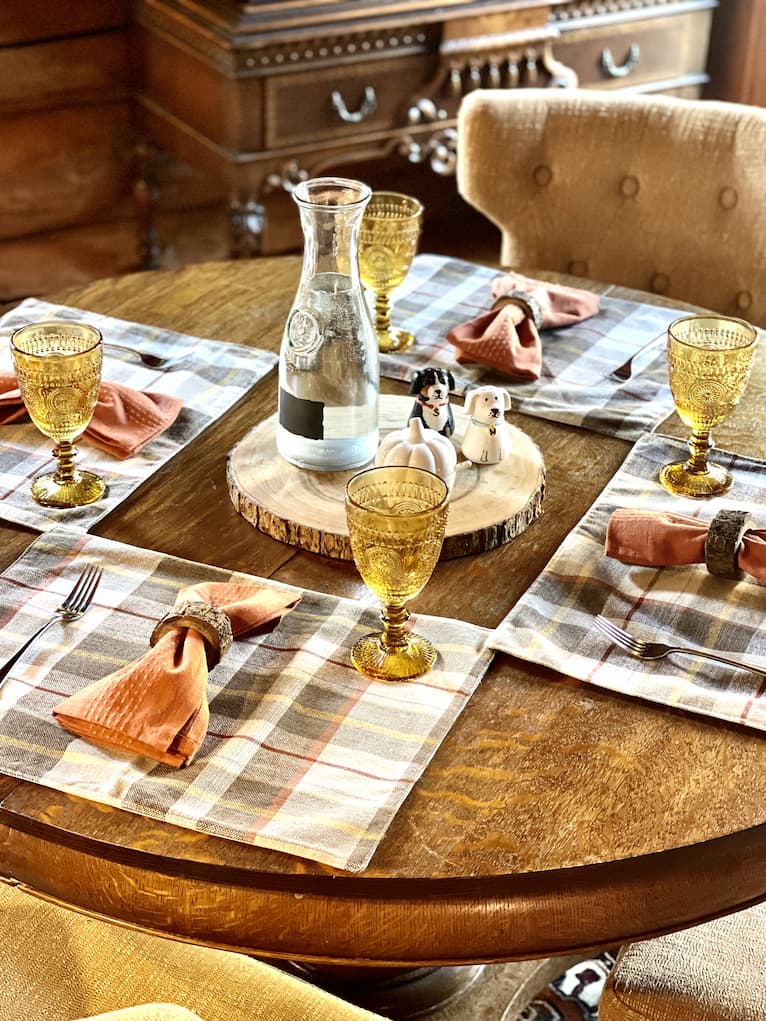 This room design also highlights the beautiful elements of our cabin home. It was put together like a real life Lincoln Log house and I love seeing the wood beams and logs.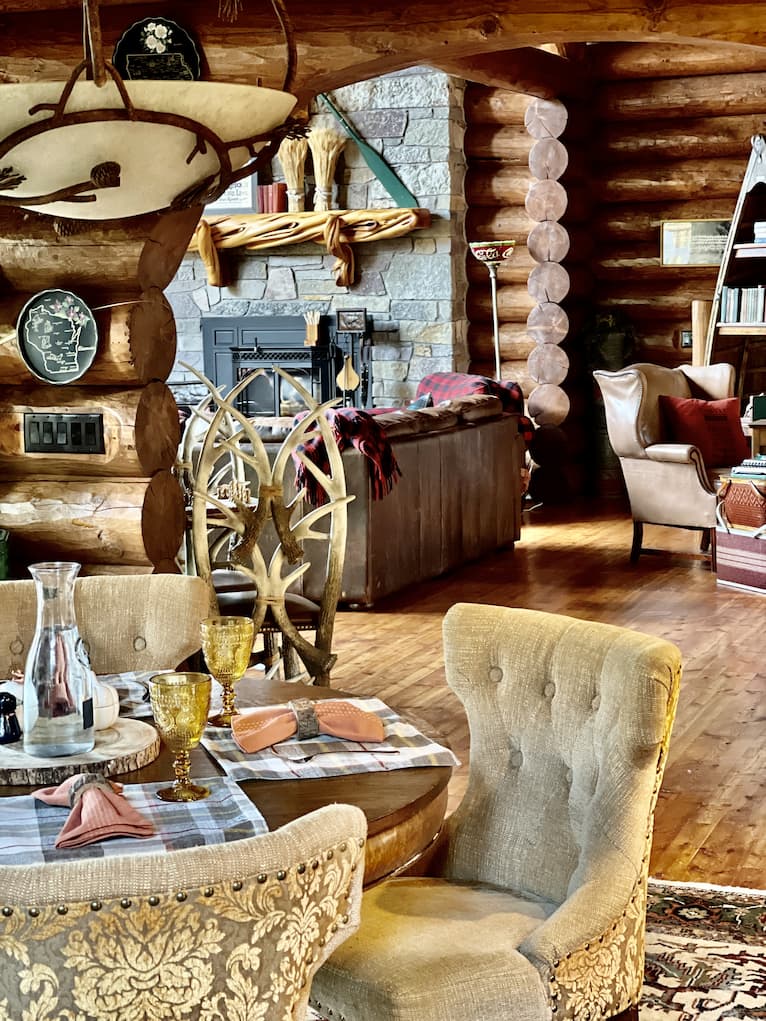 We are excited for many more meals here connecting with our kids and making this time together with our smaller family special.
I hope you've been encouraged:
how to set a beautiful Fall table
connect with your family more around the table
give yourself grace as you work through your schedule and even how your house is decorated
FOLLOW ALONG
Instagram ~ Facebook ~ Pinterest ~ Twitter ~ YouTube ~ Tik Tok ~ Liketoknow.it