A Vintage Collection of vintage handkerchiefs has begun and I'm sharing ideas for using and displaying them.
I have so many different vintage collections that mean a lot to me. Collections that I love adding to and using in my home. My collections include old flashlights, thermos, picnic baskets, plaid books, antique snowshoes, goblets and dishes and so much more. Most recently I started collecting vintage handkerchiefs
(Affiliate links are used for your convenience. Read my full disclosure here.)
Thrifting With the Gals
I love sharing my thrifting adventures with you over on Instagram Stories during the week when I hit my local antique shops, thrift stores and vintage markets for our #thriftingwiththegals series. My Thrifting With The Gals friends share from where they live across the country too, in Vermont and Maine, North Carolina and Florida, Minnesota and Wisconsin. I love passing on their storied adventures to you too.
Monthly the Thrifting Gals come together for a blog hop where we share how we are using or upcycling our finds in our own homes.
SUBSCRIBE HERE so you don't miss any inspiration!
MEET THE GALS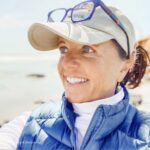 Ann @ Dabbling & Decorating | Pinterest | Instagram | Facebook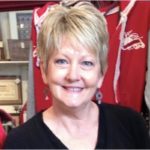 Rachel @ The Ponds Farmhouse | Pinterest | Instagram | Facebook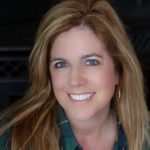 Kristin @ White Arrows Home | Pinterest | Instagram | Facebook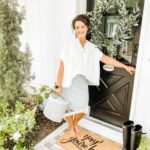 Robyn @ Robyn's French Nest | Pinterest | Instagram | Facebook
And our Guest Host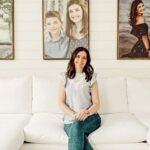 Heidi @ Eleanor Rose Home | Pinterest | Instagram | Facebook
I love sharing my collections with you and what is inspiring me. In this post I'm excited to share about my vintage hankies.
This post is also kicking off my new blog series, "Bringing it Back," where I am writing about traditions, habits, and ways of life that I think would be great to bring back into practice. One of those things is using beautiful handkerchiefs, always keeping one in your purse or close at hand.
I often cry when I'm moved by something sweet or kind, I can pull my handkerchief out to dab my little tears. The handkerchiefs can even be matched to my outfit.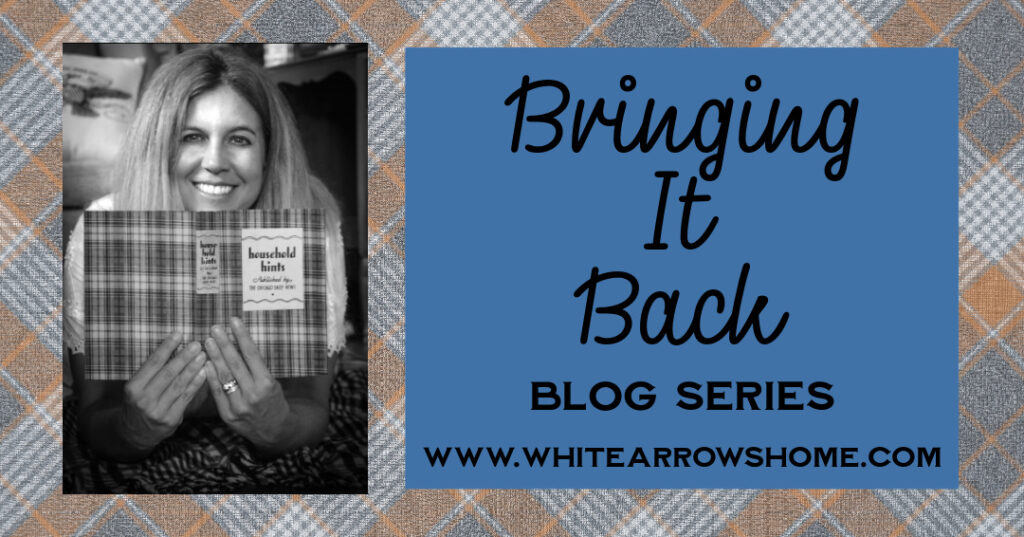 When I got married one of my best friends and bridesmaid gifted me a handkerchief as my something old. I wrapped it around the base of my bouquet. I thought it was such a special and meaningful gift that became a treasured memento.
Collecting handkerchiefs didn't start for me until a few years ago though. My eyes started watering in the mornings when i was driving the kids to school and I thought it would be great to just have a handkerchief along to dab at them.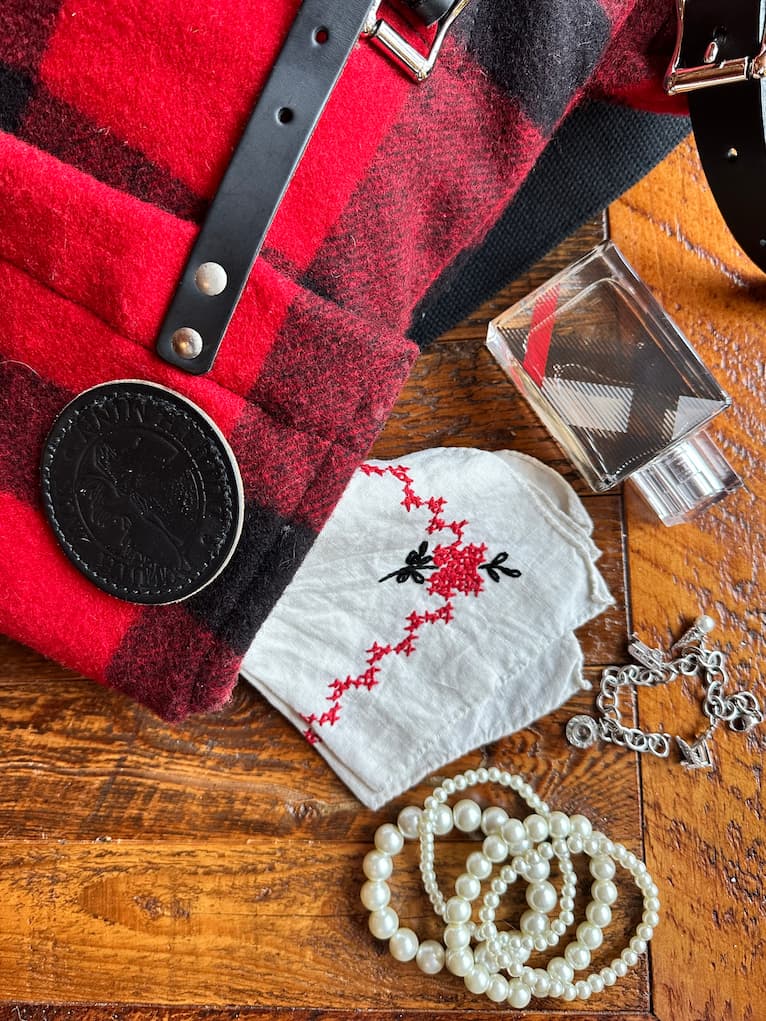 Why Collect Vintage Handkerchiefs
There are so many beautiful crafts and DIYs to make with vintage handkerchiefs. As a collection grows some could be pulled out to use in making curtains, aprons, pillows and other ideas I'm sharing below.
I personally collect them for a few other reasons as well. They are usually inexpensive in antique shops and I love having collections that don't cost a lot and each time I go junkin' I can get a new one because they are always in the budget.
There are so many patterns and styles of handkerchiefs, each one is a unique treasure. Sometimes I'm looking for certain colors, but usually I just choose one that catches my eye.
Many of them have a hand stitched design on them making me pause to wonder the story behind it and the person who did the work.
How to Start a Hankie Collection
To start collecting, I recommend choosing a new one each time you go to an antique shop. Take a few minutes to go through the bin and select a favorite.
Sometimes they are sold in a pack and then you have an instant collection started.
If you have a grandparent or family member that uses them or had them, ask if you can have one. How special to start a collection with a family heirloom.


More Ideas to Repurpose Vintage Handkerchiefs
There are so many inspiring ideas I found from other bloggers and on Pinterest that I can't wait to try. Have you done any of the me before or done a different project than what I share below?
Here's a sweet idea to add special detailing to the edges of simple white pillows.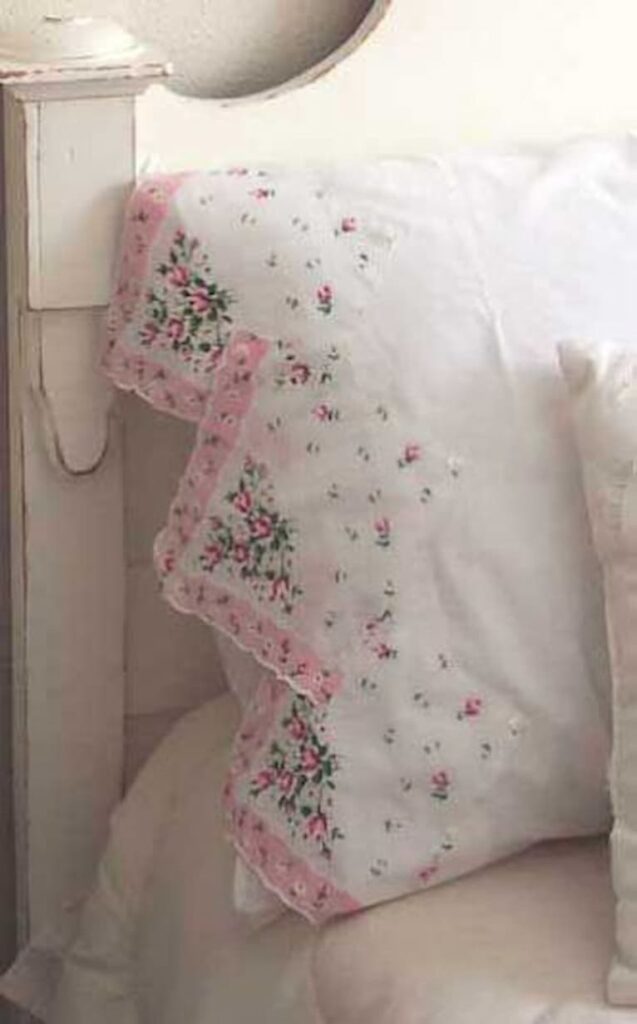 One of my favorite ways to easily switch up my home for the seasons is by changing out the throw pillows. This idea to make a pillow with vintage handkerchiefs is a great idea. Bright florals is the perfect addition as winter comes to an end and we are ready to see color and flowers outside again. We can bring it inside first.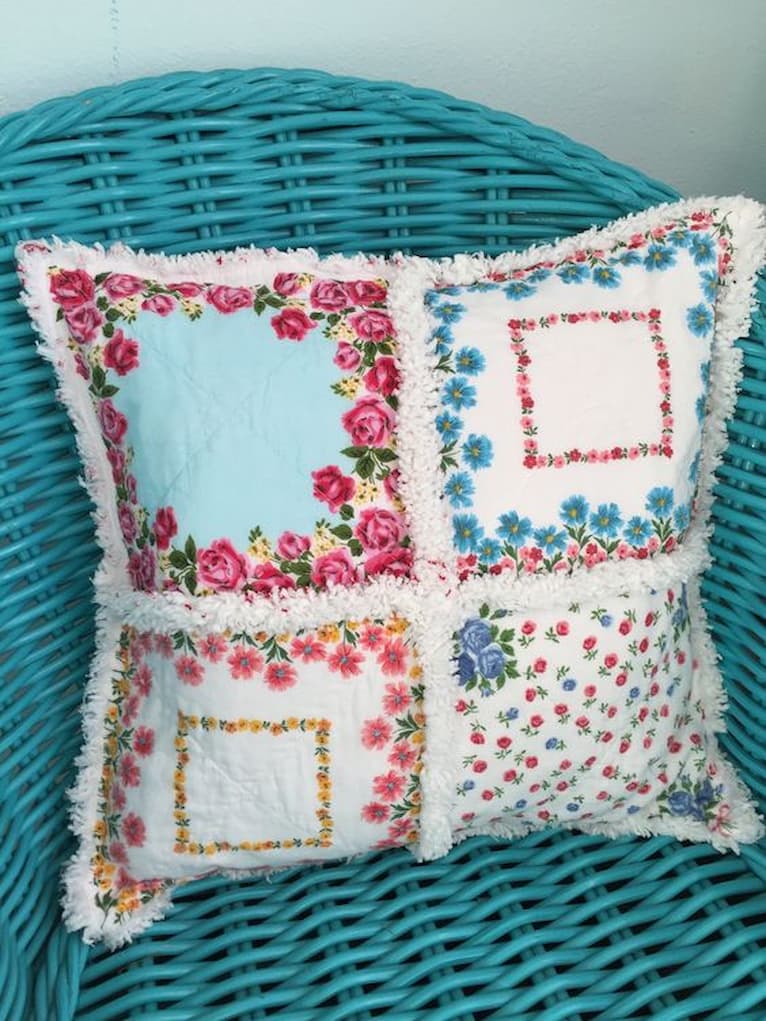 I love creative gift wrapping and this one is extra special because the wrapping is part of the gift. What a sweet idea for a birthday, teacher, mother, daughter or friend.
Maybe wrap a bath balm inside and then tie it with a ribbon and a vintage brooch.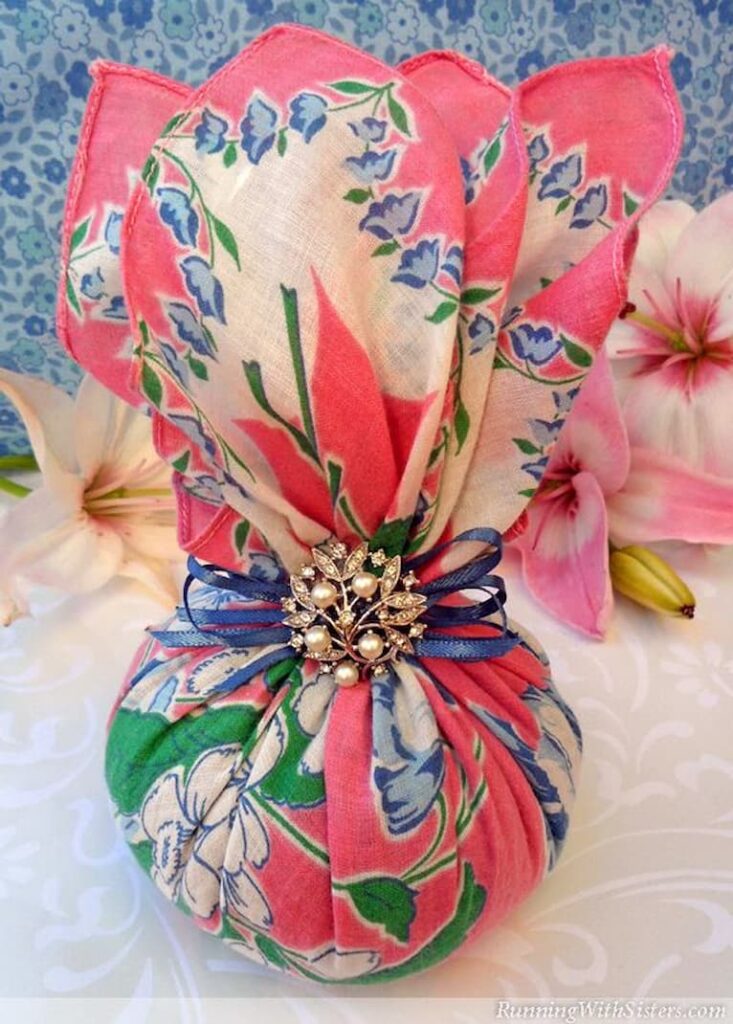 In my shop we just took an old wonderful camp blanket that had lots of holes in it and cut it up to make heart shaped pillows. I love the idea of doing the same thing with vintage handkerchiefs.
They would make sweet gifts or look amazing as a collection in a pretty bowl on the coffee table or styled into a vignette.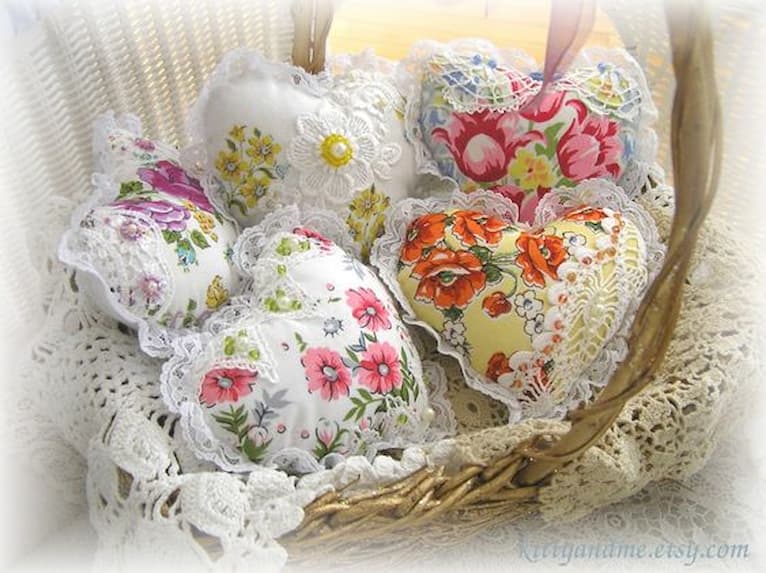 Using vintage handkerchiefs to make a table runner is such a pretty idea. It's so easy to do and can be styled for a certain event or holiday just by the colors of handkerchiefs you choose to use.
All red and white designs would be perfect for Valentine's Day. A bunch of pastel florals would be lovely for a Spring table or Mother's Day gathering.
They could be sewn together or simply laid out overlapping each other.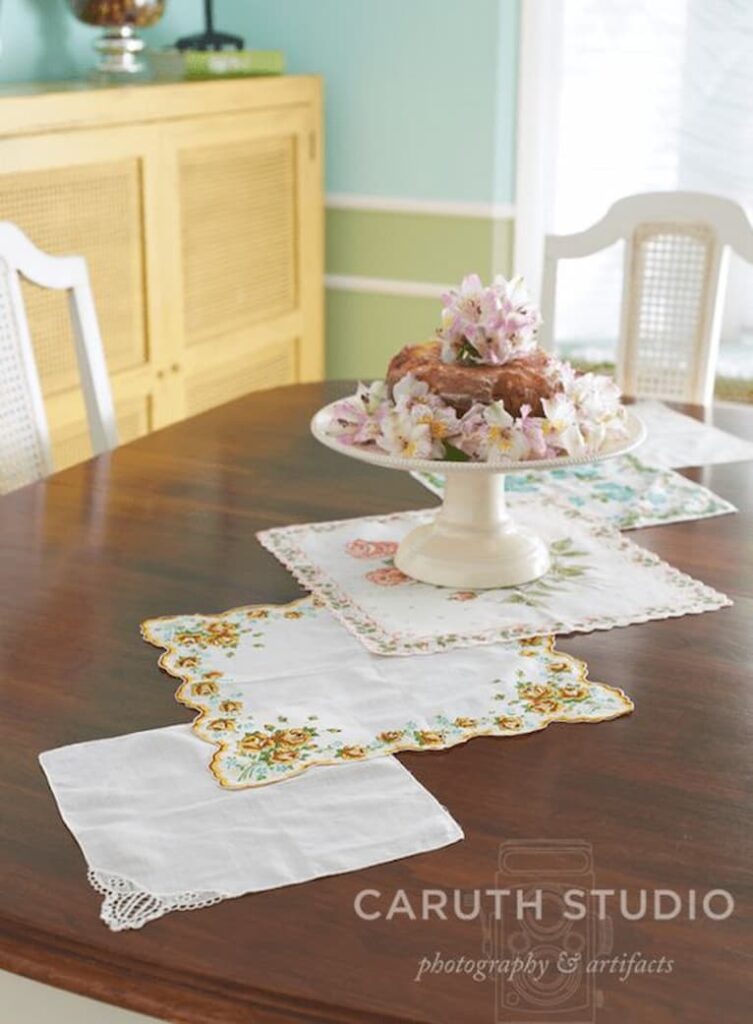 My favorite handkerchief collector is my friend Mary. You may already follow her account, It Followed Me Home Vintage on Instagram. If not, you will thank me for introducing you!
I love how she displays her vintage collections, especially her handkerchiefs.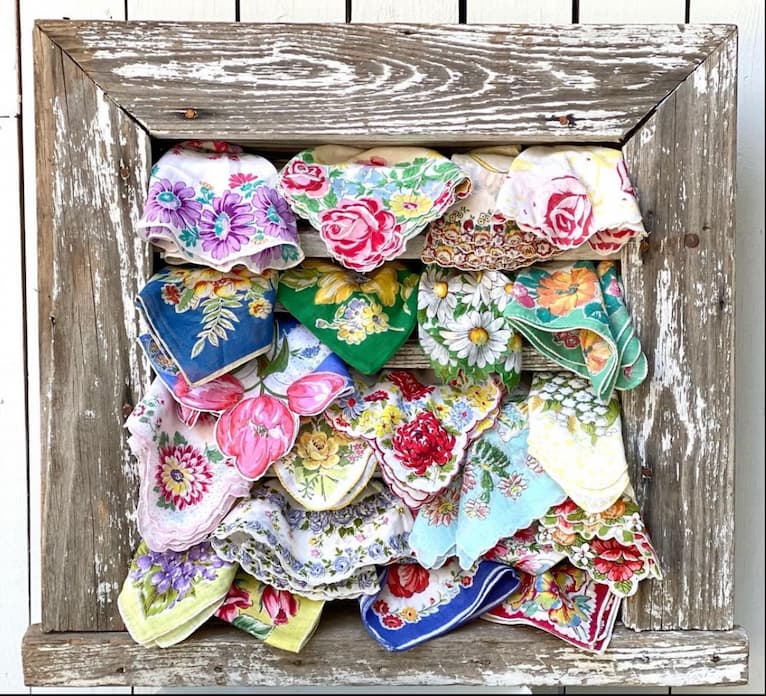 I'm loving this idea for Spring! This handkerchief wreath is beautiful and such a cheery display with the bright colors all sticking out like rays of sunshine.
It's such a quick, easy way to display a collection.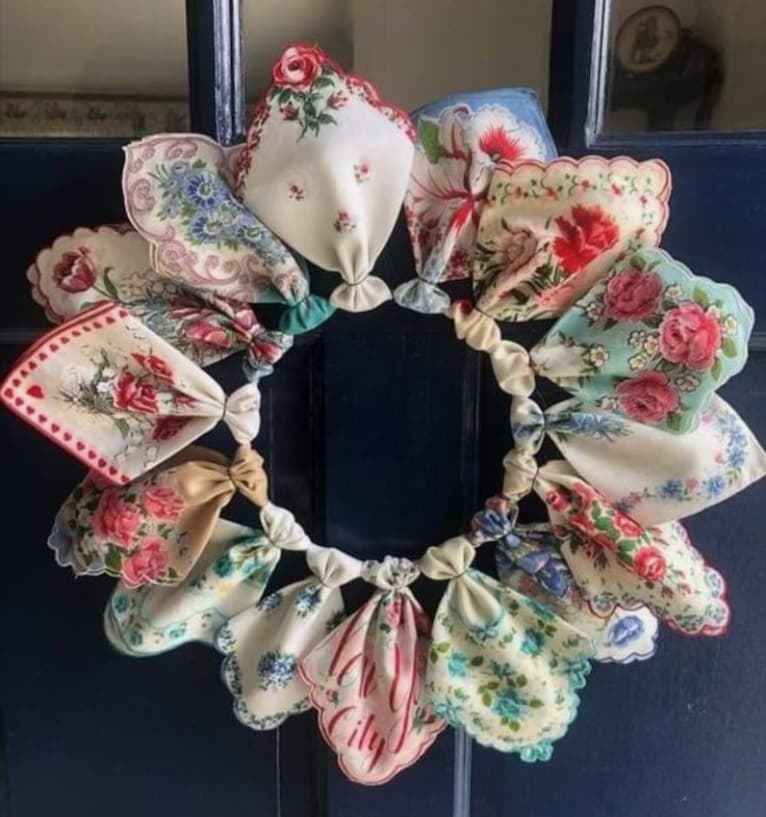 It's such a sweet idea to sew vintage handkerchiefs into a sachet. What a special way to give a gift.
I think this would be a sweet idea for a neighbor to leave hanging on their door.

It's such a beautiful idea to take the vintage handkerchiefs and sew them into an apron. Do you like wearing an apron when you cook and bake?
I love the way this one is sewn in two layers and the bright floral designs chosen.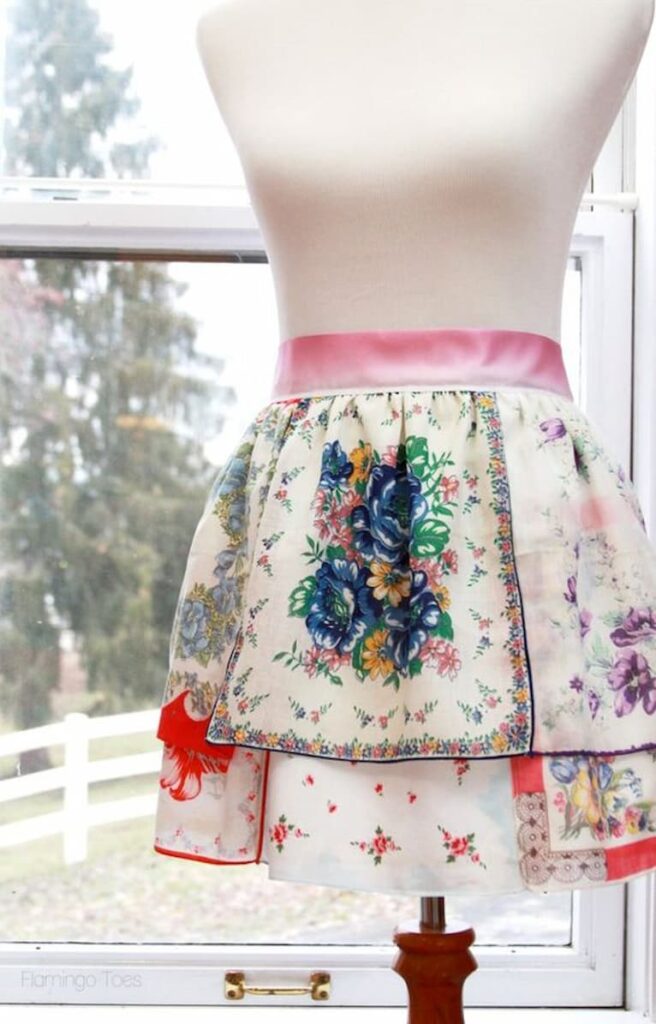 See more fun ideas on my Pinterest board.
Where to Find Vintage Handkerchiefs
I usually always find many options for handkerchiefs when I am at thrift stores or antique shops. Etsy's another wonderful place to look.
How to Clean Vintage Handkerchiefs
Find several ideas for how to clean vintage hankies and linens in THIS POST.
Take the Tour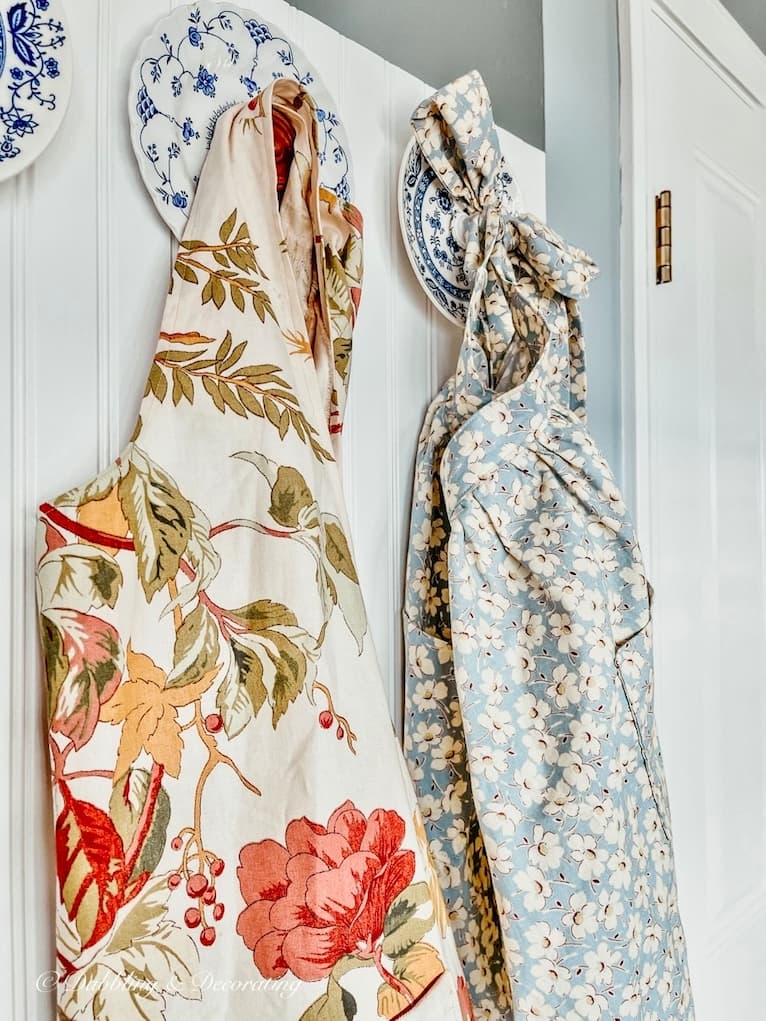 Ann | Dabbling & Decorating ~ Robyn | Robyn's French Nest ~ Kristin | White Arrows Home ~ Rachel | The Ponds Farmhouse ~ Heidi | Eleanor Rose Home
FOLLOW ALONG
Instagram ~ Facebook ~ Pinterest ~ Twitter ~ YouTube ~ Tik Tok ~ Liketoknow.it ~ Podcast