One of the biggest blessings in my life are my wonderful friends. Those near and far, those that I see often and those that I wish I could see more, are all so special to me.
I'm sharing my ideas for a Friendsgiving Celebration along with a few of my fellow blogging friends today and tomorrow and excited to have you along! If you are coming over from Natalie at Everyday Elegance By Natalie don't you just love her decor? I am always so inspired! Thank you to Jacqueline of Welcoming Home for organizing all the fun!
Each home on this tour is gorgeous and unique in it's styling. I'm sure you will find ideas in all of them, just as I have to add into your own Thanksgiving decor. Links to each site can be found at the bottom of this post.
(Affiliate Links are shared for your convenience, read my full disclosure here.)

I love going to parties, I don't mind being in big groups and bopping around and visiting with lots of sweet gals, but I love gathering in small groups with a few dear friends for long conversations where we laugh, share and "solve all the problems."
The idea of a Friendsgiving celebration is such a fun tradition. So many of my friends have become like family to me and it seems only fitting to share in a special meal together in Thanksgiving.

I decided to set up a luncheon in the sunroom that would start with a Bloody Mary Bar and then a sit down meal together. This printable invitation can be filled in for your own Friendsgiving.

I set up a build your own Bloody Mary Bar on top of a dresser I found last weekend on a trip to Duluth with some girlfriends for the Duluth Junk Hunt. The dresser was in Northern Cottage's wonderful booth. It was build out of old soda crates and painted white with a black top. There are no drawers, just shelves making it lightweight and easy to move. The ideas I have for using this piece are endless. The Bloody Mary Bar is it's first feature!

I mixed in vintage pieces like some of my hobnail milk glass collection. This little dish keeps drips contained after pouring.
The cutting board etched with White Arrows Home is from a favorite craftswoman and friend Tracy of Storyboards2016_ 
One of my favorite fall vintage collections are my Hazel Atlas pheasant glassware.

I used a vase to hold pheasant feathers and a pot as an ice bucket.

At the Hunt there was a booth giving samples of Farmhouse Pantry Bloody Mary mix. It was so good I decided to bring some home to share. The relish tray was also a Duluth Junk Hunt find.

The rustic setting of the porch is one of my favorites. The totem pole comes from a favorite local store, Roughing It In Style.
The Paddle Your Own Canoe vintage reproduction sign is from a favorite local craftsman, Vintage Cabin Signs.

In Early fall the corner of the sun room looked like the photo below, a perfect spot to sit and feel the cool breezes and watch the leaves change. For this Friendsgiving meal, I moved out the wicker chairs and brought in a card table and four of my dining room chairs.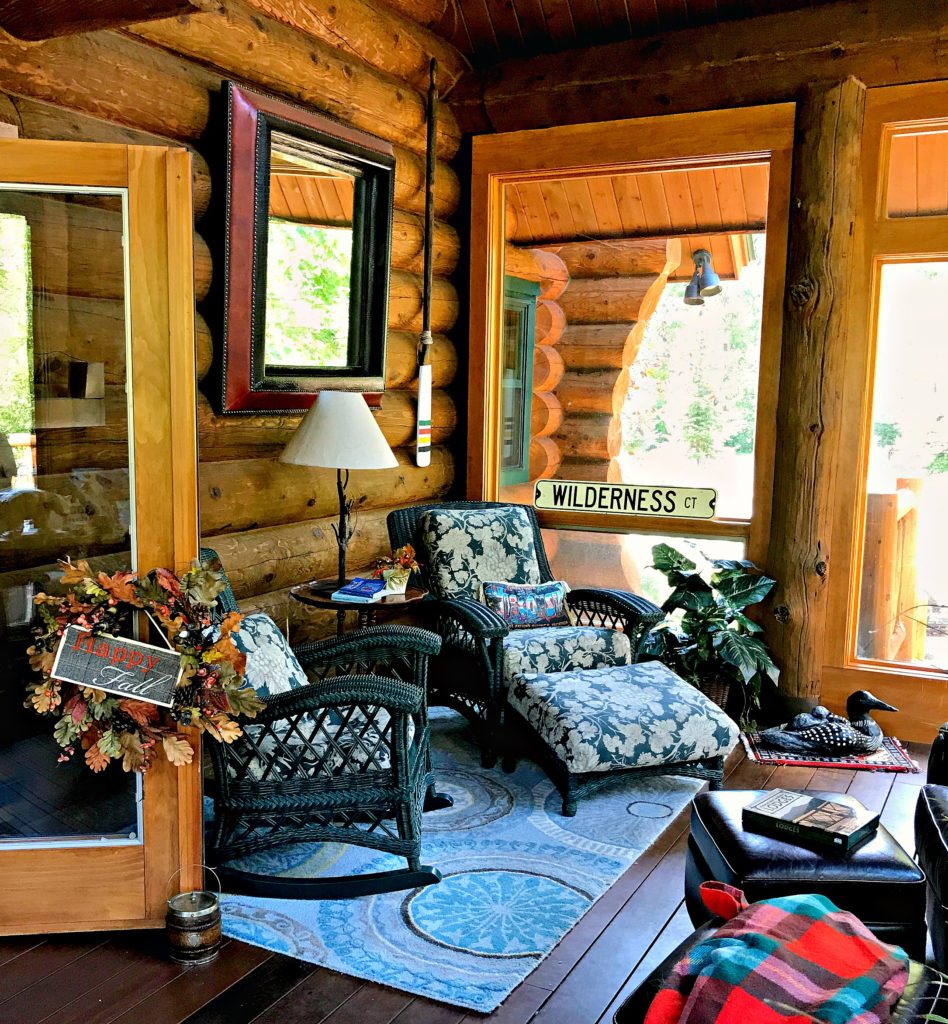 In the center of the table I set my pheasant feather wreath from Target and then a wood cake stand I found at Homegoods. One of my green vases full of feathers finishes off the simple centerpiece.

I used vintage snack trays for my dishes. They take me back to rushing for my sorority in college. At preference party for the Tri Delts they served us sweet little treats on crystal snack trays in a gorgeous historic home. They even wrote our name on the tray in frosting. A delicious and pretty idea for a placecard! I've never forgotten how much I loved that and was so excited when I added snack trays to my own collection. I thought they'd be perfect to use for this luncheon.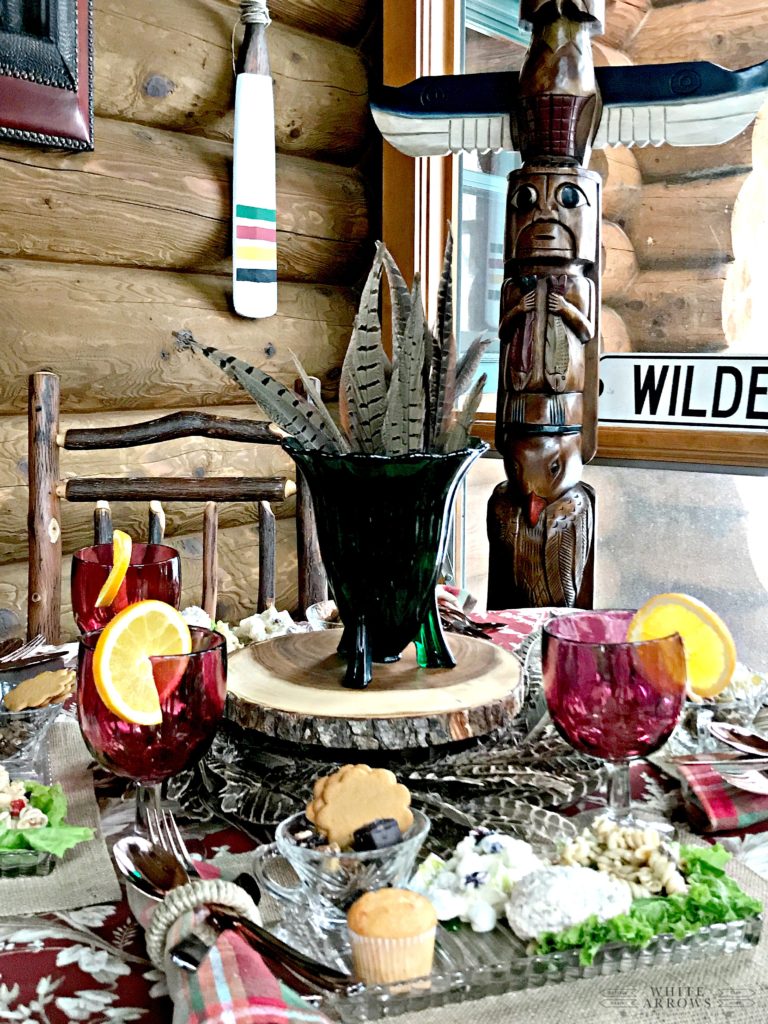 My red goblets will hold spiced orange iced tea a favorite recipe from The Dove's Nest, in my home town of Waxahachie, Texas. I thought I'd bring a few of my southern roots recipes to share Up North this Friendsgiving!
The idea of a salad trio for lunch is also from the tearoom at The Dove's Nest. We loved eating their while antiquing or meeting friends. I even waitressed there during high school! On the trays is a pasta salad, a turkey salad (I substituted turkey for chicken to be more "Thanksgivingish"), and a Waldorf salad (I substituted pears for apples and craisins for the grapes, again more "Thanksgivingish" 🙂 ) I laid all three on a bed of lettuce I used to add color.
(Affiliate Links are shared for your convenience, read my full disclosure here.)
The Dove's Nest Cookbook
(Click on cookbook to see more about the amazing recipes!)

To find more recipe ideas follow me on Pinterest! and search my Friendsgiving or Autumn Recipes boards.
I decided to use the punch cup to hold the dessert, my favorite nut mix with spiced candied pecans, my favorite gingersnaps and a piece of salted dark chocolate.

Get the Look
(Affiliate Links are shared for your convenience, read my full disclosure here.)
Next up on the tour is the gorgeous home of Lindsay of Aratari At Home. 
And tomorrow three more talented ladies will be showcasing their homes. See the full schedule below.
It has been wonderful to join these friends as we share our homes and autumn decor. I know you have been as inspired as I have! Thank you so much for taking time to stop and read my post. I feel so thankful for you! Happy Thanksgiving!
Monday
Tuesday



Shared With: