I am so excited to be joining a group of talented bloggers for the Grateful Gatherings Blog Hop organized by Amber of Follow The Yellow Brick Home. I am one of fourteen decor bloggers opening their homes and sharing how we decorate for Thanksgiving and late fall.
If you are coming over from Olivia's blog at Reinvented Collection, I'm sure you are already full of ideas for your own house. Her home and styling are so gorgeous! She is a constant inspiration me.
No matter your home style you will find a blog for you on this hop and ideas from each and every one, I know I have.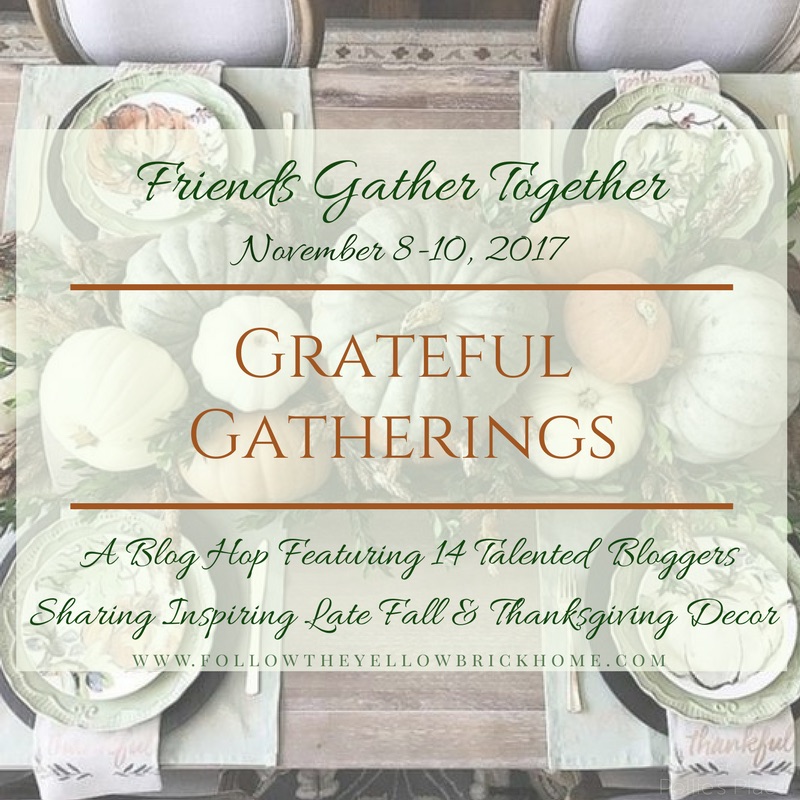 So grab your warm apple cider and come visit our log cabin ready for Thanksgiving in the Northwoods of Wisconsin. I'll be sharing with you how I decorated the table this year, how we serve the meal and my buffet set up and ready for pies. I hosted Thanksgiving for many years and my sister has hosted the past few, but my mom does most of the cooking. She is amazing!
(Affiliate Links are shared for your convenience, read my full disclosure here.)
The Table
We set the whole table before the meal. When it's time to eat everyone comes to their spot at the table and we stand behind our chairs and Papa says the blessing. Then we take our plate and go through the buffet.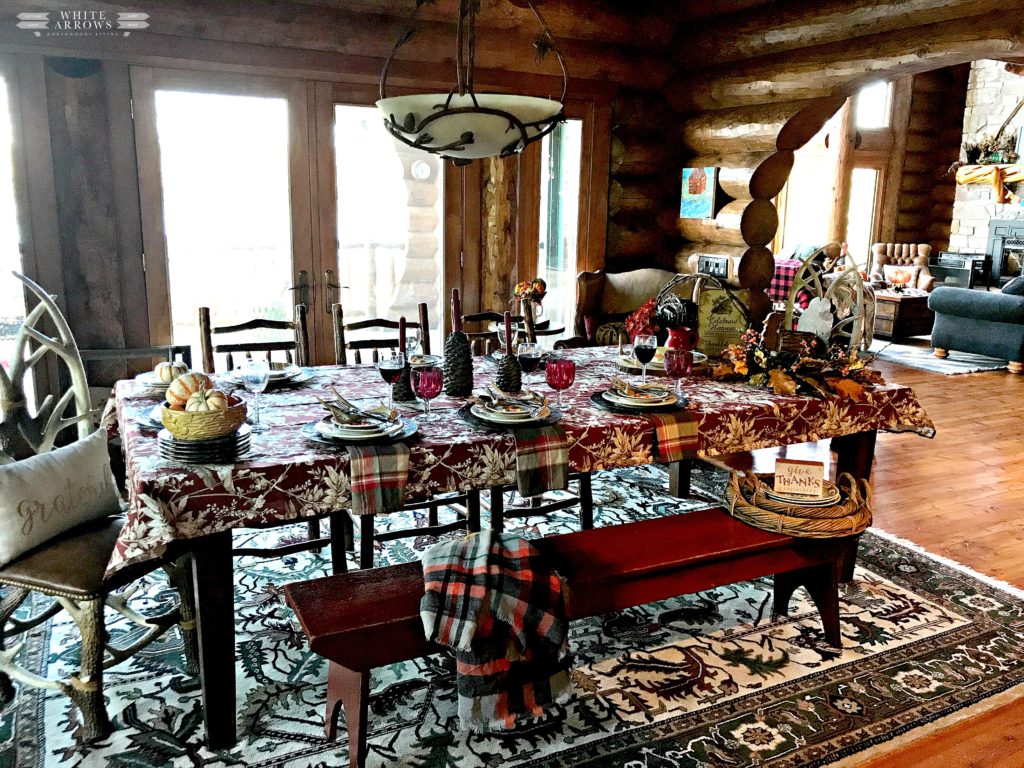 Ever since I was a young girl I loved helping decorate for parties and set the table. I loved the hostess duties more than cooking in the kitchen.
White Arrows Home Hint: Use a bench along one side to add extra seating.
White Arrows Home Hint:  Keep the center of the table simple. If you have room at the end  of the table, like I do with a family of seven, I use one end to set up my "centerpiece" as an "endpiece".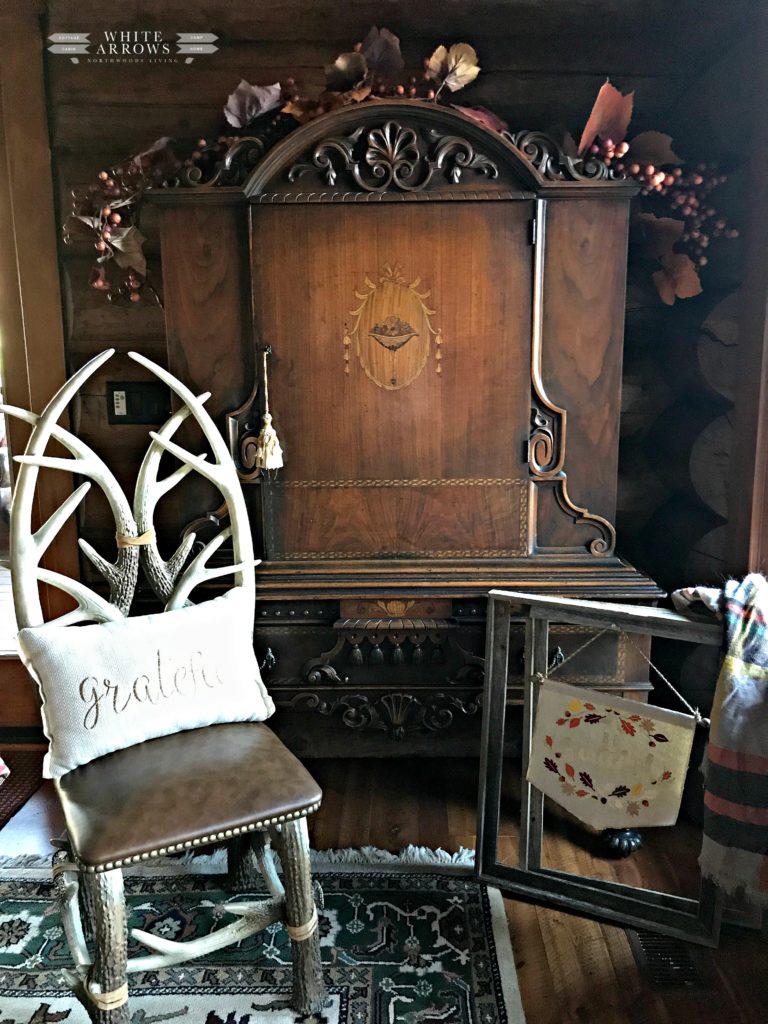 One of my favorite decorating items this fall has been these barn wood open frames from Hobby Lobby. I  hang a seasonal banner inside the opening. You can see how I styled this same frame on my Halloween mantle in this post.
This garland of leaves and berries thrown over the top of the armoire is a simple fall touch. My Grateful pillow is from Target last year.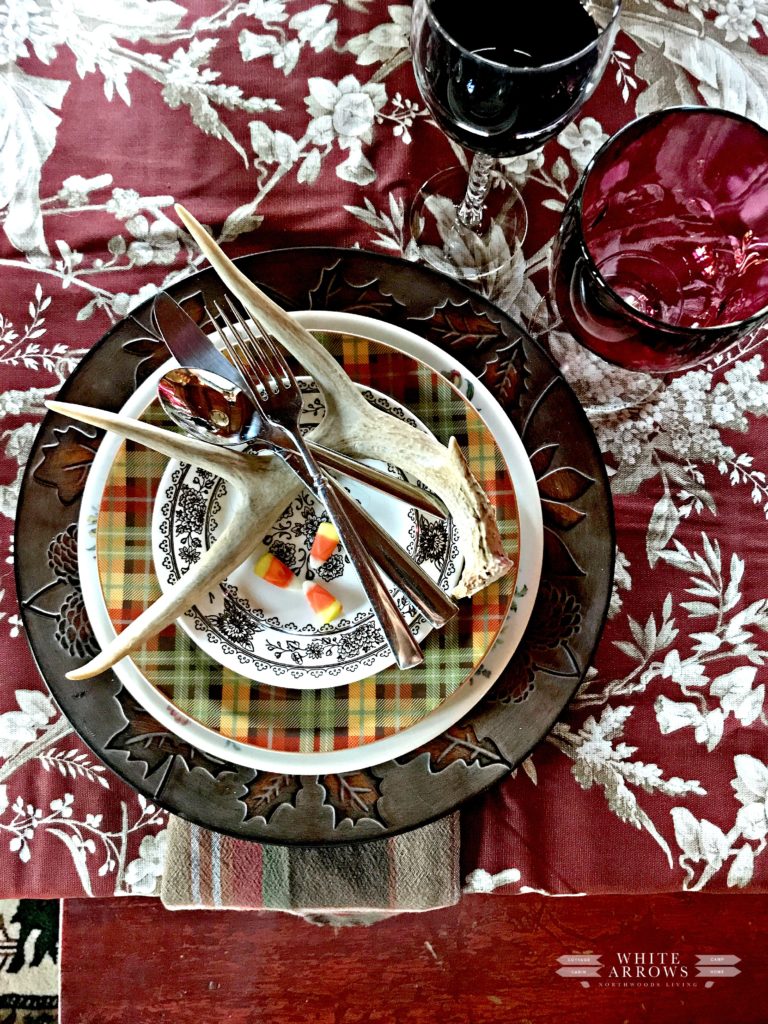 One of my favorite parts of setting a table is playing around with place settings, mixing and layering my dishes and shopping my home for what will add interest like these antlers.
White Arrows Home Hint: Place three candy corn or corn kernels on each plate. Each person around the table shares three things they are thankful for represented by each candy corn.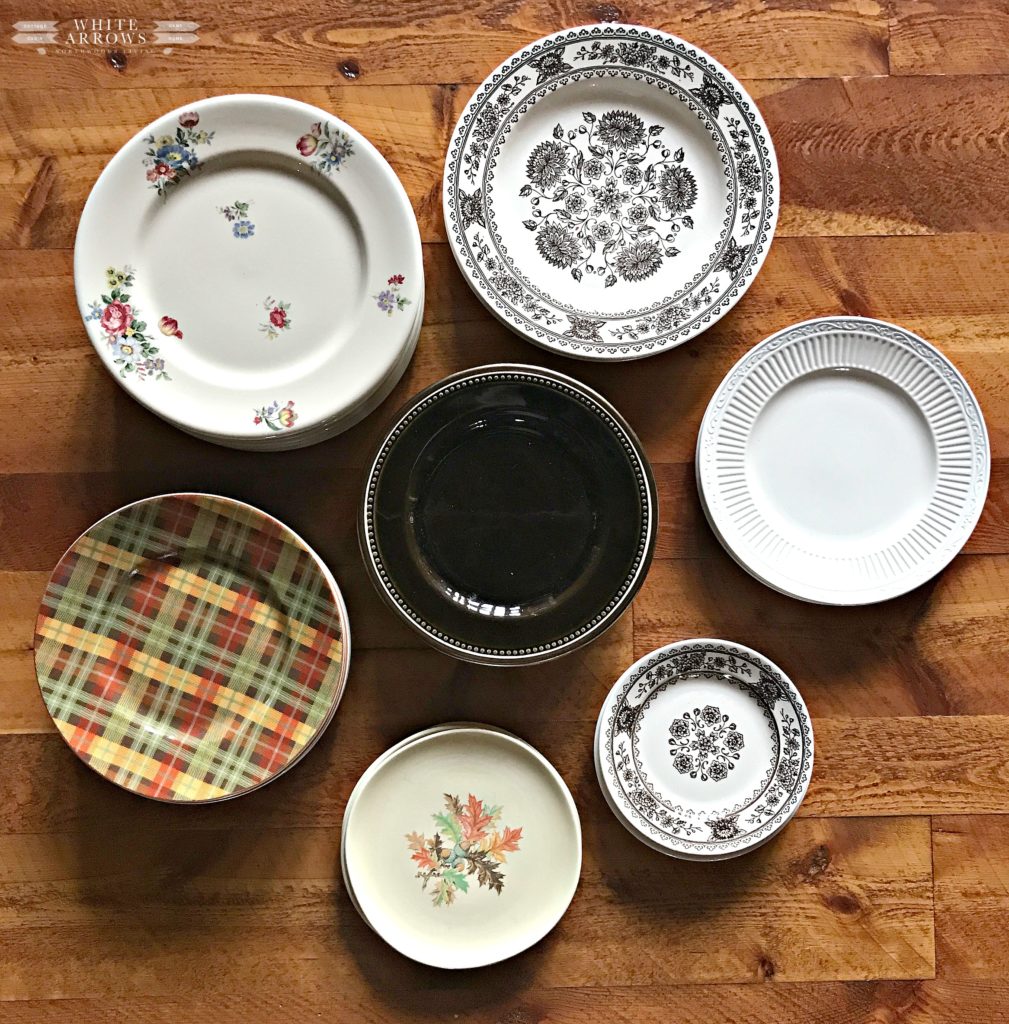 In the photo above are some stacks of my favorite dishes that I am using for Thanksgiving. The plaid dishes are from Pier 1 and come in a pack of four in mixed patterns. The cream colored dishes are Mikaska Italian Countryside from my wedding registry. The flower plates I found in an antique shop in Eagle River. Ten dollars for all! The black dishes are Pottery Barn and I found them at TJ Maxx a few years ago. The acorn plates are my newest addition and are vintage from a favorite local shop. There is no way to go wrong when layering these dishes, any order of stacking them up looks great!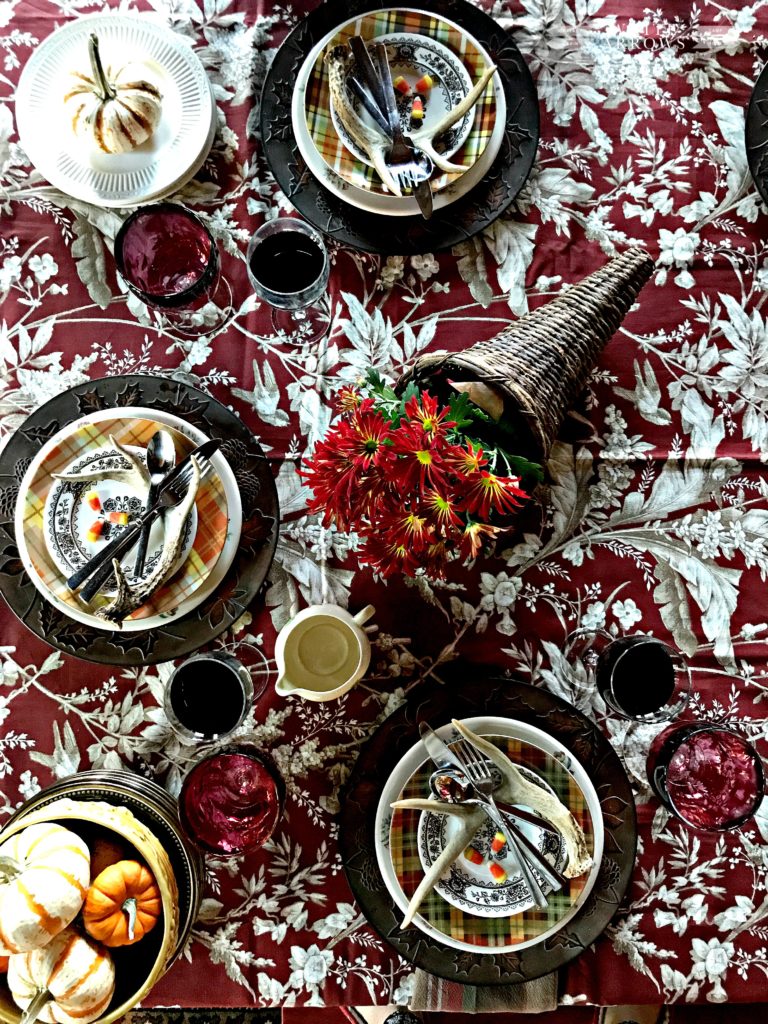 I started out with the napkins in the water goblets and then decided to fold them and tuck them under the chargers I found last year at Walmart.
The table cloth is Ralph Lauren Home that I found at TJMaxx.
I have had the cornucopia for over 20 years. I enjoy using this one and others in my Thanksgiving decor.
White Arrows Home Hint: To quickly fill cornucopias, I just buy small mums and stick them right inside.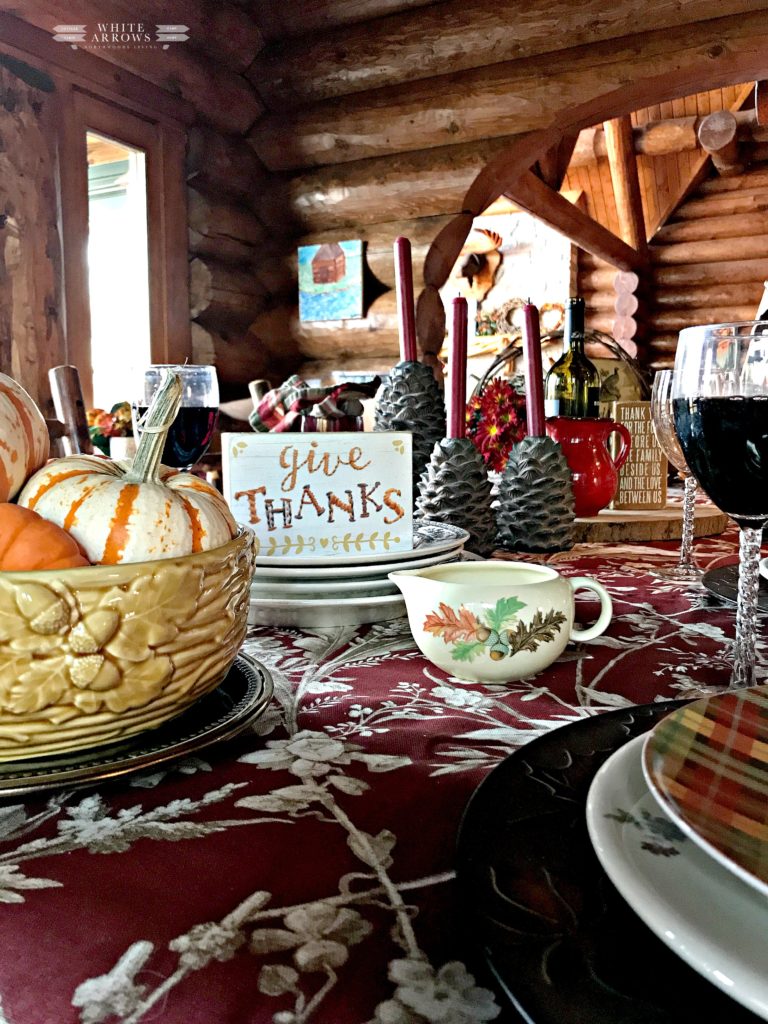 This yellow bowl I found this past weekend for $3 at the Duluth Junk Hunt.  I thought it's color and acorns made it perfect for fall and my Thanksgiving Table. The little pitcher can be used for gravy or cranberry sauce. The Give Thanks sign I found at Shopko.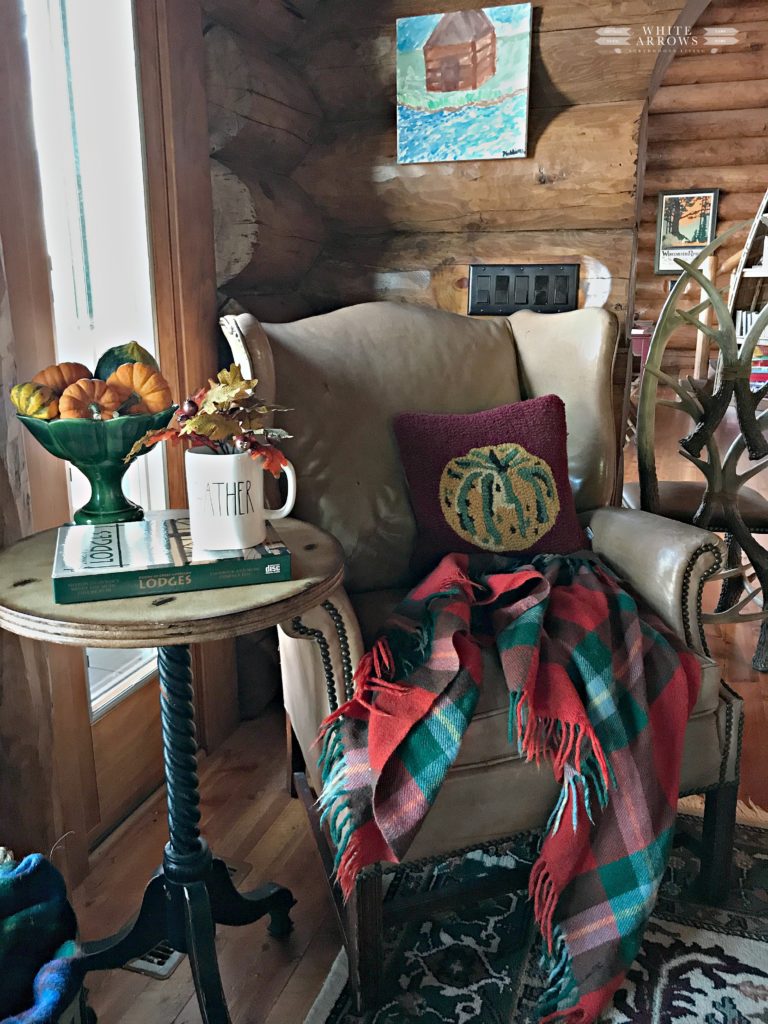 This chair came home with me a few years ago from one of my favorite antique shops in Wisconsin, The Harp Gallery in Appleton. It reminded me of the leather chair my grandpa always sat in. I recently moved it into the corner of the dining room to make a cozy coffee sipping spot. The pumpkin pillow is Chandlers-4-Corners.
The Buffet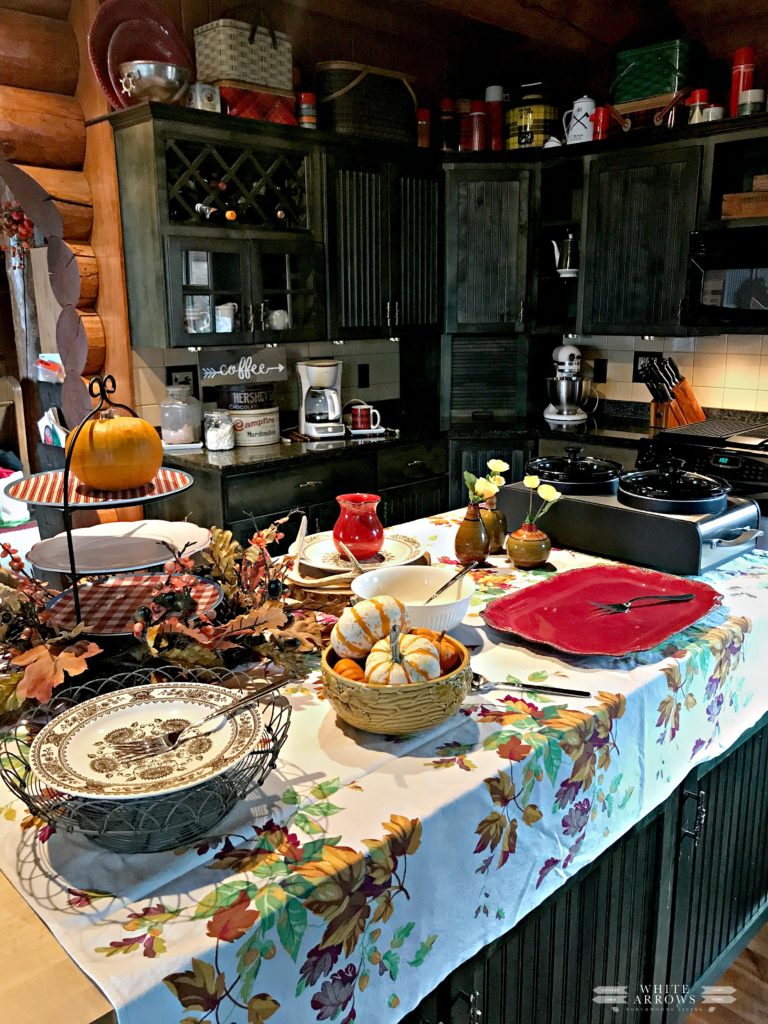 We set all the food out around the kitchen and then everyone comes and fills their plate for round 1 of Thanksgiving Dinner.
I put a vintage table cloth over the kitchen island. I just love it's fall colors! Then I set out serving trays, bowls and dishes.
White Arrows Home Hint: Set all the serving pieces out ahead of time, even the serving spoons. Having everything ready let's you have time to enjoy your family and friends during the meal. It saves you time!

I use post it notes to make sure I have all the bowls and platters I need before things are made.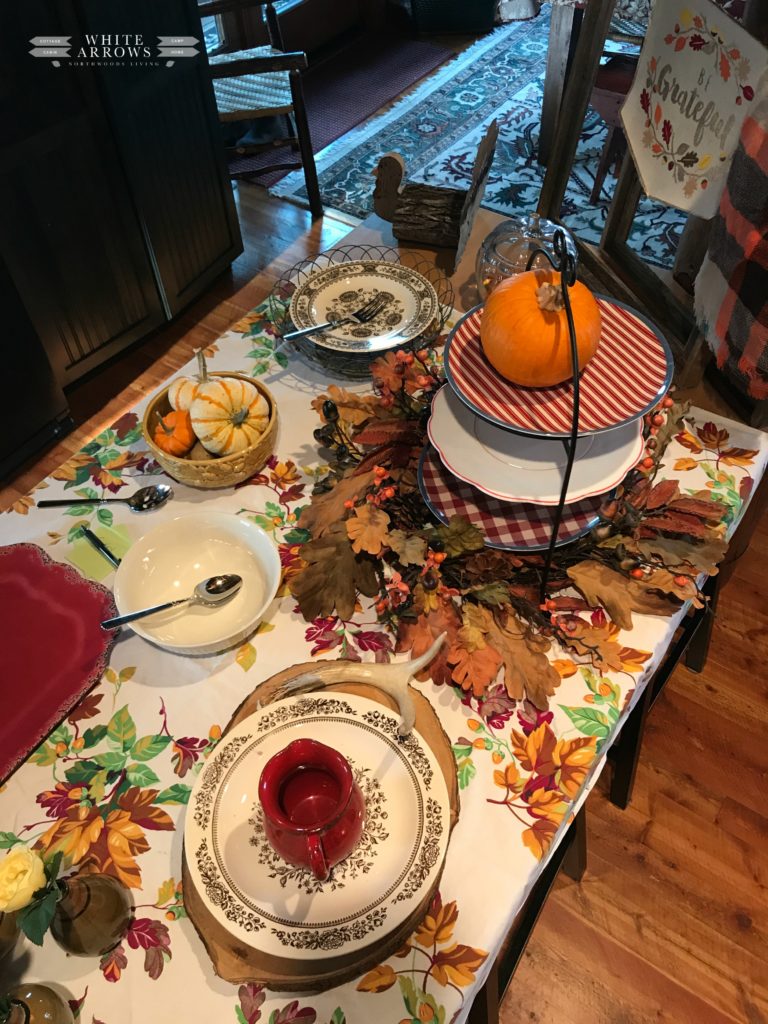 I love to use wreaths under serving dishes or here under a tiered set of three trays.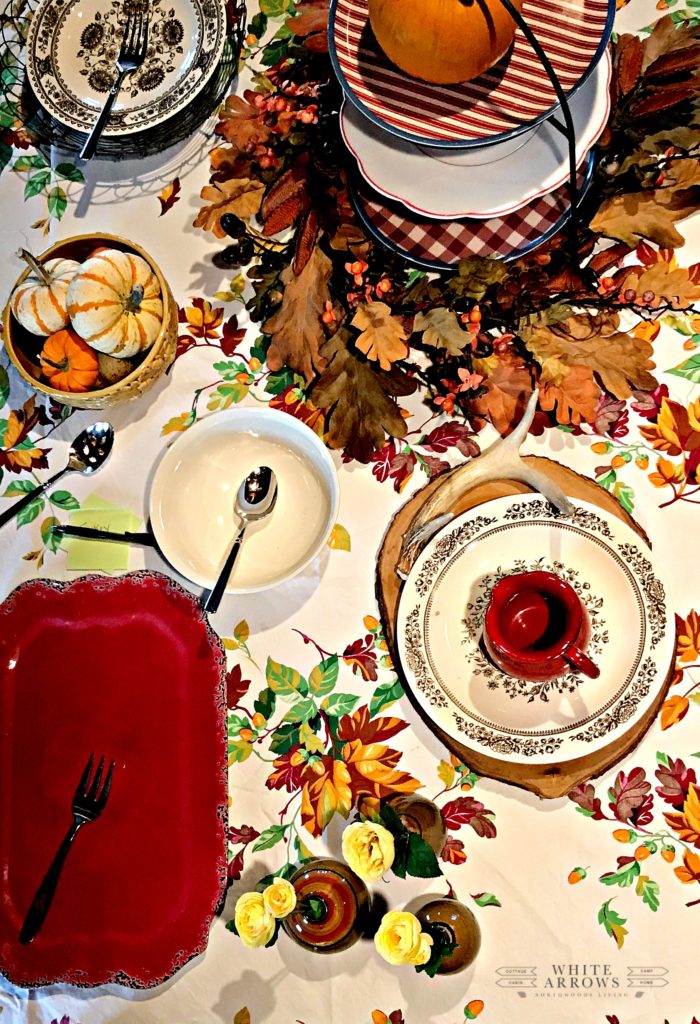 The pine cone candle holders were the unity candles in our wedding. I love coordinating them into special family locations. We were married the weekend after Thanksgiving so we had a lot of fun hosting family for our first very special Thanksgiving.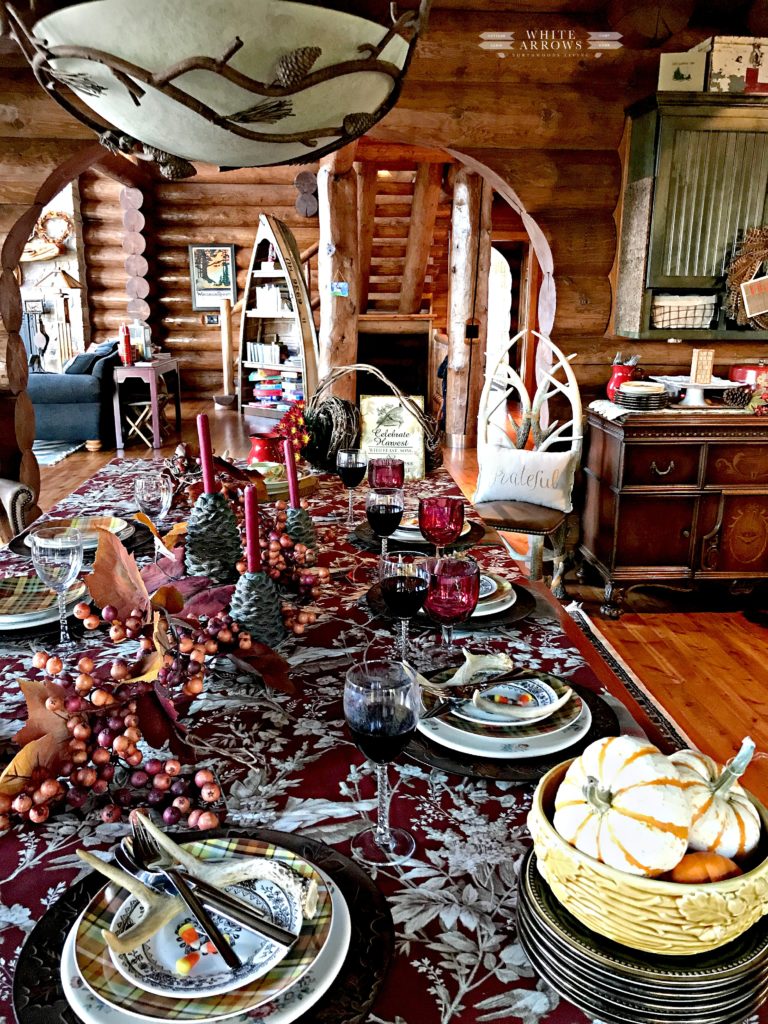 White Arrows Home Hint: This is my biggest hint ever, a hostess secret … Do NOT rush to clear the dishes, I know it will drive you nuts, but the second you take plates away from in front of people they will stop talking and feel ready to leave the table. Leave the dishes, linger over the conversations!
Desert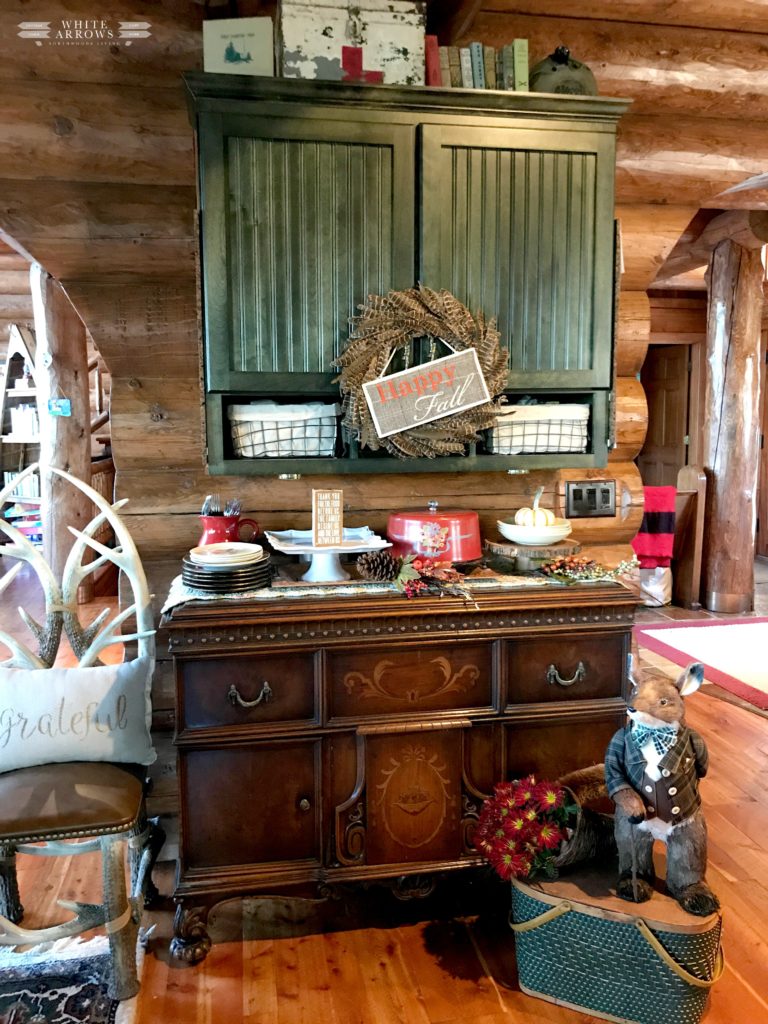 Our sideboard is all decked out and waiting for pies and Thanksgiving treats.
We usually eat our Thanksgiving meal around 2:00 in the afternoon. Most of us are too full to have dessert right away, so we usually go for a long walk and then come back for the pies.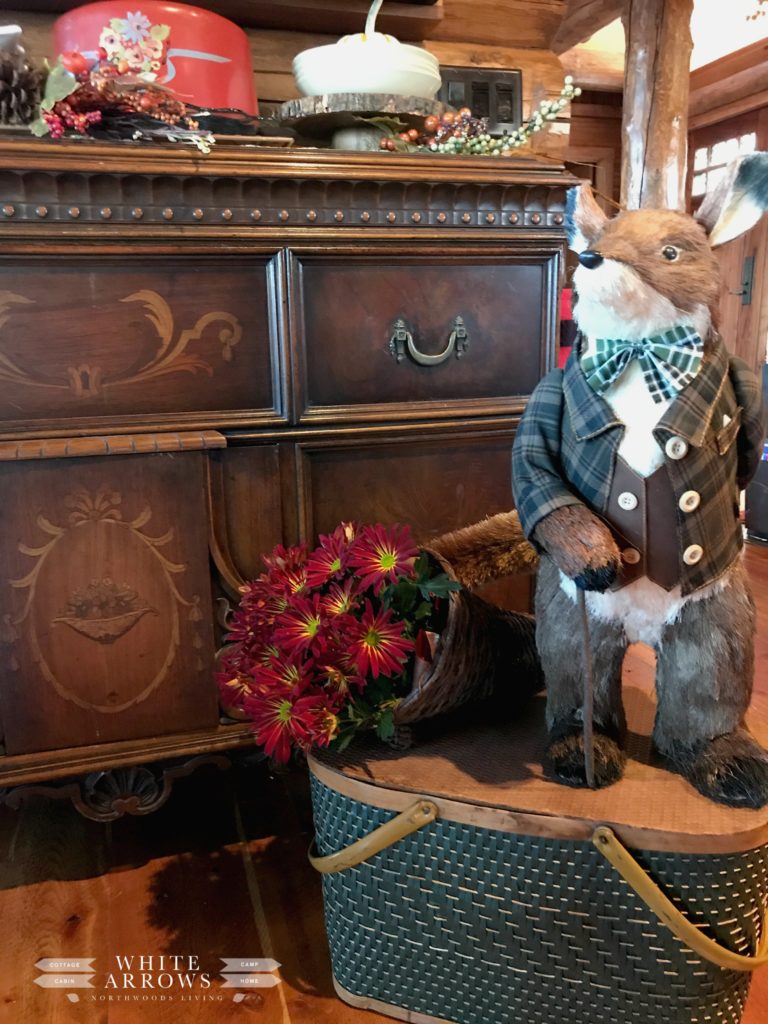 This dapper fox is from Pier 1 and I loved his plaid jacket and that he reminds me of the fox that lives on our road.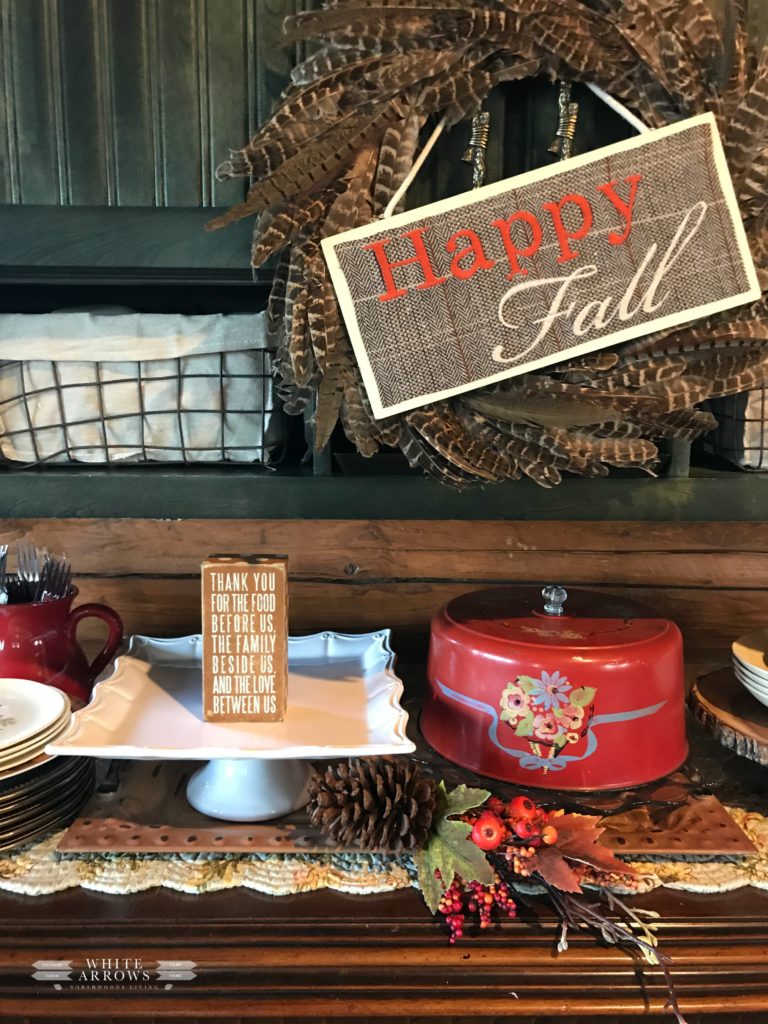 Get the Look
(Affiliate Links are shared for your convenience, read my full disclosure here.)
My Table
Thanksgiving Decor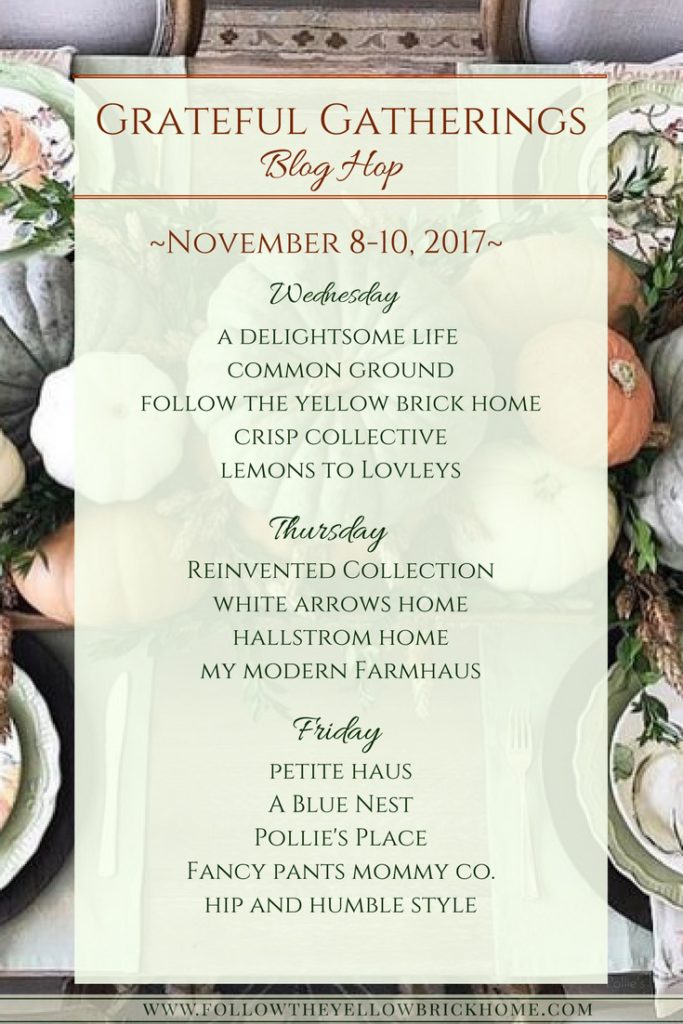 It's been so much fun to have you visit! I'd love to have you sign up for my newsletter so we can continue getting to know each other. You can follow me on Instagram, Twitter and  Facebook where I post daily.
Your next stop on the Hop is with Rhonda at Hallstrom Home. You will love what you see there! She is so creative! I'm including the list of yesterdays home tours as well in case you missed any of them. They were wonderful!


Sharing At: