So excited to join a group of favorite blogging friends for another Pinterest Challenge hosted by Cindy of County Rd 407.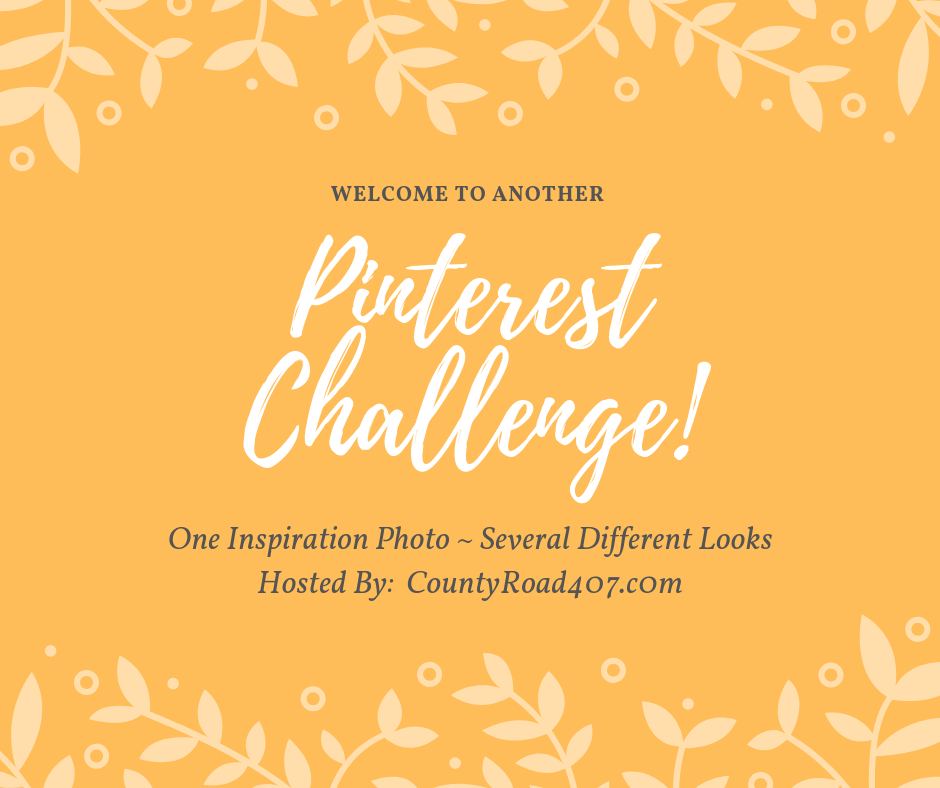 For the monthly Pinterest Challenge Cindy gives us a theme and inspiration photo and then we each style a space or vignette based on that photo. This month we are finding inspiration from Proverbs 31 Girl's cozy reading corner.

(Affiliate links are used for your convience. Read my full disclosure here.)
It's so fun to see how each of us styles our spaces in our own unique ways all inspired by the same starting point. If you are coming over from my friend Lora's blog at Create and Ponder, welcome! Lora's posts always inspire me so much! They are favorites and I'm sure you are feeling the same way! For a full list of all those participating, you will find links at the bottom of this post.
What I noticed and wanted to incorporate from was:
a cozy chair with an ottoman
two throw pillows
a blanket folded over the back of the chair
a woven basket on the ottoman
a lamp
something decorative, but simple on the tray
My Cozy Reading Corner

When you first see my red buffalo plaid chair and bold colors, it may be hard to think it has much in common with the cool neutrals of the inspiration photo, but there's a lot of similar elements.
The Chair and Ottoman
Our red and black buffalo plaid chairs have become signature pieces in our cabin. They are cozy club chairs that somehow match everything and every season.

On the side table sits a few favorite coffee table books and the simple tic tac toe board I made in this post.

The Throw Pillows
Two pillows were on the chair in Allie's photo so I chose two for mine as well. A favorite Ralph Lauren plaid and a decorative pillow that looks like a vintage travel postcard.

I live in a travel destination area in Minocqua in The Northwoods of Wisconsin. Our log cabin home, known as Camp Paradise, sits lakeside surrounded by woods. People love to visit our area for the abundance of lakes and recreational activities all year round.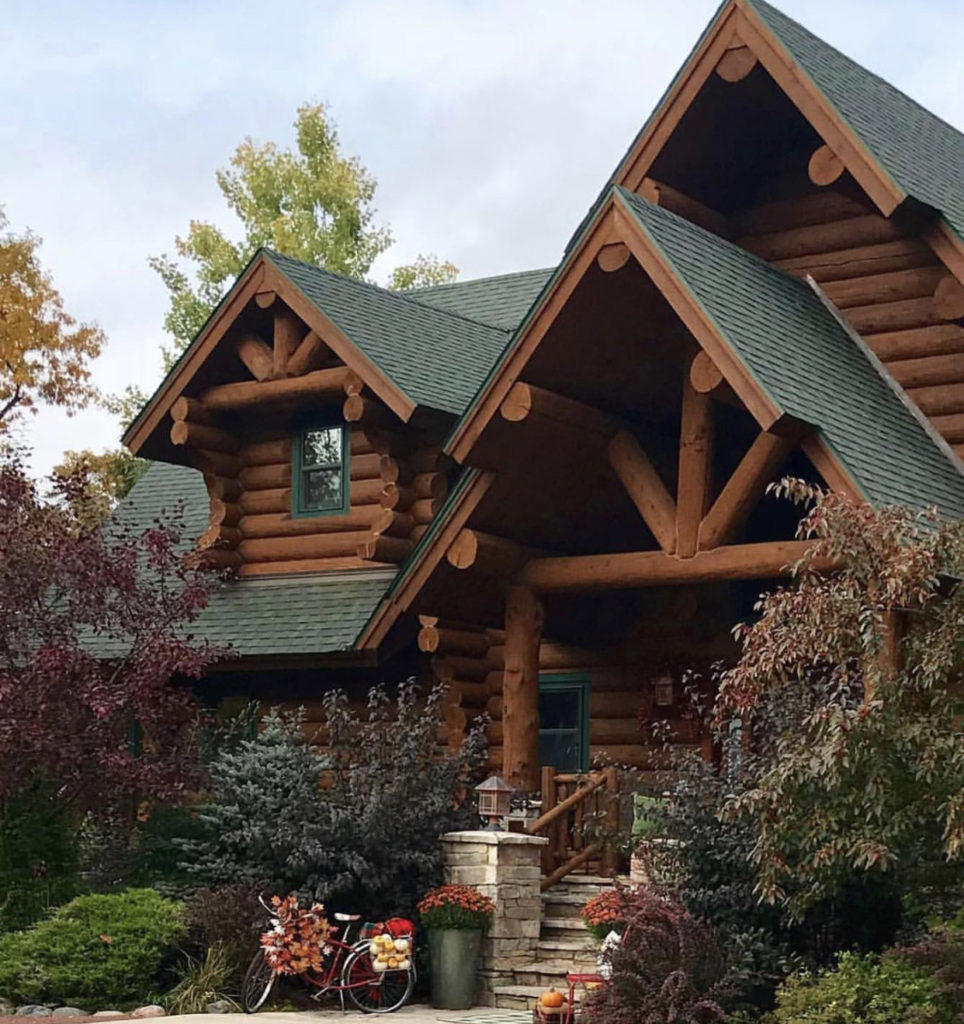 I love sharing about our cabin life and Northwoods Living in this blog and on my Podcast. I sell vintage, antique and new home decor for cabins, cottages and lake homes at my shop here in Minocqua.
The Blanket
The inspiration photo had a blanket folded and laid across the back of the chair. I chose one of my favorite plaid blankets to style the same way.

The Basket
When I got married my mom found all these gorgeous baskets to use on the buffet table at the reception. I still have all of them and use them still all the time.
The inspiration photo used a woven basket so the first thing I thought of was this one.

The Lamp
The lamp in this reading corner is a glass and brass Coca-Cola lamp.

Tray Decor
Allie's tray was simply styled with a moss ball. I decided to use one of my bark pumpkins from Hobby Lobby.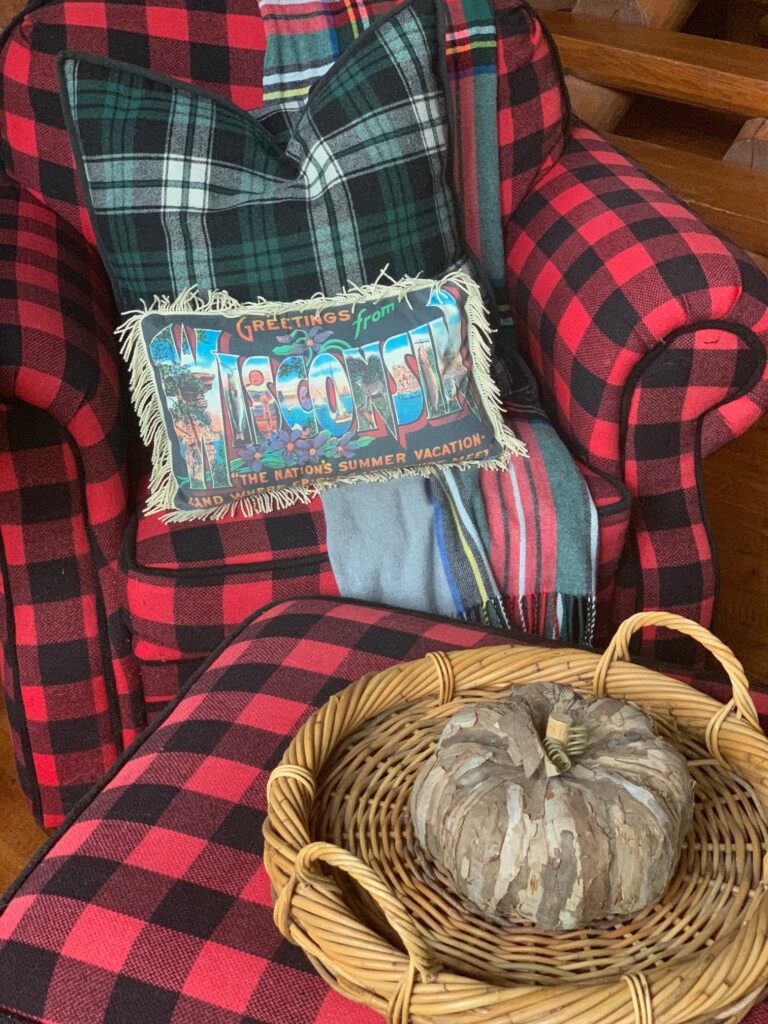 Near this reading corner is our canoe bookcase full of books. I can just grab off a favorite and curl up.

The fireplace is on the other side of the chair and it is roaring from Fall until the snow is gone in Spring. We usually get around 100 inches of snow starting around Halloween.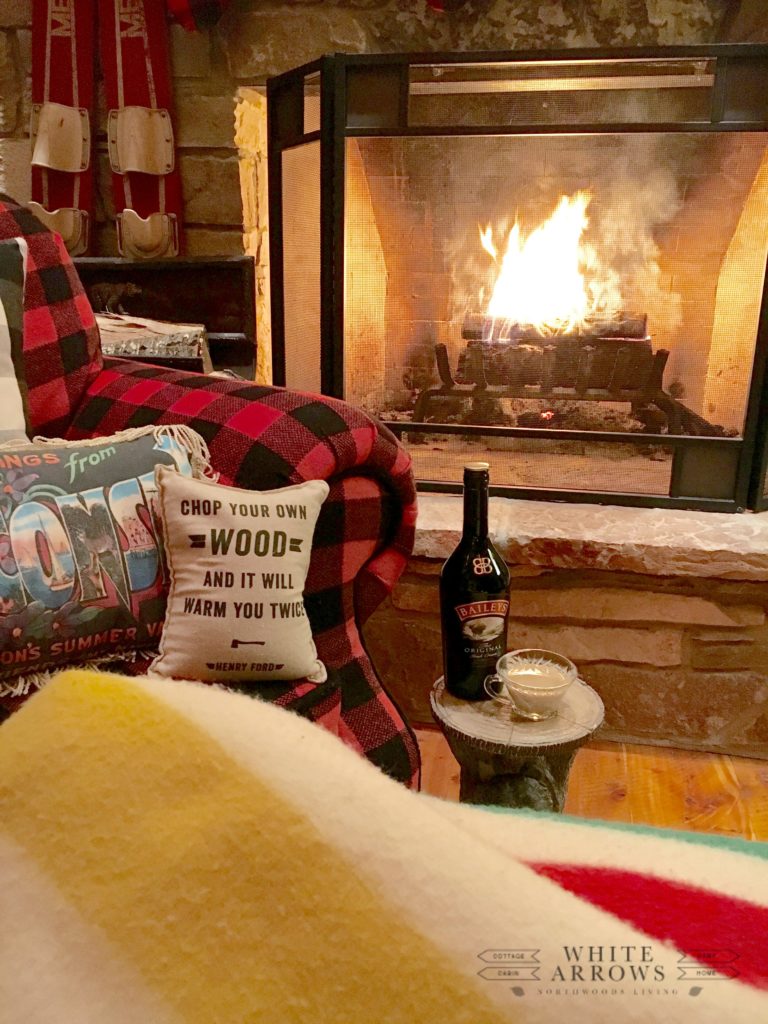 Next up on the tour is a a stop at my friend Michelle's of Thistle Key Lane! Her blog posts are some of my favorites. You are sure to be inspired!
Thanks so much for stopping by Camp Paradise! I hope you will become a regular visitor here at White Arrows Home!
Get the Look


Take the Tour
You are invited to the Inlinkz link party!
County Road 407 – https://www.countyroad407.com/how-to-create-an-inviting-reading-nook-for-fall/
StoneGable Blog – https://www.stonegableblog.com/the-making-of-a-great-room/
A Stroll Thru Life – https://www.astrollthrulife.net/?p=15395&preview=true
Sweet Pea – https://www.virginiasweetpea.com/cozy-reading-corner
Lora B – https://lorabloomquist.com/must-haves-for-creating-a-cozy-sitting-area-in-the-kitchen/
White Arrows Home – https://whitearrowshome.com/cozy-reading-corner-for-fall
Thistle Key Lane – https://thistlekeylane.com/how-to-create-a-cozy-reading-nook/
French Ethereal – https://www.frenchethereal.net/2020/09/come-sit-spell-create-reading-nook.html
FOLLOW WHITE ARROWS HOME 


Instagram ~ Facebook ~ Pinterest ~ Twitter ~ YouTube