Kristin Lenz shares cozy, rustic bedroom decorating ideas to help you style a room that's a retreat.
There are several ways that I style my bedroom making it a retreat that I can't wait to reenter throughout the day and when I retire for the evening.
These cozy, rustic bedroom ideas can help you do the same.
(Affiliate links are used for your convenience. Read my full disclosure here.)
One of the top tips is to have amazing bedding and I love the options from Paseo Road.
I'm excited to be offering a giveaway in partnership with Paseo Road for the comforter set I have on my own bed, The Jackson Plaid.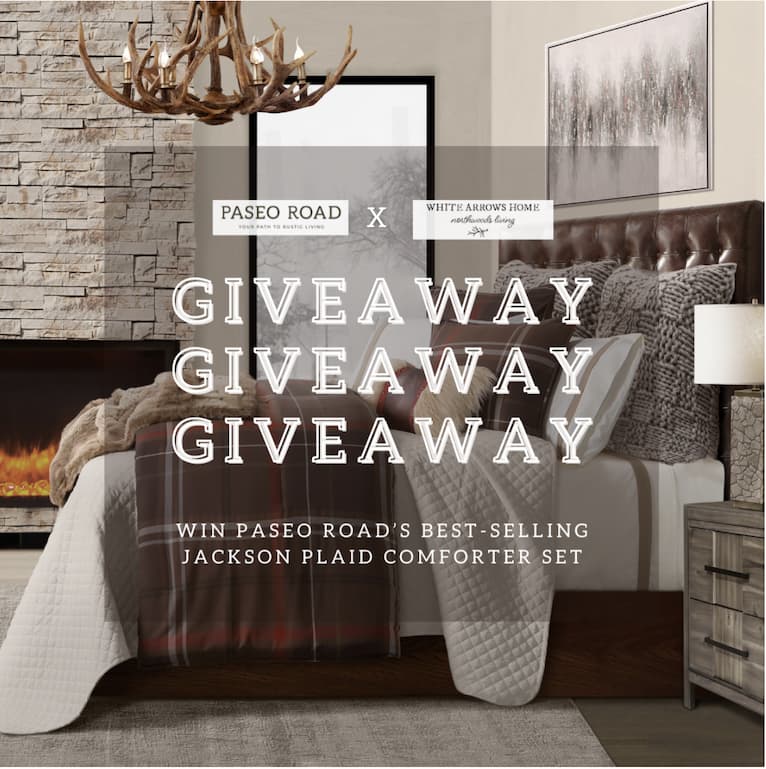 Here are the details:
FALL GIVEAWAY To welcome the season of falling leaves and warm blankets, I've partnered with @paseoroad for a cozy fall giveaway!
The winner of this giveaway will receive Paseo Road's Jackson Plaid Comforter Set, one of their best-selling bedding sets for the season. Jackson embodies the perfect balance of vogue and woodsy, featuring classic plaid in red and brown with rustic hints of evergreen.
To enter the giveaway:
Sign up for our email list by clicking HERE
Comment "Done" in the comment section
Enter by 10/18 at 11pm CST. 1 winner will be announced on 10/19
Bedroom Styling Tips for a Cozy, Rustic Bedroom
One of the first things I do every day is make my bed. I've always been a bedmaker, but especially after I read Admiral William H. McRaven's book Make Your Bed.
Make Your Bed is a great read and a great gift. I recommend it for anyone, even kids from middle school on. It was a great motivator for my sons to read the wisdom inside set against Admiral McRaven's time in the Navy Seals.
I've styled my bed three different ways to give examples of how to make it beautiful and encourage you to want to see it made up every morning.
Bedroom Styling Tip #1
As soon as the temperatures start to drop we change to flannel sheets on our bed. The warmth and comfort of easing in under the covers and hitting the flannel is so cozy.
Next, I add a quilt or coverlet. Right now I used this cranberry red one to compliment the reds in the Jackson Plaid Comforter.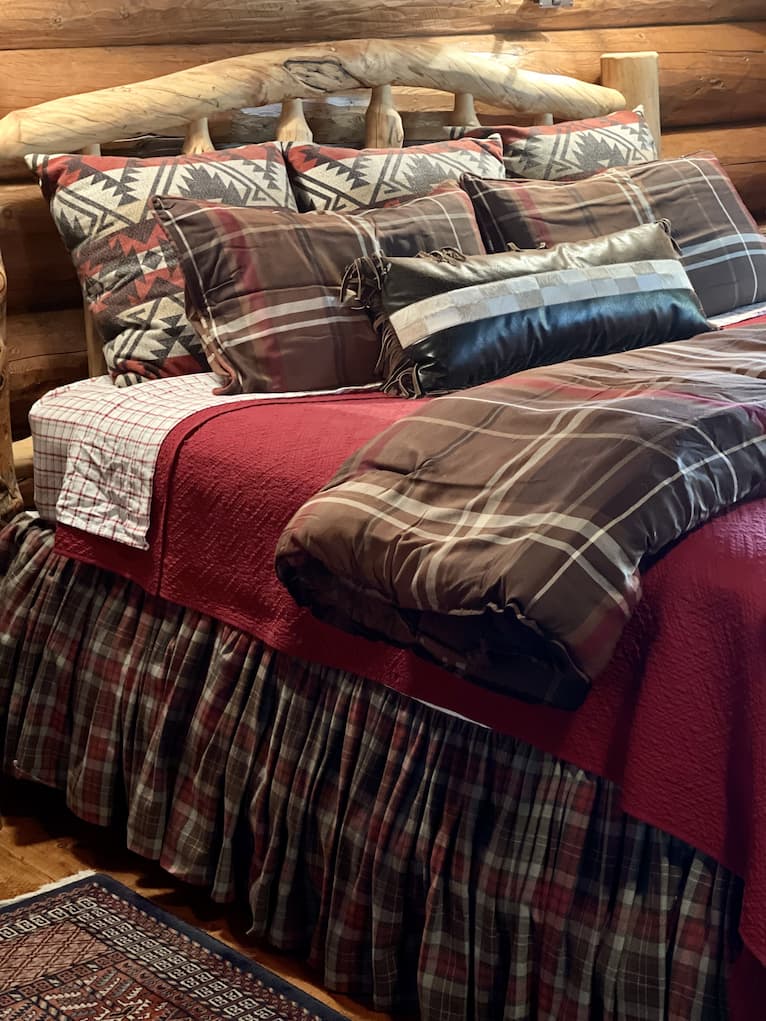 I trifolded the Jackson Plaid Comforter and laid it across the bottom third of the bed where some of the cranberry coverlet can be seen on both sides.
Then, I layered pillows across the front of the headboard. I mixed patterns and textures with the leather and hide fringed pillow in the front. The two Jackson Plaidpillow cases came with the comforter in a set.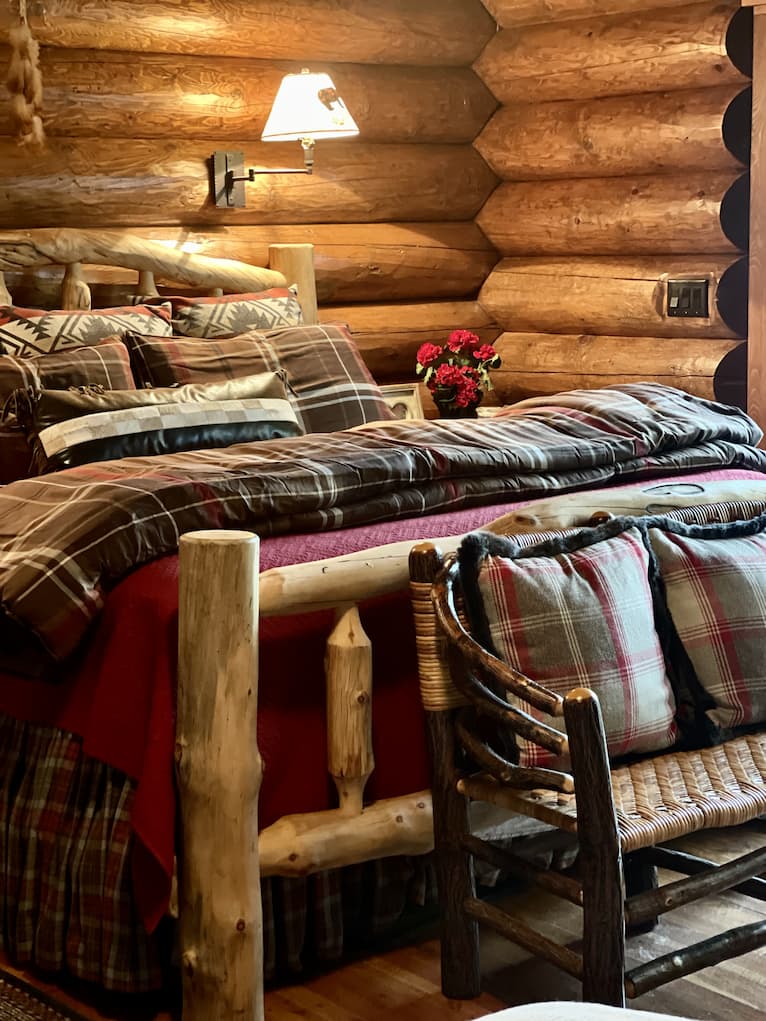 I love having the comforter folded up and fluffy at the end of the bed. It's a wonderful feeling to reach down and pull it up over us each night to give us an extra layer of warmth.
Do you like sleeping with a lot of layers?
For me? I like lots of layers on top and then I'll stick a foot out if I get hot. It's all about the weight of what's on top of me that gives me the coziest feel. The Jackson Plaid Comforter is just right.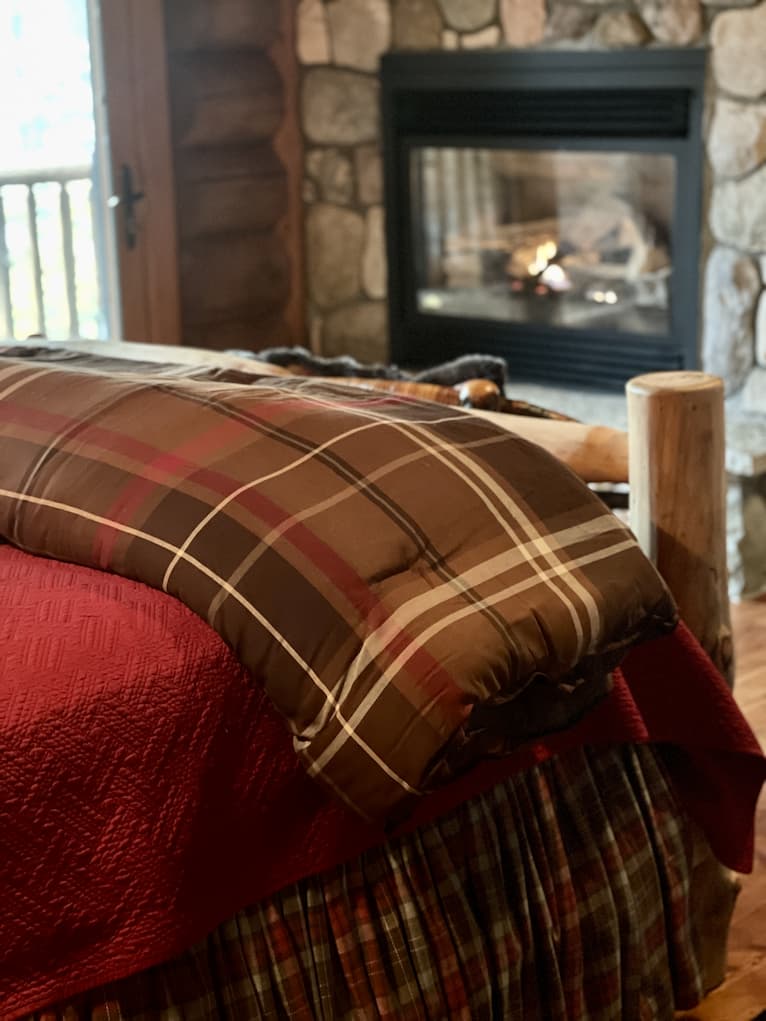 Want to get daily encouragement? SUBSCRIBE HERE so you don't miss any posts!
Bedroom Styling Tip #2
The second way I styled my bed kept the same flannel sheets and coverlet underneath, but then the next layer is a duvet inside a khaki wool cover.
Covering two thirds of the lower part of the bed is the Jackson Plaid Comforter.
The first thing I was drawn to with this comforter was the plaid pattern and the colors. The colors complimented the colors in my bedroom and is not too masculine or feminine.
Its neutrals with pops of quiet color make it work so well with many other colors and patterns. It could work well in your own room. Don't forget to enter to win your own set HERE.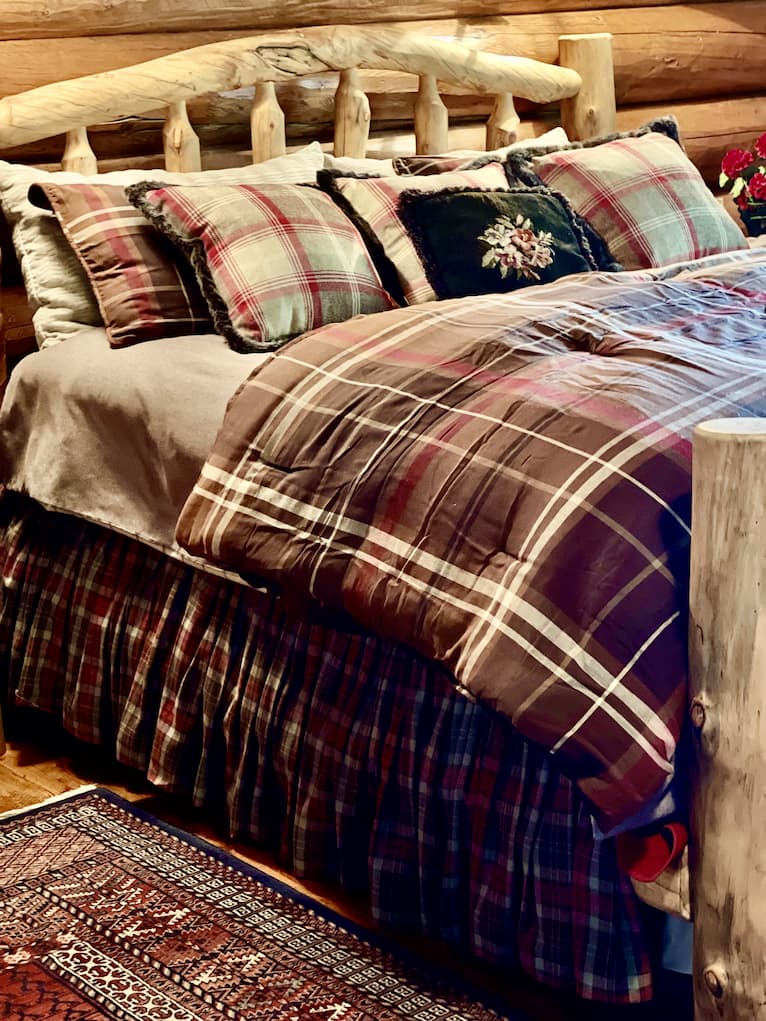 We light the pilot in our gas fireplace as soon as flannel sheets go on. Each night we turn on the fireplace while we are getting ready for bed so the room warms up and gets toasty.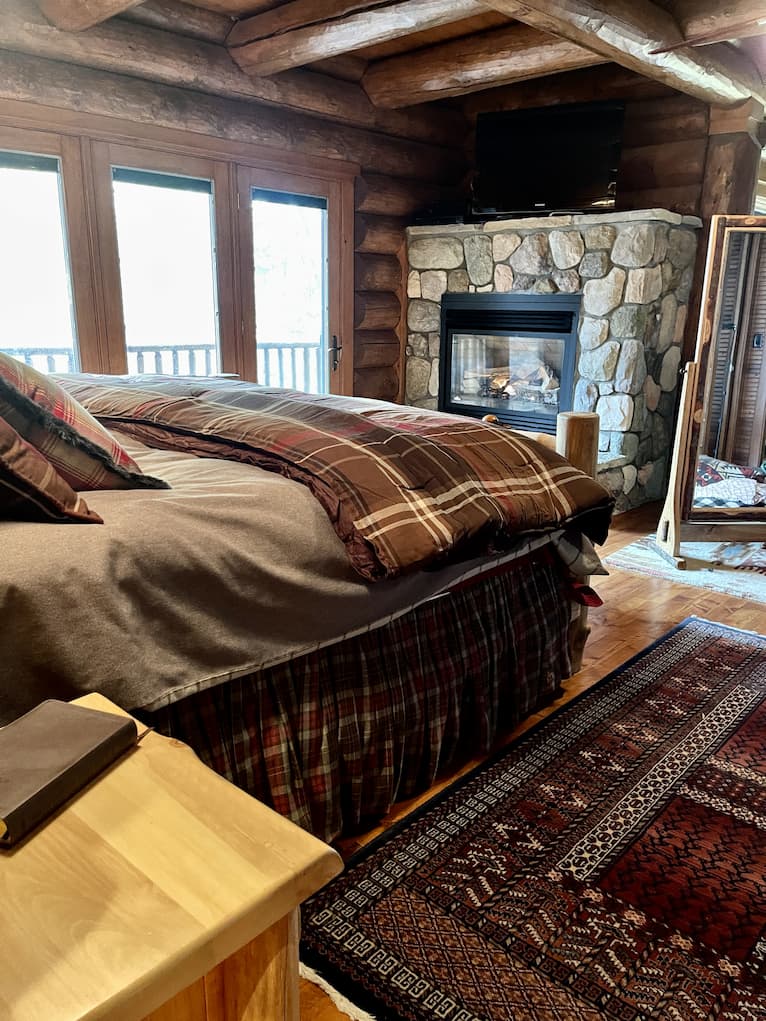 In this styling instead of the three Euro pillows along the headboard, I went with two king sized neutral pillows, the Jackson Plaid pillows and then three fur lined plaid pillows I had used in my vintage camper.
Did you see my camper styling?
Bedroom Styling Tip #3
For my third way to make the bed with the Jackson Plaid Comforter I pulled the comforter all the way up.
Because I love the pattern, I love this look.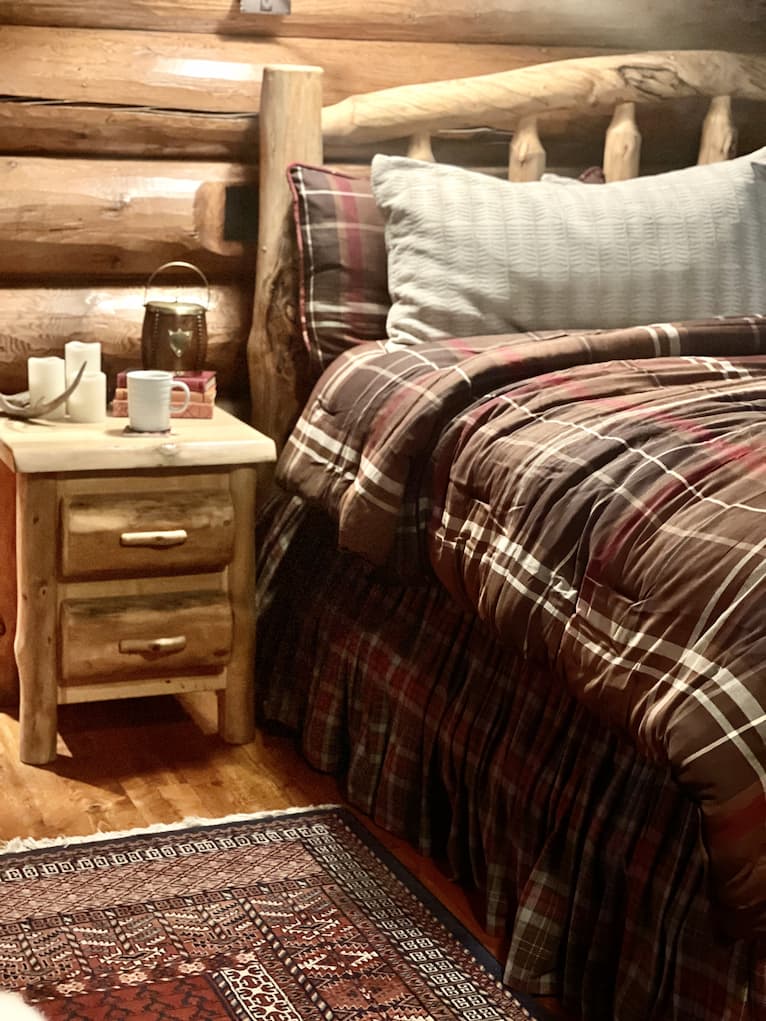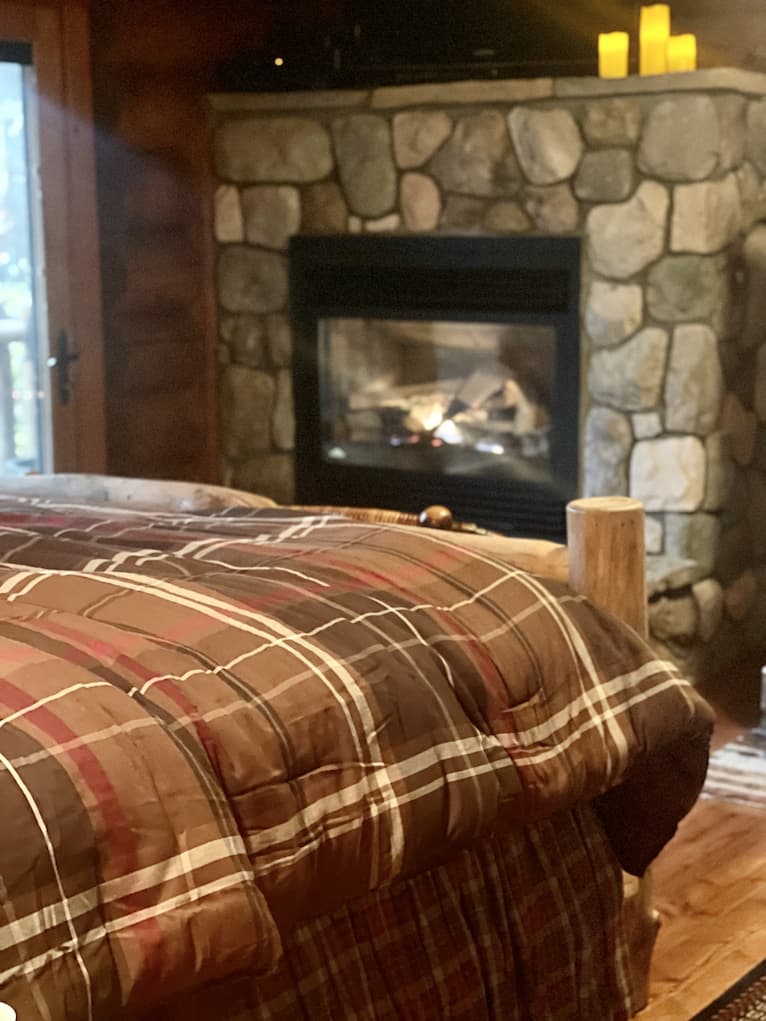 I kept the pillows simple with just the Jackson Plaid and some cream cases. The cream layered in front breaks up the brown plaids and brings out the cream in the Jackson pattern.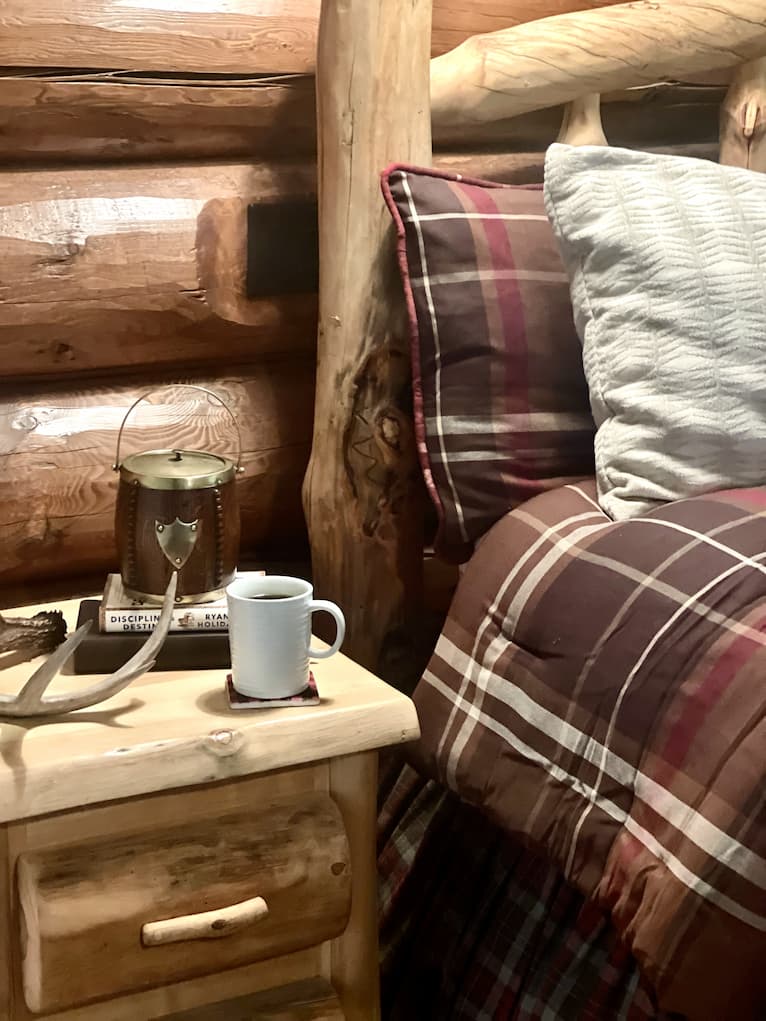 Other Ways to Make Your Room Rustic and Cozy
Style Your Bedside Tables
Keeping our nightstands from getting cluttered is constantly a goal when it's tempting to throw everything from our pockets that day on to them and have stacks and stacks of books.
I like to only keep a few books at a time stacked up and then move finished ones to the bookshelf. A coaster for a morning cup of coffee and a few candles are added.
I also love to use my antique biscuit bins on our nightstands. If we were kings and queens or it was "back in the day" they would be full of biscuits, but ours aren't. I keep flowers in the one on my side of the bed. My husbands I just style with an antler nearby he found out shed hunting.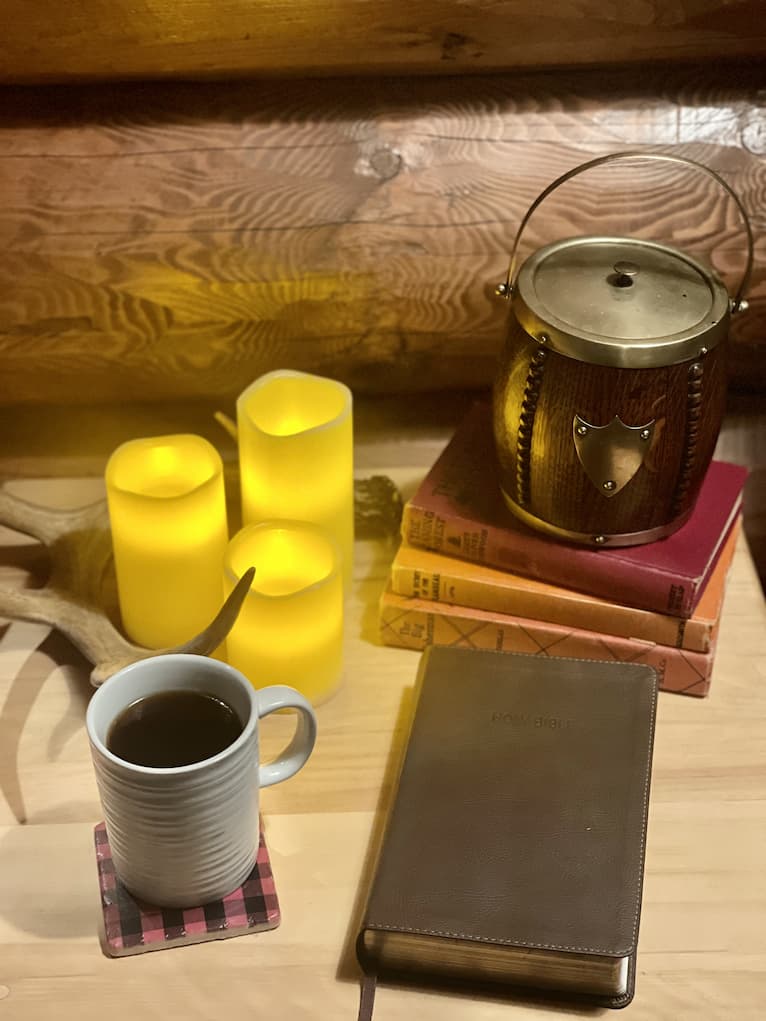 Add Candles to Your Bedroom
I love to light a candle to add fragrance as well as ambiance, but I also love having flameless candles that turn on with just a simple touch of the remote. I don't have to worry about leaving them on or any fire hazard.
I added some above the fireplace and also on the nightstands.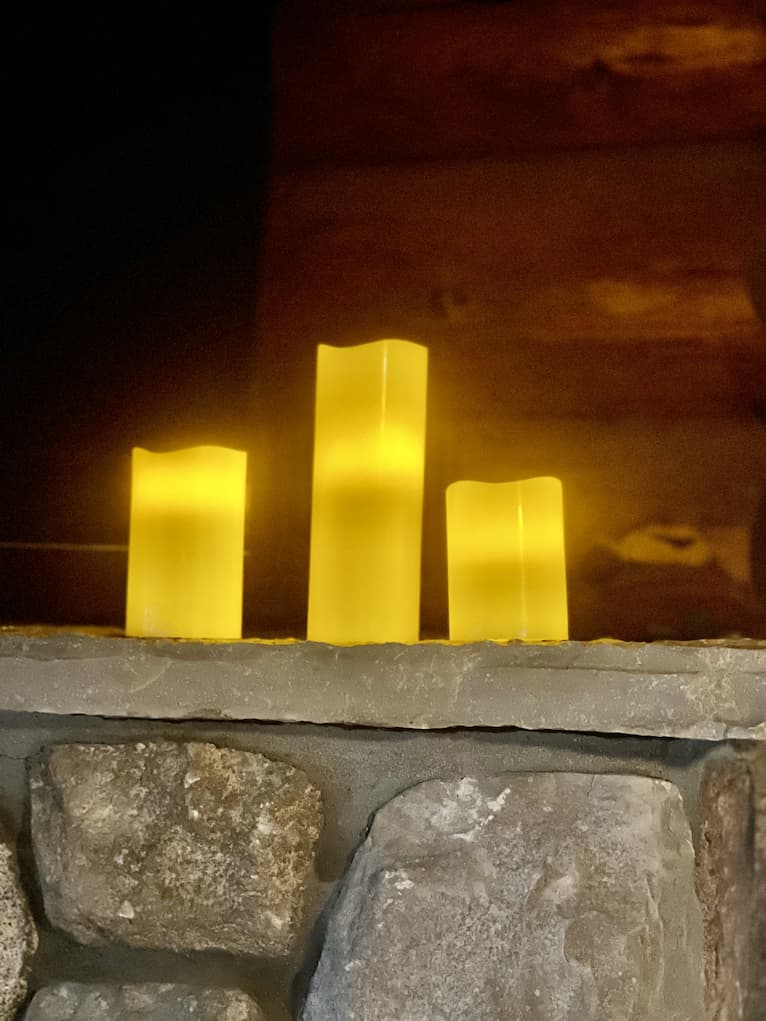 Make Room For Seating in Your Bedroom
A spot to sit and read, curl up and watch a show or sit down and put on your shoes each morning gives a great reason to style a chair or seating space into your bedroom.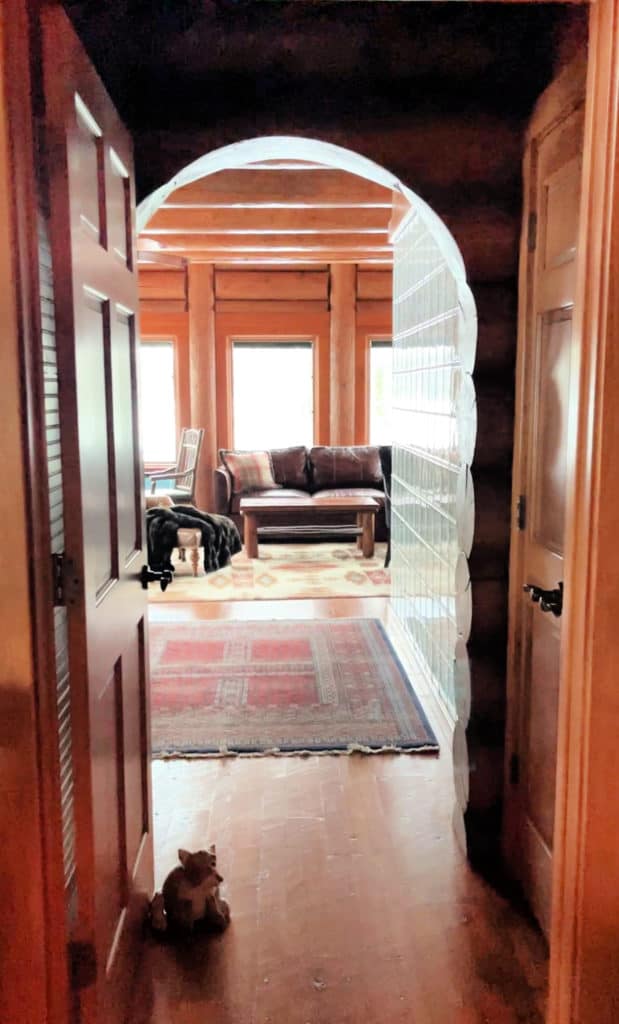 Our master bedroom is so large it has room for a couch with a chaise, a chair and a his and her desk.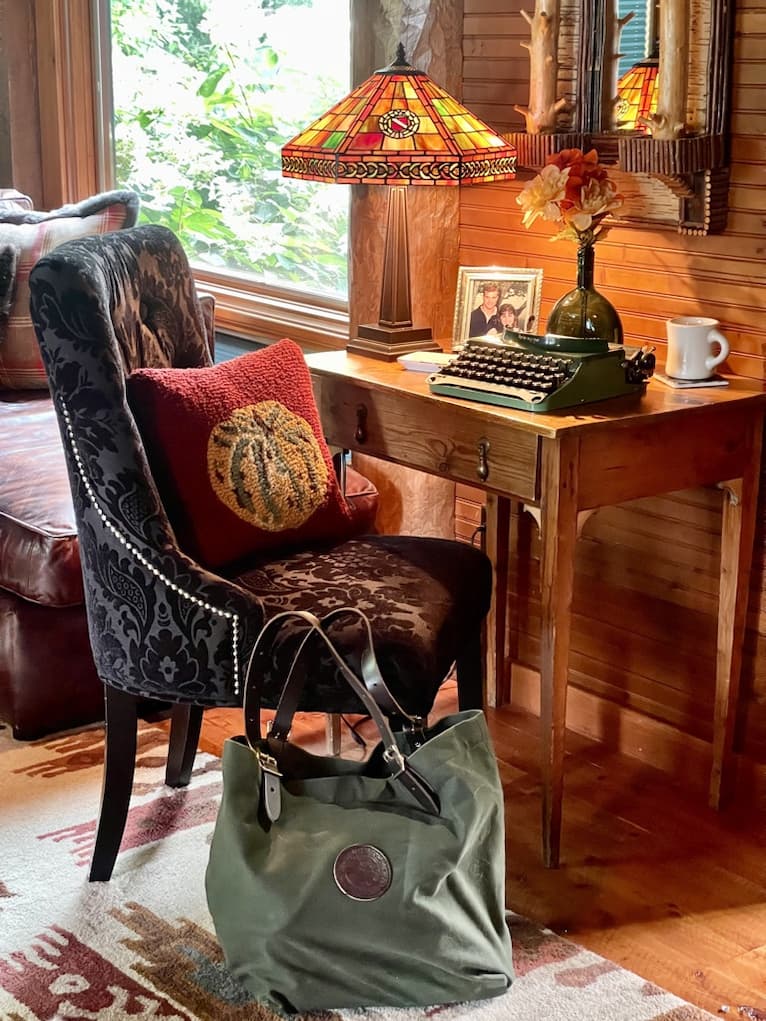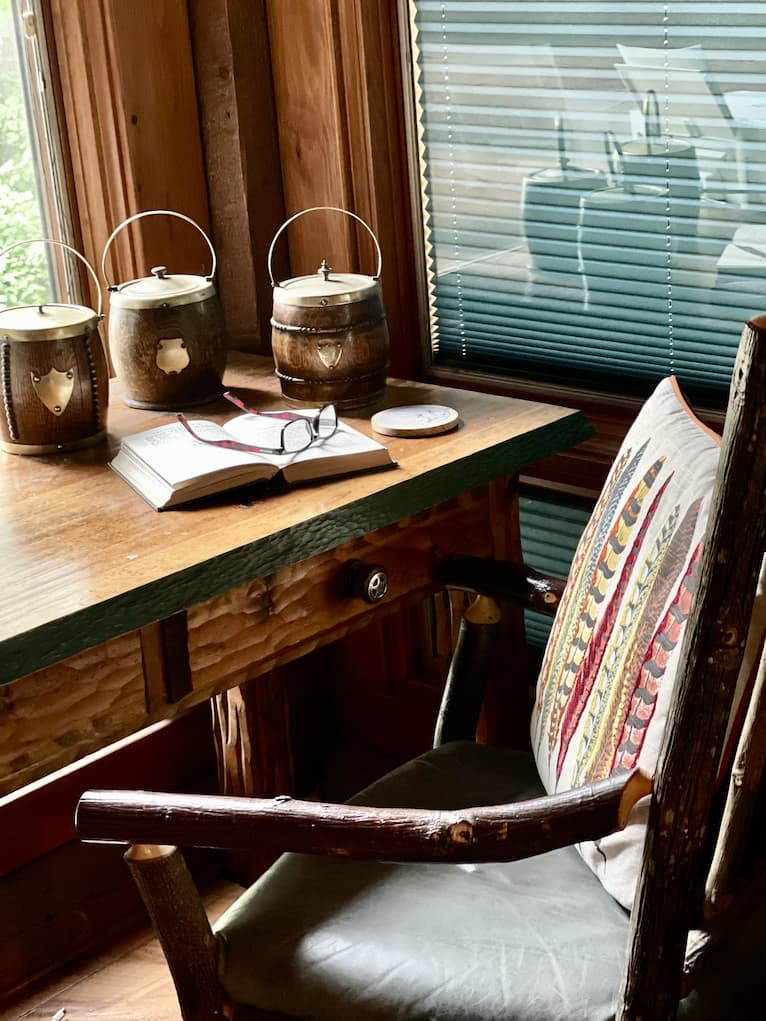 Your room may only have room for one cozy chair perfect for curling up and transitioning from a busy day to bedtime.
Thanks so much for stopping by! I hope you've been inspired to style your bedroom to be a cozy retreat you can't wait to return to throughout your day and in the evening.
Remember to check out Paseo Road for all their beautiful bedding options as well as other home decor you'll love.
Be sure to enter the Giveaway HERE.
FOLLOW ALONG
Instagram ~ Facebook ~ Pinterest ~ Twitter ~ YouTube ~ Tik Tok ~ Liketoknow.it