Eight Fall Decor Ideas Before Pumpkins to Get Your House Ready For the Season.
(Affiliate links are used for your convenience. Read my full disclosure here.)
I'm so excited to be joining sixteen of my blogging friends for a Fall Decor Hop. Thanks to Pasha of Pasha is Home for hosting all the inspiration!
If you are new to "Blog Hops" they are simply blog posts shared by a group of bloggers all on the same day around a central theme. We each share links to all the other participants so you can "tour" all the posts and find more ideas to inspire you and blogs to love. Think of them as a Progressive Dinner. Have you ever participated in one of those. This one is just virtual so you are able to fit all of them in while sitting with a cup of coffee from your own home.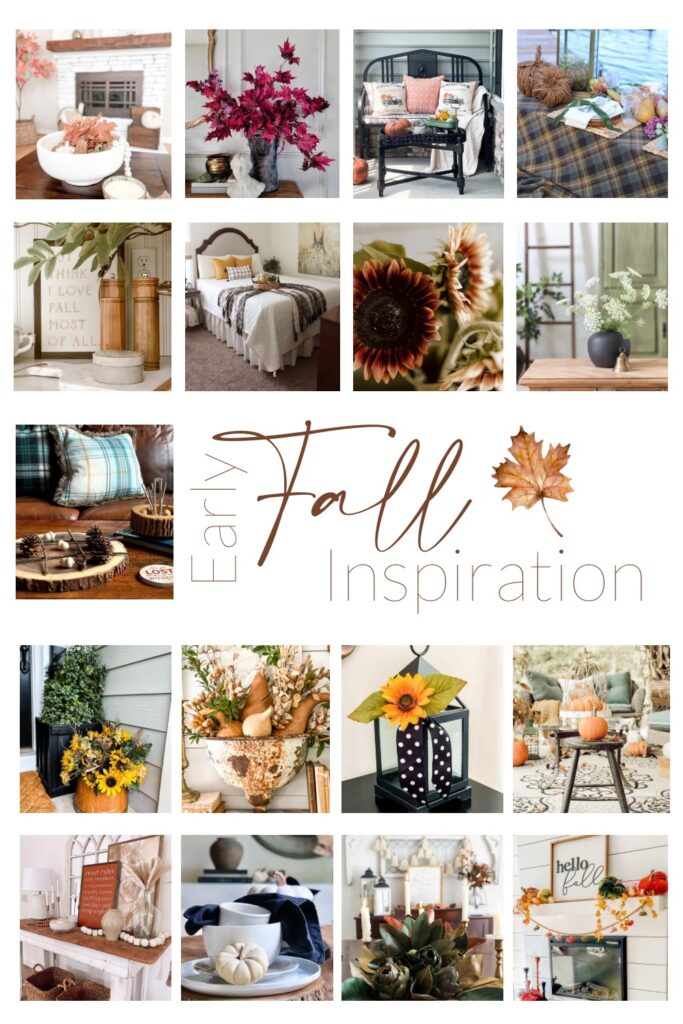 I'm excited to welcome you to my home in The Wisconsin Northwoods. We live in a full log cabin on the shores of a gin clear lake where every season is something to celebrate! It's bittersweet to say goodbye to Summer, but we love Fall around here too!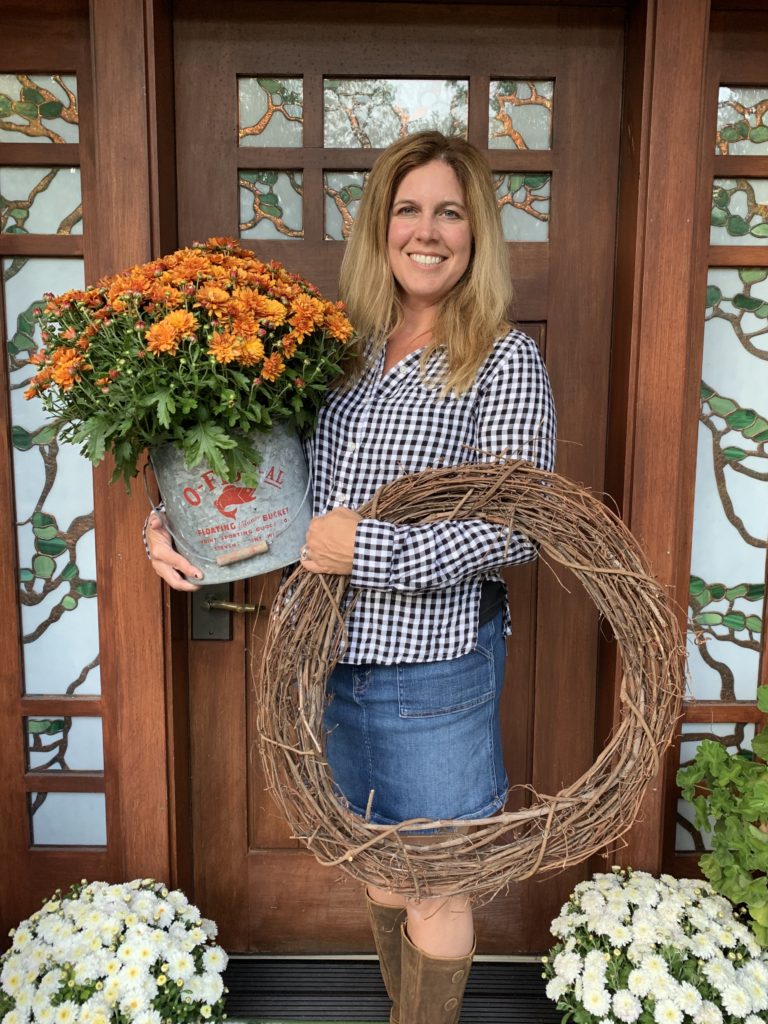 If you are coming from my friend Robyn's blog Robyn's French Nest, you've taken quite the journey way up North to visit me after being at her beautiful Florida home. I love the Fall favorites she shared!
Mums are just starting to appear in our neck of the woods this time of year at the local greenhouses. I love decorating with mums. Read more IN THIS POST. But pumpkins won't show up still for several weeks. I'll be so excited when they become available! They are one of my favorite things to decorate with!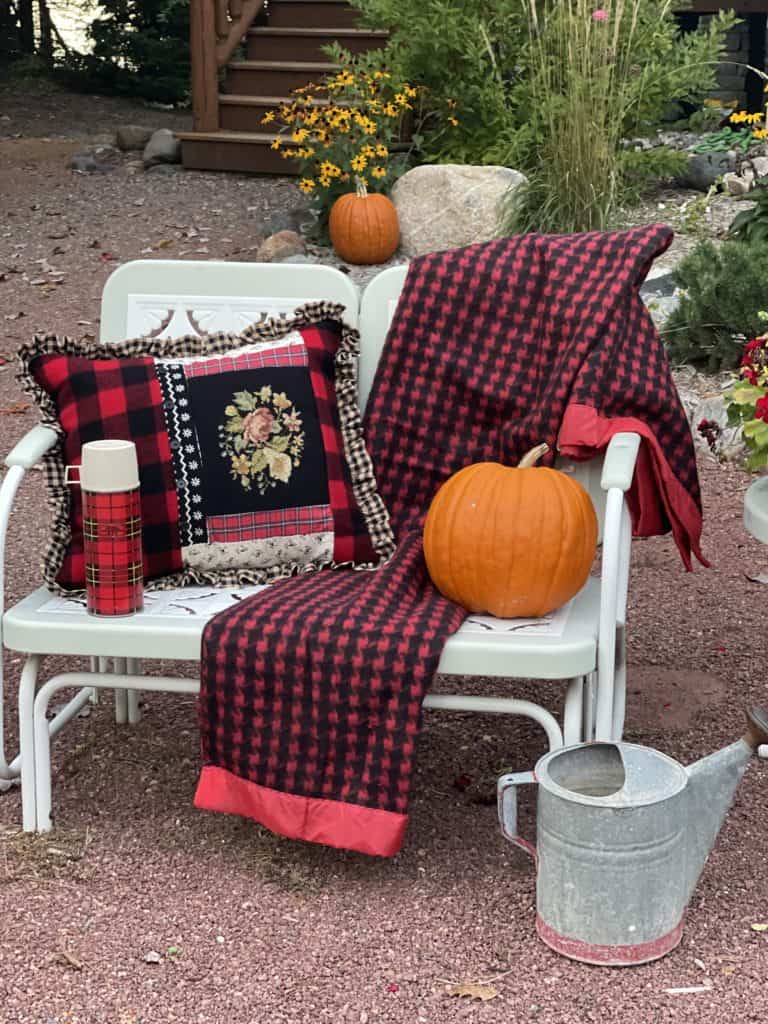 But until pumpkins show up there are several things I like to start decorating with as we head into the Autumn season. Here are eight favorites.
Acorns
This time of year the acorns start falling from the trees all over the yard and driveway. I find my greatest inspiration for decorating my home from the nature right outside my windows. So a dish full of wooden acorns is a beautiful Fall touch on an end table with books.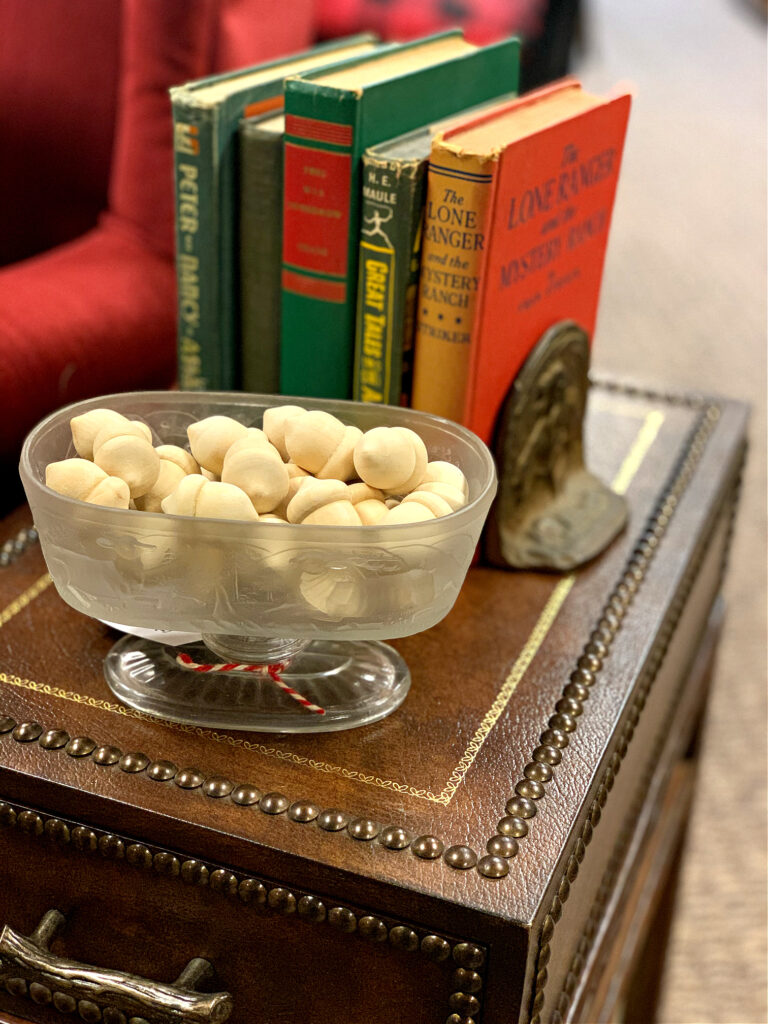 One of my favorite projects was my DIY Tic Tac Toe boards I made to keep out on the coffee table for Fall. I used wooden acorns and gathered pinecones. See more IN THIS POST.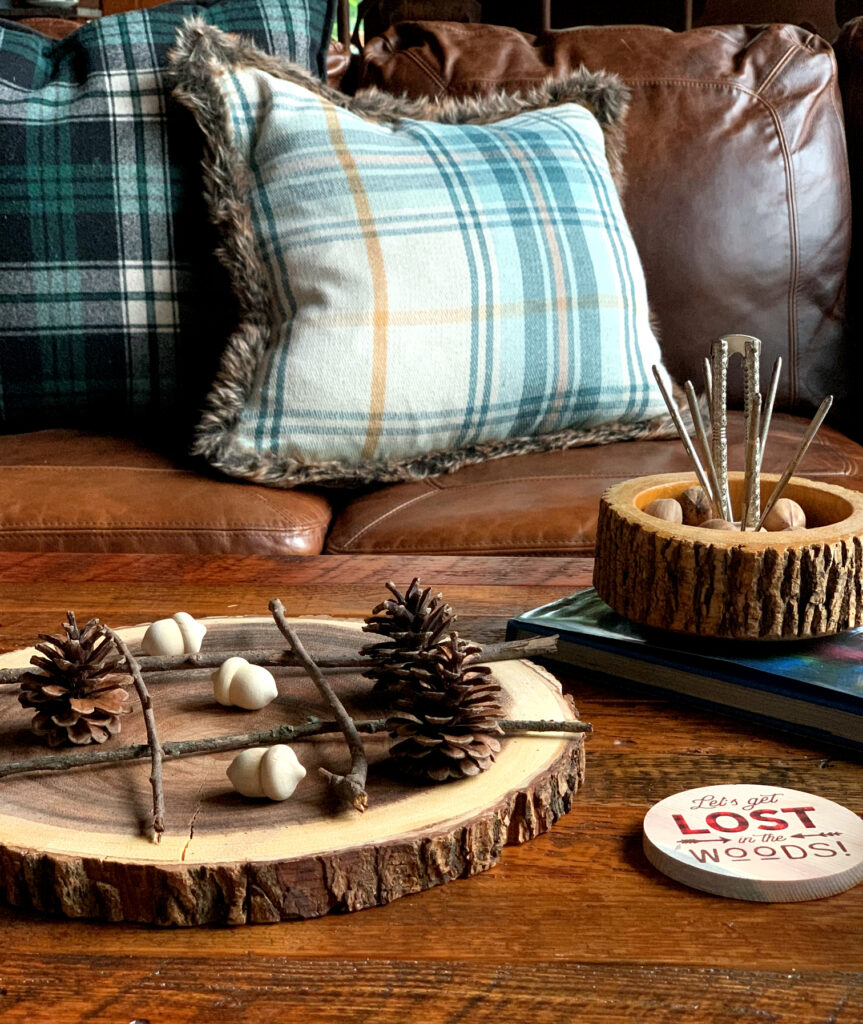 Blankets
One of my biggest collections is of vintage plaid wool camp blankets. They aren't just pretty, they are practical too as the temps start to drop.
Being outside when it's warmer earlier in the day grabbing a blanket to cover up with helps keep us cozy this time of year.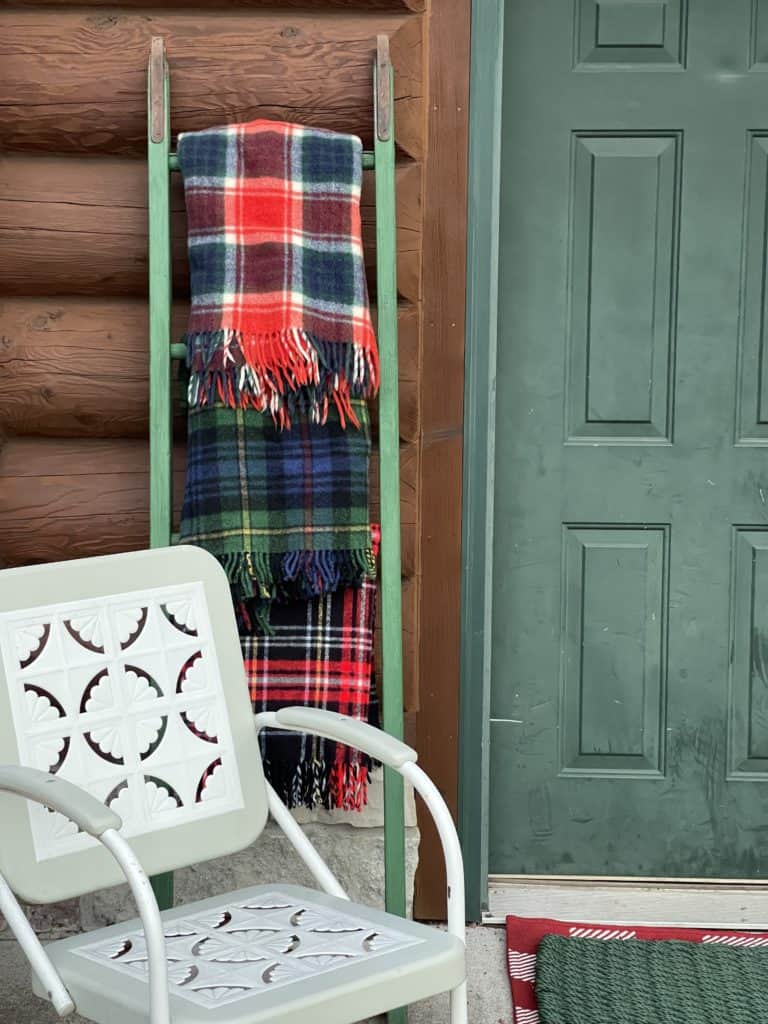 I start layering them over the arms of chairs and on the ottomans all around the house where they are easy to grab.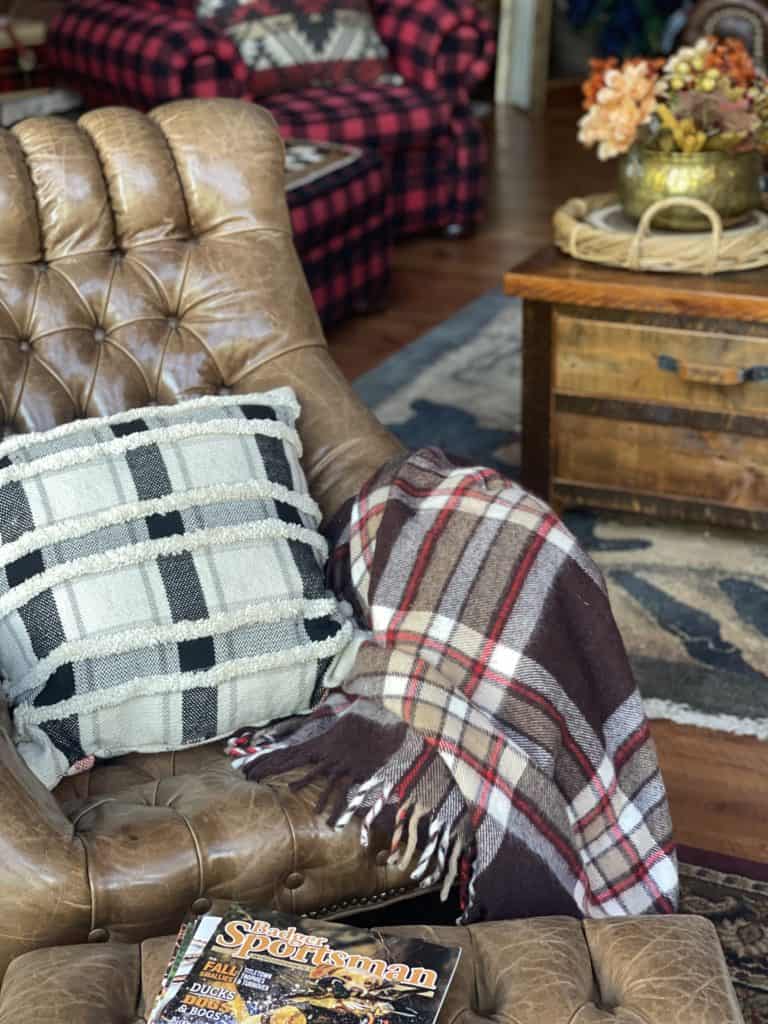 Fall Florals
There are so many beautiful Fall florals to decorate with whether they are faux stems and blooms like my bouquet on the coffee table below or fresh, live mums.
I loved the mix of colors and textures in this arrangement of Fall oranges, berries and leaves.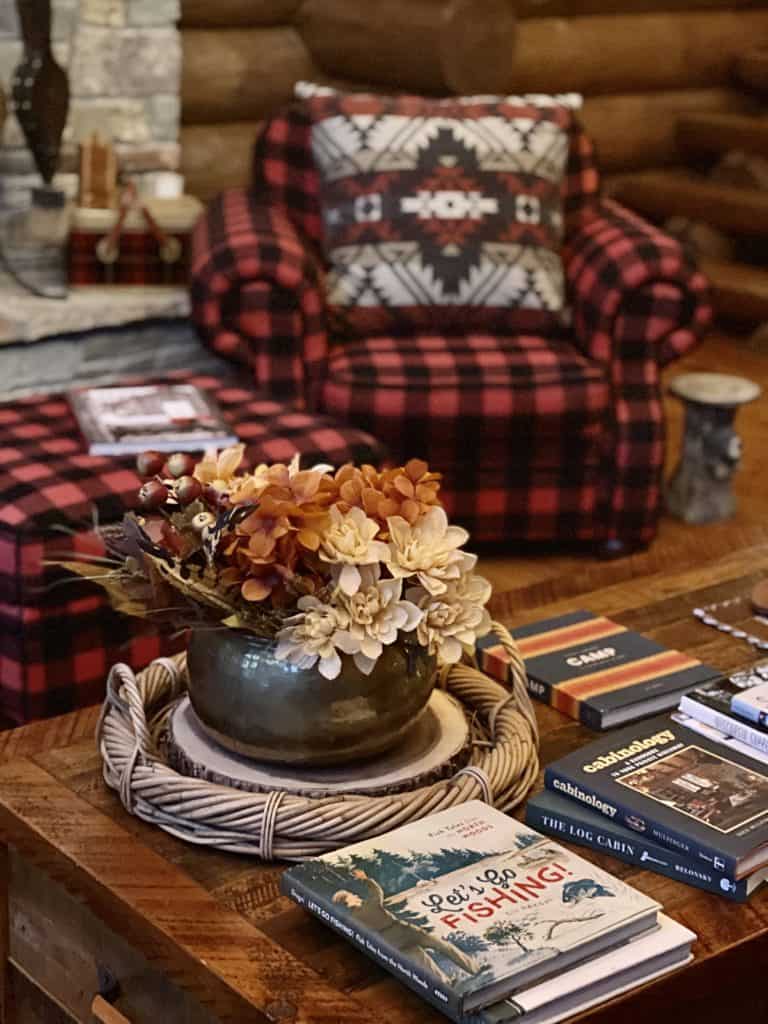 Mums work great on the porch or even indoors tucked in creative vintage pieces that become the perfect pot.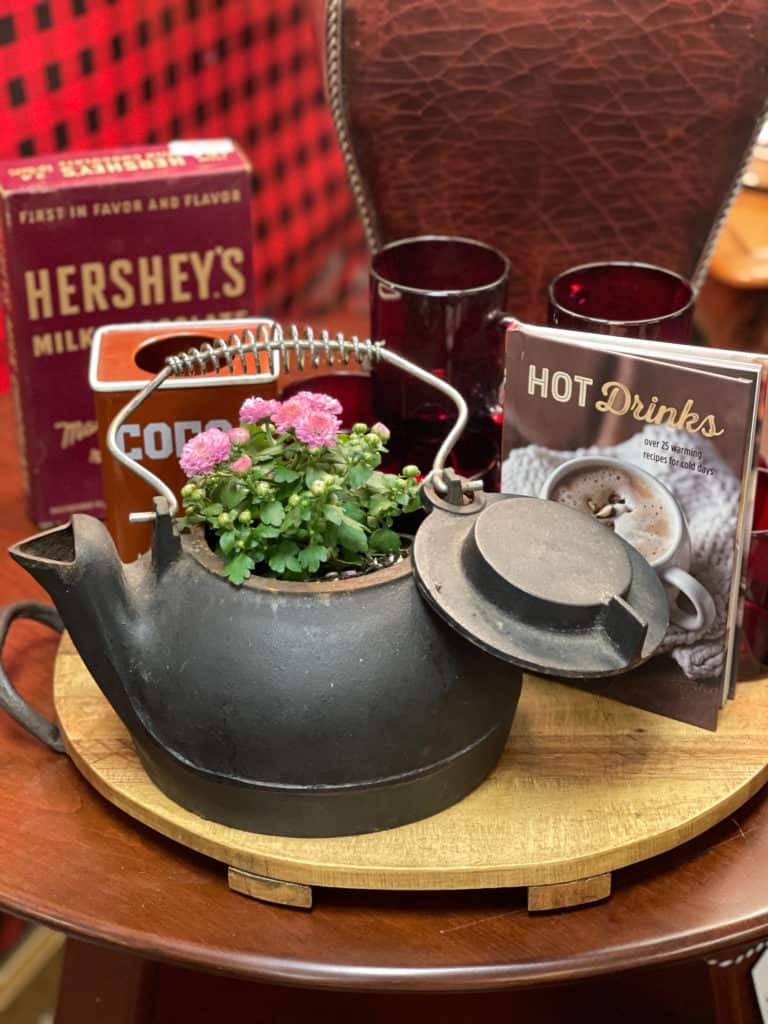 Want to get daily encouragement? SUBSCRIBE HERE so you don't miss any posts!
Feathers
I love decorating with pheasant feathers and loved the dramatic effect of the long single feather in my brass candleholders.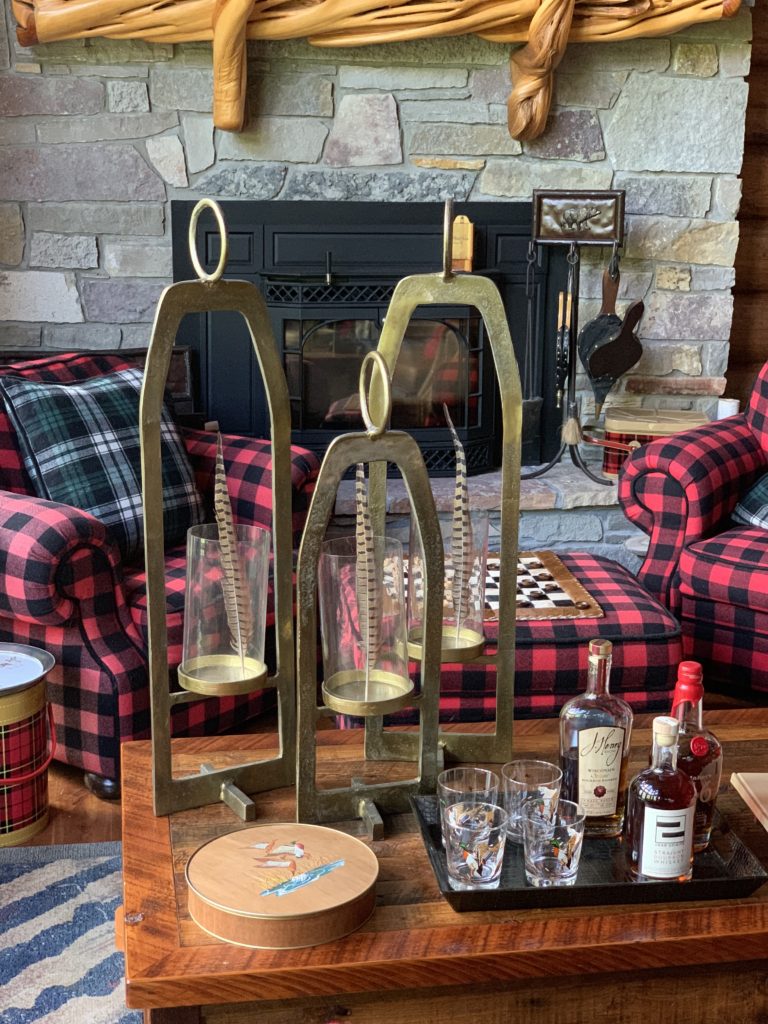 The colors of this feather pillow make it a favorite to pull out this time of year. It goes with all the other accessories in my cabin so well.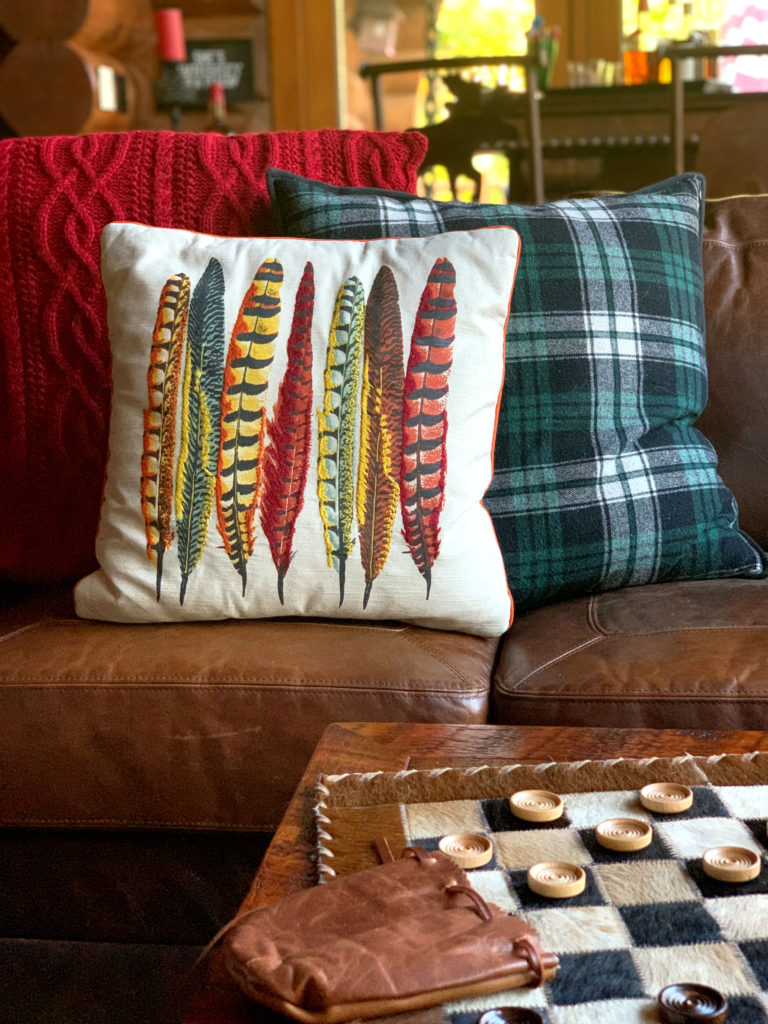 Pillows
The quickest way to change things up for the season is with throw pillows. I'm sure you've heard it said that throw pillows are grown women's stuffed animals! I think that's true. If you are like me we love to collect pillows for the seasons adding to growing collections.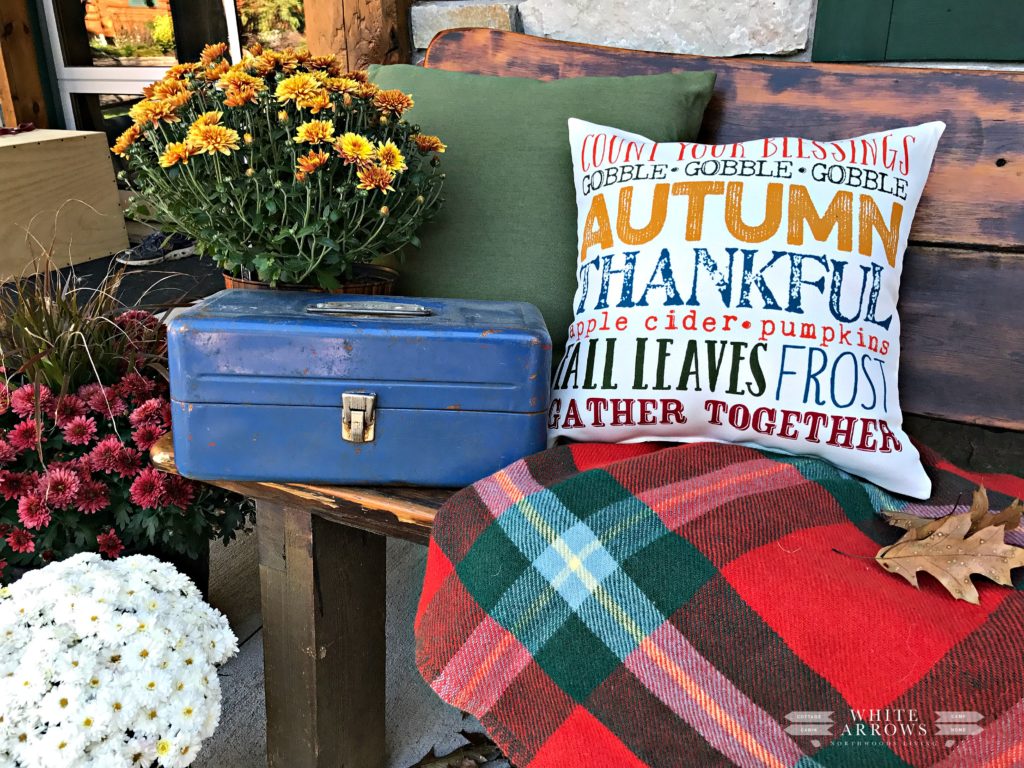 Once in a while I'll have a pillow with words or sayings like the one above, but most often I have pillows that can be mix and matched in any season and I love my black and white buffalo plaid in Fall.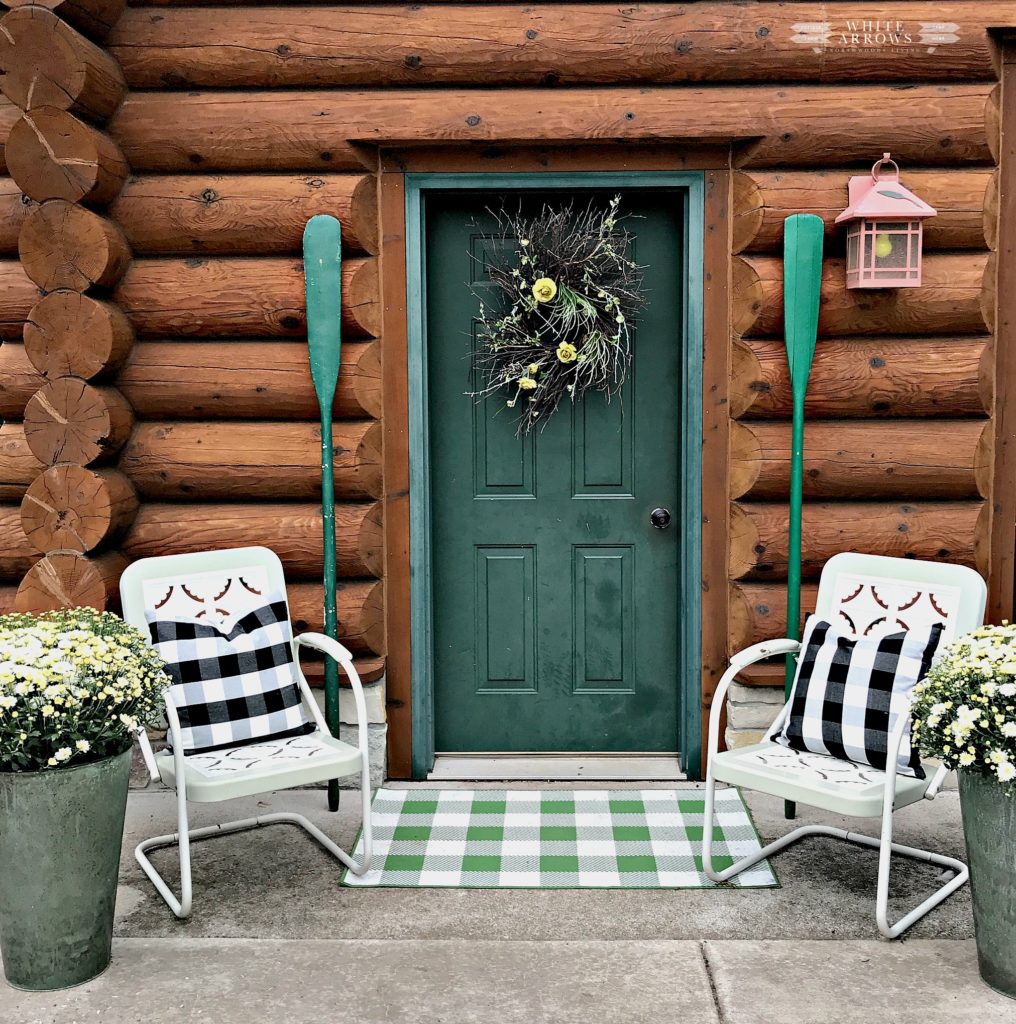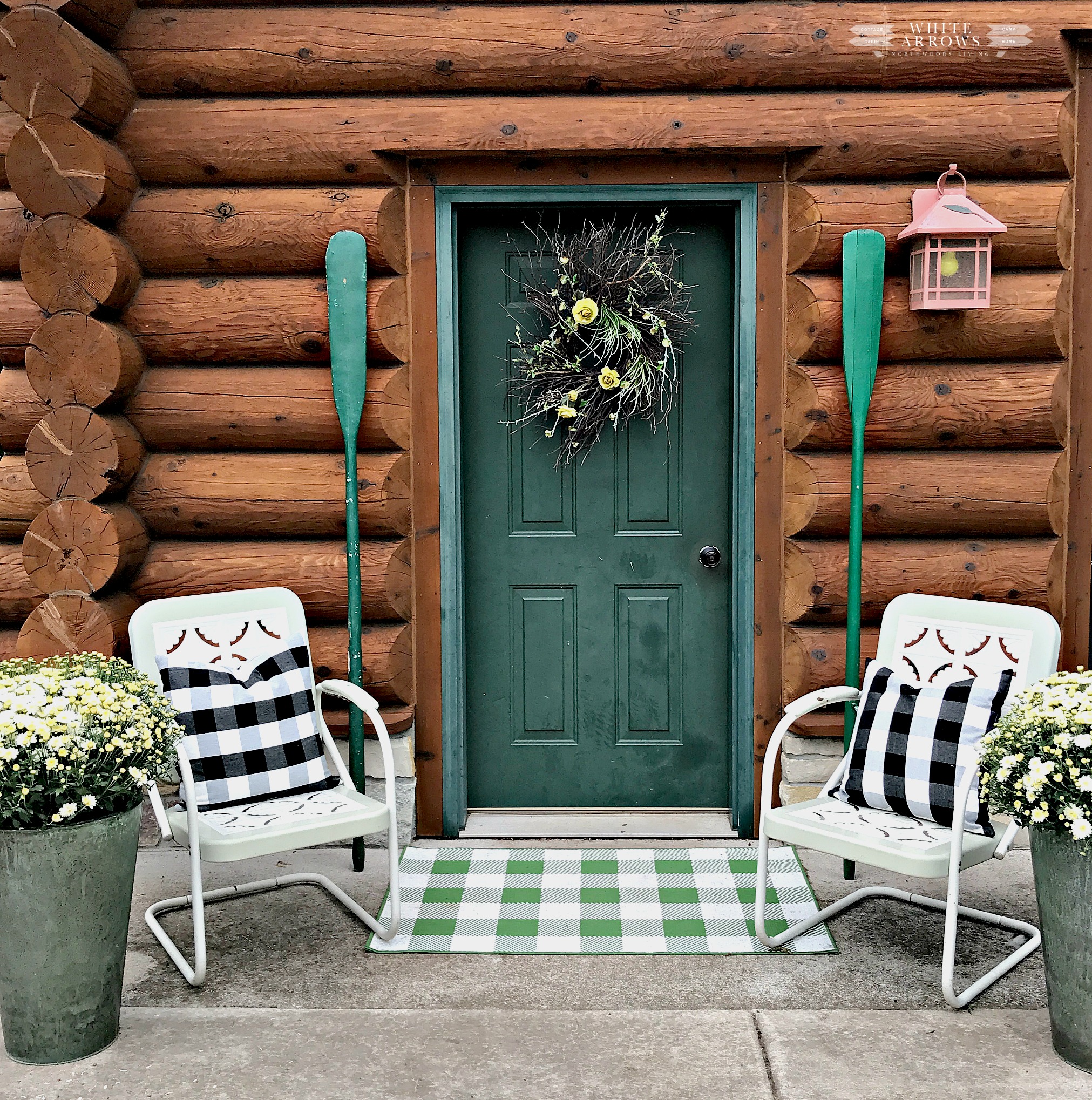 Copper
Copper is a favorite for me to pull out in Fall. I loved this pot I found at an estate sale last year. In Winter I use it to hold starter stills for the fireplace, but in Fall it holds a gorgeous arrangement.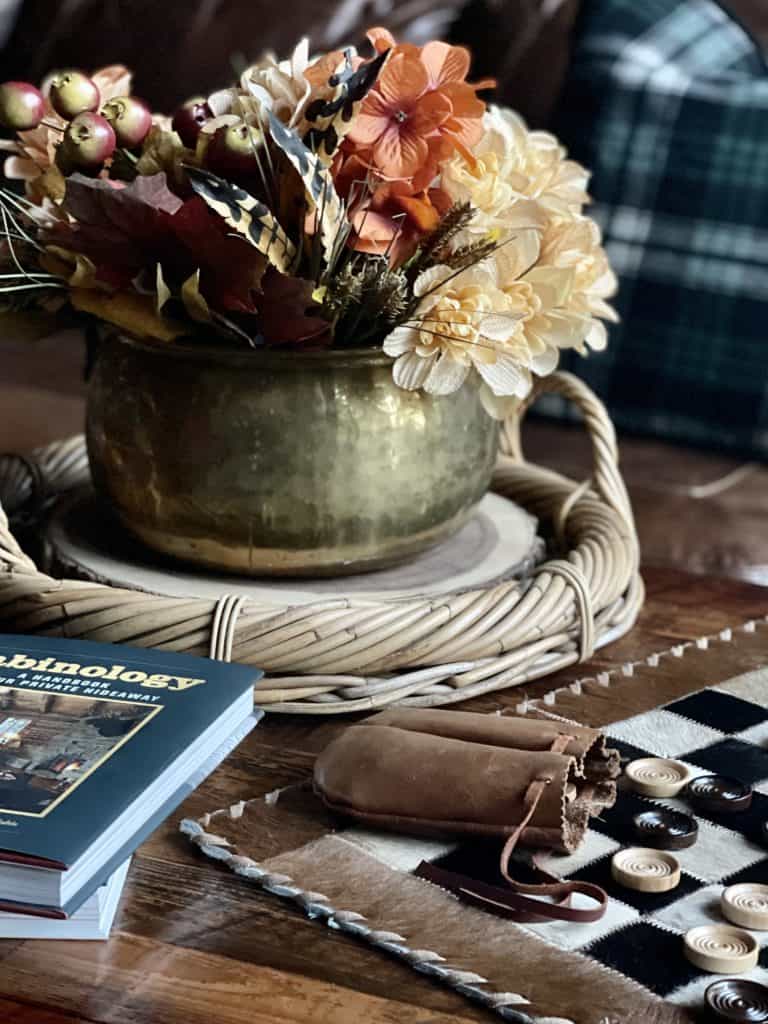 You can't beat a crisp Fall cocktail served out of a copper mug keeping it cool.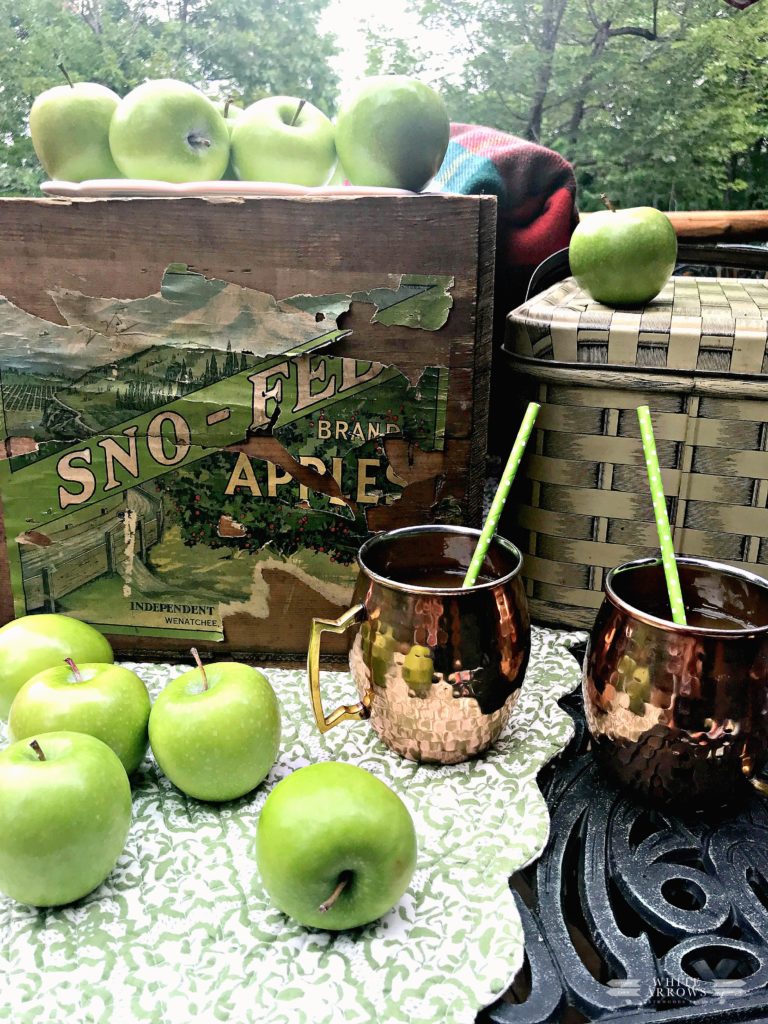 Tablescape
Fall tablescapes are so fun to set up. I love pulling out my vintage dishes with autumn leaves on them and using Fall colors in blankets that become tablecloths and picnic baskets that become pots.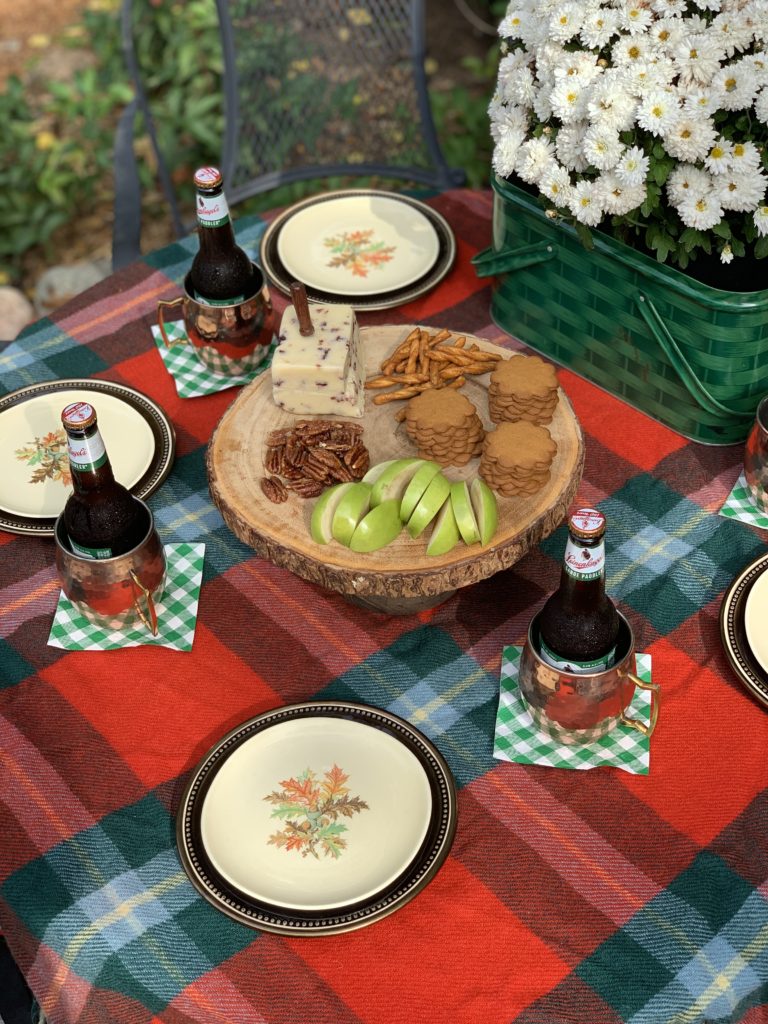 I always love looking through the vintage linens at antique shops seeing if I can find any special ones like this leaf covered one.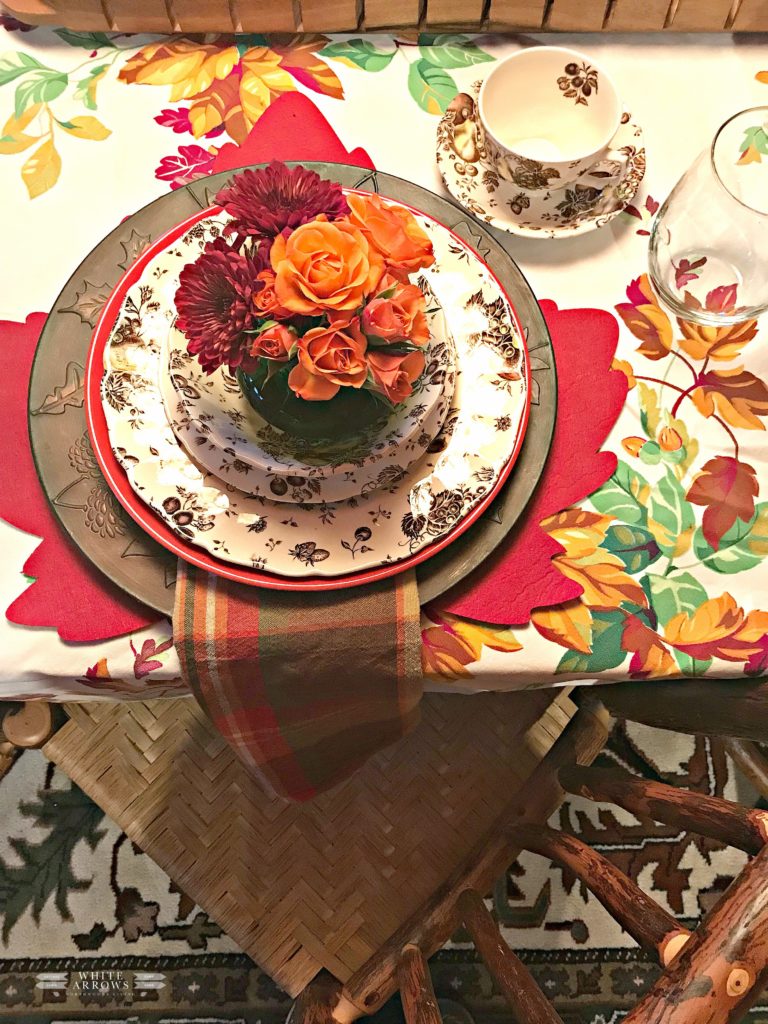 Mallard Ducks
The sporting activities for the seasons is one of the things that inspires my decor. In Winter you'll find old snow skis and showshoes around my cabin. This time of year, it's hunting so deer and ducks can be found.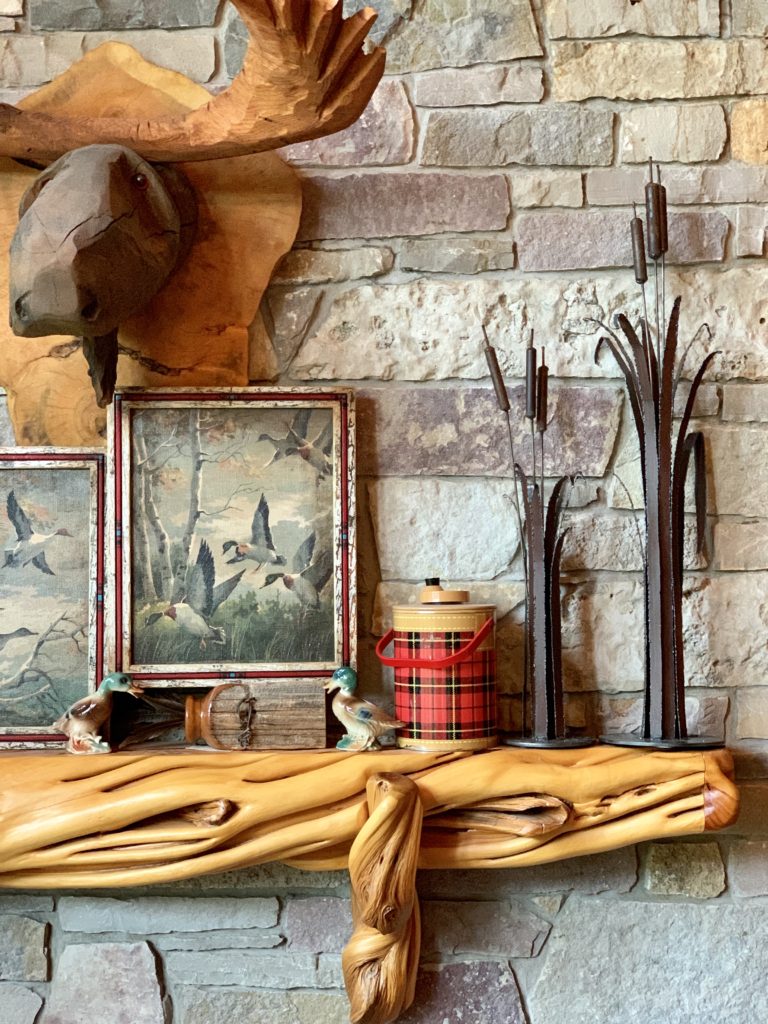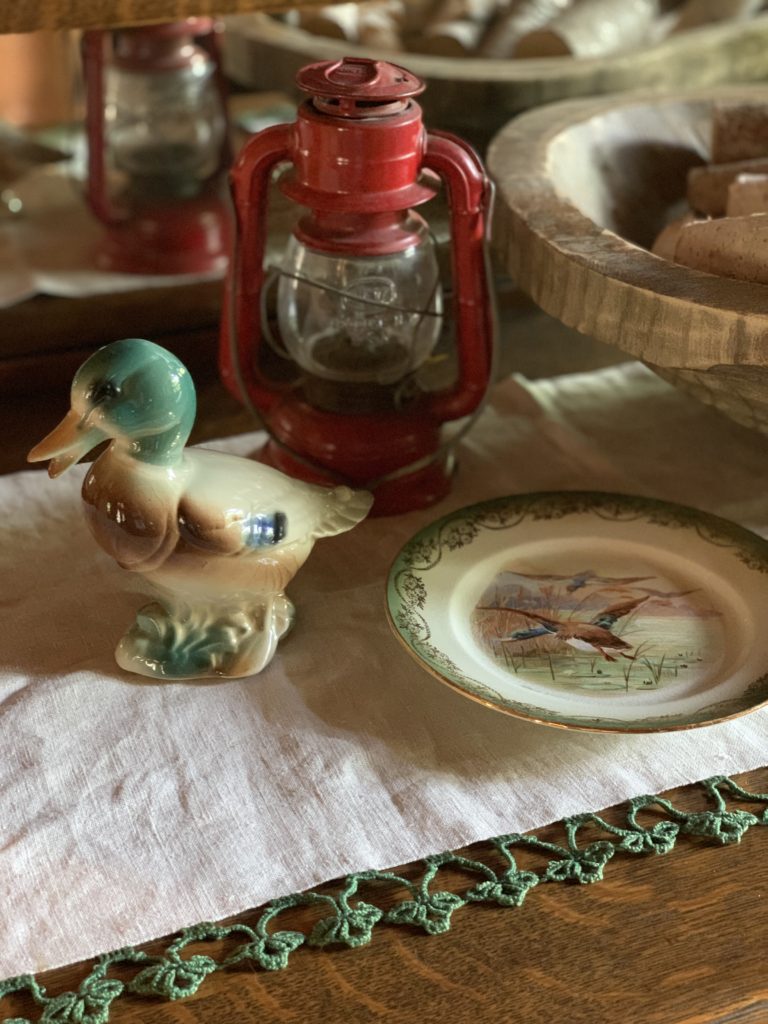 Thanks so much for visiting us way Up North! Next you are headed over to my friend Libbie's blog at A Life Unfolding. She's got great inspiration for transitioning your home to Fall.
Take the Tour
Early Fall Inspiration from 17 Talented Bloggers

Fall Decor Ideas // My Sweet Savannah
Beautiful Early Fall Decor Ideas with Queen Anne's Lace // Open Doors Open Hearts
15 DIY Pumpkins Ideas for Fall // Tater Tots and Jello
7 Simple Ways To Transition From Summer To Fall Decor // Midwest Life and Style

Four Fun Ideas for How to Decorate for Fall // Pasha is Home
5 Cozy Farmhouse Console Table Decor Ideas for Fall // She Gave It A Go
Early Autumn Decorating Ideas for Your Porch // Simply 2 Moms
15 Ideas for Fall Decorating Outdoors // The Ponds Farmhouse

How to Make an Easy Fall Lantern // Cottage in the Mitten
17 Fall Decor Accessories for Your Home // Robyn's French Nest
Early Fall Decor Ideas Before Pumpkins // White Arrows Home

7 Easy Ways to Transition your Home to Fall // A Life Unfolding
Easily Transition Summer To Fall – Guest Bedroom // A Stroll Thru Life
Countertop Decor for a Cozy Fall Kitchen // Eleanor Rose Home

10 Fall Decor Ideas for your Entryway // Trueman's Treasures
How to Create a Beautiful Lakeside Fall Table Setting // Peacock Ridge Farm
6 Easy Ways To Transition Your Porch From Summer To Fall // White Lilac Farmhouse
Get the Look
FOLLOW ALONG
Instagram ~ Facebook ~ Pinterest ~ Twitter ~ YouTube ~ Tik Tok ~ Liketoknow.it