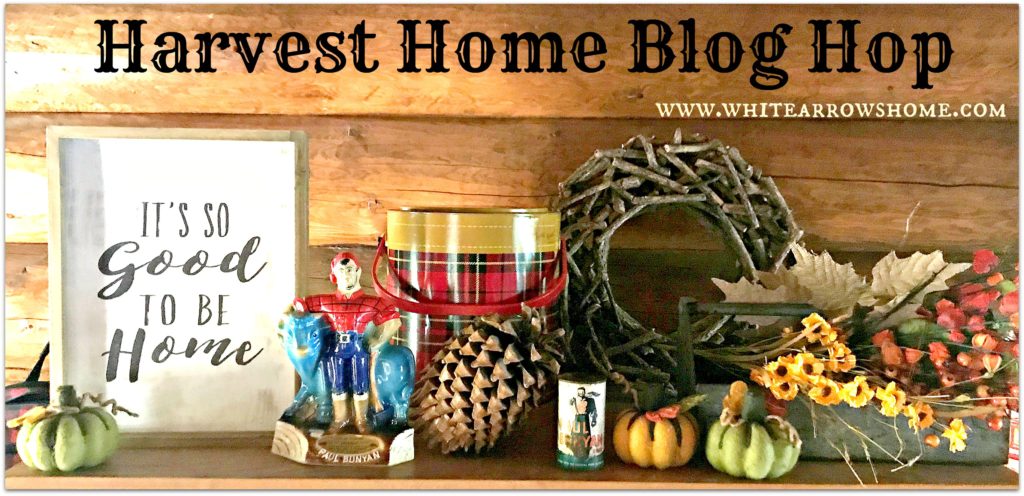 Welcome! If you are coming over from Jami and Andi's tours, I know you are already full of wonderful decor ideas from their beautiful blogs! If this is your first stop on the tour let me say how happy I am to have you come by.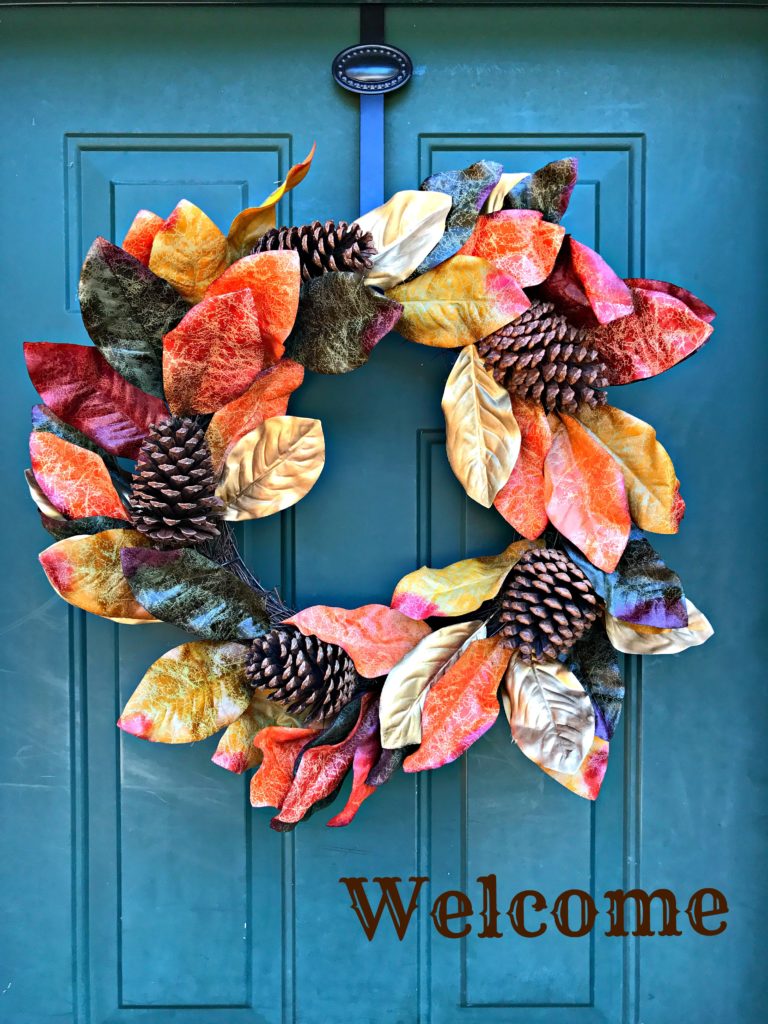 My friend Amber of Follow the Yellow Brick Home has pulled together eight beautiful blogs written by ladies who you will want to follow and call friend. All of our homes have unique styles. Some of us are DIY gurus, some vintage queens, and we all are excited to open up our homes and share our fall decor with you.
I'm really excited for the Door Prize we will be giving away to one lucky reader! After you have visited all eight blogs on the tour, given them a follow and left a comment on each page sharing what you liked most, you will be entered to win a $75 HomeGoods gift card, good at HomeGoods, TJMaxx or Marshalls. You can use it to find some Fall Decor for your own home inspired by this Blog Hop! So exciting!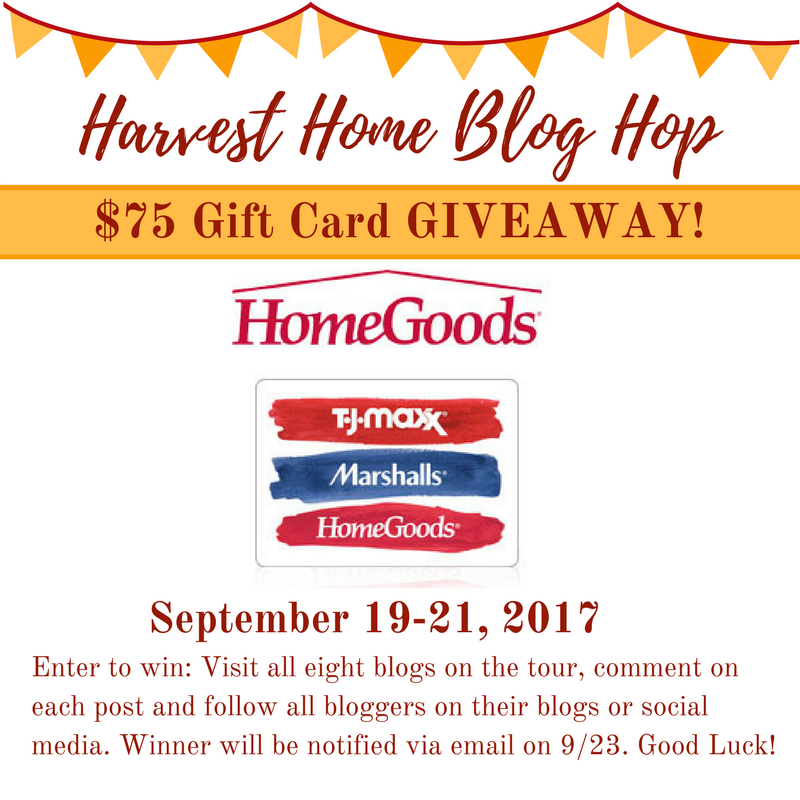 Today is actually the second day of the tour. The graphic below shares the schedule and you can find out more on Amber's page or at the bottom of my post where links can direct you to each page. You won't want to miss any of these gorgeous homes and blogs! Thank you Amber for including me in this year's Harvest Home Blog Hop!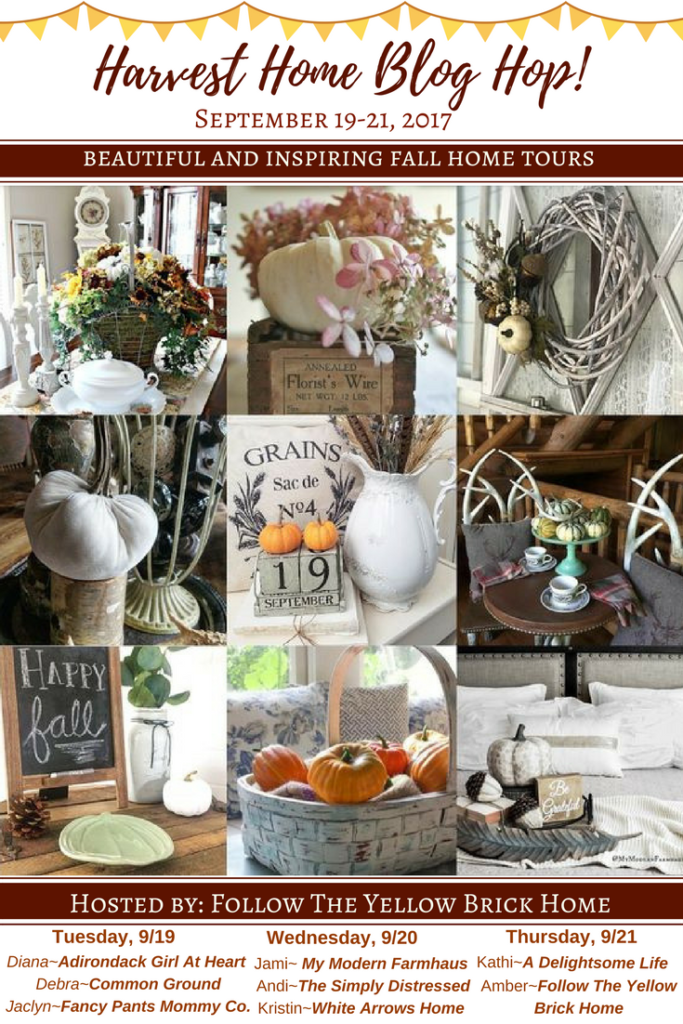 So now, let me welcome you to Camp Paradise, our full log cabin that sits lakeside in The Northwoods of Wisconsin. The leaves have started turning and the woods outside our windows are breathtaking this time of year! You can see some of the oranges and yellows starting to show in the photo below. Our giant hydrangeas have also started to fade to their fall pinks. Come on inside, pour a cup of coffee, curl up in one of our cozy spaces (visit this post to see a few) and let me share my fall decor with you!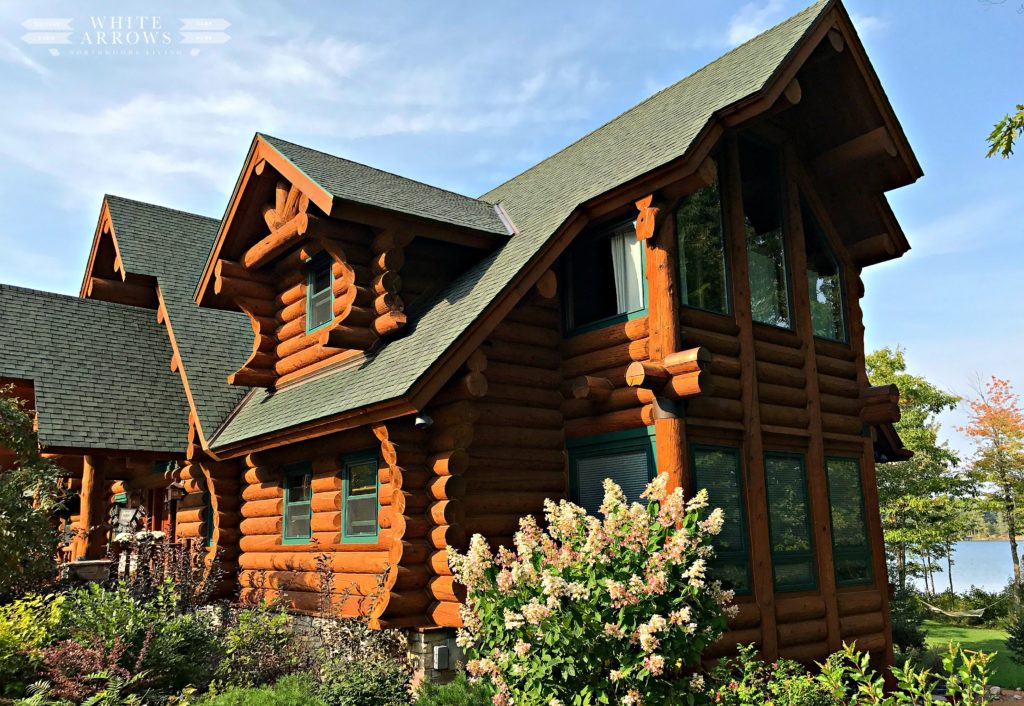 In the Cabin
Archways open up the kitchen and dining room to the rest of our home making it a perfect floor plan. This antique buffet was one of the first pieces my husband and I bought together after we were married and above it is one of our most recent, the Sports Afield print in a birch frame from Roughing It in Style. One of the quickest and easiest fall decorations was to set a few mini pumpkins on our rustic sugar mold. I placed two grapevine and bittersweet wreaths from my storage tub of fall decor behind it to fill in the space.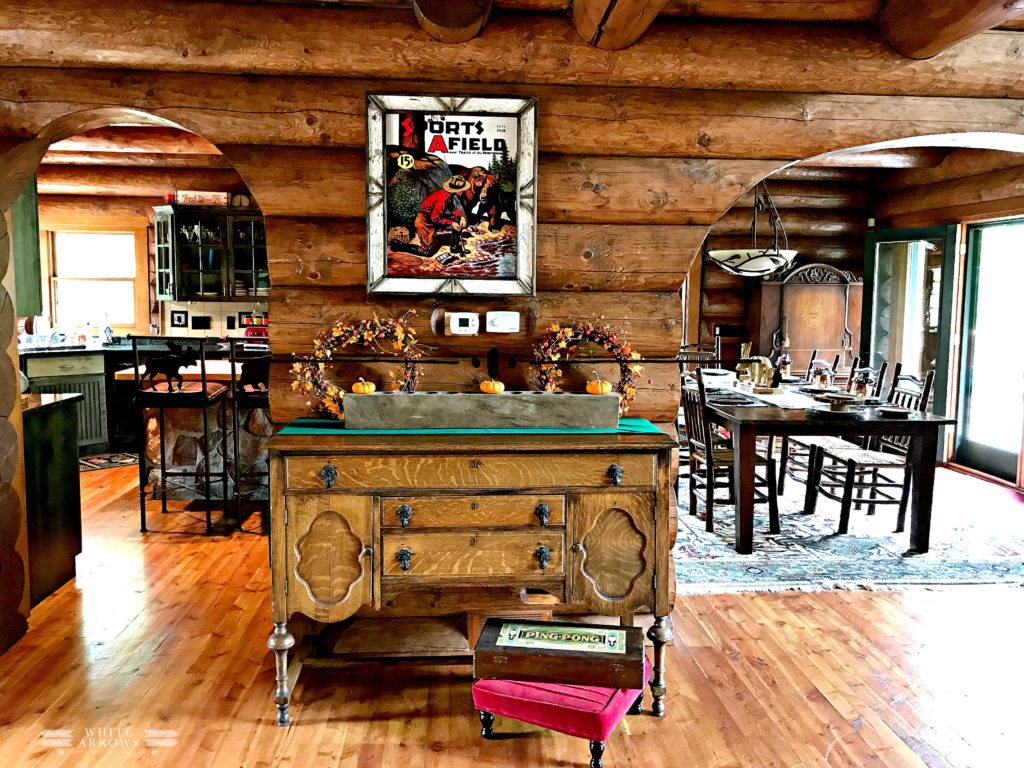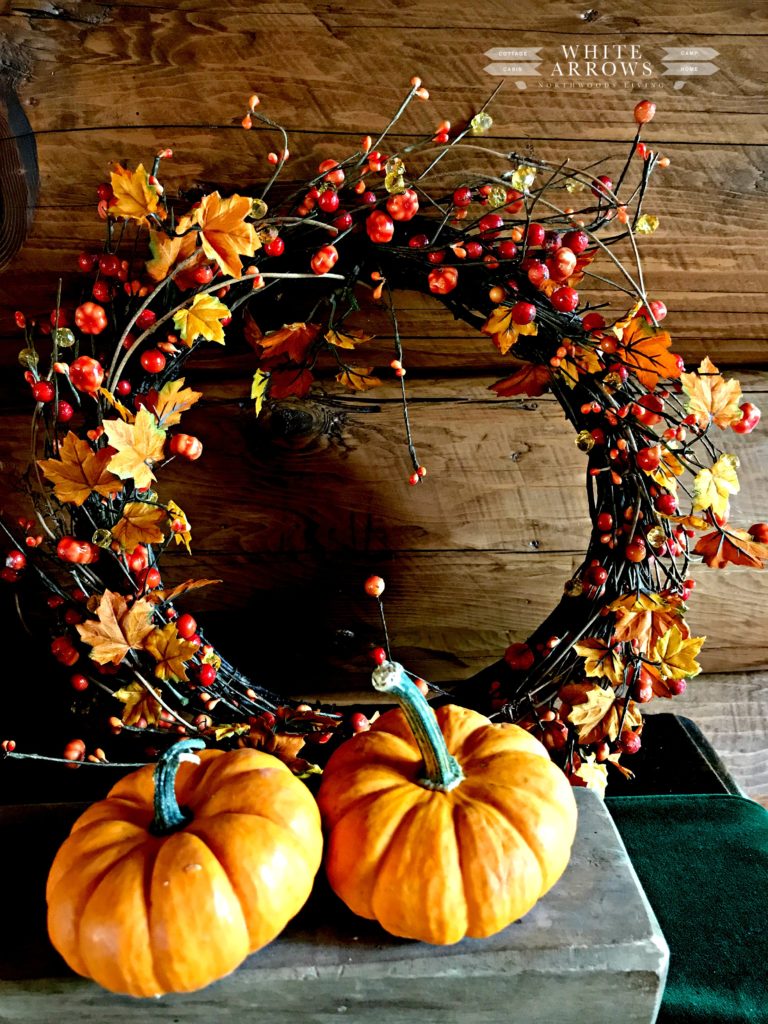 In the entryway above the cubbiess (see our cubbies here) I styled a sweet sign from Hobby Lobby with a plaid cooler from my thermos collection, some felt pumpkins I found last season at Trig's Floral and the giant pinecone that was used as decor in my wedding almost 20 years ago. The stick wreath is also from Hobby Lobby. My newest vintage finds  are both Paul Bunyan pieces, one a Brandy decanter and the other a beer can. I think that means I've started a collection! The old galvanized toolbox on the far right is filled with faux, fall colored sprays adding more textures and interest to the vignette.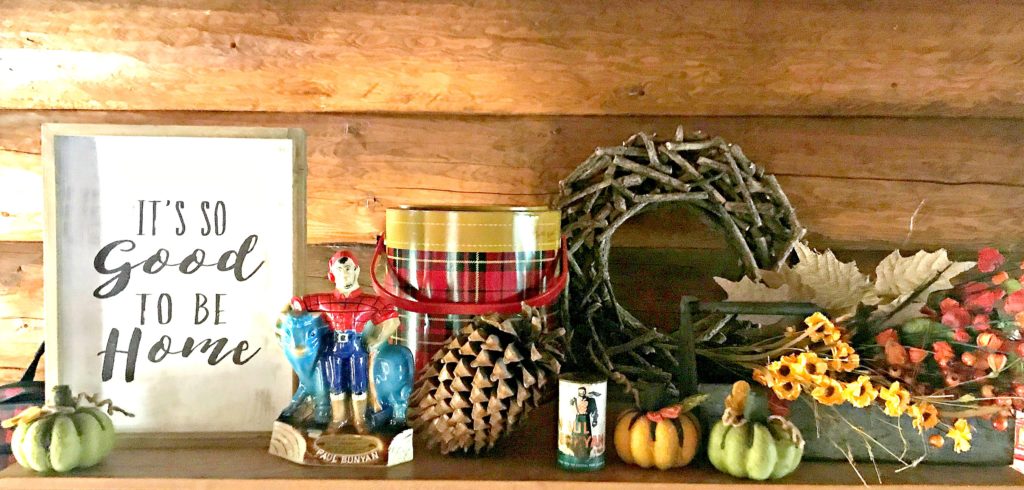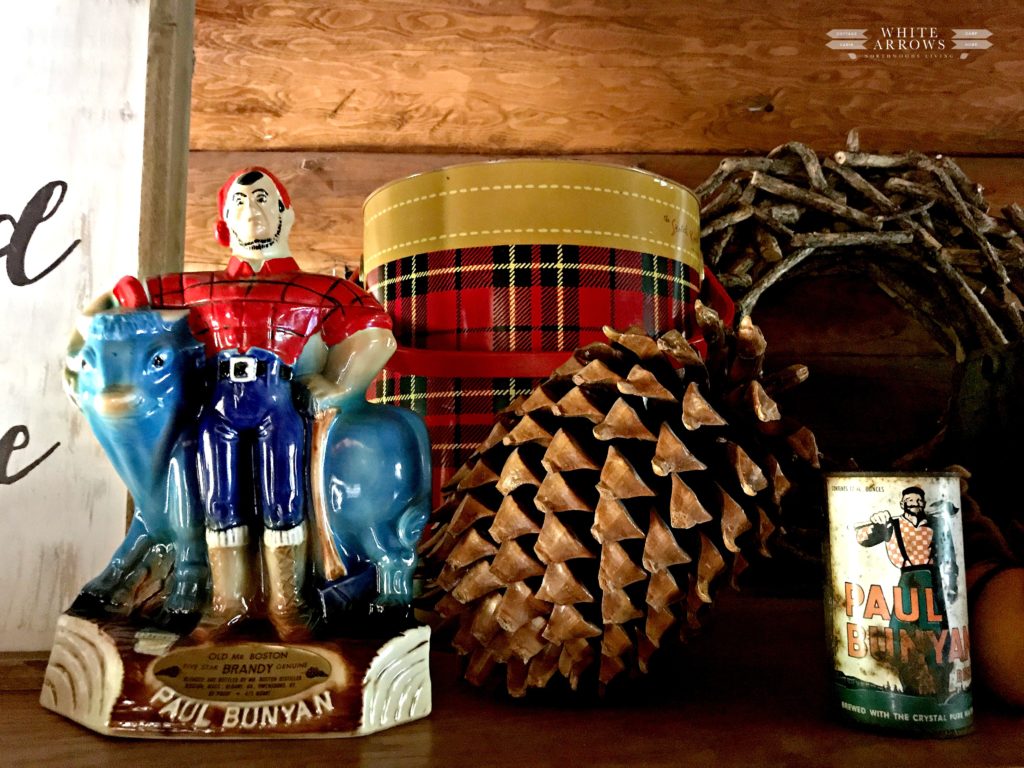 I snapped this photo of a simple tablesetting I've been keeping out this September for Early Fall. A mama bear and her bear cubs wooden sculpture sits on top of an embroidered table runner I found at HomeGoods. Plaid placemats, from Lakeside Living in Manitowish Waters, style well with my brown and white transferware salad plates. The dinner plates were a recent favorite vintage find. When heading to pick up my daughter from a week at Summer Camp near Eagle River, I stopped with a friend at a few antique shops in their downtown. There I found these sweet floral edged dishes for $10! I love mixing and matching my dishes, so I was thrilled with the pattern and the price! Chargers from Walmart embossed with autumn leaves, plaid napkins from Kohls and my must use copper mule mugs from Pier 1 finish off this everyday table.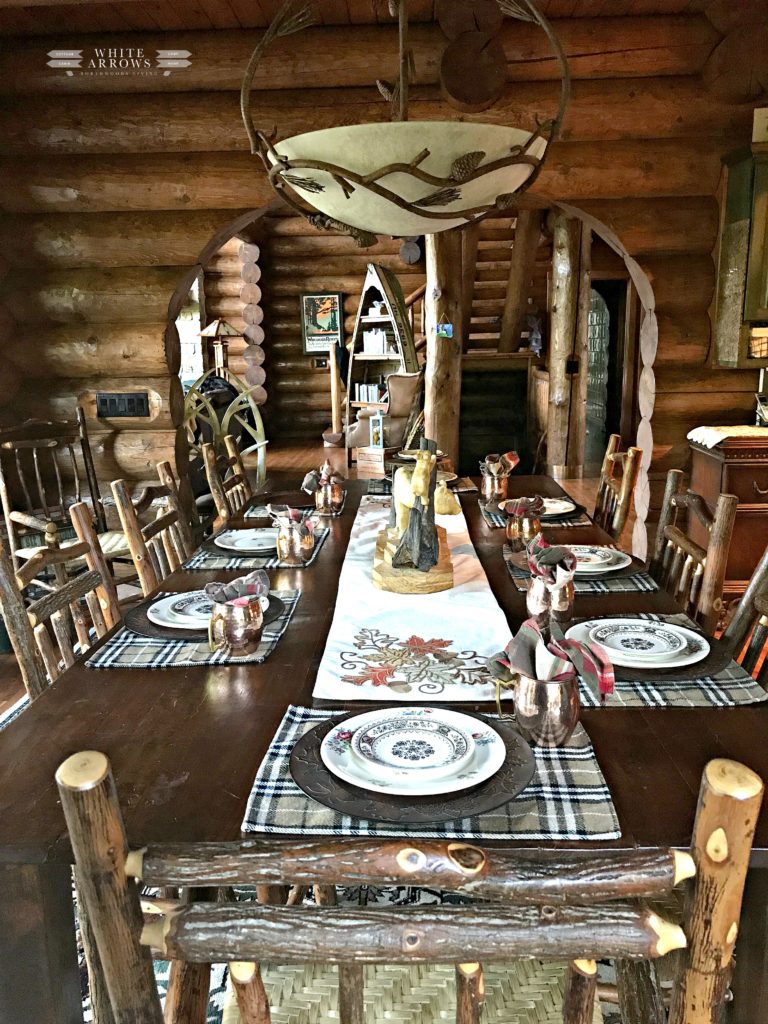 Off of the Dining Room is our Sun Room. A few years ago it was a screened in porch. You can read about our remodel here.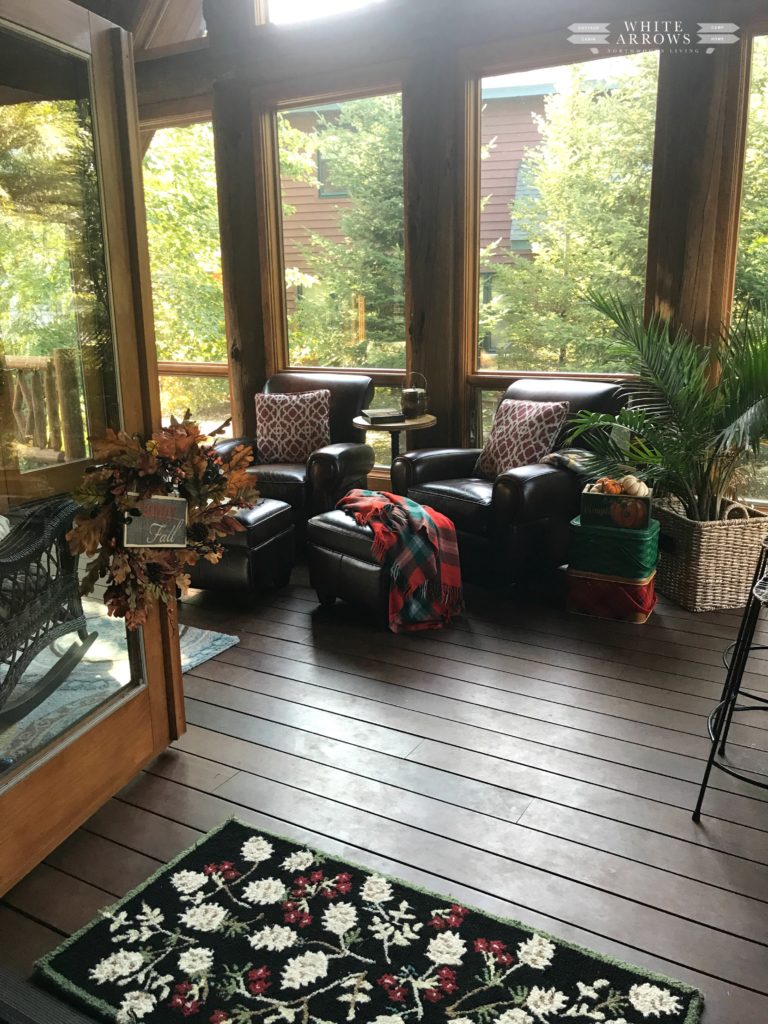 Two leather chairs make a perfect conversation spot in the sunroom with a small table from HomeGoods in between to hold treasures, (like my vintage tobacco jug) cups of coffee, (this deer mug is being used as a vase for a spray of oak leaves and acorns from Hobby Lobby,) and books (like this Dining at Great American Lodges Cookbook and Treasury I found at Roughing It In Style.) A fall throw pillow and plaid scarf complete the Harvest decor.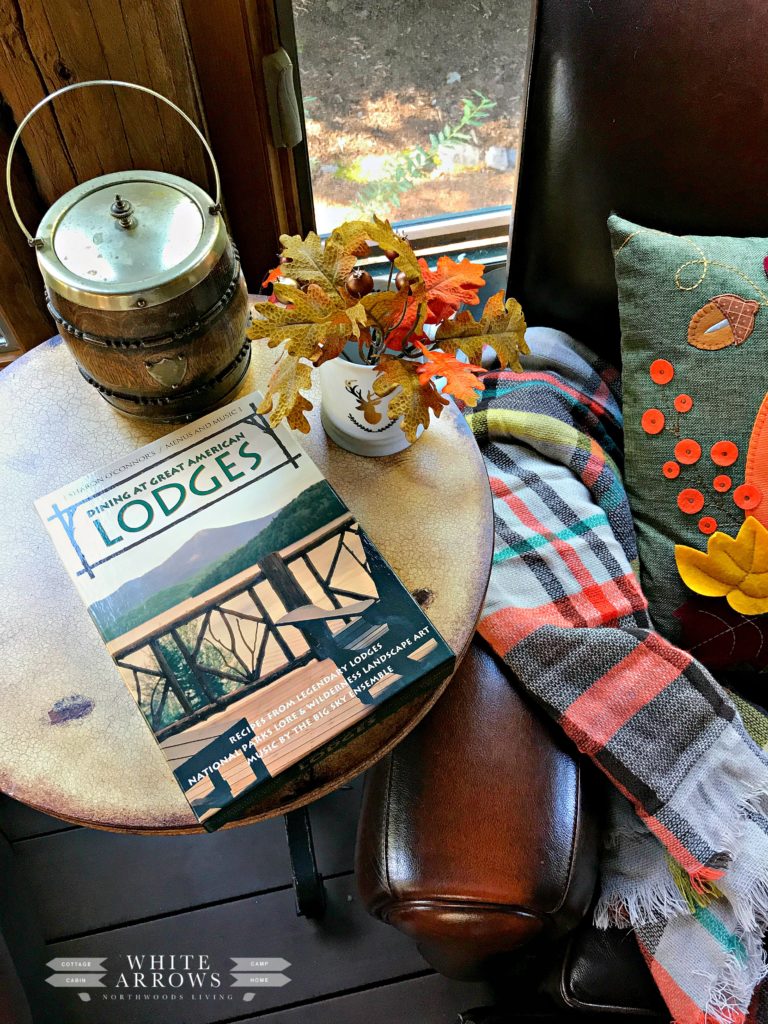 I have a red console table I bought from Pier 1 that is so versatile around the cabin. It's lightweight, which makes it easy for me to move around, yet sturdy enough to use for many purposes. Right now I have it set up as a breakfast bar in the sunroom with two wicker stools alongside. It makes a great homework station this way too.
The little cabin painting was done by one of my daughters years ago and it is a favorite piece of art for me now. The spray of fall leaves and berries is from Hobby Lobby and the Cabin Sweet Cabin I found at our local Ace Hardware where they have a nice home goods section.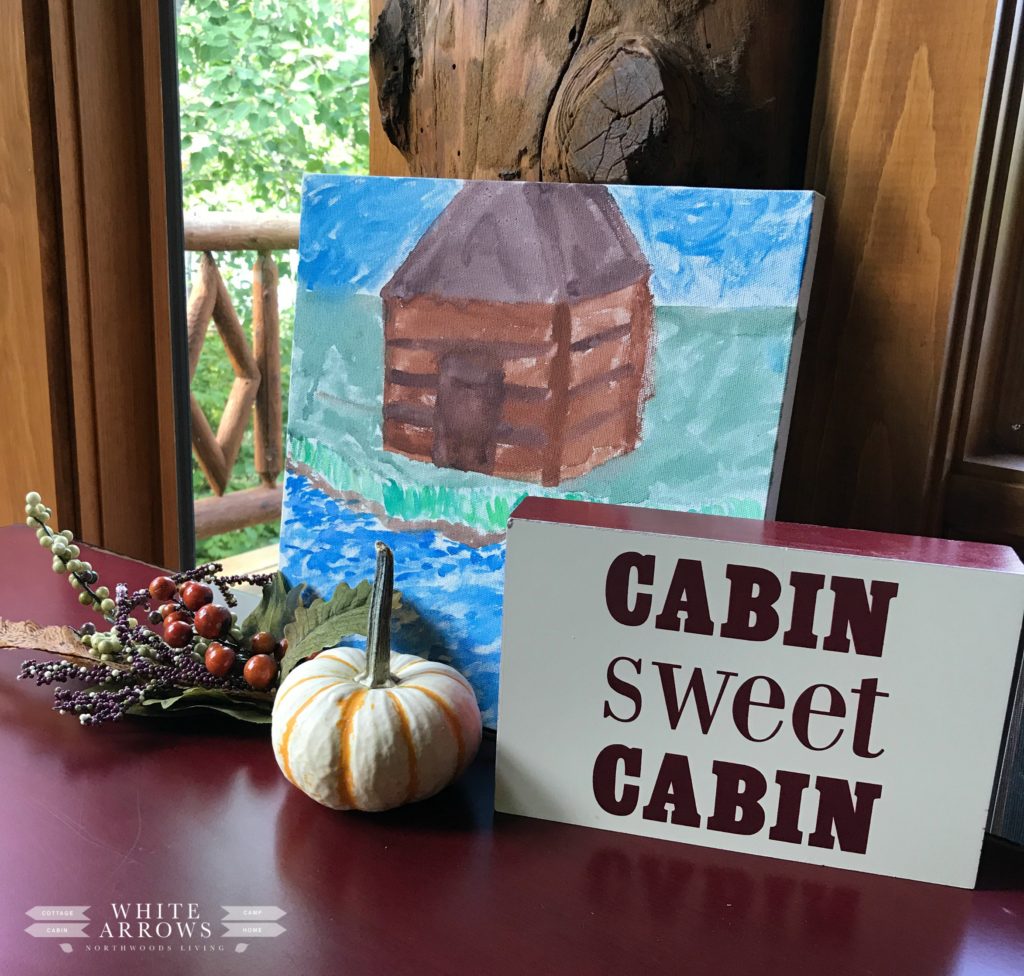 I hung a wreath on the door handle to the sunroom with a Happy Fall sign I found at Walmart for around $4! In this space nature will take care of a lot of the fall decor as the leaves of the trees surrounding the room change.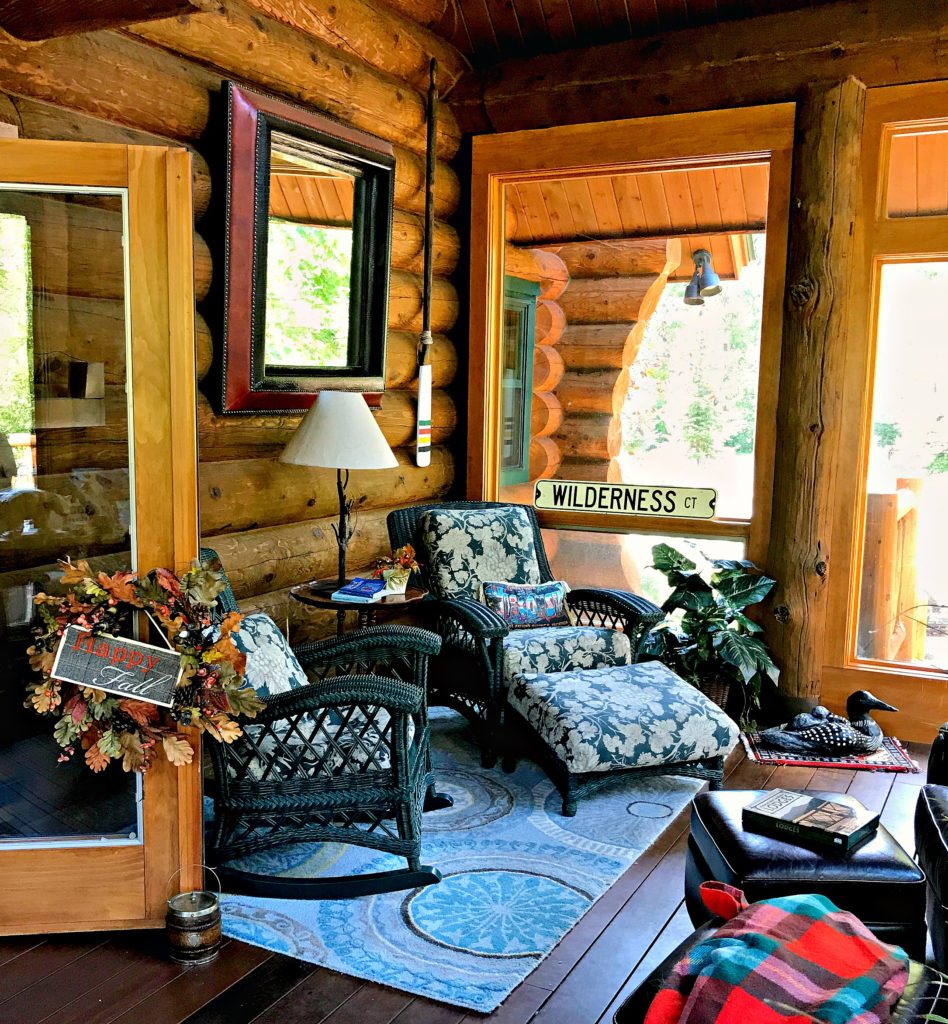 Backyard
A favorite spot for me to get away and read, listen to music and completely relax is the hammock in the backyard. As the weather gets cooler I take a blanket along with me.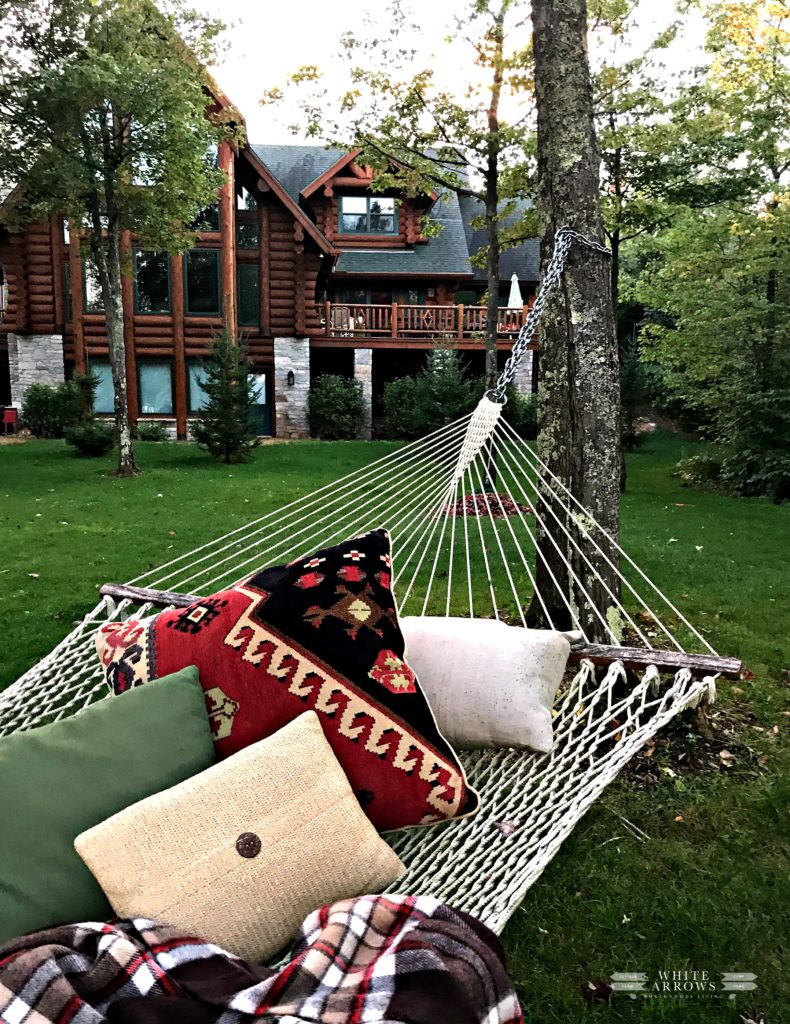 Picnics in the fall are the best. Keep it simple. Lay a few blankets down, fill a vintage cooler with a few Wisconsin beers, pack a few snacks and its an instant date night in the backyard.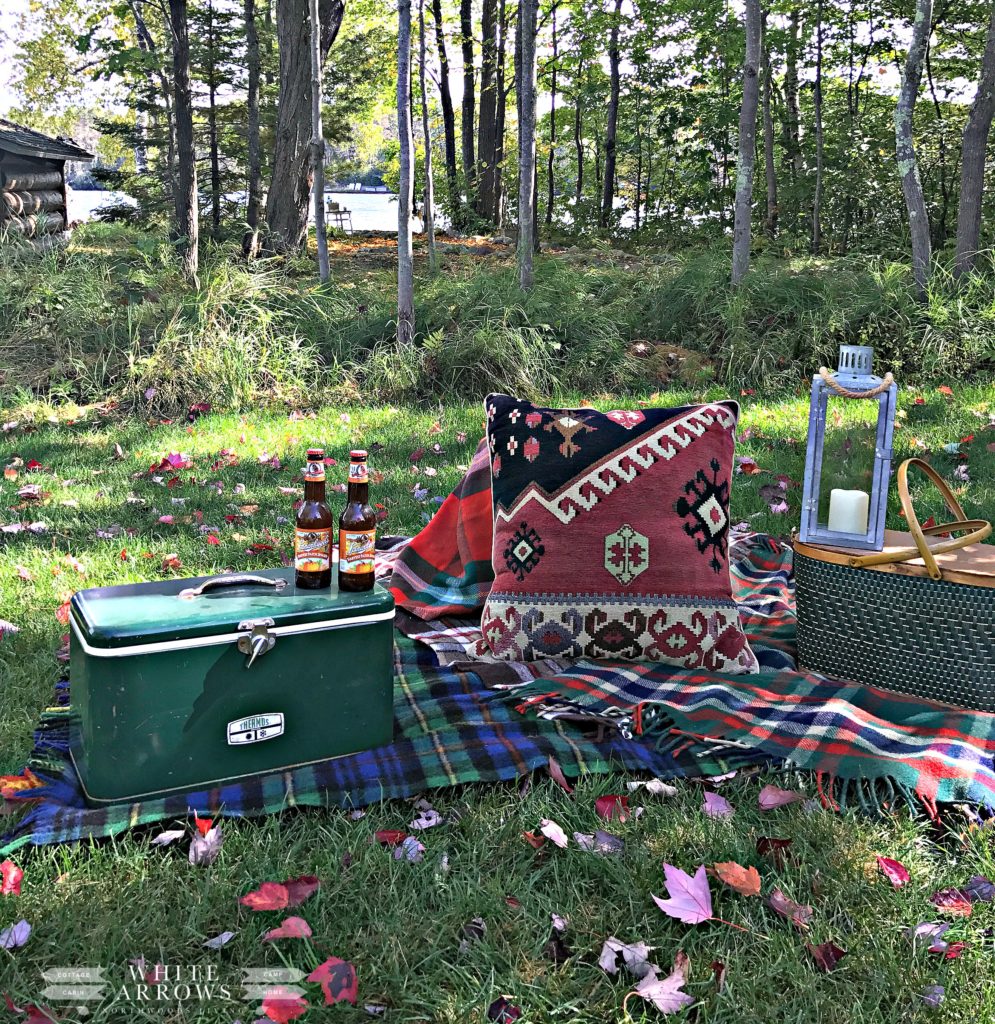 Lakeside
My husband and I love to head down to the water in the evening as the day is winding down and have a glass of wine. It's a great way to take a few minutes to connect and enjoy these last beautiful days of early fall. It's hard to believe in just about eight weeks the lake will be frozen over! We will be meeting down by the shore to ice skate and sip hot chocolate instead!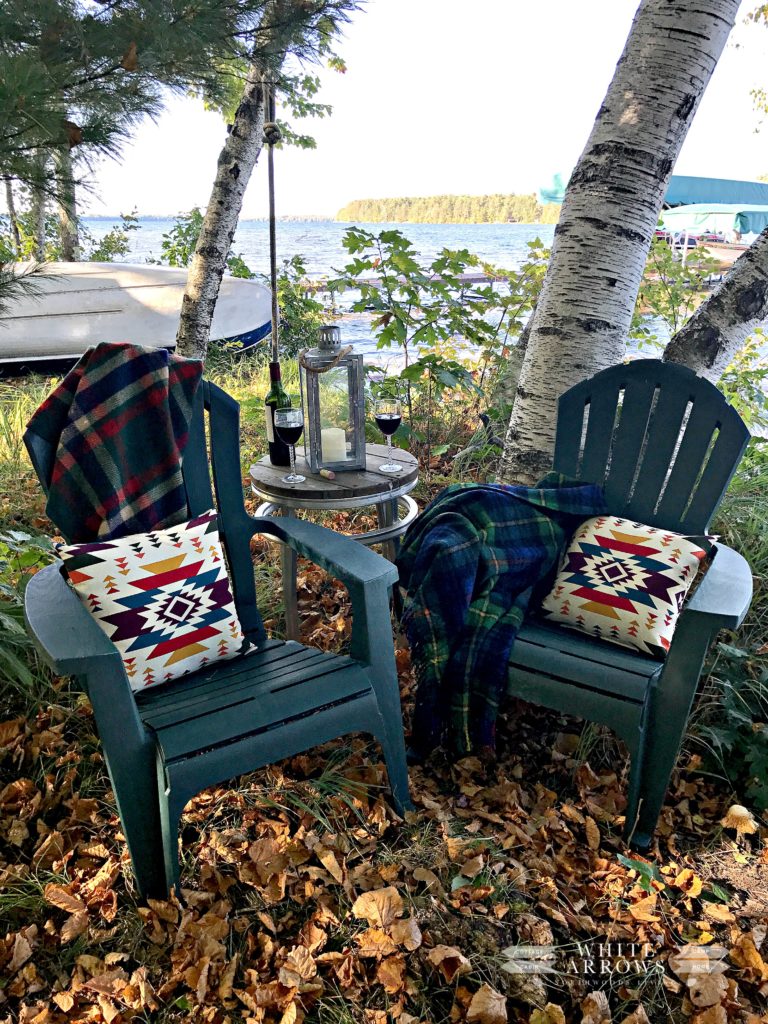 Guest House
Our guest house was just completed last November so it's getting its first fall decor. This Autumn pillow is from the $5 collection of cute outdoor pillows you can find at Walmart. That's right, only $5! And there are so many cute choices. Minnow buckets have become my new favorite pots. Perfect for lake home mums or the home of a family that loves to fish!
Our guest house single garage we use as a weight room. You may have seen it on my stories if you follow me on Instagram. I'll be blogging about it soon. We installed a glass garage door on it so you can see out while you are working out and it lets in a lot of natural light. Here you can see it reflecting the main house.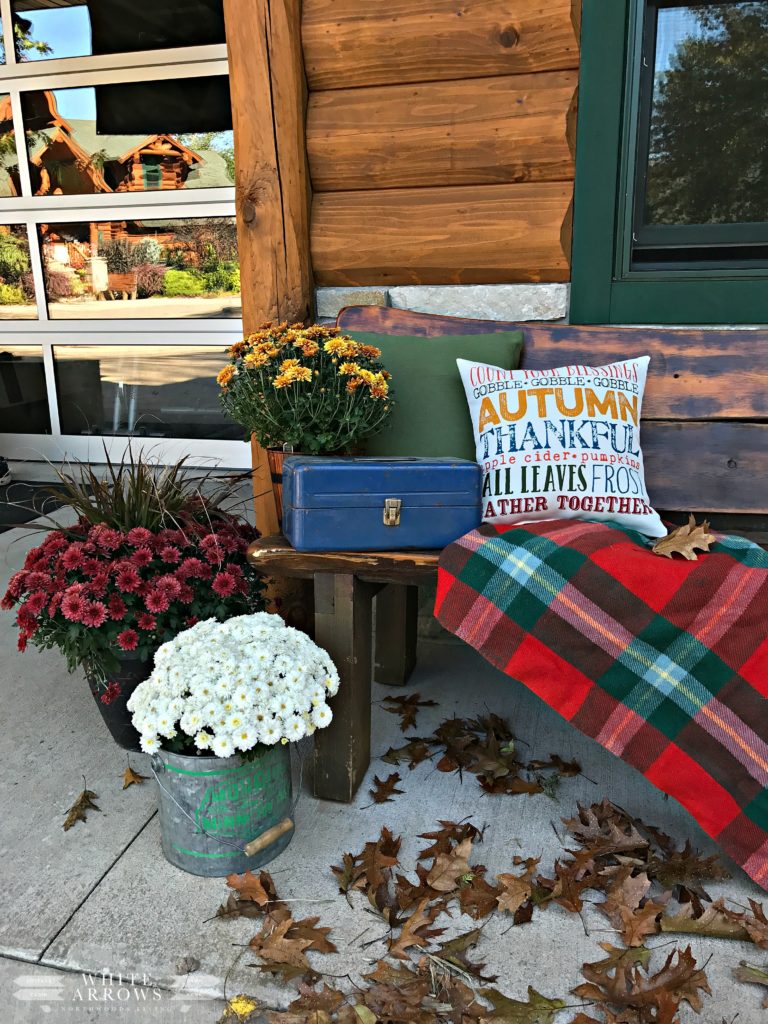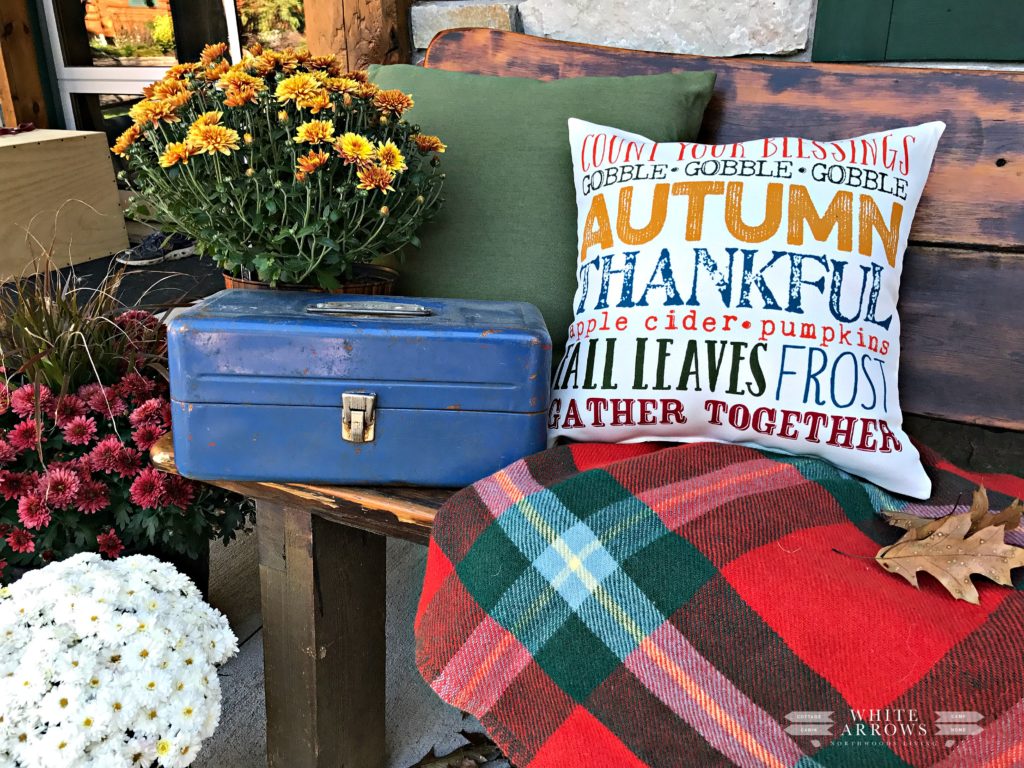 The guest house entry way has a great hall tree from Roughing It In Style's barn wood collection. My dad is a fly fisherman and is teaching my son to cast and tie flies. I ordered this wooden carved walleye fishing pole holder from a craftsman on Etsy.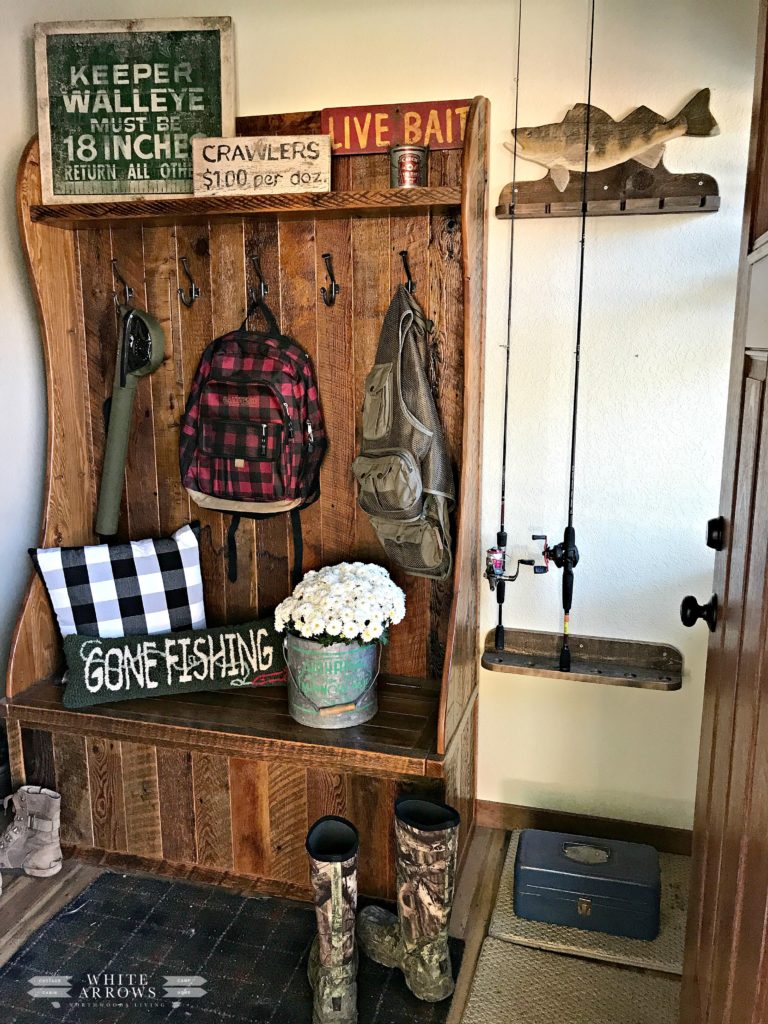 I'm so glad you joined me today and I hope you have enjoyed this little peak into our cabin all decked out for fall! I hope you will continue to follow me as I share life in our Cabin in the Woods here at White Arrows Home. And if you are wondering where my blog name comes from read here.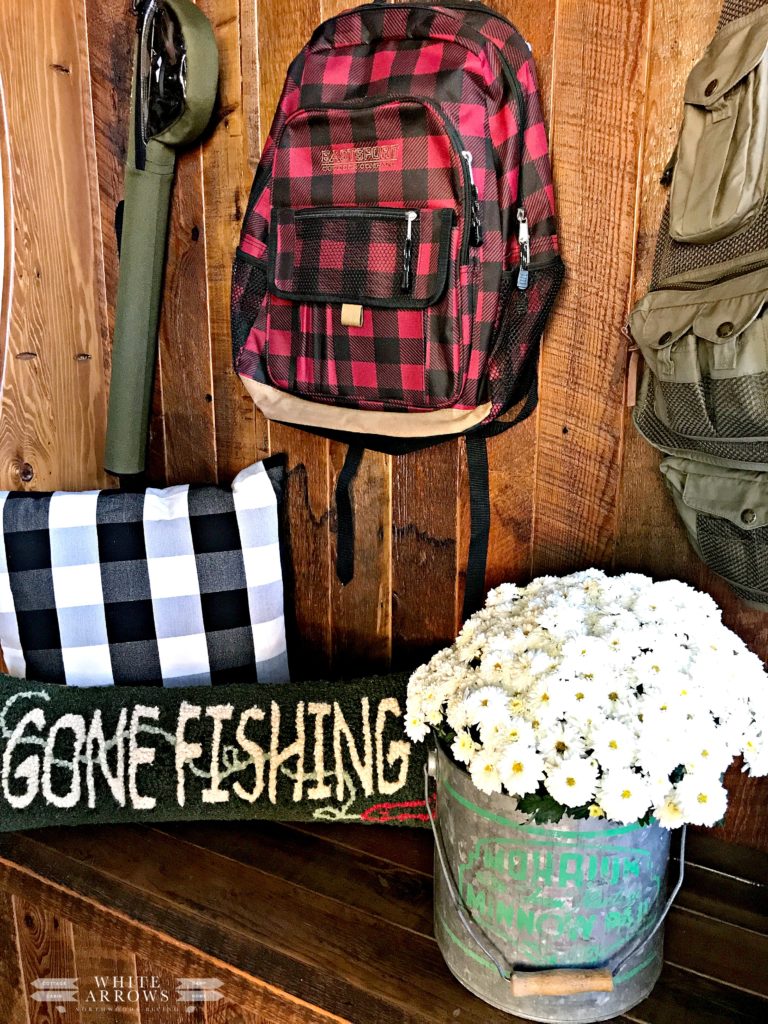 Blog Hop Details
In case you missed our Tour Kick Off yesterday head to Diana's gorgeous home at Adirondack Girl At Heart. From there you will move on to the lovely home of Debra at Common Ground and finish the first day's visits at Jaclyn's the Fancy Pants Mommy Co.
If you haven't had a chance to read today's fellow hosts, you'll find inspiration with Jami at My Modern Farmhaus and Andi at The Simply Distressed. I am so excited that you joined me here at White Arrows Home to tour our cabin, Camp Paradise.
Tomorrow you get the pleasure of finishing our Harvest Home Blog Hop with a look inside Kathy's home at A Delightsome Life and our Organizer Amber's beautiful home at Follow The Yellow Brick Home.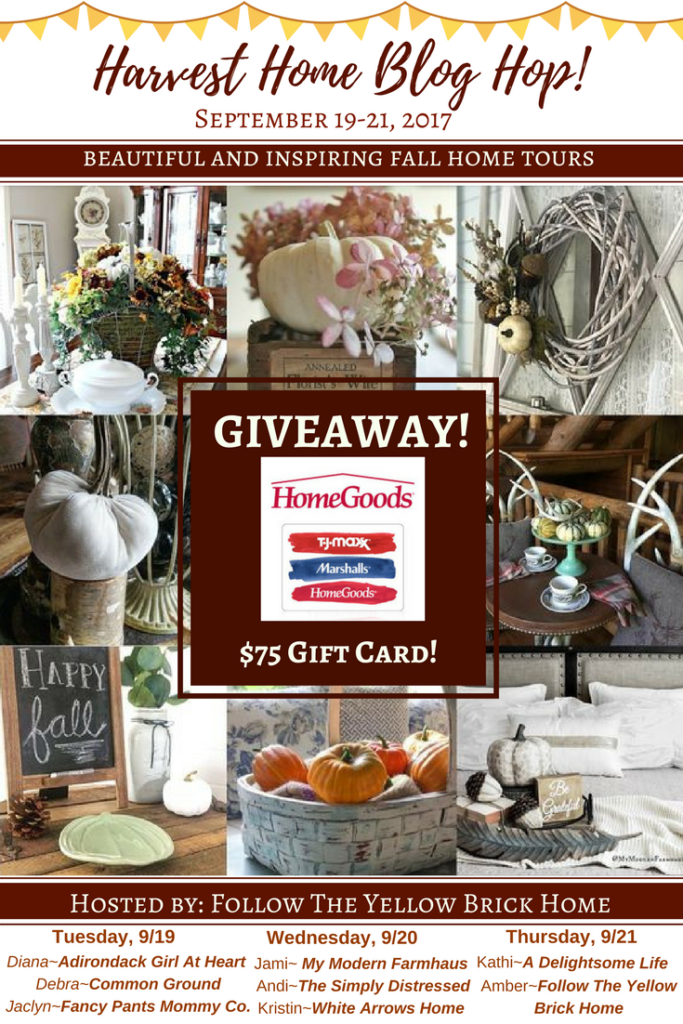 Don't forget to follow these amazing bloggers on their social media sites for daily inspiration and subscribe to their blogs so you don't miss any amazing DIY projects, decor ideas or holiday and entertaining inspiration. Remember, when you do, you will be entered into the AMAZING $75 HomeGoods gift card Door Prize! I would love for one of my White Arrows Home readers to win!!
Thanks again to my talented friend Amber of Follow The Yellow Brick Home for organizing this fun and festive Harvest Home Blog Hop! You can find details of the Hop and Giveaway on her page as well.
I have two more Autumn Decor Home Tours coming up next week where I will be sharing my porches and more of my fall decor ideas. Be sure to subscribe to my newsletter in the sidebar so you don't miss a post. You can also follow my other social media sites where I post and pin often. You can find links at the top, bottom and side of the page or here:
Shared with: