This year my Halloween decor has been all about vignettes, setting up small decor scenes on top of my furniture pieces. Using a variety of objects in different textures, heights and shapes makes it easy to add festive, seasonal touches to our home. One of the most fun parts is that my kids love to help. My oldest and youngest this year had so much fun unpacking the orange and black boxes and setting things up.
(Affiliate Links are shared for your convenience, read my full disclosure here.)


Just outside the kitchen we have an antique sideboard that is decorated for Halloween with photos of past Trick or Treating and the kids in costume. These photos bring back so many fun memories, and last night a fun dinner table talk about favorite costumes and Halloween moments. A black feather boa wraps around the back adding lots of texture, as does the feather wreath and the Dollar Tree black faux flowers in a vintage milk glass vase.
Target Dollar Spot pumpkins in fun patterns are mixed in with a bat and pumpkin clown from TJMaxx.  The 1st and 3rd place costume ribbons were won by my daughter in costume contests when she was younger.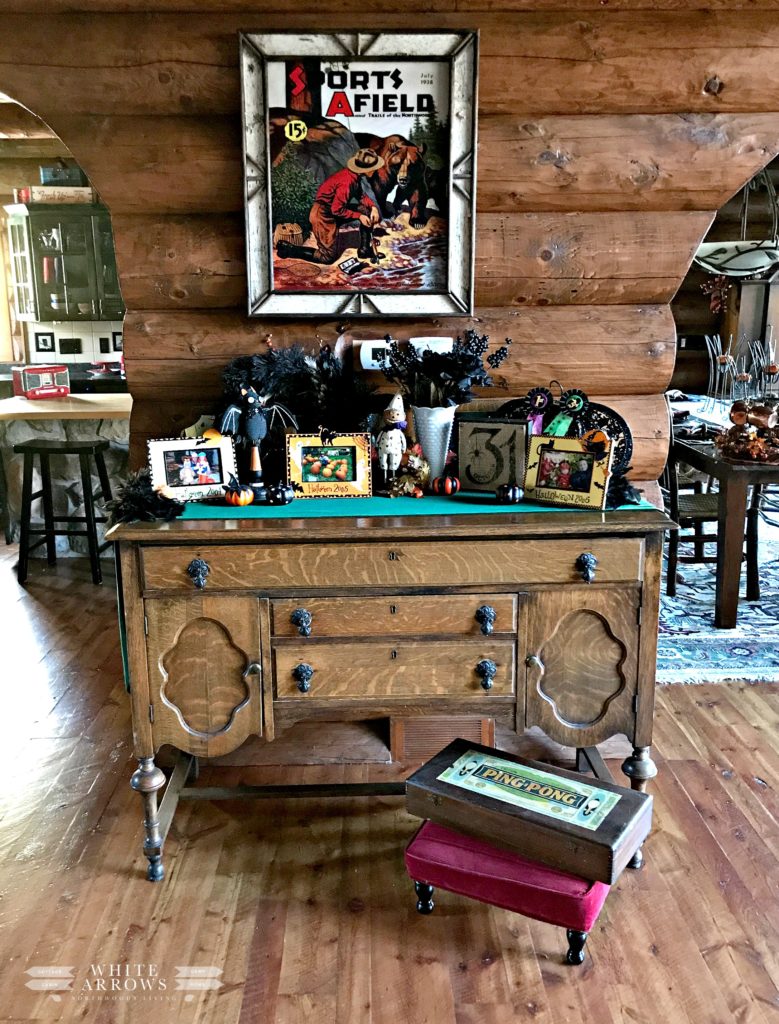 Below is a photo of the kids cubbies just inside the front door. The top of this storage area makes a great spot to decorate and change things up for the holidays.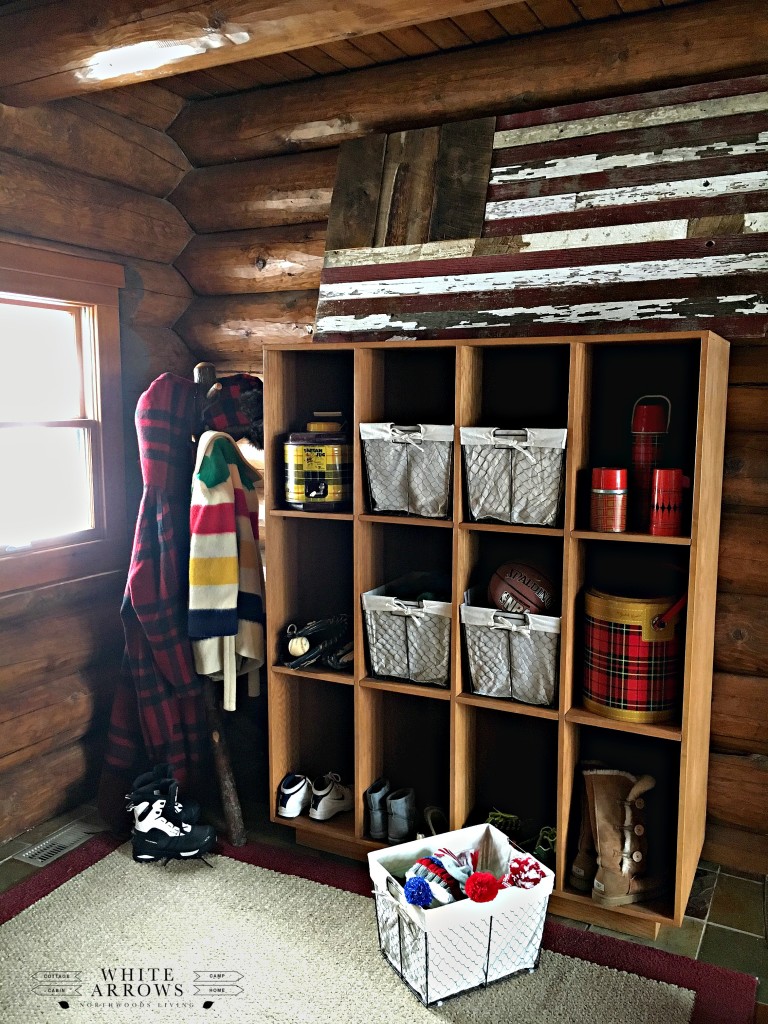 Here's a photo of this space in September when I had added in some fall touches like pumpkins and sprays of fall flowers.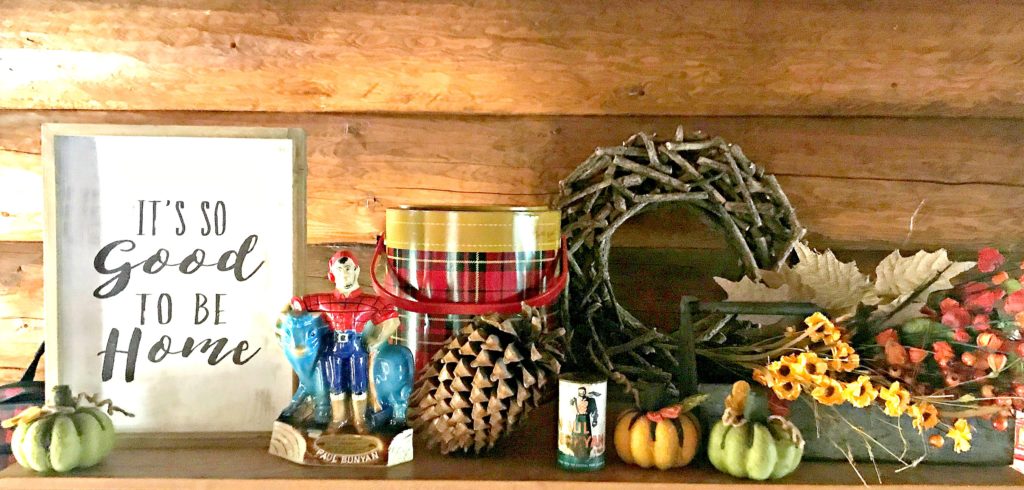 And here it is changed up for Halloween. We removed the Paul Bunyan Lumberjack pieces and added in a haunted house and pumpkin guy. I also layered in two more wreaths, one of pheasant feathers from Target and one of orange leaves and berries. I like using wreaths for more than just hanging on a front door.


When I think of October I think of Oktoberfest so I set up a beer vignette on the end of the Great Room bar. A collection of vintage bottle openers in a milk glass dish sits next to plaid Stormy Kromer can koozies. I made a vase out of a beer growler from our local brewery, The Minocqua Brewing Company where you can sample all their varieties of small batch brews or bring some home to enjoy in a growler like this one.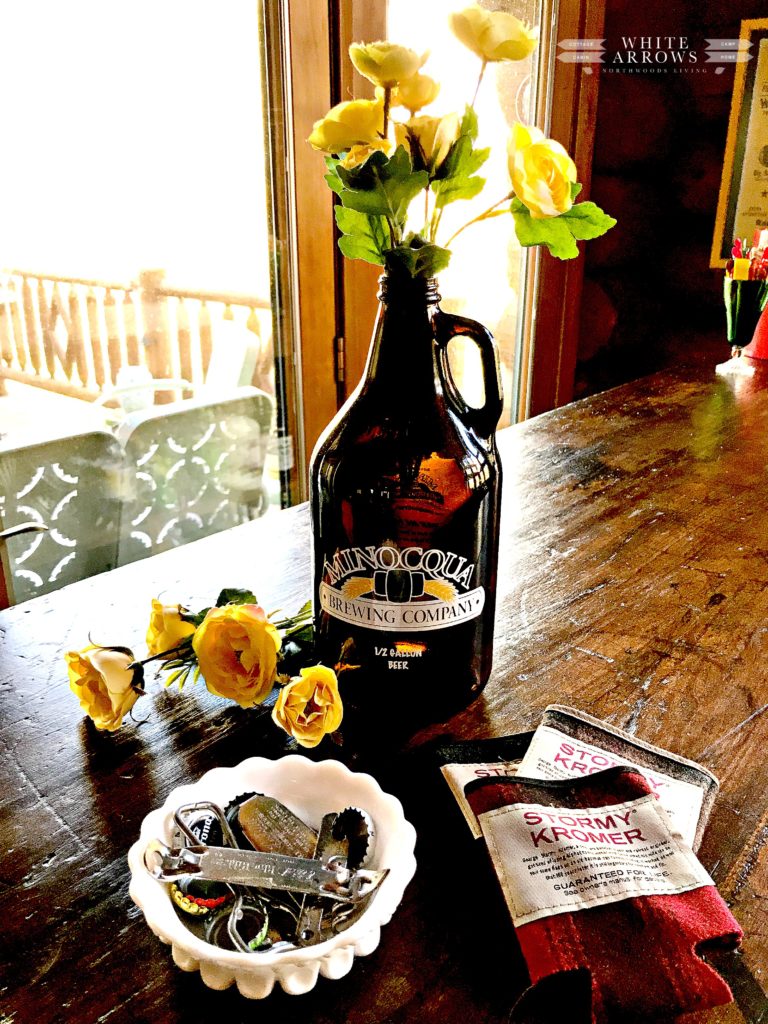 Do you have a favorite type of beer? This is a fun way to try them all.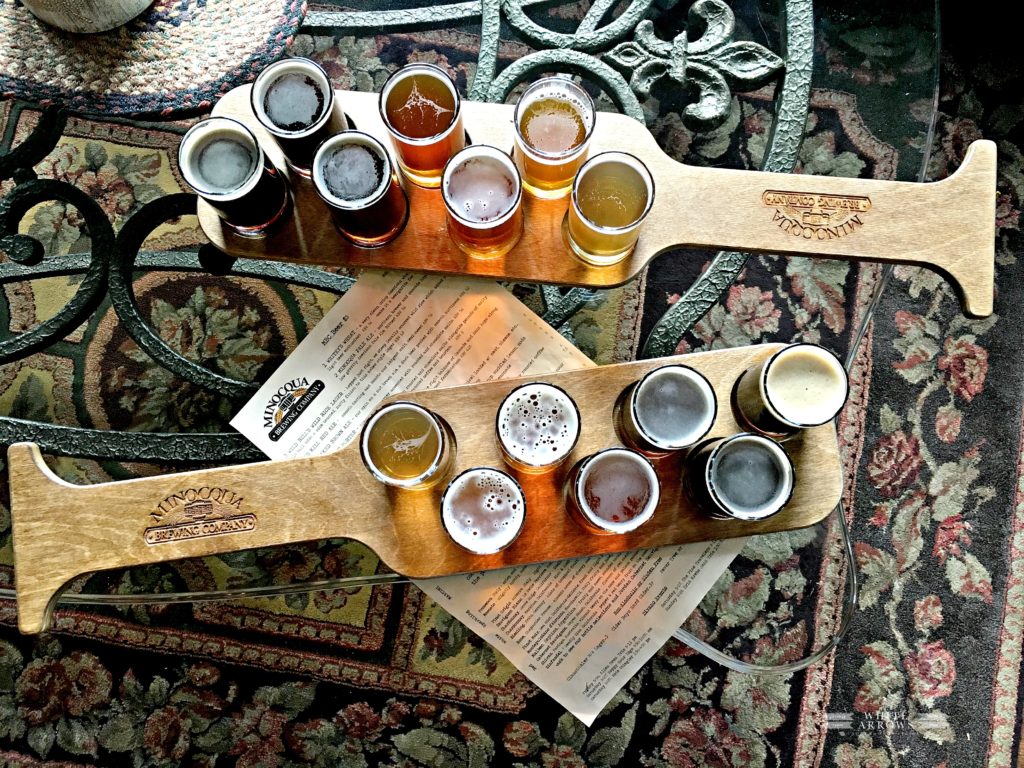 One of my favorite decor items this Halloween are these pumpkin pendants. My blogging friend Lynn from Whispers From Wildwood sells them in her Etsy shop. The beads and feathers are the perfect rustic touch and so easy to slip right over the pumpkin stem.

If you are loving these Buffalo Plaid chairs you can see more of how I decorate with Buffalo Plaid in this post.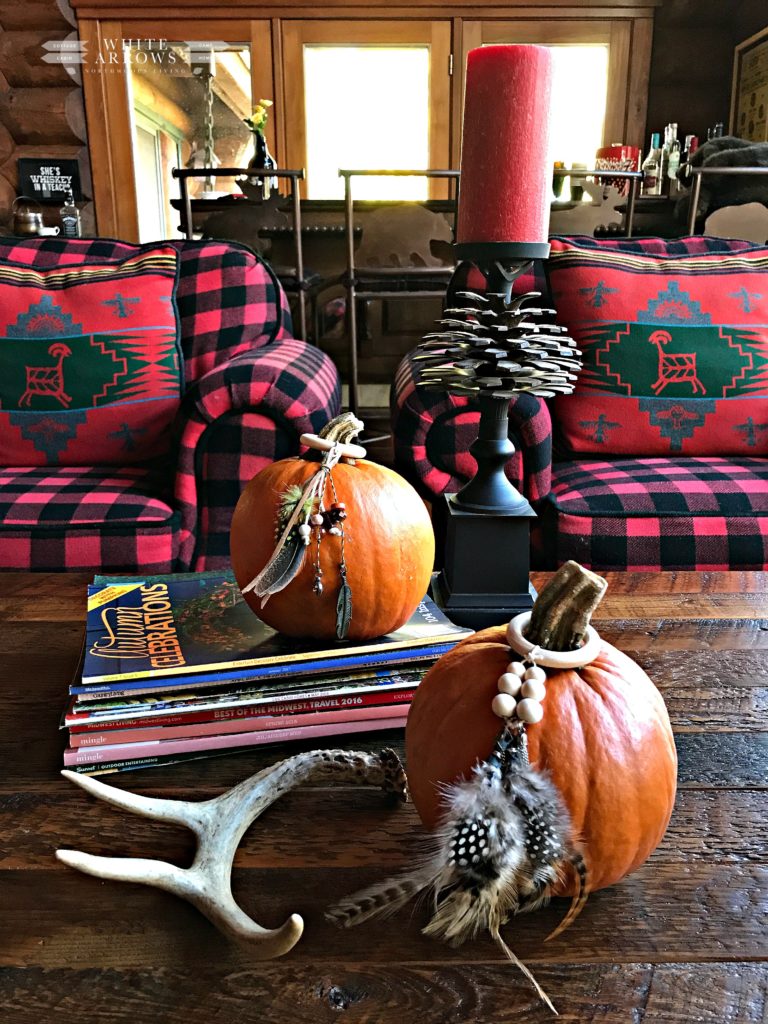 Below is my mantle decorated for fall. I usually do not take my every day decor, like the paddle and lumberjack print off, I just layer seasonal touches in. Here's how it looked in September. More details on my early fall mantle are here.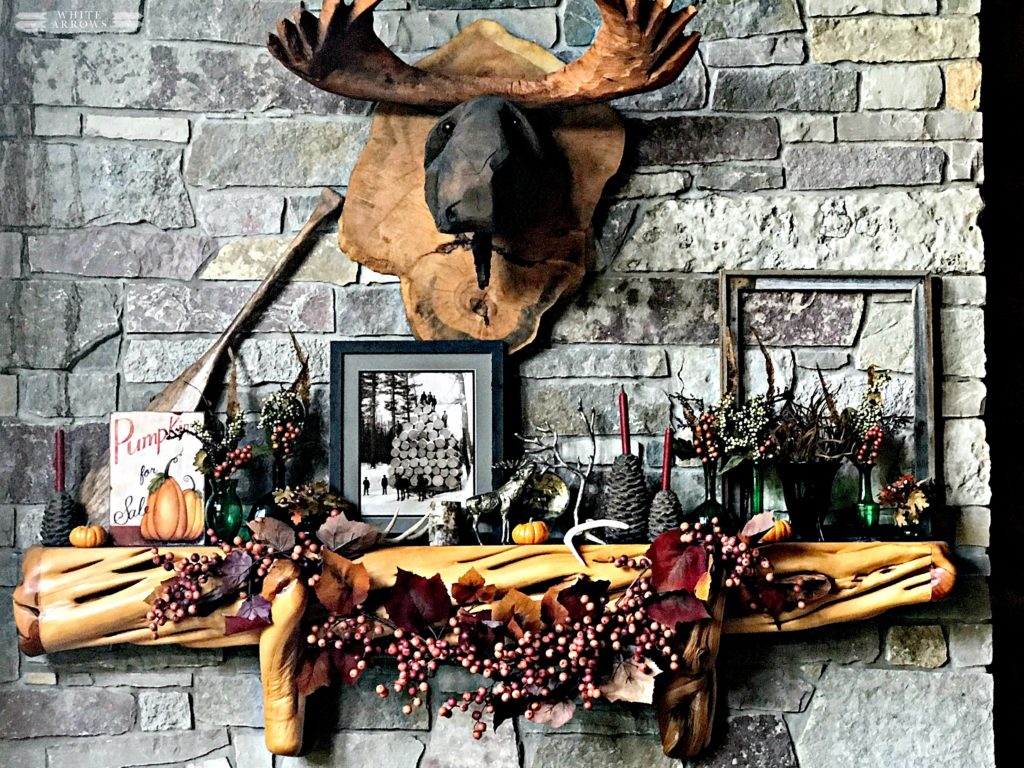 For fall the kids and I layered in traditional Halloween color decor in black, orange and white.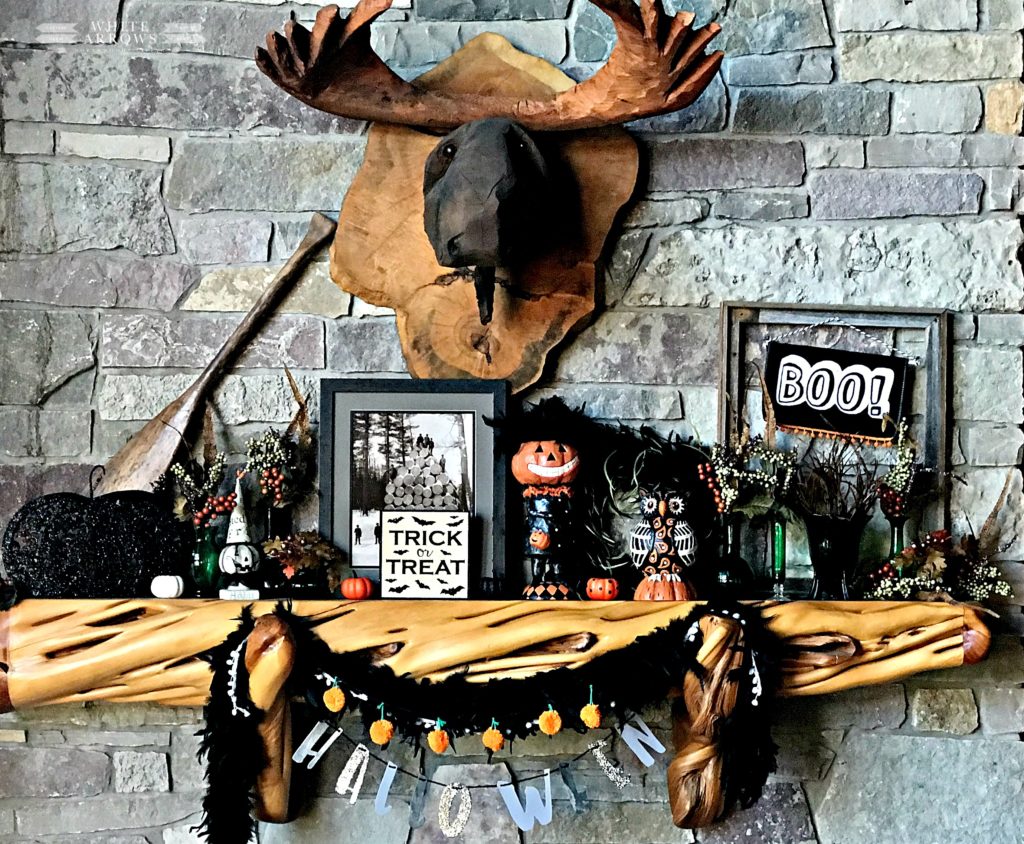 A Jack-o-Lantern and Owl from TJMaxx give some personality. The Target Dollar Spot had the pumpkins, garlands and Trick or Treat sign.

These tall metal spiders are meant to hold candles, but baby boos work well too on the center of the table.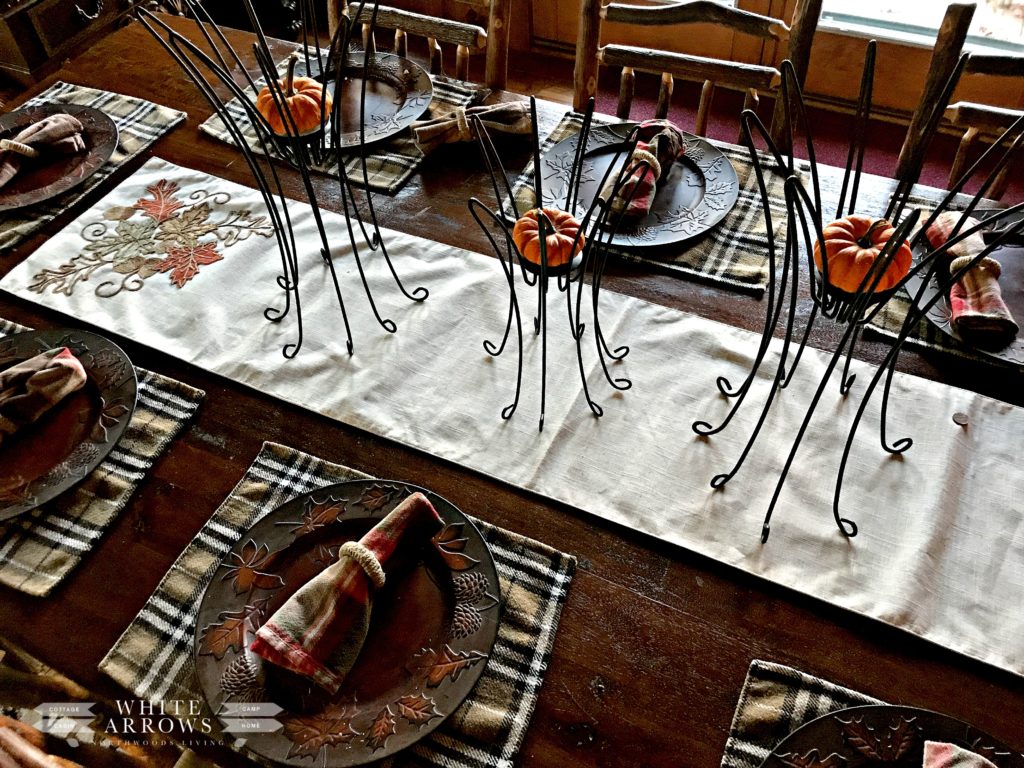 Get the Halloween Look
(Affiliate Links are shared for your convenience, read my full disclosure here.)
Decor from Target
Decor from TJMAXX
Decor from Pier 1
To read more about styling vignettes here are 8 Dos and Don'ts from HGTV on their blog.


Sharing at: