Enjoy this interview with one of my favorite authors, Erin Bartels. I highly recommend her books for your Summer Reading List and all year long.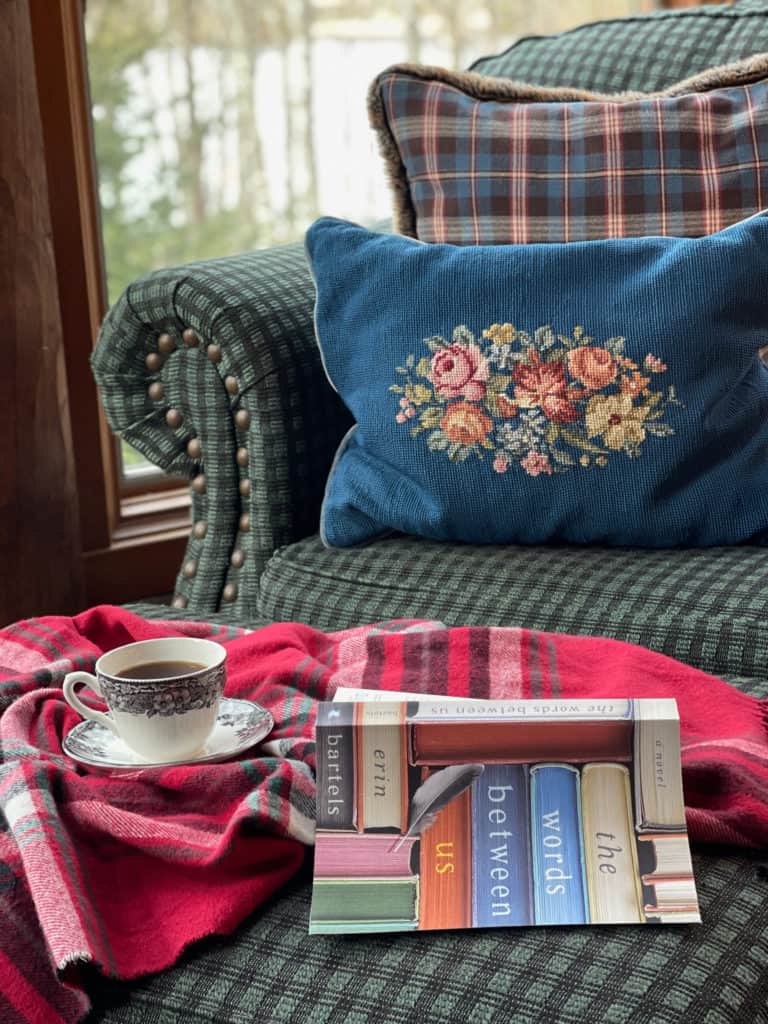 (Affiliate Links are shared for your convenience, read my full disclosure here.)
This past month I recommended The Words Between Us by Erin Bartels in my Fireside Book Club post.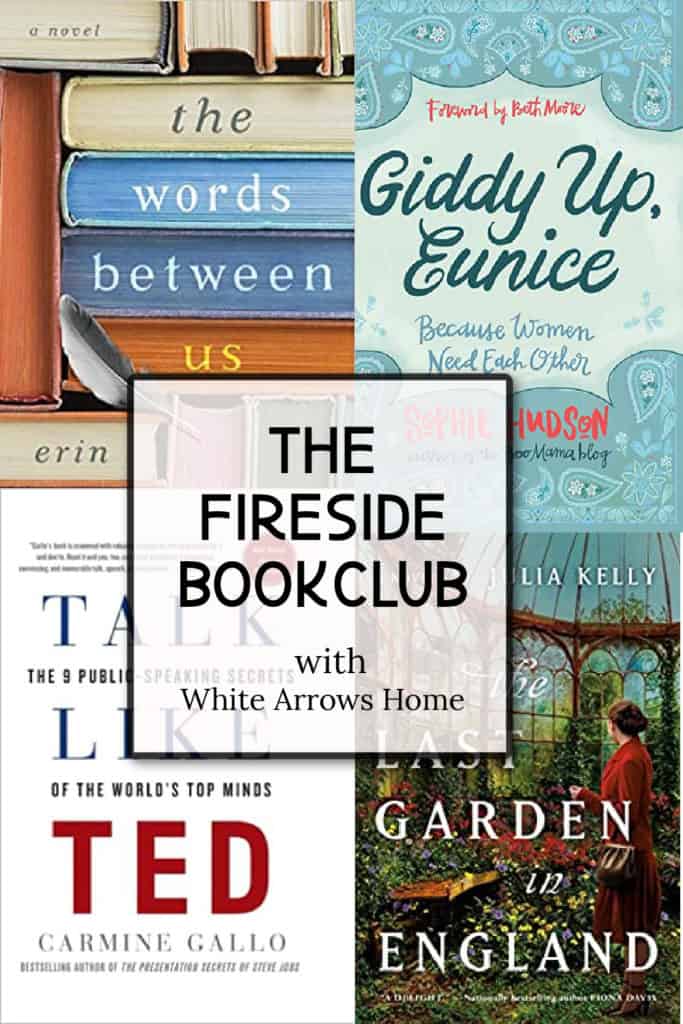 She became a favorite author of mine after I read her novel We Hope For Better Things last August. Many of you may have read it along with me when I recommended it as part of the book club.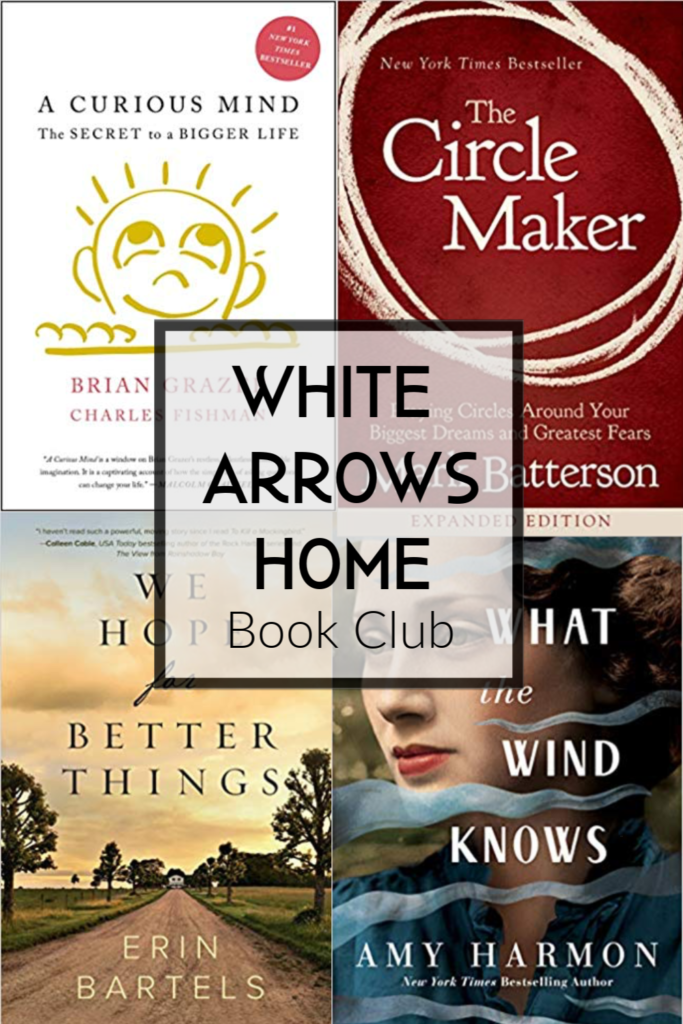 Not only do I love reading, but I love hearing from authors too and the stories behind their books and their writing life.
I reached out to Erin about an interview and was so honored that she accepted! Like me, I knew you'd love getting to know her better! She also has a wonderful website where you can learn more about her and her books.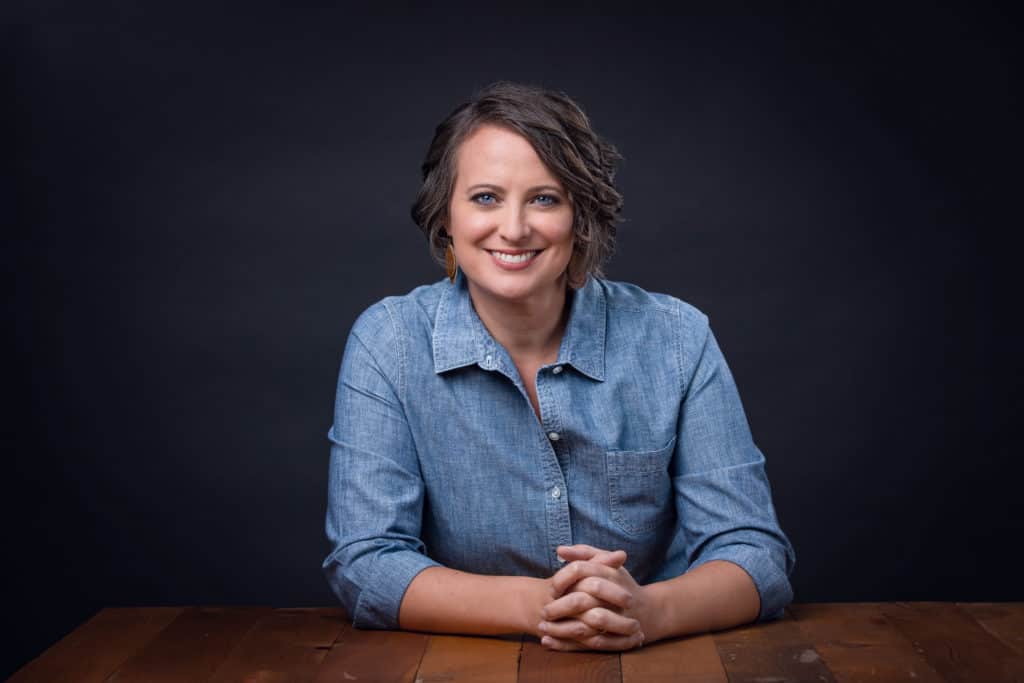 Enjoy our Q & A conversation.
Your passion for reading has a wonderful history. I love when you shared in your
website biography, "I realized the power a piece of fiction could have to captivate,
horrify, and change you as a person." What is one of those books for you and how were you changed?

In that little piece about my life as a reader, I mention specifically two books I read in
fifth grade—Sadako and the Thousand Paper Cranes and Number the Stars. Both of
them happen to be books set during World War II, one in Japan during the dropping of
the atomic bomb on Hiroshima and the other in Denmark during the Holocaust. They
were stories about kids undergoing horrific ordeals at the hands of their fellow human
beings for reasons that seemed completely illogical and unfair to me. That's the nature
of war—swaths of innocent people suffer because of the greed and hubris of those
more powerful or more ambitious than they.

I read these books at age ten, the same time I was also reading things like The
Babysitter's Club series—books that told the stories of the comparatively uncomplicated
lives of middle class, mostly white, American girls whose biggest problems involved
having to watch bratty, entitled children and get paid for doing it. It was probably one of
my first hints that my easy life as a privileged white girl growing up in 1980s middle
America was, in the scope of history, an anomaly. That people beyond my small sphere
of experience were suffering. That history was still writing itself, very often in blood, and
leaving in its wake generations of pain.

I am far more interested in hard stories that explore the human condition than easy-
breezy stories with tidy endings. Certainly those are the kinds of stories I aspire to
write—stories of people confronting difficult times, difficult situations, and difficult
people, not with the purpose of wallowing in these things but with the aim of learning
more about ourselves and each other as we grapple with our history, our family
dynamics, and our own failings. And, ultimately, pointing to a better way of being.
When did you fall in love with writing?

It's hard to say. It's hard to separate falling in love with reading from falling in love with
writing. I can't remember a time when both were not important to me. I have always
loved crafting elegant sentences that would evoke a particular mood, and I know that
comes from reading such things as a very young person. I think my writing was
influenced early on by my constant rereading as a child and teenager of Watership
Down, a book written by British author Richard Adams which paints vivid pictures of the
natural world in which the book is set and pulls no punches when it comes to describing
fear, violence, and grief. (It's not actually a book for children, but I was a fervent animal
lover who was attracted by the fact that it was about rabbits.)
Though I am generally a cheerful person, I think I have always had a rather dark
sensibility undergirding my personality. It's easier and more comfortable to explore that
in writing than out loud with other people who might look at you with more than a little
concern written across their brows.

Your book, We Hope for Better Things, was a work of historical fiction that was told in different time periods. As a reader, that was fascinating. Share what it's like as an
author to combine this amount of research and character perspectives.

I think the key to writing good historical fiction is to remember that history is not dates
and wars and amendments and cultural movements; it's people. All of the things we
learn about in school—the Stamp Act, the Civil War, Emancipation, the Great Migration,
the Industrial Revolution, protest movements—all of it is made up of individual people
who make individual choices about their lives. When you remember that, it's easy to
translate historical research into a character-driven narrative. You place these varied
characters within their historical and cultural context, you give them very human hopes
and dreams, you consider what limitations were imposed on them because of their race
or their gender, you confront them with personal crises and difficult choices, and by
telling their personal stories, you can tell the greater story of race relations in America.

What's the difference when writing a work of pure fiction and one based on historical
events?

A historical framework imposes limits on a writer. You can't mess with the timeline. You
don't want anything to be anachronistic, from technology to speech patterns to cultural
mores. If you include historical figures, you are constrained by things they actually did
and said and the context in which they lived. It's analogous to choosing a poetic
structure, like a sonnet, and then writing a poem. The constrictions affect the content. If
you can only write in iambic pentameter and you have to rhyme these particular lines,
that will change what you write as opposed to writing a poem in free verse or writing a
limerick or a haiku. But the restrictions are also aids to creativity. They will send the
writer in new directions she likely would not have gone if she could just do anything she
pleased.

Where do your ideas come from?

Anywhere and everywhere. Typically it starts with a scenario or a "what-if" popping into
my head, which rolls around in there for months or years as other elements slowly
attach themselves to it. Those other elements might come from songs or poems, news
stories, conversations, personal revelations from friends or family, my own life,
something I'm reading or watching, something I observe, something I remember, or
whatever. When enough elements and ideas attach themselves to each other and
characters begin to form, I guess that's when I start writing.

How long does a novel typically take you to write?
I have no idea. I have drafted a novel in two months and I have drafted a novel for two
years. I have revised a novel for a couple weeks and I have revised a novel over the
course of five years.

Where is your favorite place to write?

I probably do the majority of my writing in our cigar room at home, but I also get a lot of
writing done at coffeeshops, in the car, in my home office, and on writing vacations.

What does your writing routine look like? Do you write daily or heavily when you are in the midst of a book?

I am aspiring to be a reasonable, steady, daily writer, but in reality I tend to binge-write
more often than not.

Your middle school counselor let you skip eighth grade English because you had been
so bored by seventh grade English. What did that teach you about asking for what is
important to you because "they" just might say yes?

I mean, all you're really risking when you ask someone for something is that they will
say no. But you can never get a yes if you don't ask. I've never been afraid of looking
dumb when it comes to asking questions. I was always the kid in class with her hand up
looking for more information or a different way of explaining something. I always wanted
to know more and to know more deeply. I was never shy about it. I often left classes,
even in college, where another student would come up to me and thank me for asking a
question they had but were too self-conscious to ask. Why? Who cares if other people
think you're dumb if you know you're not? Follow your interests and don't let anyone
hold you back.

I love that you said this, "Books that built me into the person I am today as surely as my own experiences have." Can you share more about how books have shaped you?

The lovely thing about books is that we get to see the world through someone else's
eyes. We get to visit places and times we could never manage to visit in real life. We
get to learn hard lessons vicariously, through some other person struggling through
them. But we can gain from books the same flavor of growth that we can gain from our
real-life experiences. We learn empathy through fiction. We change our minds about
issues because of things we've read. We discover issues that become meaningful to us,
and that sometimes may impact the trajectory of our real lives.

As just one example, I think the books I read as a child that featured strong,
independent female characters who confronted challenges, overcame fears, and
pushed toward their goals had a big part in making me the same way. Sure, some of it
was my parents and teachers seeing my strengths and helping me develop them, but
some of it was wanting to be as true to myself as Anne Shirley was to herself in Anne of Green Gables, and some of it was wanting to be as smart as Meg was in A Wrinkle in
Time, and some of it was wanting to be self-reliant like Karana was in Island of the Blue
Dolphins. I wanted to be someone who could rise to the occasion, whether it was being
stranded alone on an island or being thrust into space or just being in friendly
competition with a boy in my class.

What is your favorite genre to read yourself?

I read almost exclusively literary fiction, poetry, and edu-taining nonfiction, like
biographies, histories, and anything written by Bill Bryson. I love learning new things, I
am endlessly fascinated by the cause-and-effect nature of historical events, and I'm
nearly always trying to figure out what makes people do the things they do. It's all about
interpreting reality and making sense of disparate ideas. If you can get a little dry humor
in there, all the better.

Growing up, you shared, the joy of adding gold stars to your Summer Reading List.
What are a few favorite recent " Gold Star" titles you'd recommend for Summer
reading?

I read so slowly and my TBR pile is filled with books that have been out for years,
sometimes decades, so I am never up on the "it" books. But last year I read a few books
I highly recommend to readers who like books that are a bit of a slow burn: Bel Canto by
Ann Patchett, Atonement by Ian McEwan, and Disappearing Earth by Julia Phillips.

What makes your Chihuahua mix the perfect reading buddy?

I don't know if I would call her the perfect reading buddy. She's very needy. She always
wants to be pet and if you stop petting her to take a sip of wine or turn a page she will
insert herself right up into your face to remind you of your priorities. But she is small, so
you can fit both her and a book on your lap.

You share you have a lifelong love affair with T.S. Eliot. Is he your author hero?

I wouldn't call him a hero. In fact, I wouldn't call any author a hero necessarily. I don't
aspire to be like any particular author, even if I love reading their work. In my writing I
long to become more and more myself in more and more interesting ways. I realize how
pretentious that sounds, but really that's why I write—to know my own thoughts more
clearly, to get past my own personal hang-ups, and to maybe take a few other people
along with me.

There is an Emily Dickinson quote on your website, "Tell the truth, but tell it slant." What does that quote mean to you?

One thing that a good poem does well is seem to be describing one thing while all the
time it slyly describes something else. Dickinson was a master at this. So to me, all
fiction should tell the truth. But it should not tell it directly. Telling someone the direct truth about something can cause us to raise our hackles and mount our defenses,
because good fiction often tells us unwanted truths about ourselves. So telling it slant,
where I, as a reader, don't even realize it's happening until it's too late and I've taught
myself a lesson is more effective. You do that, as a writer, by showing rather than
telling. You ask the questions, but you don't answer them. That's the reader's job. You
let the reader interpret.

For some writers that's scary. Because they really want to make sure that the reader
comes to the exact same conclusion about every little thing as they did while writing.
But you can't control exactly what a reader will get from your work, because every
reader comes to every book with their own lens, born from their own experiences and
worldviews. Once a piece of writing is out there in the world, it belongs to the people
who read it as much as, or perhaps more than, the person who wrote it.

This is why, when I speak with book clubs and readers ask me specific questions about
how a book ended or who a certain character represented or what happens next to a
character, I can't really answer them. It doesn't matter what I think as the writer at that
point—and very often I don't know what becomes of these characters either once the
book ends. I've given the reader as much information as I had, as much as I wanted to
give them. Now they have to run with it.

What is a book project you have yet to tackle?

I kind of hesitate to say lest anyone else take the ideas and run with them! But I will say
that I envision and have been researching for years a historical fiction trilogy that would
encompass the years leading up to WWI through nearly the end of WWII. In addition,
my husband is also writer, and he and I have been bandying about an idea for a
historical/biblical fiction series that would revolve around a particular set of rulers we've
never seen fictionalized (at least, not in the way we're thinking about them).
Those are both research-heavy projects that would take a lot of time and dedication. In
the shorter term, I have a series of three books I'd like to write that would each tell one
cohesive story through seemingly unrelated short stories.

None of what I've (vaguely) described above would be construed as Women's Fiction,
which is what I am publishing at the moment, which is a big reason they are on the back
burner. It's hard to build multiple audiences at once, and so I continue to focus on
Women's Fiction for the moment.

Do you have a long list of future projects? If so, how do you decide which to write next?

My list is very long and I am continually coming up with new ideas that have to get in
line behind the others. The way I decide what to work on next is a combination of what
I'm currently really interested in and what my agent and editor think is the best next
book when it comes to building my audience and my career (or at least what I can
convince them is the best next book).
What do you love most about growing up and living in Michigan?

How much time do you have? Just off the top of my head:
The Great Lakes! which contain a full 21% to the world's fresh surface water by
volume. Four out of the five Great Lakes border Michigan, giving us the longest
freshwater coastline in the world (all the beaches with none of the sharks!) plus
we have more than 11,000 inland lakes. Fully 40% of Michigan's territory is
water—water feels like our birthright and we lovelovelove boats and summer
cottages and beach days. "Lake culture" is big here and we revel in it.
But there are so many more landscapes that make Michigan great, including cliffs and sand dunes and forests and meadows and vineyards and idyllic farms and stylish cities.
Four distinct and glorious seasons—we are all about outdoor living, even in the winter.
We boast a diversity of agriculture second only to California.
I've never been worried about nature trying to kill me here: no hurricanes, no earthquakes, very few tornadoes, very few serious blizzards, only one rather rare venomous snake and one or two rather rare venomous spiders.
Michigan has a fascinating history of Native American tribes, French fur traders, lumberman and copper mining, putting America on wheels, and so much more.
Detroit! It has its challenges, but I love Detroit. It's where both sides of my family come from. It's got gorgeous architecture. It's the birthplace of Motown and techno music, and one of the major US cities (along with New York, Chicago, and Los Angeles) that made new music acts for decades.
And the cars…so many beautiful cars driving around that city. "Car culture" is also big here. I could keep going…
You have won a few awards for your writing. Congratulations! Was there one award that meant more to you for any reason?

While it was really fun and surprising to win both the debut and general category Star
Award in 2020 from the Women's Fiction Writers Association for my debut novel, We
Hope for Better Things, it was even more special and meaningful to me to have that
same book named a 2020 Michigan Notable Book. As you've noted, I love my state. I
am a tireless cheerleader when it comes to Michigan, and I want my novels to highlight
its beauty and its unique history. So for We Hope for Better Things to be named a
Michigan Notable Book was really gratifying.

As the director of the WFWA Writers Retreat in Albuquerque, what would you say is the advantage of attending a writer's retreat?

I think it is twofold, and the two things may seem at odds with one another. One, time
alone away from the pressures and responsibilities of home to focus on your work. Two,
time to socialize and network with other writers.
First, alone time. It is so important for writers, especially women writers, to get away
from their jobs, their houses, their kids, their spouses, and all the zillion little things they
do as managers of everyone's lives in their families to spend concentrated time on
themselves and their passion. Let everyone else take care of themselves for a while.
You have work to do, you have dreams to chase. Your desires matter. You matter.
Beyond your many time-consuming roles at home. You need to prioritize yourself and
get the writing done. Other people can make dinner and clean the house and do
laundry. No one else can write your book for you. If you don't do it, it won't get done.

Second, social time. Writing can feel like a solo sport, but it's not. You need people
around you who know what it's like to struggle with a plot point, who know the crushing
blow of getting a piece of writing rejected, who can celebrate with you when you reach a
milestone. The non-writers in your life can only commiserate with you and congratulate
you to a point because they don't know what it's like to live inside your head. But other
writers? They know exactly what it's like. My life has been so enriched by knowing other
writers and feeling their love and support and finding ways to love and support them. I
strongly recommend writers find a good, supportive group of writing friends and
colleagues, and retreats are great places to do that.

What is your top advice for aspiring authors?

A lot of aspiring writers ask some version of the question, "When should you just give up
and call it quits?" Usually they ask this after a small number of queries to literary agents
that resulted in rejection. Like, often fewer than a dozen. Folks, it took me three years,
two manuscripts, and more than 125 rejections before I found my agent. Then it was
four more years after that before my debut novel was on the shelf. The people who
make it? They're the ones who didn't quit.

Keep writing. Write the next thing. And the next thing. Keep improving your craft. Keep
putting yourself out there. The rejections aren't personal. They're business. So thicken
up your skin, develop your unique voice, and believe that your audience is somewhere
out there. You'll run into a whole heck of a lot of no along the way, but it only takes one
yes. And you can't get the yes if you quit.

You have a wonderful list of workshops you teach? (I want to take all of them!) What do you love most about teaching authors?

I really get a lot of personal gratification any time I can share knowledge with others that
they find interesting and/or helpful. I love teaching, I love editing, and I do one-on-one book coaching. It's all about helping writers take that next step forward.

Where can my readers find you? Which social media platform is your favorite?
You can find tons of my writing and my photography on my website,
www.erinbartels.com. I also have an author page on Facebook (www.facebook.com/ErinBartelsAuthor) and I'm on Twitter @ErinLBartels, but I think my favorite platform is Instagram. Find me there @erinbartelswrites .
I really enjoyed this conversation with Erin and highly recommend her books. You will want to follow her on all her socials and blog as well for lots of inspiration and to find out when her new books come out.
Be sure to subscribe below to my blog to get my monthly book picks and read along with me. And I'd love to have you join my Fireside Book Club Facebook group!
FOLLOW ALONG
Instagram ~ Facebook ~ Pinterest ~ Twitter ~ YouTube ~ TikTok