Thank you for coming to visit White Arrows Home! I am honored to showcase our lakeside log cabin for the tour by Hood Creek Log Cabin. Dara is so talented, creative and artistic! Her cabin is gorgeous and her porches are to die for! I hope that you will find inspiration on my blog and I would love to connect with fellow lovers of log homes.

How did this girl from Dallas end up living in a log home in the Northwoods of Wisconsin?
The living in Wisconsin part~ I married a Wisconsin boy 🙂
The log cabin part~
#1 Laura I think my love of log homes began as a child. I wanted to be Laura Ingalls Wilder. I loved the books and the television show. I still do! I've read the books to my kids and we've watched the entire series with them.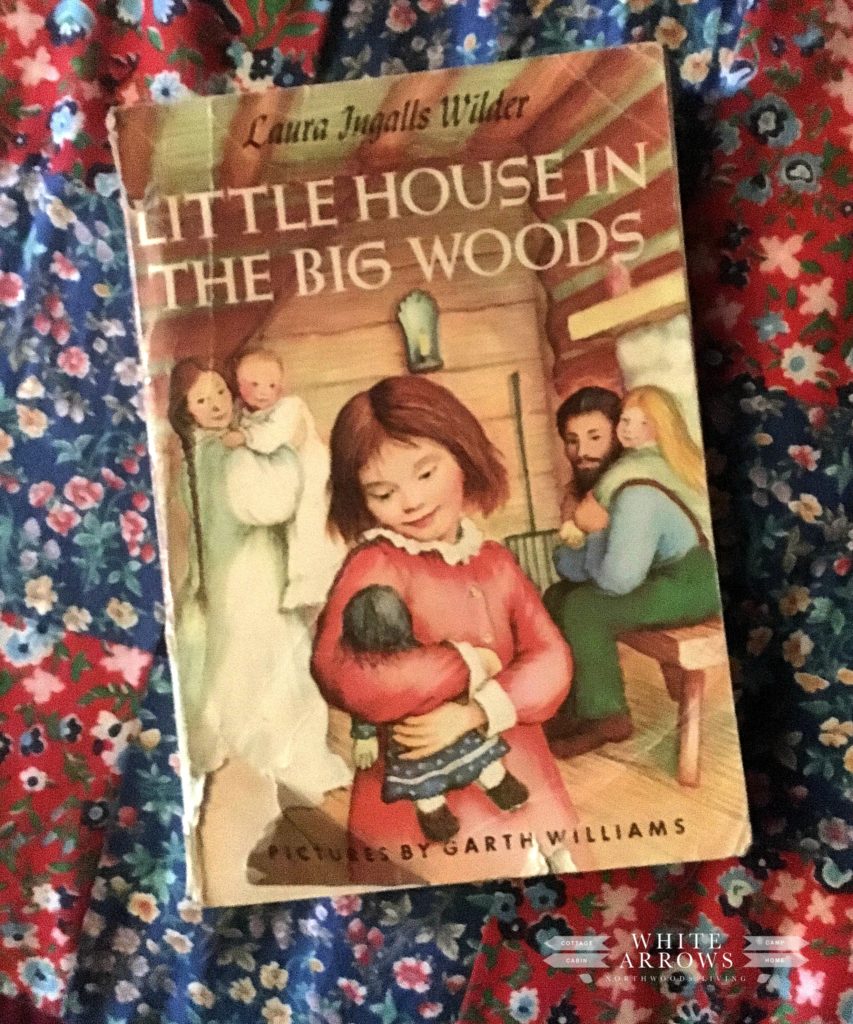 #2 My Classroom   I spent the first seven years after college teaching elementary school and my classroom was decorated in a cabin theme. My classroom and my tutoring/educational enrichment business with a friend was called The Learning Lodge. I think every gift from my students over those years was a moose! I love my collection from all those special kids!
#3   A Place of Our Own     About four years ago our family began a search for our own get away spot. We are beyond blessed that we have family living in amazing places for us to getaway and vacation to throughout the year (Nana and Papa's mountain home in Montana, my sister-in-law in Florida, Grandma and Grandpa's Farm) but we were looking for a place to go and spend time weekends and breaks that was a short drive away.
#4  Friendly Advice One of our dearest friends, who has children older than ours, was always sharing with us about their wonderful times at their lake cottage "Up North" in Eagle River, Wisconsin. He said the two best things we could ever do for our children were to teach them to love God and buy a lake home. They shared how the time together as a family at their cottage playing games, fishing, and talking around the campfire away from all the "to dos" of home was so valuable. They had great conversations and connected with their kids. So when Brian and I started to talk about finding a spot of our own, "Up North" was where we were headed. We began looking on line for homes and every one we had interest in was a log home.
Do you like happy endings? Do you like flipping to the back and reading the end of the story first? Then here's your peek at the end of our cabin search and the beginning of our family's love for our log home. We loved the cabin we bought as a vacation home so much that two years ago we moved up to it full time!

My husband grew up in Southeastern Wisconsin, in the community where we were living, and had always heard people saying they were heading "Up North to the Cabin," but he had never been "Up North" before so we decided to take our time driving  through communities in the Northwoods three hours north of home. We picked up some real estate home magazines and I got online, just curious what lake homes might be available. I was drawn to all the log homes.
Our drive brought us to the Lakeland area and the Minocqua community. We were instantly charmed. It had shops, restaurants, art galleries and character! We set up an appointment with a realtor to see a few cabins.
Brian and I drove back up to Minocqua a few weeks later and toured several properties. After touring the first few homes on the list we pulled into the driveway of "Camp Paradise" and knew we had found our family's cabin.

We walked in the beautiful front door and saw the beauty of the full log walls and the view from the floor to ceiling windows.

Camp Paradise has a wonderful floor plan with a great room with vaulted ceilings and a towering fireplace. See more here.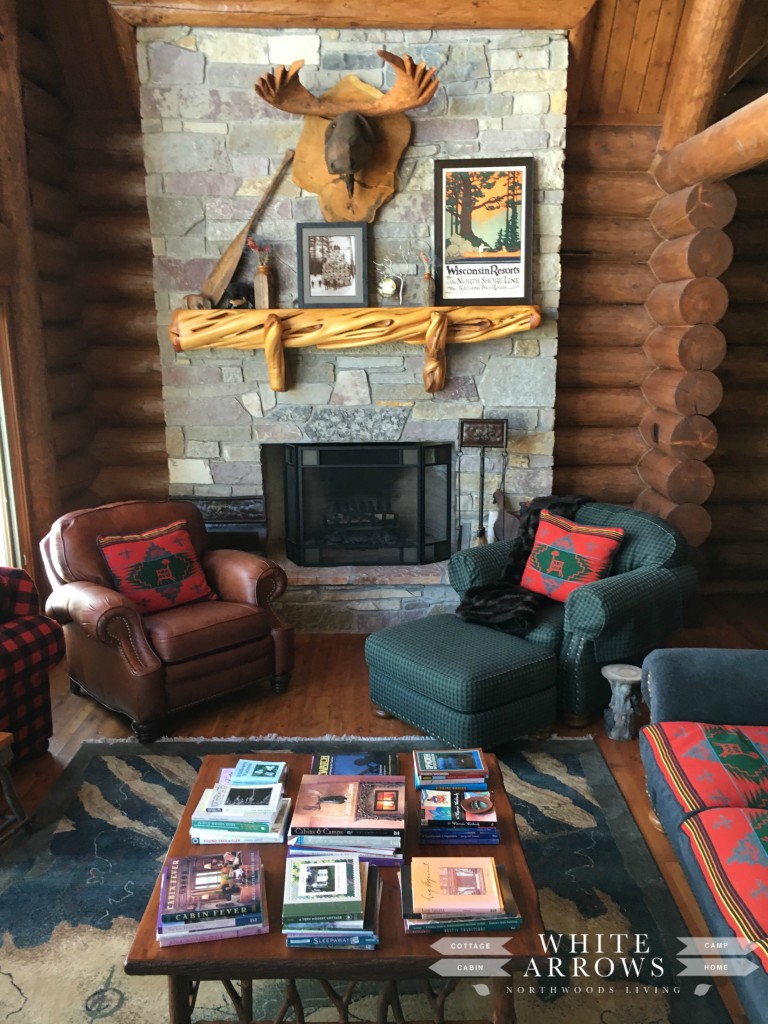 The cabin was built by a couple from Chicago that loved the process of building the home. They poured a lot of time, energy and love into the cabin. They were kind enough to leave us the photo album of all the pictures of building from start to finish. What a fascinating project!
The kitchen and dining room are the busiest rooms in the house. See more here and here.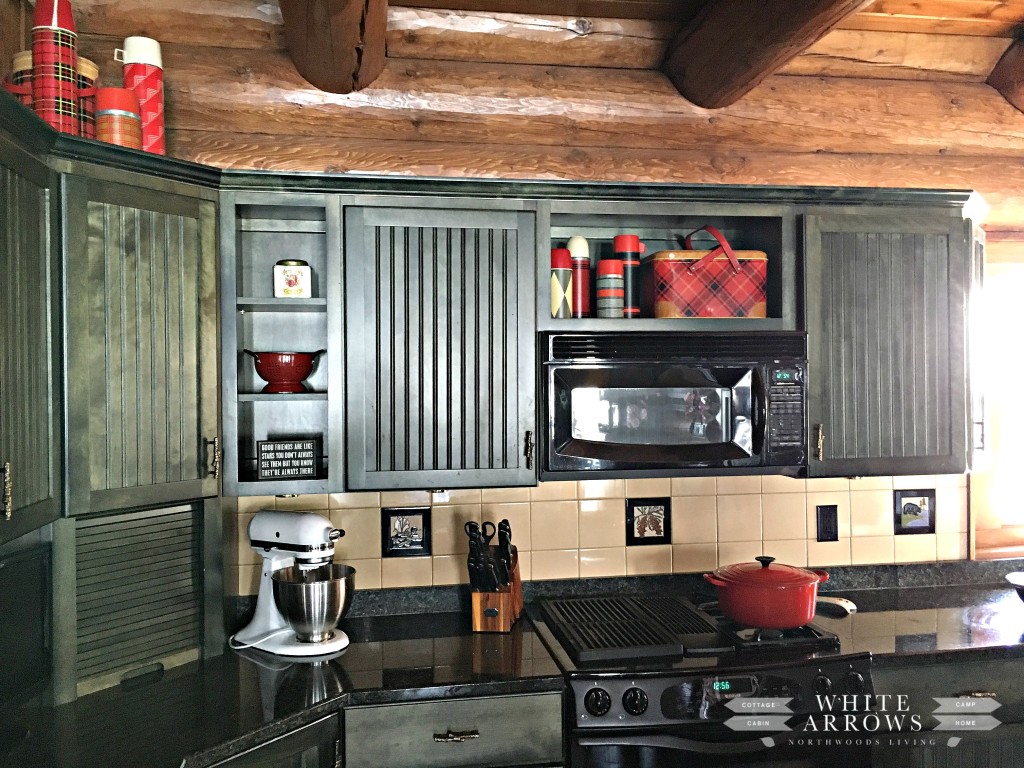 I love antiques and vintage pieces and am always on the hunt to add to my collections like the vintage thermos collection I have above my kitchen cabinets.

The master bedroom gives us sweet dreams under our dreamcatcher. See more here.

Our master bathroom is a relaxing space. See more here.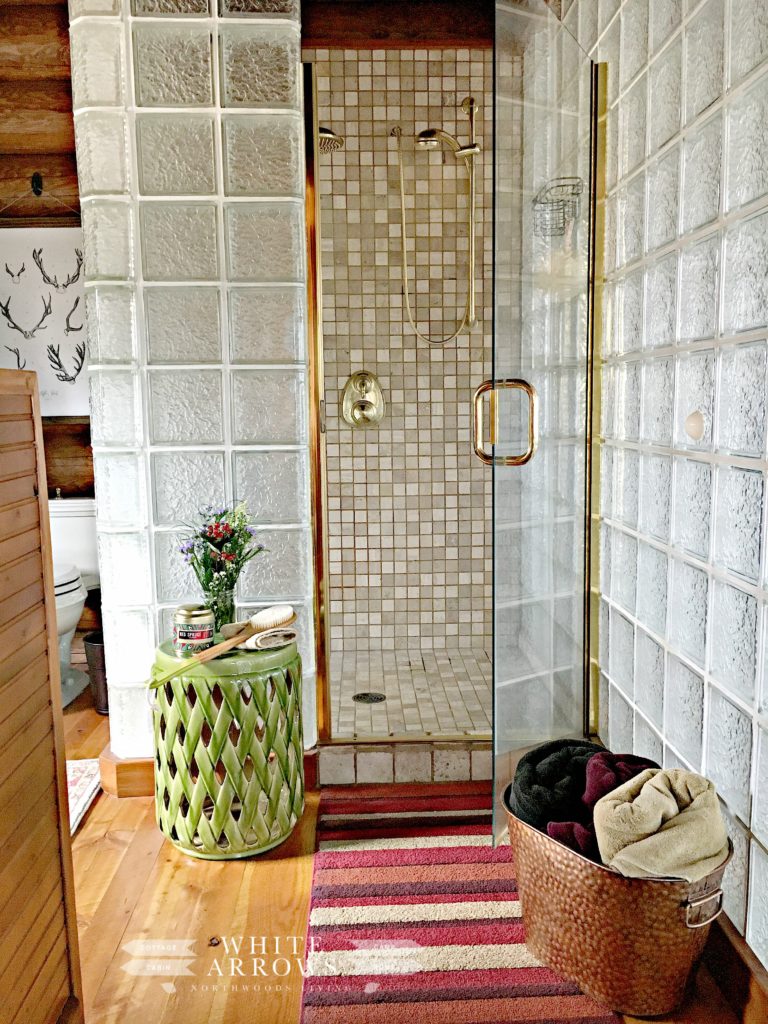 Our guest bath showcases a pair of my red skis. See more here.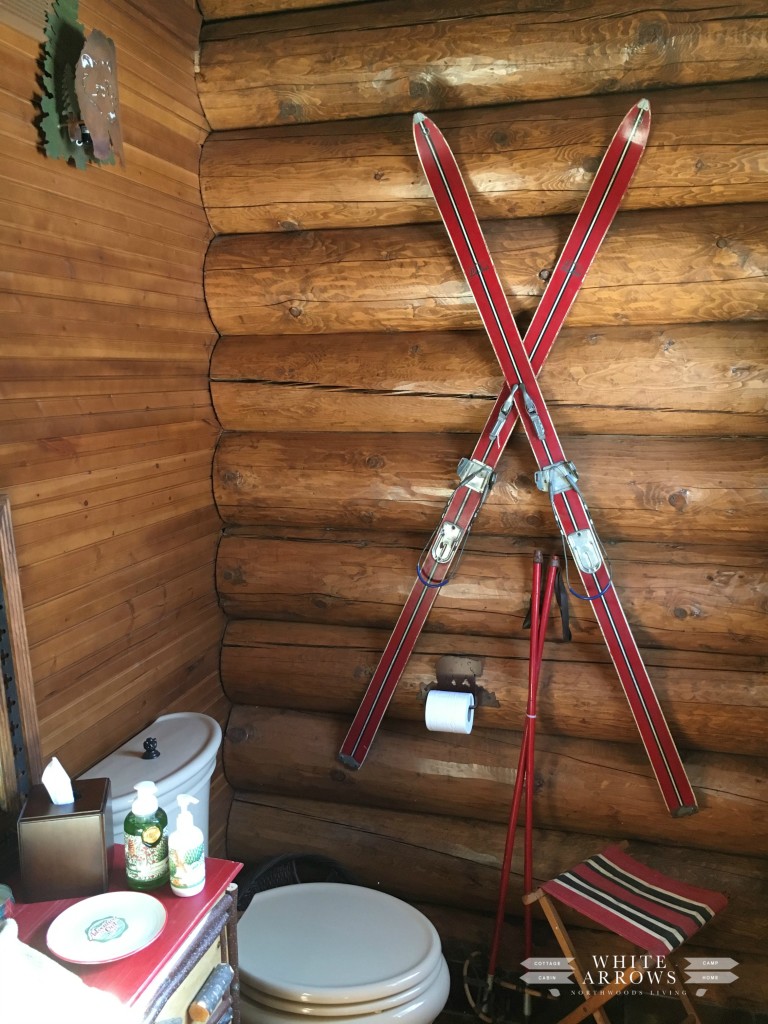 We gave a nautical style to our lakeside bathroom. See more here.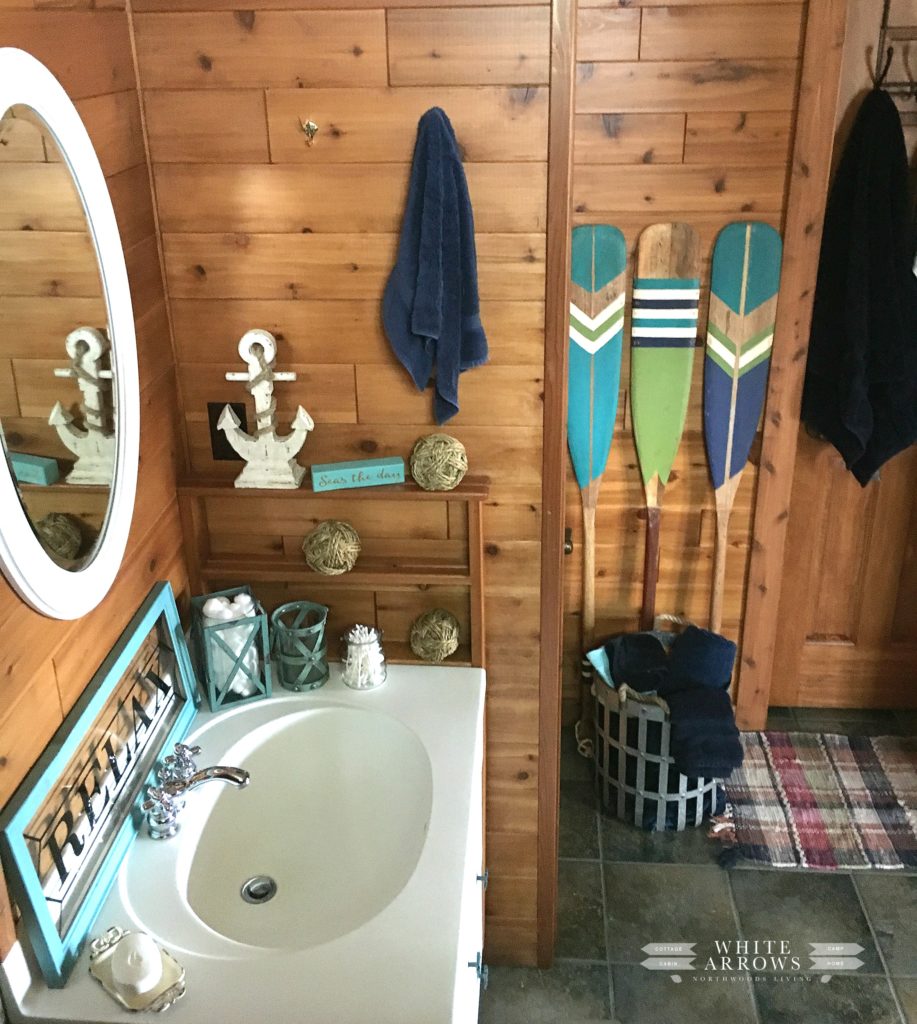 We entertain on this gorgeous deck. See more here.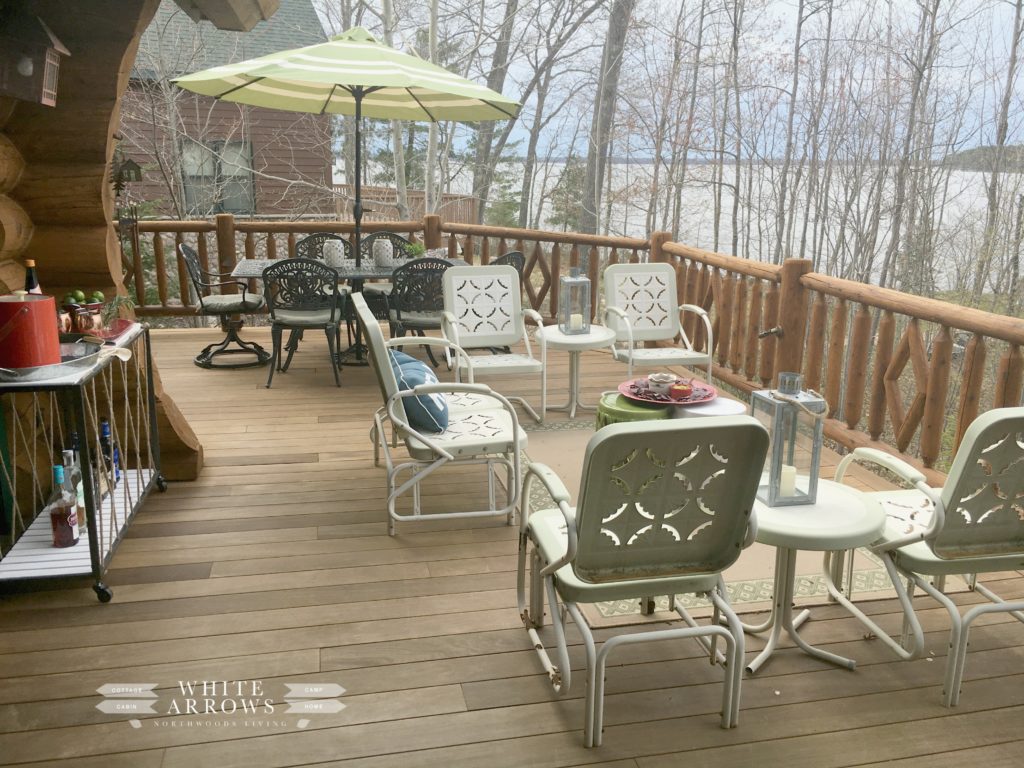 One of our updates is the sunroom. We turned the screened porch that was rarely used (due to snow over half the year) into a sunroom where we now spend a lot of time. See more here.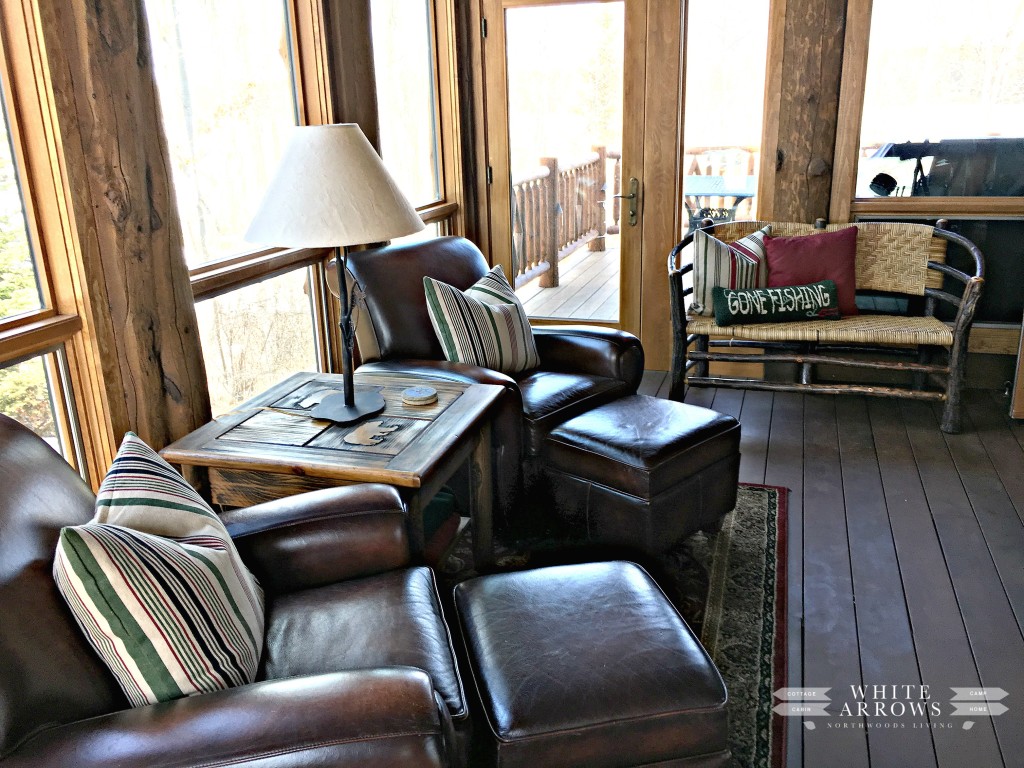 I have always loved buffalo plaid, Pendelton, pinecones… rustic, antique and vintage pieces. See more about my Cabin Style here.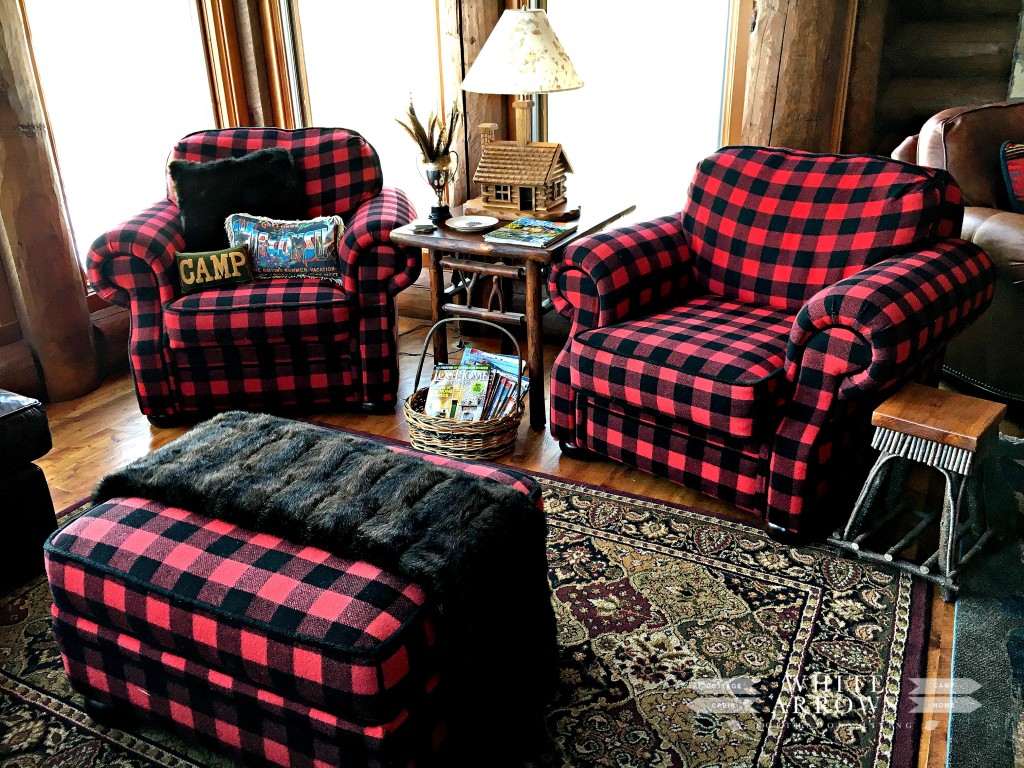 There's also a wonderful basement family/ game room, bunk room and an upstairs loft. I will be posting more about these spaces in the coming months. Be sure not to miss these posts by subscribing to my blog. Subscribing let's you receive an email each time I add a new post, usually about once a week. Find the subscription information in the sidebar or bottom of this page.
We are in the process of building a guesthouse- See more here.
To see more of our home & projects and see the progress on the guest house, I post most days on Instagram and I would love you to follow me there~ @whitearrowshome. You can also find me on Twitter, Houzz and Pinterest. I love Pinterest!
I am stopped in my tracks often as I look around the beauty of the woodwork in our log cabin and am honored to take care of it and raise my kids within it's walls. Thank you for visiting today and I look forward to hearing from you!