I'm excited to be joining my friends from Charming Homes & Gardens for a Marvelous May Tablescape Tour. You'll find inspiration for your late Spring, Early Summer and Mother's Day Tables.
Find the links to all the blogs on the tour at the bottom of this post. Rachel, Ann, Stacy and Kim are some of the most inspiring girls I know and you will love following them! You can find even more inspiration on Instagram where a few other friends, April, Molly and Lori, have joined in the tour as well.
(Affiliate links are used for your convience. Read my full disclosure here.)

When I begin thinking about setting up tablescapes, I start looking around at my vintage pieces. Will a vintage container to use as a centerpiece catch my eye, or will it be dishes or a tablecloth?
For this May tablescape, I was starting with zero ideas. So I just started scanning the top of my kitchen cabinets where I display my thermos, coolers, picnic baskets and vintage decanters.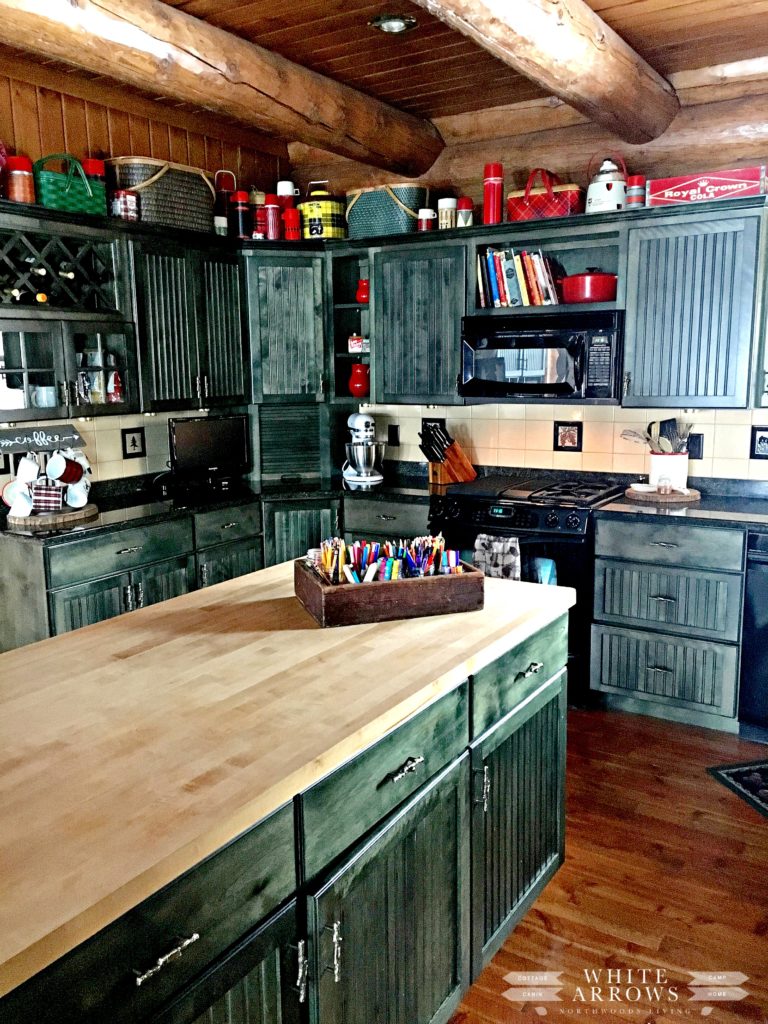 My chippy, old first aid kit caught my eye and I thought about doing a Mother's Day themed table about how my mom is my lifesaver.
I found this box a few years ago at a favorite local antique shop, First Impressions. Read more about my favorite local antique stores and recommendations here.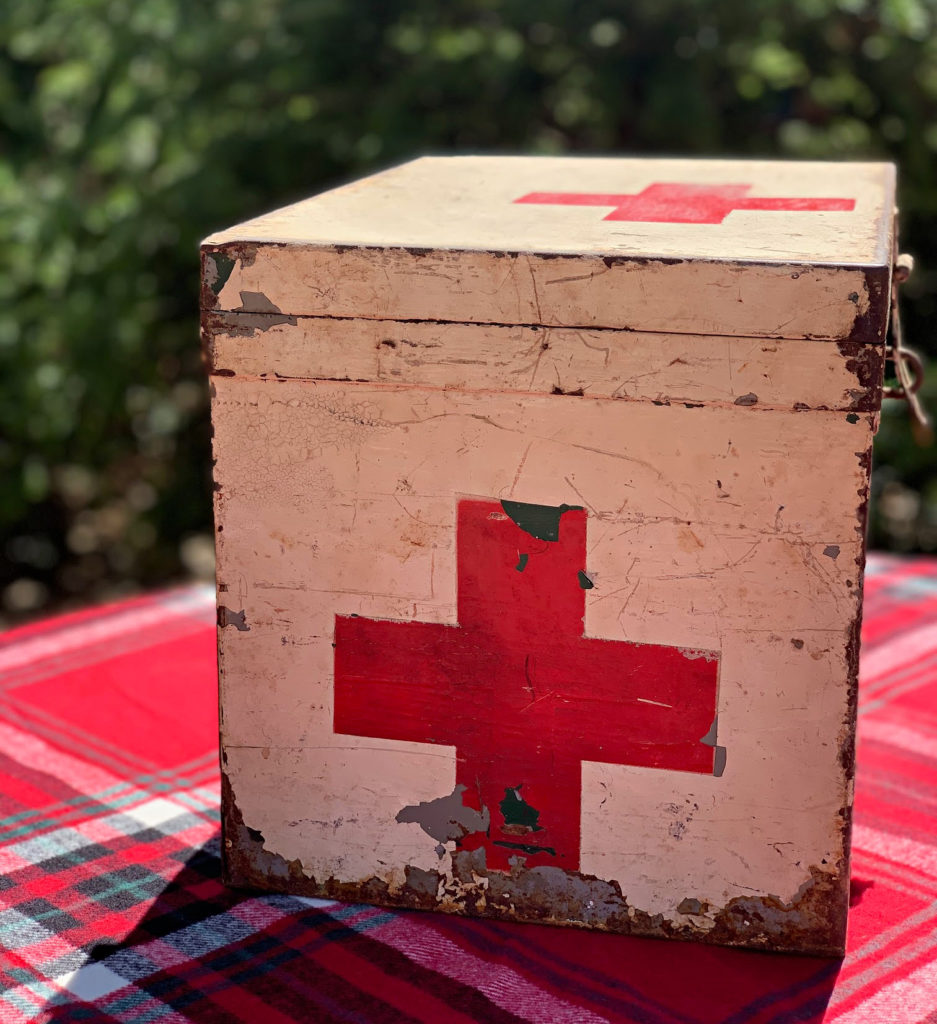 My mom is always there when I need anything, just to chat or talk through a problem. When I was in college (pre cell phone days!), my parents got an 800 number. It was the best thing ever, because I could call any time I wanted to talk. She's got the same relationship with my kids, as a Nana they are always calling to fill her in on life and get her advice too.
We share so many of the same interests like antiques and books. Sharing our favorite reads is often a topic of our conversations. For this table, I turned a stack of vintage Camp Fire Girl books into an easy, pretty cake stand by adding a thrifted plate to the top. Looking to start your own antique collections? Here's my post about 10 affordable vintage items to start collecting.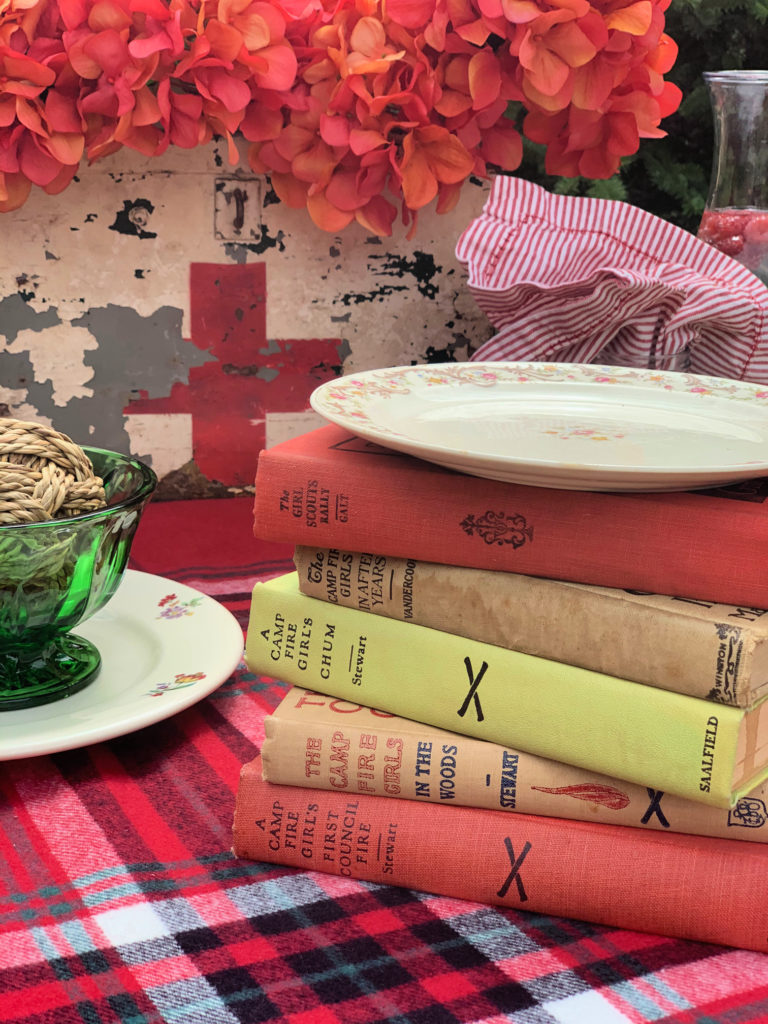 Vintage dishes are one of my favorite things to collect. I love florals and transferware. A single dish often comes home with me from thrifting trips just because I love the pattern. Mixing and matching different patters of plates makes such a pretty table.
These beautiful green bowls were a gift from my mother-in-law. I adore them! I'm so lucky to have a wonderful mother-in-law who is also an amazing grandmother to my kids.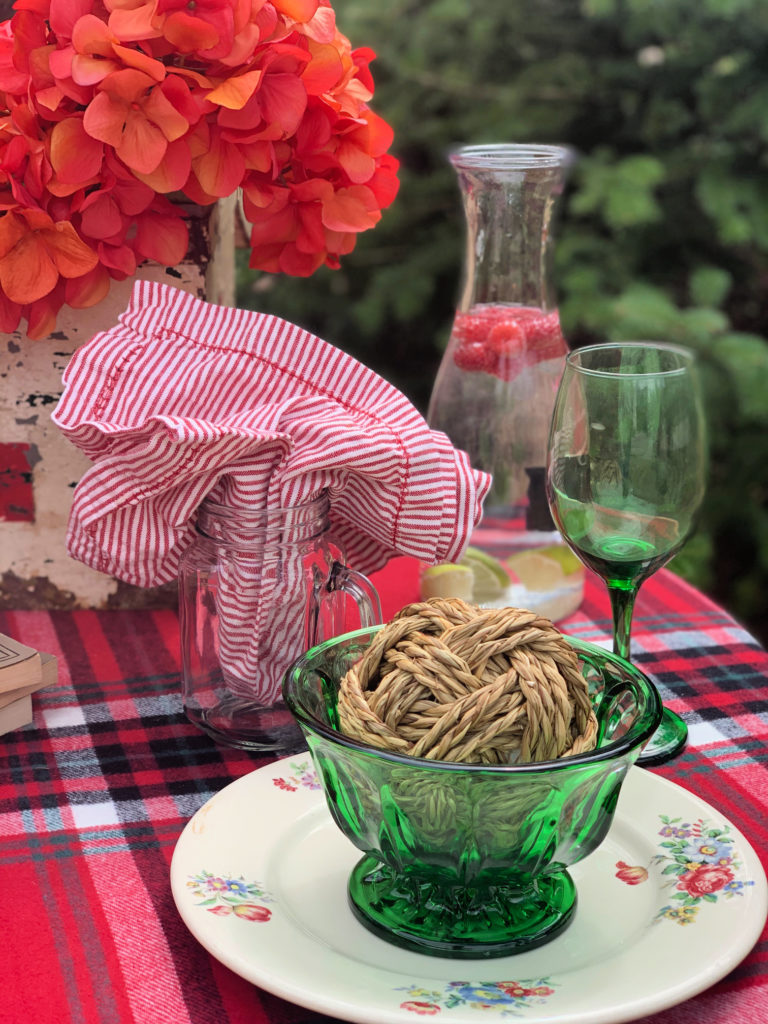 For a table cloth I used a plaid throw blanket. I went through my blankets and picked out one with reds and greens to go with the first aid box. Reds and greens aren't just for Christmas! The red ticking stripe napkins flower out of mason drinking jars. And green goblets keep the theme.
To make the centerpiece I filled the first aid kit with faux hydrangeas. I love their fullness and bright red/orange color.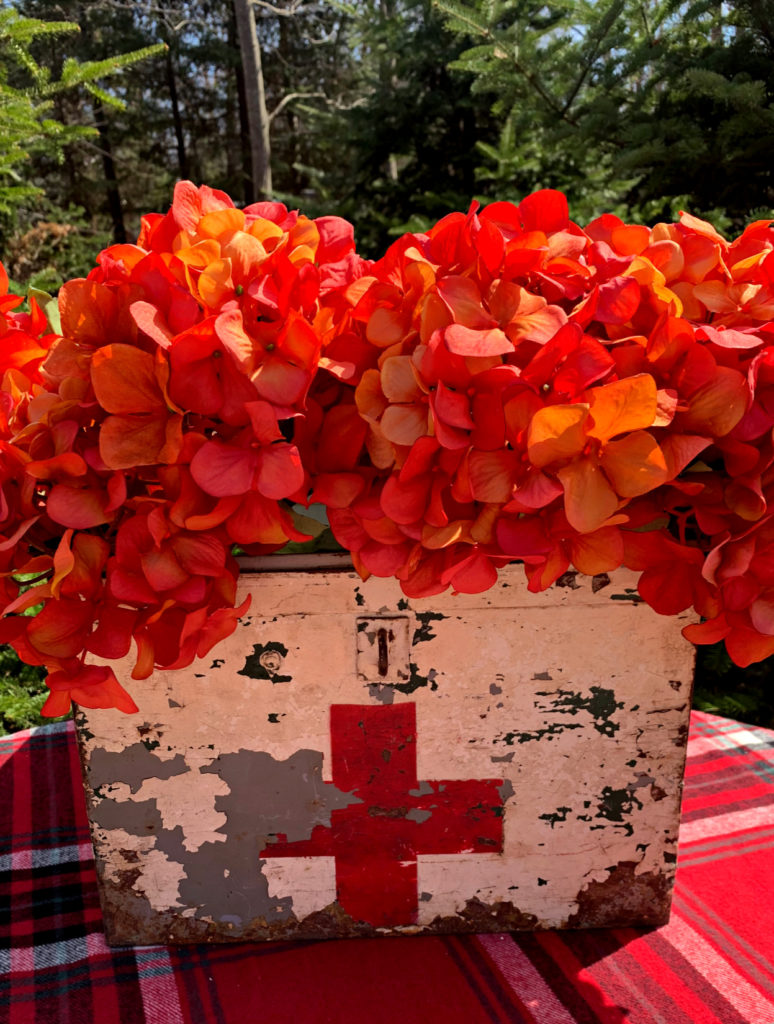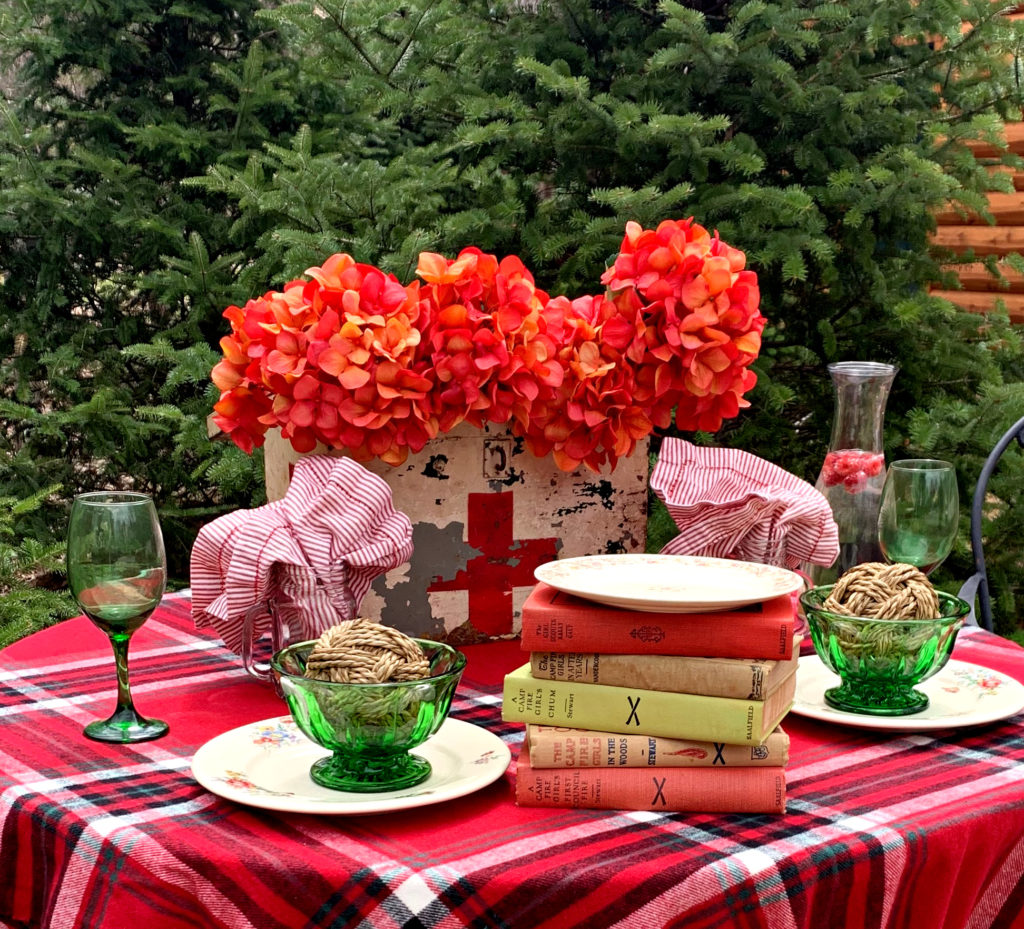 Follow the Tour
Stacy at Bricks n Bloom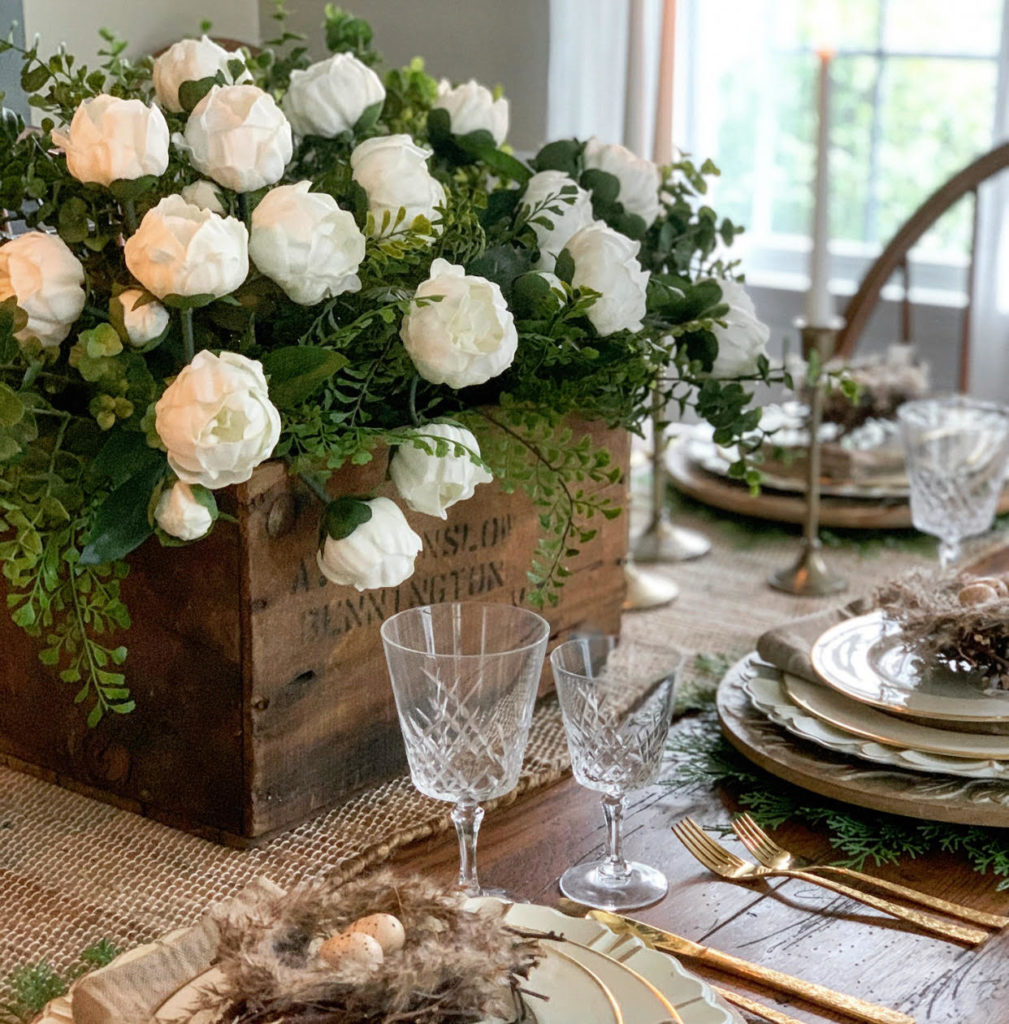 Ann at Dabbling and Decorating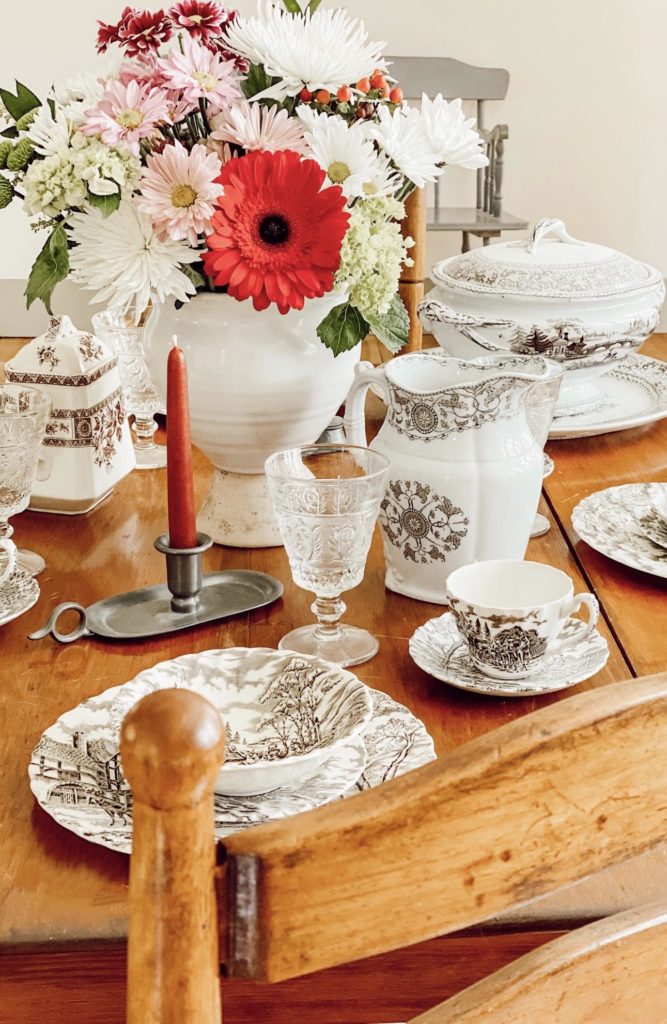 Kim at Shiplap and Shells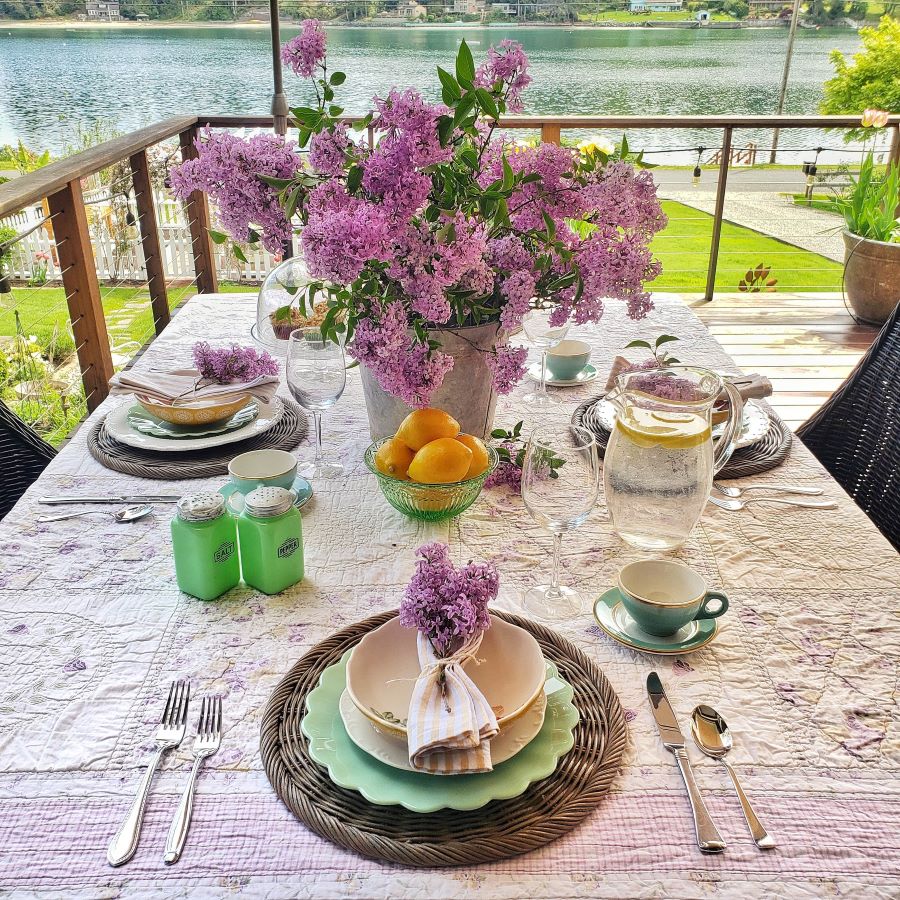 Kristin at White Arrows Home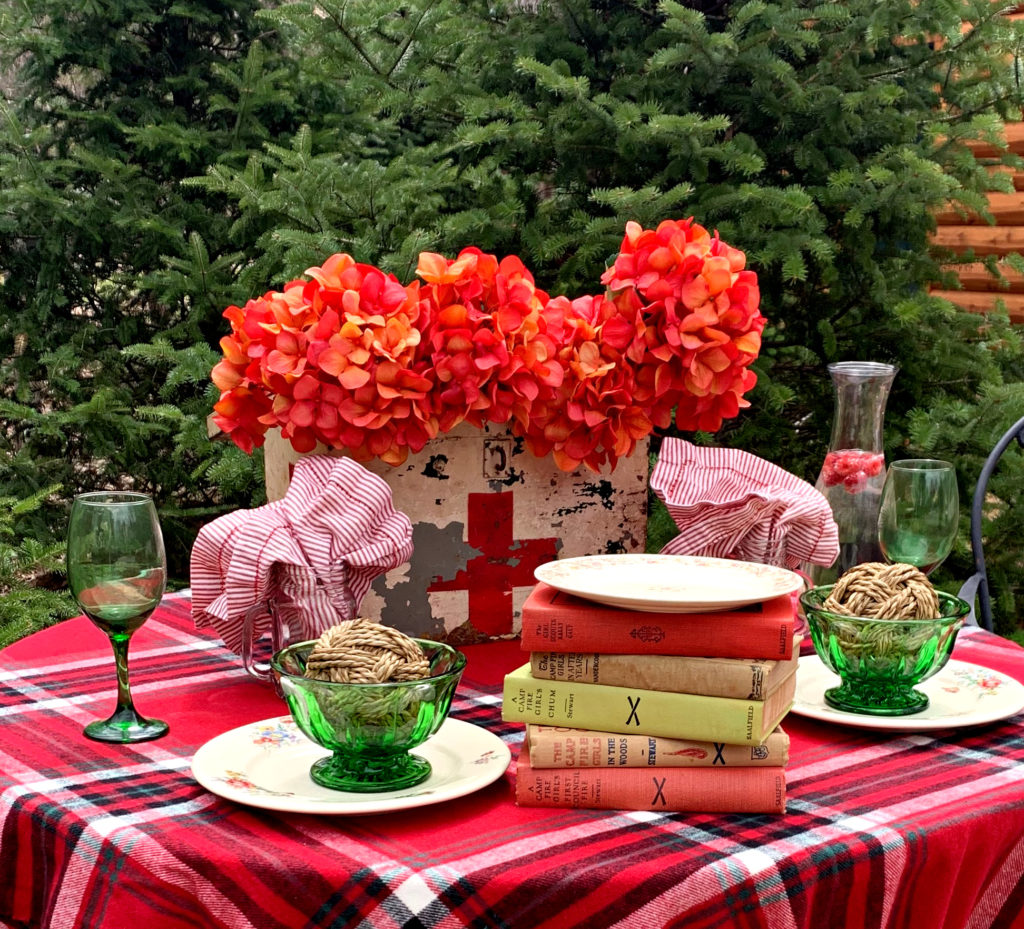 Rachel at The Ponds Farmhouse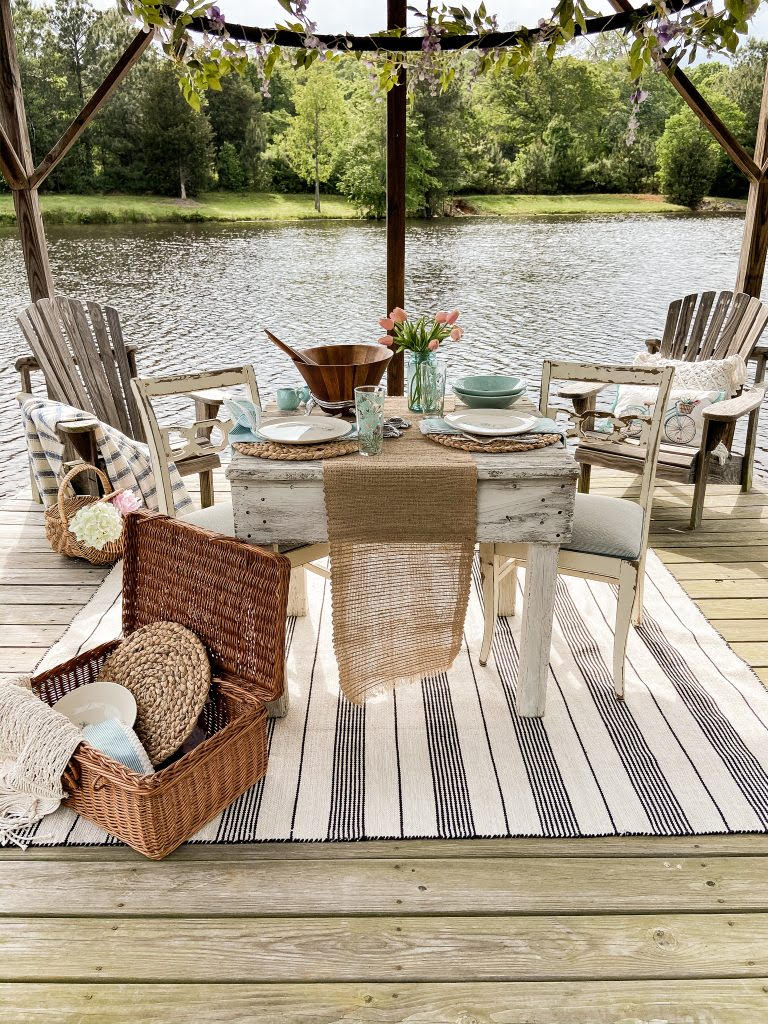 FOLLOW ALONG
Instagram ~ Facebook ~ Pinterest ~ Twitter ~ YouTube