When setting a table I often include vintage decor. Here are some of my top tips for bringing together a beautiful tablescape.
(Affiliate links are used for your convience. Read my full disclosure here.)
Tip: Use Vintage Items as Vases and Containers to Become Centerpieces
I recently shared my late Spring/ early Summer/ Mother's Day table. My inspiration for this table started with the vintage First Aid Kit. I thought it would make a wonderful centerpiece. As you scroll through my tablescape photos take a moment to see the variety of items I use to hold flowers.
One thing I also often do, especially with round tables is put the centerpiece on one edge of the table rather than in the middle and adjust the chairs to the side. This leaves the view open for those gathered around to see each other well and space to place food, wine bottles or other items.
See More of This Table Here.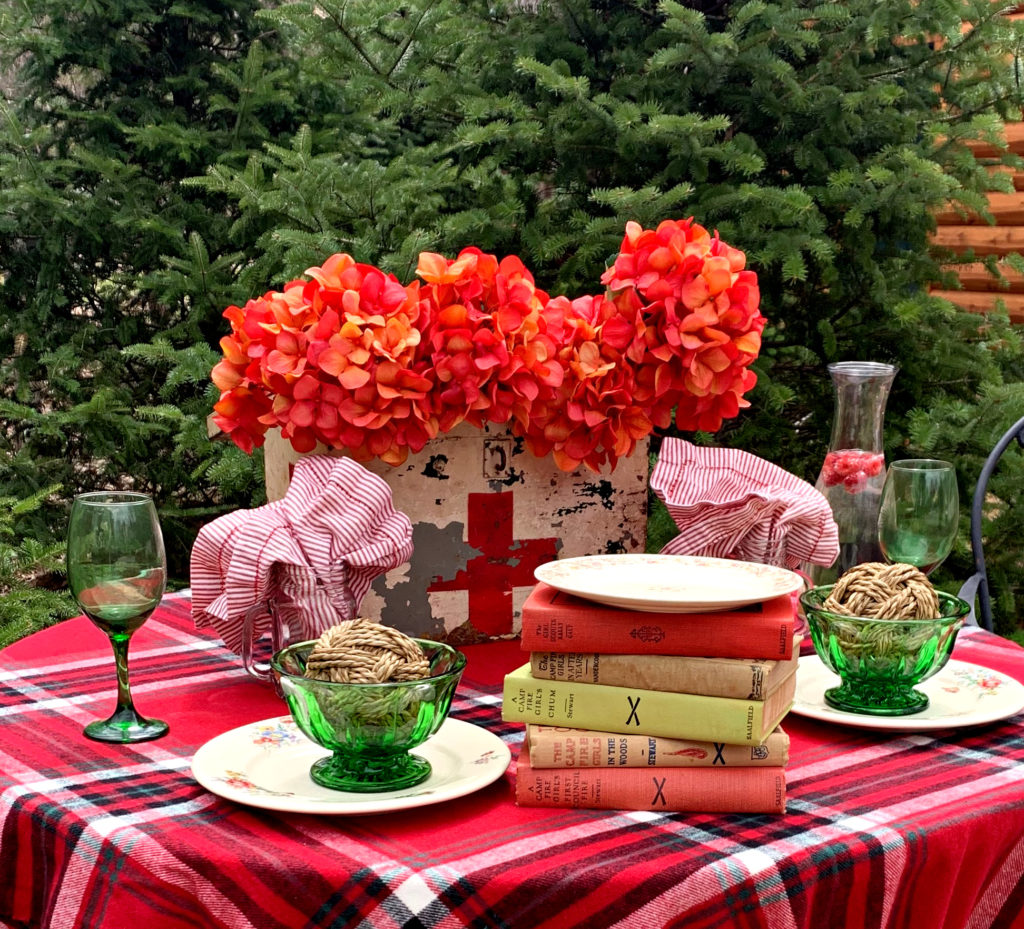 Tip: Use Vintage Dishes- Thrifted or Heirlooms
One of my favorite things to look for when I am out antique shopping and thrifting are dishes in all colors and patterns, basically whatever catches my eye. I am very thrifty and will not spend much on these china pieces. Often I bring home plates I have found for $1. I love to mix and match different plates together. Finding an entire set or even 8-12 plates together that do match is wonderful too. It's beautiful to layer plates with a dinner plate and mismatched salad plate on top to fit the holiday, color or theme of your table.
See More of This Table Here.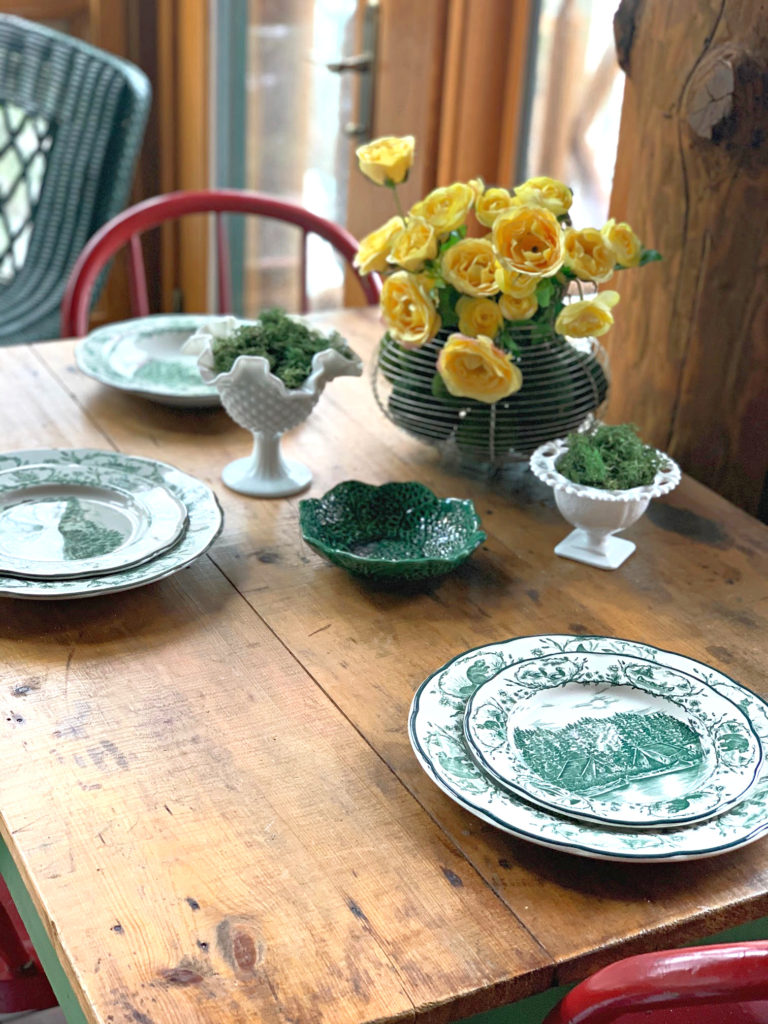 Tip: Use Vintage Cakestands or CreateYour Own
A great thing to collect are cakestands. I often find beautiful ones in different colors, sizes and styles for under $20. It can be more expensive to buy new stands. Sometimes I make my own cakestands. In the first photo in this post, you saw how I used a stack of books to make one. For this table, I put a wood slice on top of a vintage candle holder.
See More of This Table Here.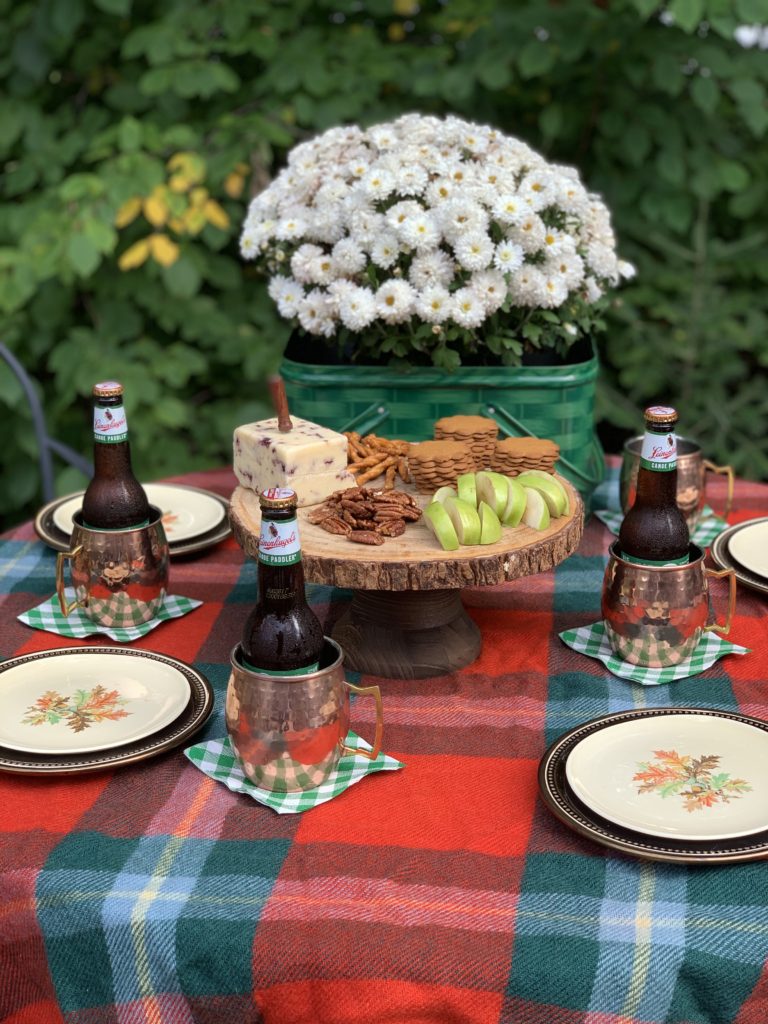 Tip: Find Vintage Table Linens or Use Quilts and Blankets
There are so many beautiful tablecloths at antique shops and vintage markets, many of them even have hand embroidery on them. They are a fun way to add holiday touches or pattern and color to your tablescape. I also like to think outside the box and use throw blankets and quilts on my tables. You can see many examples of how I have done this in the photos from this post. When I saw this blue and white quilt pattern throw at the thrift shop, I knew instantly I wanted to use it on a Summer table.
See More of This Table Here.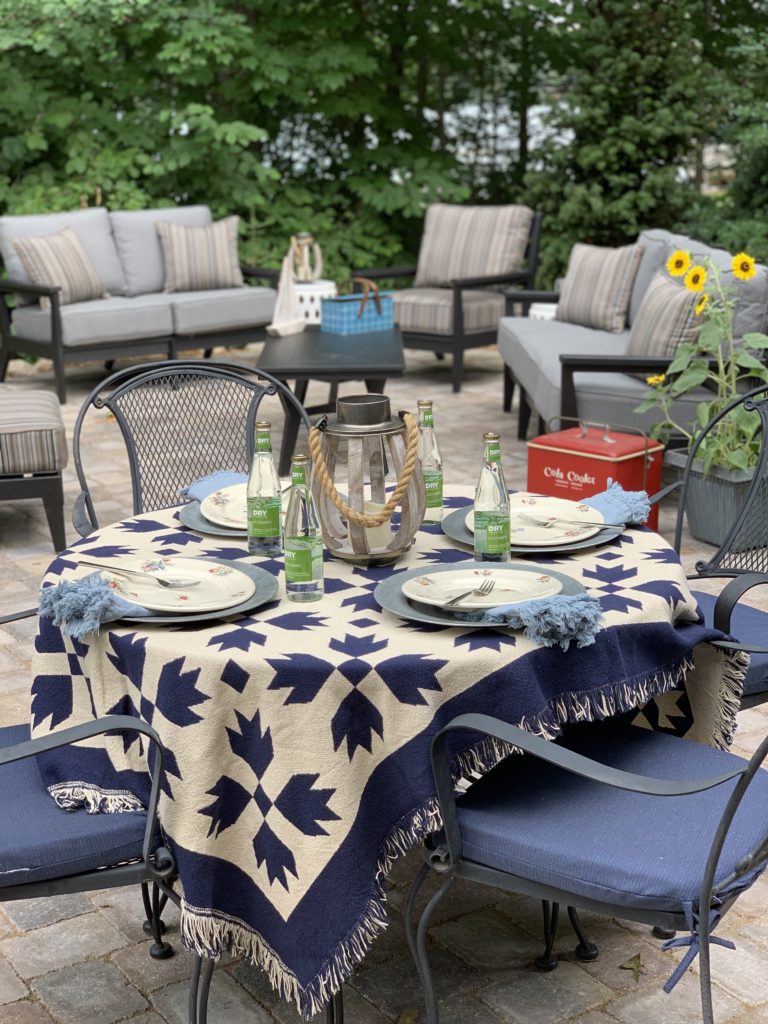 Tip: Collect Vintage Glassware and Goblets
Little vintage juice glasses are one of my favorite things to collect. They are perfect for breakfast and brunch or can be used for cocktails and wine. There are so many beautiful styles, shapes and colors of glassware and goblets to find and use on your bar and on your table.
My Favorite Places to Shop for Antique and Vintage Items
See More of This Table Here.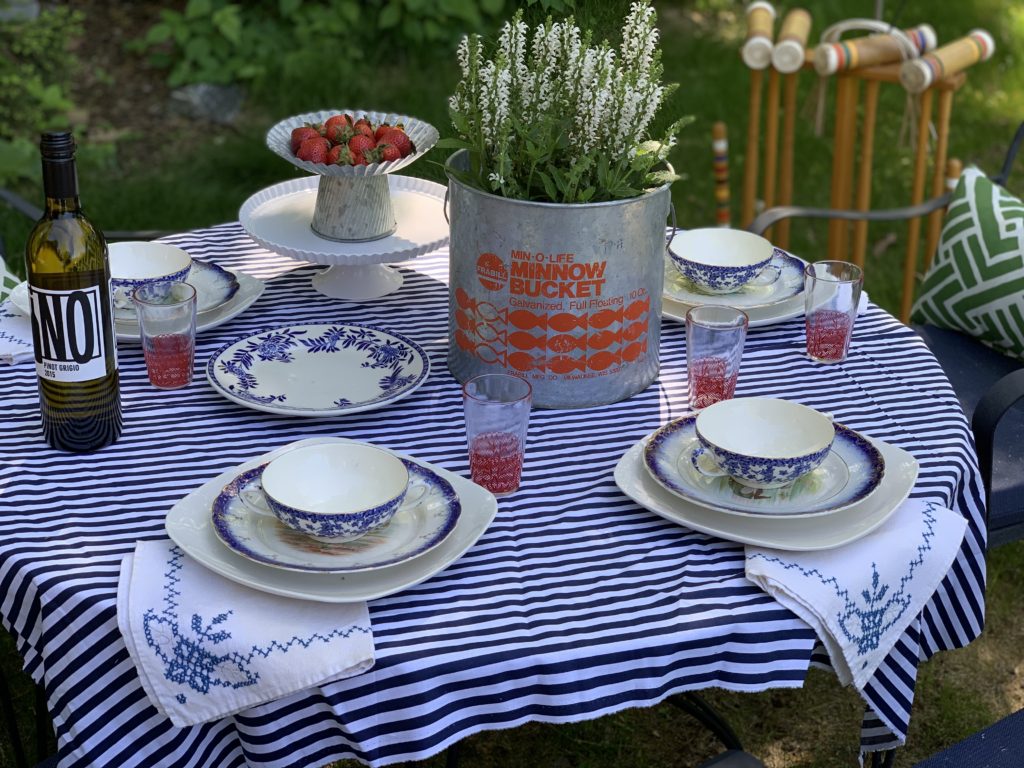 A Few More of my Favorite Tables
FOLLOW WHITE ARROWS HOME


Instagram ~ Facebook ~ Pinterest ~ Twitter ~ YouTube