Starting in October my feet are in boots daily through May. Thats eight months of boot wearing! Luckily I love my Sorel boots. I love all the styles they come in that give me variety and style. Every pair of my Sorels keep my feet warm and dry and are so comfortable.
(Affiliate Links are shared for your convenience, read my full disclosure here.)

This is one of my favorite styles. They are great for when I need something that looks great during the day and into the evening. I love the wedge, laces and the leather/suede combo. I have them in black, but they come in other colors too.

Olive is one of my favorite colors to wear. I love it with black and denims. This boot is another favorite. I love the buckles, the rubber bootie and the mix of materials.

It may be obvious why I love this boot, but it's not just for the buffalo plaid! I love how easy it is to throw on and run out for errands or school pick ups. It's my go to boot for quick + stylish, warm + dry option.

These are my most worn boot. A stylish twist on the well loved duck boot, the leather and buckles make them transition well from casual to presentable in most of my day to day activities. They also come in a classy brown or gray.

What more could I ask for than the softest of liners inside a slip on loafer! I know it's not a boot, but it's a winter footwear staple! I chose the buffalo plaid, but they come in other colors as well. The soles give you great grip if you are needing a quick walk outside to grab something from the car.

When I'm going to be outside for a long time, this is my favorite boot! They work great under my snow pants when I go snowmobiling or when I'm standing out on our frozen lake watching the kids ice skate.

I like to always have a tall boot in black, brown and gray and these are my favorite grays. They are my daughter's favorite too! I think she wears them more than I do! Love being in the same shoe size!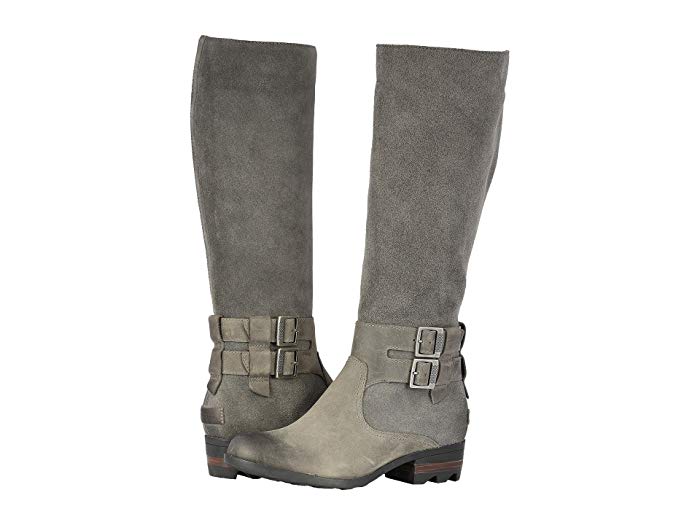 The perfect boot to pull me from Fall into Winter, these Sorel's are a favorite to wear with jeans. I love the color and the fun laces!

Now any boot that has the word Cozy in it's name is going to be a favorite for sure. Heading to spin class, down to lane to check the mail or sitting a the hockey rink. My feet stay dry and…well, cozy!

I live in The Northwoods where last year we got 100 inches of snow. And that's all I have to say about that. 🙂 I need this boot!

You can see my favorite boots for Spring here.
See how we have fun in the winter in this post.
On My Wish List
One of the other things I love about my Sorel boots is that they last. I am able to have several pair of boots because I can keep them forever and only buy a new pair once in a while. They are so durable! Let me know your favorite boot and why you like it!
Join Me as I share more inspiration with you each day on:
Instagram ~ Pinterest ~ Twitter ~ Facebook