I've found the perfect accessory for my busy lifestyle. Practical, sustainable and stylish, the JORD handbag is the perfect fit!
This post is sponsored by JORD. All opinions of their products are my own. Affiliate links are used for your convience. Read my full disclosure here.
One of my favorite accessories is my JORD wood watch. I shared about it in this post. It's classy and goes with everything, dressed up or dressed down.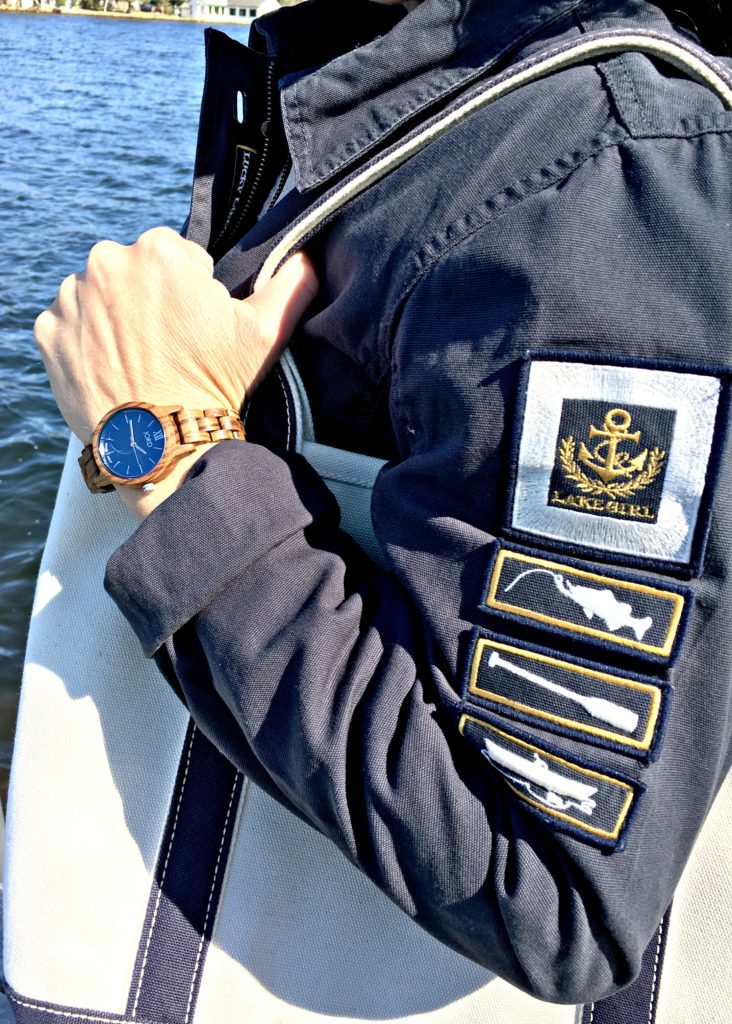 Did you know JORD makes Handbags and Wallets Now?
As a busy mom and entrepreneur I was looking for a bag that I could take on the go each day that was durable and still stylish. It was also important for me to find a bag that was easy to carry and was the perfect size. The inside needed to be able to hold all my essentials, but not so big that things would get lost at the bottom. I found the JORD handbag backpack, it's perfect. As I share more about the JORD handbags and wallets, I'll also be sharing SOME OF MY TIPS for keeping stress down in a crazy schedule.

Everything JORD creates is inspired by nature and made with natural materials. Their mission is to make conscious fashion the rule, not the exception. That is so important to me! Buying from JORD makes me feel good and look good!
JORD believes you can have both eco-friendly andluxury fashion!

While not all of their products are sustainable and vegan yet, they are working towards being 100% vegan and sustainable.
TIP #1 WAIT TIME READ
One of my favorite ways to fit reading into my life is to have a Wait Time Book. For all those times I'm waiting at appointments, school pick ups or sport and music practices, I always have a book in my bag to read. Find some of my favorite reads here.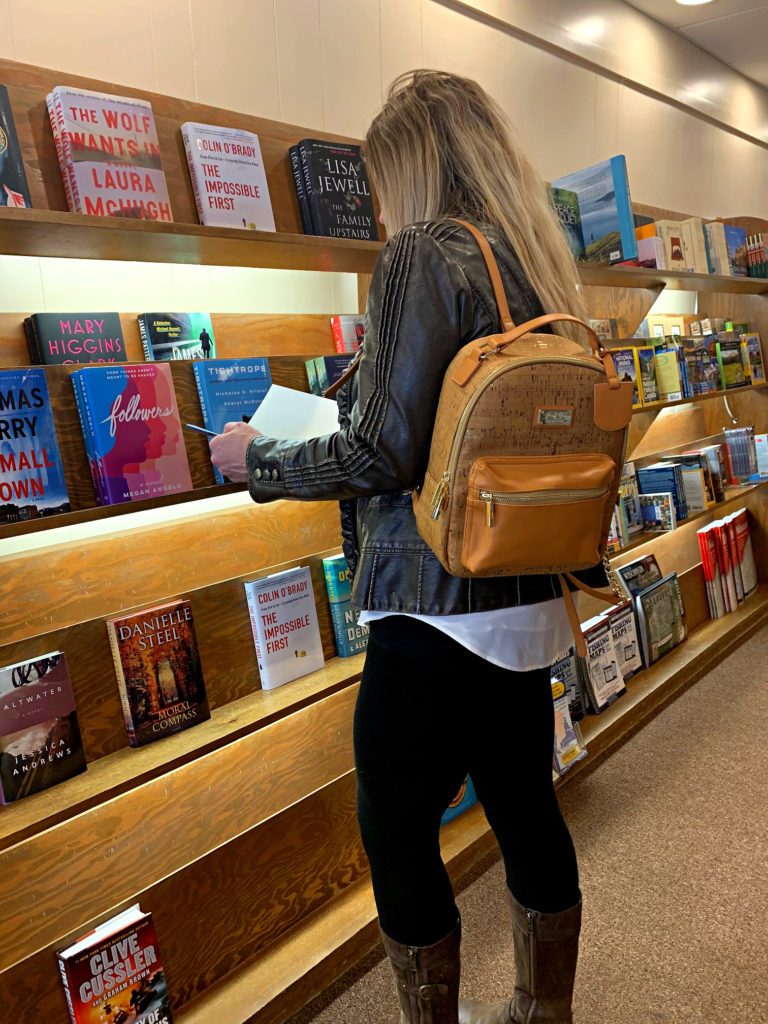 Cork Oak Tree
The cork used for the JORD bags comes from the cork oak tree, which is one of only three trees in the world that can be stripped of its bark without dying. Unlike most trees, the cork oak tree has the unique ability to regenerate its outer bark.
After a tree reaches 25 years of age, it can be stripped of its cork once every 9 years without casting damage to the tree. A single cork oak tree, which lives up to 200 years, can be harvested well over 16 times!
As the bark regrows after being stripped, it creates a reverse greenhouse effect by pulling large amounts of carbon dioxide from the air. So not only is this a natural and sustainable material, but retrieving it actually helps to create a better environment on the earth!
TIP #2 BATCH ERRANDS
It would be easy for me to fill my days with trips to the bank, grocery store, hardware store and other places. I could hit all of our local grocery stores each day because none of them carry all of our favorite products. To help stay organized and use my time wisely, I try to make a list for the week of what I need to do and group errands that are in the same area together. If I work out in the morning, I will schedule stopping at the grocery store near the studio on my way home.
I also keep lists in my phone for each store. My kids are my secretaries and if I'm driving and think of something, they enter it in my notes. They also go into my notes and add what they need too.

Suberhide
Suberhide is the world's most durable fabric steeped in natural Portuguese cork. It contains unique physical and chemical properties that are not found in any other plant on earth! Combined with vegan leather for extra strength, the bags are…
Scratch/tear-resistant, hypoallergenic, water-resistant, flame retardant, anti-static, highly elastic and maintains shape after compression or creasing, stain-resistant, and can be easily cleaned with just soap and water!
Read this to learn more about JORD's superhide.
Get Your Own

JORD is a Norwegian word meaning "Of the Earth". Located in St Louis, JORD's in house designers are baed in St. Louis. They would love for you to be part of their design network! Followthis link to give your feedback and receive a gift code to apply toward your purchase!
TIP #3 GRAB A COFFEE
I love having a hot coffee to drink as I do my morning errands. It's something I budget in and often just drink black dark roast decaf. I gave up caffeine almost two years ago and it was one of the best decisions. My eyes had been aching and I thought they were getting tired and bad. When I went off caffeine, it went away. I had two hard days of headaches and then I felt great! The high quality roasts from our local coffee shops have wonderful tasting decafs so it was an easy switch.
I also like to schedule time to have coffee with a friend. It's the best therapy! Think of someone in this coming week you can can meet. Maybe it's a friend you haven't seen in a while or someone you've just met you'd like to get to know better.
I love my new JORD wallet! It is the perfect size to hold my money, coffee punch cards and other cards.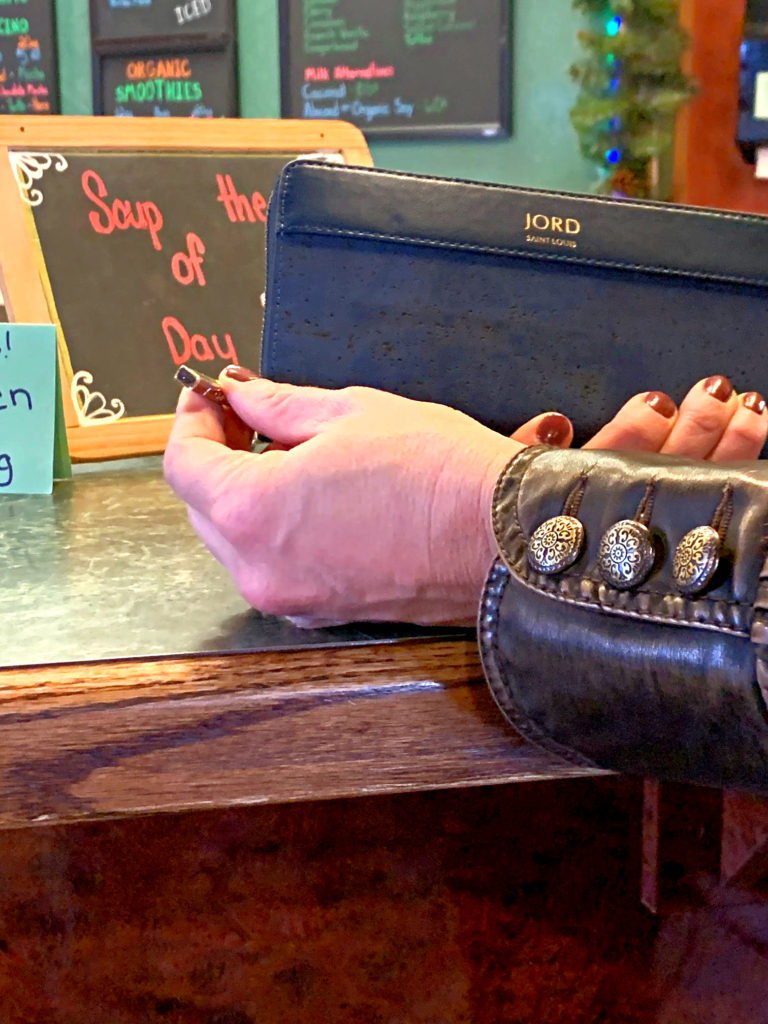 Dyes
The dye used on the bags uses an eco-friendly powder dye, which contains a higher than average absorption rate (70-80% depending on the color). This means less water is required in the rinse process and less dye runs off in the water, therefore, the dyes have a lower impact on the environment! The dyes we use also do not contain heavy metals such as chrome, copper, and zinc, nor do they require toxic chemical mordants to fix them to the fiber.
Gift Idea
JORD products make such amazing gifts for Mother's Day, Christmas or birthdays.

The bags come boxed so beautifully.

The Vegan Leather Bags come in a wonderful suede drawstring bag.

The wallet comes in a gorgeous bowed box.

Inside the box, the Sustainable Wallets are found in another suede bag.

I recommend JORD handbags and wallets! I'm loving mine!
FOLLOW ALONG
Instagram ~ Facebook ~ Pinterest ~ Twitter ~ YouTube