Simple and Traditional Christmas Decor helps keep the Holiday relaxed and enjoyable for me as a mom and hostess.
(Affiliate links are used for your convenience. Read my full disclosure here.)
I'm thrilled to be joining my friend Marty of A Stroll Thru Life for another Christmas Tour this year. There is so much inspiration from the 26 bloggers participating. You can find links for all the tours at the bottom of my post.
Each day this week a few of us are sharing and I am honored to be joining the rest of today's hosts for Wednesday.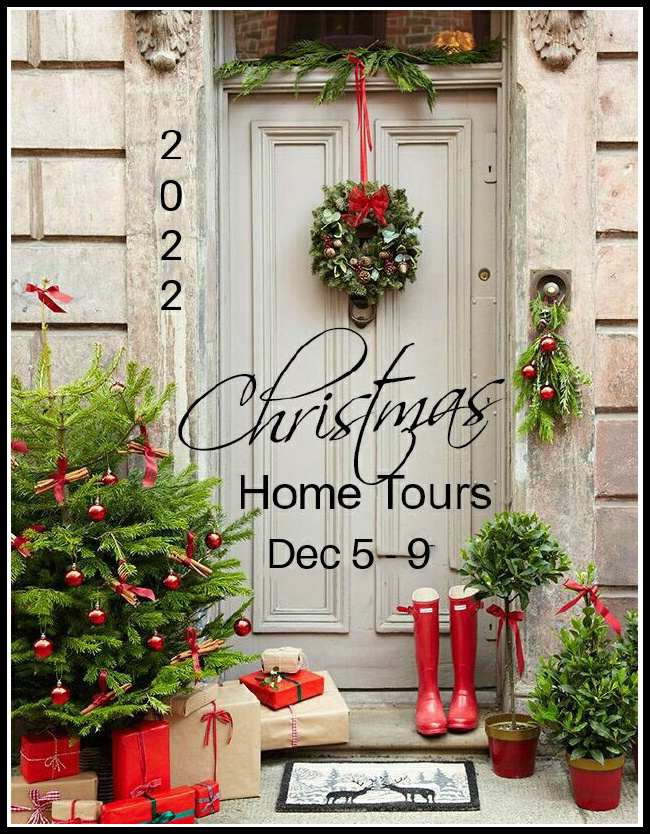 If you are taking the tour in order then you've just come from my friend Shelley's home and her blog Calypso in the Country. Shelley has such beautiful style, I love the colors she uses and her dining room is one of my favorite spaces.
Now welcome to our lakeside log cabin home in the Wisconsin Northwoods where Christmas feels straight out of a Hallmark movie!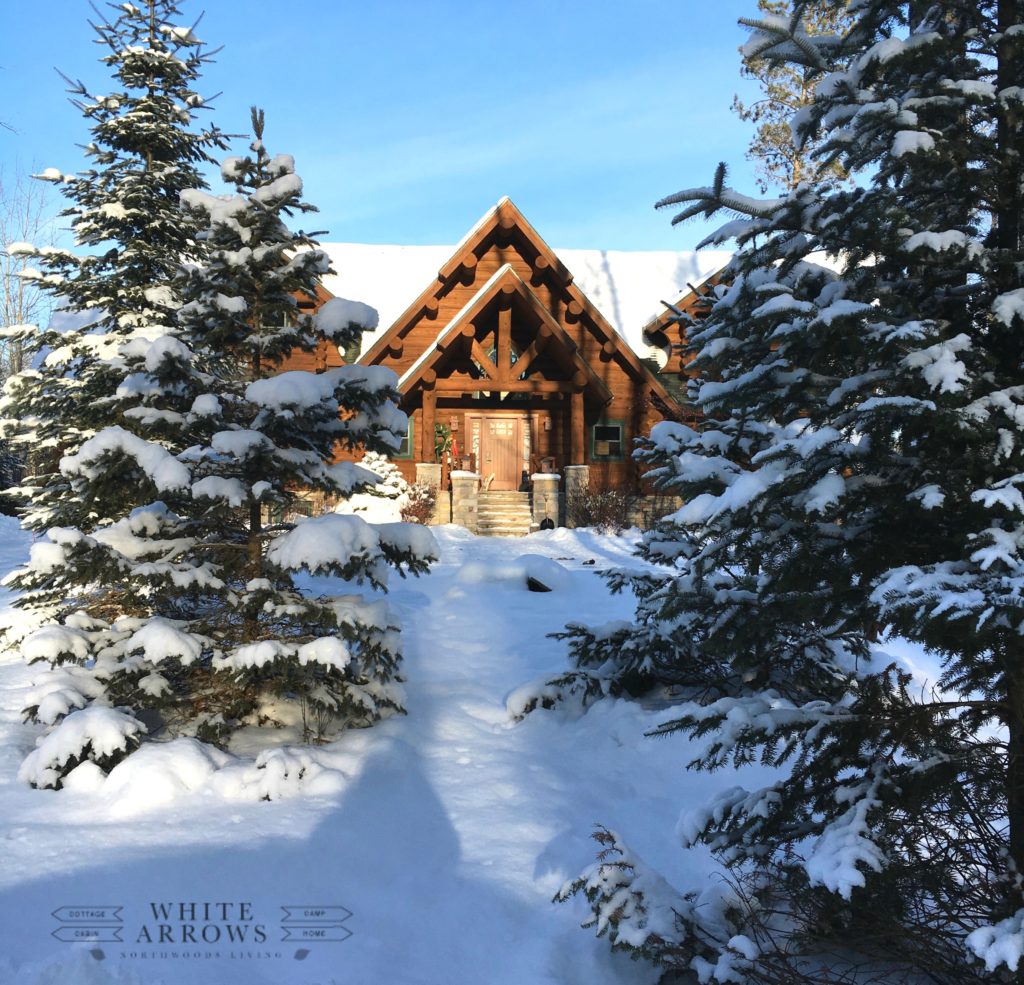 I love decorating for Christmas and probably just like you I have tubs and tubs of decor collected throughout the years. Usually the pieces I add in are always things I fall in love with and will use for years to come.
Some of my decor favorites though have changed. I've done a few things this year to try and simplify and go through my decor and get it more organized.
Storage
Since we moved into our cabin full time nine years ago I have kept the Christmas decor stored in the closet under the basement stairs.
But I've done a bunch of shuffling of al my spaces. This is how it always works. I make one shift and then it starts a domino effect. It happened this time because I have been wanting a dish pantry. So I…
Turned my cleaning supply closet in our entryway across from the kitchen into my dish pantry.
Turned my Christmas storage under the basement stairs into the cleaning closet. I added in a gift shelf and wrapping station too. (#bonus)
I put together shelves in the garage for all the Christmas totes.
I'm loving the changes. It flows so much better for how I live my days. I love getting to see all my dishes and serving pieces out where I can remember what I have and use it.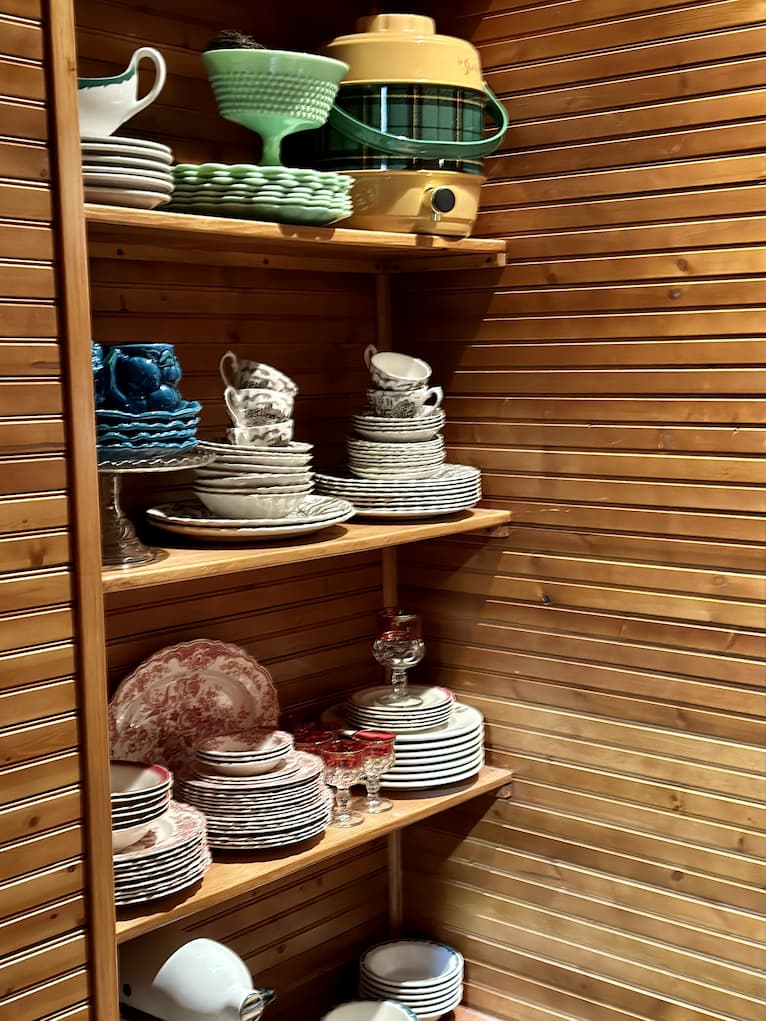 Mid November when I cleaned the Christmas totes out of the basement closet I also opened them all up and went through them. I had my daughters do it along with me and anything I hadn't used in years or didn't think I would I let them chose if they'd like to have it.
One of my daughters is out of college, working and decorating her first house so she took her items with her. My other daughter who is still in high school used one of the totes to store her items.
I organized each box by area of the house so it's easy to carry the tote there to unpack it and set things up.
Accept Help
My daughters love to help me decorate and it makes it so much more fun. It's fun to watch them grow in their styling skills!
! have two daughters and three sons. All five help decorate the Christmas trees, we make thet a special tradition together, but the girls love helping with it all.
One of the things I loved that we did was the quick and easy mantel decor this year. I have a fun collection of decorative Christmas trees and they look amazing simply lined up down the mantel.
There's pops of traditional colors, sparkles, textures and a variety of patterns and heights all adding interest to the eye.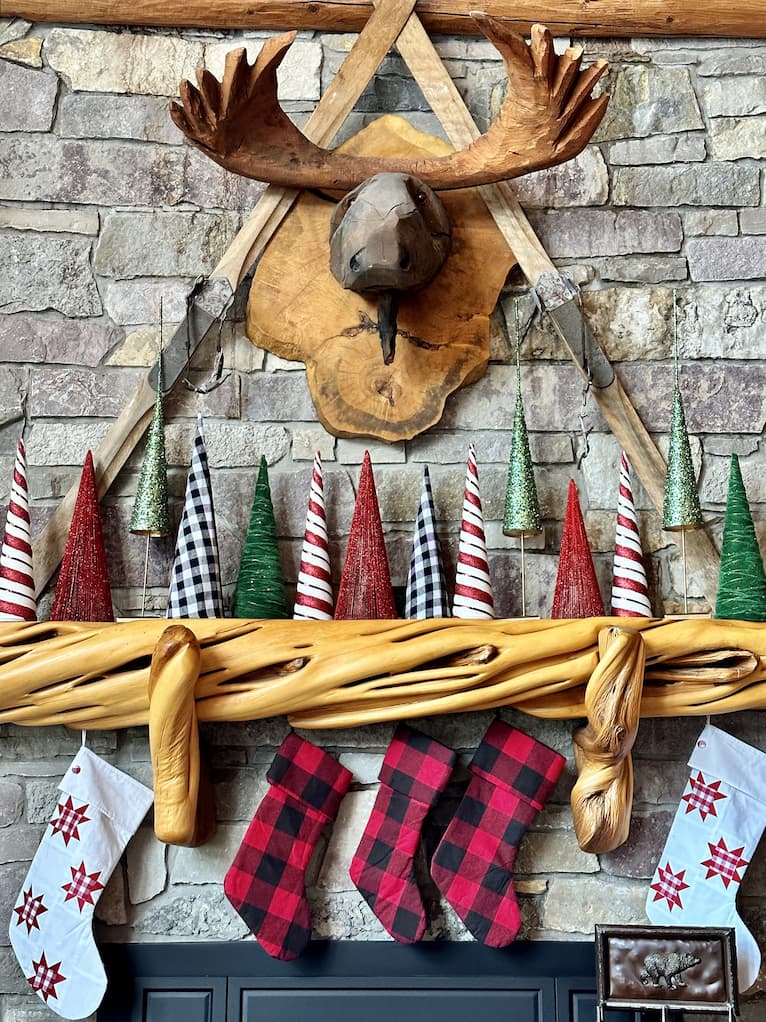 The kids stockings hung below go well the decor up top.
Our stonework goes up high so I like to add in something tall on the mantel too and my antique snow skis were perfect.
I love that my husband stacks wood on the sides of the fireplace in the winter too. His being practical is also beautiful decorating.
Chop your own wood and it will warm you twice. – Henry Ford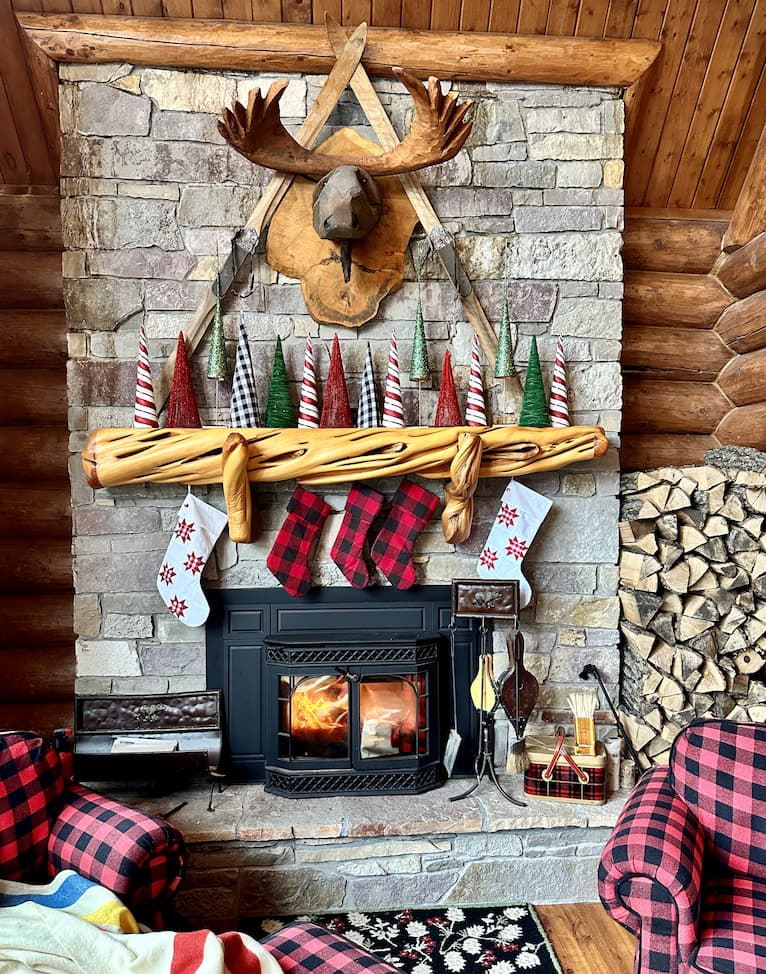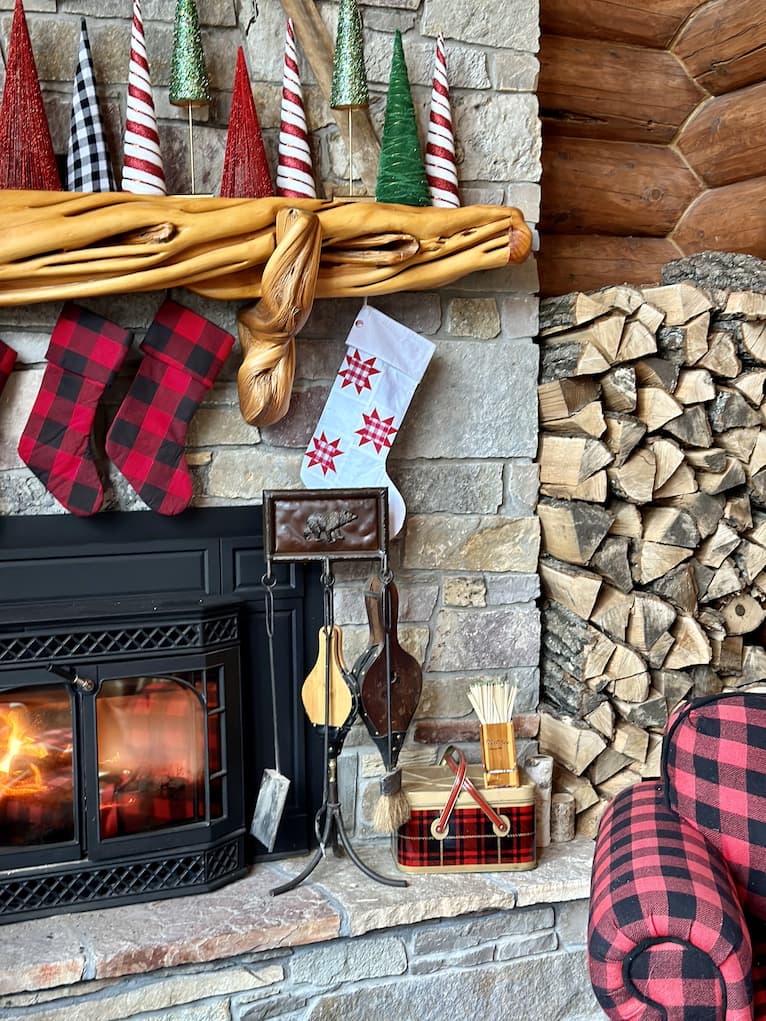 Self Serve
I love to leave out self serve stations throughout the season. The kids can help themselves and enjoy and it keeps it easy on me.
A hot chocolate station is always fun to style and keep stocked. My coffee bar is always up and running too.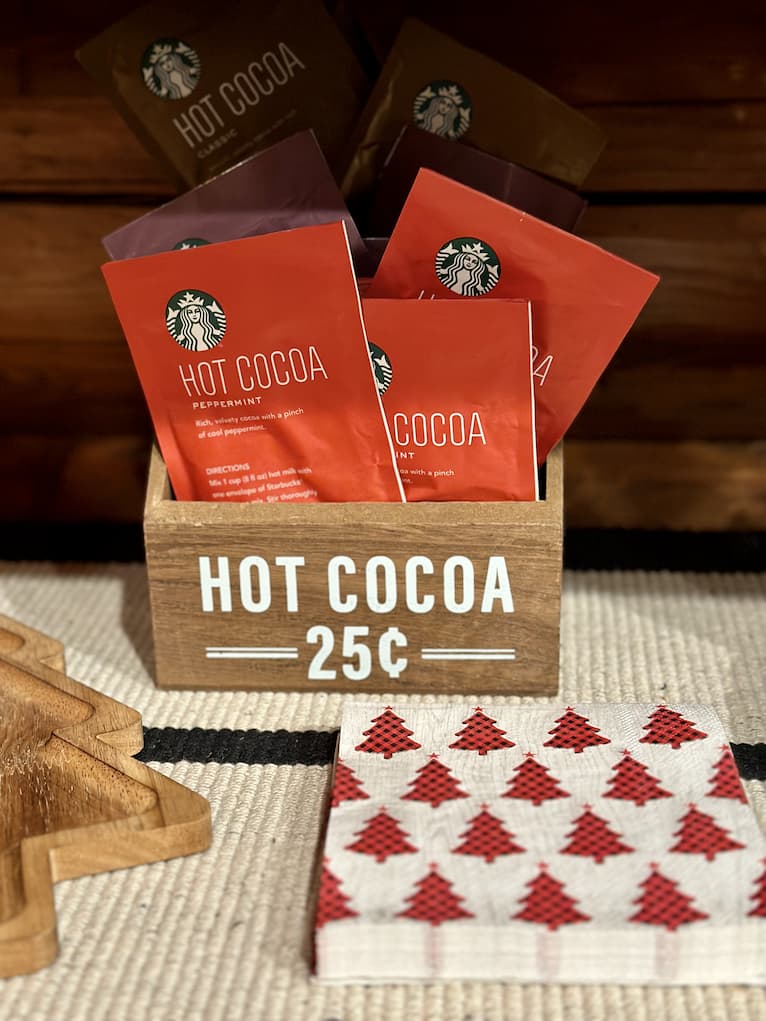 Keeping the cookie jar on the kitchen counter full is always fun too. My boys (especially my husband) are cookie monsters!
When evening comes up on us (much earlier in December) I turn on all the lamps. The fire is kept roaring, music is always on in the background, the simmer pot or candle is filling the air and I like to put out a grazing board for whomever is around.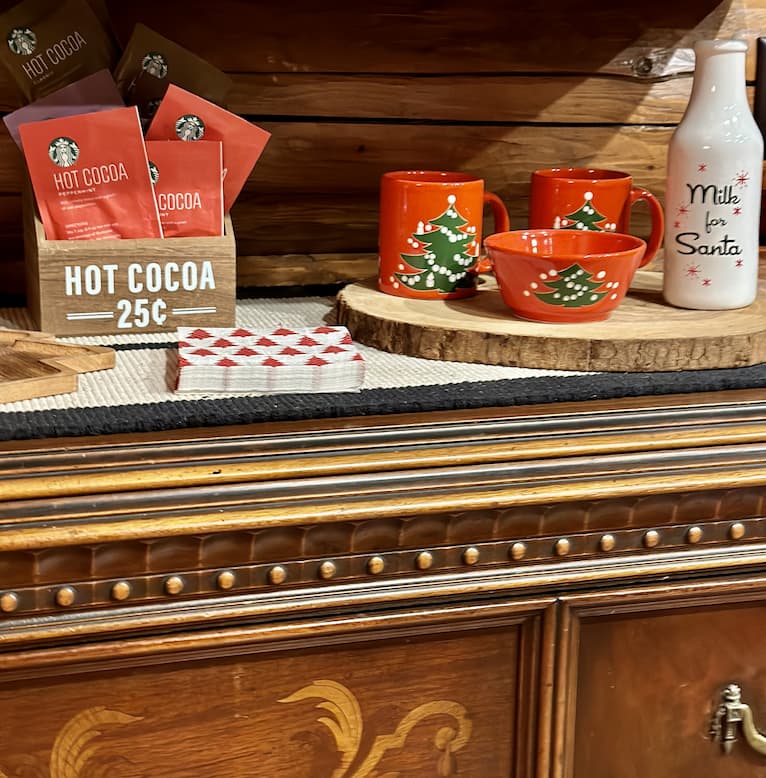 It's a great way to pull everyone together for conversation in the time before dinner. It can also turn into game time, work on a puzzle time or make a plate and go downstairs to watch a Christmas movie time too.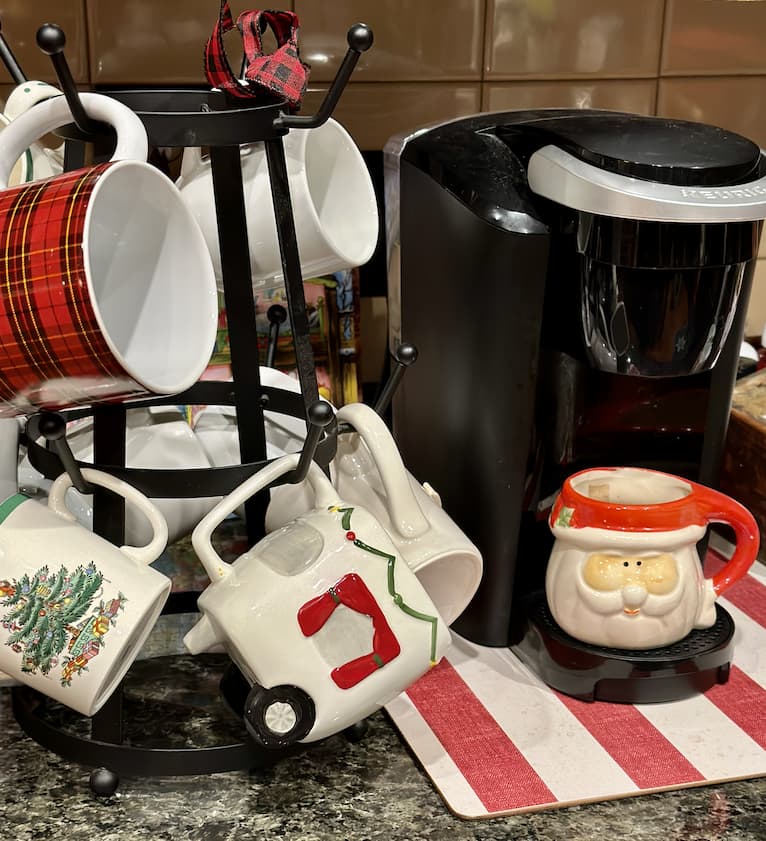 Add Ons and Add Ins
I have several spaces around the house that are styled in a way that I love to keep it all year round. So at Christmas it saves me time to leave it and just add a few Christmas touches to the area.
One example is on top of our cubbies in the entryway.
Another is our sideboard outside the kitchen where I have a line of red antique lanterns. For Christmas I just tuck in greenery and set a jingle bell edged plaid runner underneath.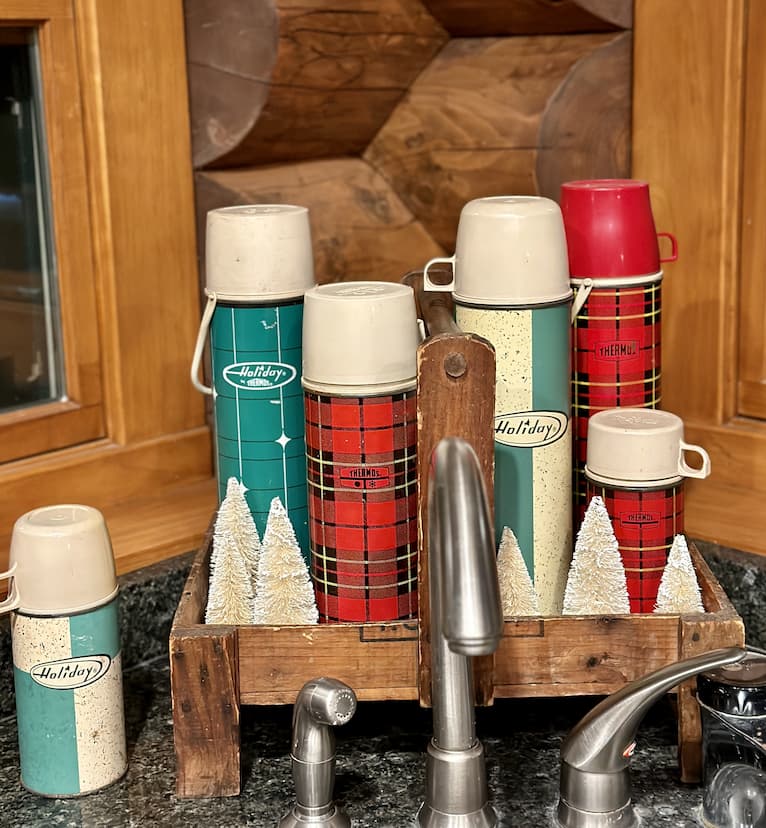 Simplify
Some years I've had 3-4 Christmas trees, and I may again. I would decorate each of them in a different theme. But, this year I just put up two and am leaving them with just lights on them.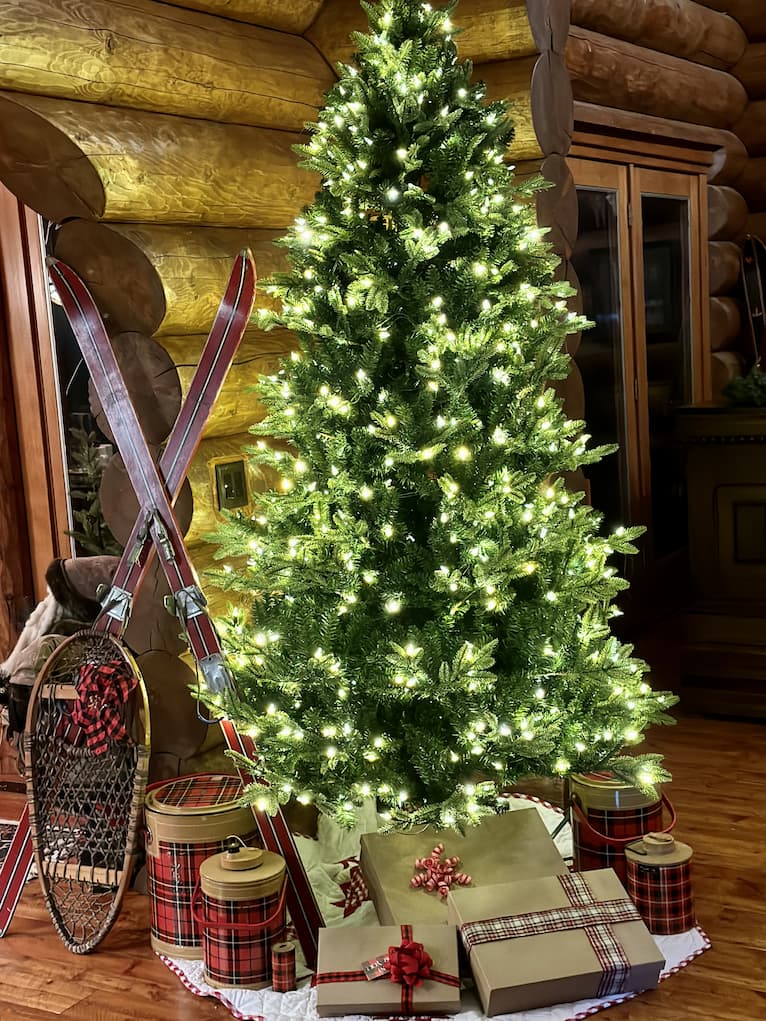 When my kids are all home I will let them decorate them during our family tree trimming party with all their special ornaments they've collected and made over the years.
I gift them a new ornament each year too at the start of the tree trimming. One that represents something about them in the past year.
Have a Plan
I always start out with a plan for how I want to decorate and it helps me start out relaxed and ready. The plan often changes as I open the boxes and begin. My creativity goes into effect and I get in the groove, but having a plan to start with frees up my brain to get creative.
The One Thing
The main way to keep things simple over the Holidays is to keep it about the one thing, the one thing that matters most and the reason for the season, Jesus.
The celebration of the birth of Jesus is the priority in our house with advent readings, calendars, the prominent spot for our nativity and more precious traditions to help us keep Him in the forefront of our minds each day as we anticipate His coming.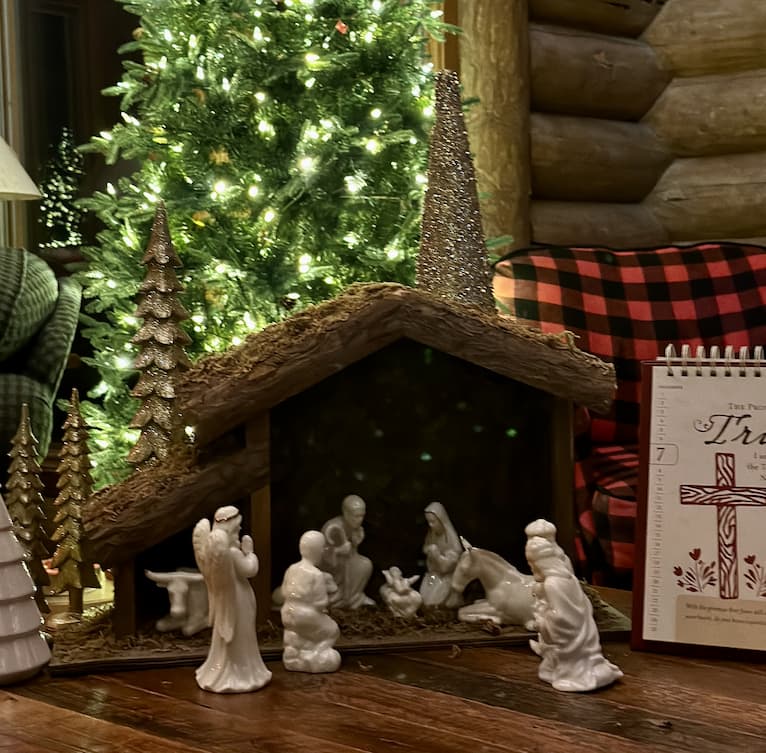 Next up, you are heading over to Designing Vibes where you will be in awe of her beautiful tour! I'm alway so inspired when I visit her home.
Enjoy the rest of the tours from the week as well.
Take the Tour
Monday December 5th

A Stroll Thru Life – StoneGable – Thrifty and Chic – Southern Home and Hospitality – Worthing Court
Tuesday December 6th

Our Southern Home – This is our Bliss – The Stonybrook House – A Pretty Life In The Suburbs – Up To Date Interiors – Shiplap and Shells
Wednesday December 7th

Whispering Pines Homestead – Calypso in the Country – White Arrows Home – Designing Vibes – Decor to Adore – Clean and Scentsible.
Thursday December 8th

CitrineLiving – Pasha is Home – County Road 407 – Simply2Moms – Southern State of Mind – Chalking Up Success
Friday December 9th

Hymns and Verses – Eleanor Rose Home – Dimples and Tangles
Get the Look


FOLLOW ALONG


Instagram ~ Facebook ~ Pinterest ~ Twitter ~ YouTube ~ Tik Tok ~ Liketoknow.it