One of my favorite things about living in The Northwoods of Wisconsin is the way kids grow up playing outside, exploring nature and being creative even in winter and snow days. They have, on average, 60″ of snow to play in, forests and trails full of animal tracks to examine and frozen lakes to skate and fish on. No matter where you live you can give your kids a Northwoods childhood, with or without snow. Here are some suggestions.

(This post may contain affiliate links which won't change your price but will share some commission.)
Make Snowballs
To make snowballs it can't be too cold outside or the snow won't pack. But when the temps are just right, you can roll snowballs into big balls and build a snowman or keep them small and have a  snowball fight!

These pretend snowballs work great for an indoor snowball fight. (Be sure to set some rules for the game first like no aiming for faces. Lesson learned!)  Set out a tub full of Floof Modeling Clay to build indoor snowmen.
Build Snowforts
When our driveway gets plowed it makes giant piles of snow perfect for building forts, slides and whole snow towns.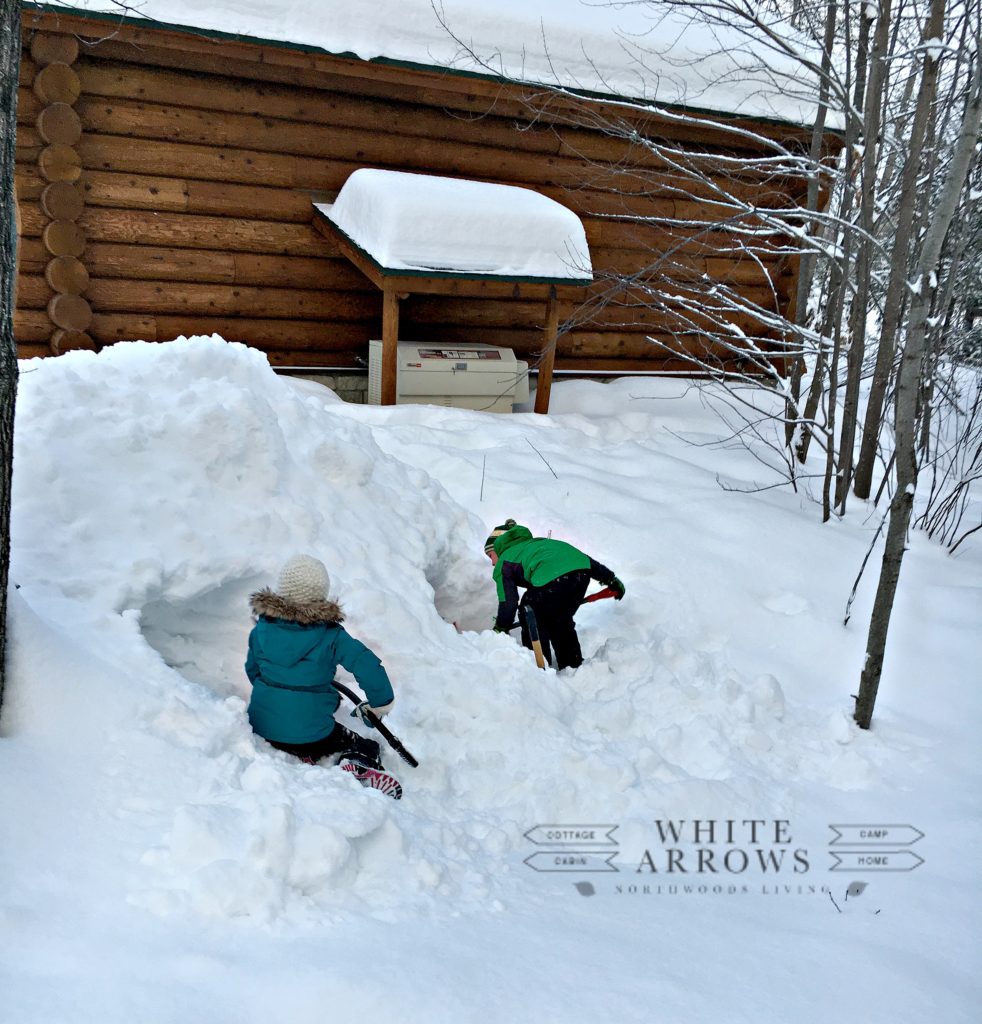 Build blocks for your fort in the snow and then spray paint your team name on it! No snow outside? Kids can still build a super cool fort indoors using just furniture, pillows and blankets or these cool igloo building pieces.
Dress For the Weather
My favorite outdoor winter gear for my kids is from Lands End. My daughter's Squall jacket and snow pants below are from their kids collection.

I also love Smartwool socks,  Bogs boots,  and North Face gear.
Hot Chocolate
My kids love enjoying a steaming cup of hot chocolate after coming in from playing outside in the cold. I like to keep a self-serve station set up so they can help themselves. See more of my hot chocolate bar in this post (There's also a free printable!)

Set up your own hot chocolate bar in your home.
Indoor Games
When a snow day is announced there are shouts of joy over no school. Then the first thing they are excited to do is start a game of Monopoly or other favorite board game.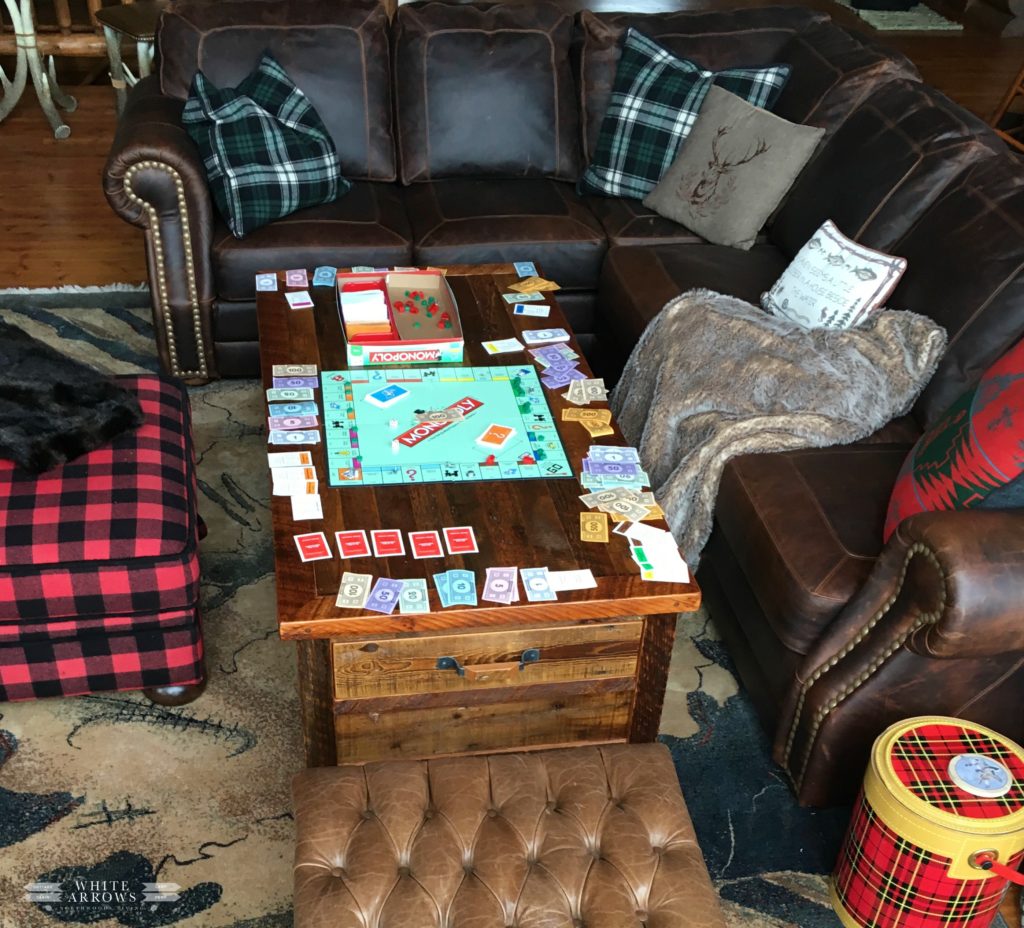 Here are a few we love. To see our top 10 favorite games check out this post.
Ice Fishing
Fishing on our lake doesn't stop with the end of summer. Once the ice freezes to a safe thickness, we pull our ice shanty (think Grumpy Old Men) out on the ice. With seating and a heater inside the little shack it is a toasty, cozy place to fish from a drilled hole in the ice and floor.

Pretend fishing can be a fun indoor winter activity too with these games and Legos.

Ice Skating
We love to ice skate and play hockey on our frozen lake out back. Don't have a frozen lake or pond to skate on? Head to the nearest Ice Skating Rink during Open Skate Hours and practice your turns and twirls!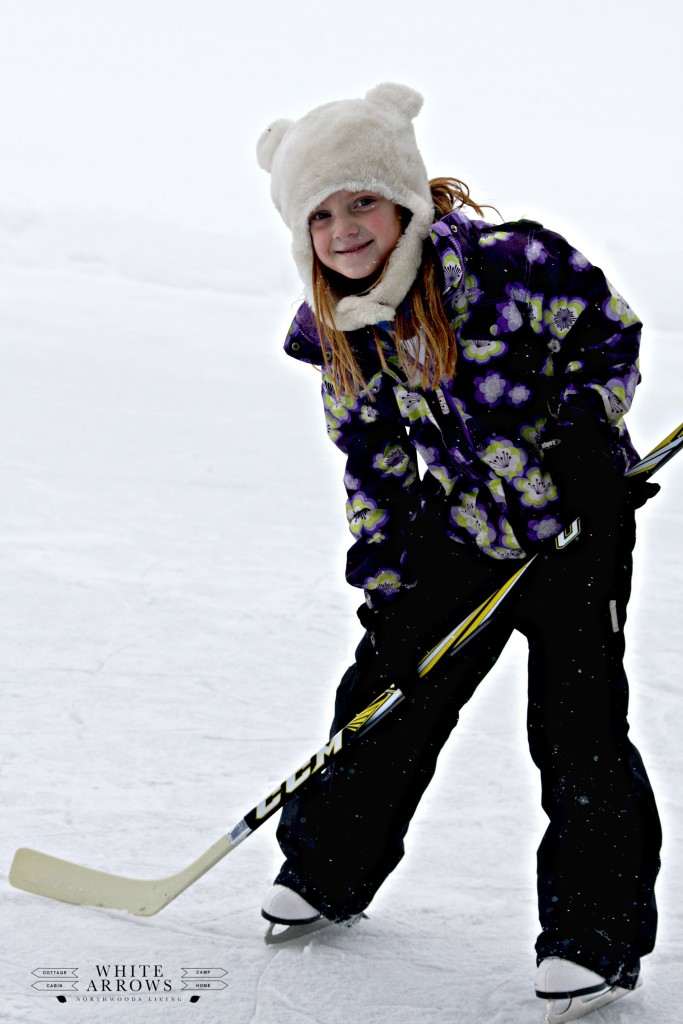 One of my kids' favorite indoor games is Shinny, where you play hockey on your knees with a squishy ball or puck and mini sticks and mini goals. They also love setting up the hockey rink for a game with mini "Hockey Guys".
Hit The Trails
There is so much to see and explore even in the winter in The Northwoods. Trails stay open and are groomed for xc skiing or available for hiking and snowshoeing.
Kids aren't too little to enjoy these fun winter activities! One of my husband's favorite things to do when they were little was pull them in our Chariot with the ski adaptation on. We would bundle them in the basket and he would strap on to harness and pull them everywhere we went. They loved the fresh air! Last week while I was snowshoeing we saw tracks for deer, rabbits and a bobcat!
More Posts For You To Enjoy



How to Make Your Home Welcoming
FOLLOW ALONG
Instagram ~ Facebook ~ Pinterest ~ Twitter ~ YouTube