Winter reads for more days indoors, cozy by the fire learning and growing in faith, self development and the pure joy of reading.
I often say, I'm lost without a book. Whenever I sit down I have a book nearby. If I'm going in the car, even to run errands, I'll have a book. What if there's some wait time? I've learned to love audiobooks- passionately. I'd love to help you:
find ideas for books to read
find more time to read
learn to love time with books
(Affiliate links are used for your convenience. Read my full disclosure here.)

HOW TO MAKE TIME TO READ
Do you struggle finding time to fit in reading? We are all so busy and even those of us that love to read can find it hard to make time. Maybe my strategy can help you.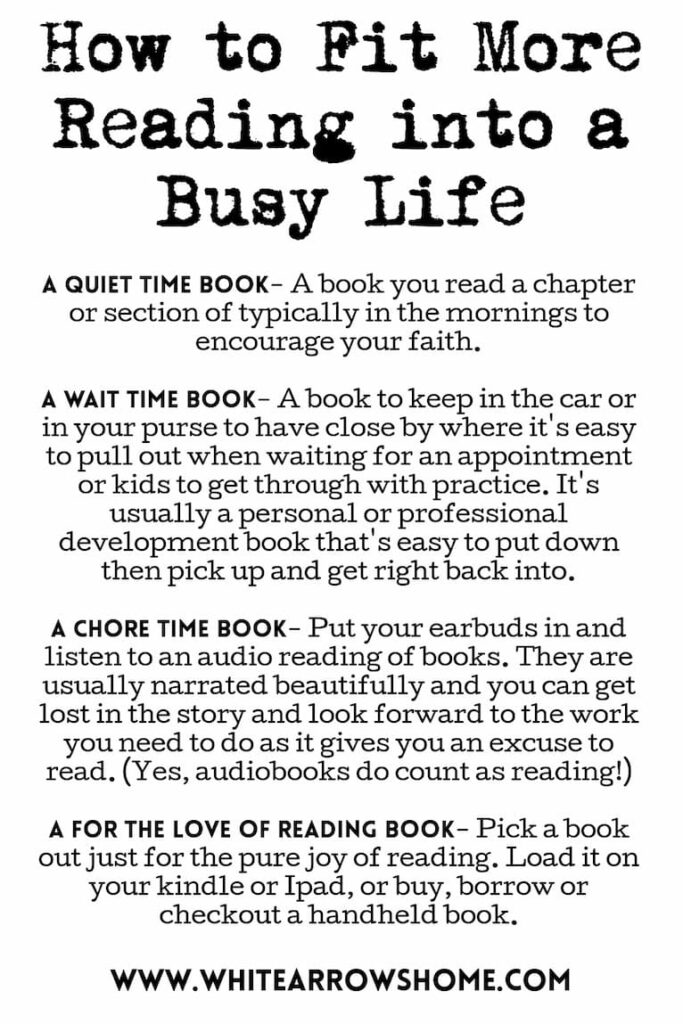 This month I've actually added in one more reading spot. I enjoy going in our home sauna and have started leaving a book inside. My goal is at least four sauna sessions for 20 minutes. So stacking in reading with it, works well for me. Find out what I'm reading in the sauna this month later in this post.
Speaking of saunas, have you heard the benefits? The cardiovascular benefits are great as well as elevated mood, and general health. Read more about the benefits HERE. Even in our small community we have a spa that has a drop in sauna/cold plunge. Check your local area if you don't have one at home.
Want to get daily encouragement? SUBSCRIBE HERE so you don't miss any posts!
Quiet Time Book
Back in December, I read an Advent book from She Reads Truth. Their Advent books have become a tradition. They publish a men's and a women's version and I not only get one for myself, but gift them to my children over Thanksgiving. It is an amazing experience to be reading the same scriptures throughout the season with the guidance in their books.
She Reads Truth has Study Books and Scripture Reading Plans for anytime of the year as well as other resources and a podcast.
This month I'm readingThe Mothers and Daughters of the Bible Speak by Shannon Bream. I had read her Women of the Bible Speak and I learned so much, I was excited she published another one.
In this book biblical characters' stories are shared as examples of real faith lived out as God's plans unfold in ways they they couldn't even imagine. There is a lot of encouragement as we read these stories and Bream gives us more historical background and understanding behind the story.

Read The Mothers and Daughters of the Bible Speak with me!
Wait Time Book
Last month I read  Be Our Guest by The Disney Institute.
This month I'm reading Discipline is Destiny by Ryan Holiday. My dad gets the credit for introducing me to the Stoics. After he retired he and some his friends started a Stoic Club, where they discuss the books they are reading and stoic principles. I never spent much time on Philosophy in my school studies so it has been interesting to learn more about these great philosophical giants.
One of the reasons Stoicism has become more interesting to me is because of the work of Ryan Holiday. His book Courage is Calling was one of my past month's reads and I was very excited when his second in the series, Discipline is Destiny came out a few months ago. This series will each focus on one of the four pillars of virtue:
In this book Holiday uses, as he does so well in all his books, stories of historical figures- Eisenhower, Teddy Roosevelt, Queen Elizabeth and many more, to demonstrate the powerful effects of Self Discipline, the virtue of Temperance. It's a guide to master ourselves- emotions, thoughts and actions.

Read Discipline is Destiny with me!
More by Ryan Holiday


Join my Fireside Book Club over on Facebook. Request to join HERE.
For the Love of Reading
Last month I read All That We Carried by Erin Bartels. She's one of my favorite Midwest authors.
This month I'm reading The Snow Child by Eowyn Ivey. It seemed the perfect fit for a Winter read. I spent a great deal of time yesterday by the fire watching the snow outside while I read this one.
It's the magical story of a couple in the 1920s who are still trying to come to grips with the loss of their child. A move to the harsh frontier of Alaska will either bring healing or disaster. In a rare moment of joy, they build a snow girl during the first snow fall. The next day she appears to have come to life.
This is Ivey's first novel. She weaves a tale for the reader in a cold, desperate setting. Will love be able to warm the characters enough to give them all the family they have always dreamed of or will the end with this with this mysterious child from the woods not be what it seems?

Read The Snow Child with me!
Chore Time Book
The last two months I have listened to eight books and I have a new favorite author. At bible study a new friend recommended The Restoration Chronicles, by Lynn Austin. I listened to them eagerly one after the other and then went to see what else she had written choosing another of her series, Chronicles of the Kings. There are five books in the Chronicles of the Kings.
My bible study is doing an Isaiah study right now and several of the Chronicles of the Kings books cover King Hezekiah and the prophet Isaiah. Lynn Austin really brought the characters and the times to life for me, making this Isaiah study so much richer.
This month I'm listening to If I Were You by Lynn Austin. This book, unlike the others I read the past few months is in more recent times, not biblical. It takes place before, during and after WWII in England and then America.
I read a lot of WWII historical fiction, but this has been one of my favorites. Her character development and understanding of the times comes out so clearly keeping me entranced. The mystery unfolding does as well as we learn more about the deep friendship between a girl of the gentry and her former scullery maid and how one ends up pretending to be the other.

TIP: As you get used to listening to audiobooks you can speed up the sound by touching the 1X in the bottom left corner of your device. I usually listen at 1 1/2 and am able to get through books much quicker and make time for more!
I have really enjoyed the narrators of the Lynn Austin books I've listened to so far as well. That really adds a lot to the story, to hear the accents and names pronounced correctly.
Listen to or read If I Were You with Me!
More to Read This Month
This is a month I've been able to fit in more books. Here's the rest of what I'm reading:
I start each day with a devotion from Prevail by Susie Larson. A dear friend gifted it to me. It really speaks to my heart. Looking for a great "just because" gift for a friend or a way to encourage one in need? This book is a great idea!
My local bookclub is reading Spare by Prince Harry. I wasn't sure I wanted to read it, but want to be part of the discussion. Let me know if you've read it and your thoughts.
I am working always working on ways to be a better leader. This month I picked up The Five Dysfunctions of a Team by Patrick Lencioni. It's my sauna book (I shared about up above.) As the owner of a business I care a lot about what kind of leader I am and how I can build a strong team. I care just as much about what type of teammate I am.
Looking For More Ideas?
You can find links to other books I shared HERE. I keep a Pinterest Board called "What to Read Next". You can start one too pinning the photos from this post.
Books This Month
FOLLOW ALONG
Instagram ~ Facebook ~ Pinterest ~ Twitter ~ YouTube ~ Tik Tok ~ Liketoknow.it