I'm sharing 5 ways to set an everyday summer table to make meals feel special all season long.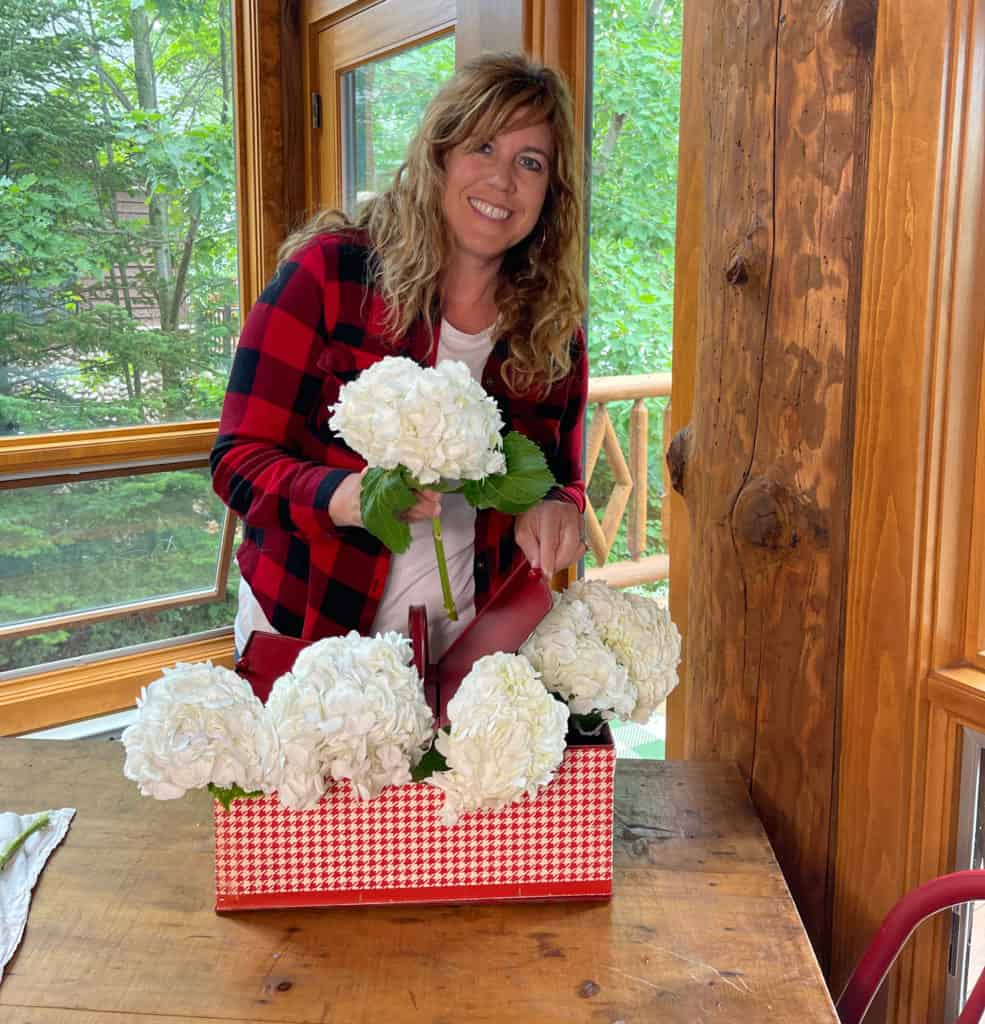 Eleven home decor bloggers come together today for a hop hosted by Pasha is Home. I'm so excited to be joining another one of her tours! Thanks for organizing and including me Pasha!
(Affiliate links are used for your convenience. Read my full disclosure here.)
If you are coming over from The Tattered Pew, welcome to White Arrows Home. Didn't you love Kelly's table in blues and terra cotta? I'm so inspired by her Colorado home inside and out and would love to have time at her outdoor table.
Thanks so much for coming to visit our lakeside log cabin home in The Northwoods of Wisconsin. Like Kelly, I also love to entertain and spend time enjoying the spaces inside and outside our home.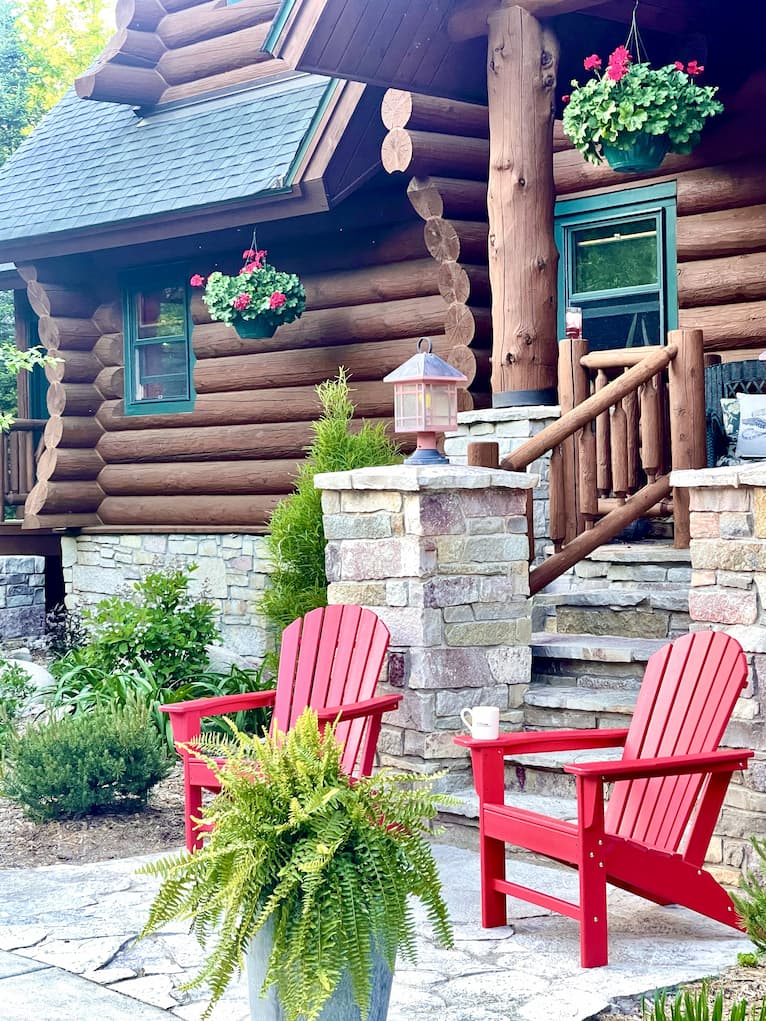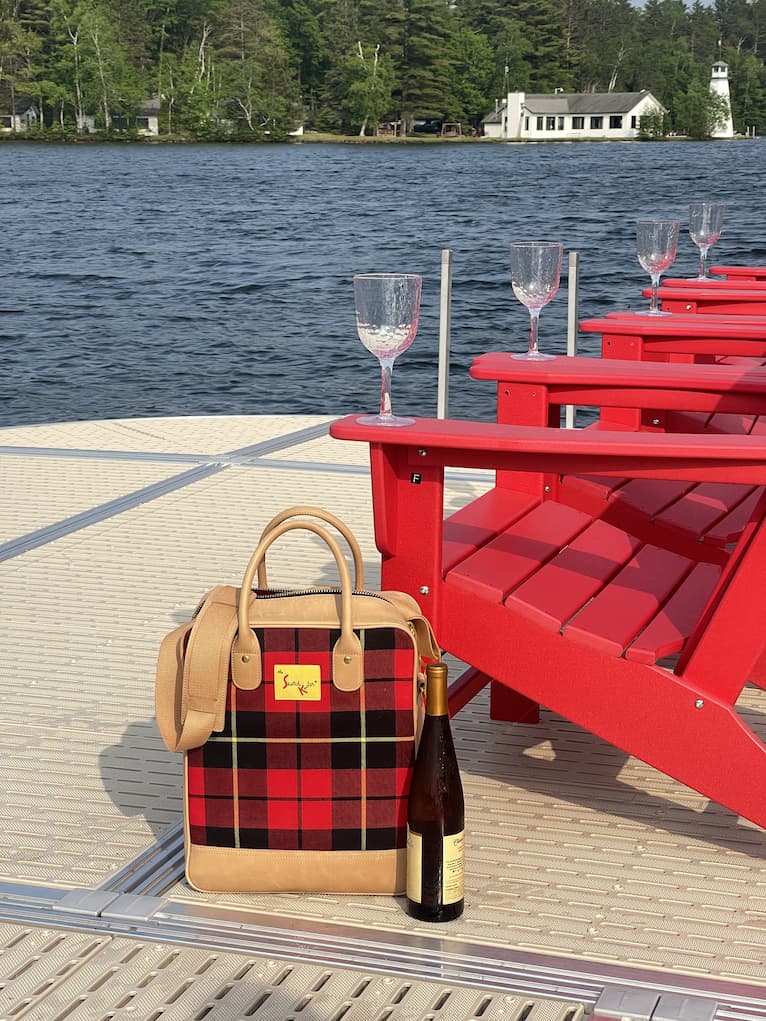 The Summer Table
One of my favorite places to spend time over the Summer is gathered around the table. It's one of the places where the best conversations happen, where we are focused completely on each other (no phones!) and where the best stories get told.
I like to keep my table set at all time with some basic pieces so it looks welcoming and inviting and ready to sit at. I also like it to look pretty when I walk past it during the day. Having a few things thought out, set out and ready to go or easy to grab gives me more time to enjoy Summer activities, like enjoying the boat, rather than spending time getting things ready.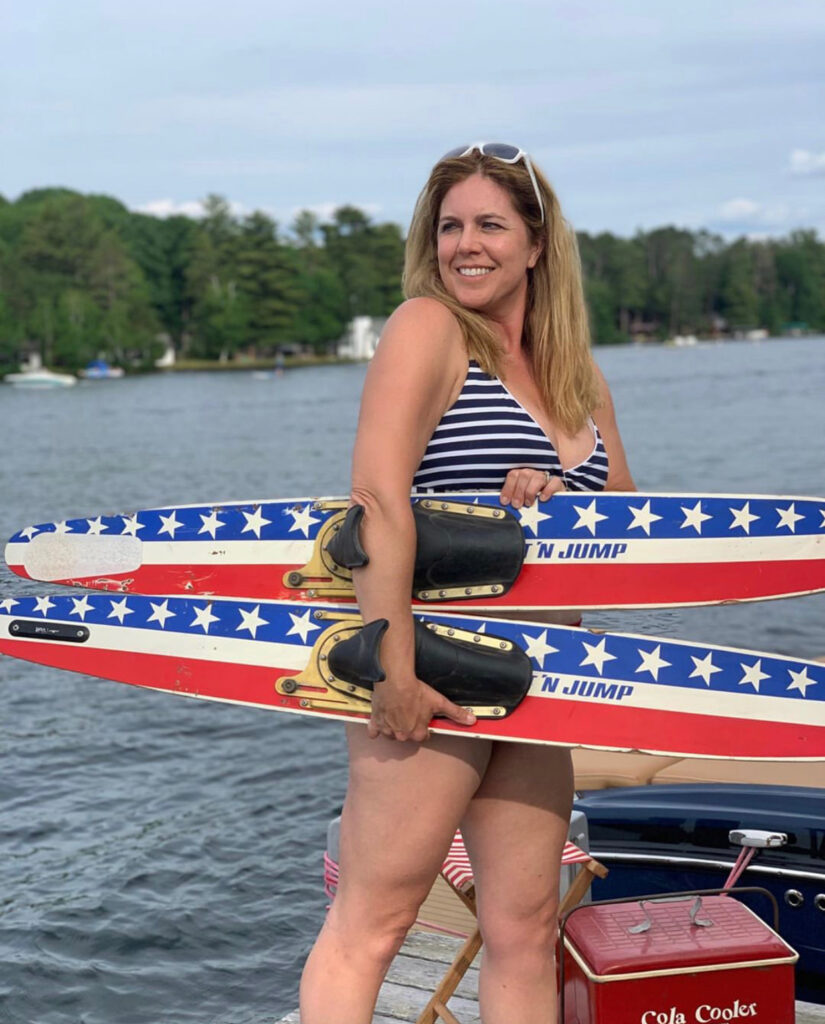 Everyday Table Essentials
Centerpiece
Table cloth or placemat
Napkins
Dishes
Glassware
Silverware
Quick Way to Set the Table
One easy way to make the table beautiful is to showcase vintage items. It's a creative way to use some collections and finds in a different way. For my Summer patriotic table I used one of my old plaid camp blankets as a table scarf. Because it's too small to cover the whole table, I turn it sideways at an angle.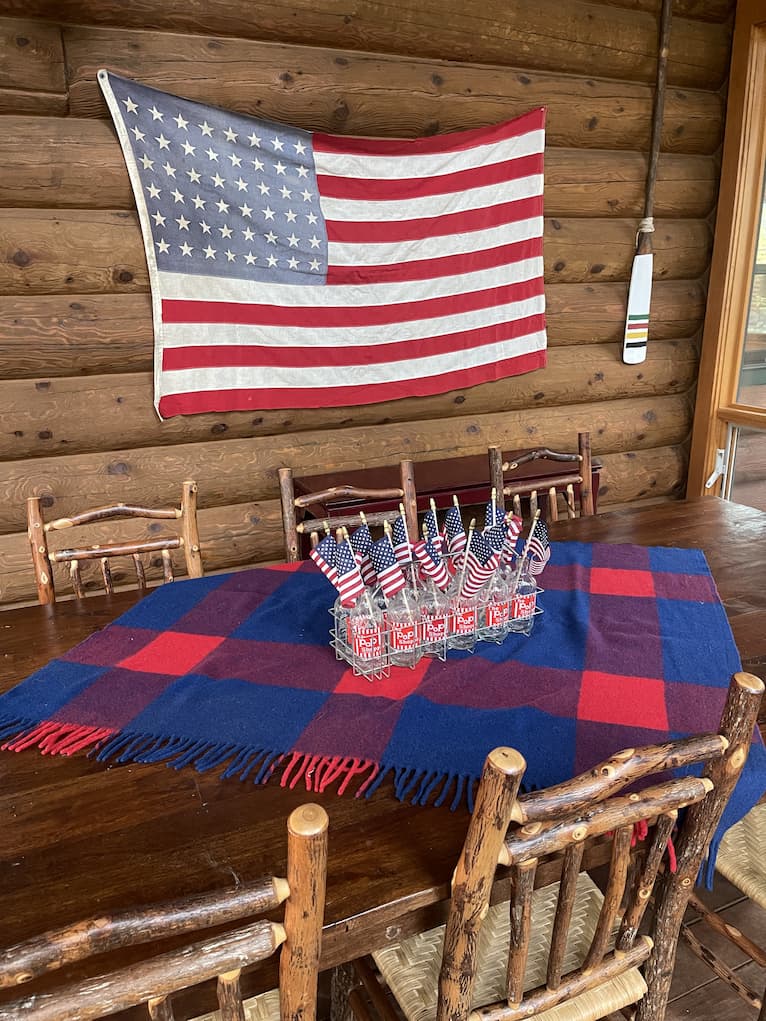 Throwing the blanket on took seconds and so did this centerpiece. A metal carrier full of vintage soda bottles holds one flag in each bottle. I've also used red geraniums, daisies or gerbera daisies instead of flags.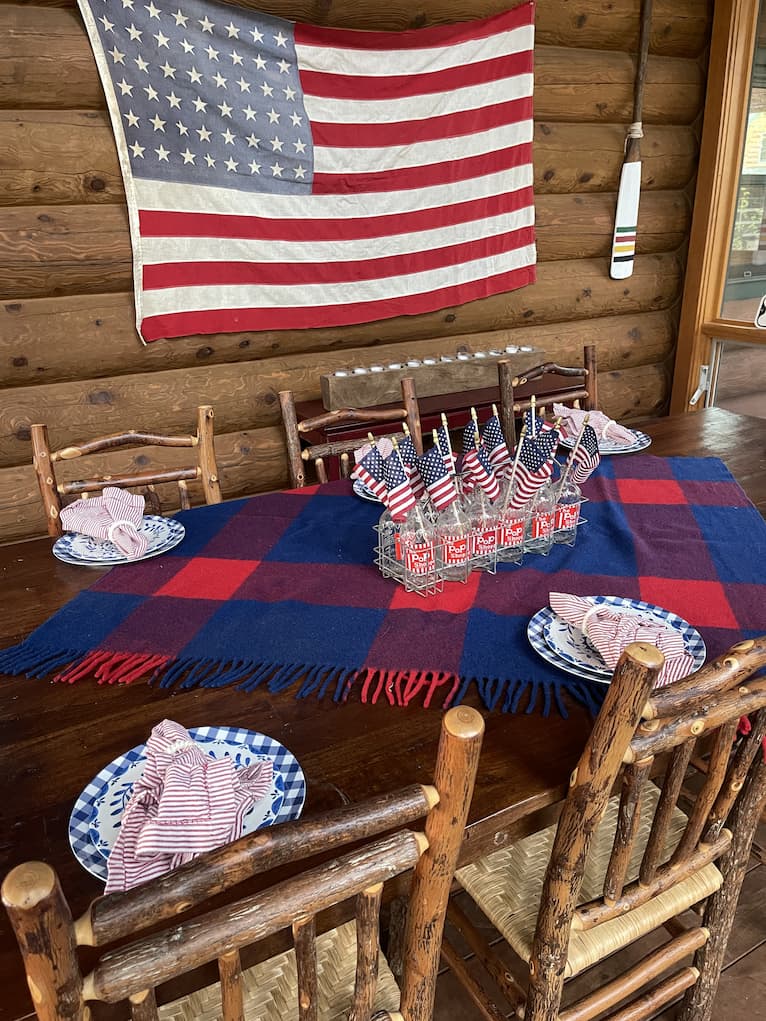 Summer Drinks: One of the ways I keep setting the table easy in the Summer is to set up a drink station in the kitchen or at the bar. Everyone can get their own drink ahead of time and bring it to the table with them. No need to set out extra glasses that won't be used.
I keep water out throughout the day mixing up the add ins to make it refreshing. Read more about my tips for staying hydrated in THIS POST.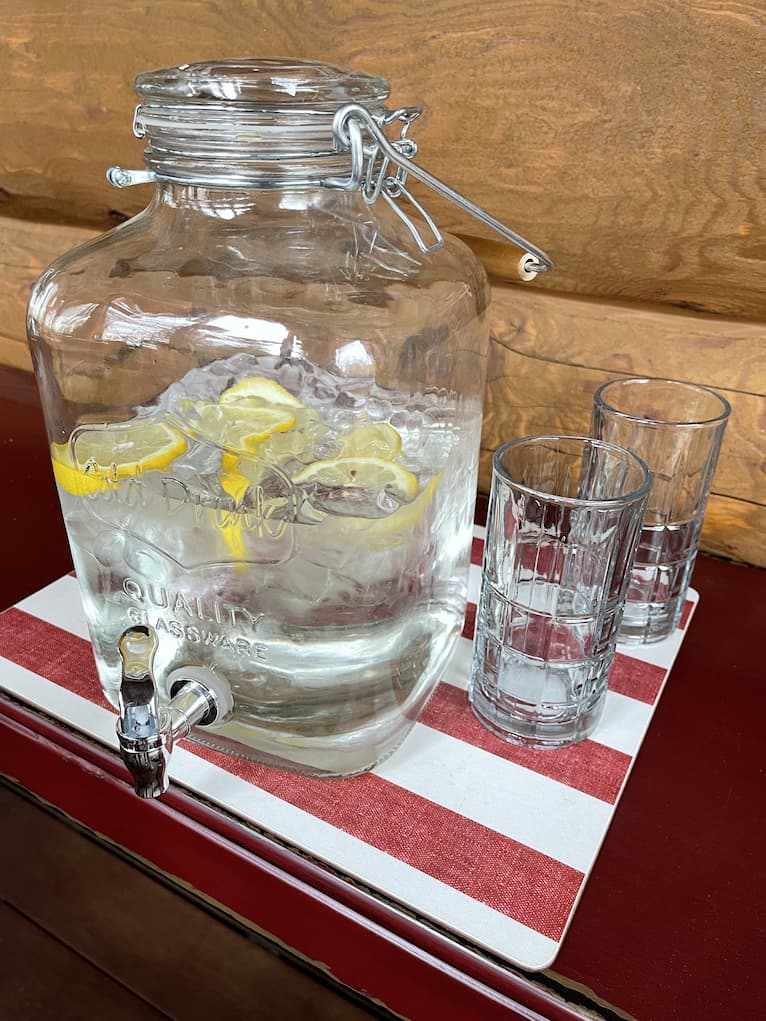 A self serve Summer cocktail bar is great when we have grown up guests over.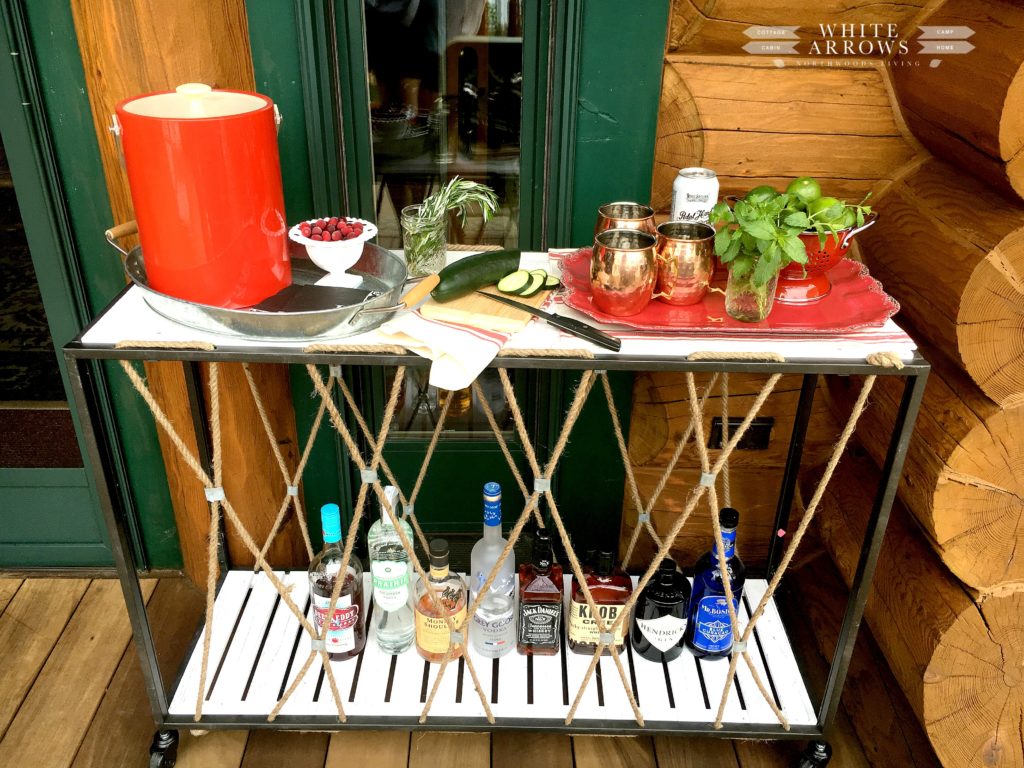 Here's a favorite Summer cocktail.


Make Morning Meals Meaningful
Sometimes breakfasts in the Summer are a big brunch affair, with everyone sleeping in a bit later and giving me time to prep a larger selection of breakfast favorites. I'll usually set out a yogurt parfait station, have some kind of meat like bacon, eggs or egg bake and a coffee cake or french toast. The options for brunch are endless and fun. You can see lots of ideas on my Pinterest board.
But sometimes Summer mornings are quiet where people trickle in one at a time or a few at a time. I get up early in the mornings, so can enjoy this one on one as my family comes in having a little spot set up for a slower, intimate start to the day.

A quick and easy centerpiece uses a vintage container and some hydrangeas. I simply use mason jars to hold the water and stems keeping my tin safe.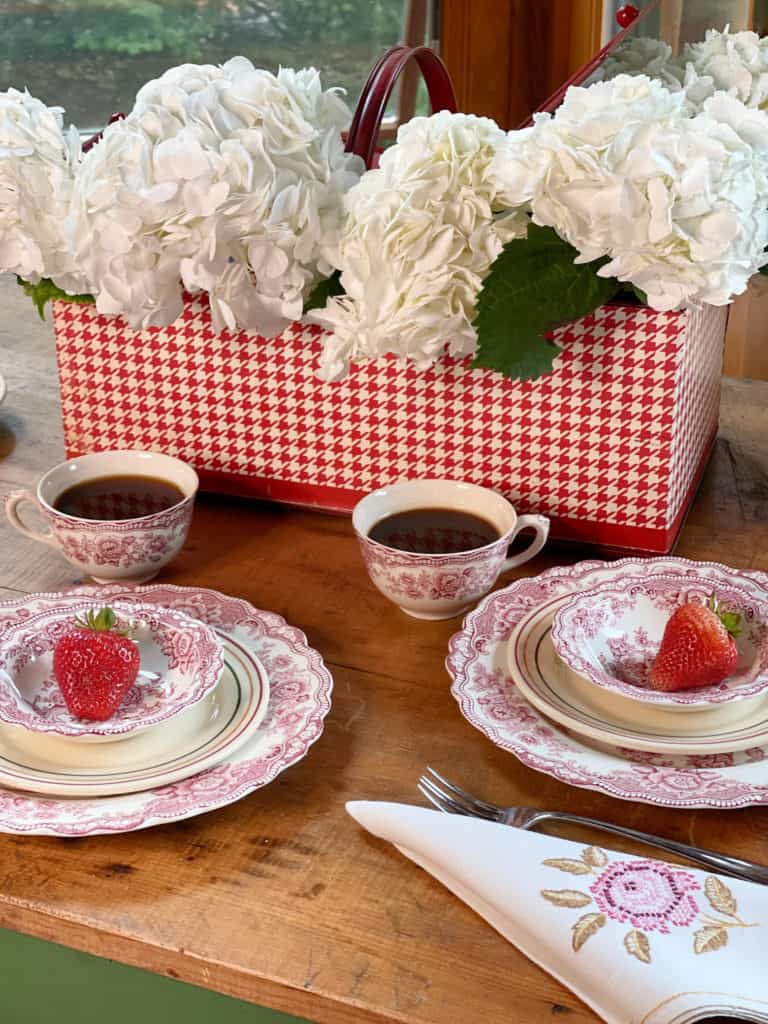 Dishes: It's a great excuse to mix up different dishes during the week to fit the color or theme. Pretty dishes are a quick way to make a meal feel special. And I believe in using the heirlooms and special pieces we have, not keeping them stored away.
Set a Table For Two or Three or More
A fun thing to do in the Summer is to invite a few friends over for a simple meal. It's a great excuse to get together with girls you haven't seen in a long time or someone you want to get to know better.
Have the moms come along to the Summer play date and while the kids play have a pretty table set for conversation.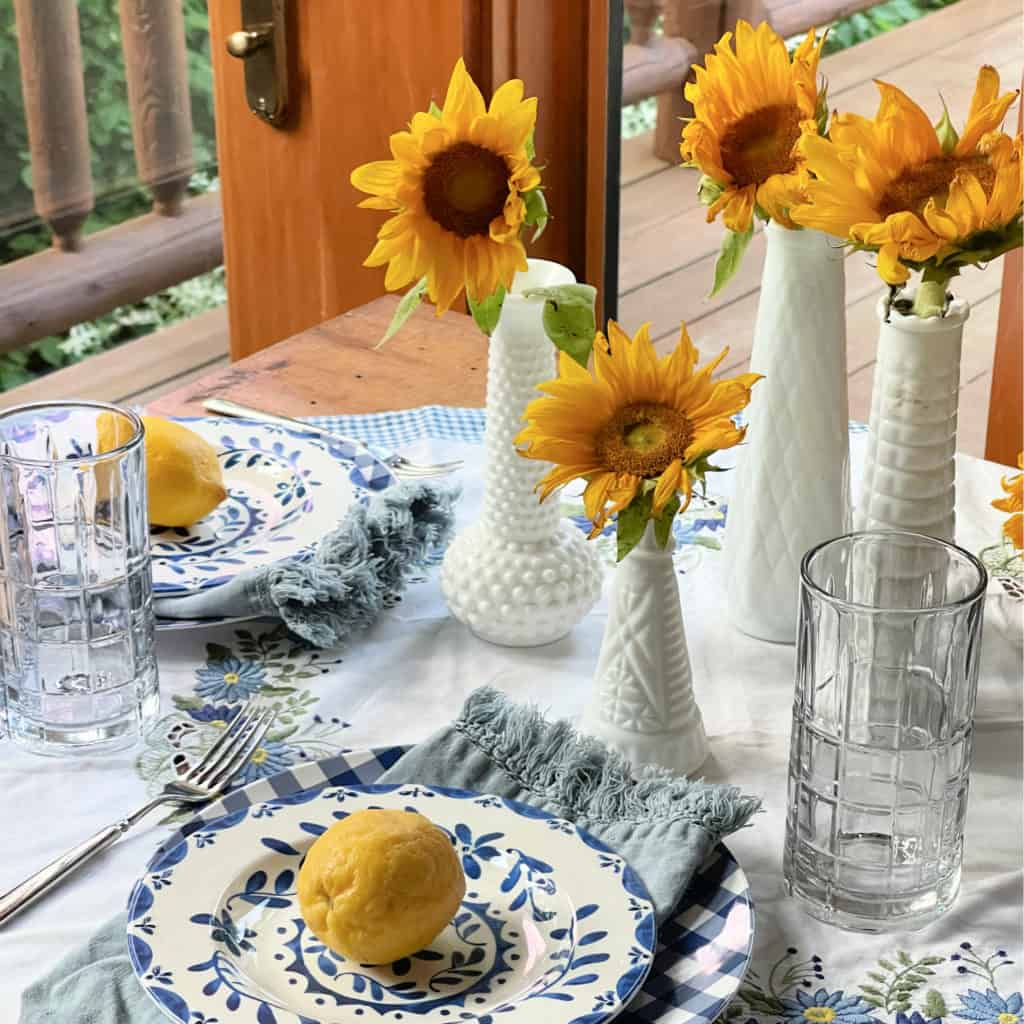 Centerpiece: A quick centerpiece comes together with fresh cut flowers or a bouquet from the grocery story and adding one stem into a milk glass vase.


This simple table uses a mix of old and new, a needlepoint table cloth from one of my Thrifting With the Gals adventures and newer melamine plates from Walmart.
The yellows, blues and whites are so cheery! And I'll keep with the lemon theme serving lemonade and a lemon treat.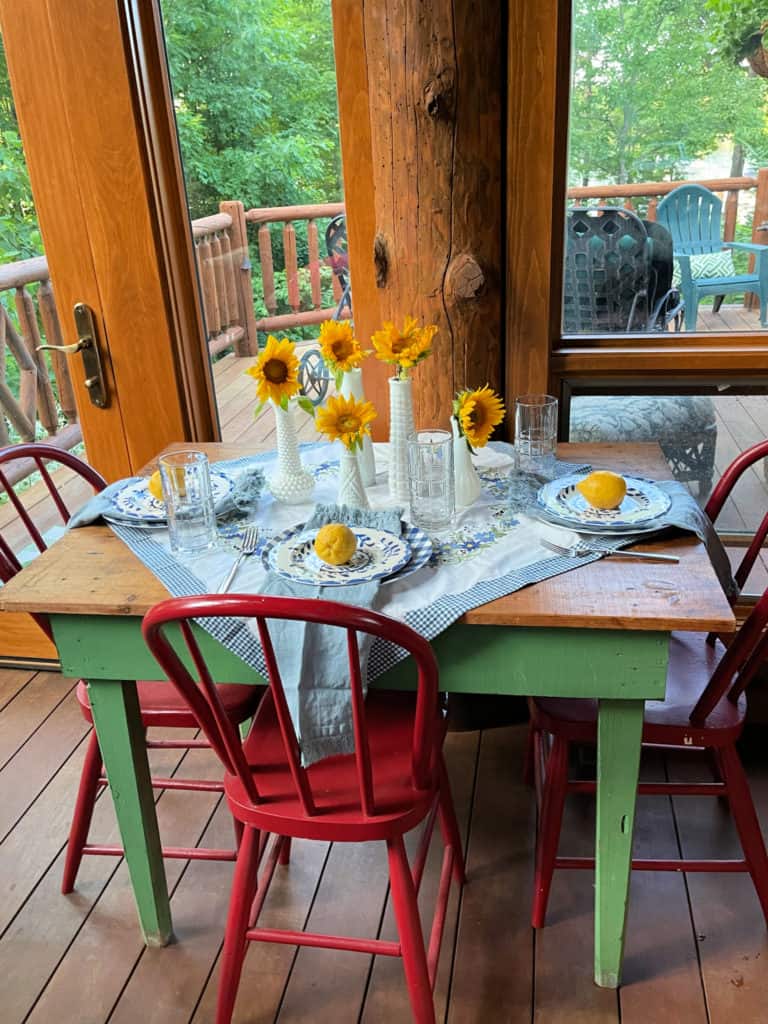 Want to get daily encouragement? SUBSCRIBE HERE so you don't miss any posts!
Here are some of my favorites and my lemon melt aways.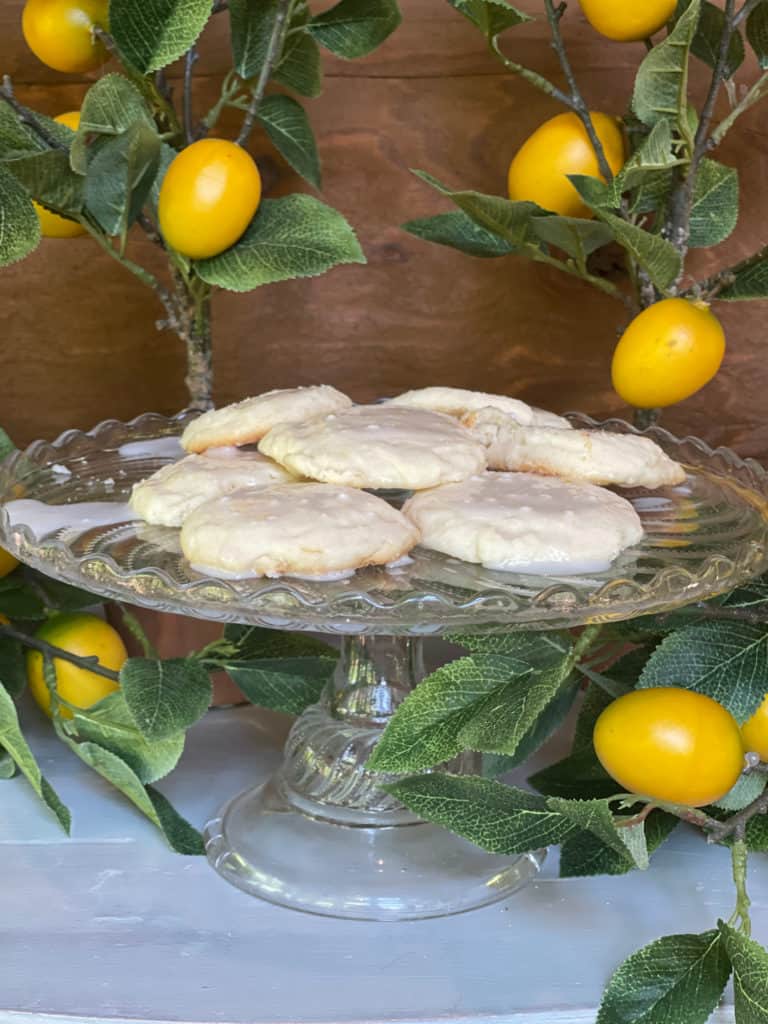 Have the Table Ready and Waiting
The bandana pattern of this table runner is so perfect for Summer. My everyday table often has a table runner and placemats with napkins. Unless there's something messy we reuse the napkins for a few nights, (everybody usually sits in the same seats so uses the same napkin.)
I don't know if your family is like ours, but there are regular seats for each person. Now, I'm not naming names, but there are a few of my kids who will go to war over their spot. We realized this when they went off to college and one of the littles moved into their spot. When they came home on break and went for the same seat quite the debate followed! A few others don't really care, but just follow the routine.

Our roadsides are full of daisies and ferns so they felt like the perfect accent for the center of the table. My vintage tin tote is the perfect holder for these potted plants. After a week on the table they can be planted in the garden. What a bonus!
Our salt and pepper shakers were painted by my younger daughter at the local pottery studio to look like our dogs Honey and Scout. Since then Scout passed away, but Zuri, our Berner puppy is in the family now.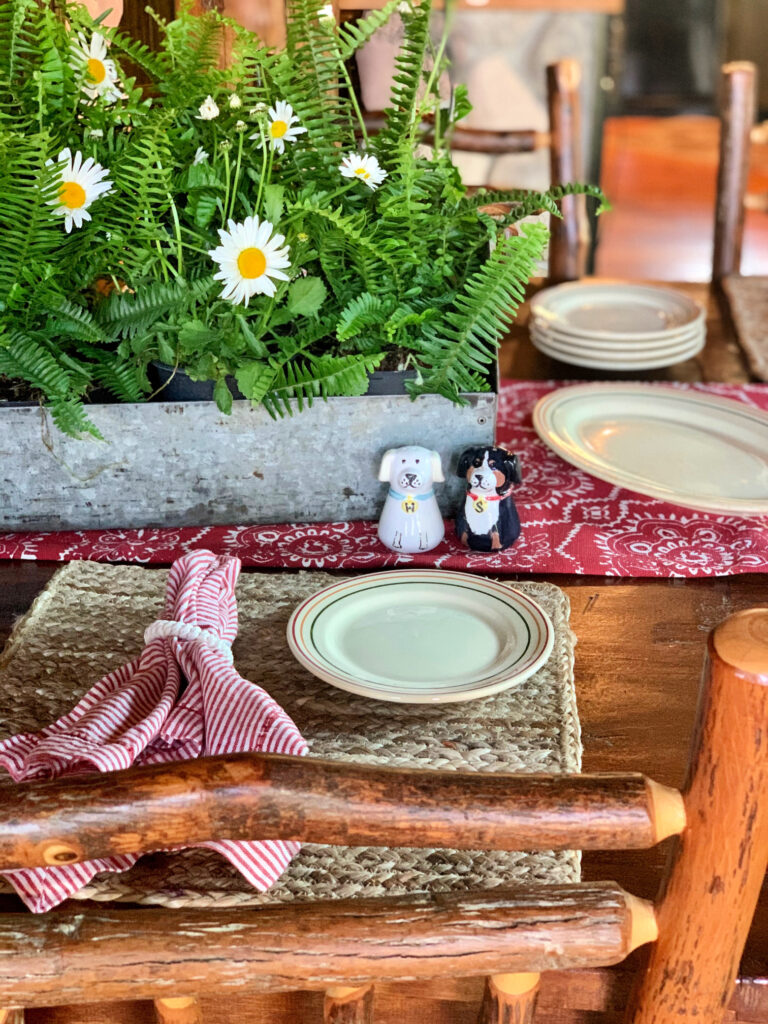 Inspiration: Find your inspiration in nature and what makes the area you live in unique. Like I did with the ferns and daisies.


Dining Outdoors
Eating outdoors during Summer is one of the highlights. With our lake views and under the string lights, it's magical. Here are two different tablescapes in the same space.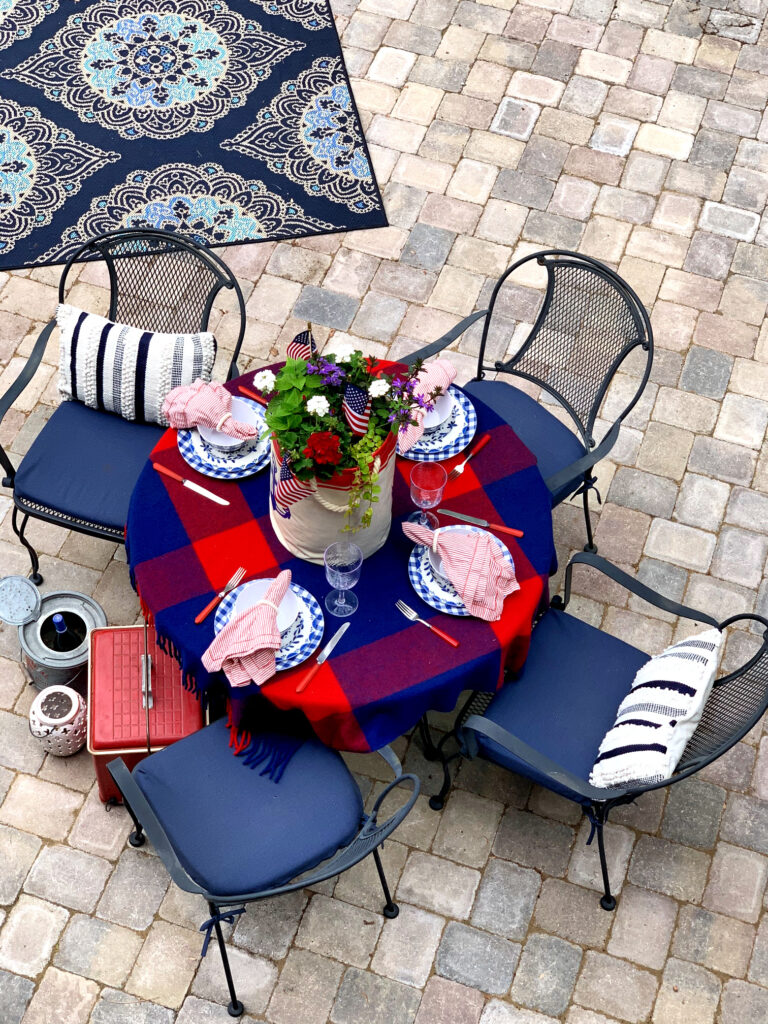 One of my projects this Fall is turning my laundry room into shared space as my dish and entertaining storage. I'm so excited for this! One of the things it will let me do is see all my items at once and pull things together. I can even stack table settings together ready to grab and go for a quick setting.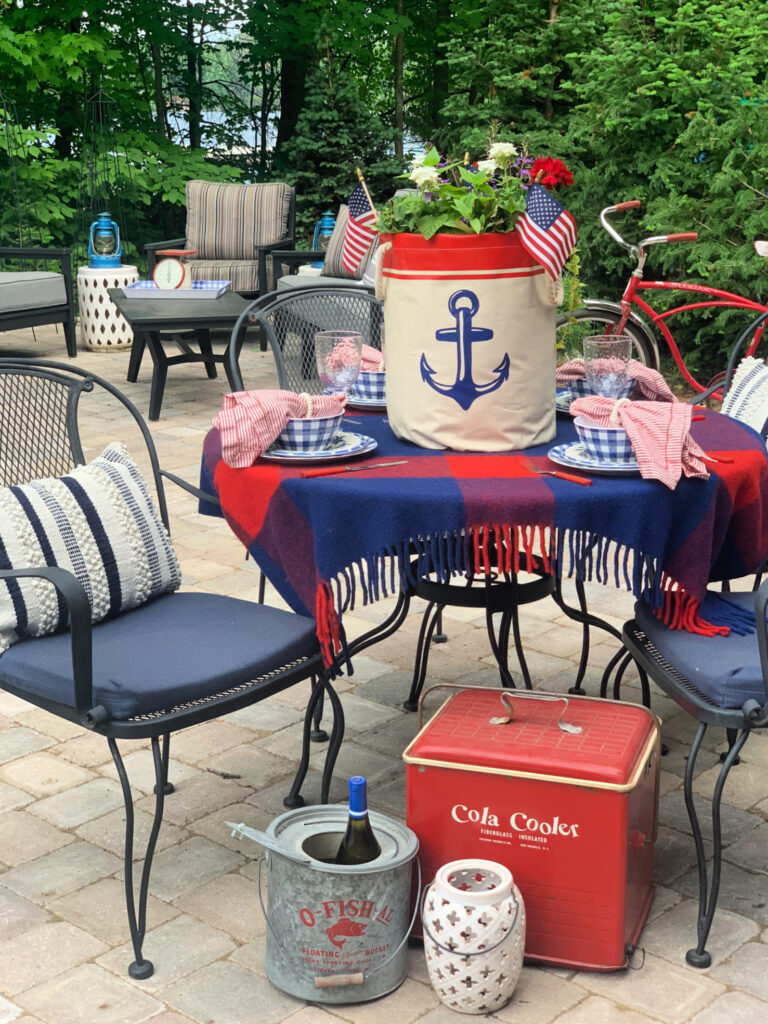 In the evenings I usually set out a charcuterie board in the early hours as dinner is being prepped or grilled. On the patio I love to add some simple decor to the outdoor living room space as well to tie it in with the table.
We will sit on the sofa and chairs and enjoy the snacks and some drinks before coming to the table.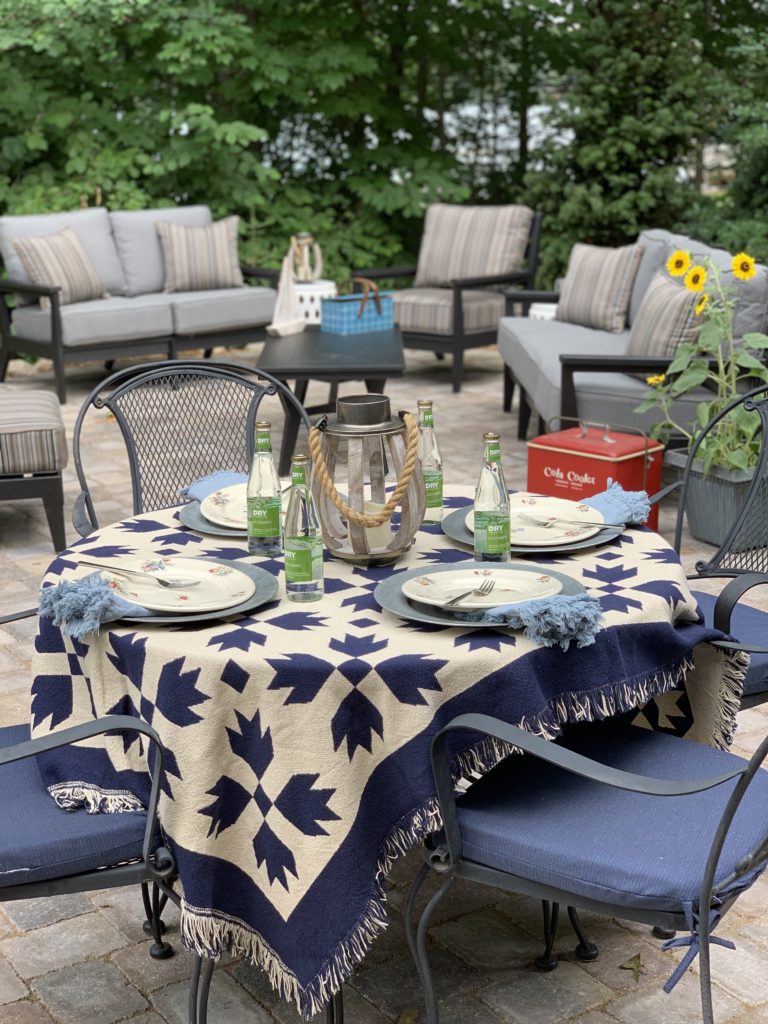 On this table I used a quilt patterned throw as the table cloth, tin chargers and thrifted dishes. A fun bottled beverage is waiting to enjoy. A simple battery operated candle lantern is the centerpiece.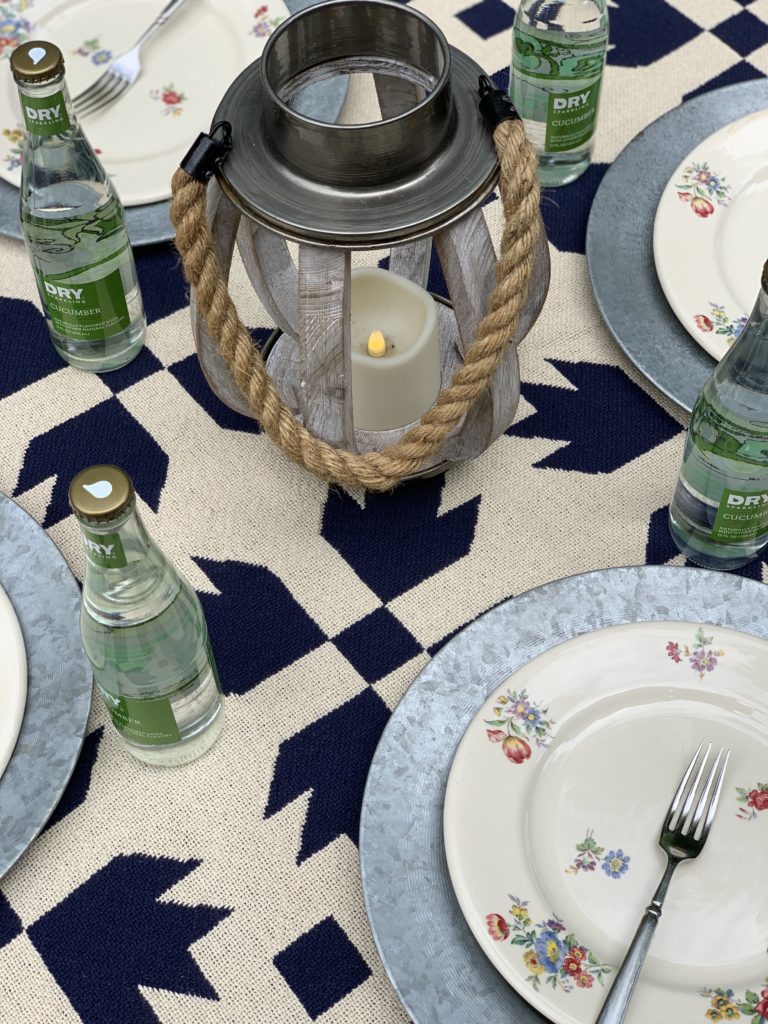 Thanks so much for visiting! I hope you are inspired to take time to set your table this Summer whether for a big family meal, an intimate breakfast, a gathering of friends or dining al fresco.
Next up, you are back to the beginning of the tour at my friend Ann's of Dabbling & Decorating in her lovely home in Maine where she's sharing her beautiful guest bedroom.
Take the Tour
Summer Inspiration from Eleven Talented Bloggers

Small Cottage Guest Bedroom, Vintage and Delightful // Dabbling & Decorating
Five Simple Things That Look Good on Your Summer Mantel // Robyn's French Nest
Five 4th of July Party Ideas That Will Sparkle // Pasha is Home
DIY Summer Disco Ball Planter // Tater Tots & Jello

Lemon and Floral Summer Kitchen Decor // Willow Bloom Home
Five Minute Simple Summer Centerpiece // Midwest Life & Style
5 Affordable Summer Decor Ideas for a Small Front Porch // Simply 2 Moms
Seven Amazing Ways To Have A Memorable Summer // Cottage in the Mitten

DIY Star Neutral Wreath for Summer // The Pond's Farmhouse
An Outdoor Summer Tablescape Using Blues and Terracotta // The Tattered Pew
5 Ways to Set An Everyday Summer Table // White Arrows Home
FOLLOW ALONG
Instagram ~ Facebook ~ Pinterest ~ Twitter ~ YouTube ~ Tik Tok ~ Liketoknow.it