The bright color of Summer flowers at the cabin is such a welcome sight after months of snow and cold temperatures. They bring so much joy.
(Affiliate links are used for your convenience. Read my full disclosure here.)
We have long winters here in The Northwoods of Wisconsin. Snow often starts in October and doesn't full go away until the end of April, beginning of May. So we can't wait for Summer Flowers at the Cabin.
Many years our lake doesn't thaw open until May! It freezes hard and thick enough for trucks to drive on!
We love Winter up here and still have so much to do and enjoy, but about April we start getting excited to see all the bright flowers of Summer ahead! We will enjoy every moment of the season and the beauty it brings. Here are some of the flowers I like to have around our cabin.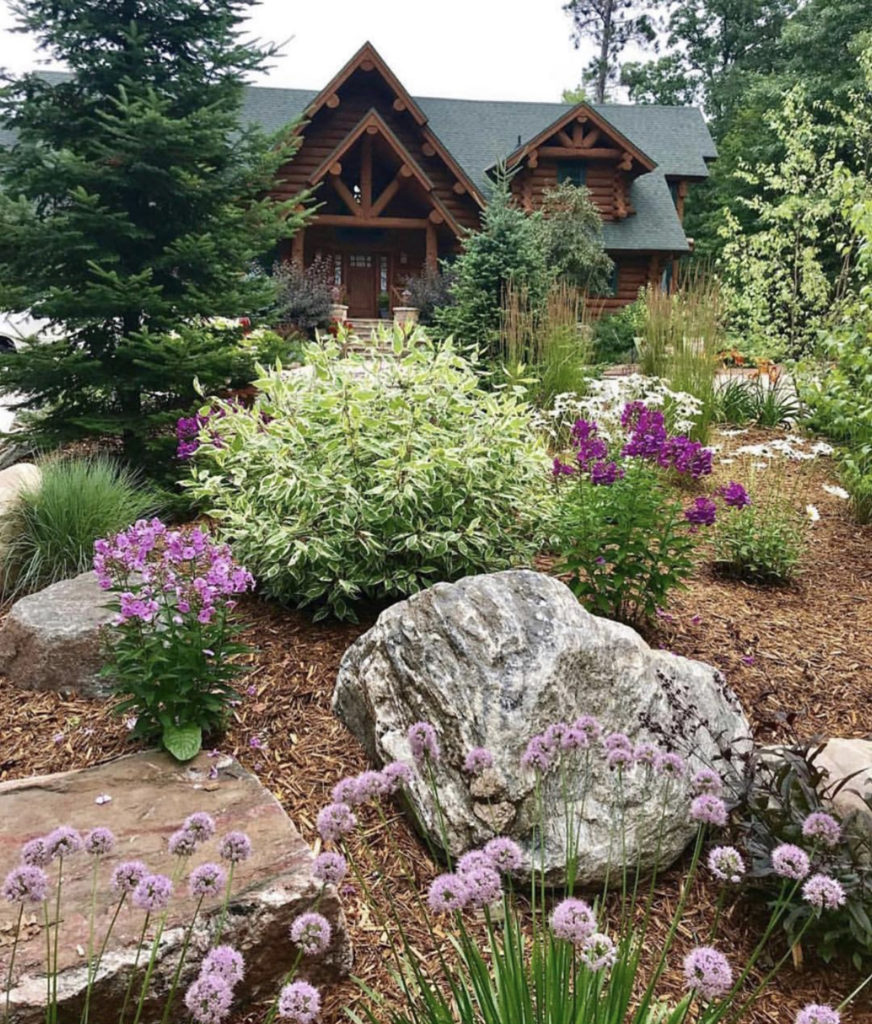 I found this fun Garden Walk sign at a local antique shop. Each week some of my Instagram friends and I go #thriftingwiththegals and share our adventures as we are on the hunt for treasures. Then each month we do a blog hop together. See some of the POSTS HERE.
I always have red geraniums on the porch. You can also see one of my old metal buckets I planted. We drilled holes in the bottom of the bucket so it can drain.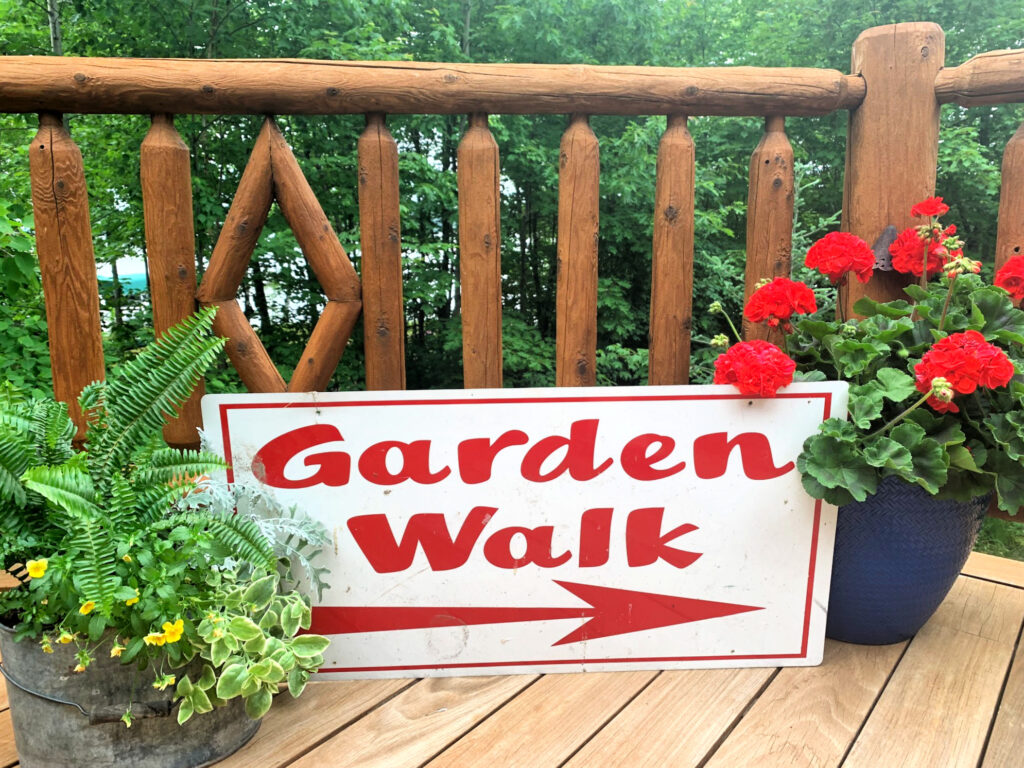 Garden Projects
I had an old bench that I wanted to put in the garden so I gave it a quick and easy makeover. The whole project is shared in THIS POST.
I planted flowers in another old vintage metal container to put on the bench. I don't keep my vintage camp blankets out overnight or in bad weather, just sometimes.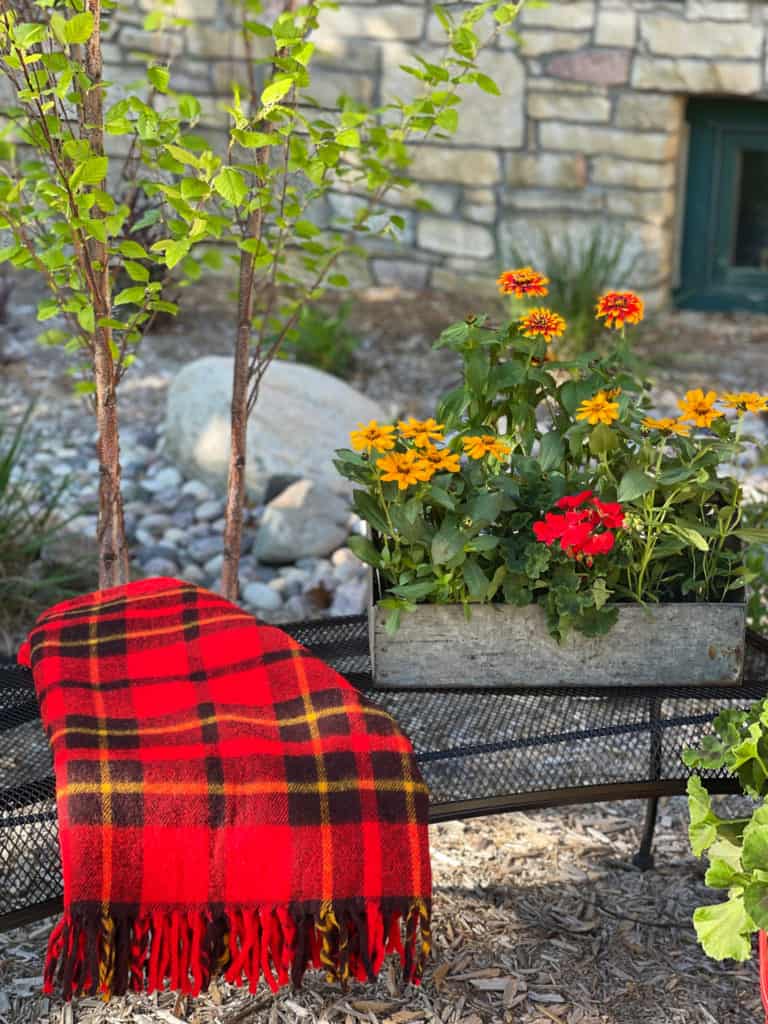 Vintage in the Garden
Where I can I love to add vintage items into the garden without overdoing it. I have this old green wagon that I have fun planting and a few old sprinklers become garden art.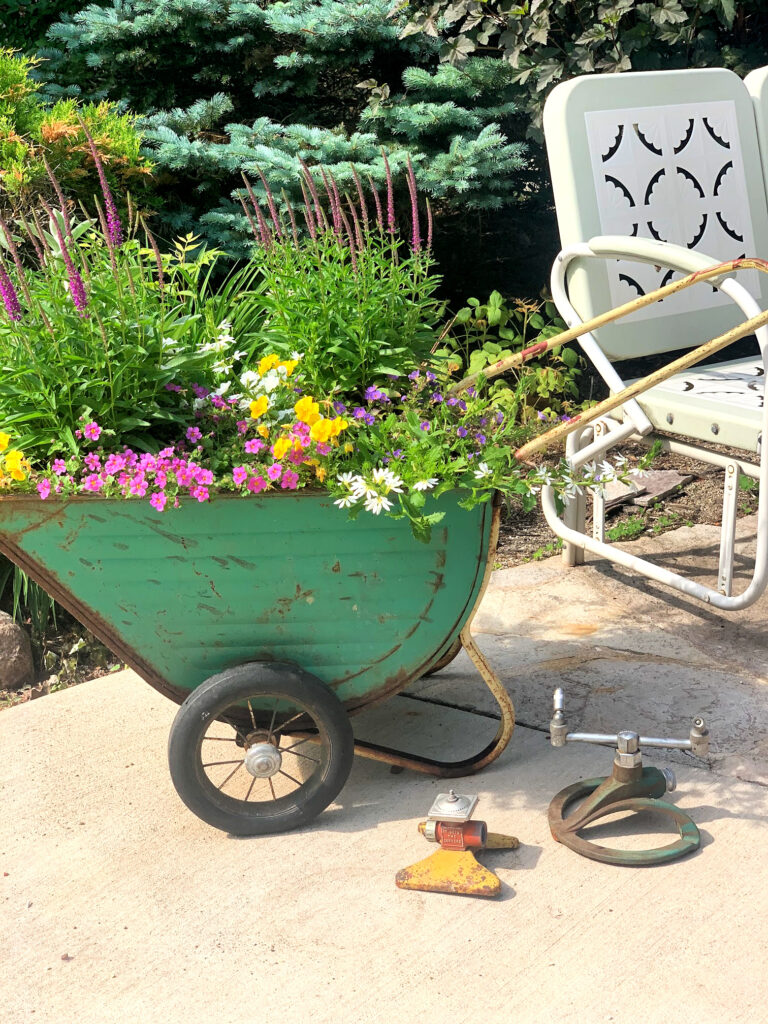 Want to get daily encouragement? SUBSCRIBE HERE so you don't miss any posts!
Years ago a friend and I went to a vintage market and she bought a chippy old wood box. Until she was able to take it home I enjoyed it at my house. What you can't see are small plastic trash cans inside that these potted plants sit on so that they are just the right height to look like they are flowing out of a planter. But doing it this way saves the box and saves me a lot of dirt!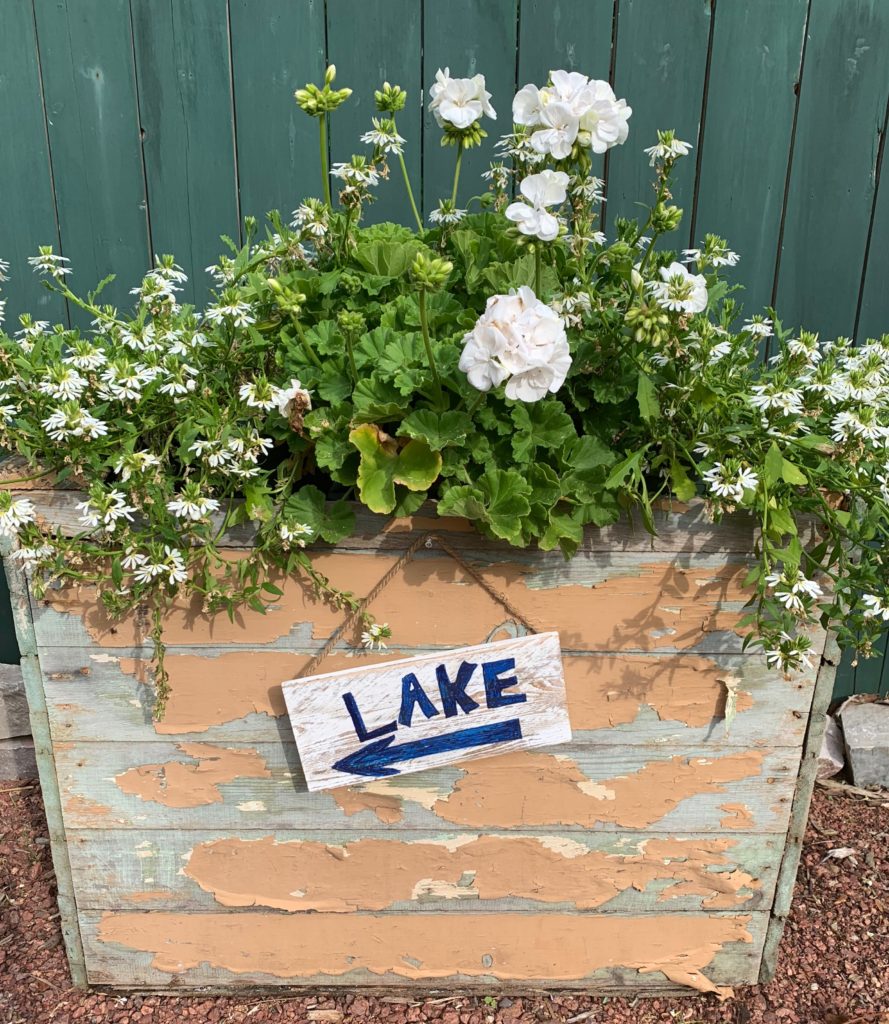 One year I added sunflowers to the old wagon and loved the happy pop of yellow they gave.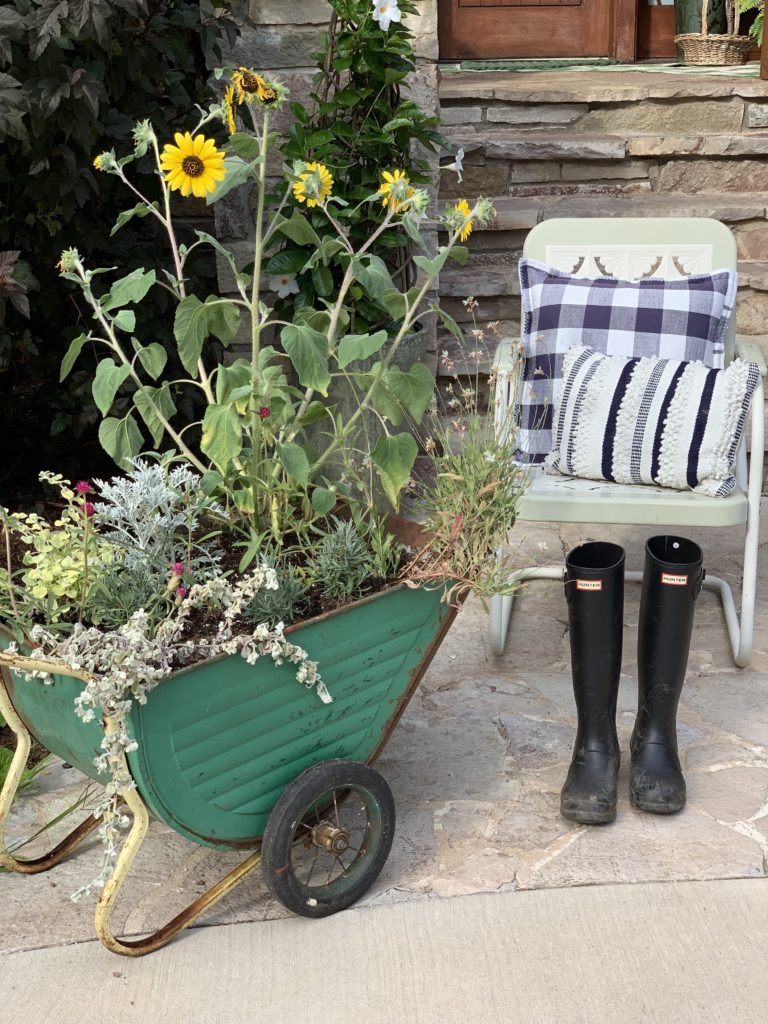 A Few Favorites
Summer flowers for me is all about red geraniums. Some years I've done white instead or tried to mix in other things, but I always come back to these. One of my dreams has been to have big hanging baskets of them across the front of the house and this year I got my wish!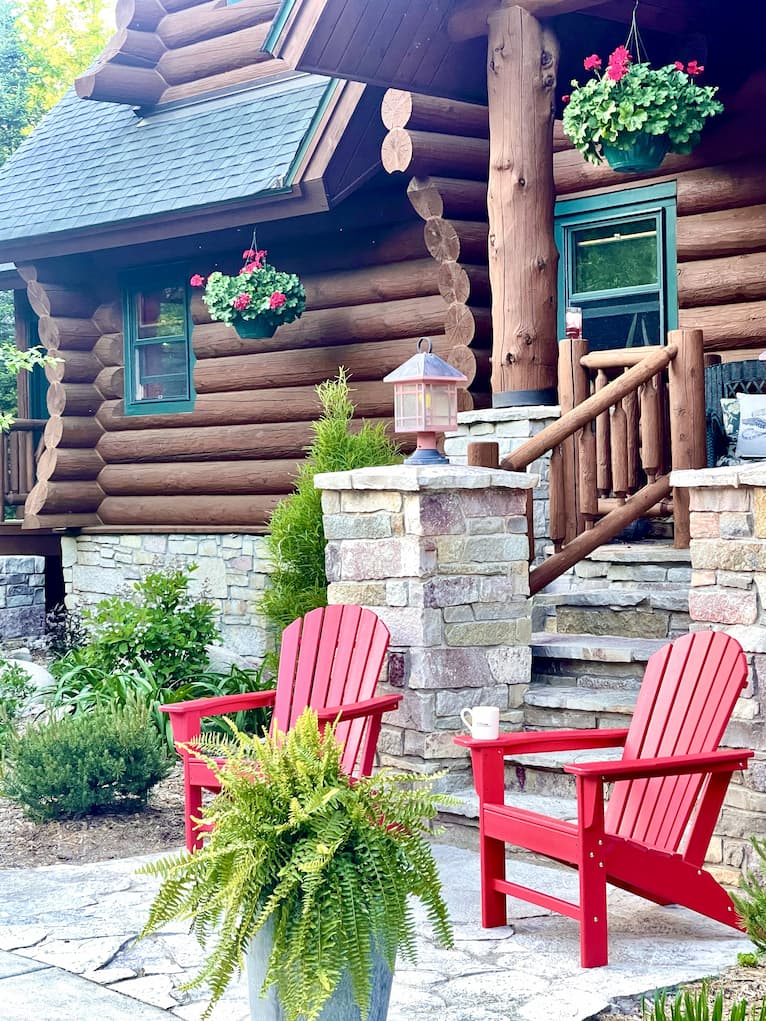 Many years I plant these Dipladenia to our planters so they can climb up the trellis. I love the pop of white and watching them grow. My older daughter has the green thumb in the family and this was her idea one year and I copied it many times.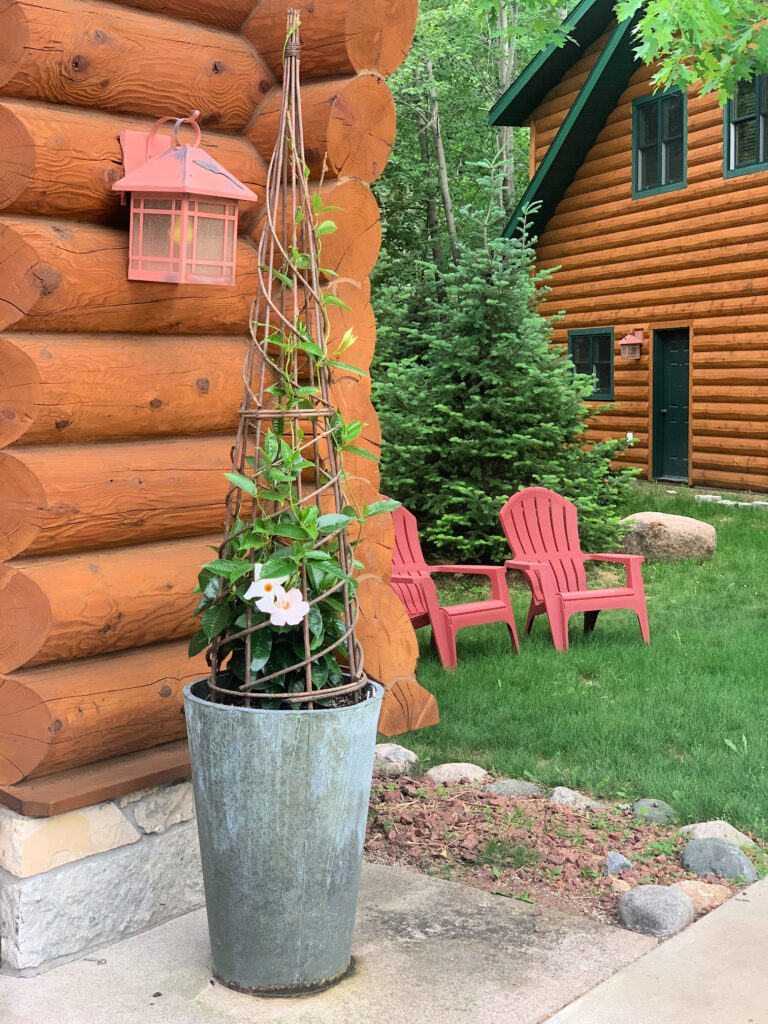 I love having a special planter on this table that sits in front of our guest house on the driveway.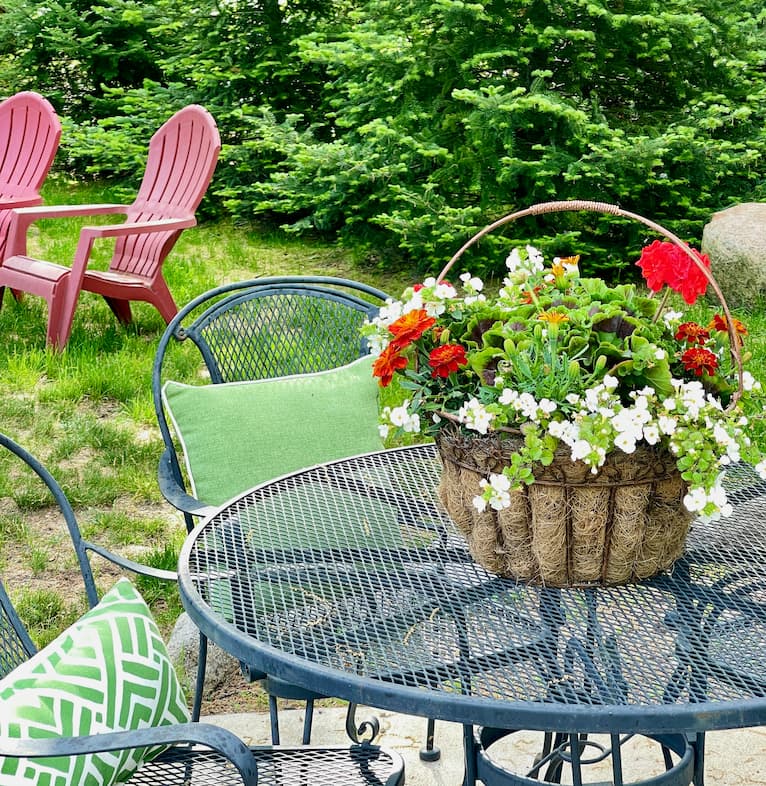 Ferns are one of my favorite things to have in the garden because they reflect the plants that grow wild in the woods surrounding our home. I love their texture and bright greens.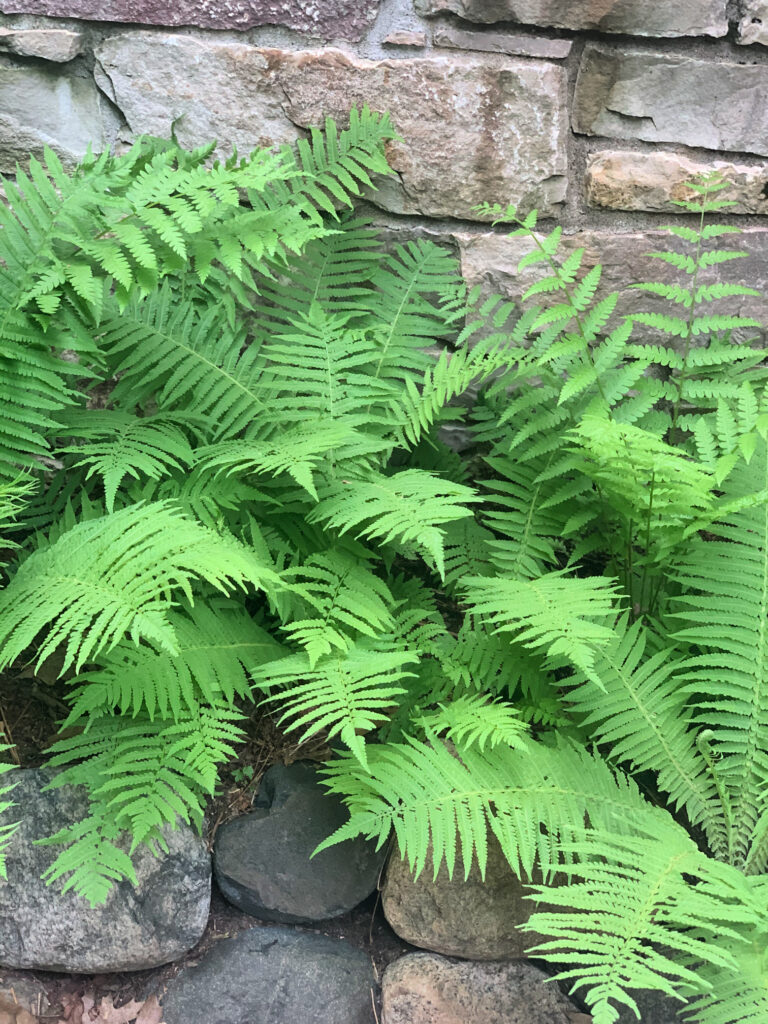 FAQs
How do you keep deer from eating your plants and flowers?
Lots of areas of The Northwoods do have issues with deer eating their plants and flowers. There is an abundance of deer around The Northwoods, but not in our "neighborhood," so I have been free to plant anything I want.
Do you leave the vintage decor in some of the photos out all the time?
I leave some of the vintage decor out like the buckets, watering cans and wagon. The blankets and other things that I don't want to get weathered or wet I bring inside at night or only bring out for special occasions like entertaining or guests coming. Sometimes I put it out on a sunny weekend when we will be home to enjoy it the whole time.
What plans do you still have for your gardens?
Last year I added a raised garden that I planted as a salsa garden with tomatoes and peppers. I'd like to do more raised beds in themed plantings: salsa, pizza, salad…
I have an area of the garden that has baffled me every year for how to plant it. I have some hostas that are thriving there so may work around that adding different varieties of hostas to give it depth, interest and fullness. This year I made it a butterfly garden adding plantings that attract butterflies and a butterfly house. Follow along on Instagram, Facebook and Tik Tok to see how it develops over the Summer. It may have found its purpose.


Montana Garden
My mom has an amazing garden at her home on the slopes in Whitefish, Montana full of garden art, flowers and lots of rusty things. She's an artist and her creativity carries over into her garden as well. See the full tour in THIS POST.

Veggies and Pumpkin Patches
At our getaway down in The Driftless Area of Wisconsin, we have a vegetable garden. This area is full of organic farms with rich soil. Organic Valley, one of my favorite brands- and maybe one of yours. is from this area.
So last year we planted our first vegetable garden with peppers, beans, zucchini, cucumbers and more. It was wonderful to fill our home with vegetables we had grown and gift it to friends and neighbors.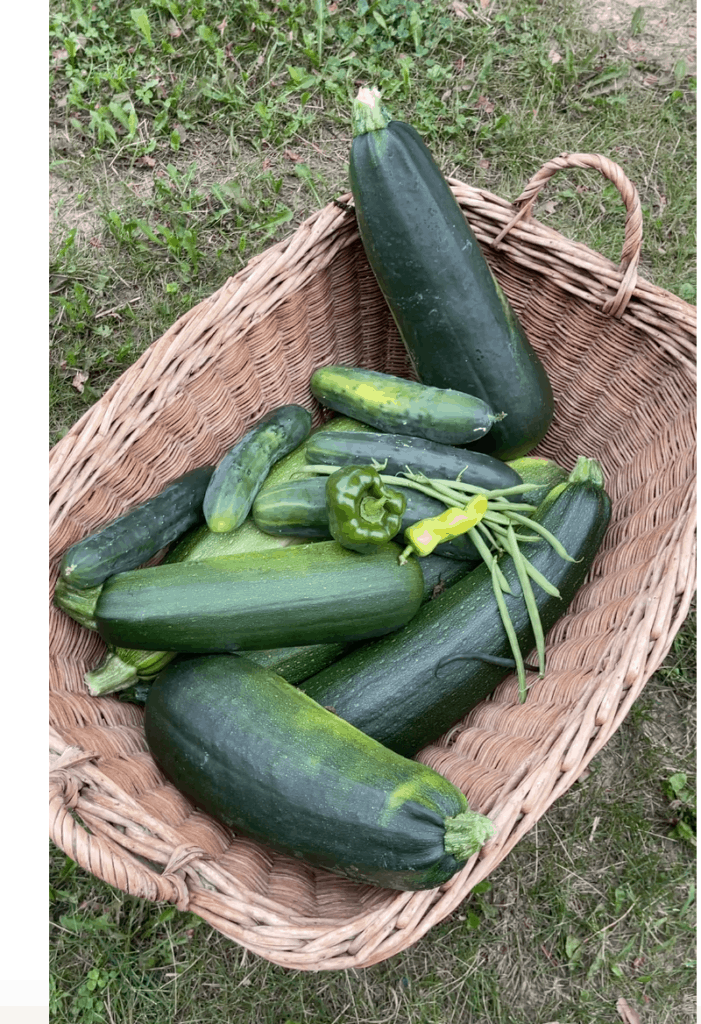 One of my dreams came true last year to have a pumpkin patch of my own. I have wanted one for a long time. My mother-in-law, nephew and my kids all helped plant the pumpkin seeds and we had so much fun harvesting them and using them to decorate around the cabin.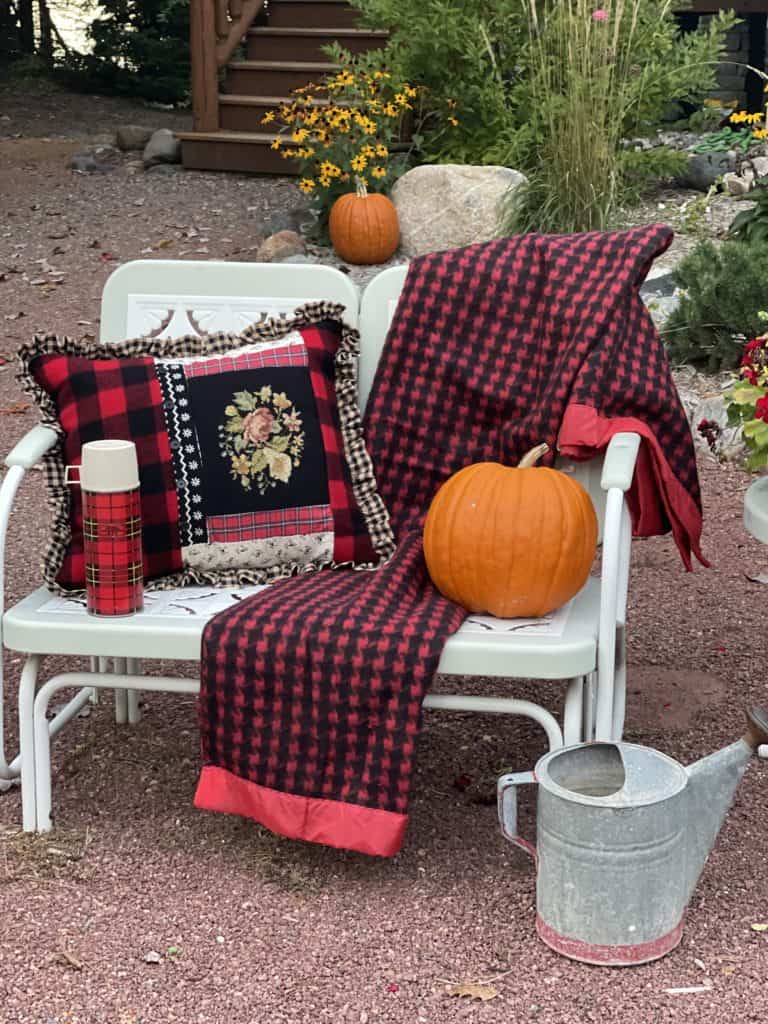 I had so many left over we sold them at Flannel Fest, the Fall Event at my shop. Keep your eyes out for our Flannel Fest date for this coming year. It's a great excuse to come visit The Northwoods.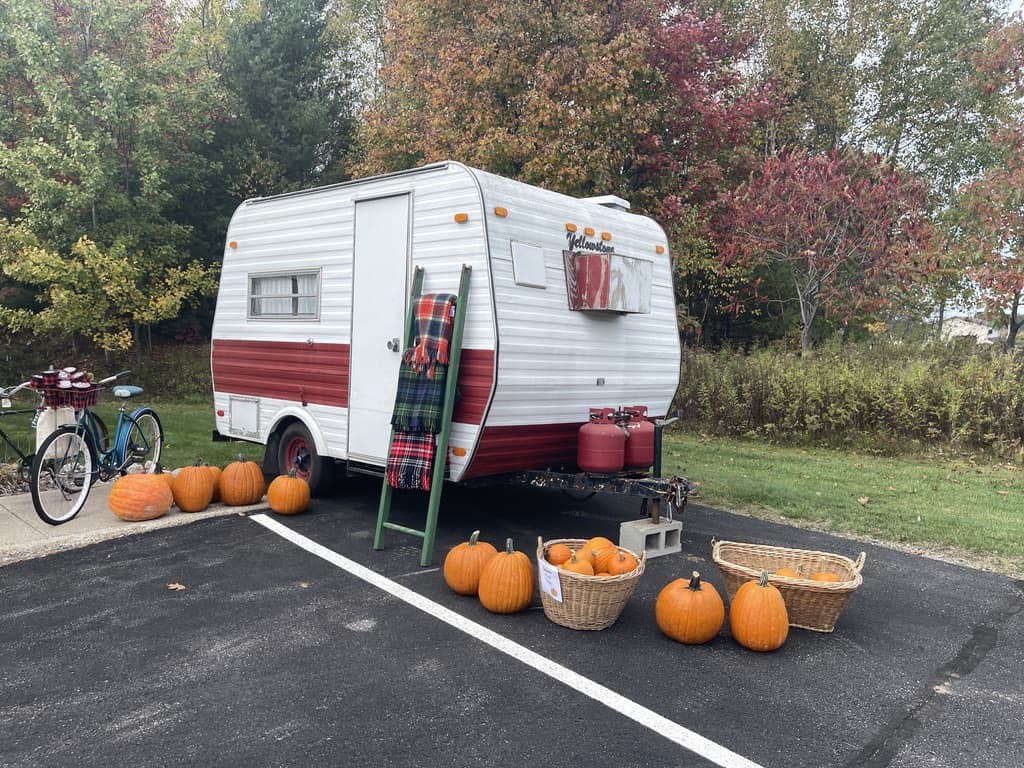 If you are already thinking about Fall, you can see my Fall Garden Tour in THIS POST.
Great Gardening Finds


FOLLOW ALONG
Instagram ~ Facebook ~ Pinterest ~ Twitter ~ YouTube ~ Tik Tok ~ Liketoknow.it