I'm sharing inspiration for the season with two of my Summertime mantels to give your home timeless style from Memorial Day all the way to Labor Day.
This week I'm joining some of my blogging friend's for the Bloggers Best Summer Home Tours hosted by Open Doors Open Hearts and The Tattered Pew! All week long we are welcoming you into our homes. You can visit each summer home tour by clicking the links at the bottom of my post.
Kicking off Monday's line up, I'm honored to follow my friend Julie of My Wee Abode. I always find so much inspiration in her posts! Don't you love her Wee Abode styled for Summer?
Now, you are getting a tour of my lakeside log cabin home in The Northwoods of Wisconsin. Summer is a BIG deal around here! We live in a tourist area of thousands of lakes where people love to come visit year after year for their family vacations to spend time on the water and in the woods.
Properties in The Northwoods all have names. I'm excited to welcome you to Camp Paradise.

See more of my Summer Porches in THIS POST.
We love to spend as much time as possible outside in the Summer and on the lake.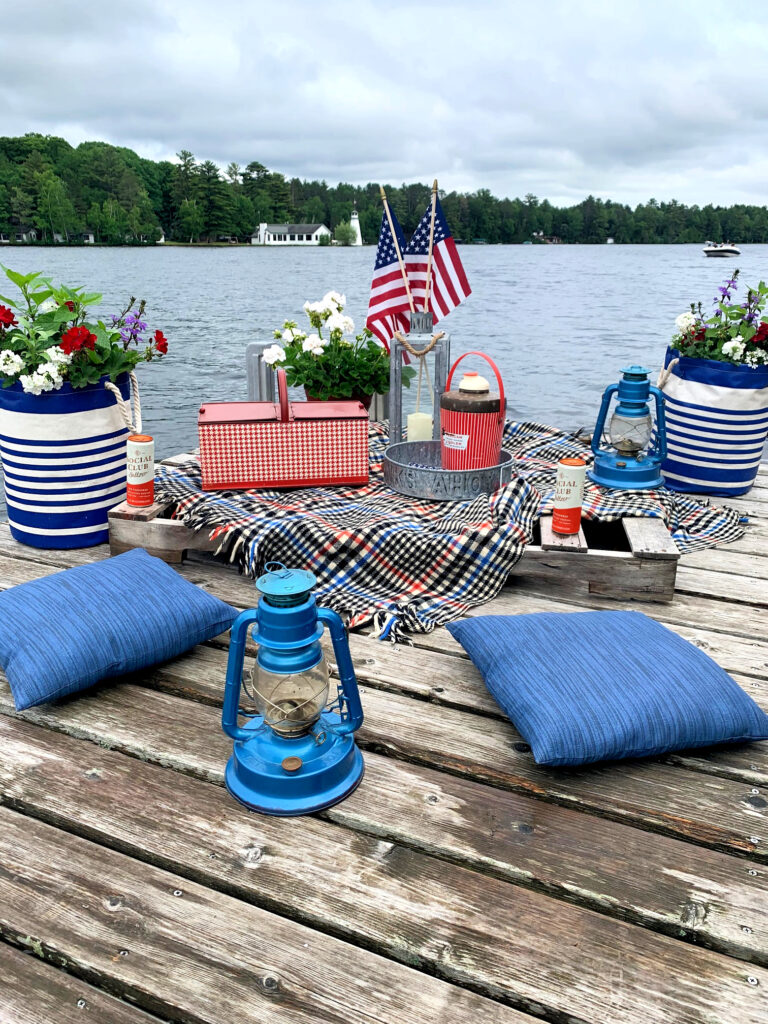 See more of my dock picnic in THIS POST.

But, even with as much time as we spend outside, there's still plenty of cozy cabin time inside in the Summer too.
My favorite places to decorate indoors are my mantels, one in the great room and one in the basement family room. I love to change them out for the seasons and holidays.
The Great Room Mantel
Here was my great room mantel this Spring. It was all about fresh greens.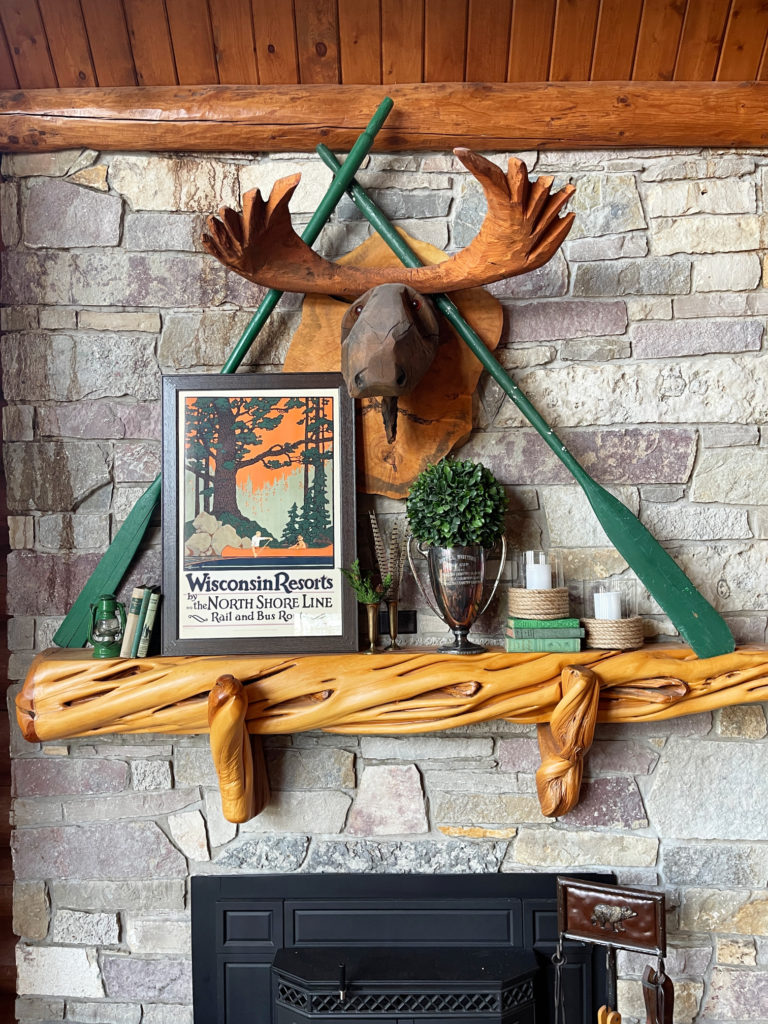 For Summer, I've changed things up to red, white and blues. We'll stay this way all the way through Labor Day.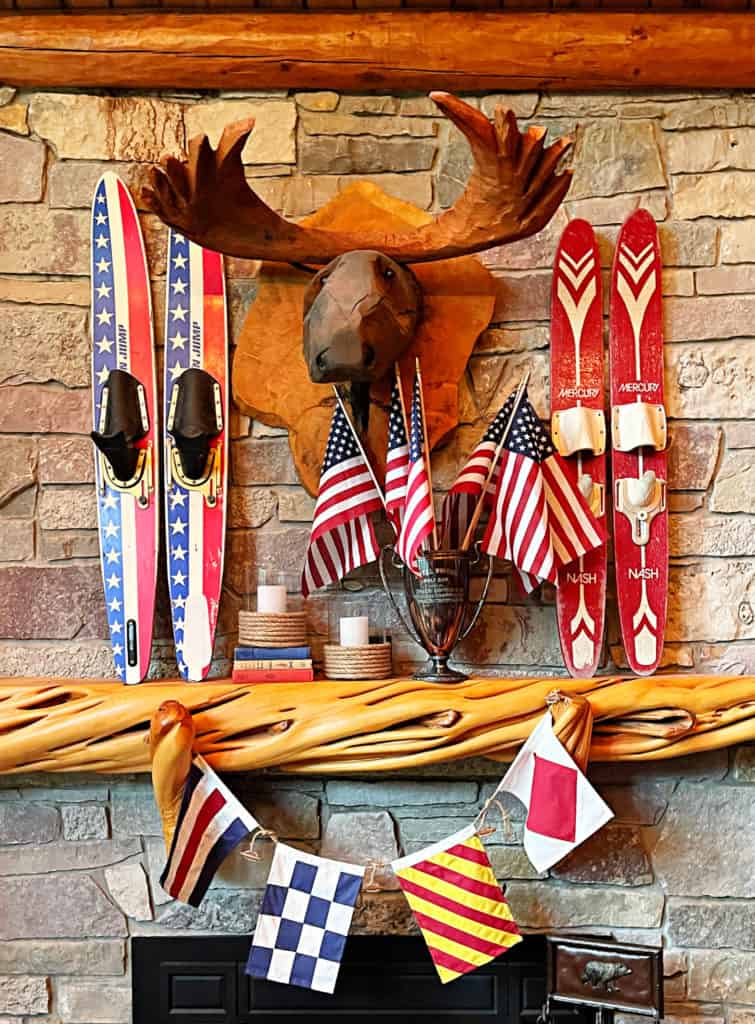 I kept my nautical rope DIY vases from Spring to Summer and set one on a stack of red, white and blue vintage books. I love these vases and they were so easy, quick and inexpensive to make!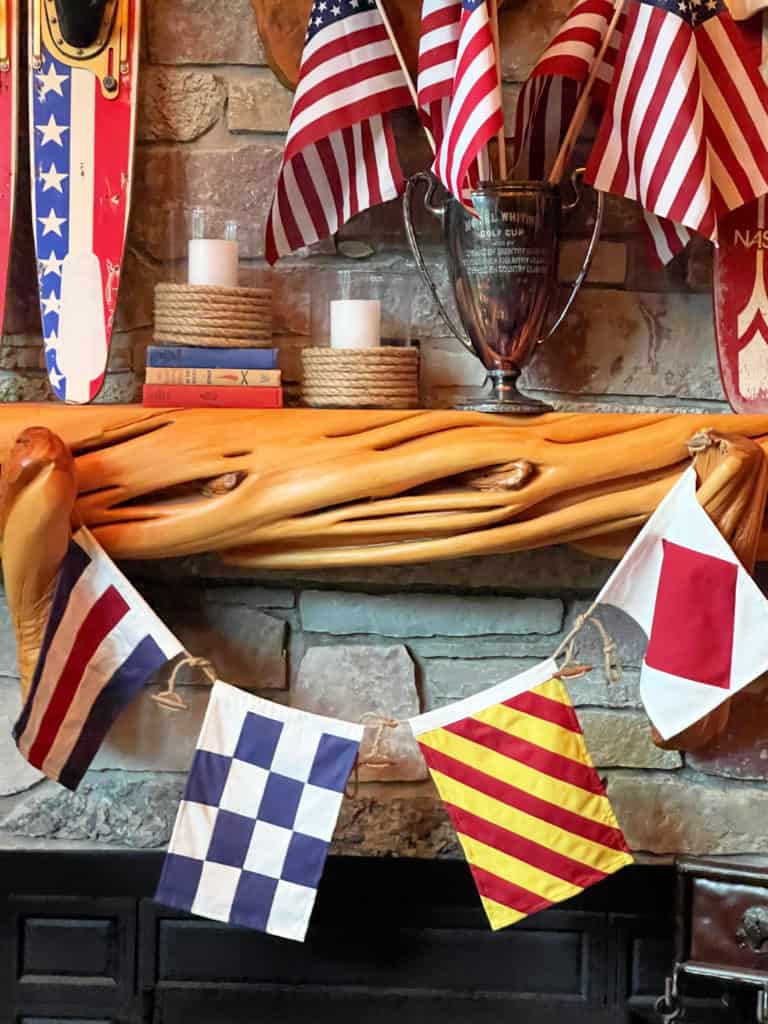 Get the tutorial for the nautical vases in THIS POST.
My mom found these Star Spangled vintage skis for me!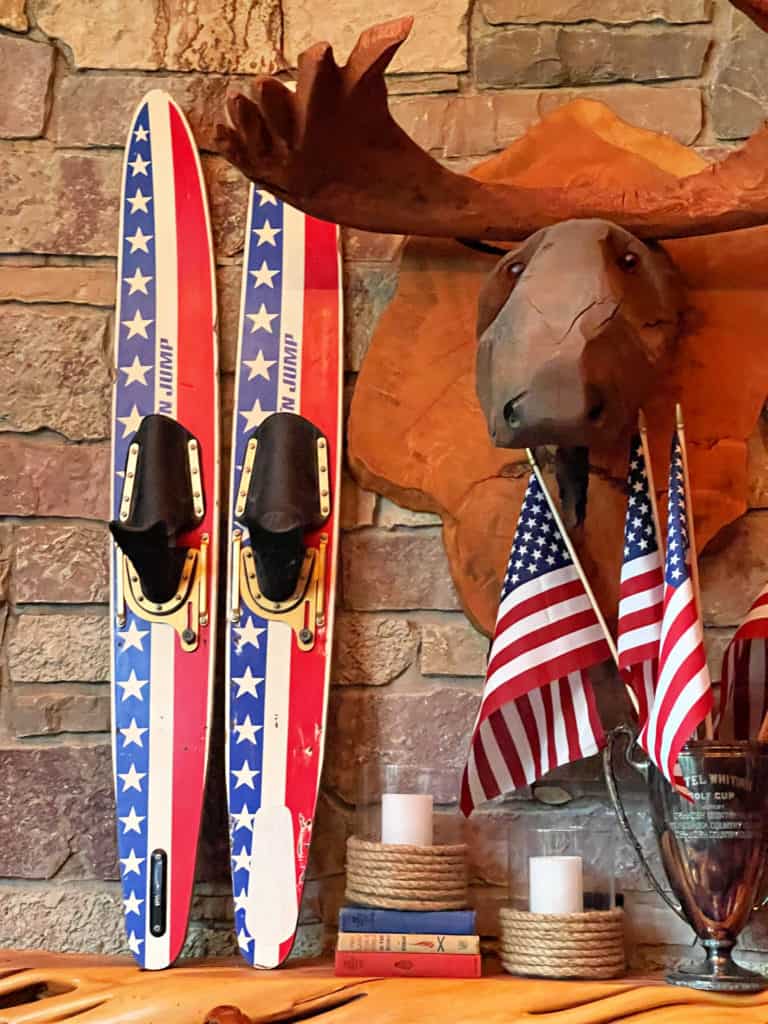 I love old trophies. I filled this one with extra large flags and love the dramatic effect it has. Often being a bit bigger and bolder than you might try at first is the best option. To the right I added some vintage red water skis.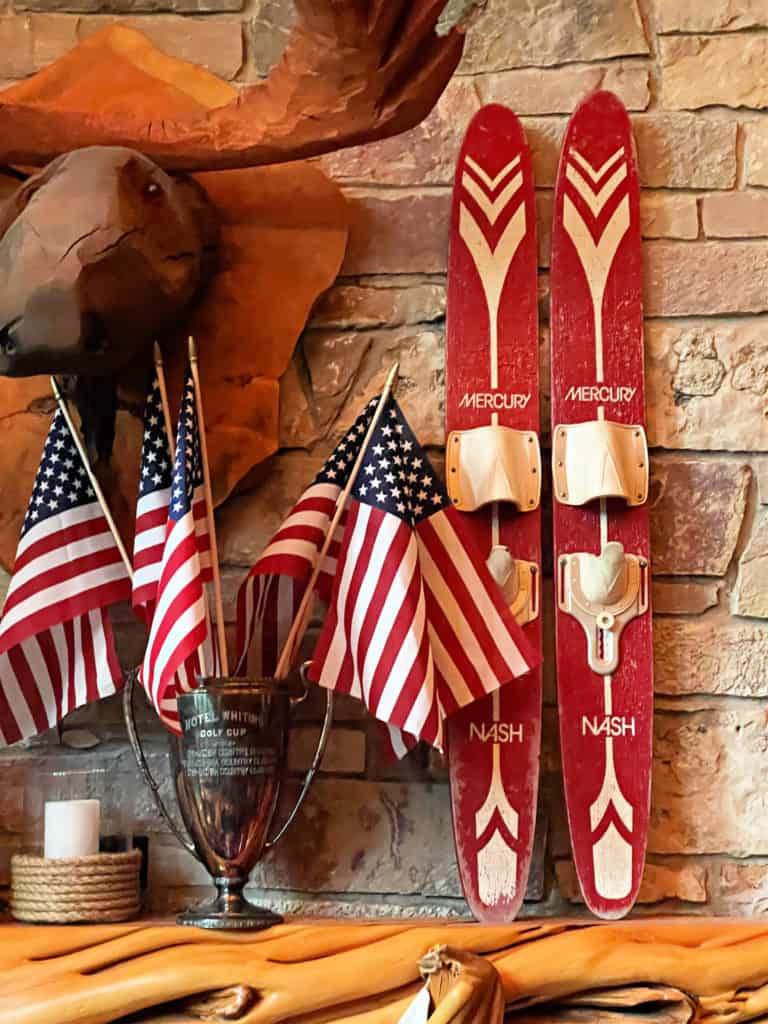 I love the nautical touches of the flags hanging and the anchor pillow.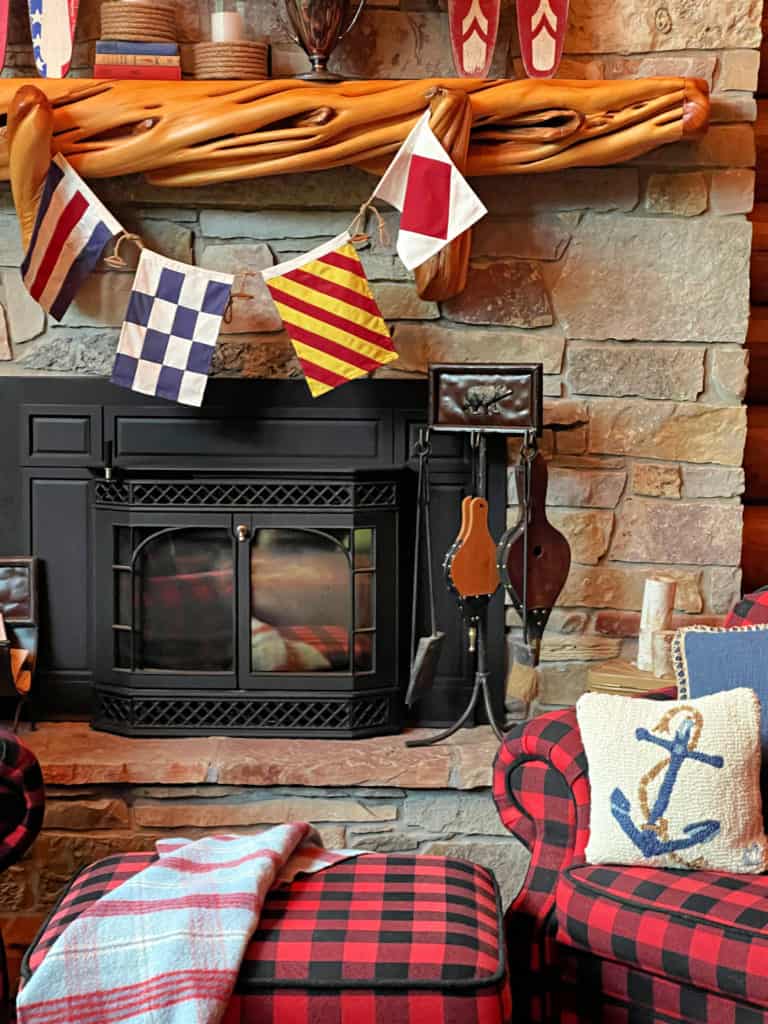 I treat my buffalo plaid chairs as a neutral. I know that sounds crazy, but it works! They match everything!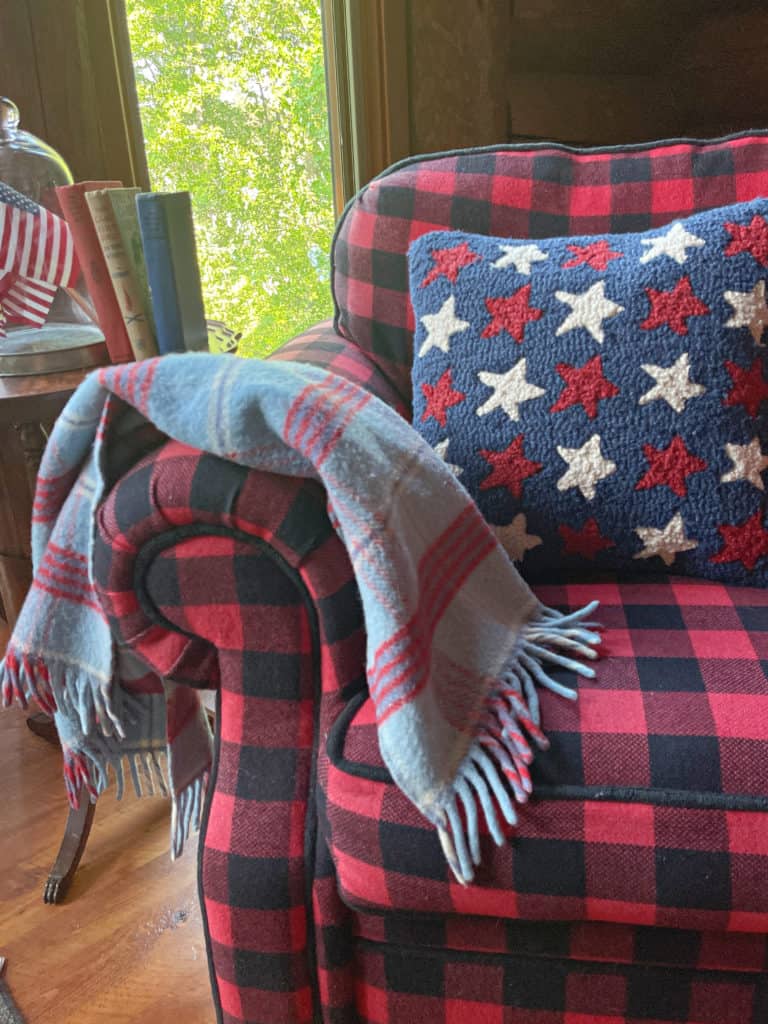 The Basement Family Room
In the basement we have a second fireplace with a mantel I love to decorate in a different way. This mantel doesn't have the height that the great room does. So I can't add big skis and tall pieces. I love to add the tall pieces in the great room to give the stonework some balance in the space.
The basement mantel I have to do a little differently. I wanted a campy, fun Summertime theme and my marshmallow tins were the springboard.
I stacked a lot of things to give a variety of heights.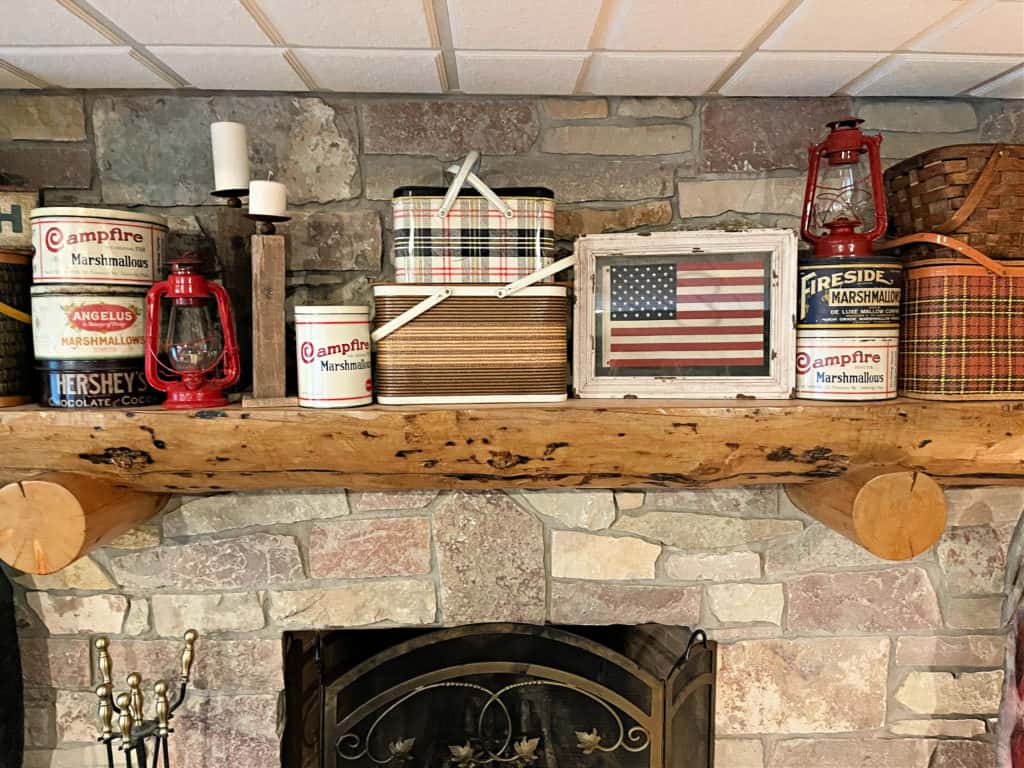 I added in a few of my favorite vintage picnic baskets.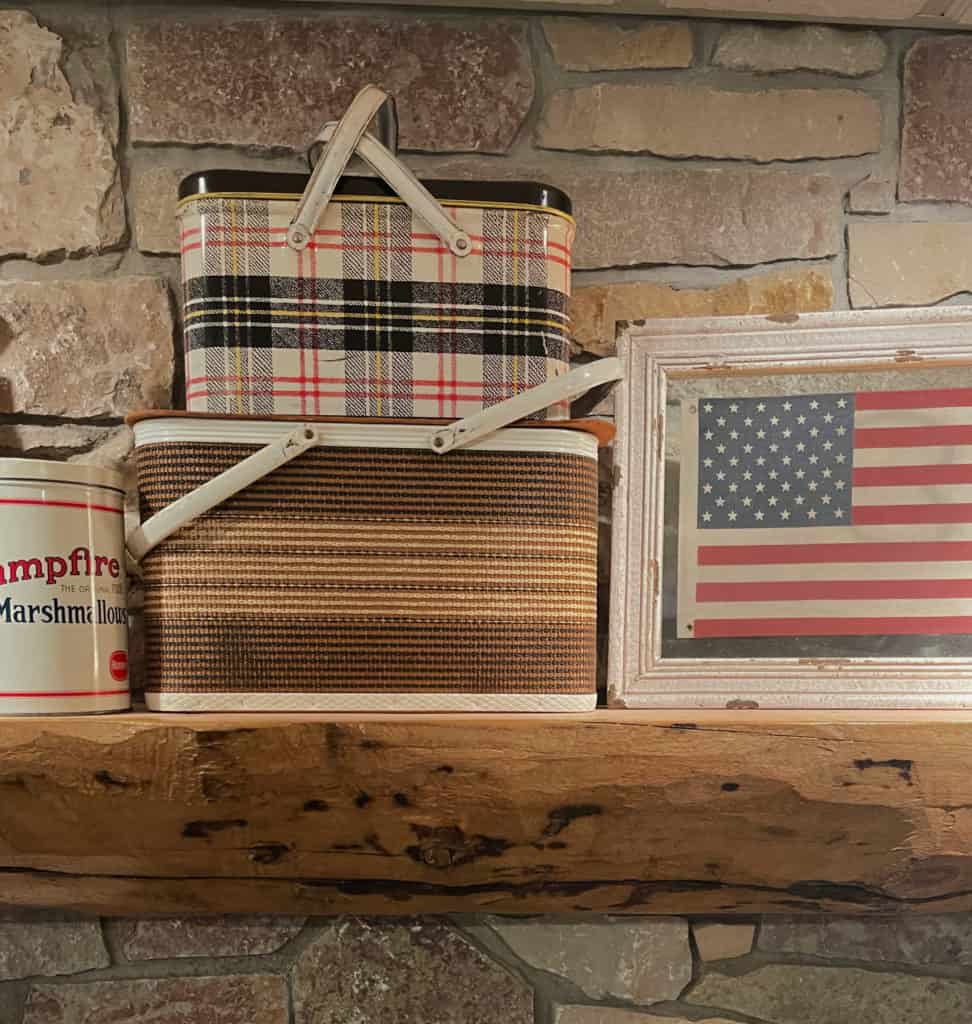 I brought in some of my red lanterns and a framed American flag. I love how it all came together!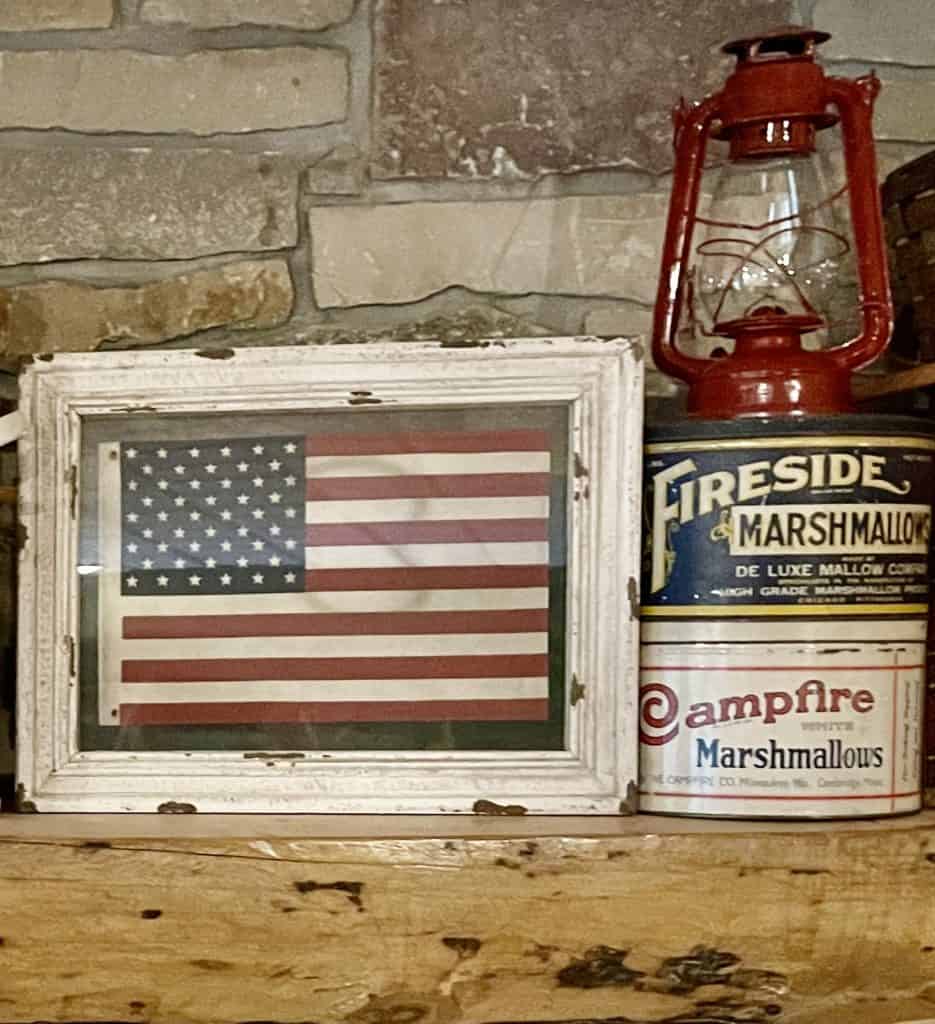 Next up on the tour you are headed to my friend over at Fiddle Leaf Blog. Her house is so beautiful! You will love seeing her Summer home.
Thanks so much for stopping to visit by the lake! I'd love to have you keep following along for all the daily fun!
Instagram ~ Facebook ~ Pinterest ~ Twitter ~ YouTube ~ Tik Tok
Did you know I have A STORE in Minocqua, Wisconsin? You can to in and shop Monday- Saturday 10-5 or shop on line from anywhere, anytime!
Did you know I have a PODCAST? New episodes air each Friday!
Take the Tour
Monday's Tours


The Tattered Pew / Stonegable / My Wee Abode
White Arrows Home / Fiddle Leaf Blog / Dabbling and Decorating
Tuesday's Tours


The Flowering Farmhouse / Sanddollar Lane / Cottage In The Mitten
Up To Date Interiors / Bricks 'n Blooms / Cottage On Bunker Hill
Wednsday's Tours


Open Doors Open Hearts/ Pasha Is Home / Shiplap and Shells
A Blue Nest / Cloches and Lavender / Simply 2 Moms
Thursday's Tours


Cassie Bustamante / First Day of Home / Midwest Life and Style
County Road 407 / She Gave It A Go / Robyn's French Nest
Friday's Tours


The Ponds Farmhouse / DIY Beautify / Follow The Yellow Brick Home
My Thrift Store Addiction / Tatertots and Jello / Sweet Pea
FOLLOW WHITE ARROWS HOME

Instagram ~ Facebook ~ Pinterest ~ Twitter ~ YouTube ~ Tik Tok