Ideas for decorating by mixing vintage and new in our sunroom where we love to spend a lot of time in the Summer connecting as a family!
(Affiliate links are used for your convenience. Read my full disclosure here.)
We are so excited that Lora, Lynn and are with us for this blog hop! We had so much fun with them in our Instagram stories when they joined us for #thriftingwiththegals ! I'm so glad each week that Ann organized this fun adventure together!
This week I'm sharing our Summer Sunporch.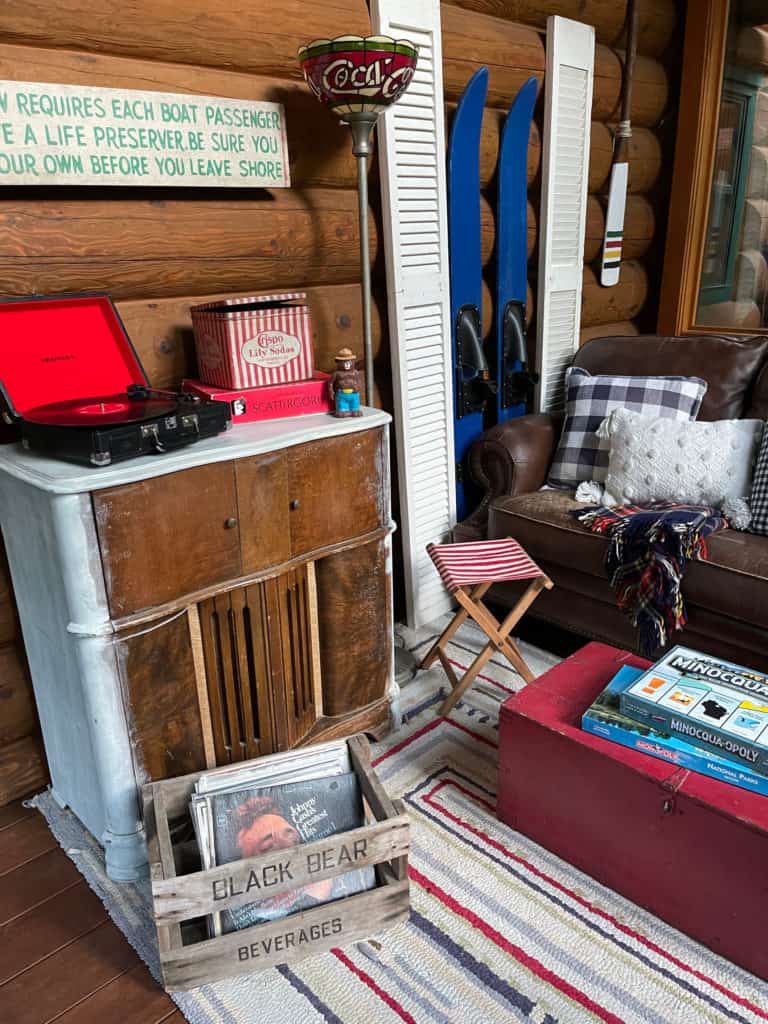 If you are coming over from Vintage Home Designs welcome to my Wisconsin lake house home. Didn't you love all seven of her finds!
THRIFTING WITH THE GALS
My friends Kim, Ann, Stacy, Rachel and I share each Wednesday on Instagram stories, antique shops, vintage markets and thrift stores we love shopping at. From all across the country we share our favorite finds. I hope you will join us!
One of the fun parts each week is welcoming a guest host to join in.
At the bottom of this post you can find links to all the gals blog posts on this tour.
One of my favorite spots to be in the Summer is our Sunroom. It's filled with some of my favorite vintage things. It's a great example of how I mix old and new decor.
One of the biggest changes I made for this Summer was to move the sofa. I have always had it against the wall of windows, but now moved it perpendicular to the wall and windows and I love it! Now I can look out at the lake so much easier.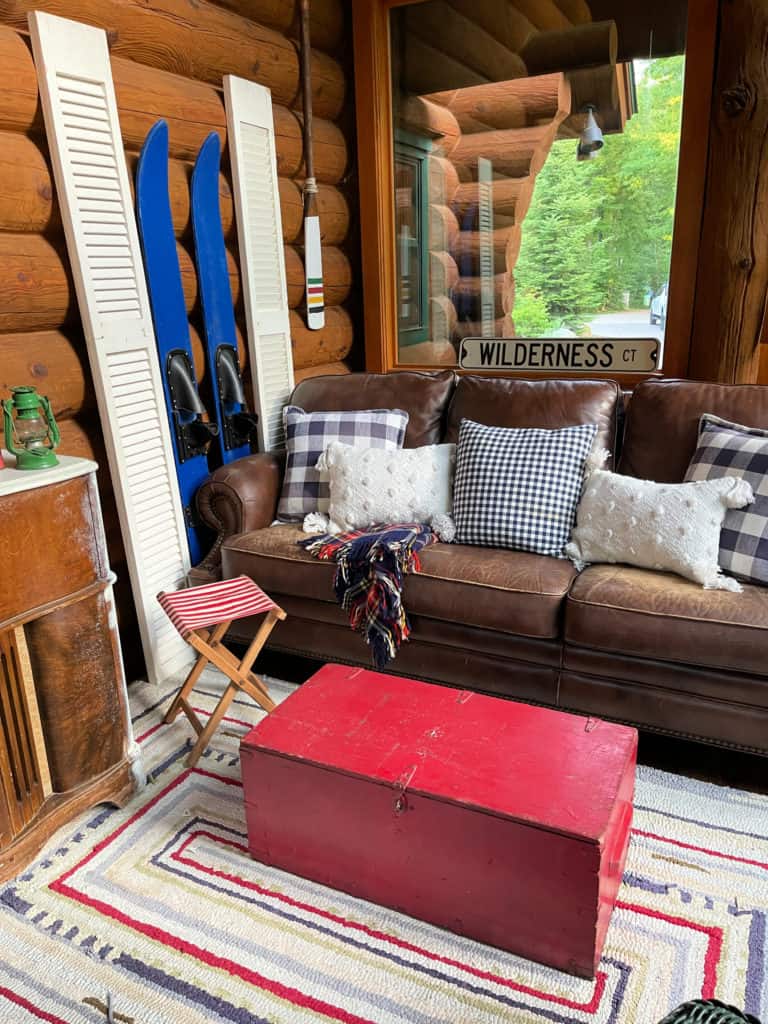 The sofa is "old", but not vintage. Compared to my thrifted finds it is new. It was one of our first purchases in our very first home. The cushions are getting worn, but it is still structurally great and comfortable. At some point I plan to just recover the seats, but for now I leave it because it is the one piece of furniture we let our dogs sit on.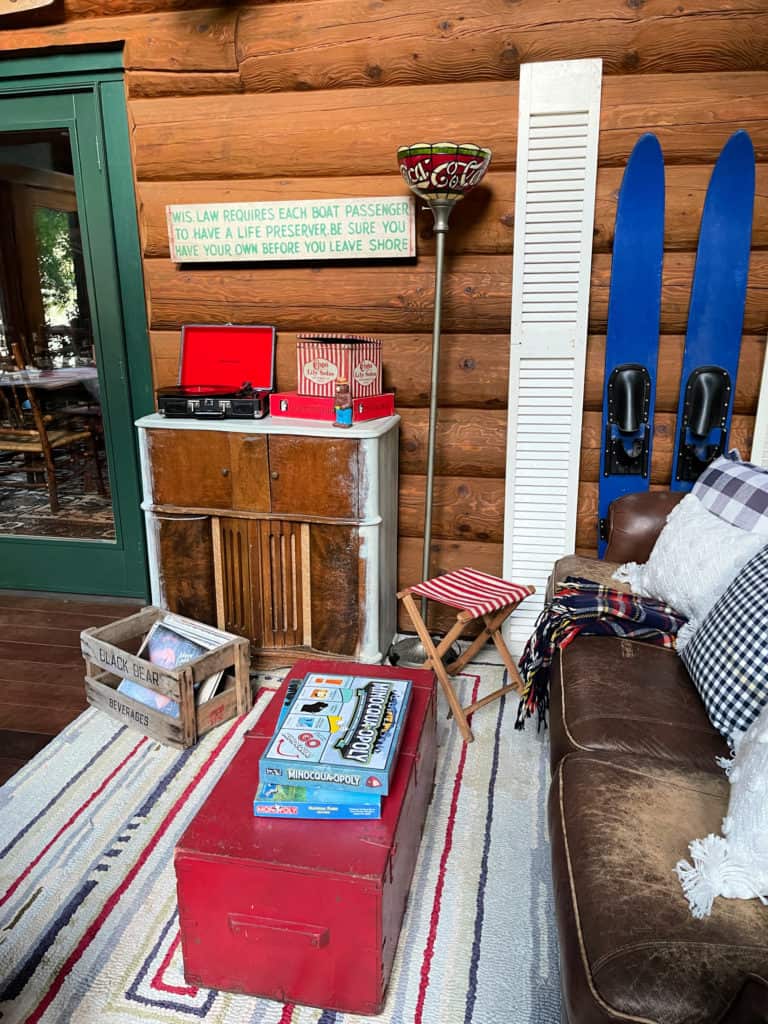 Until recovering happens, I try to dress it up with throw pillows and blankets. I try to distract from what isn't as pretty with beautiful accessories.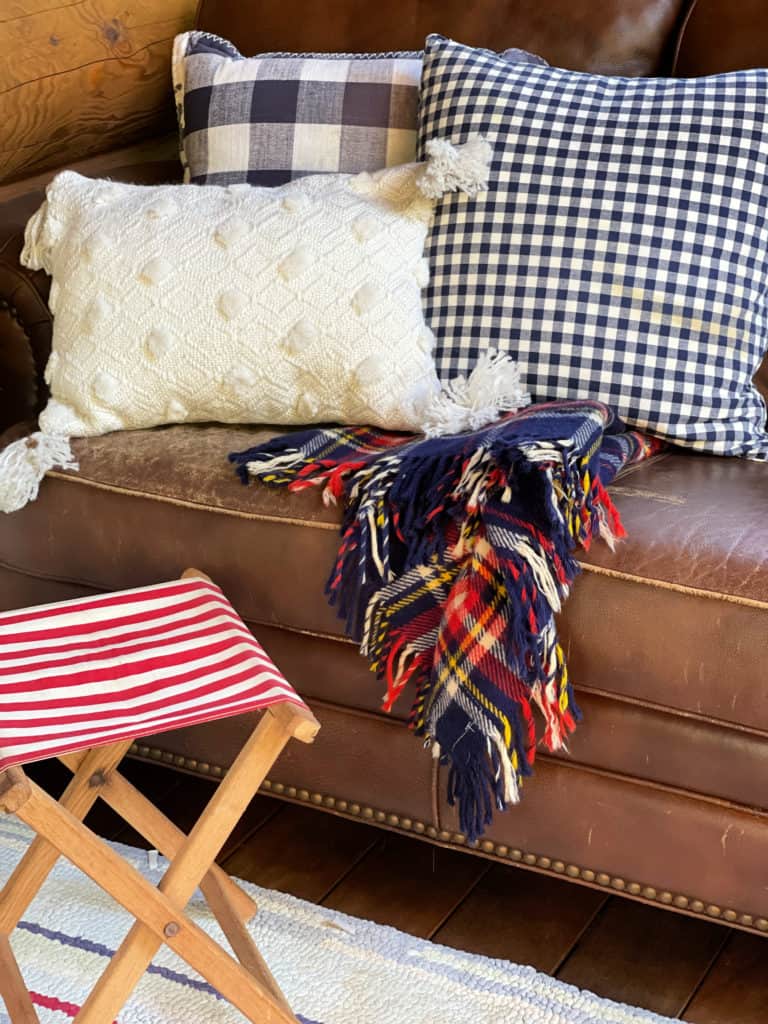 I just made a switch with the rugs in the sunroom. My son moved this Pottery Barn rug out of his room (it had been there since he was born). I was so excited to bring it in to this space. It has all the bright colors I love to decorate with in it.
He had also pulled an old vintage trunk out of his room that had been storing stuffed animals. It was another perfect addition to the sunroom to use as a coffee table and game storage.
When my kids are all back home together the top two games they play for hours are Monopoly and Scattergories. You can read more about our favorite games in THIS POST or THIS POST.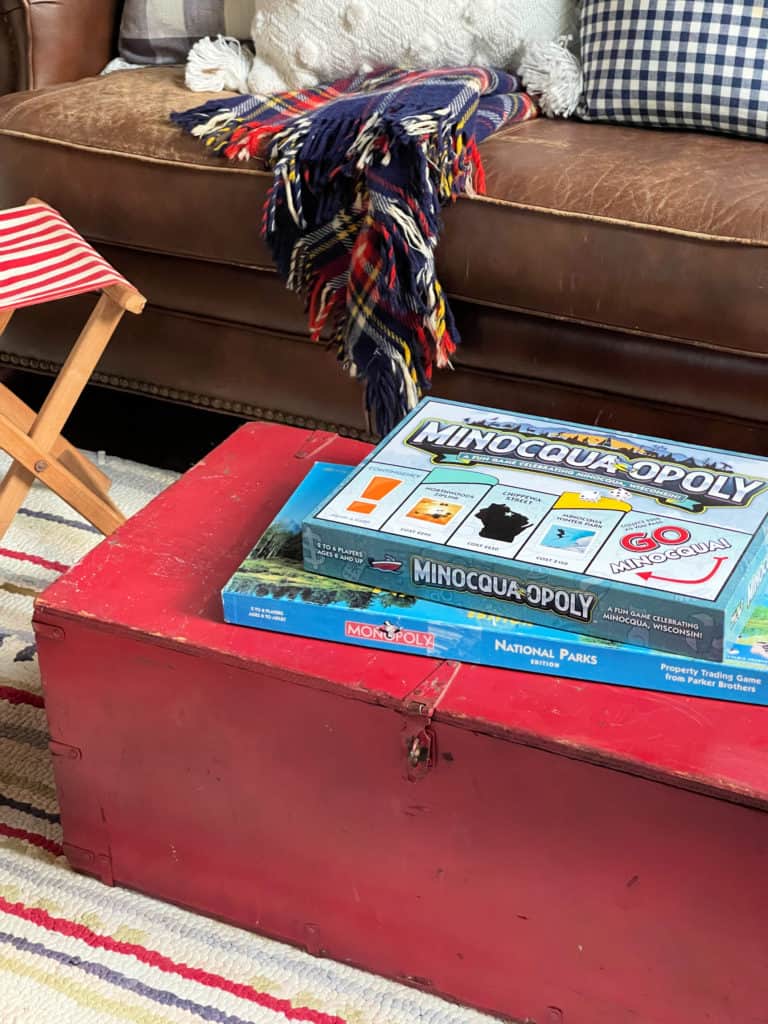 One my most recent finds are these blue waterskis and white shutters. I found them at a favorite shop Soul Patina in Ripon, Wisconsin.
The painted paddle was a fun decor DIY with my girlfriends. You can read more about that project in THIS POST.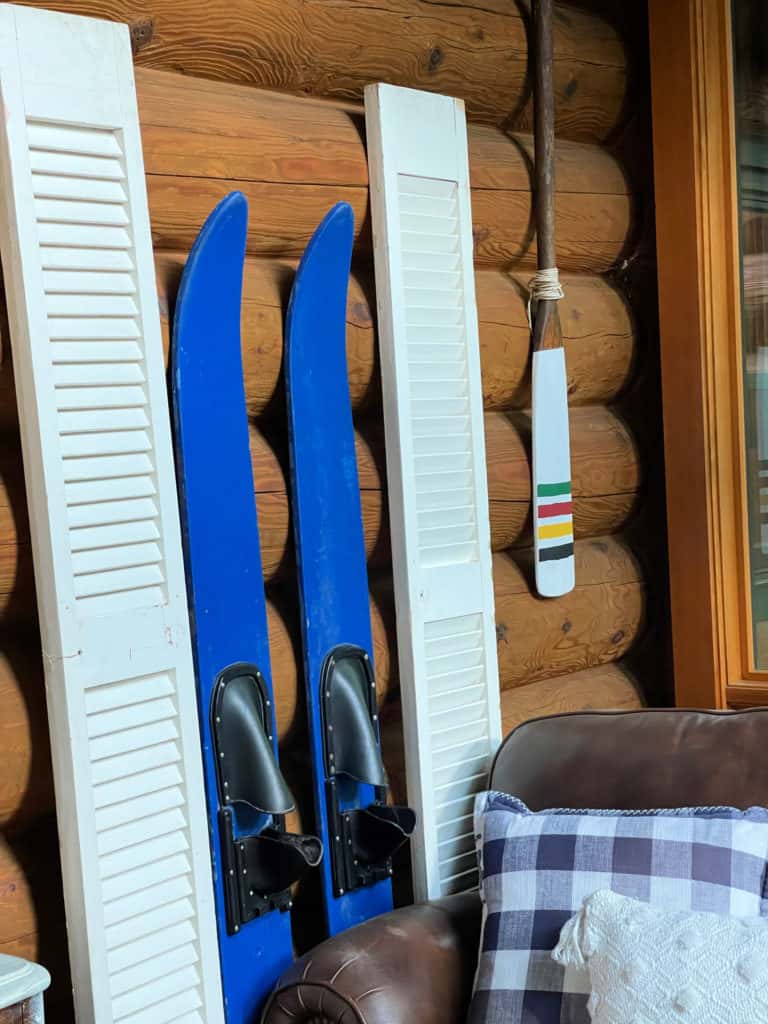 "I like to keep games out all around the house as part of my decor and in sight so it will invite family and friends to play. My goal is to create spaces that encourage everyone to linger longer." ~ Kristin
I added a Smokey Bear from my collection to the space. You can see more of my Smokey Bear collection in THIS POST.
And enjoy listening to Smokey Bear's "agent" in episode #3 from my podcast. LISTEN HERE.

This Crispo Lily Sodas tin is a favorite of mine! I use it in so many ways! Check out how I use vintage containers in THIS POST!
The old radio is so nostalgic. We are all history buffs in our family and love hearing about families sitting around the radio years ago.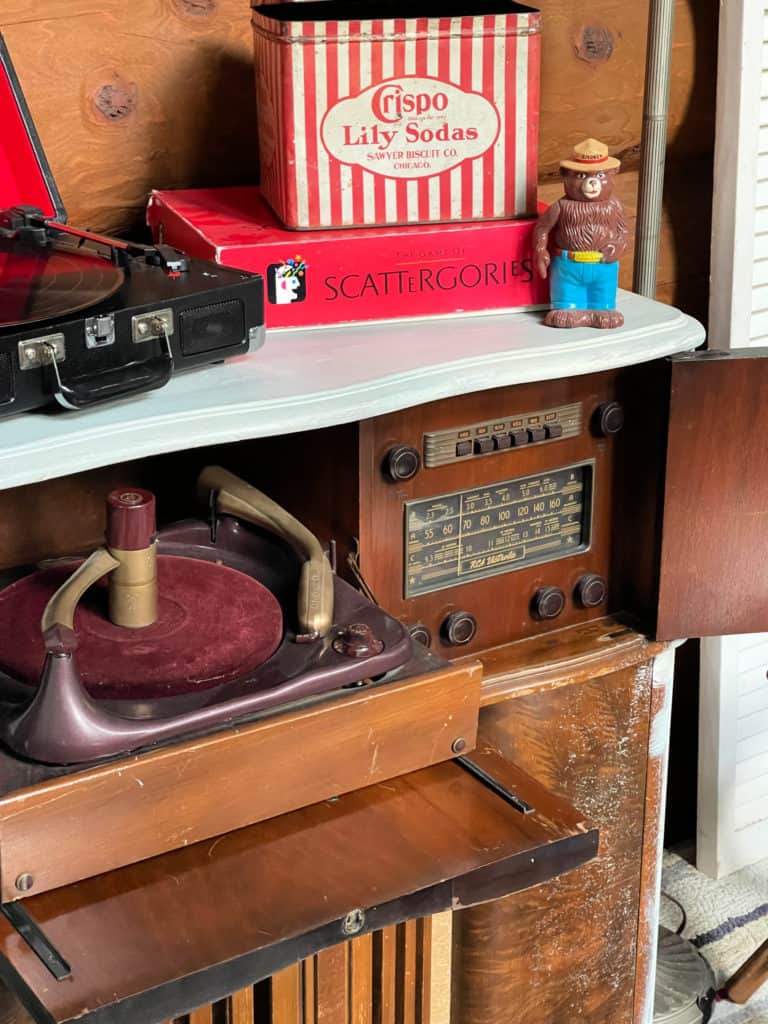 I picked the radio up for $10! It needs a lot of TLC, but is such a great conversation piece and counter space. We keep a new turntable on top and play vintage records on it all the time. You can find vintage radios and turntables in MY SHOP!
It's one of my next projects to paint the radio. When I bought it, someone had started painting it white. I don't know if it was a primer or they planned to paint it white. Let me know what color you think I should paint it in the comments. Red? Navy? Black? Baby Blue? White? Green?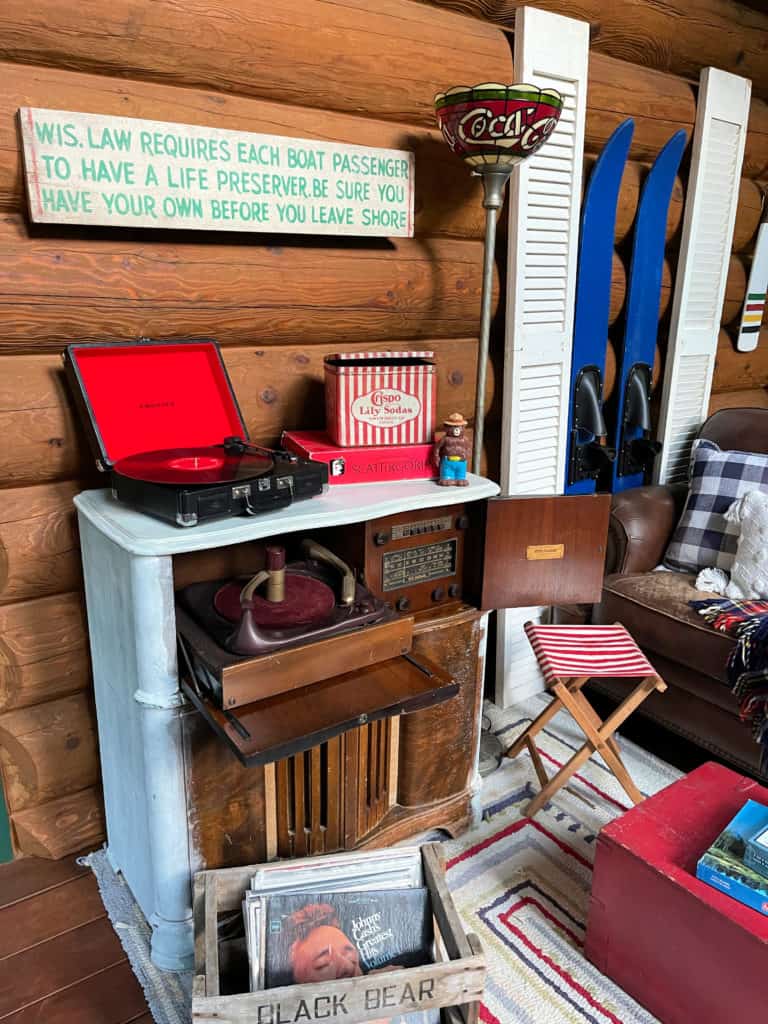 It's fun to pick up a new record when I am out #thriftingwiththegals.
Thanks so much for coming on my tour! I'd love to have you keep following along for all my daily inspiration! If you haven't read all the posts start with Ann's gorgeous post at Dabbling & Decorating and then follow along in order.
Instagram ~ Facebook ~ Pinterest ~ Twitter ~ YouTube ~ Tik Tok
Did you know I have A STORE in Minocqua, Wisconsin? You can to in and shop Monday- Saturday 10-5 or shop on line from anywhere, anytime!
Did you know I have a PODCAST? New episodes air each Friday!
Get the Look


TAKE THE TOUR
Bricks n' Blooms ~ The Ponds Farmhouse ~ Dabbling & Decorating ~ White Arrows Home ~ At Home in the Wild Woods ~ Vintage Home Designs ~ Lora B. Create & Ponder
FOLLOW WHITE ARROWS HOME

Instagram ~ Facebook ~ Pinterest ~ Twitter ~ YouTube ~ Tik Tok