I styled my porches for late Spring to early Summer in three different ways inspired by the Carpet One, Welcome a Cure mat collection.
I'm feeling ready to relish Spring and head into Summer with my new porch decor.
(Affiliate Links are shared for your convenience, read my full disclosure here. This is also a paid collaboration with Carpet One. All opinions are my own.)
Spring Has Come
It's the end of April and we had snow this week. That is typical of life Up North in Wisconsin. It can be gorgeous and in the 70s one day and snow the next!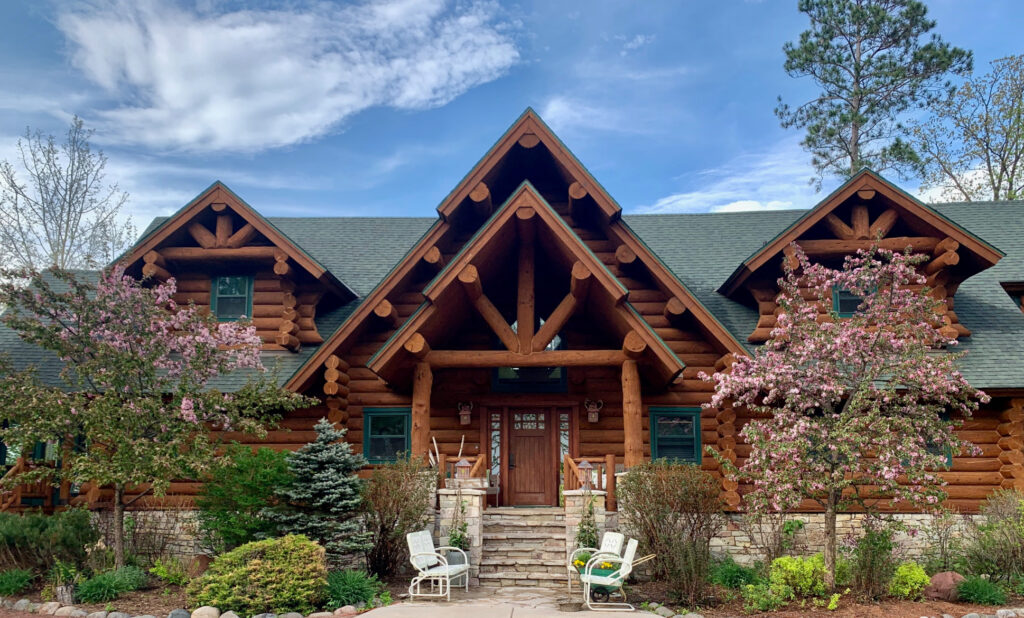 I live in a lakeside log cabin home in an area known as The Northwoods. Each Winter our lake, where we swim and boat all Summer, freezes solid. So solid, that you can drive a truck on it! Last year our lake didn't open until May 1, but this year it opened several weeks early.
That's gotten me anxious to get my porches cleaned up and ready.
The transition from Winter to Summer porch can skip right over Spring, at least early Spring. The weather keeps it too cold to want to be out decorating in the elements. But then we get a beautiful day with sunshine and warmth and out comes my broom!
I sweep away all the sand we have sprinkled to melt the ice. I sweep away the left over Holiday pine needles from the porch garlands. I sweep away the wood chips from the firewood pile we keep on the porch for our continually roaring Winter fireplace.
Then I start brainstorming how I want to decorate.
What colors will I use?
What furniture will I pull out?
Do I need anything new or will I use old favorites?
This Year's Inspiration
My inspiration this year came from these Carpet One Spring Mats. I chose two styles from their Welcome a Cure collection.
What drew me to the mats right away were the colors and patterns and the welcoming messages.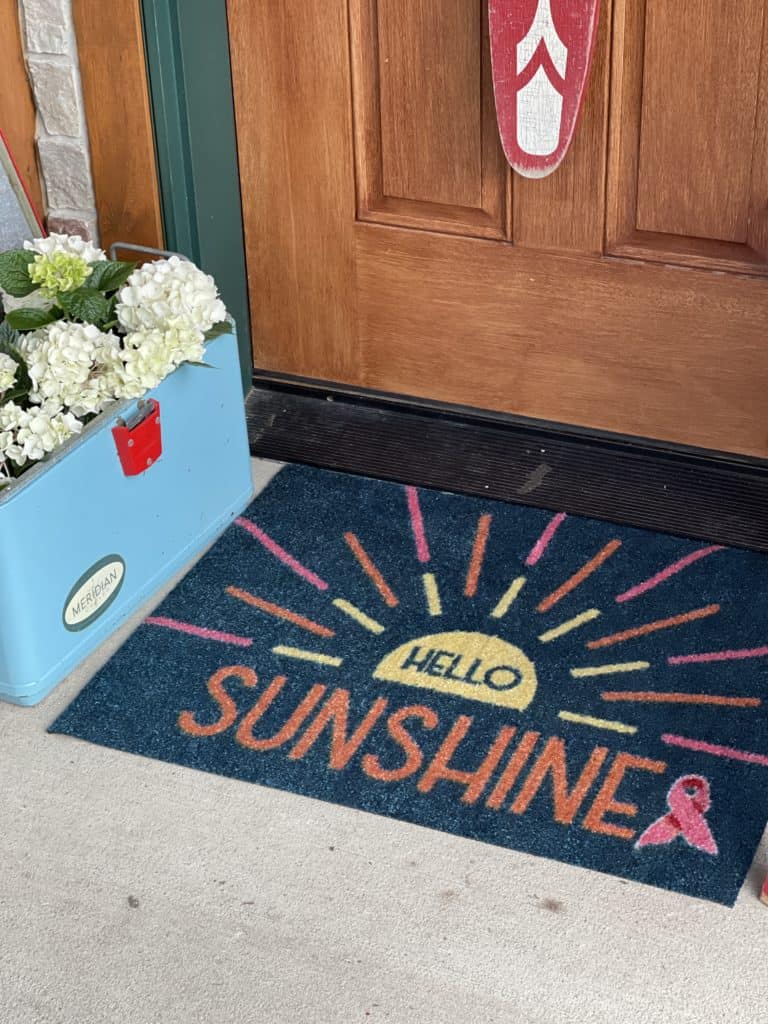 What sealed the deal was that these mats give back. They have donated 25% of all mats sold in this line so far!
"Through the sales of exclusively designed pink ribbon welcome mats, Carpet One Floor & Home supports the Breast Cancer Research Foundation® (BCRF) in their mission to prevent and cure breast cancer by advancing the world's most promising research." ~ Carpet One
Has breast cancer touched you and your family yet? I have friends who are survivors and my grandmother was too.
I love that Carpet One is supporting BCRF and that purchases of these beautiful mats helps to add even more hours to the over 10,000 hours of life saving research.
I'm excited to show you how I decorated with my Carpet One Spring Mats!
Porch One
Our front porch of the main house tends to get the more formal treatment.
It's got the most space with wide stone steps and lantern topped pillars on the sides.
I love to keep seating areas here. It's the perfect space to watch the kids play in the driveway, wait for guests to arrive or read in the afternoon sun.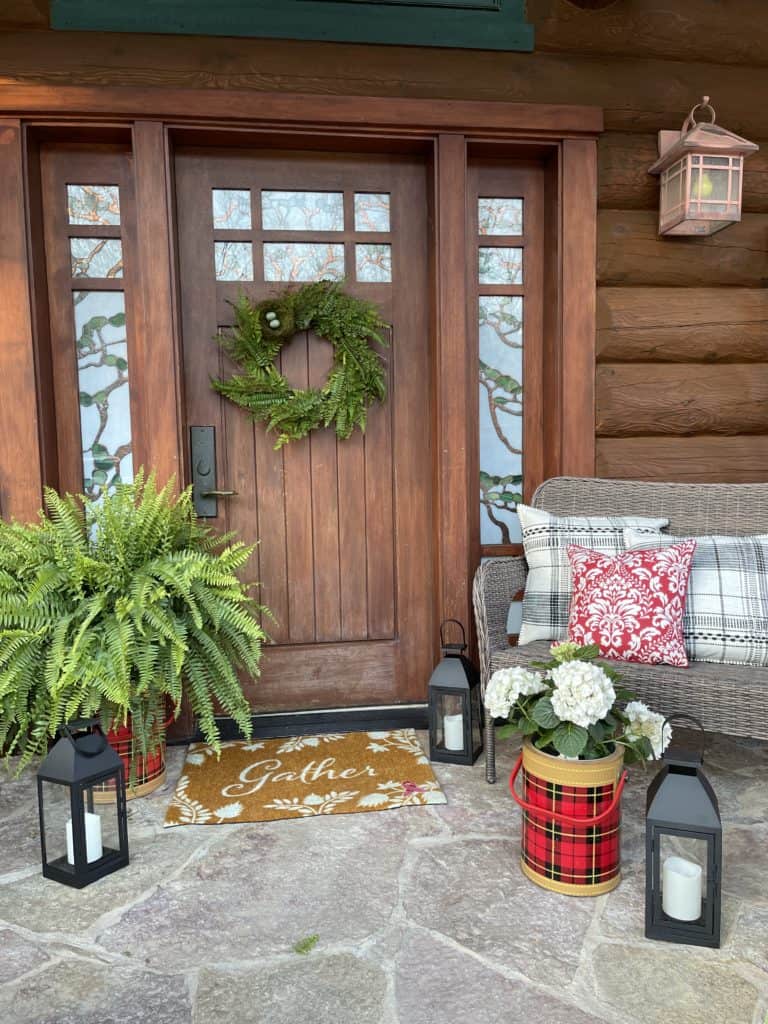 For Spring and Summer I have all weather woven benches I like to use. They are light weight and easy for me to move myself. We've had them for years and they have held up wonderfully and look brand new.
I love to add throw pillows, mixing and matching old favorites and a few new. I often change my color scheme.
This year it all started with my gold Gather welcome mat from Carpet One.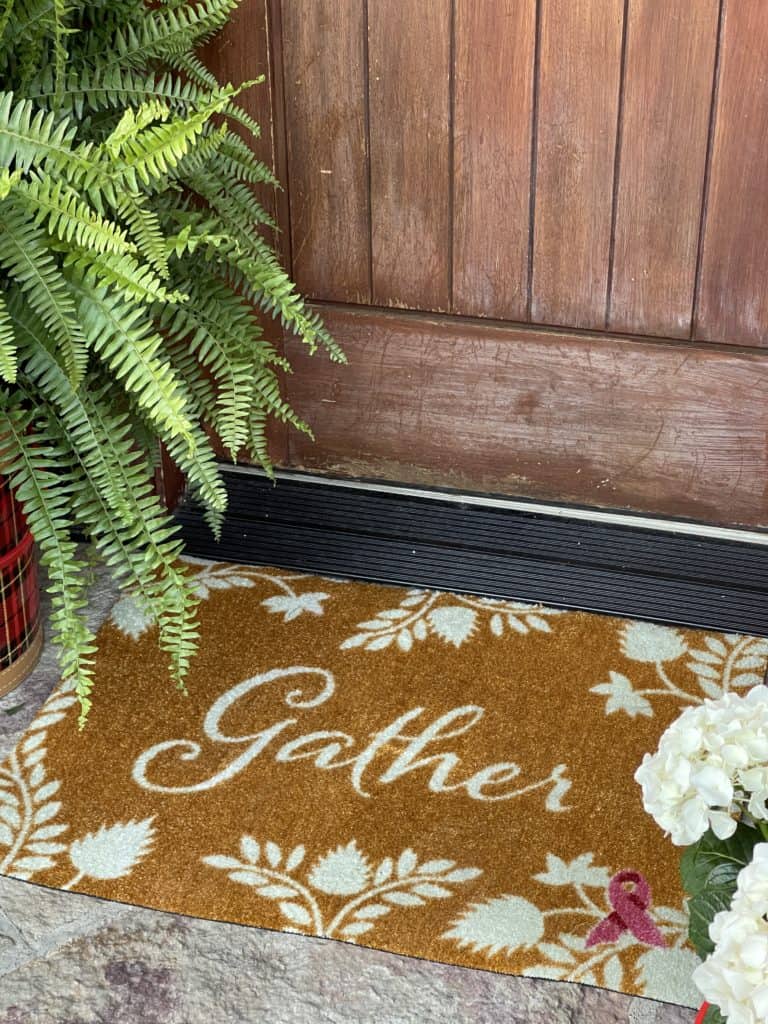 I knew I wanted to use ferns. Our local Walmart has beautiful, affordable ferns early in the season and I found one of my other favorite plants too, white hydrangeas.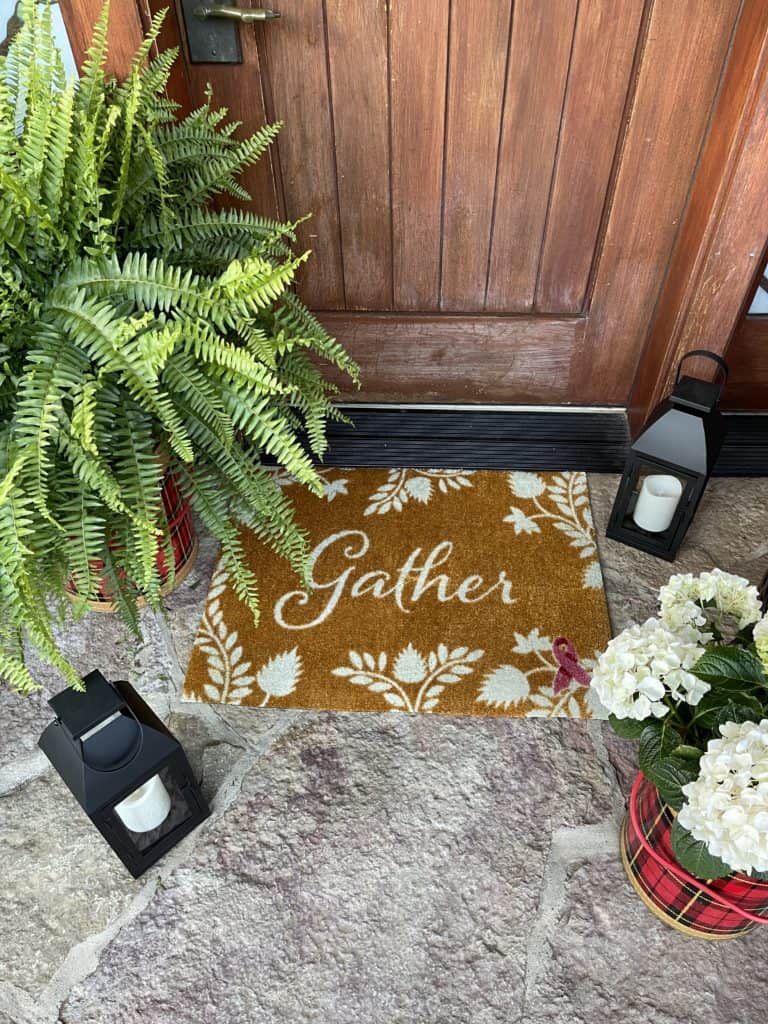 When thinking about what I wanted to hold the ferns I thought right away of my plaid Scotch Kooler in reds and golds. I used my big one for the fern and a smaller one for the hydrangea.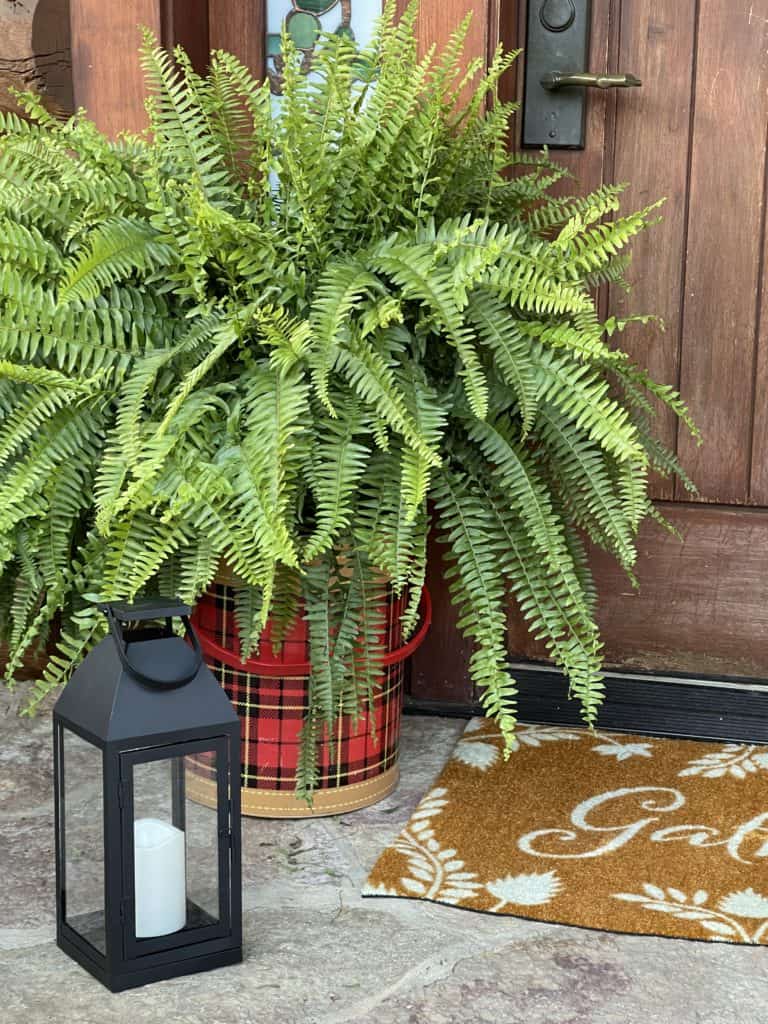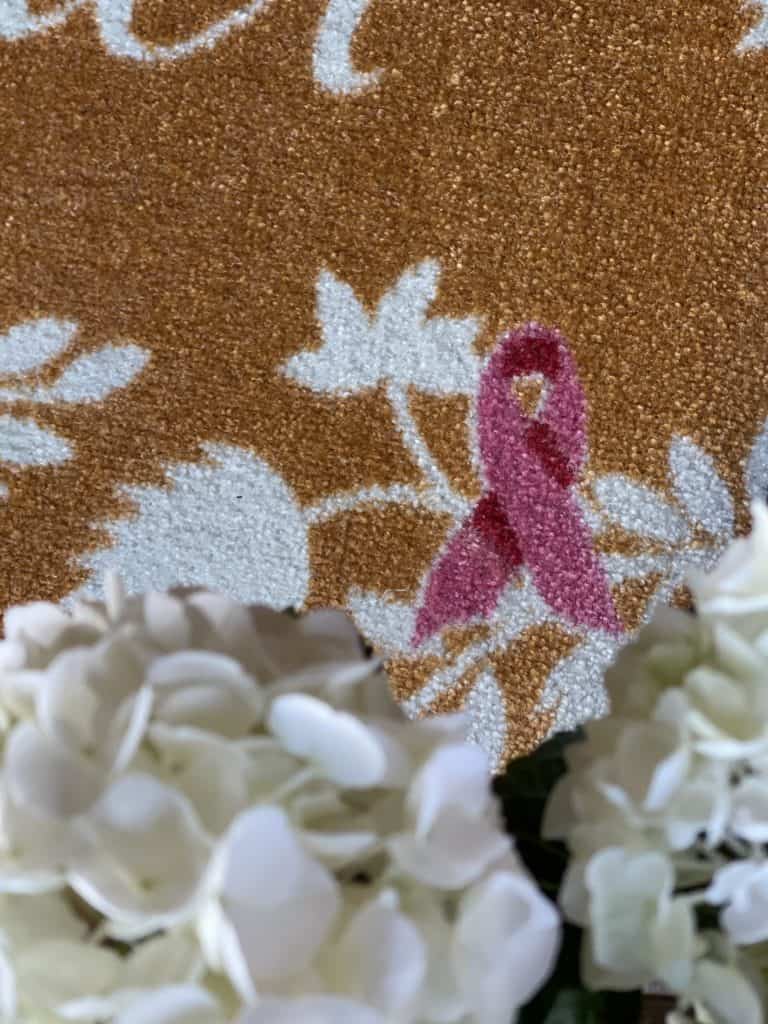 So for pillows I went with black and white and red.

I added in a couple of black lanterns too. I always love lantern light in the evenings and they look beautiful when not lit too.
And this VACANCY sign is a recent find while on one of my Wednesday #thriftingwiththegals adventures on Instagram. It came from an old resort.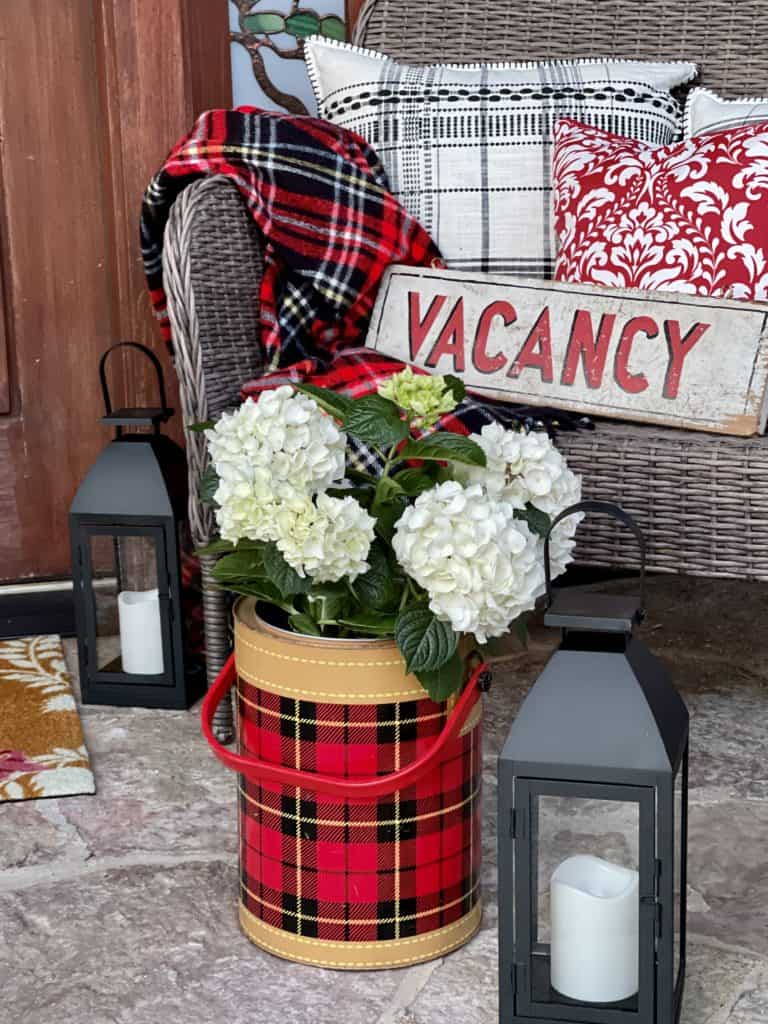 Get the Look


And don't forget your Welcome the Cure Doormat!
Porch Two
Garages need love too and I love to decorate the door and entryway of ours.
We have a detached garage so we always enter it through the main green door on the driveway.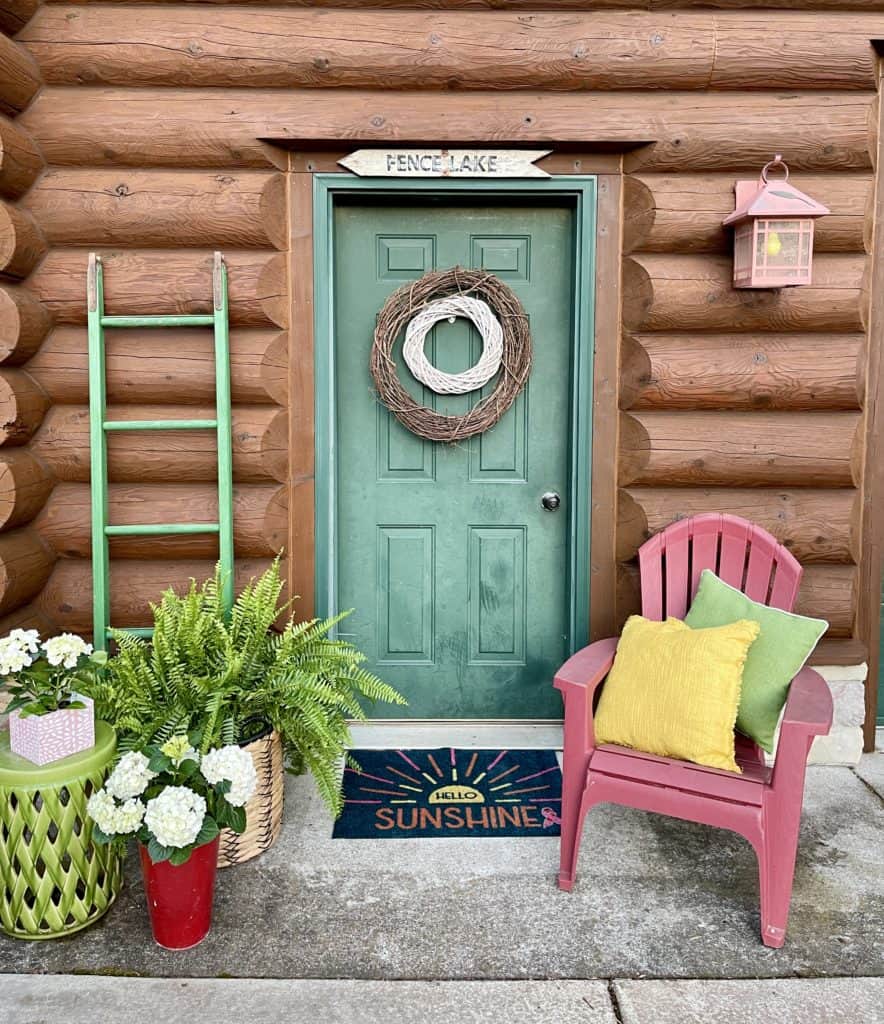 My blog and store got their name from the nostalgic white arrow signs that point your way around The Northwoods. You can read more about the tradition at the bottom of my about me page.
I sell new vintage inspired arrows at White Arrows Home- The Shop, my brick and mortar shop in Minocqua, Wisconsin. You can get them customized with your family name, town name, lake name, cabin name or anything you like. They make great gifts!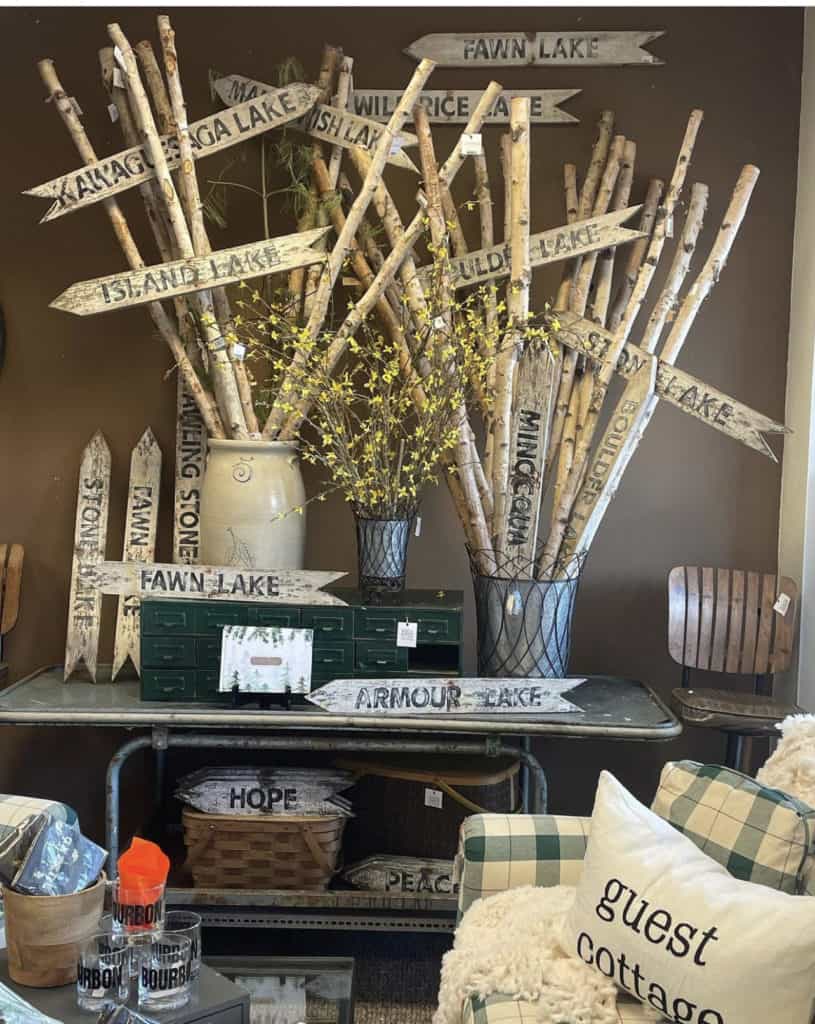 I got home one day last Summer and Brian had put one above our garage door pointing to the lake. It's perfect there!
I doubled up two woven wreaths to keep a natural visual in brown and white to go with the logs and the arrow.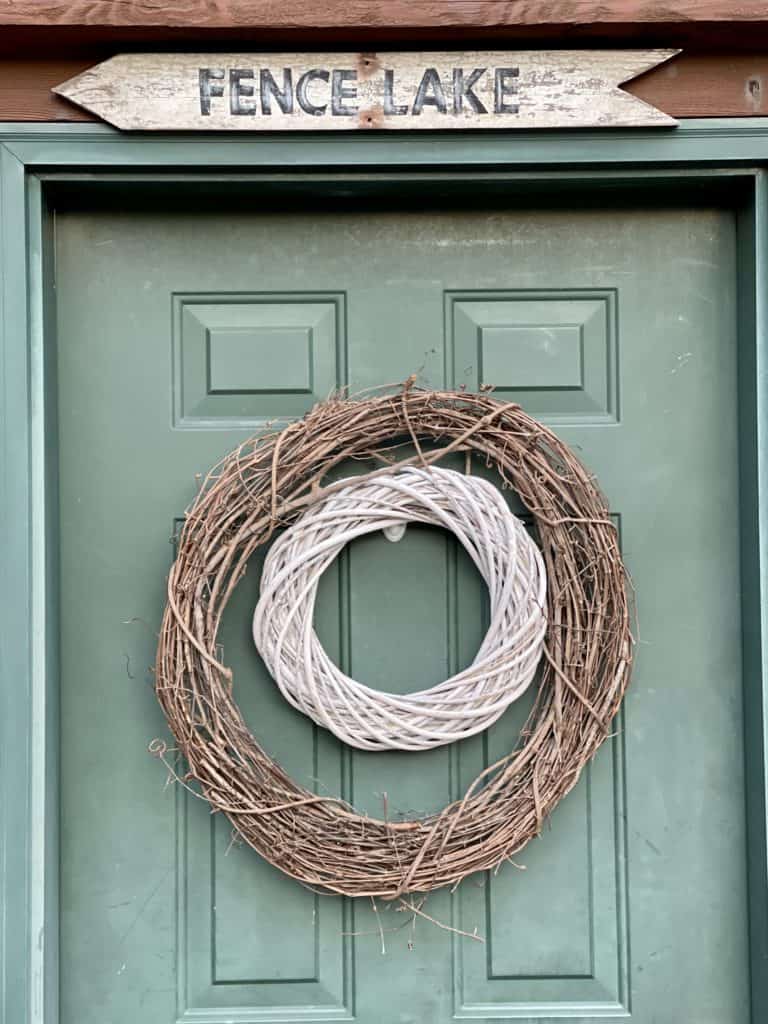 I styled the entry around my Hello Sunshine mat from Carpet One. The colors are so fun! If you follow me on Instagram, you know why I love this mat's message. I love saying "Morning Sunshine" to my followers every day on my Instagram Stories.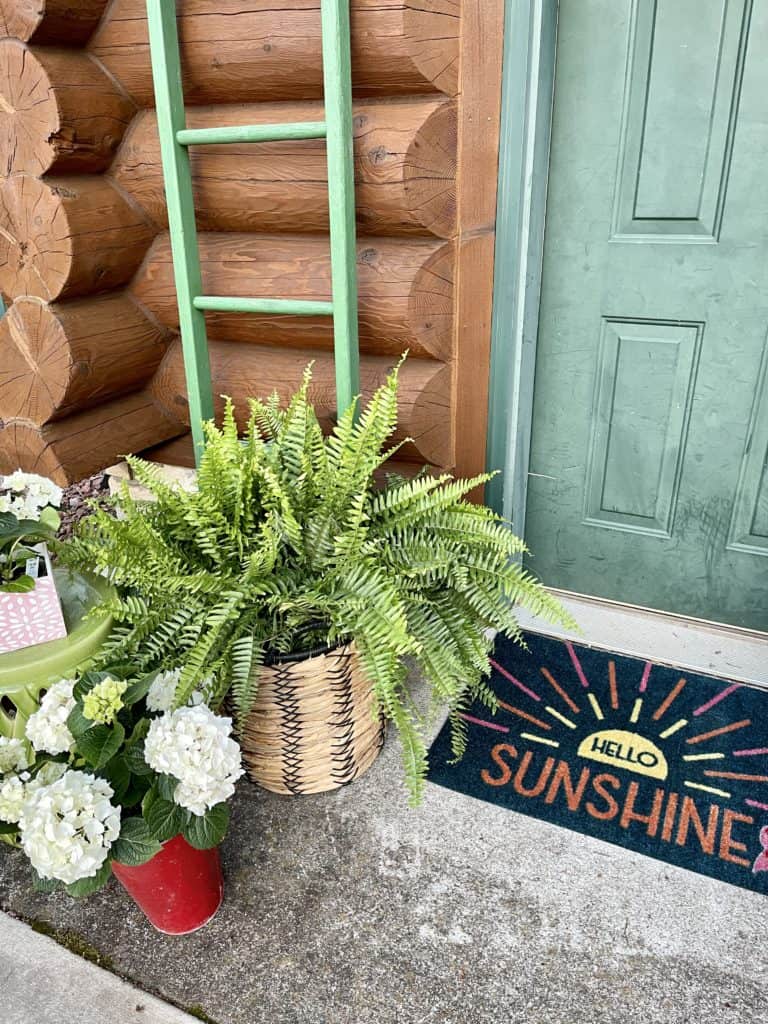 I love the mix here not only of the ferns and hydrangeas but with a woven basket, vintage red tin vase and the garden stool.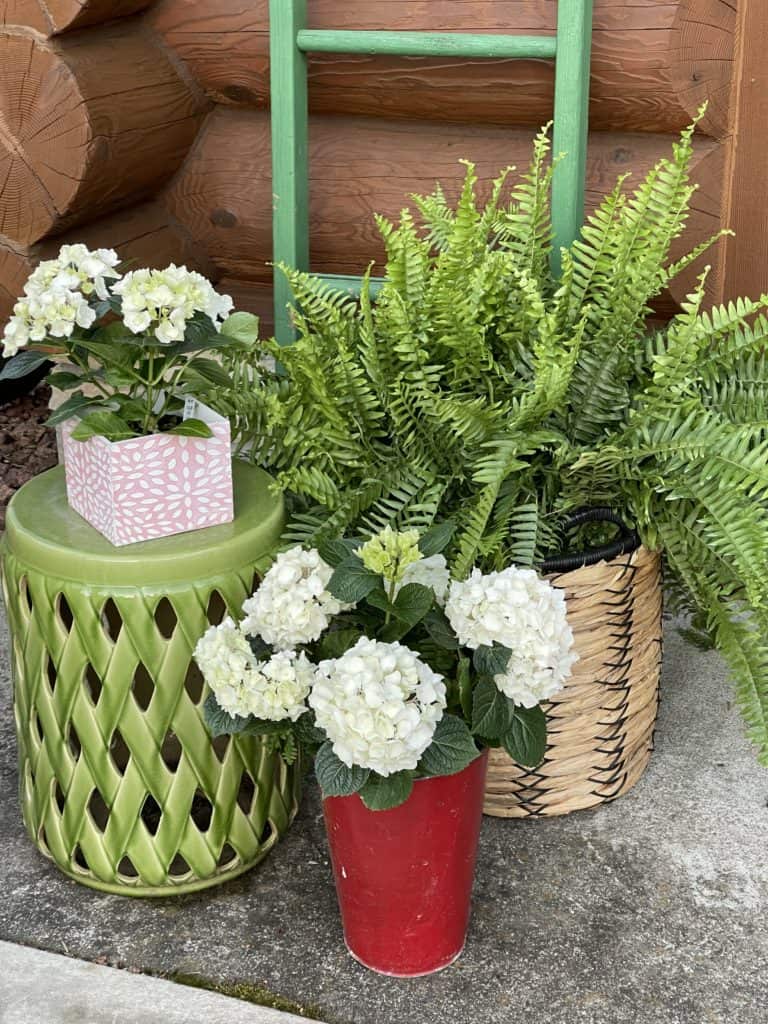 I used one of my red Adirondack chairs and added a few pillows all pulling out the great colors in the rug.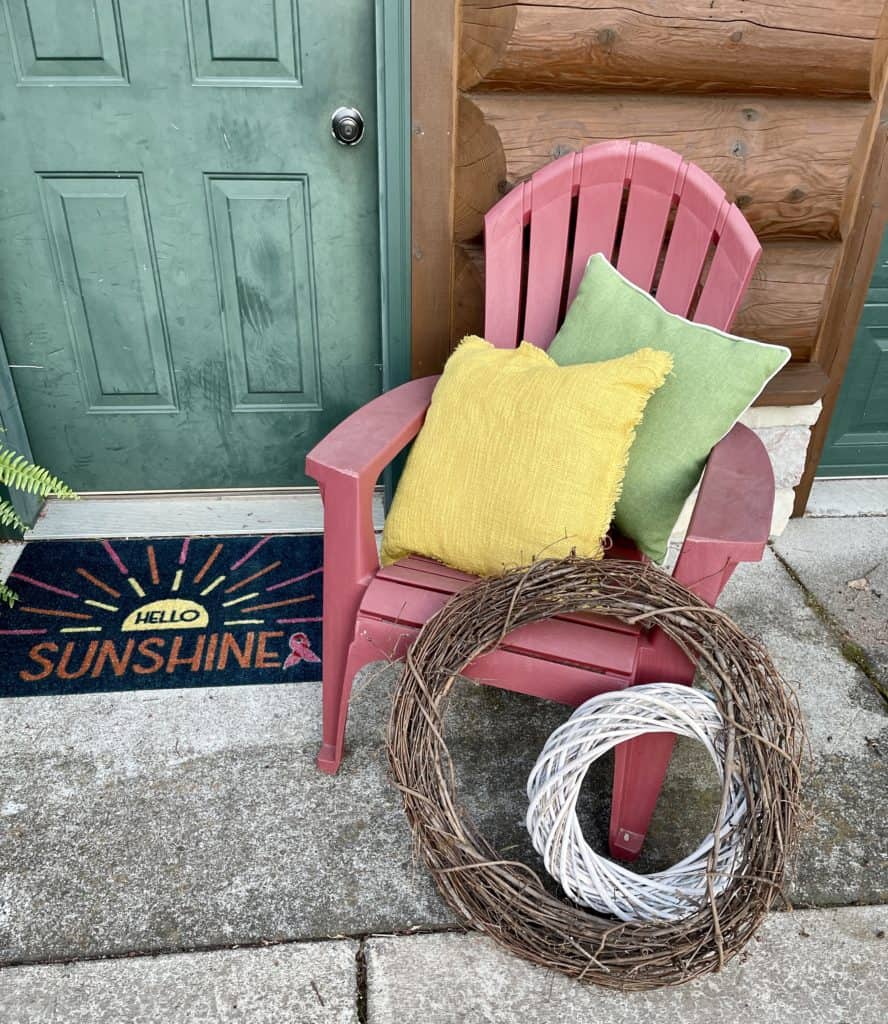 Get the Look


And don't forget your Welcome the Cure Doormat!
Porch Three
The third porch I got ready for the season is the entry to our guest house. We built the guest house a few years ago and enjoy having a space for the friends and family that come to stay with us.
Giving this porch a warm welcome is important to me.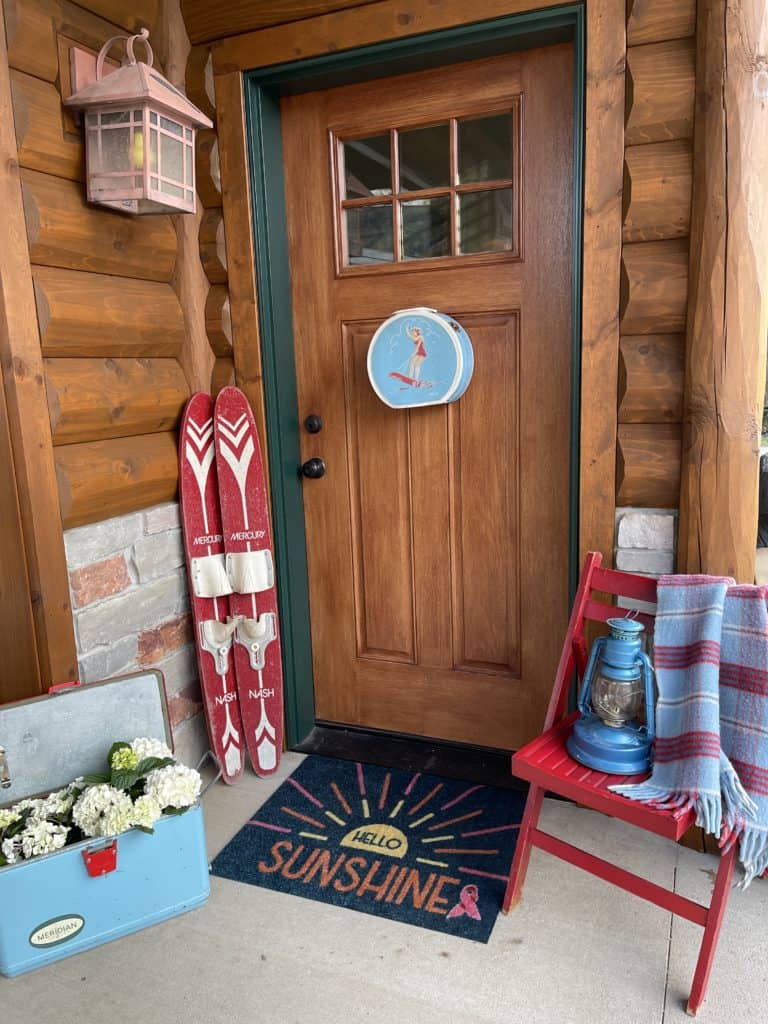 I had fun with this porch giving it a vintage lakeside theme.
These red water skis are part of my vintage collection and I love using them for a pop of color on the porch.

They look great just leaning against the logs or as door decor. And the Hello Sunshine Carpet One mat is a great addition!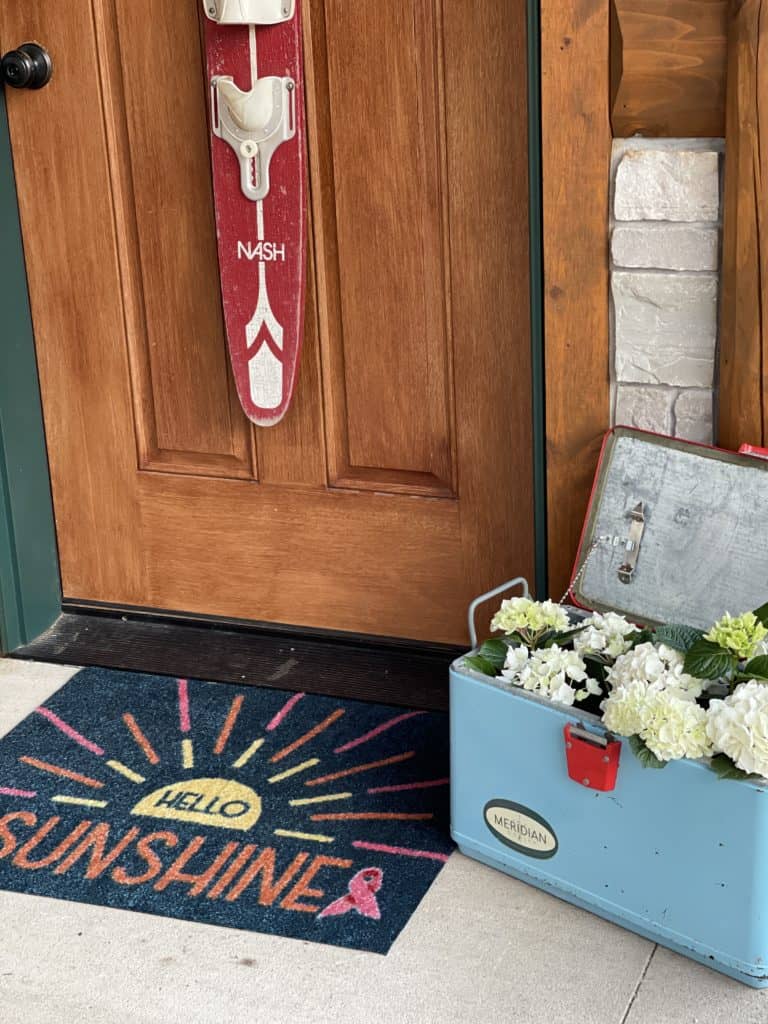 Recently I got this great vintage blue and red cooler. One of my favorite collections is vintage coolers and I use them all the time to serve drinks or as I did here for plants. They can be a great place to hold towels on the dock too.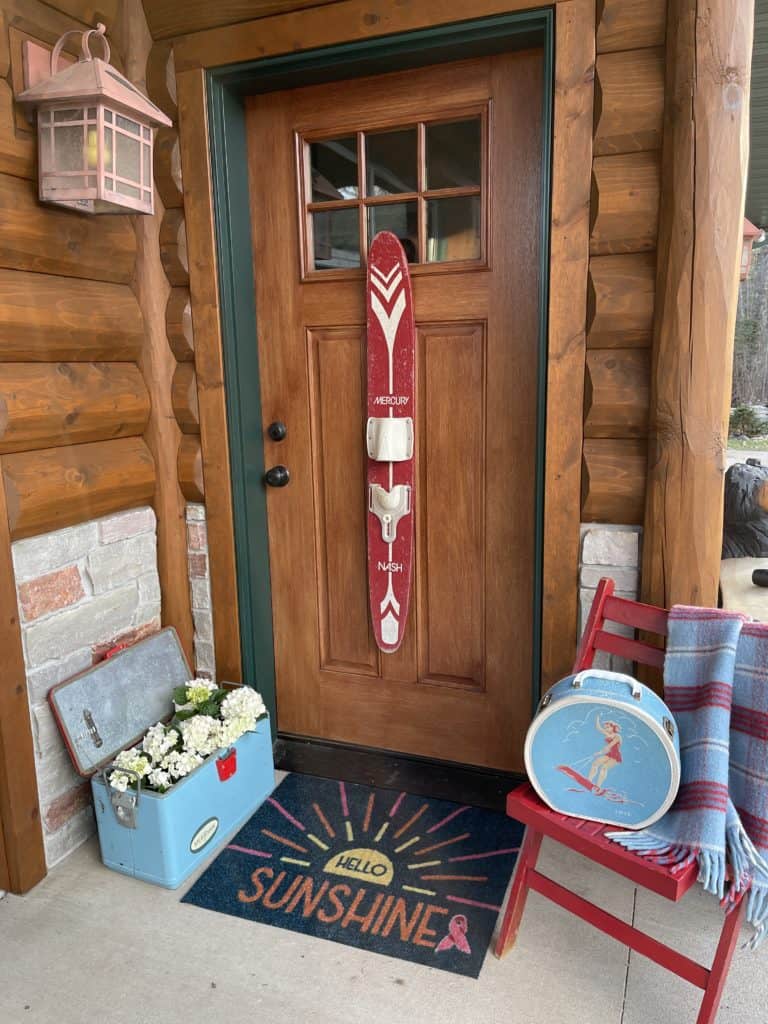 I hung my new vintage suitcase with the waterski girl on the door.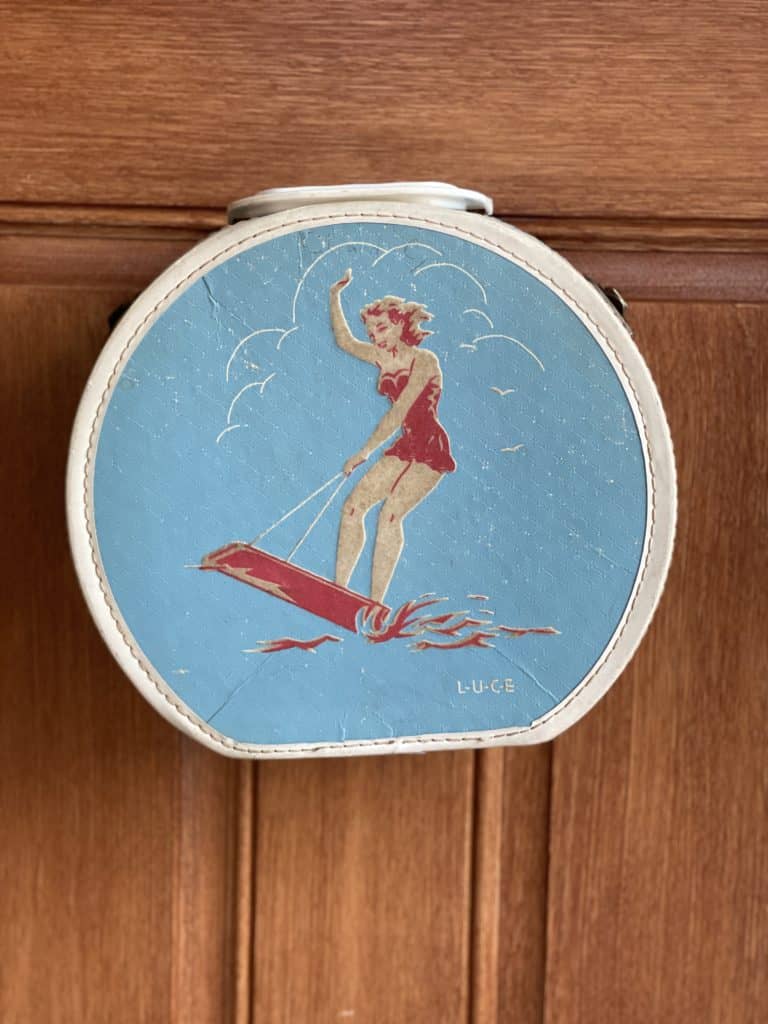 Then I tried the waterski. Which way do you like it better?
Every year I think, "this is my favorite way I've done the porch." And I think that again this year. I've been so happy with my Carpet One welcome mats! They have held up well to traffic and weather and kept their color.
They don't move around due to the rubber underneath so they are safe and stay put.
More Porch Posts to Enjoy:
FOLLOW ALONG
Instagram ~ Facebook ~ Pinterest ~ Twitter ~ YouTube