Adding in color for Spring is the quickest way to feel the change of the seasons indoors adding accesories in greens, yellows and blues.
I'm excited to be joining my friend Marty of A Stroll Thru Life for another Spring Home Tour as I share adding in color for Spring! Each day this week there are several talented home decor bloggers sharing inspiring seasonal ideas. You can find links to all the posts at the bottom of this page.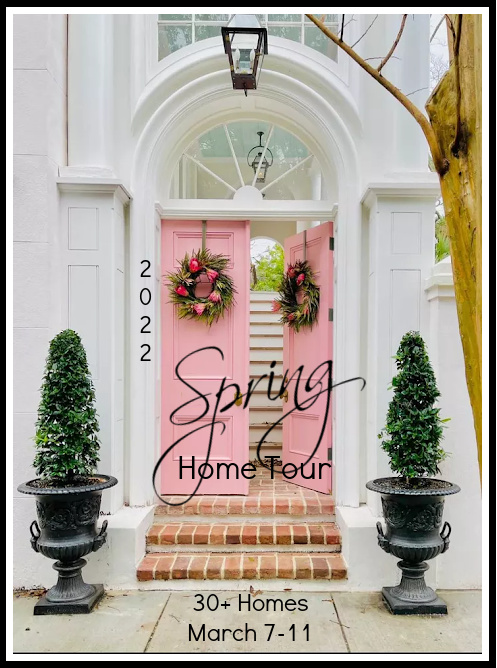 If you are coming over from Jayne's at Chalking Up Success welcome to my lakeside log cabin home in The Northwoods of Wisconsin. Didn't you love Jayne's post? I love how she shares ideas for creating relaxed and stylish interiors.
Spring is not really just around the corner where I live. Just this weekend we had a snow and ice storm. I live where the lakes we boat on all Summer freeze up so hard that trucks can drive on them!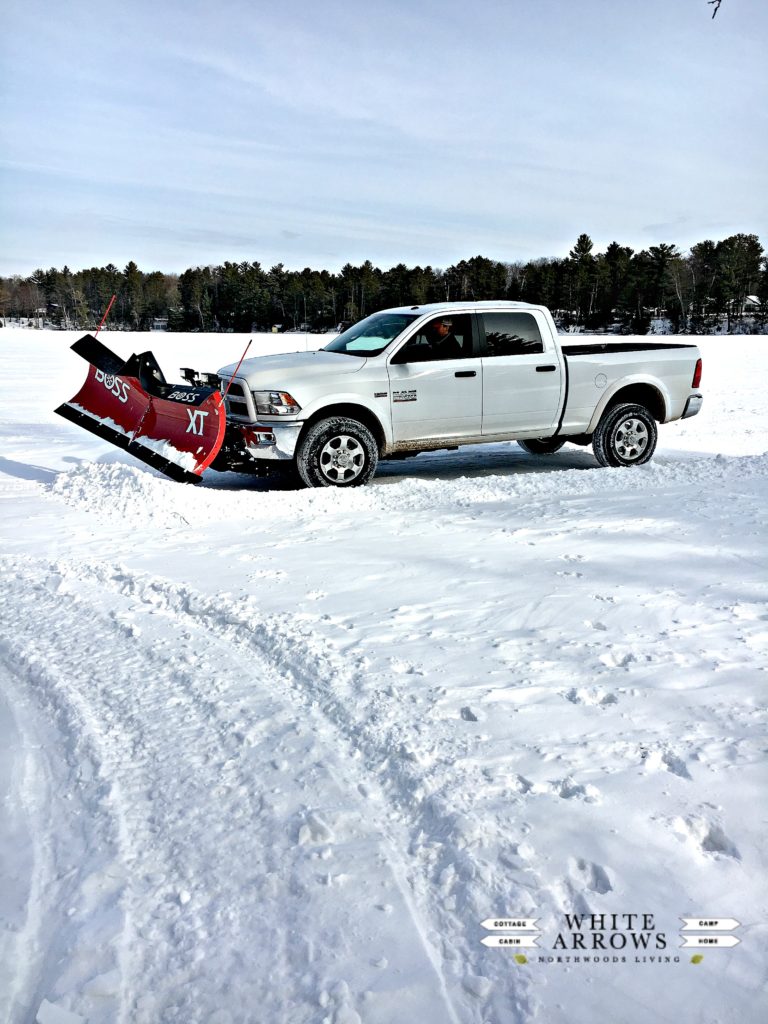 I'm usually inspired by what is right outside my windows, but in Spring my interior decorating comes before the outdoors is ready.
We can have snow through April. And the lake may not thaw until May 1 like last year.
But inside, after Spring Break, I start shifting from Winter decor to Easter and then Spring.
Here's a peek at my Winter Decor.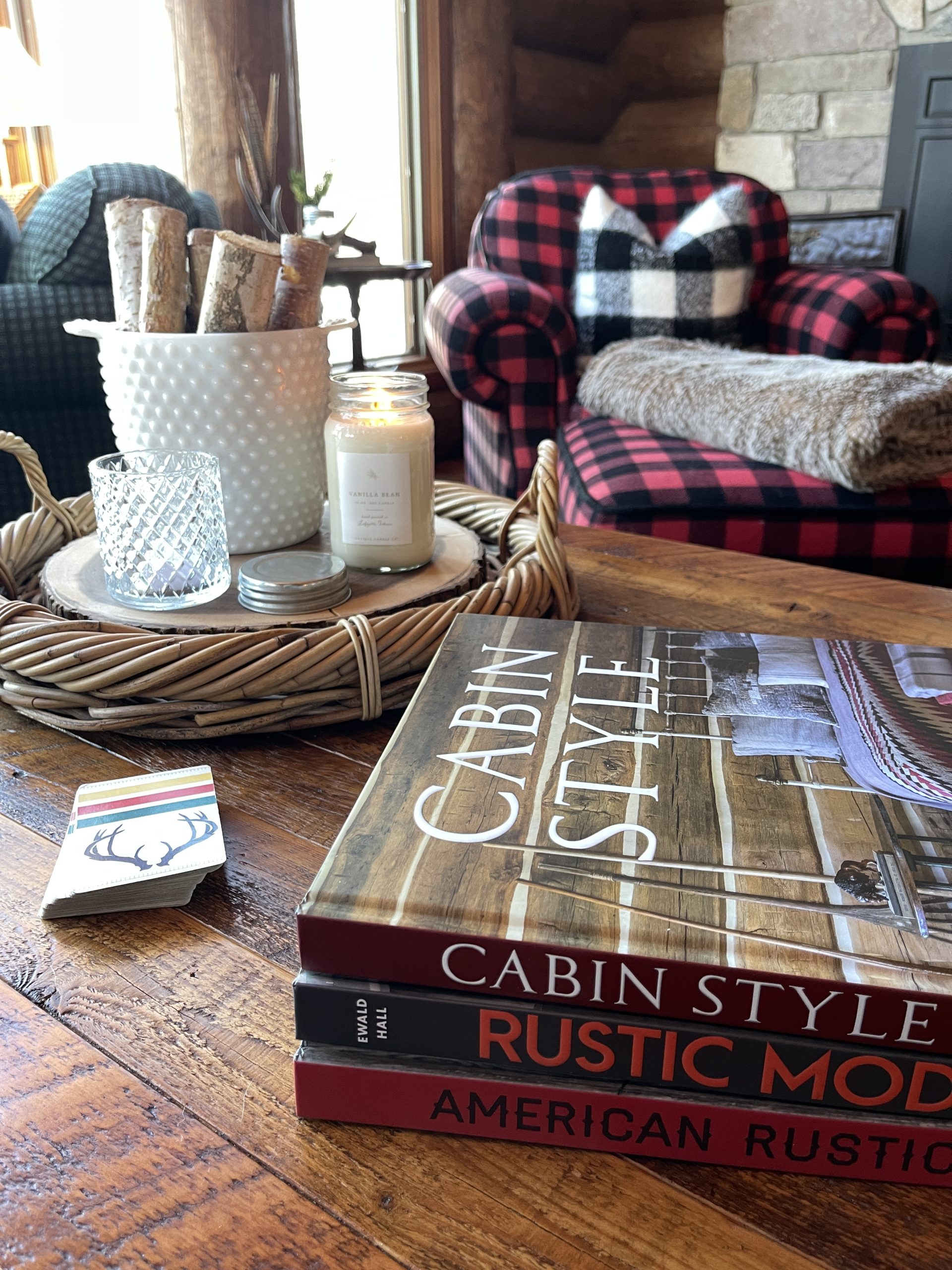 So even though the world outside the door is still covered in white I start to bring in more color.
Decorating With Green
I have green in my house all the time, it's my favorite color, but the best way to make it stand out is to add groupings of things in the same color.
My vintage green typewriter sits on the Great Room desk next to my Lake Cottage sign framed in green. The leaves of a fresh blooming plant and the decorative stripe on my espresso cup round out the color theme.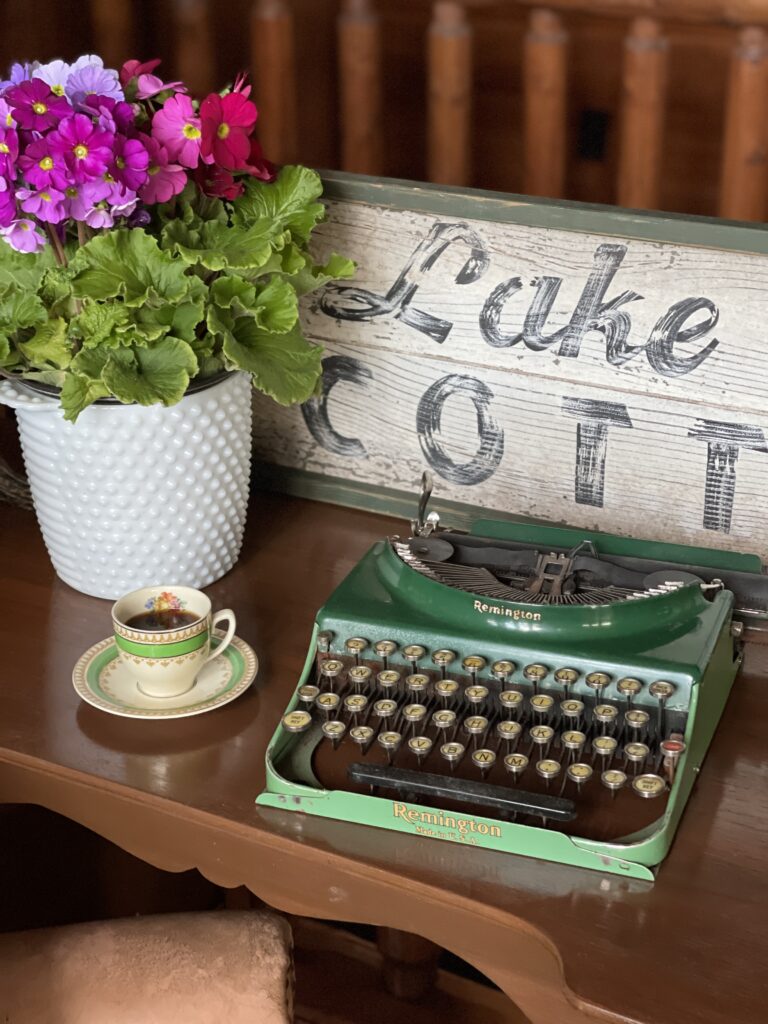 My grandmother passed away last year and I chose this little porcelain rose figurine of hers as a keepsake. I have just always been in love with this happy little piece. I set it on top of a green vintage book.
I love collecting vintage books in various colors to pull out and stack together.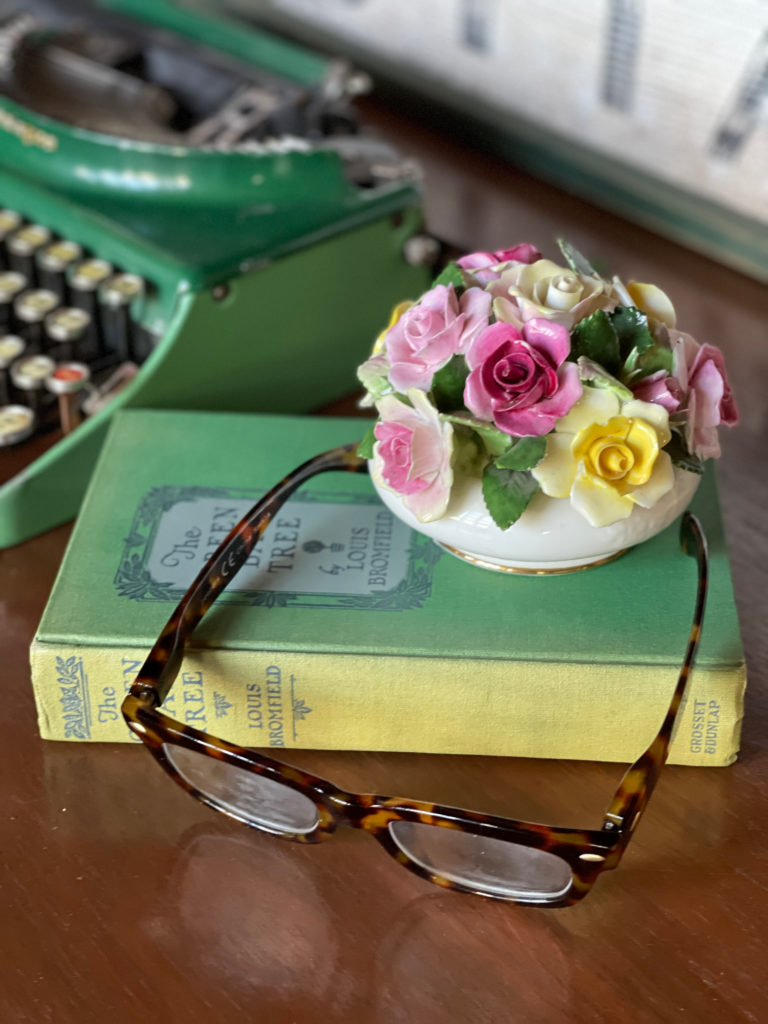 My vintage picnic basket trio is the perfect fit in the corner between my desk and the basement stairs.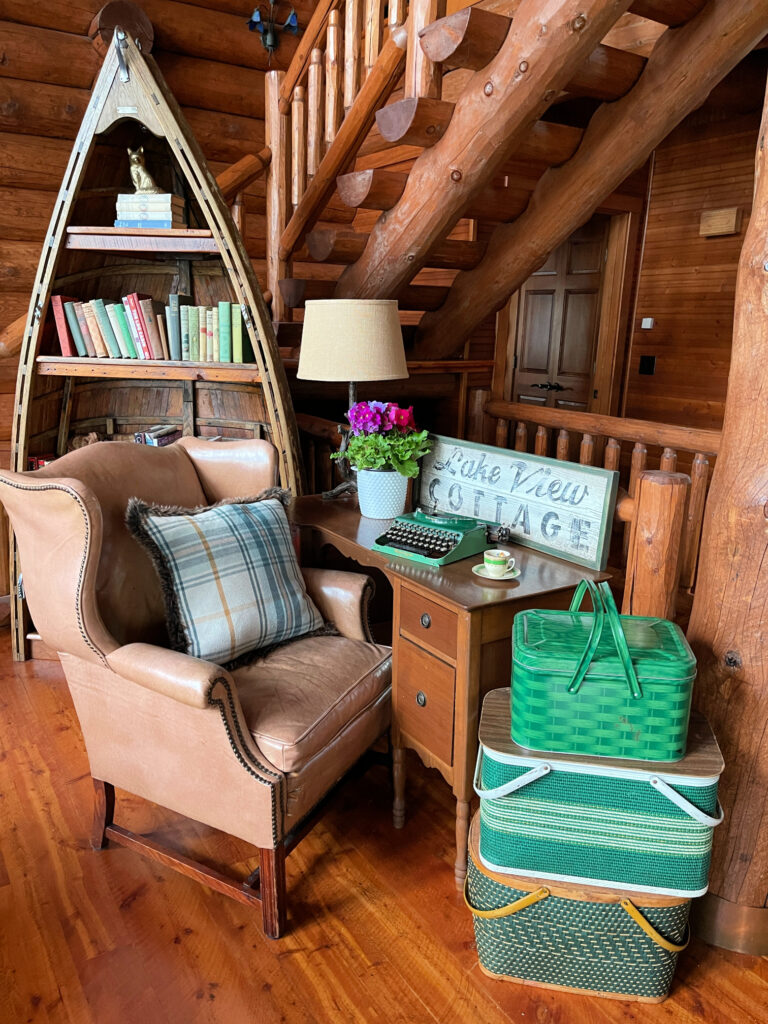 One of the easiest ways to bring in color is to change out my throw pillows and my coffee table decor. Here's the same view last month for Valentine's Day and now for Spring.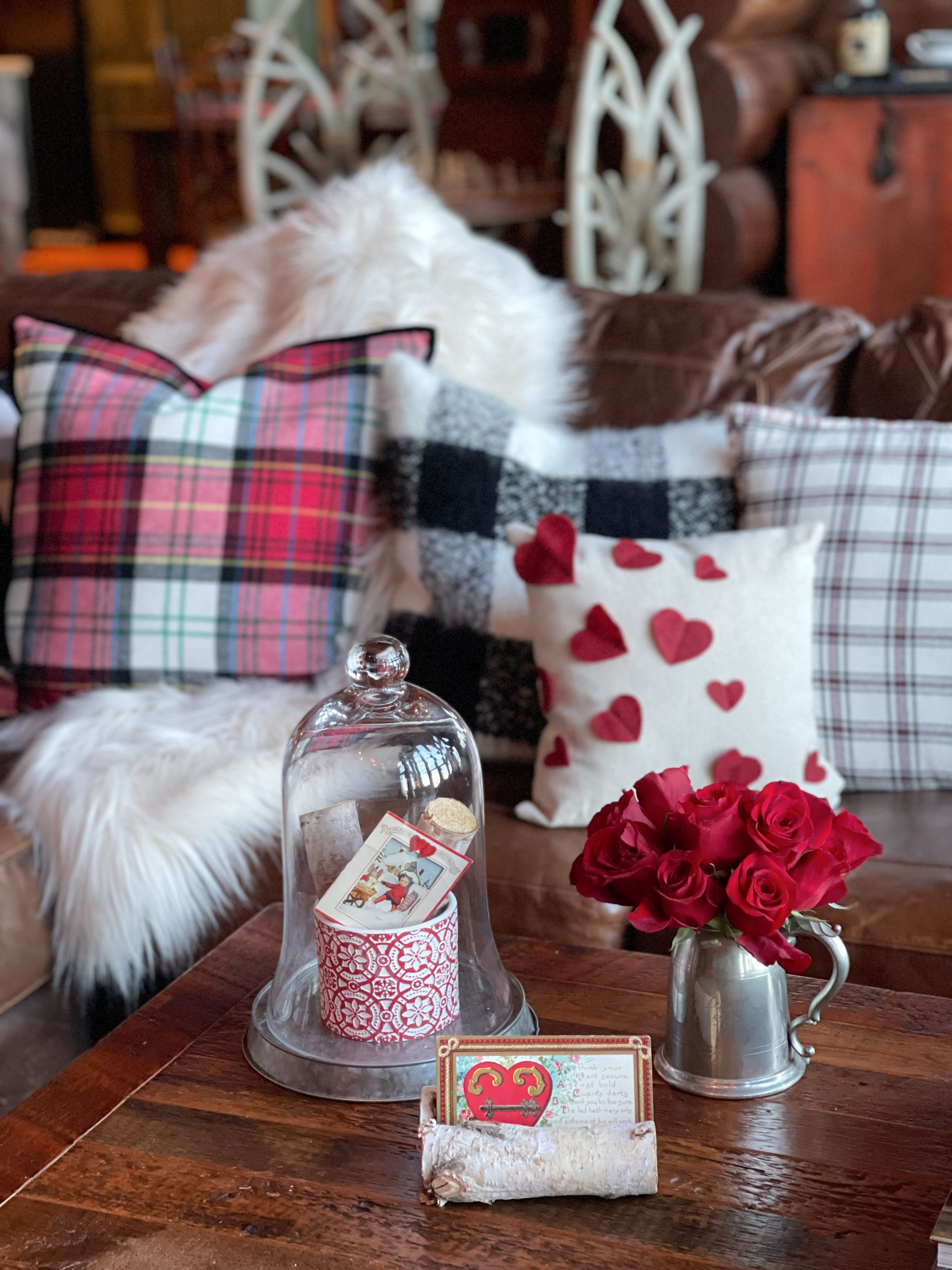 Adding lots of greenery around the cabin is a feast for my eyes. I crave green after the long winter.
I collect milk glass and bring out a few pieces to use around the house filled with greenery, moss and moss covered eggs.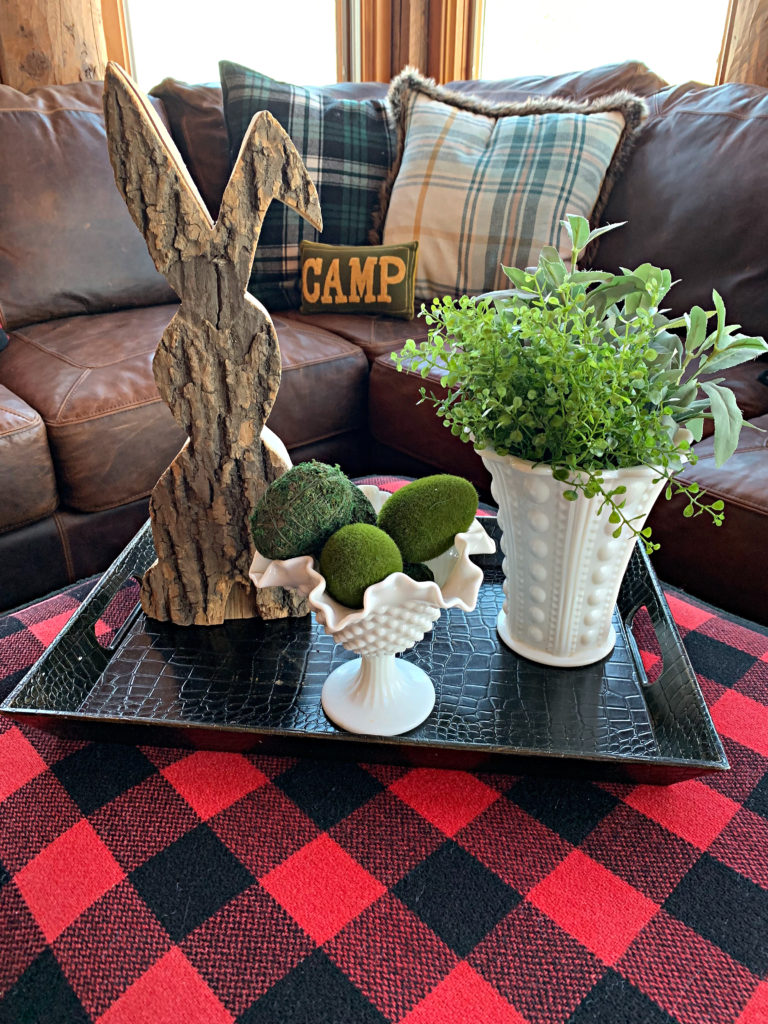 Decorating with Blue
Another beautiful color to pull in is blue in the Spring.
My McCoy blue pots are a favorite to pull out this time of year. I love mixing blues and whites together. I can keep my birch out from winter, mixing in bird statues and white blooms.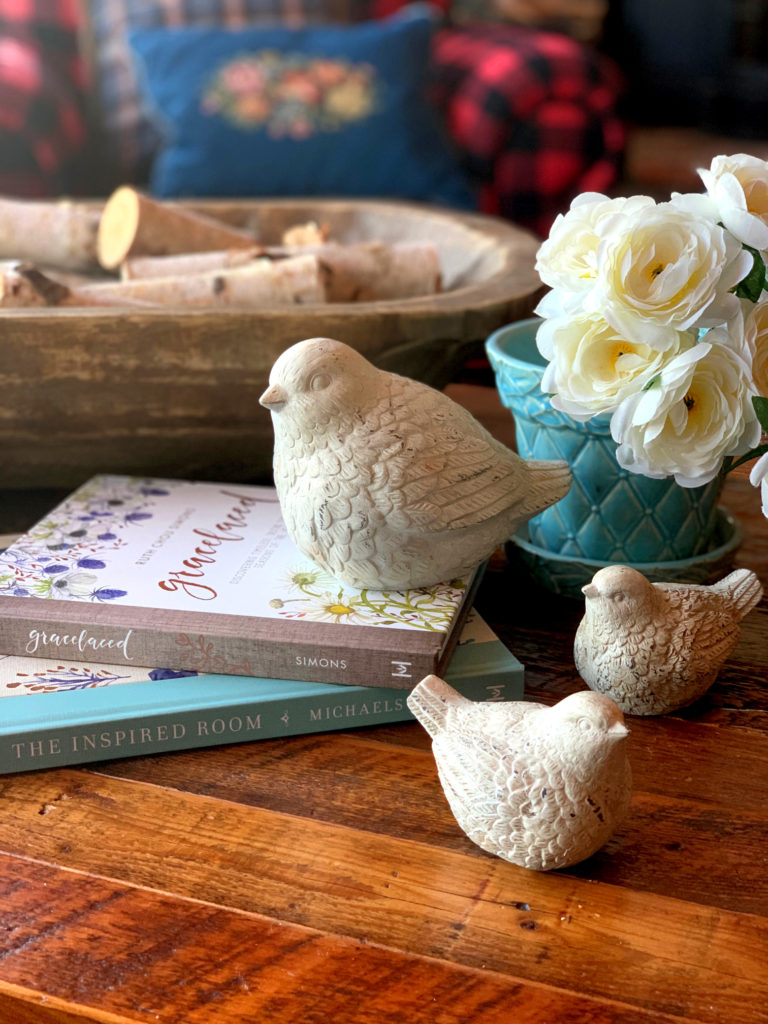 I usually always start my restyling by shopping my house and seeing what's in other rooms that might look great in a new spot, like these blue pillows from one of the bedrooms. Or I grab things from the storage room to pull back out like the blue metal picnic basket.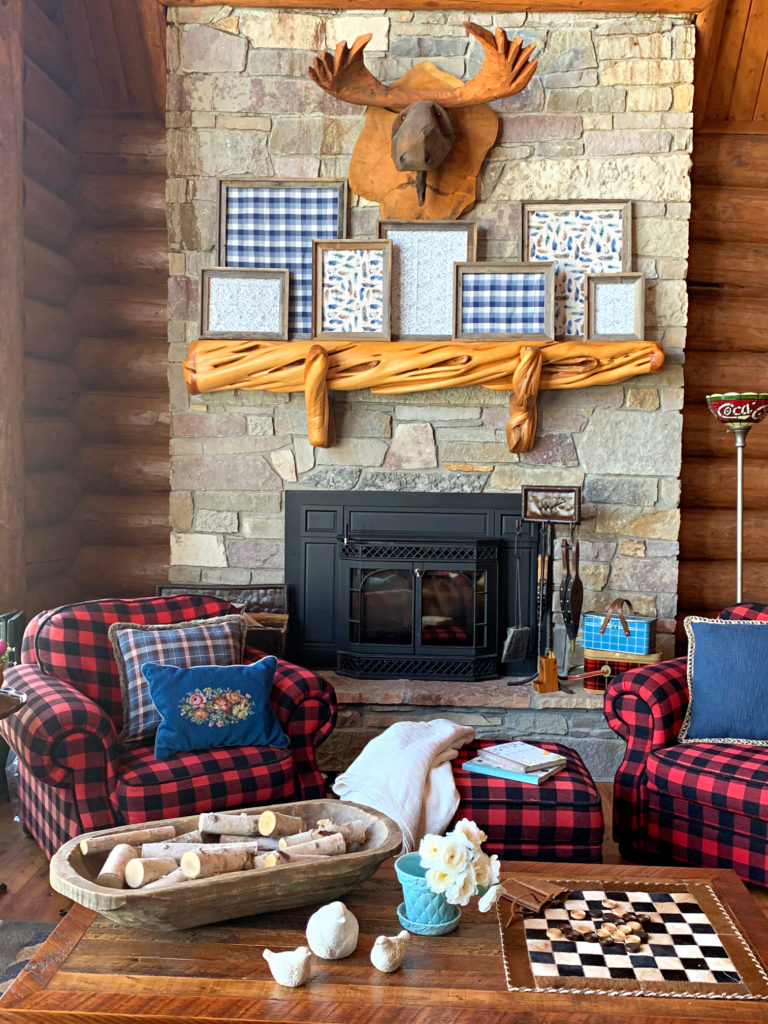 The mantel was an easy and inexpensive DIY using three different fabrics I found at Walmart and some empty barn wood frames. I simply cut the fabric, then stapled it to the back.


Decorating in Yellow
I don't have a lot of yellow decor so my favorite way to pull in this cheerful color is with yellow flowers.
Vases for my flowers are always some vintage piece that was always intended to be used in other ways like this pitcher full of tulips.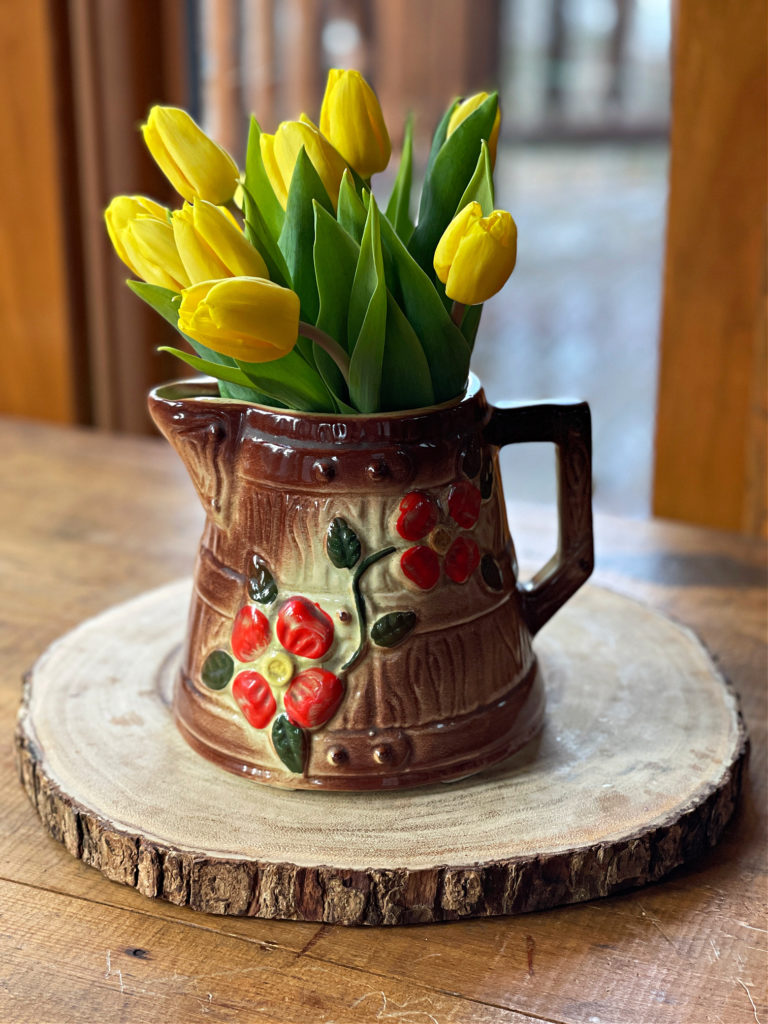 Adding some yellow flowers on the coffee table pulls the bits of yellow out from other objects like the stripe on the playing cards or on the book.
I like to use a lot of woven objects in the spring too, like this tray.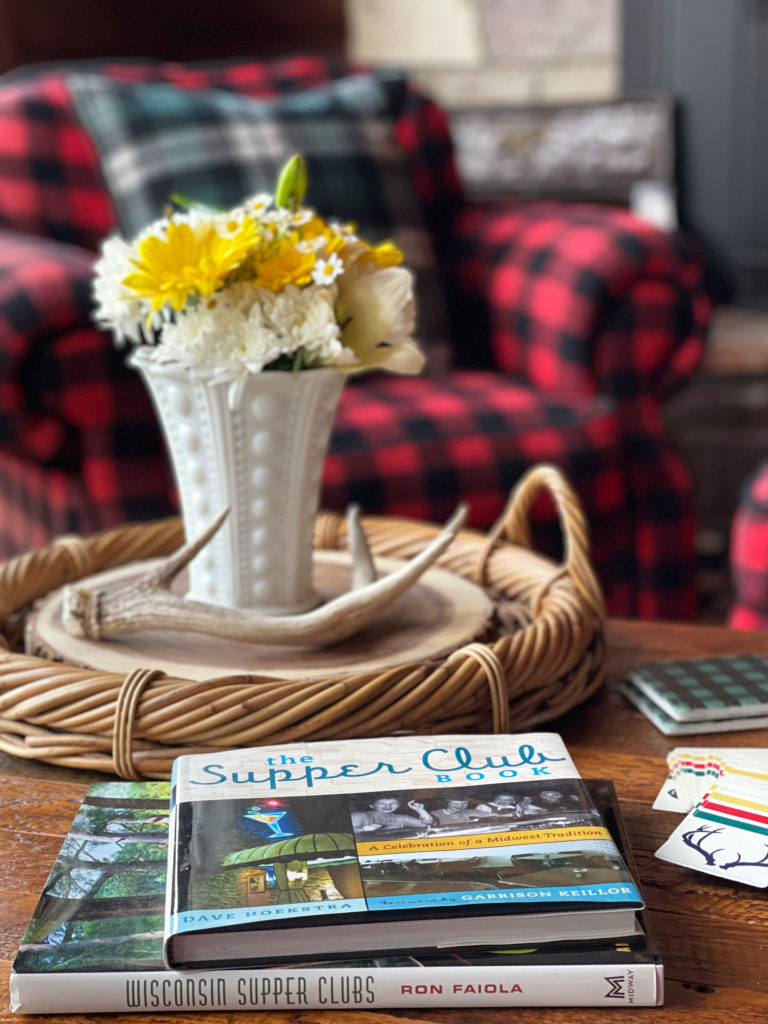 More moss fills milk glass and moss eggs fill the bottom of a vintage egg basket with faux yellow roses spilling out of the top.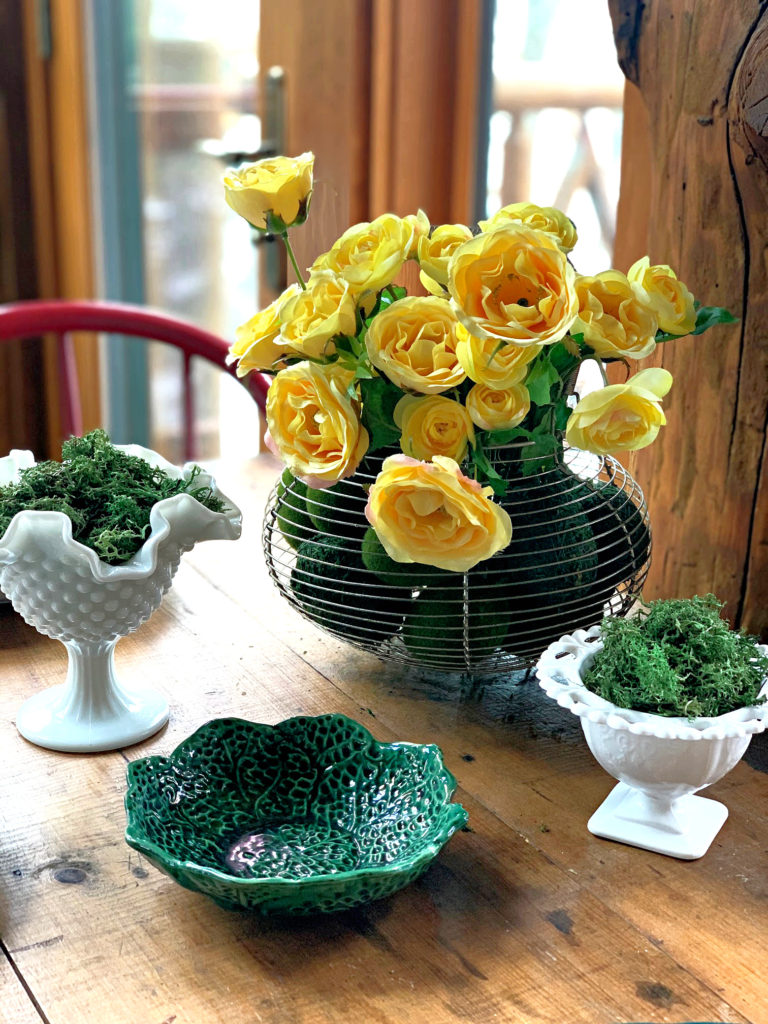 Daffodils are a must in the Spring and separating them one in each bud vase makes a beautiful trio.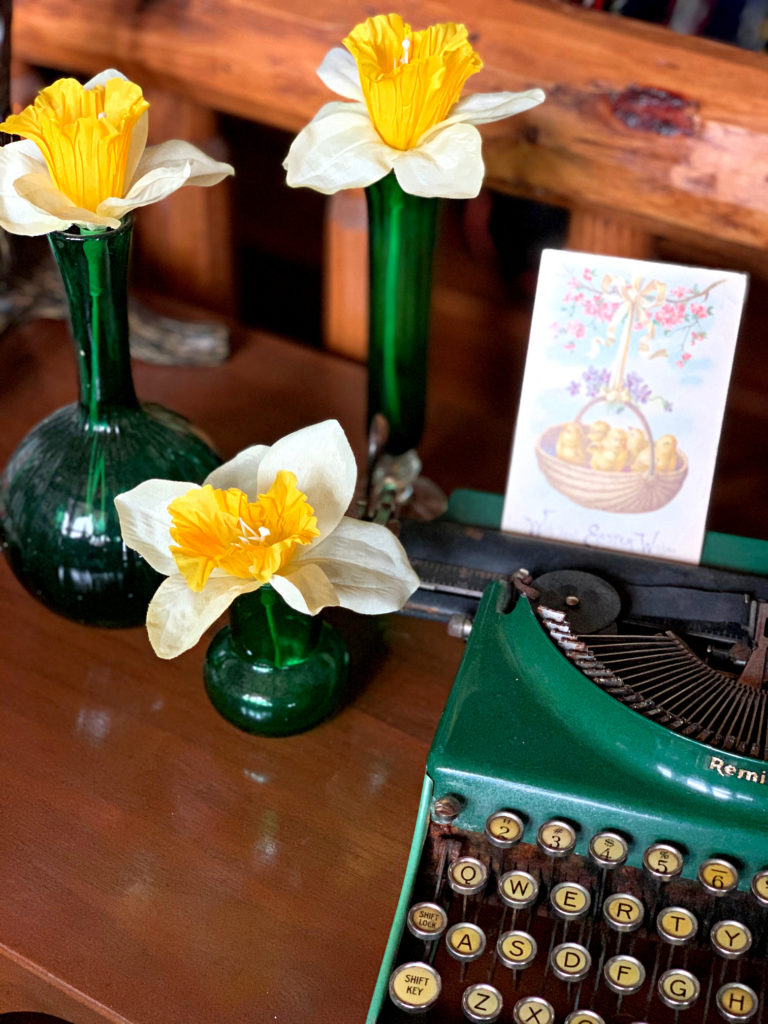 Another way I used yellow roses, on a tray with woven candle holders and antlers. I think antlers are a classic decorating pieces that fits all year long in our cabin in the woods or any home.
The little bee pillow is a fun Spring addition.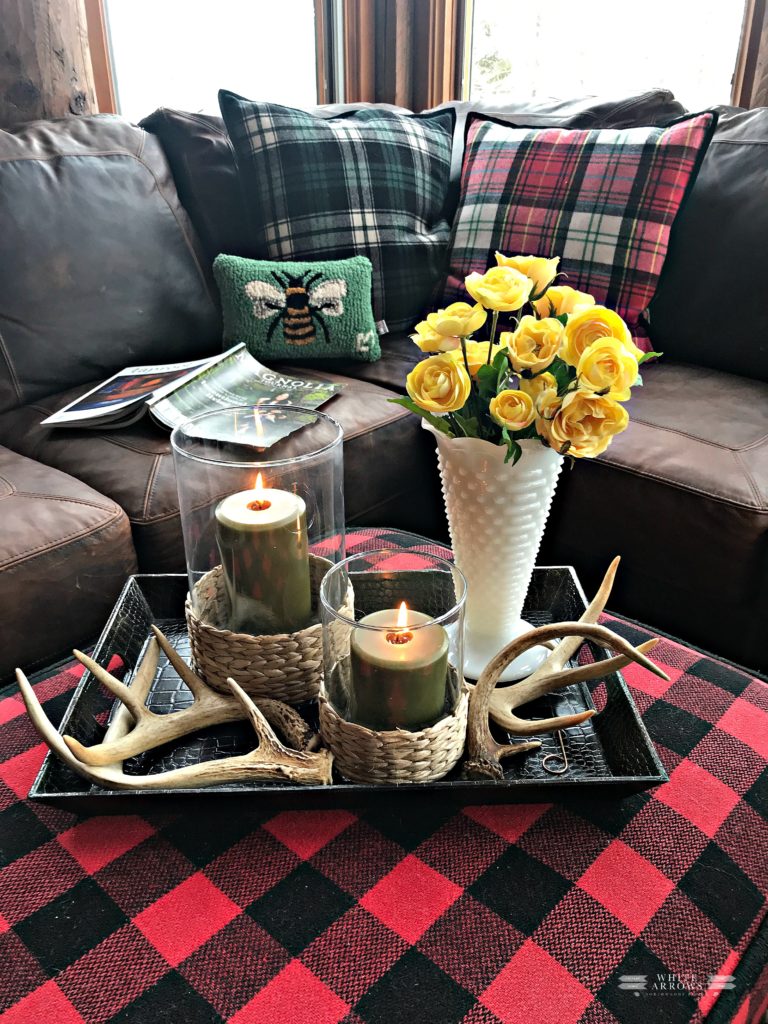 Thanks so much for visiting! I hope your Spring comes soon and is full of color!
Next on the tour, you are heading to my friend Tammy's blog Pink Peppermint Design. Her Spring tour is so beautiful!
Follow along to keep updated. SUBSCRIBE HERE.
Take the Tour
Monday March 7th Lineup

A Stroll Thru Life – Thrifty and Chic – Chalking Up Success – White Arrows Home – Pink Peppermint Design – Worthing Court
Tuesday March 8th Lineup

Our Southern Home – Cuckoo4Design – Country Road 407 – Decor To Adore – RemodelaCasa – Calypso in the Country
Wednesday March 9th Lineup

Whispering Pines Homestead – Up to Date Interiors – The Stonybrook House – DIY Beautify – Southern Home & Hospitality – Dimples and Tangles
Thursday March 10th Lineup

CitrineLiving – Hymns and Verses – 11 Magnolia Lane – StoneGable – Southern Hospitality – This is our Bliss
Friday March 11 Lineup

Grace In My Space – Follow The Yellow Brick Home – Quarters One – My Wee Abode
FOLLOW ALONG
Instagram ~ Facebook ~ Pinterest ~ Twitter ~ YouTube ~ Tik Tok ~ Liketoknow.it ~ Podcast