The Easter meal, whether you do a brunch after church or dinner that evening calls for a table styling that fits the occasion. I'm sharing 7 Was to Set a Special Easter Table. But even if you aren't hosting Easter, these tips always apply.
I'm joining a group of talented ladies today for an Easter Table Blog Hop hosted by Pasha is Home. Find links to all the inspiration at the bottom of this post.
(Affiliate links are used for your convenience. Read my full disclosure here.)
If you are coming over from Pasha is Home, didn't you love her gorgeous table! She is such an inspiration. Now welcome to White Arrows, my blog where I share inspiration from the backdrop of our lakeside log cabin home in The Northwoods of Wisconsin.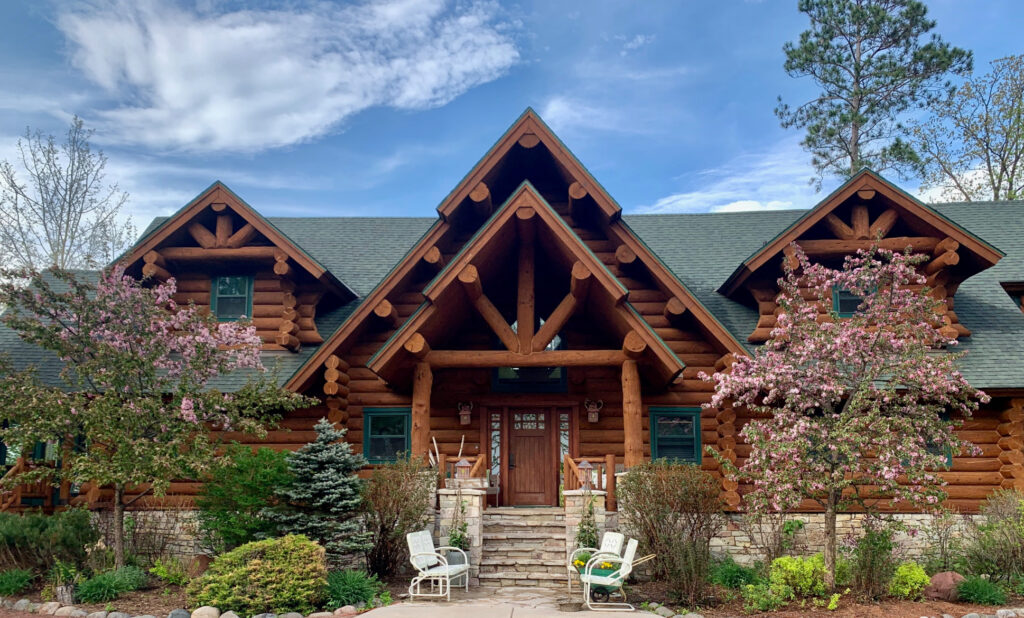 Eight years ago our vacation home became our full time home and where I love to gather my family together for Holidays and Everyday. Read more about our move to the cabin HERE.
Something I greatly enjoy is setting the table. It's not only fun for a party with guests, but something special to do for your family. Easter is even more special because its a mix of the two. Setting a beautiful table is an easy way to share my gift of hospitality and my love.
One: Find Your Inspiration Piece
Before I begin setting my table, I have often been thinking of a piece- an antique, a vase, a table cloth, certain dishes- that I want to use. The idea for the table will be floating around in my head weeks or days before the event.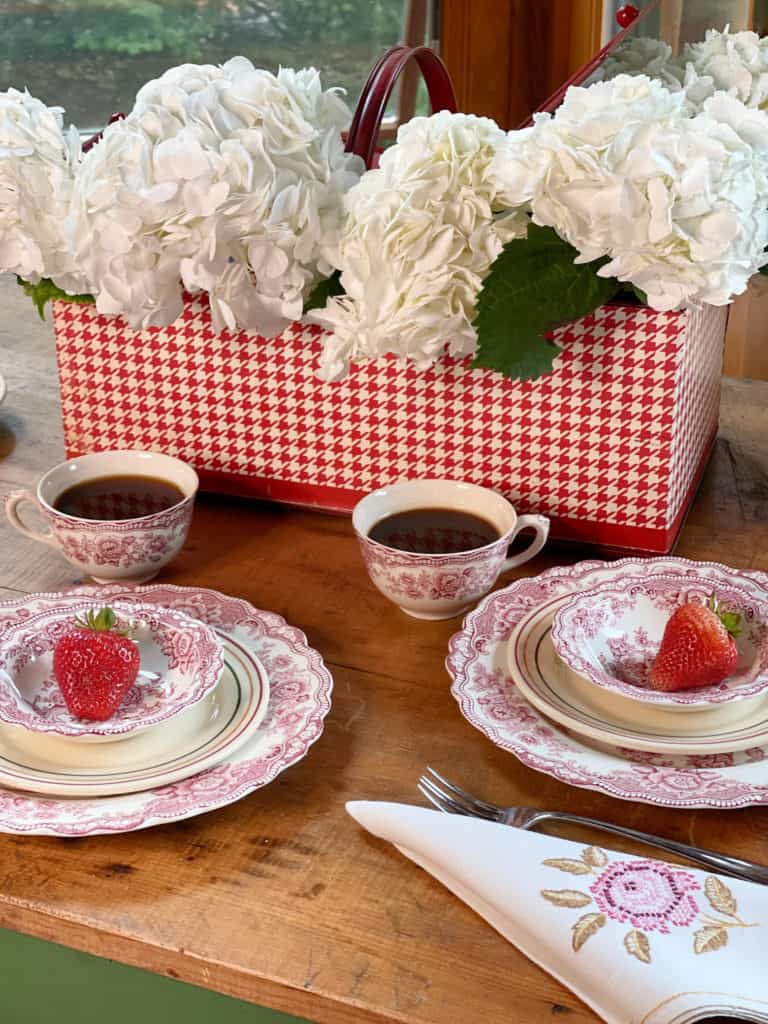 Have you seen the show The Queen's Gambit, where the main character visualizes the chess pieces on the ceiling as she goes to bed? That's my brain when I lay down at night. I'm thinking of room arrangements, table styling or fun projects ahead. Though I don't stare at the ceiling, I have my eyes closed.
Sometimes I decide what I'm going to do for a table setting just before the meal and take time looking through my linens, dishes and glassware to see what catches my eye, or fits the occasion.

Our cabin was built as a vacation home, so doesn't have much storage. There's adequate storage, but not enough for a collector. So I have been dreaming for a few years about turning my laundry room into my dish pantry. I already store many of my serving pieces down there in the cabinets, but I want to be more bold. I want to take out the cabinets and put in shelving. Hopefully this will be a Spring project coming up soon.
Follow along to keep updated. SUBSCRIBE HERE.
After I find my jumping off piece I start to pull together the other elements that work with it.
Two: Don't Be Afraid to Break the Rules
I grew up in the South. I was a debutante. I took manners lessons and read the books. But when it comes to my table, I'm a rule breaker.
It's important to know where the silverware "should" go, you never know when you'll be dining with The Queen, but when it comes to your own table shake it up.
Your table is your palette and you are an artist. That's how I look at my love of decorating, its my art. If you are looking for validation for the time you love spending moving furniture, redecorating for holidays, and remodeling spaces, this is it. You may be like me where you get lost in the activity, feel in the zone and full of peace. That's how you know its one of your creative callings.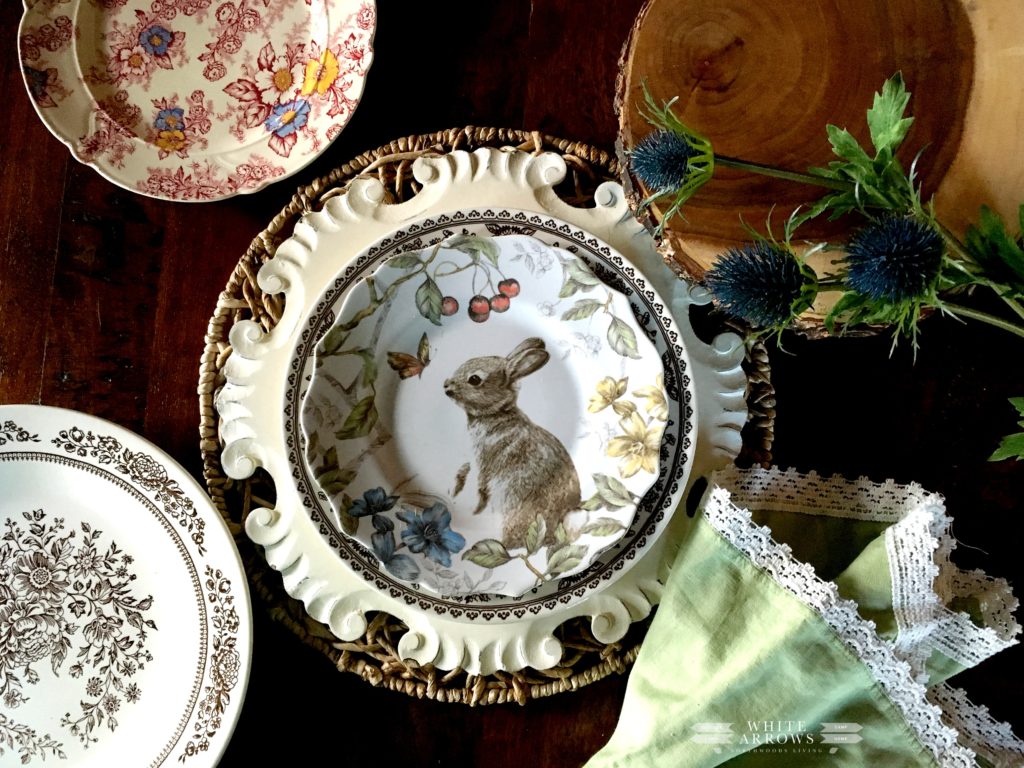 So I'm giving you permission to mix and match your dishes, use everyday pieces with the good silver, add in a vase that hasn't been polished and is full of patina. Use what makes your heart happy and your guests will feel the joy too.
Three: Include Something Heirloom
I have lots of special pieces passed down to me by my grandmother whom I grew up having so many special memories with. She passed down pieces that had been in the family for generations. I also have pieces from my mom's mom who passed away when I was two, so I don't have memories with, but treasure the pieces as if I did.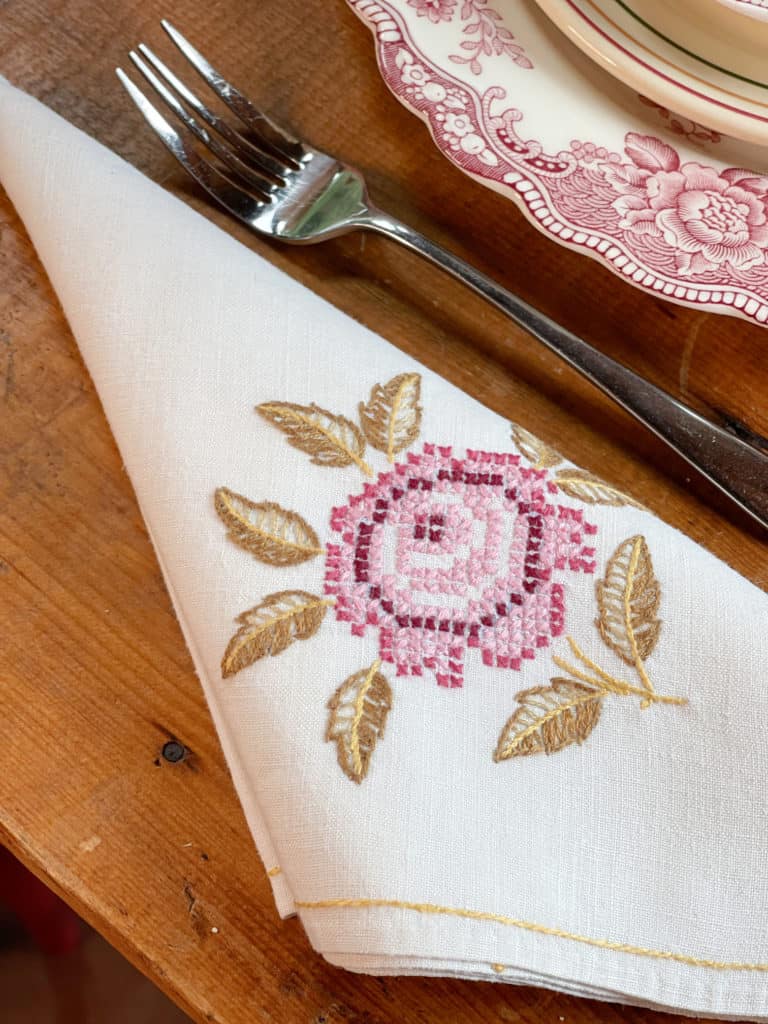 It's wonderful to pull these out and use them for Holidays, but also daily.
If you don't have any family heirlooms, then you be the one that starts them. Find special pieces at antique shops, thrift stores and vintage markets.
If you are looking for ideas, follow along on my Facebook and Instagram feeds and stories where I share lots of inspiration. I'm also part of #thriftingwiththegals where a few friends and I take you along on our thrifting adventures weekly in our stories and once a month on the blog.
As you find these special pieces, begin to build memories around them, using them often and give them a story. Talk about why you chose it and where you found it. It will become where your children and grandchildren will always remember it being on the table.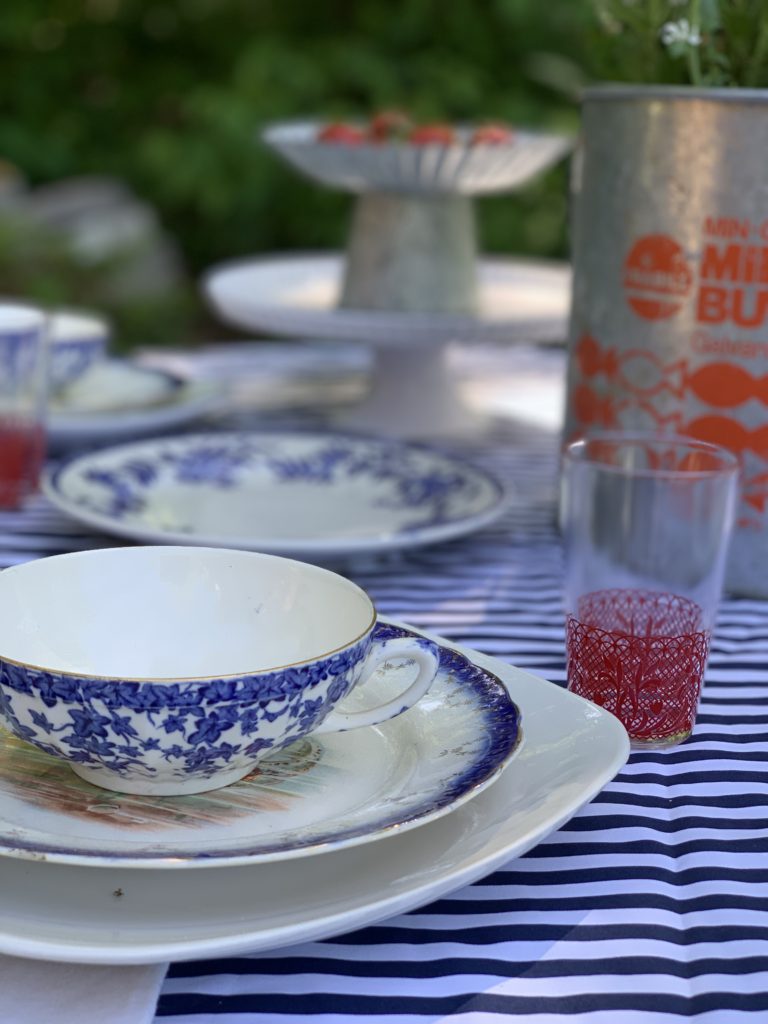 The Red Plate is something that we used in my family growing up on birthdays and special occasions. In my own family we have carried on the tradition. It's such a simple way to make a meal more meaningful. I sell these plates in my shop HERE.
Four: Use What You Have
I buy new things for my table sometimes and love sharing my finds with you. You can find links to some favorites at the bottom of this post. But I don't always buy new things, I love to use what I already have.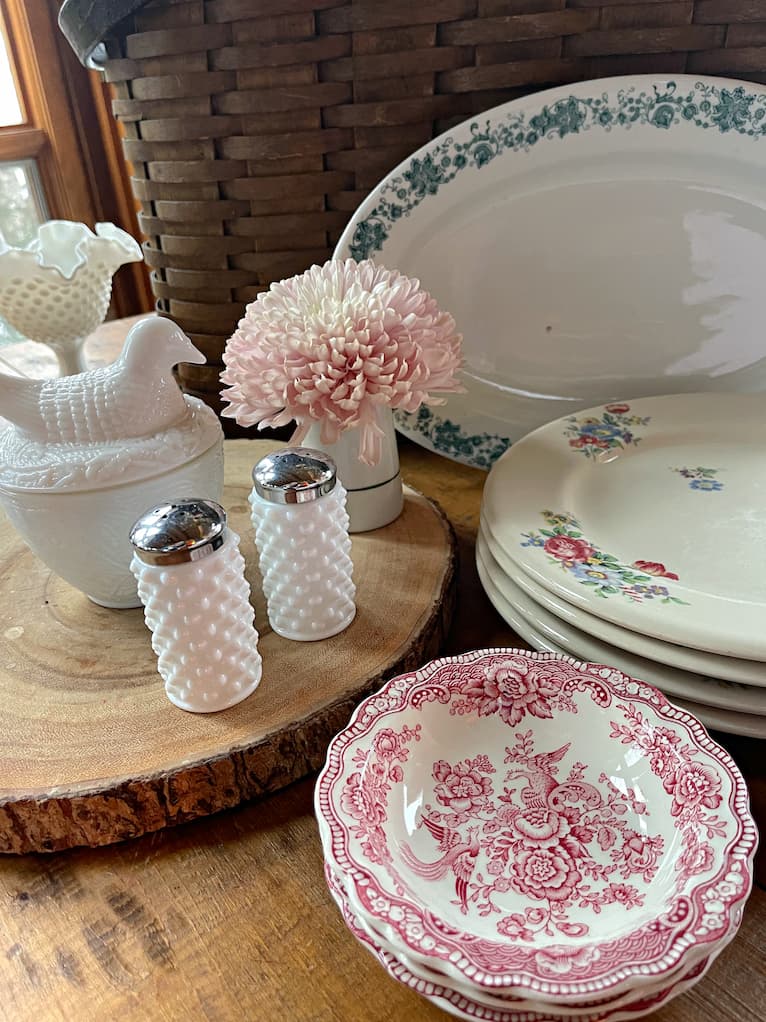 One of my favorite phrases is "shop your house". There are so many fun things to incorporate into my tablescapes that I already have on hand.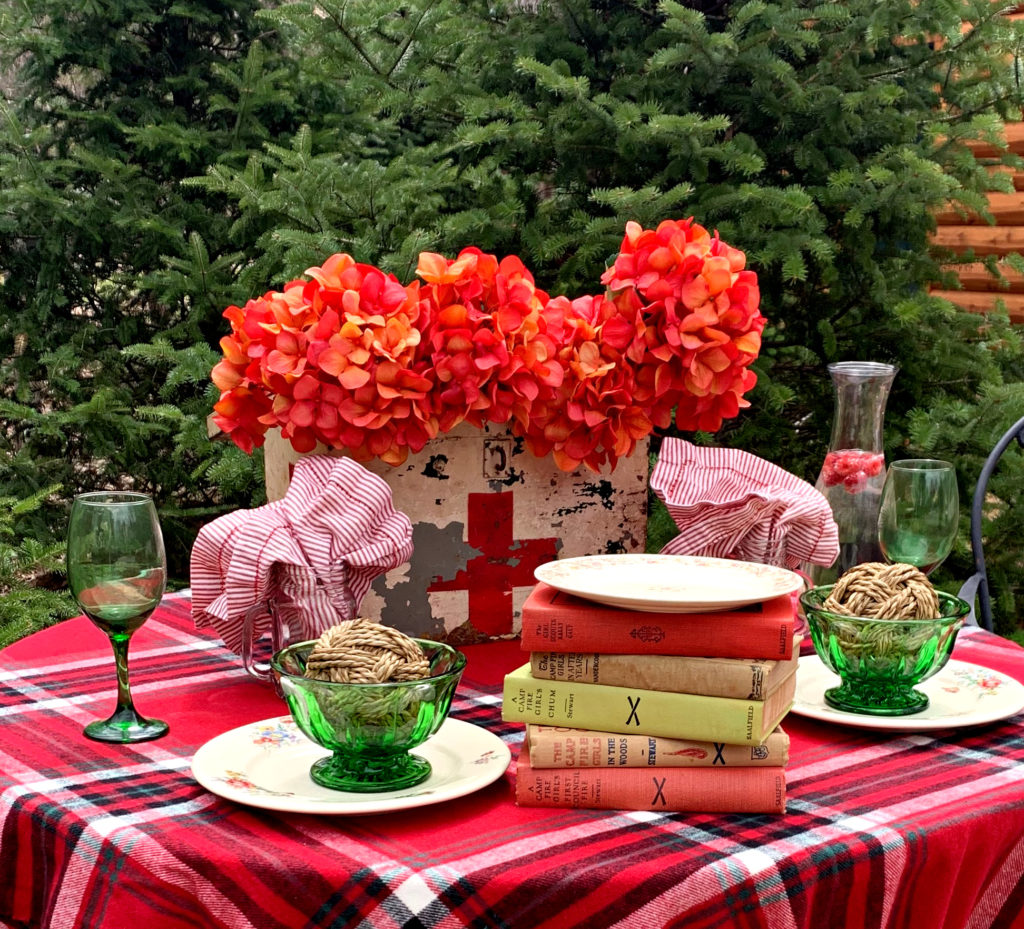 Some of my favorite things are in the cabinet waiting to be pulled out for a meal and somethings might not have originally been designed for the dinner table, but find a great home there as well.
An antique silver trophy is a perfect example. It makes a great vase. So many antique and vintage finds do. I use mason jars to hold the water and stems inside the vessels to keep my treasures safe.

Five: Add a Conversation Starter
There are several ways to add a conversation starter to the table. It could be just by the addition one of those family heirlooms or a unique find. Point it out to everyone and tell the story behind it, ask others to share their memories of it too.
You can also add a jar full of questions to ask to the table. Put a conversation starter at each persons place and take turns going around and asking. Add a stack of old trivial pursuit cards to quiz everyone on. (My mom used to do this when we traveled, she'd bring the cards into the restaurant. As a middle schooler I was so embaresed! Now, I think she was brilliant!)
Some
Tip- Don't clear the table too fast. Trust me, as soon as you start clearing the table people start to finish their conversation and leave the table. Let the meal linger, ignore the dishes and enjoy the stories being shared.
Six: Serving Pieces
I like to plan my serving pieces as I plan the menu. If it's a bigger event, I'll set out the pieces and use post it notes in each one to make sure I don't forget anything. It helps me not feel rushed the next day.
I collect antique, vintage and new items to use for serving, like my relish tray I found at The Duluth Junk Hunt.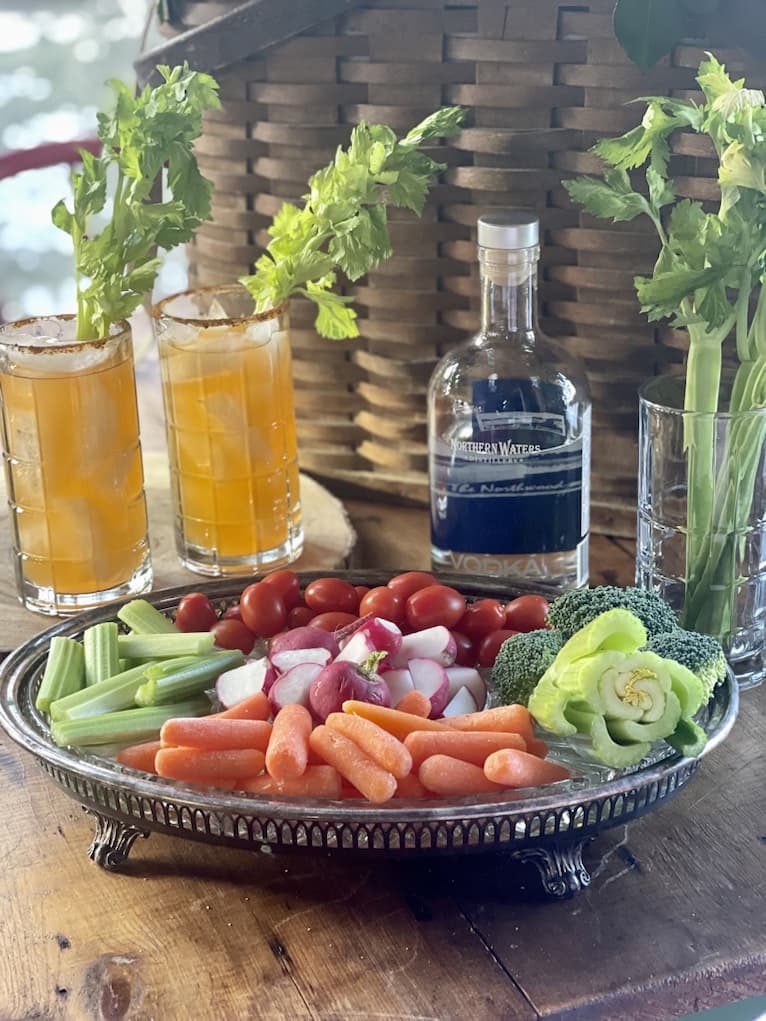 Seven: Include Something Special on the Menu
One of the things that helps make entertaining easy is to have some signature dishes that everyone hopes you'll have when they come to the table. It will be a recipe you feel comfortable with and won't add stress to the to do list.
It's also fun to add things that fit the theme of the meal. This year I added Bunny Mary's to the Easter Brunch Menu.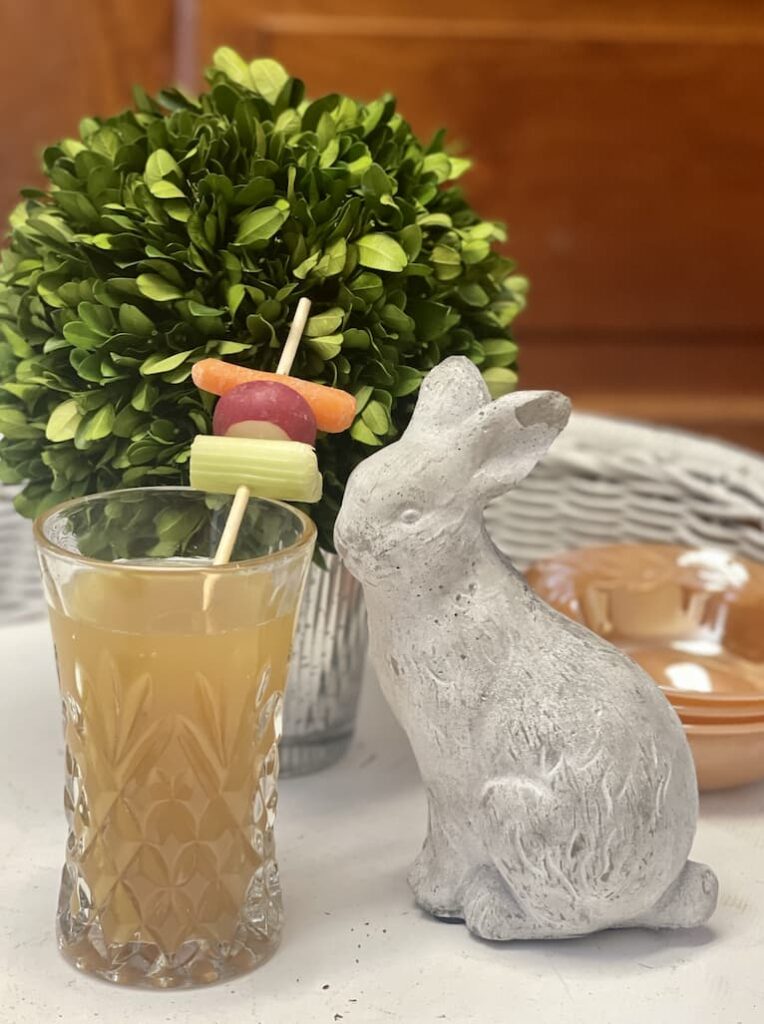 Thanks so much for coming to visit. I hope you got a few tips to help you set a special dinner table. Next up, you are headed to my friend Kelly's beautiful home at The Tattered Pew.
Take the Tour
Six Inspiring Easter Tablescape Ideas for You

A How To for the Perfect Easter Table // Pasha is Home
7 Ways to Set a Special Easter Table // White Arrows Home
How To Set A Pretty Easter Table // The Tattered Pew

Thrifty & Beautiful Easter Tablescape with Blue and White // Open Doors Open Hearts
How to Create a Simple Blue & Pink Easter Table // Cottage in the Mitten
How to Create a Garden Party Easter Tablescape on a Budget // Shiplap and Shells
Set a Beautiful Table


FOLLOW ALONG
Instagram ~ Facebook ~ Pinterest ~ Twitter ~ YouTube ~ Tik Tok ~ Liketoknow.it ~ Podcast