I'm sharing 13 easy spring home decor ideas to give your house a refresh after winter.
It's fun each season to participate in inspiring hops with several other home decor bloggers. The Bloggers' Best Home Tours series hosted by The Tattered Pew is a favorite of mine to participate in. There are so many amazing ideas in these tours that I'm always excited to pass on to you. You can find links to all the homes on the tour at the bottom of this post.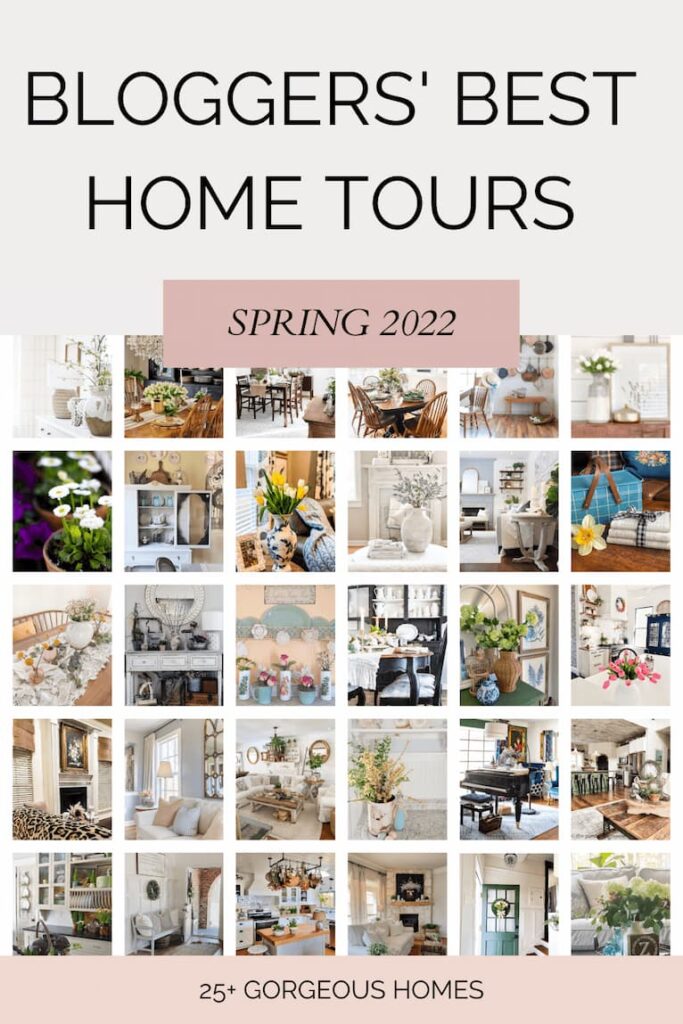 (Affiliate links are used for your convenience. Read my full disclosure here.)
If you are coming over from Lora Bloomquist Create and Ponder welcome to Wisconsin. I know how much you enjoyed Lora's home tour. She's my midwest "neighbor" over in Minnesota and the way she styles her vintage finds always inspires me so much!
I live in what is known as The Northwoods of Wisconsin. We are three hours north of Madison, four hours from Milwaukee, three and a half from Minneapolis/St. Paul and five from Chicago.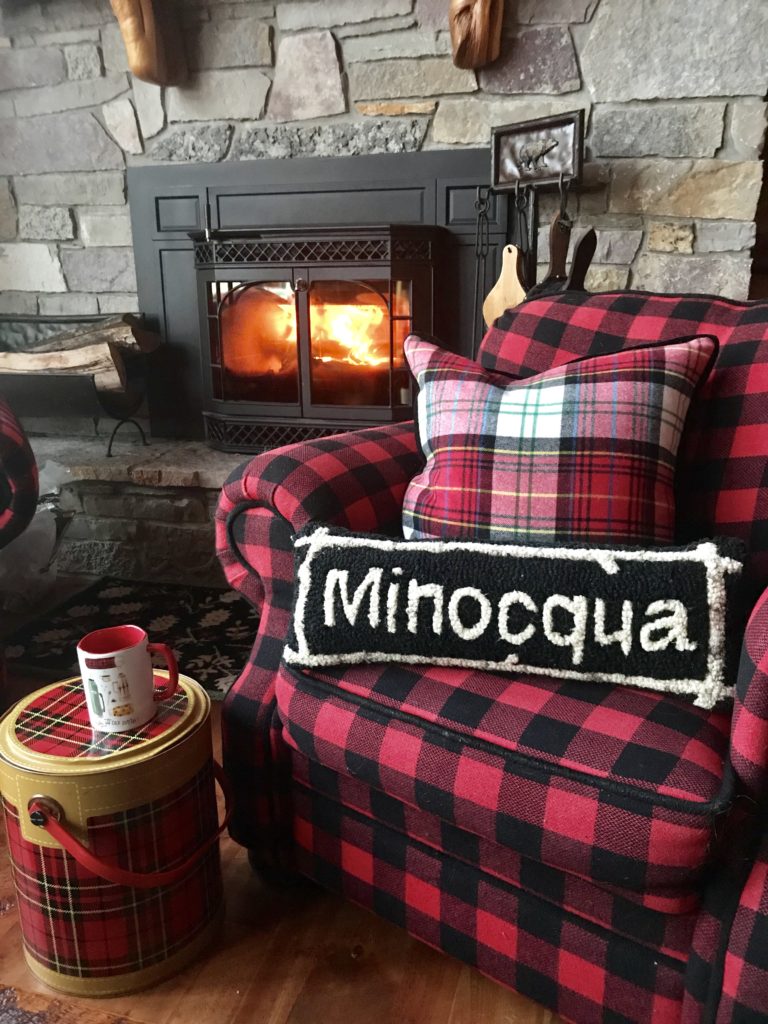 We are a tourist destination with all of our beautiful lakes and forest trails. Families have been coming here for generations. I hear so many fun stories as they stop to shop at my store, White Arrows Home. We are the gateway to Minocqua's downtown, located just before you reach the town's Island center.
The Northwoods is such a special, unique place with so many traditions. I love sharing more about life here on my blog. Even the name of my blog and shop is based on a Northwoods tradition, the white arrow signs that point you everywhere you go.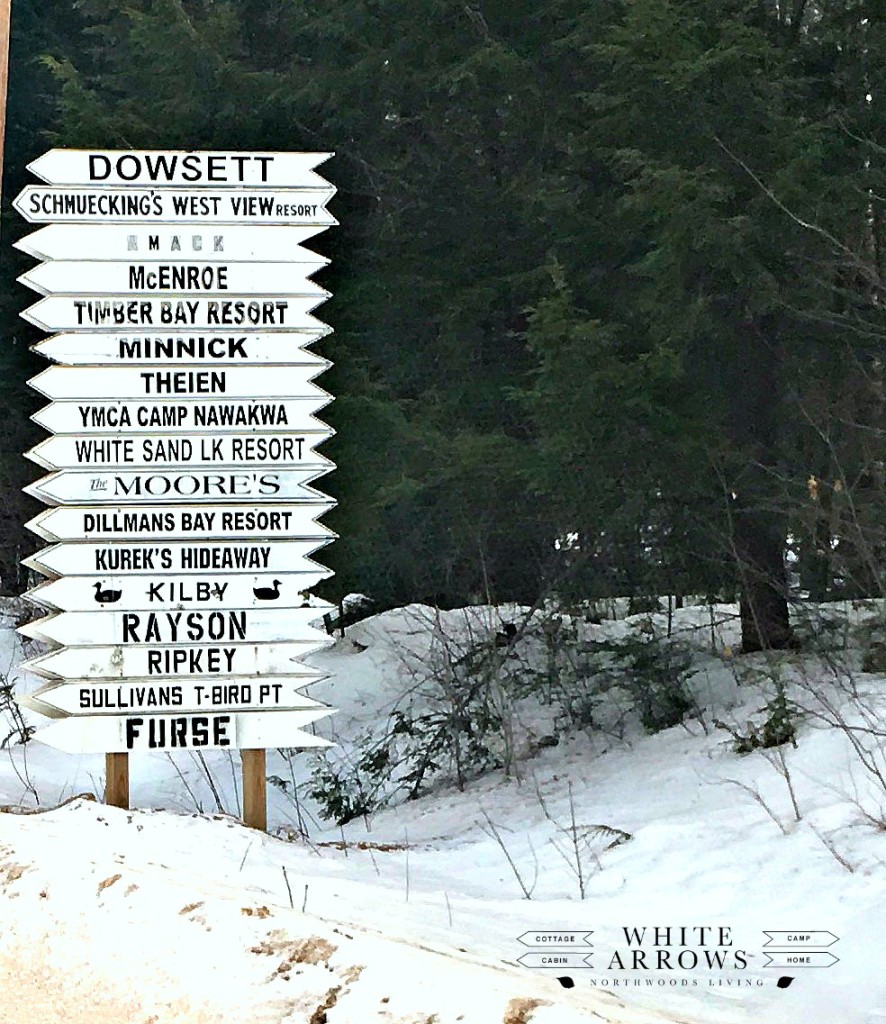 SUBSCRIBE HERE so you don't miss any inspiration!
It is about to be mud season here right now, as soon as the snow decides to stop. Spring is fickle around my neck of the woods. Yesterday we had several inches of snow, school called off and power outages after a week of beautiful 50 degree weather. It will be up and down until we get into May.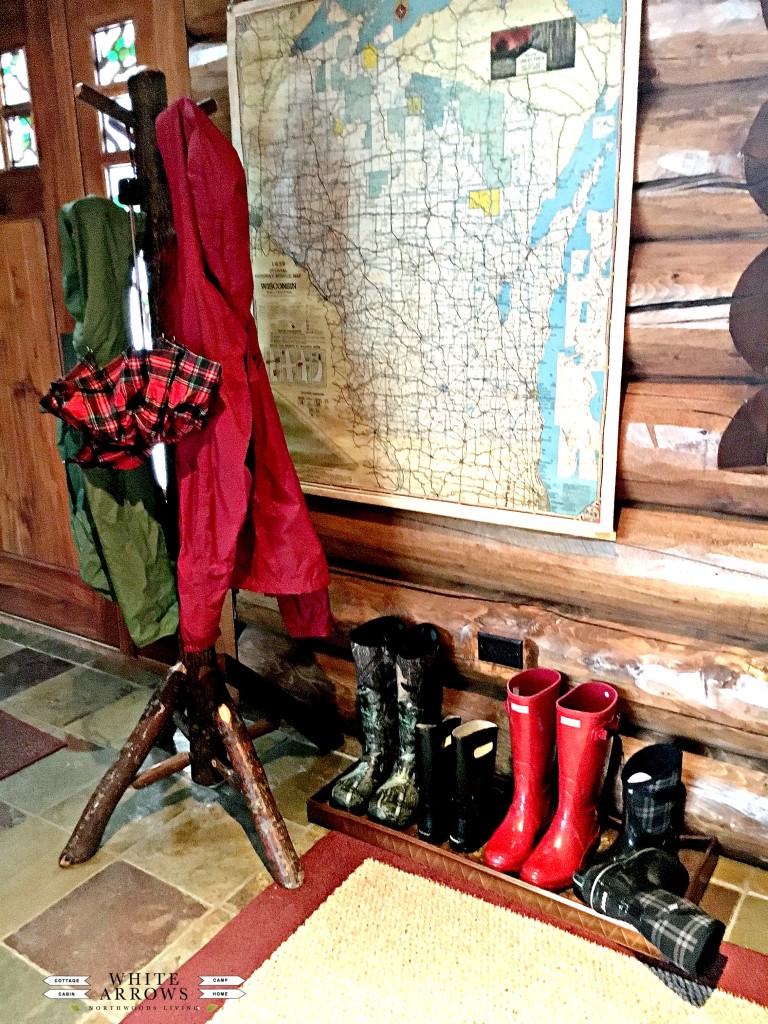 So, even though it may be snowy or muddy or sunny outside, we embrace whatever we get and decorate around it!
Today I'm sharing some easy ways to decorate for Spring that take little time and little money. These tips are taken from my own style and way of doing things.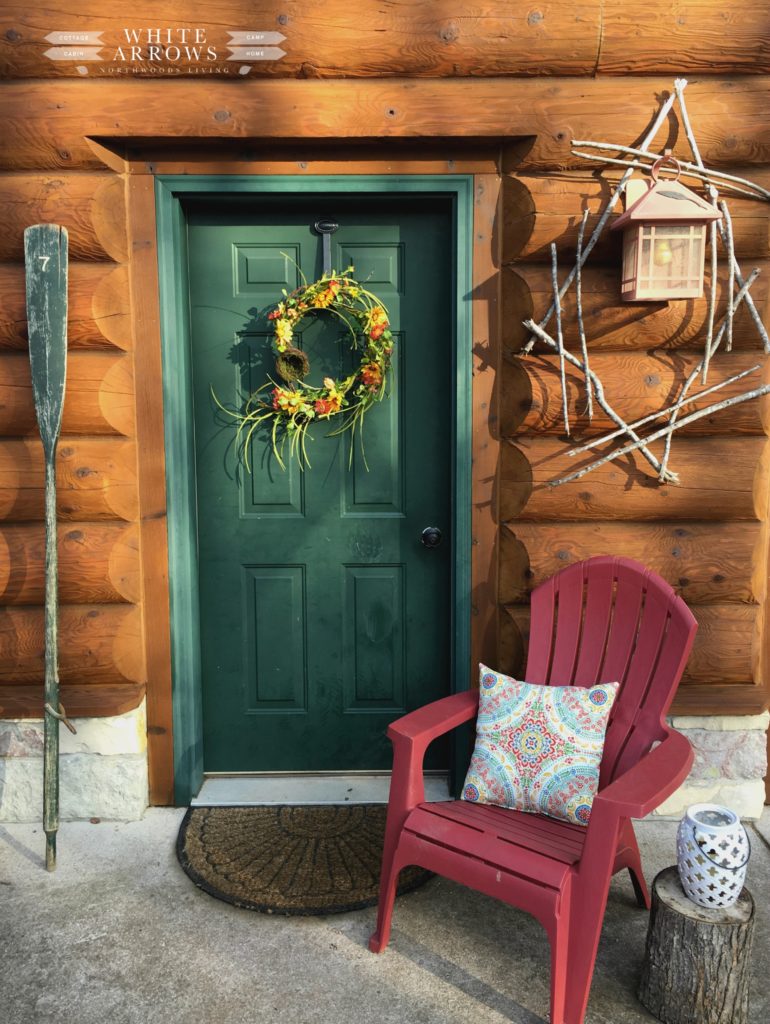 What Are Easy Spring Decorating Ideas?
Simple First Impression
One of my favorite things to decorate is our front porch! I love it in all seasons, but Spring is hard. There may still be snow and ice melt (sand) still all over the porch. There's no way I want to put furniture and pillows and accessories out there this time of year!
I keep it simple like a fresh, bright wreath. I hung my wreath on a vintage green ladder instead of the door. As the weather gets better I will add more and more to the porch. But the beauty and simplicity of this wreath on the ladder, adds enough interest to be eye catching and welcoming.
I wrote this post about how to decorate your porch before you can add flowers. It's a post full of beautiful, creative ideas for the in between time. READ THE POST HERE.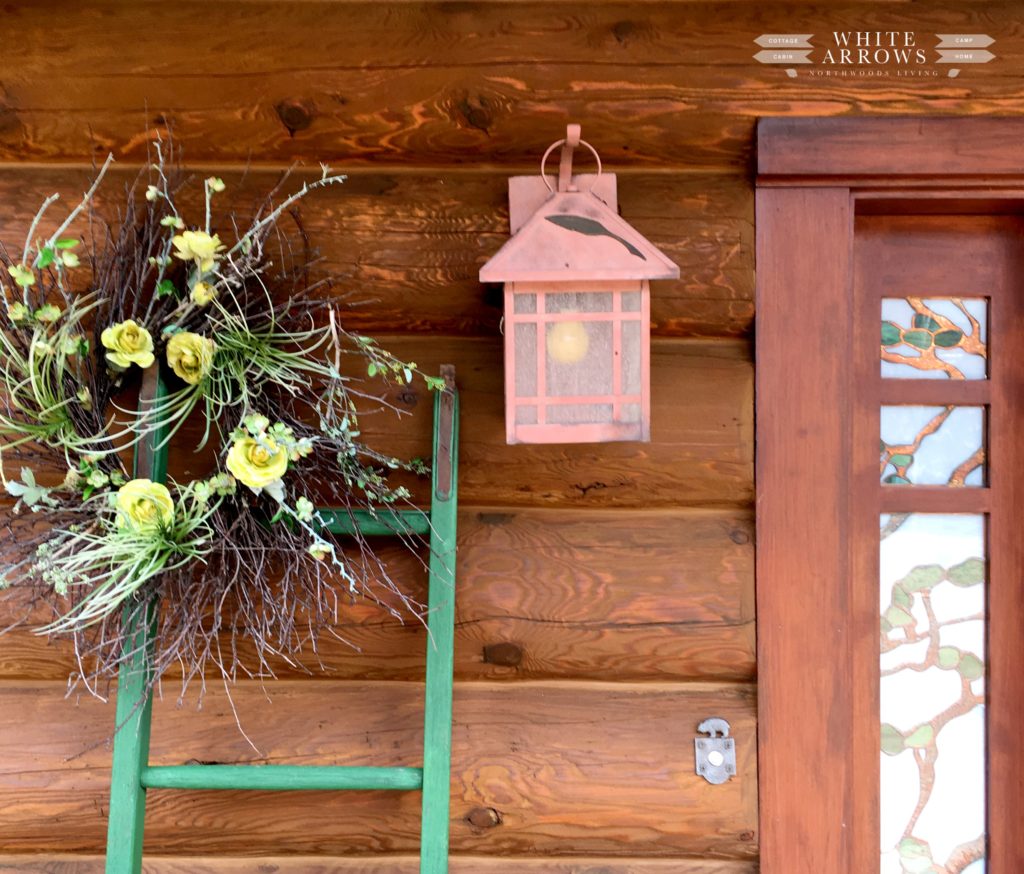 Grocery Store Flowers
When I do my grocery shopping I often pick up a bouquet of fresh flowers. They are so affordable. Right now there are beautiful tulips in many colors to choose from.
I love finding a fun vintage piece to use as a vase. I bring the flowers home and then shop my house to see what works best. I love the happy tulips in this old jug. Here's more ideas for creative vintage pieces as vases in THIS POST.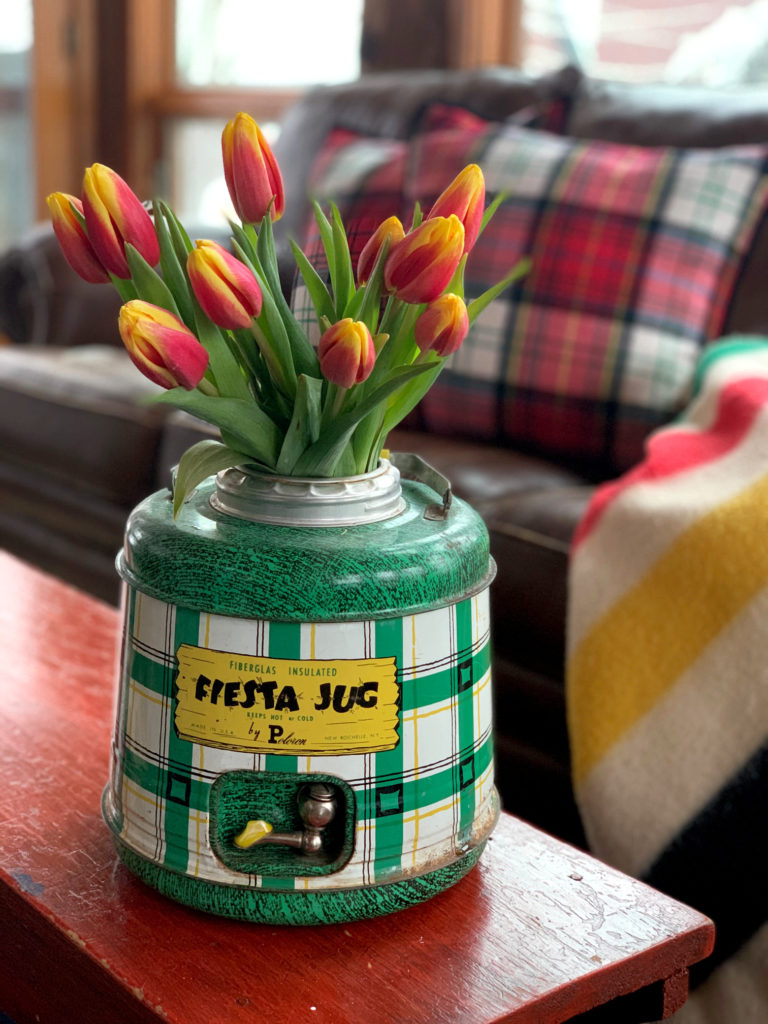 Use What You Have
I don't always go out and buy new things, I will go around my house and see what I can pull together from different rooms or storage to build around the season. I often am inspired by the use of color.
For Spring I love to bring in a lot of green. I gather green items around the cabin and then style them in new ways like grouping these books and lantern together. See more about how I use color to decorate for Spring IN THIS POST.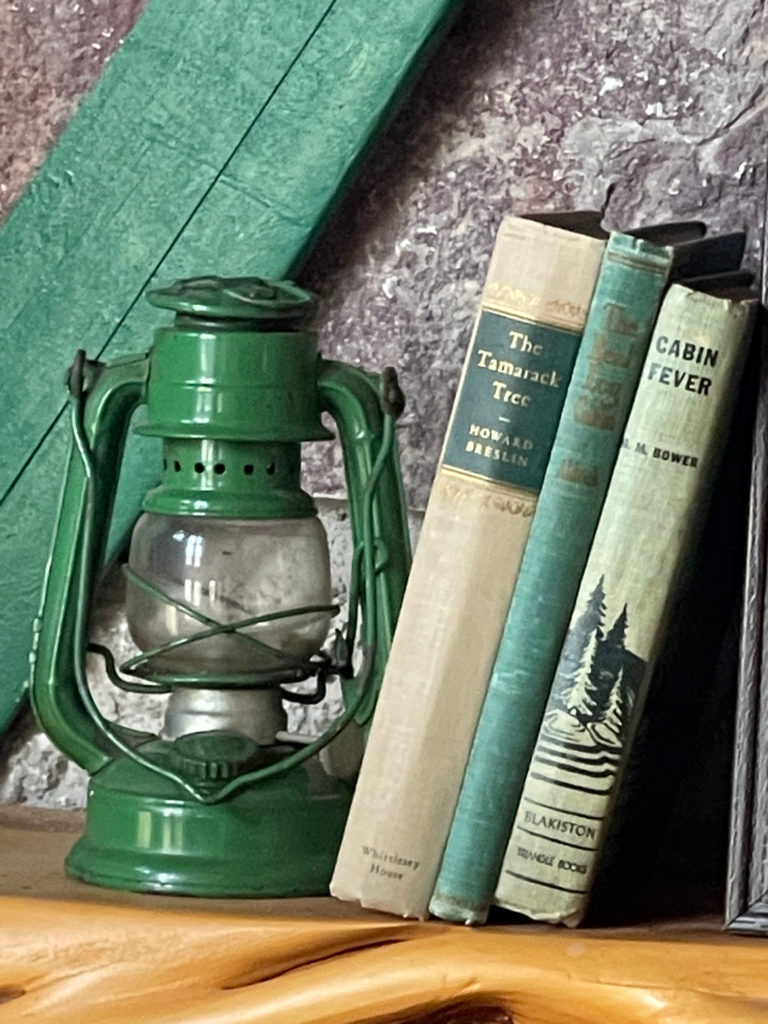 Change Out Throw Pillows
This may be the most fun. Have you ever heard the saying that throw pillows are a grown woman's stuffed animals? My husband is always wondering why we need so many pillows!
I love mixing and matching patterns and styles of pillows on my chairs and sofas and changing them out for the season. I may pull them from other rooms or out of storage. It's easy to also just invest in pillow covers that are affordable and easily store when not in use.

SUBSCRIBE HERE so you don't miss any inspiration!
Use Baskets
In Spring I love to use woven items and baskets in my decor. I always have baskets holding blankets or magazines by the couch, but in Spring I move them front and center.
This basket tray takes the spotlight on the coffee table in the great room. The texture adds so much and gives that earthy, "everything is growing" feel to my spaces.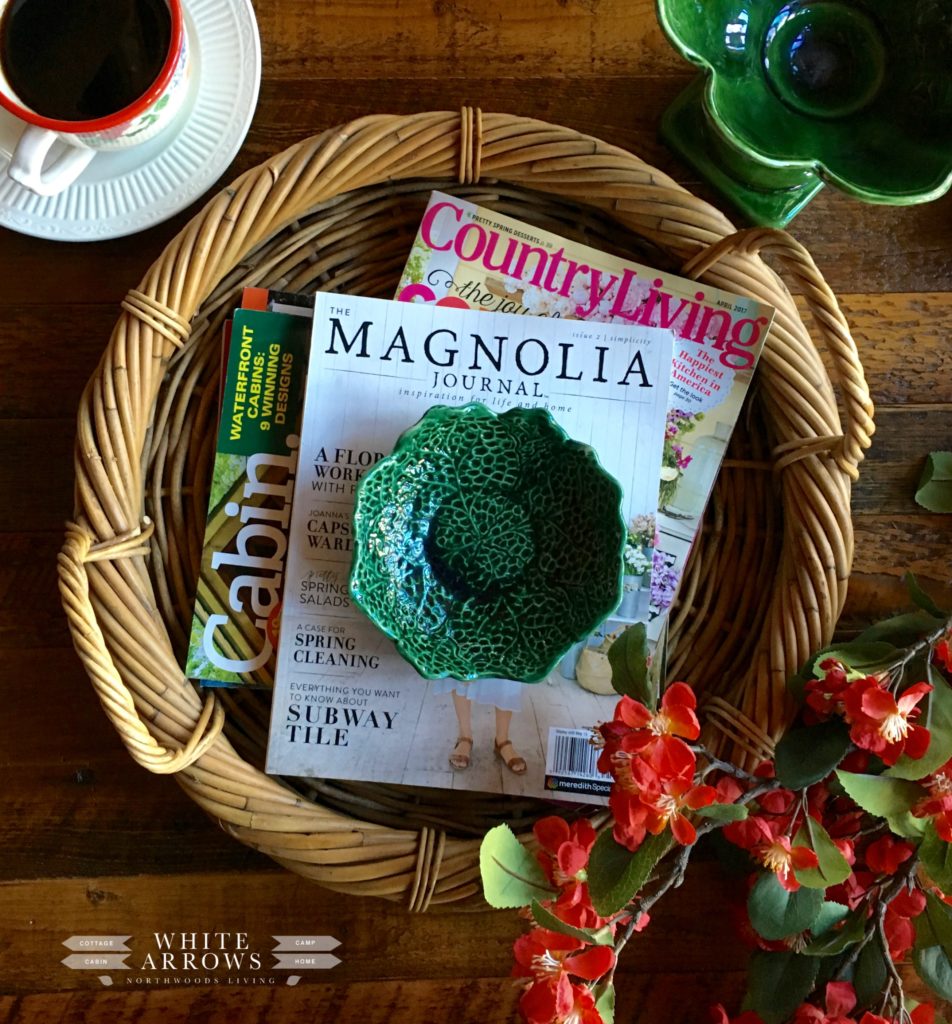 DIYs
There are so many beautiful, quick and inexpensive DIYs you can do to add in Spring decor. See some of my favorite ideas on my Pinterest board HERE.
This DIY to make rope candle holders is one of my favorites!

Holiday Decor
Whenever a Holiday is rolling around, I pull out my bin for that season. The kids love seeing familiar pieces that we have used over the years. It makes great memories to reuse the same pieces over and over like this cross I add for Easter.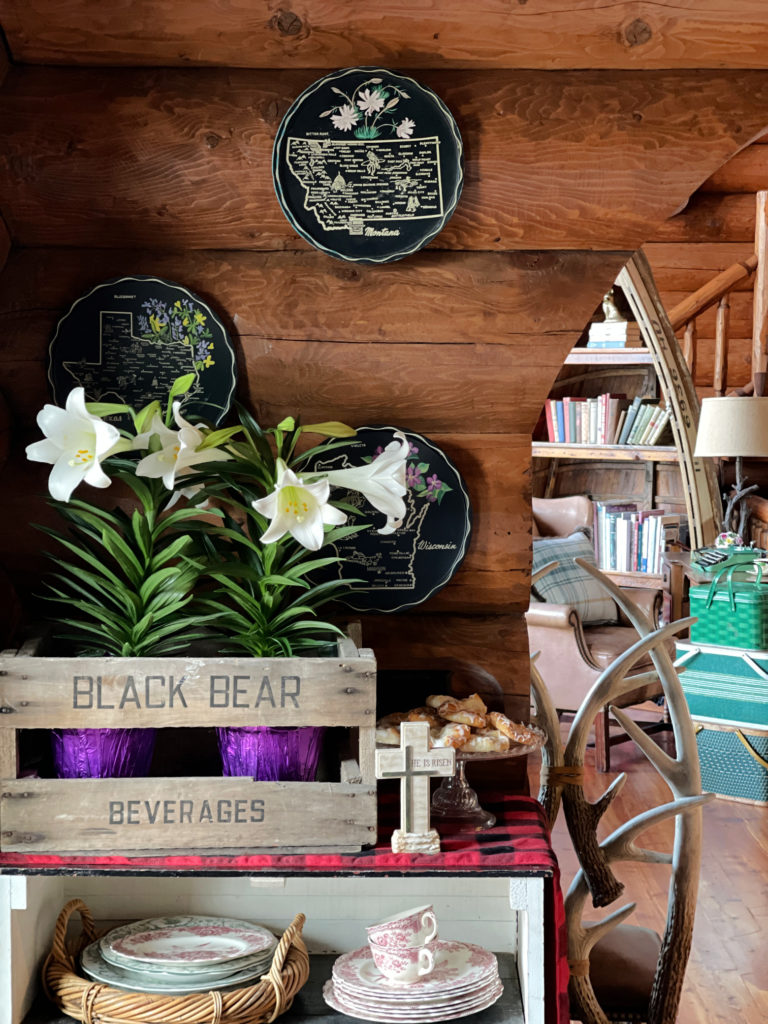 Shop Dollar Tree
It's a lot of fun for me to walk through the Dollar Tree about once a month to see what's new. Everything there was just $1 until recently when they upped the prices a bit, but it is still an amazing place to find great deals on so many products.
I got a bag of moss there that I love to add into my vintage milk glass. So quick, easy and was only a dollar!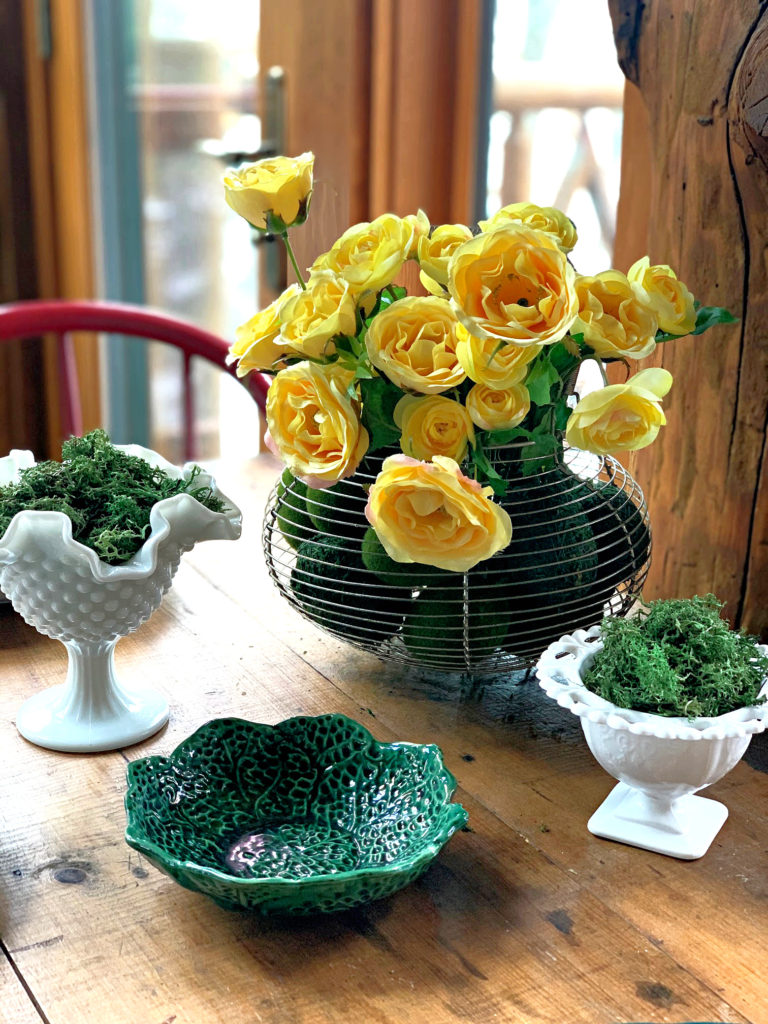 Use Things In New Ways
I love to use my antique and vintage pieces in new ways. Cheese boxes are one thing I collect that can be used so many ways. For Spring I added a clover plant to this Cloverbloom box.
Little lamb salt and pepper shakers don't hold salt and pepper for me, they are just sweet figurines in my vignette.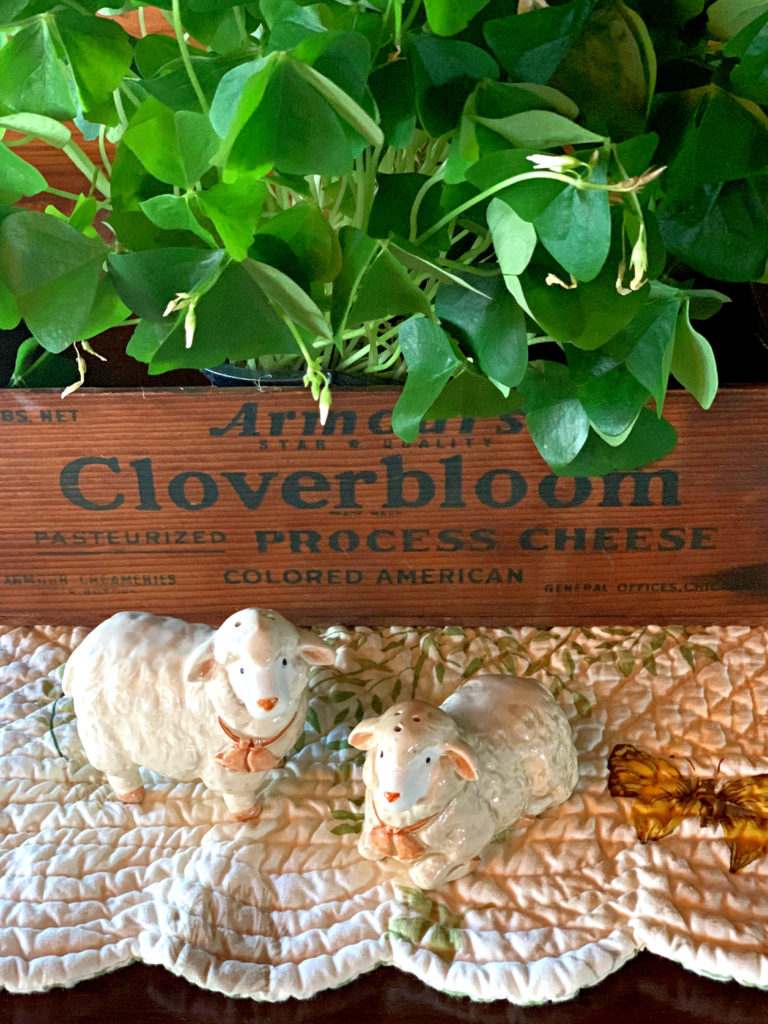 Be An Artist
So many of my antique and vintage collections are in my mind works of art. My snowshoes, fishing creels, beer tappers… all were made by craftsman in a time that valued the care put into making them. I group my collections or hang them on the wall where they can be appreciated.
This stack of tea cups is a great example of turning an ordinary thing into a work of art. Stacking them with all their beautiful patterns and colors makes them a statue to enjoy.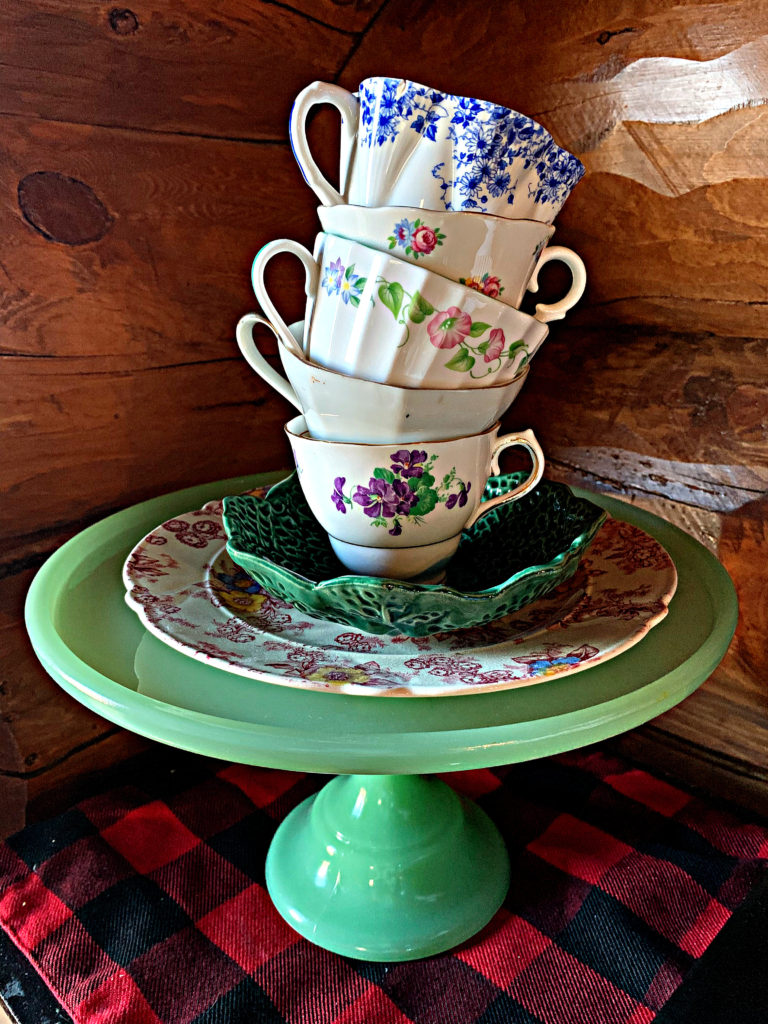 Get Crafty
One of my favorite craft projects was taking an old hymnal I found at the flea market and using the pages to make Spring crafts. Here are some of the unique ways I used them. You can see more IN THIS POST.
You are probably seeing a pattern, that I love simple, quick and inexpensive projects that turn out as classy finished pieces and this is another one fo those.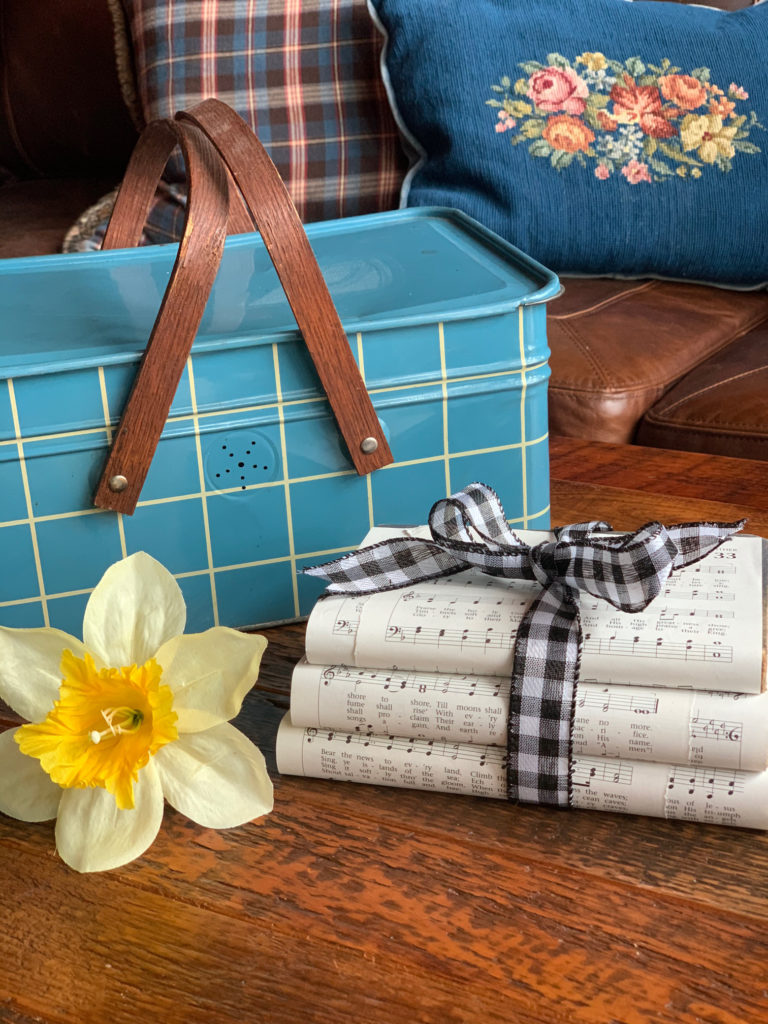 Quiet Space
The spaces in my home are very thought out with a lot of purpose. It's important to have spots where I, my family or guests can sit and have some quiet. Quiet time to read, rest and think. A spot to slow down and find permission to just be during busy days.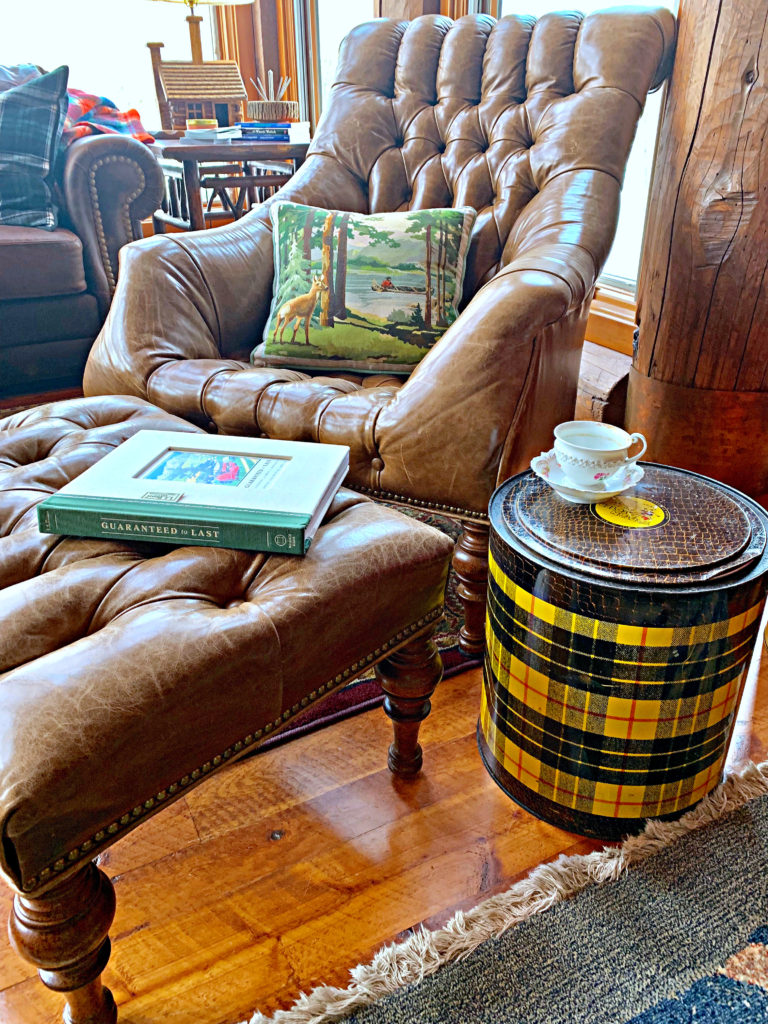 Gathering Space
Along with quiet spaces, I also think it's important to plan space to connect with others, to gather. To encourage everyone to linger longer, I leave beautiful games or puzzles out. I serve coffee/tea and treats or cocktails and appetizers.
There are so many simple ways to make ordinary things feel special!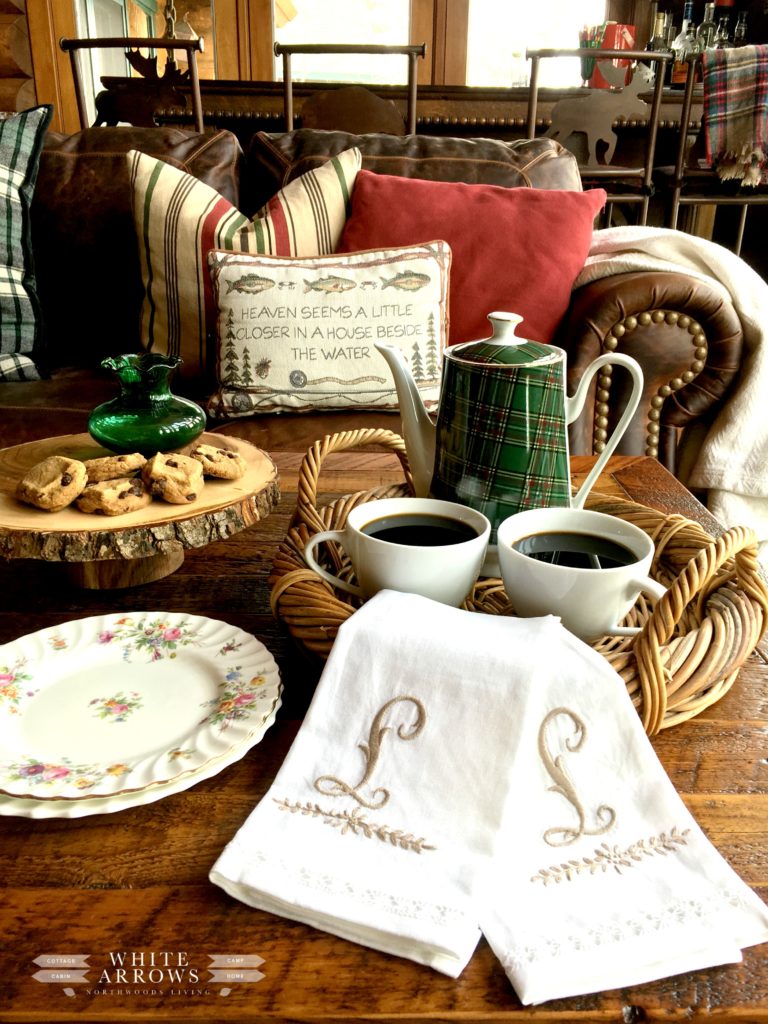 Thanks so much for stopping by! I hope you are leaving inspired! Next up you are headed over to my favorite home in Kentucky, my friend Amber's of Follow The Yellow Brick Home.
Take The Tour
Bloggers' Best Spring Home Tours
Monday's Tours


The Tattered Pew / My Thrift Store Addiction / Bricks n' Blooms
Shiplap and Shells / Cottage In The Mitten / Cottage On Bunker Hill
Tuesday's Tours


Midwest Life and Style / Open Doors Open Hearts / Cloches and Lavender
Amy Sadler Designs / Up To Date Interiors
Wednesday's Tours


Simply2Moms / Sand Dollar Lane / DIY Beautify
The Ponds Farmhouse / Pasha Is Home / Lantern Lane Designs
Thursday's Tours


StoneGable / My Wee Abode / County Road 407
She Gave It A Go / Aratari At Home / Willow Bloom Home
Friday's Tours


Lora Bloomquist Create and Ponder / White Arrows Home / Follow The Yellow Brick Home
Robyn's French Nest / Tatertots and Jello / My Family Thyme
Favorite Spring Finds


FOLLOW ALONG
Instagram ~ Facebook ~ Pinterest ~ Twitter ~ YouTube ~ Tik Tok ~ Liketoknow.it ~ Podcast