As a collector, I love adding to my collection of vintage coolers, jugs and thermos. There's more to be excited about this year as Skotch Kooler is back again with new products after decades!
(Affiliate links are used for your convenience. Read my full disclosure here.)
I'm excited to be joining this Vintage Christmas Home Tour hosted by my friend Amber of Follow The Yellow Brick Home. You'll find links to the 13 talented bloggers participating at the bottom of this post.
If you are coming over from Paula's Virginia Sweet Pea welcome to our home in The Northwoods of Wisconsin. We live in an area surrounded by woods and water! Just our county has over one thousand lakes. Most people live lakeside here and we are known as the Lakeland area. It's probably no surprise then to learn that we are a huge tourist destination. (It's always fun to follow Paula in these hops because she's a lake girl too!)
We draw a lot of people from Chicago and Minneapolis, but also from all over the country. There are so many families that have had cabins here for generations. I own a brick and mortar store here, White Arrows Home, and love hearing peoples' stories when they come in to shop. We sell antique, vintage and new home decor, accessories, gifts, and apparel.
Vintage Skotch Kooler
I've been collecting Skotch Koolers, jugs and thermos for years. I love using them throughout my decor, especially at Christmas. See my post about how I decorate with Skotch Kooler HERE.
They make the perfect Christmas tree stand. I have Koolers in several sizes like this one I added a small faux tree too. A pack of fishing bobbers makes cute, easy, affordable ornaments.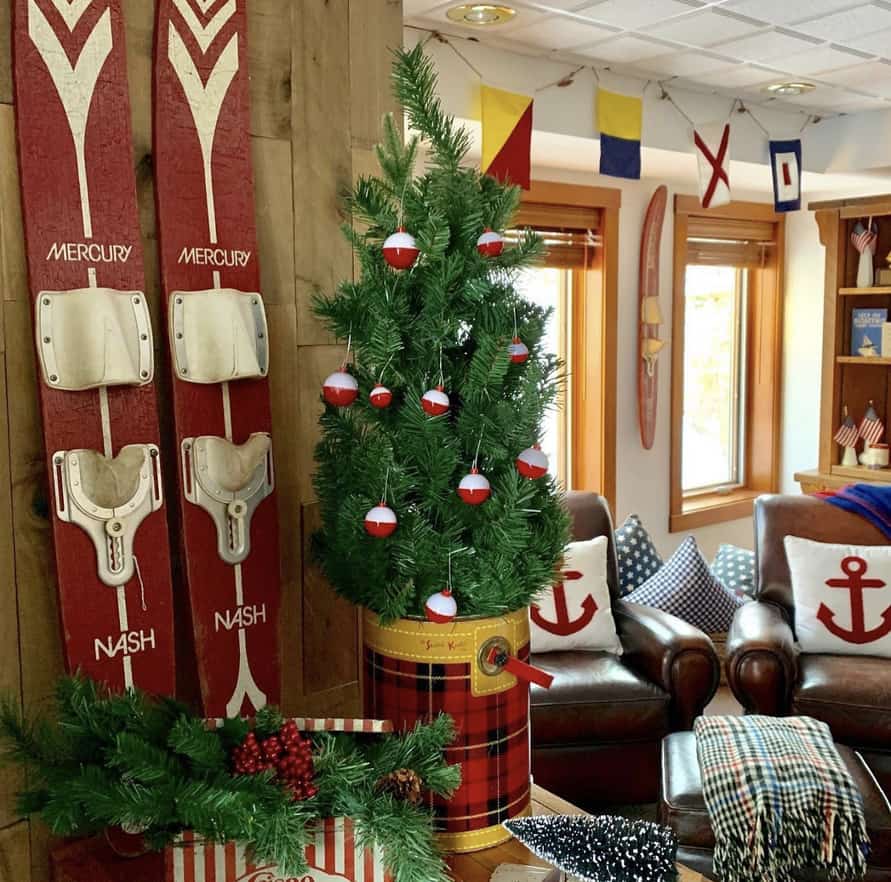 I'm a lover of all things plaid and use a lot of red to decorate in our cabin so the Skotch Kooler fits in so well. This year I added a little lit tree into one by our Northwoods Santa and a copper pot full of pinecones. I love to use the nature right outside my windows to inspire my decor. Our forests are full of pine and birch so pinecones are always a natural fit.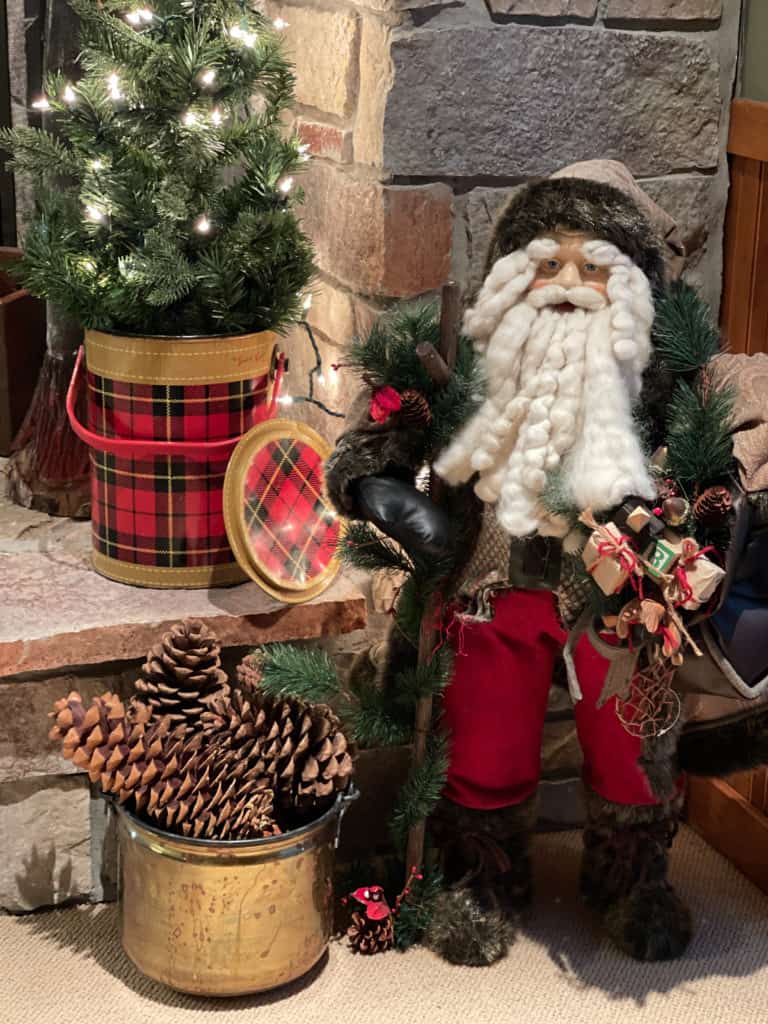 Whenever I'm out thrifting I always have my eyes open for more Skotch Koolers. My girlfriends and I even have a Skotch Kooler club. A few years ago as we finally all had one we bring them to beach days and boat rides, to picnics and parades. They make great little tables, an extra seat and even though they are vintage, still keep things cold.
Do you follow me on Instagram? Each week I go #thriftingwiththegals with my friends Rachel and Ann. We live in different parts of the country and love sharing in stories as we shop local antique shops, thrift stores, vintage and flea markets throughout the year. We share all our adventures in IG stories and in a monthly blog hop. It's so much fun and inspiring!
It's Back Again
This year something really exciting happened! Skotch Kooler made a big comeback! After decades of dormancy two brothers, Patrick and Hunt ran into a plaid Skotch jug and remembered the fond memories it went with from their childhood. They found out the copyright had gone dormant and decided to file their own trademark and start manufacturing them again. Read the whole story HERE.
I was instantly in love with them. They have started out with three products: the jug, the bag and the kooler.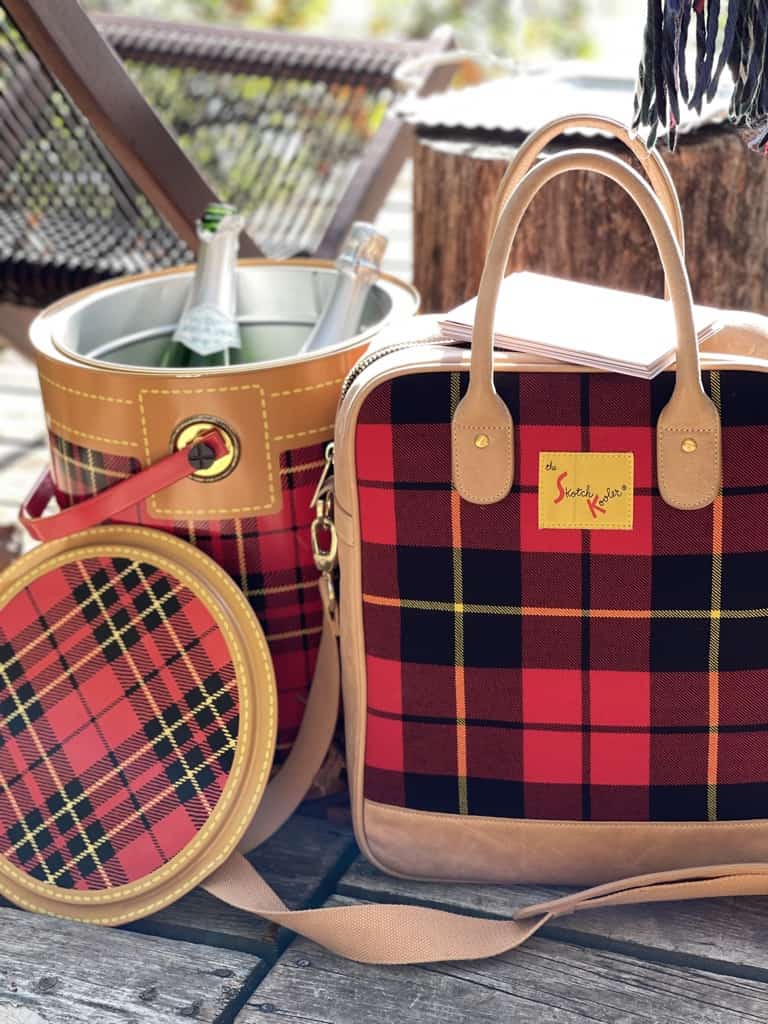 I was so honored to be invited by Skotch Kooler to an event launching a new product in their line. The event was held at Camp Wandawega, a destination that had been on my bucket list! Head to their website and you will instantly see why.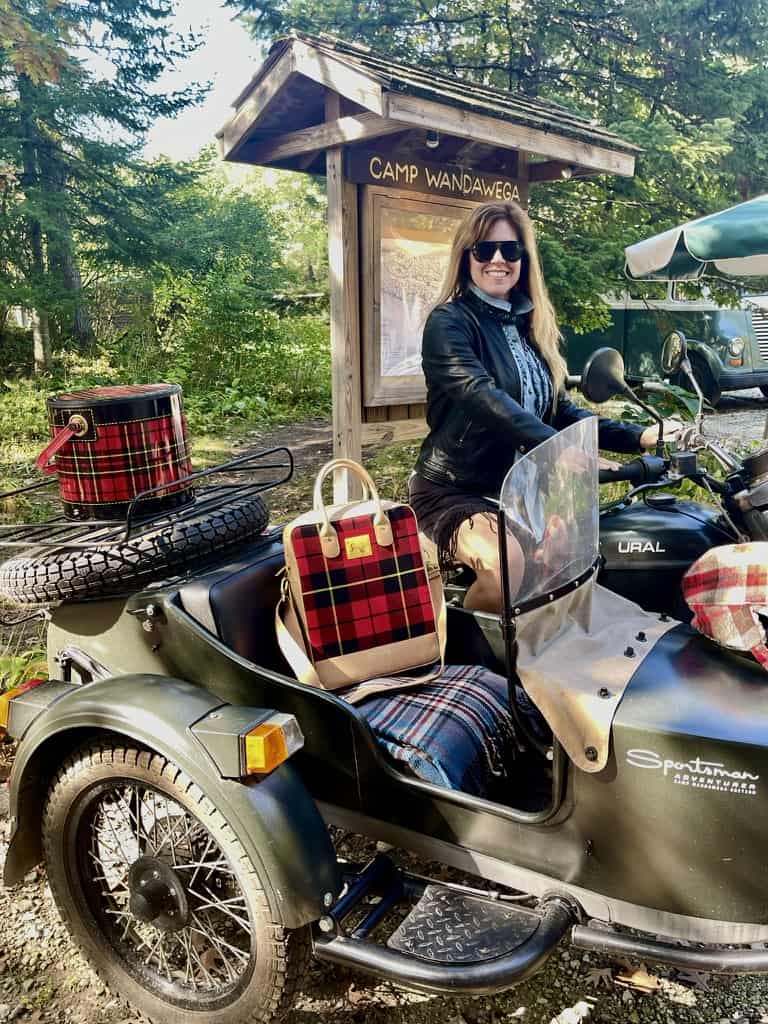 The New Skotch Kooler
For the event at Camp Wandawega, we were given a day to go throughout their amazing property to preset locations and create content with the Skotch Kooler products that we would then share on our own social media to help promote their brand and especially the new launch of the limited edition Skotch Kooler X Camp Wandawega jug.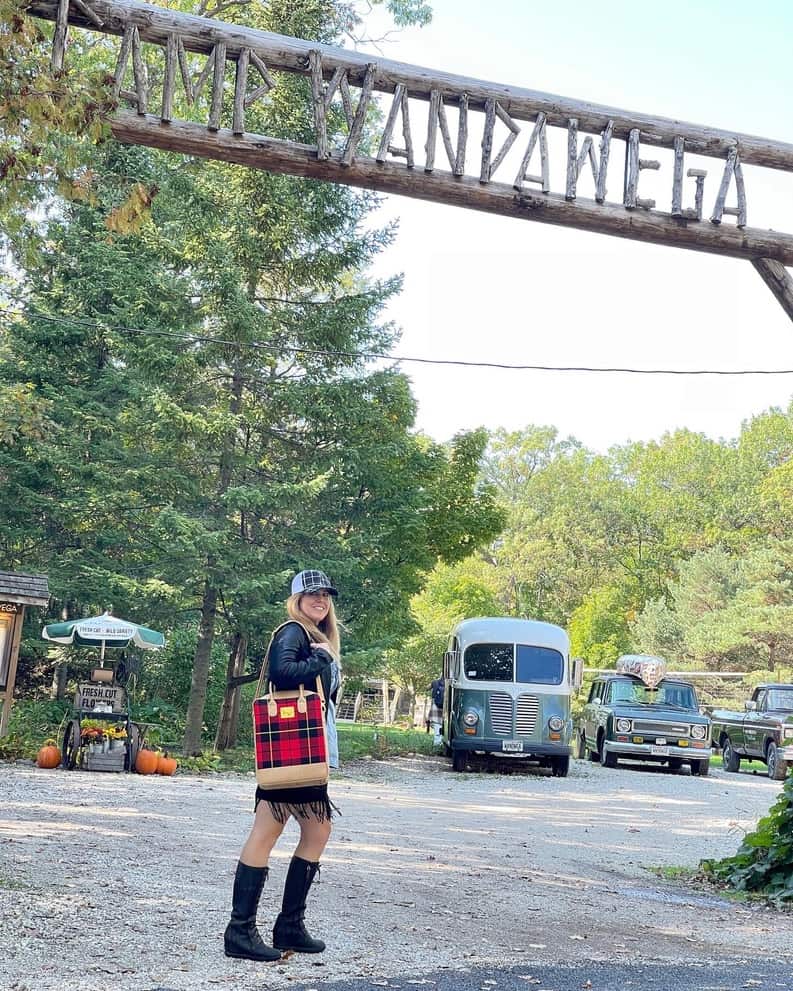 I personally carry the Skotch Soft Kooler as a daily work bag. It holds my computer perfectly and with style. I love the top grain leather and worsted wool exterior and the solid brass zipper with double pulls. It's reinforced body stays upright when set down.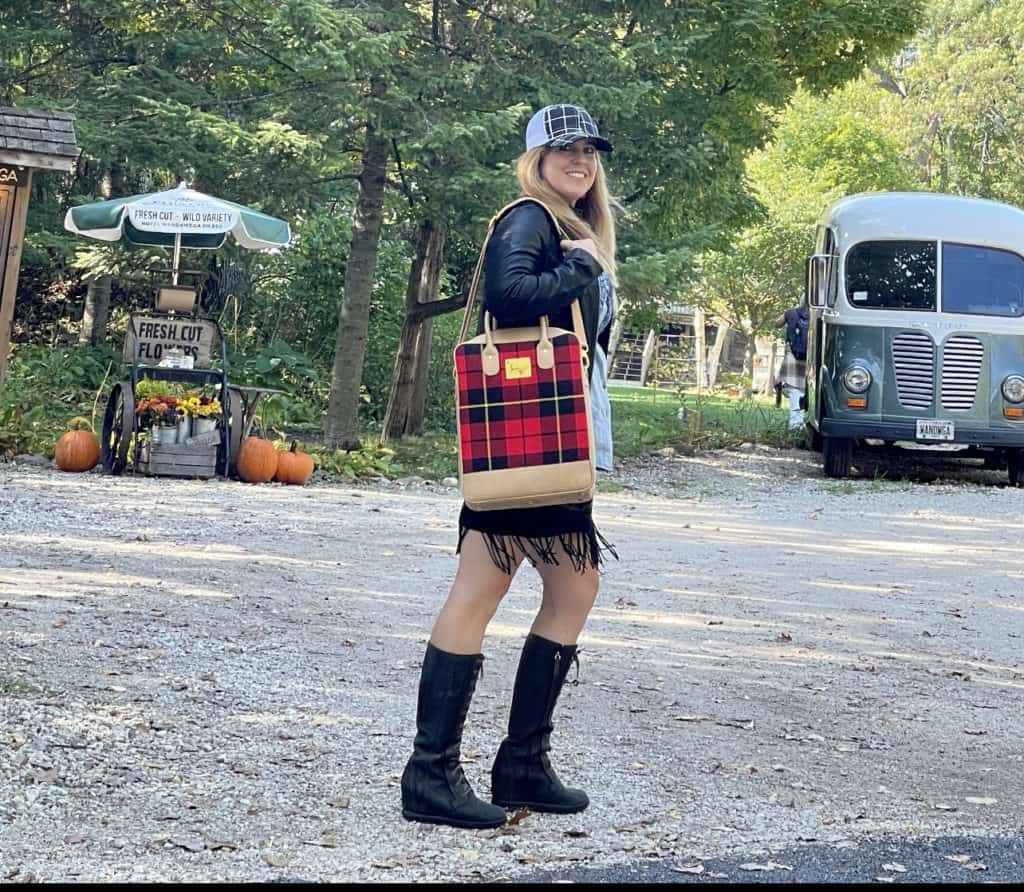 Every inch of Camp Wandawega is a thrill for lovers of vintage like us. They have thought of everything and with class and creativity brought back to life. You can read more about their story and labor of love on their website and in Tereasa's two books- Found, Free and Flea andA Very Modest Cottage.
I first learned about Camp Wandawega in Country Living Magazine and then devoured Tereasa's books in 2015. They are not only inspiring, but beautiful coffee table books and great gifts to give to vintage loving friends.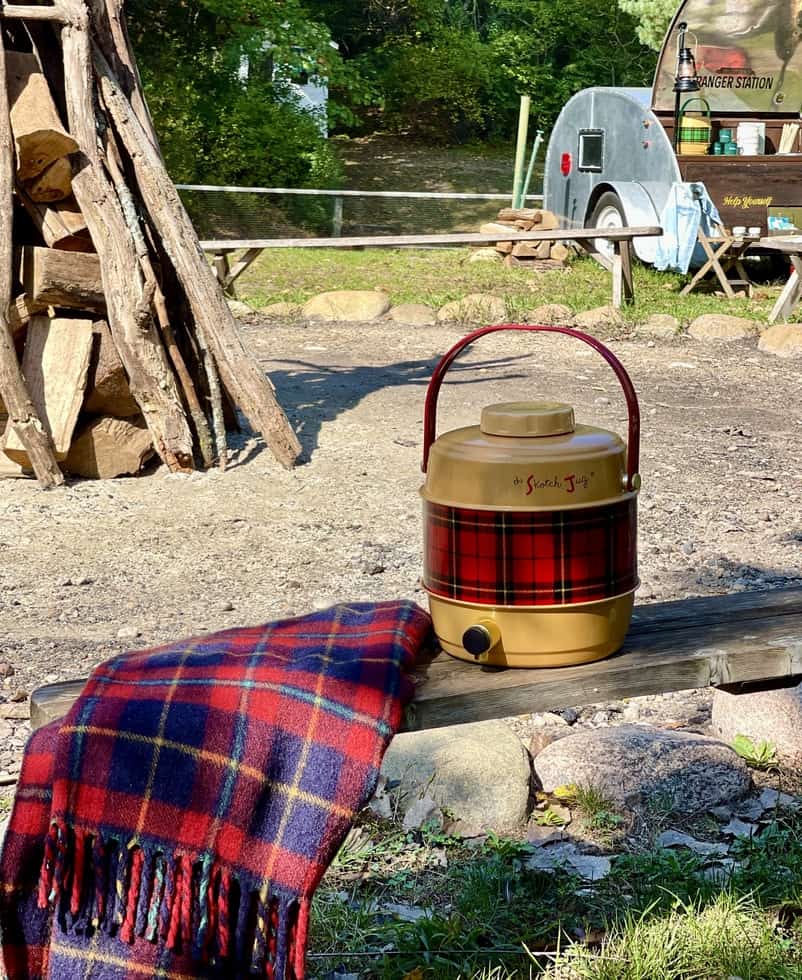 You can even stay at Camp Wandawega! We stayed overnight as part of the event with Skotch Kooler and it was so much fun! You can find the overnight options HERE. I can't wait to go back with a group of girlfriends, a group of couples and as a family trip.
Staying at Camp Wandawega is like going back in time to a camp from the 1940s from activities to accommodations. They have a no frills vibe and a Manifesto of Low Expectations, but a stay there does nothing but meet high expectations.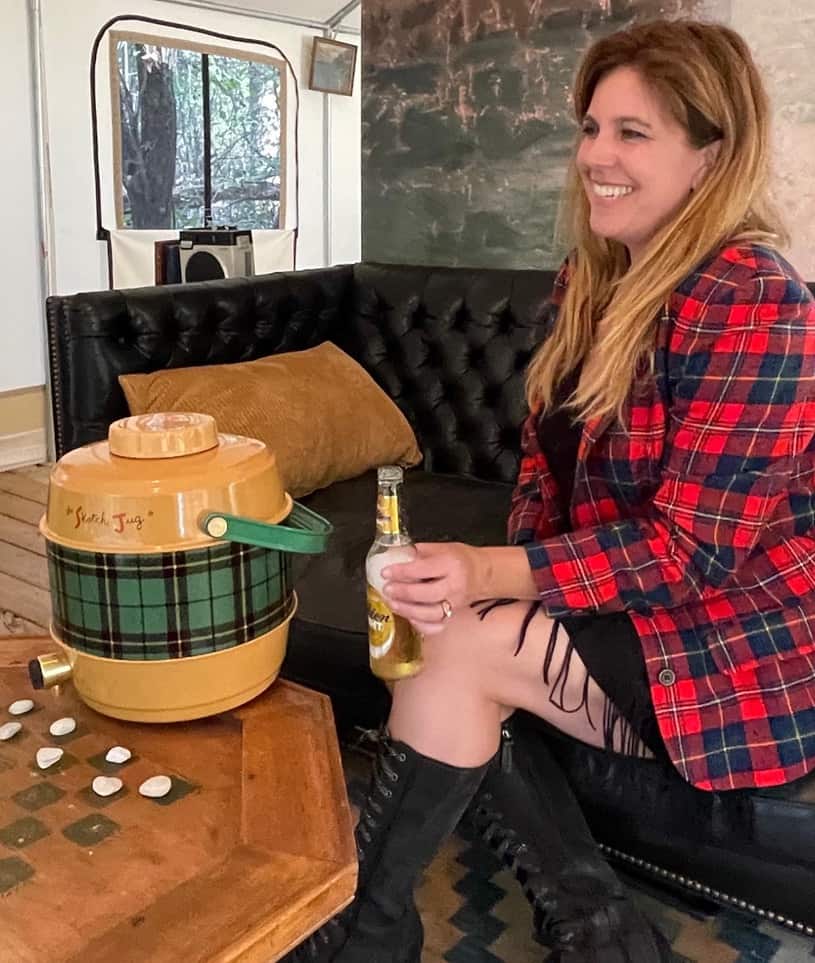 The new Camp Wandawega X Skotch Kooler jug comes in a green plaid and has been perfect this Christmas as a vase full of poinsettias.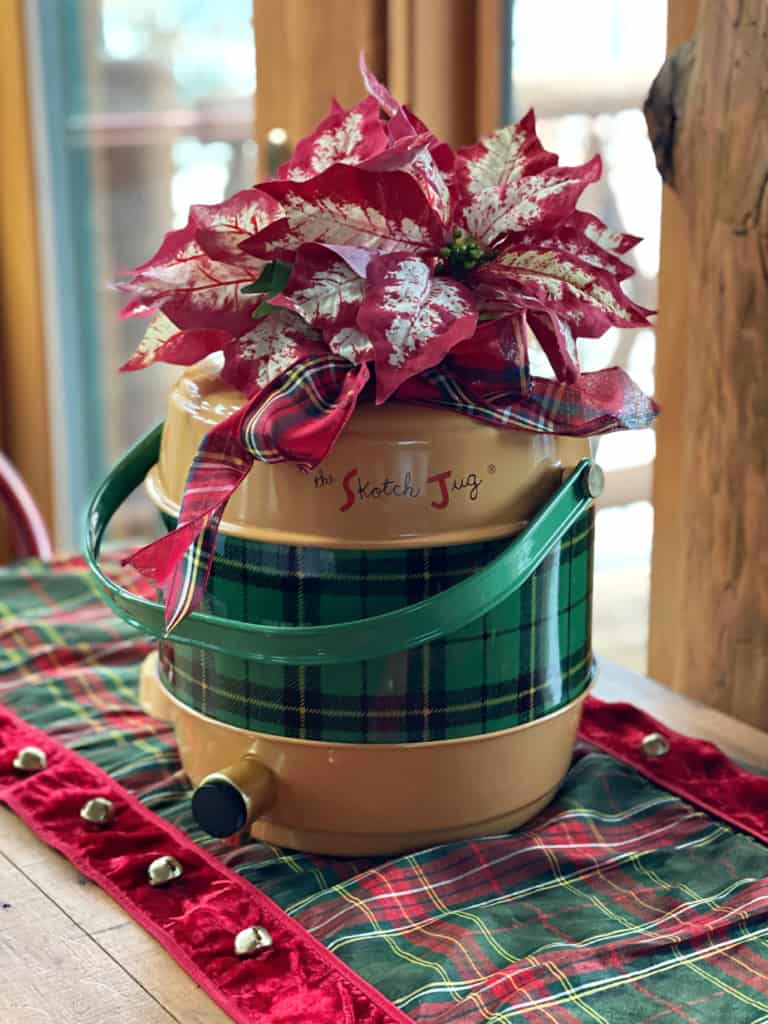 We took product photos and videos in The Camp Wandawega tree house (you must see it to believe it!), an a frame cabin, a lakeside cottage, a canvas tent, beside a giant camp fire, on top of a vintage motorcycle and in a wood shed. And that's just a few of the amazing spaces at Camp.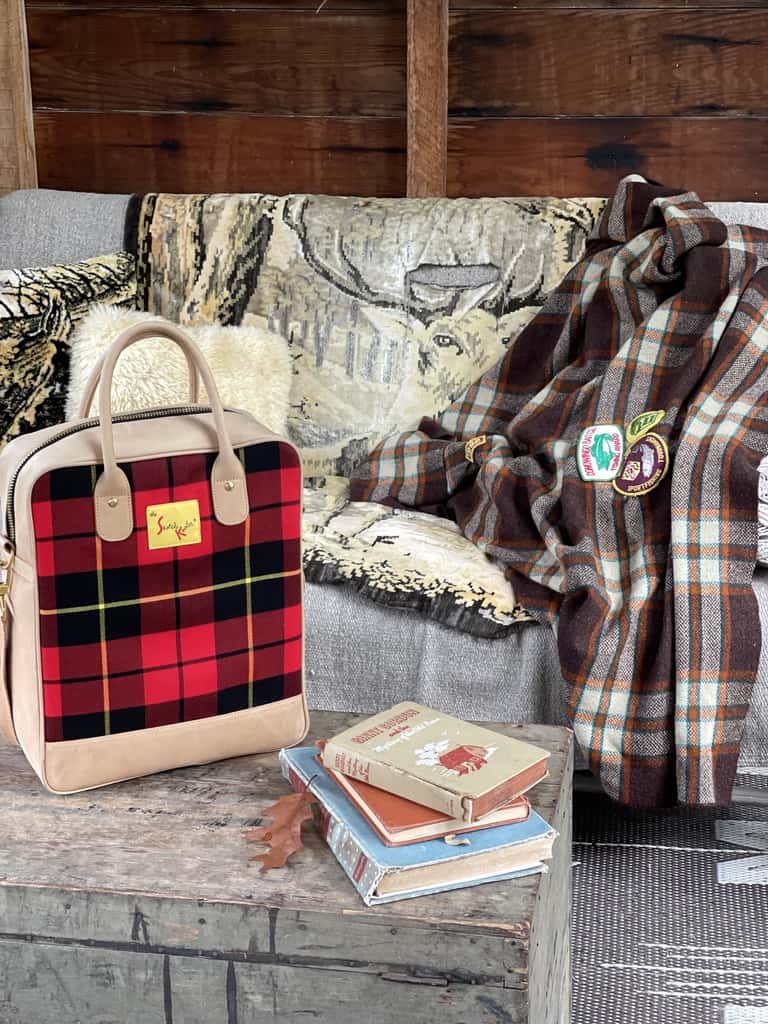 I use my vintage Kooler throughout my house as a side table. At Camp it was the perfect spot to hold champagne glasses and keep the bubbly cold as we toasted to our favorite new products!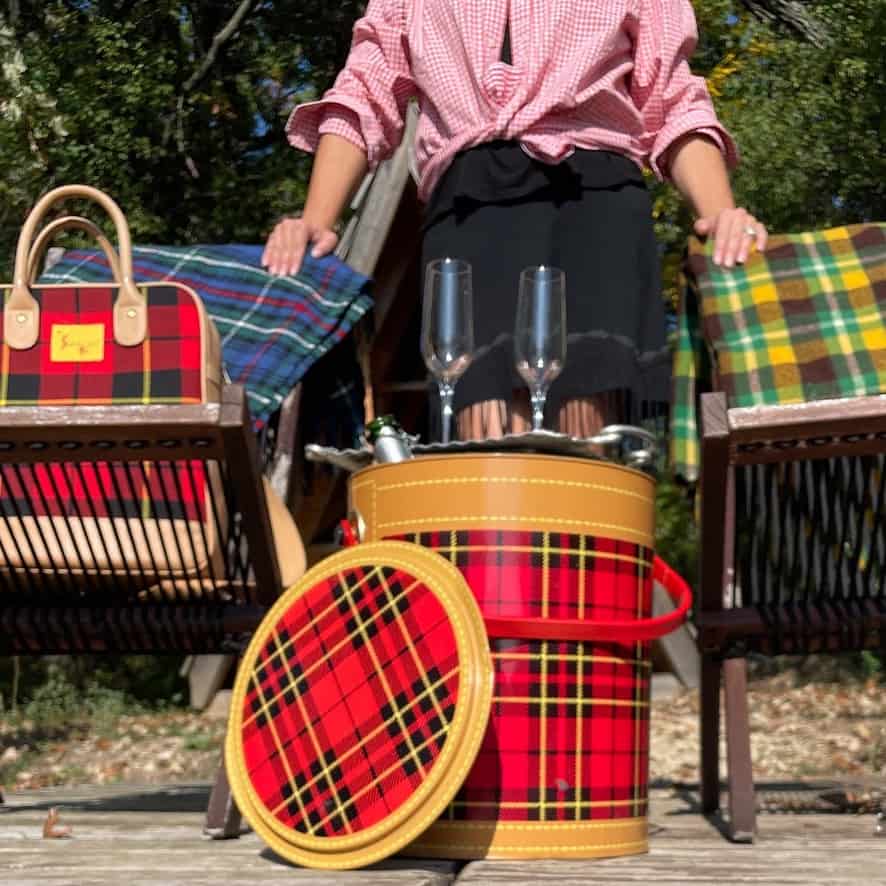 As you explore Camp Wandawega you will get a taste of what life and style is like here where I live in The Northwoods of Wisconsin. My own cabin and many more are decorated in this nostalgic style. I sell products in MY SHOP to help people decorate their own homes like this as well.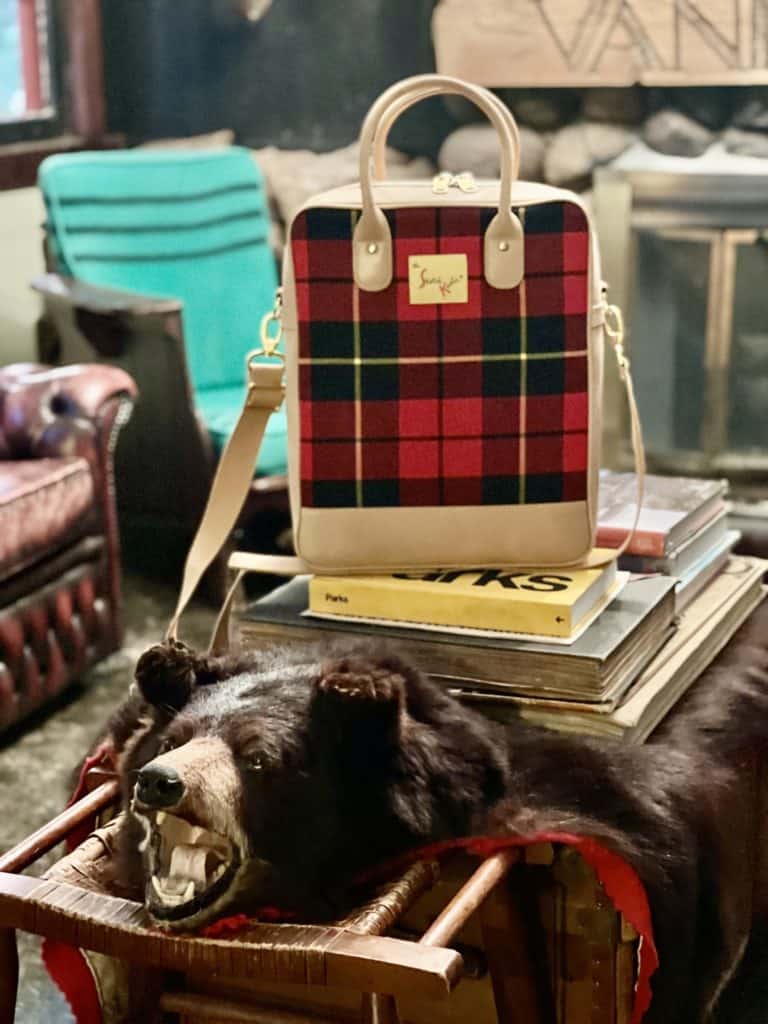 The Skotch Kooler jugs aren't just a future relic to hang on to. They work and are not only practical, but a beautiful way to serve a cocktail.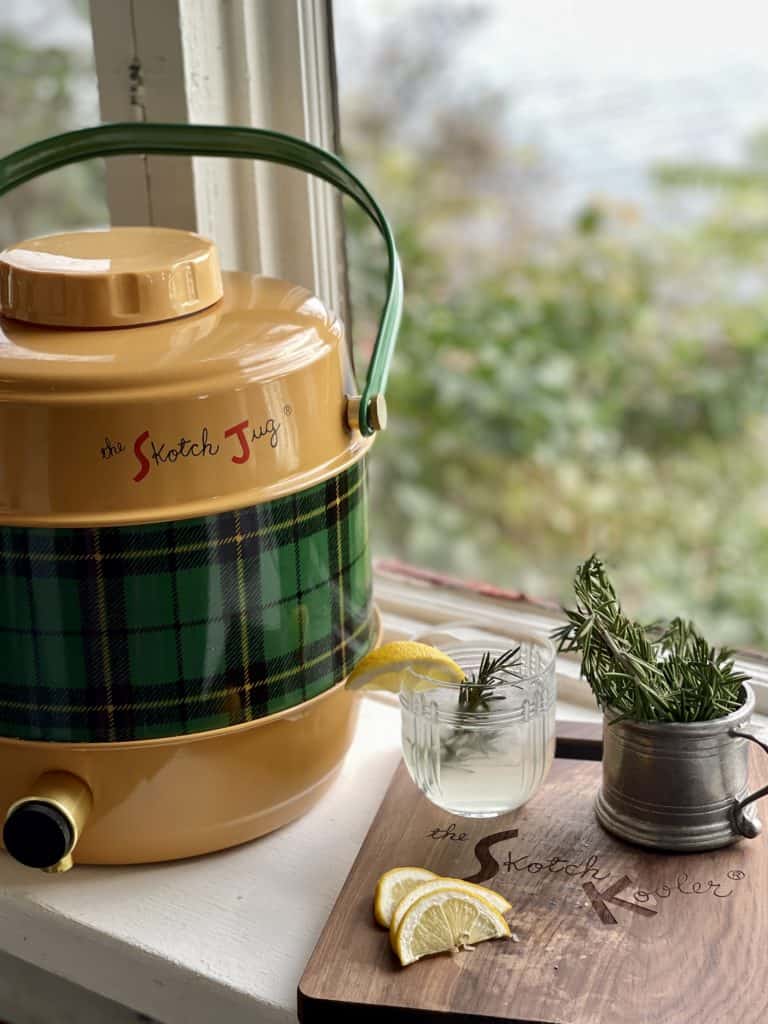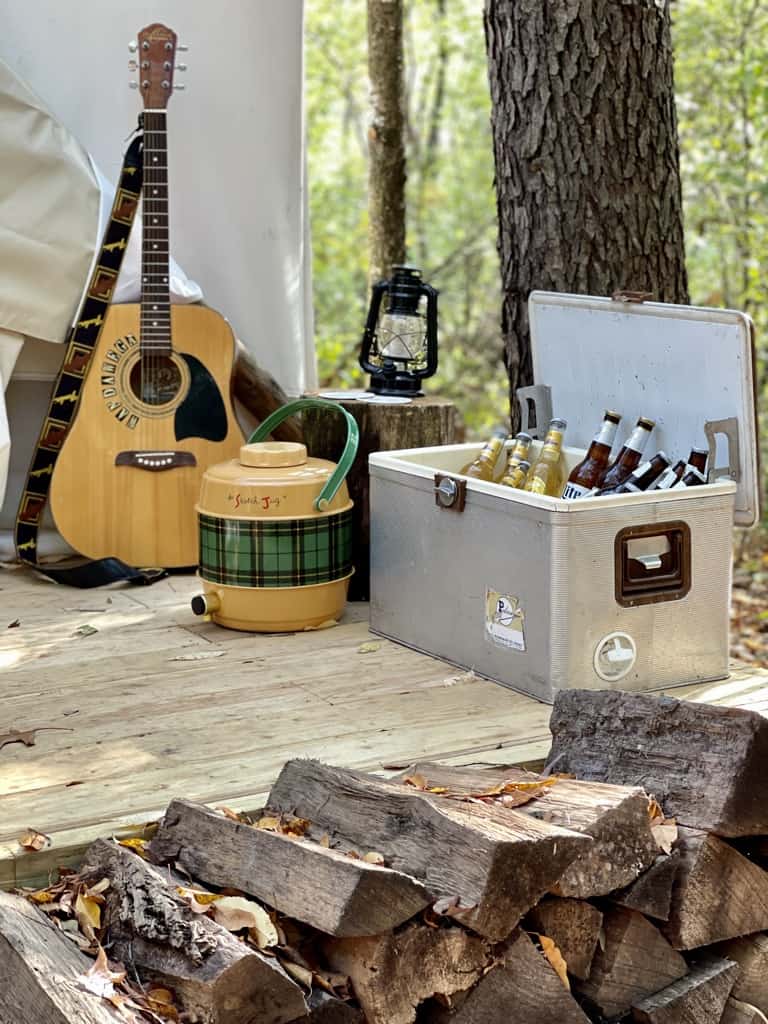 Along with the Skotch Soft Kooler and the Jugs they also brought back the grill! I have one of the vintage grills and am so excited that they are selling them again! They are perfect to take along tailgating and to picnics because they are so portable.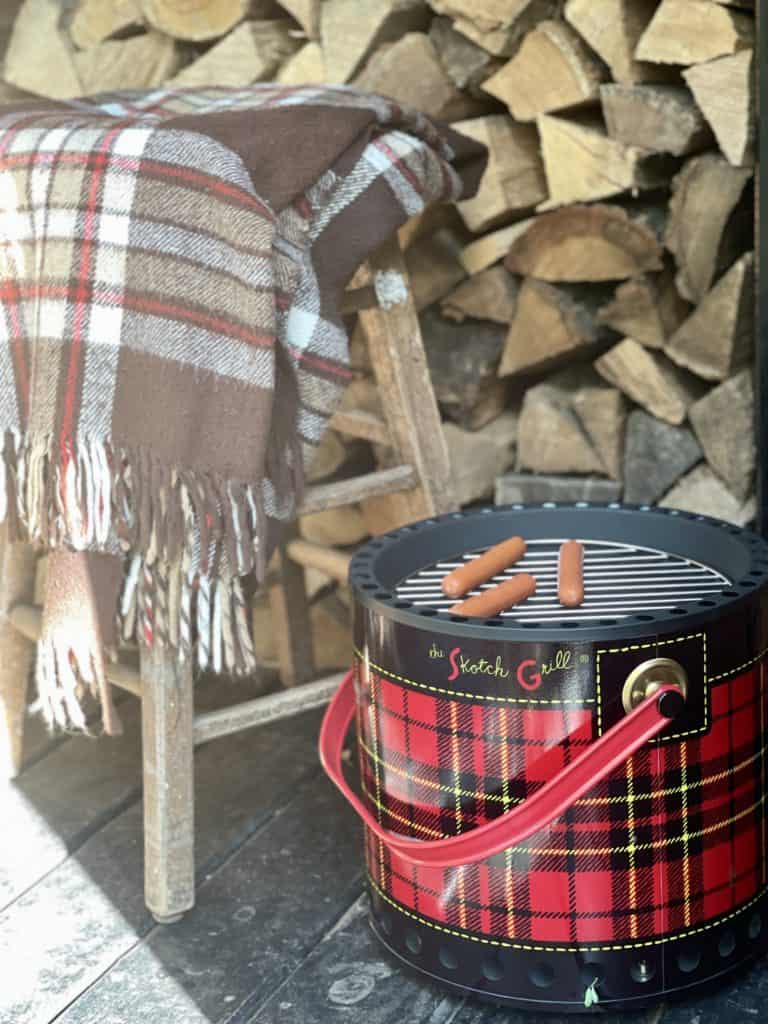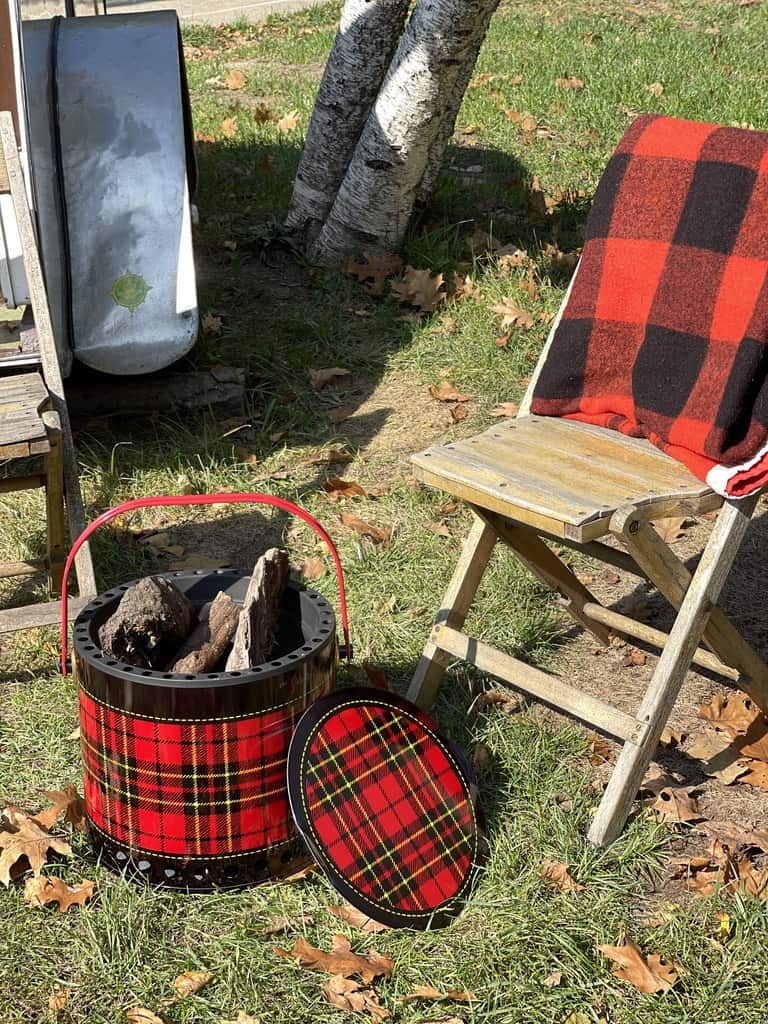 I was able to bring along a plus one to the Skotch Kooler event and brought my White Arrows Home Shopkeep and friend Diana. She loves all things vintage as much as I do and we had so much fun styling our photos and meeting the Skotch Kooler and Camp Wadawega teams. We were honestly spoiled the whole time with amazing drinks, food, atmosphere and wonderful conversation. Being surrounded by fellow creatives is one of favorite things!
Skotch Kooler in my Shop
We are so excited to be one of the exclusive dealers of Skotch Kooler! So you can buy both new and old Skotch Kooler at White Arrows Home. We are open in Minocqua, Wisconsin, Monday-Saturday 10-3 and you can shop online www.whitearrowshometheshop.com. We offer $15 flat rate domestic shipping. (excludes furniture)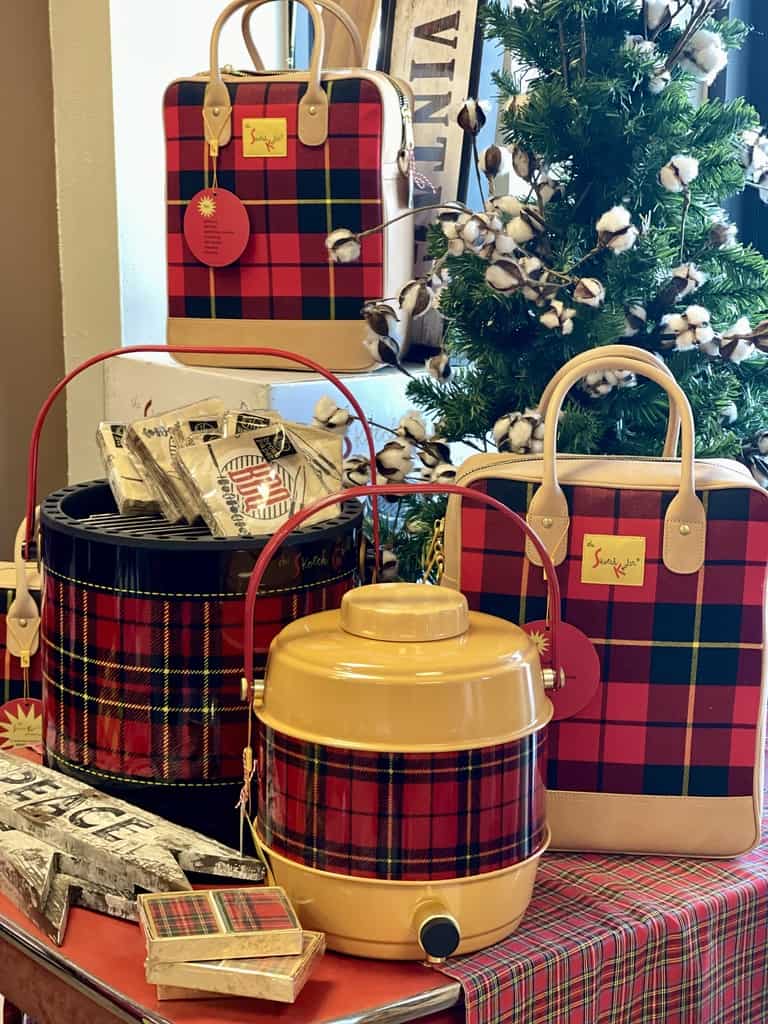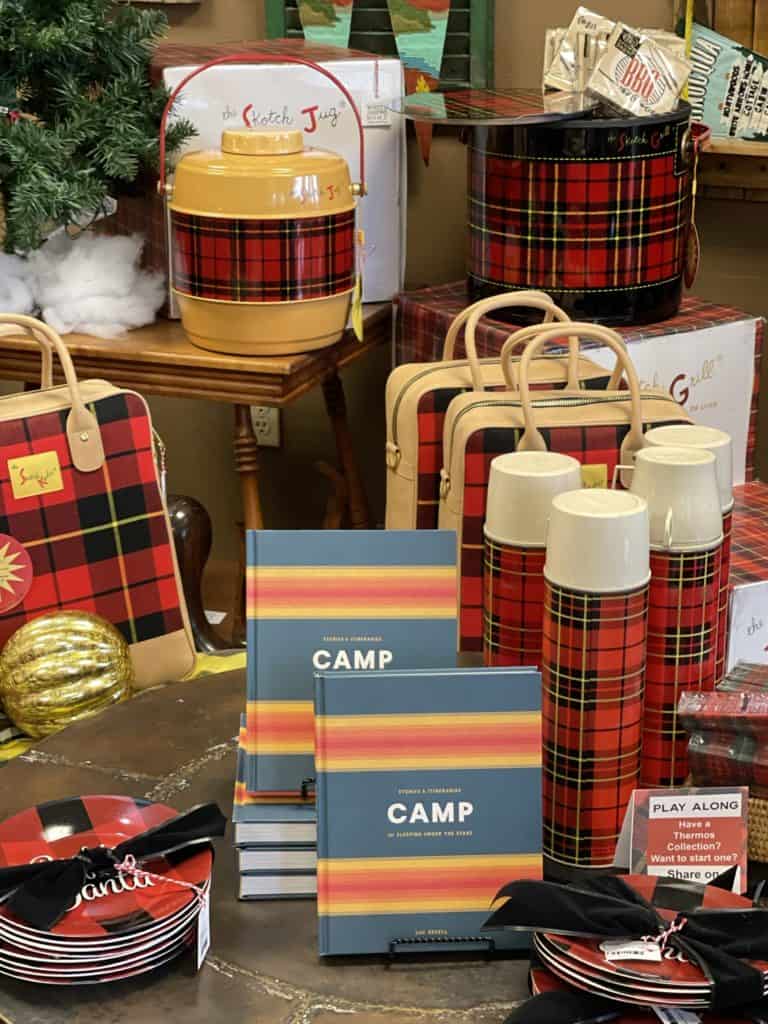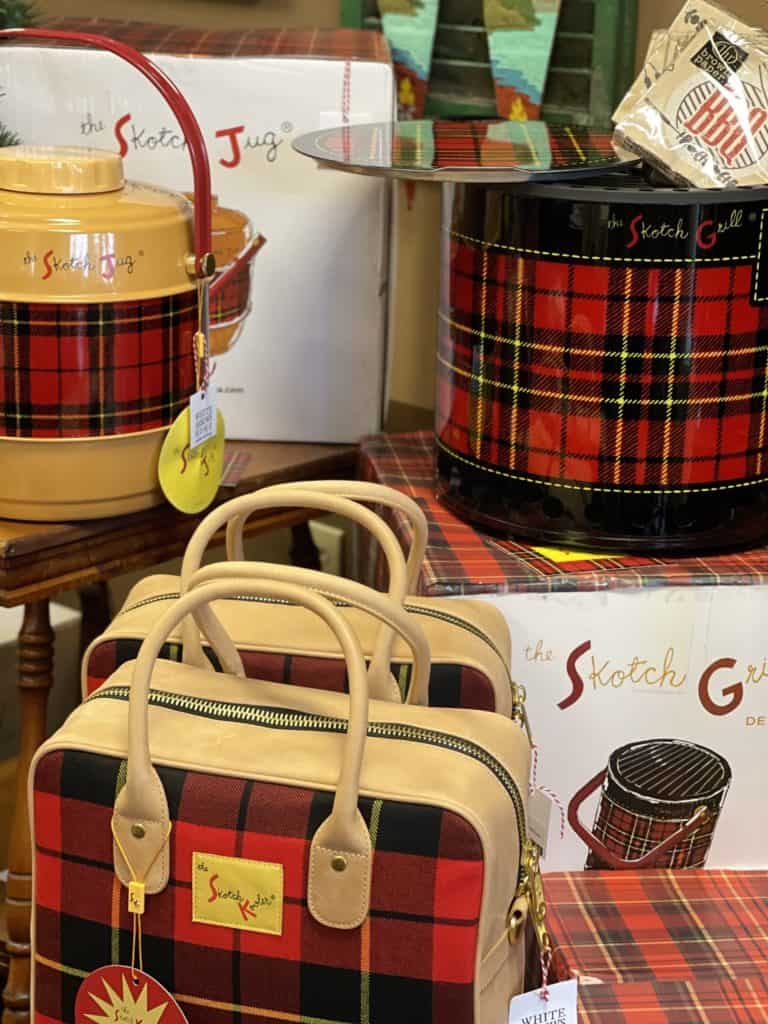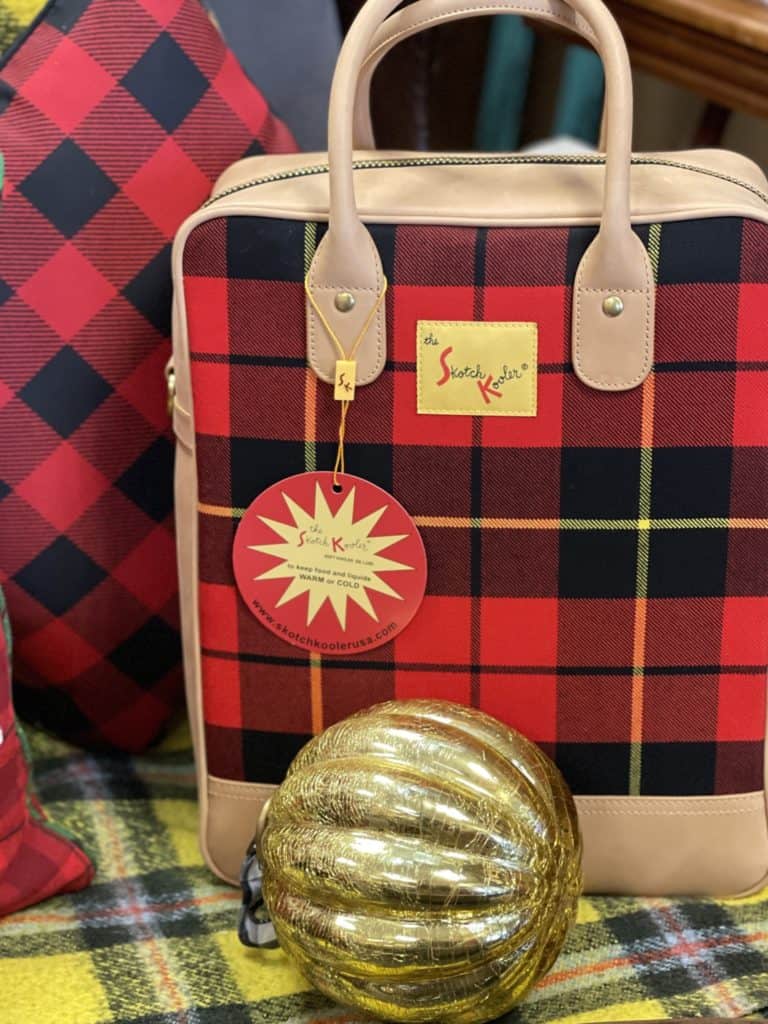 Thanks so much for visiting today! Next up on the tour you are headed to Le Cultivateur. You will love her vintage Christmas!
Take the Tour
Follow The Yellow Brick Home ~ Far Above Rubies ~ Common Ground ~ The Crowned Goat ~ Shiplap and Shells ~ The Tattered Pew ~ Our Southern Home ~ The Ponds Farmhouse ~ Decor to Adore ~ Let's Add Sprinkles ~ Virginia Sweet Pea ~ White Arrows Home ~ Le Cultivateur
FOLLOW ALONG
Instagram ~ Facebook ~ Pinterest ~ Twitter ~ YouTube ~ Tik Tok ~ Liketoknow.it