I'm so excited to be joining this fun Easter Brunch Menu Hop hosted by my friend Pasha is Home. There are six of us that have come together to share ideas for your Holiday celebration. You can find links to all the posts below.
There are recipes for deserts, main dishes and appetizers. I'm sharing a special Easter cocktail.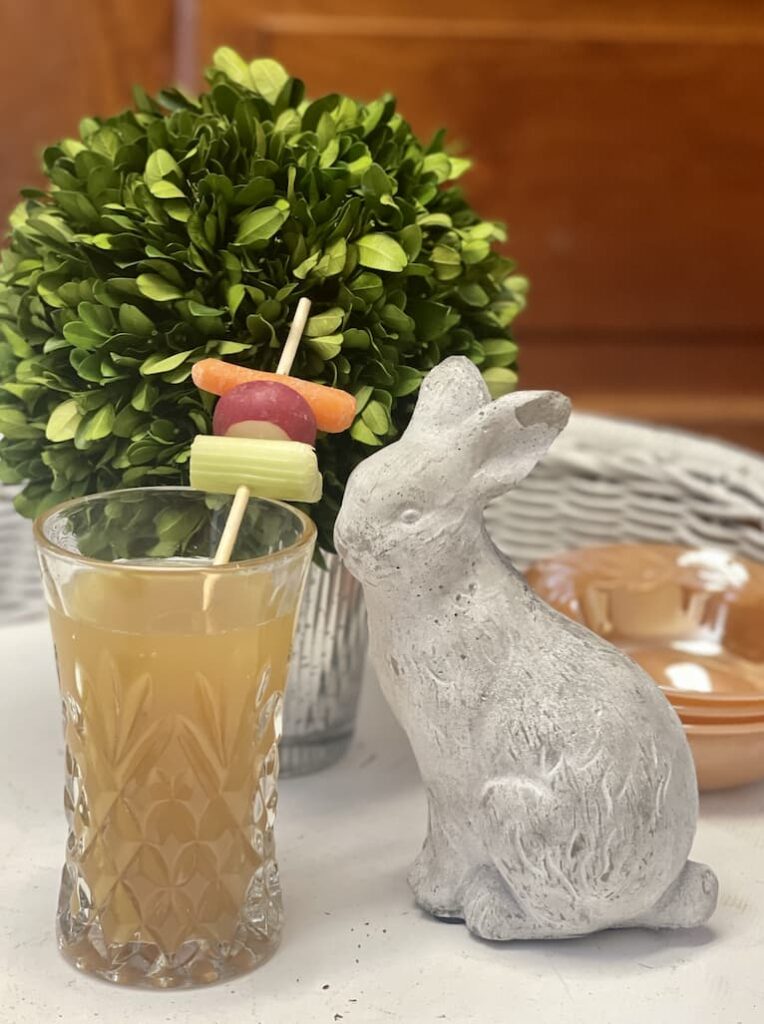 If you are coming over from Open Doors Open Hearts didn't you love Aliya's recipe for The Best Lemon Ricotta Cookie with Sourdough Discard.
Welcome to our home in the Northwoods of Wisconsin. Depending on when Easter falls each year, we could still have lots of snow on the ground. Or even if our snow is gone, we could get cold temps and flurries. Easter dresses and egg hunts usually require coats and hats.
Here's a photo of our cabin during our short Spring season a bit after Easter time.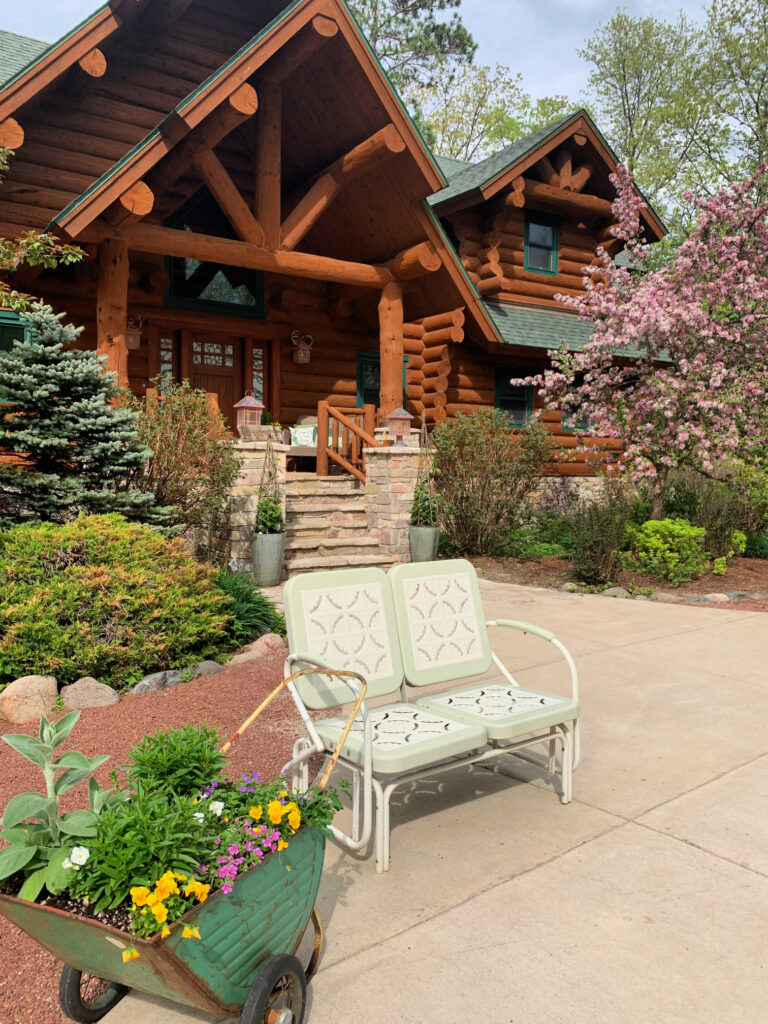 Follow along to keep updated. SUBSCRIBE HERE.
Easter Brunch Drink
There are several drinks that pair perfectly with Easter Brunch. Drinks that are traditionally drunk in the morning and are crowd pleasers.
The Screwdriver
Mimosa
The Bloody Mary
There are also some fun and creative drinks that could be fun to add to a Spring Celebration. Click to see more details.
I thought it would be fun to take a twist on The Bloody Mary that would be the perfect addition to the menu.
The Bunny Mary
A few things intrigued me about this drink when I first heard/saw the idea on Pinterest. Number One- It looks so beautiful with a springy, gardeny vibe adorned with all the veggies.
Number Two- The carrot juice makes it sweeter than the tomato juice of the Bloody Mary. But the addition of all the veggies makes it feel healthier than a regular cocktail.
Number Three- The idea and name is just plain cute!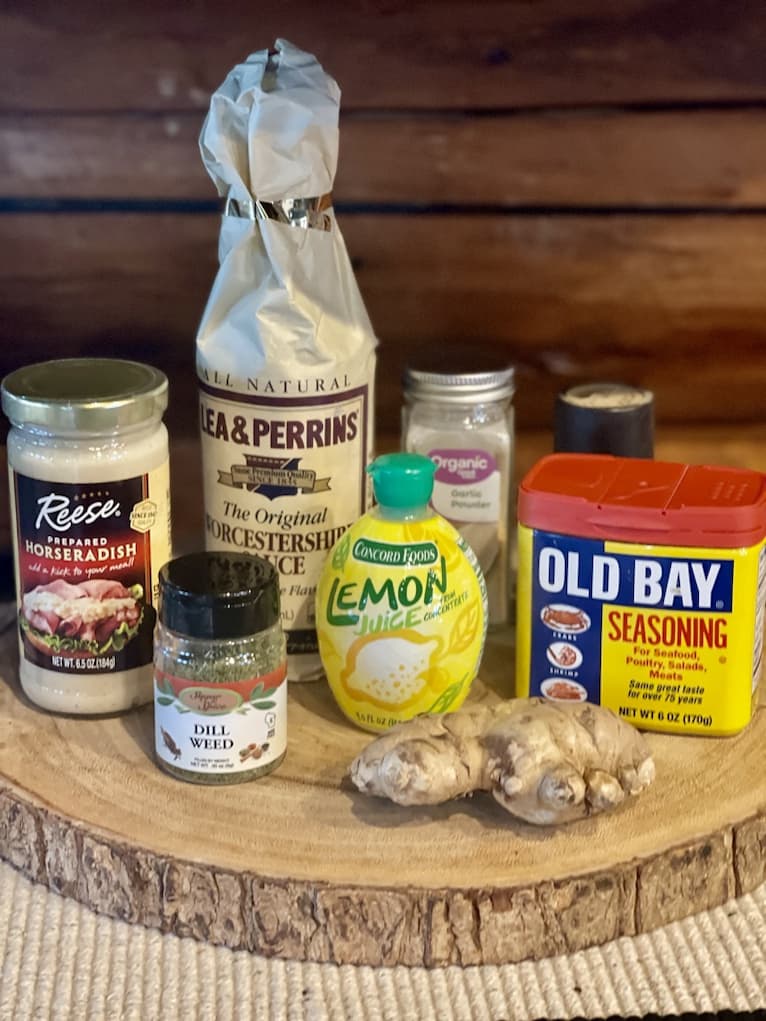 If you would like you can add vodka to the drinks or you can leave them non alcoholic. I like to always use local ingredients when I can and that includes liquor from our distillery here in town.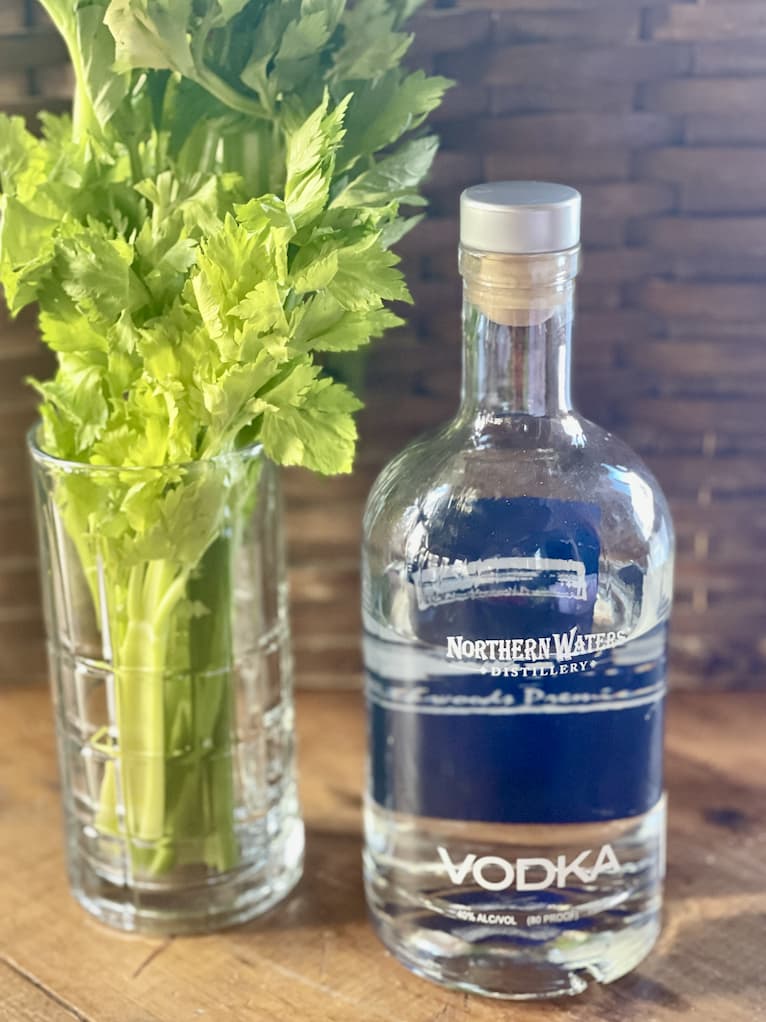 My vintage relish tray gets filled up with lots of fresh veggies. Everyone can snack on them as they make their drink or build their own garnish skewer.
I love this relish tray because the glass tray comes out of the silver holder to make washing easy.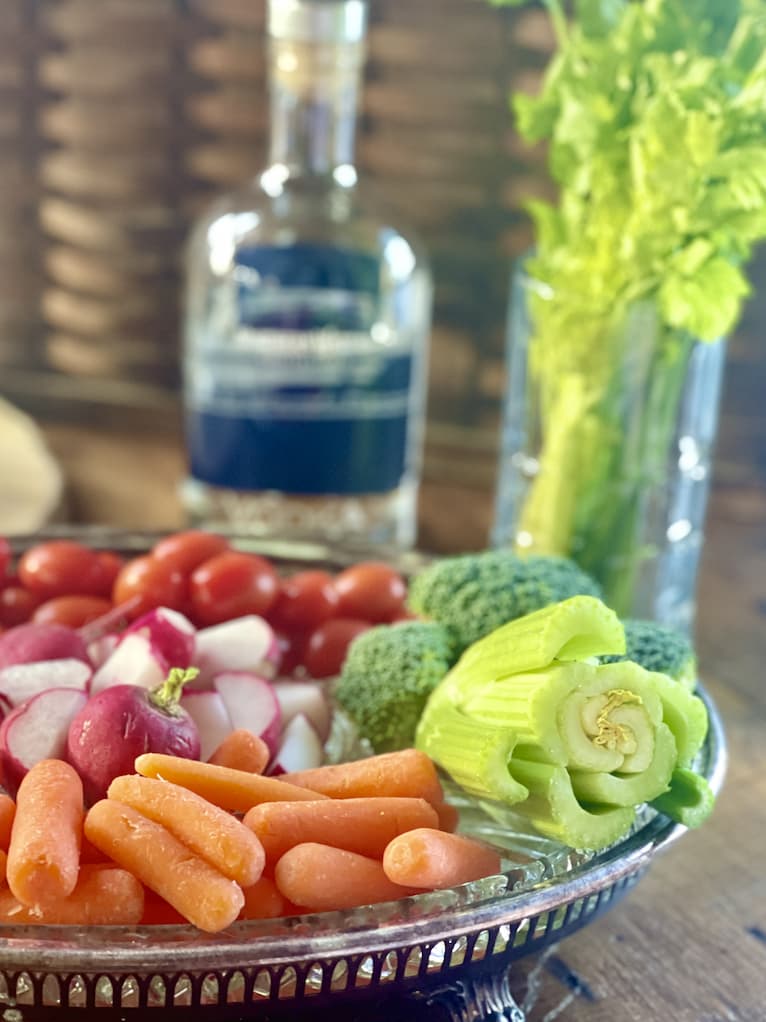 A fun option to dress up the drinks even more is to add a "salted" rim. I used one of the ingredients, Old Bay Seasoning as the rim salter.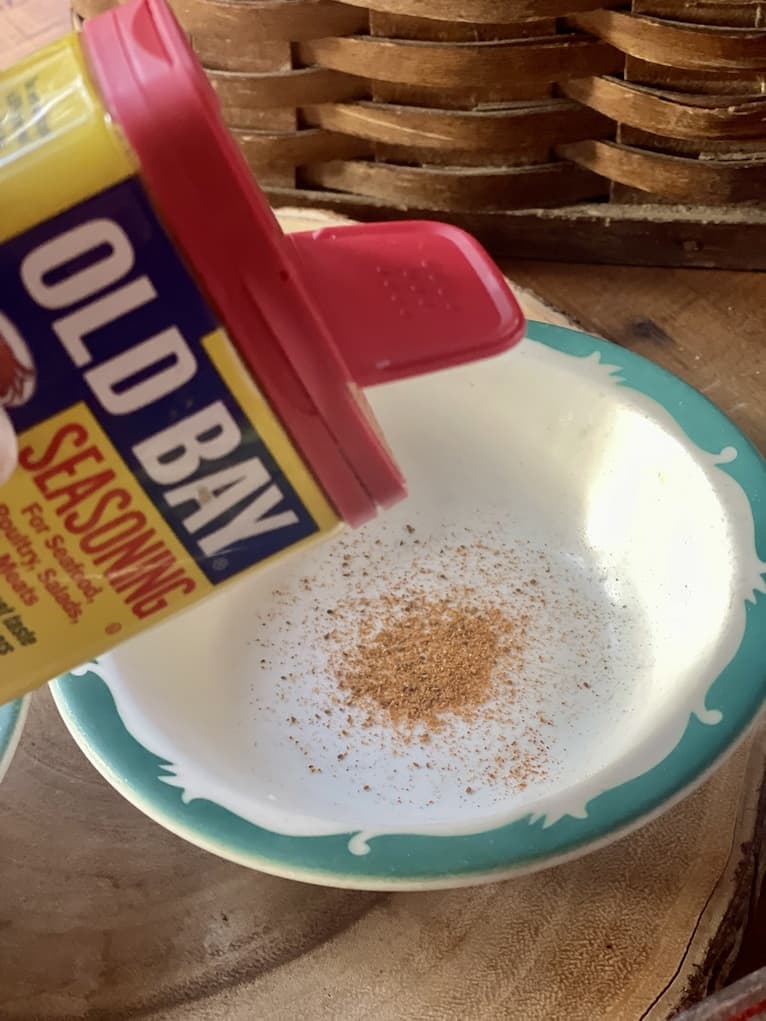 I used two low bowls, one with the Old Bay Seasoning and one with some of the carrot juice to easily top the glasses. First, I dipped the rim into the juice, then into the seasoning, just like you would do a margarita.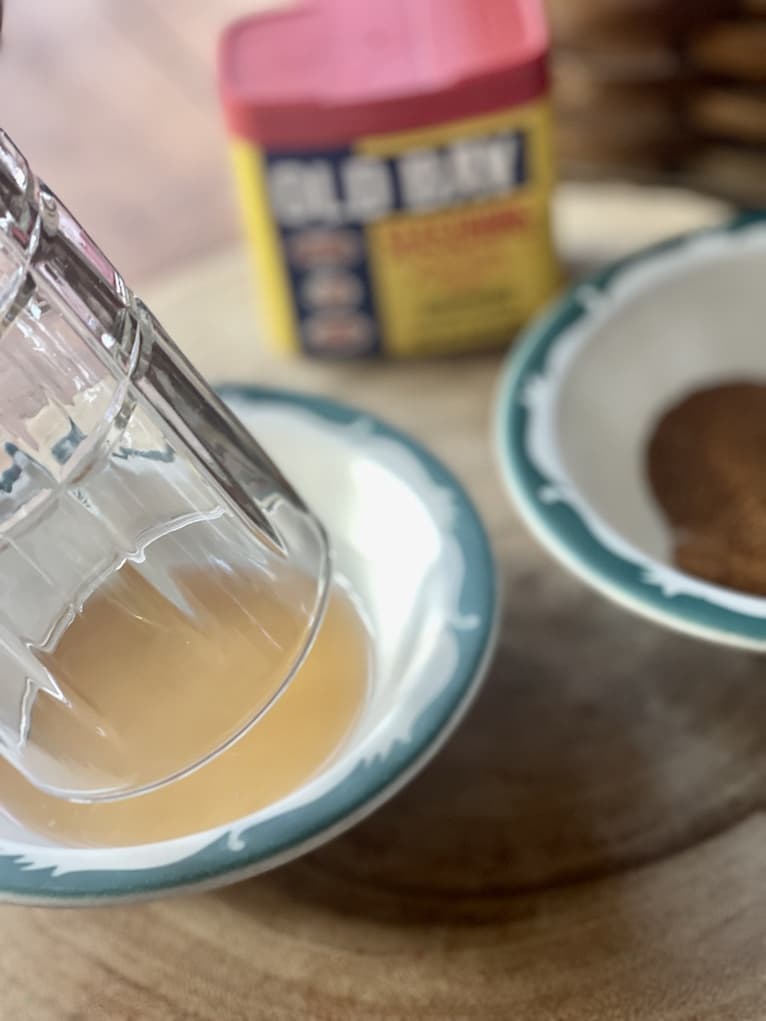 Then I filled the glasses with ice and poured in the Bunny Marys and garnished with a celery stalk.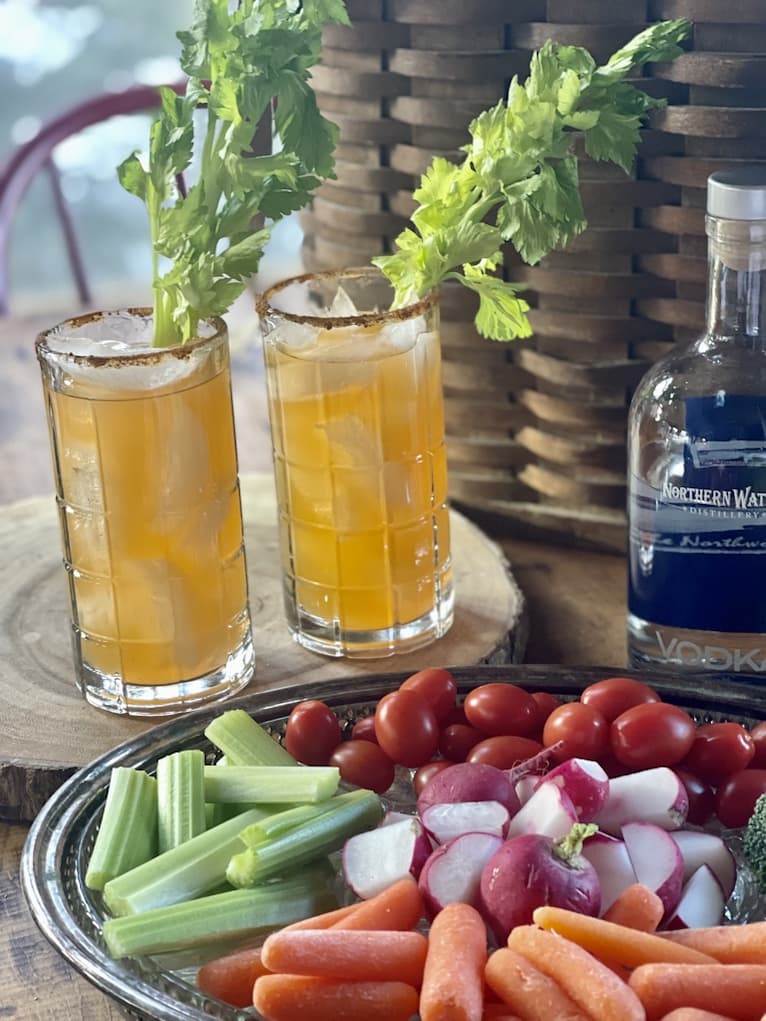 It's a refreshing addition to breakfast or anytime of the day, perfect for Spring.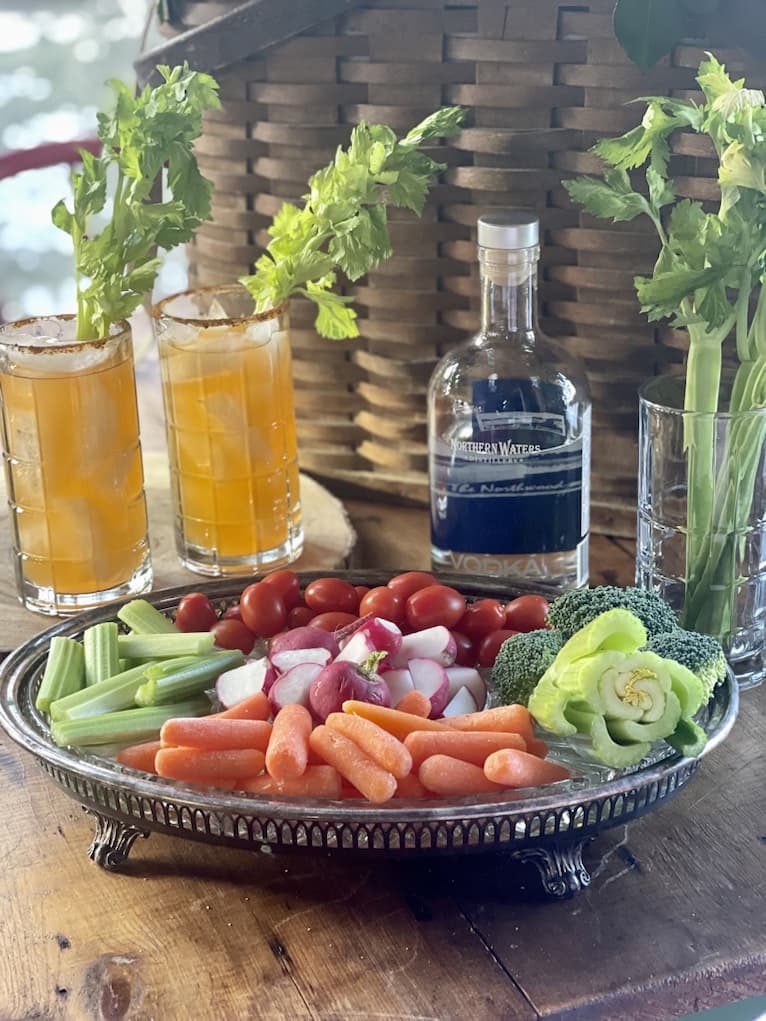 I like to set up a self serve station so while I finish getting the Easter meal prepared everyone can make or pour their own drinks and enjoy snacks. I can't wait to try some of the other sides and appetizers linked below.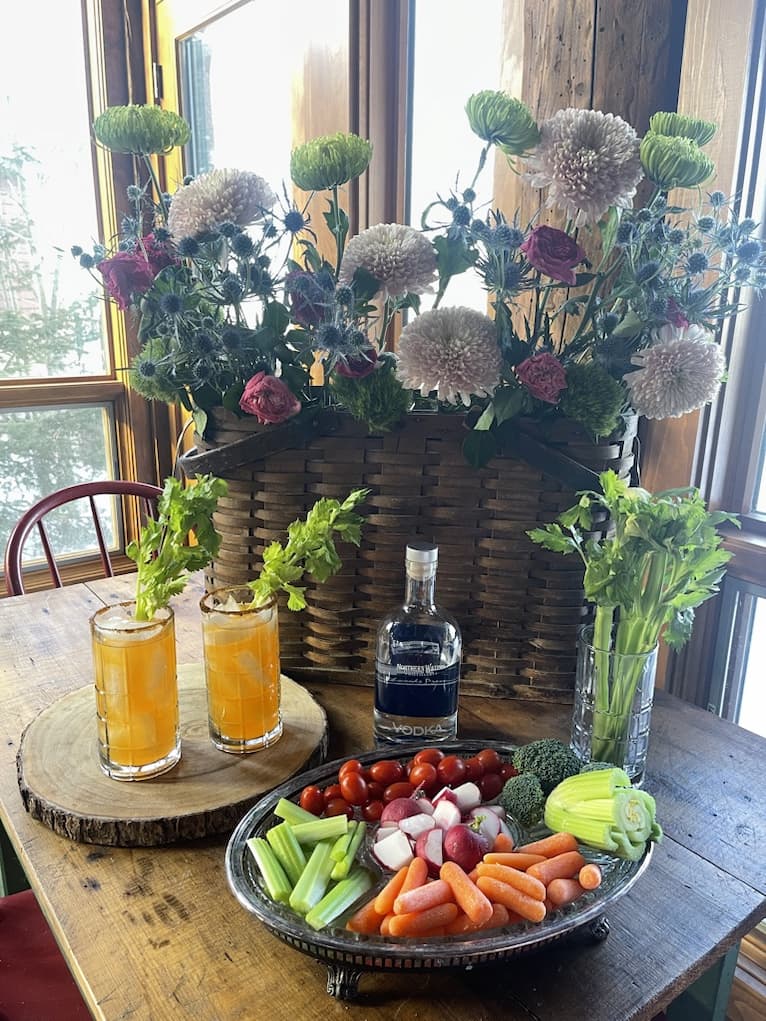 The Recipe
The following ingredients can be combined in a pitcher to make a large batch.
32 oz. carrot juice
8 oz. vodka
3 tsp Old Bay Seasoning
2 tsp dill
3 tsp garlic powder
2 tsp ground ginger
2 tsp horseradish
3 tsp hot sauce
4 dashes of Worcestershire
Juice of one lemon
2 tsp black pepper
Thanks so much for stopping by! Next up you are headed over to visit my friends' AnnMarie & Anne and of Simply 2 Moms. They are sharing their 29 of the Best Ideas for a Healthy and Delicious Easter Dinner Menu. I'm always so inspired by these girls and can't wait to try some of these recipes!
More Inspiration for Your Easter Brunch Menu

Simple Easter Brunch Menu Ideas You Will Love // Pasha is Home
Old Fashioned Easter Ham Balls // Midwest Life and Style
The Best Lemon Ricotta Cookie Recipe with Sourdough Discard // Open Doors Open Hearts

Best Easter Brunch Drink The Bunny Mary // White Arrows Home
29 of the Best Ideas for a Healthy and Delicious Easter Dinner Menu // Simply 2 Moms
5 Healthy Easter Menu Ideas your Family Will Love // She Gave It A Go
Shop The Post


FOLLOW ALONG
Instagram ~ Facebook ~ Pinterest ~ Twitter ~ YouTube ~ Tik Tok ~ Liketoknow.it ~ Podcast