Part of Northwoods Living is embracing Winter and all the season brings like cozy nights.
In The Northwoods of Wisconsin cold weather lasts a long time. I get asked, "How can you stand it?" "How can you live there all Winter?" We can because we embrace it and find ways to love and appreciate and actually look forward to it.
One way is by soaking up all the coziness and making evening rituals that help us relax, unwind and reconnect. We make every night feel special. It doesn't take much, mostly what it takes is attitude and shifting how you think. You can take something that feels frustrating and turn it into something amazing!
(Affiliate links are used for your convenience. Read my full disclosure here.)
Baths, Showers, Hot Tubs & Saunas
One of the things I try to keep a priority is to partake in calming activities that keep me uplifted and restored. I love to take detoxing baths a few times a week in the evenings with a candle burning and soft music playing.

Our whole family enjoys our hot tub. It's a great spot to relax in, soak sore muscles and sit and talk in. We've had a lot of great conversations at the end of the day in the hot tub.

In the mornings I take a cold shower (so many benefits to this- I have a post coming soon!), but in the evenings I take a warm shower with my favorite bath scrub and gel. They smell like a spa! The scrub on my feet once a week, keeps my feet exfoliated and in great shape.
Here's a post I wrote about How to Create a Relaxing Spa Bathroom.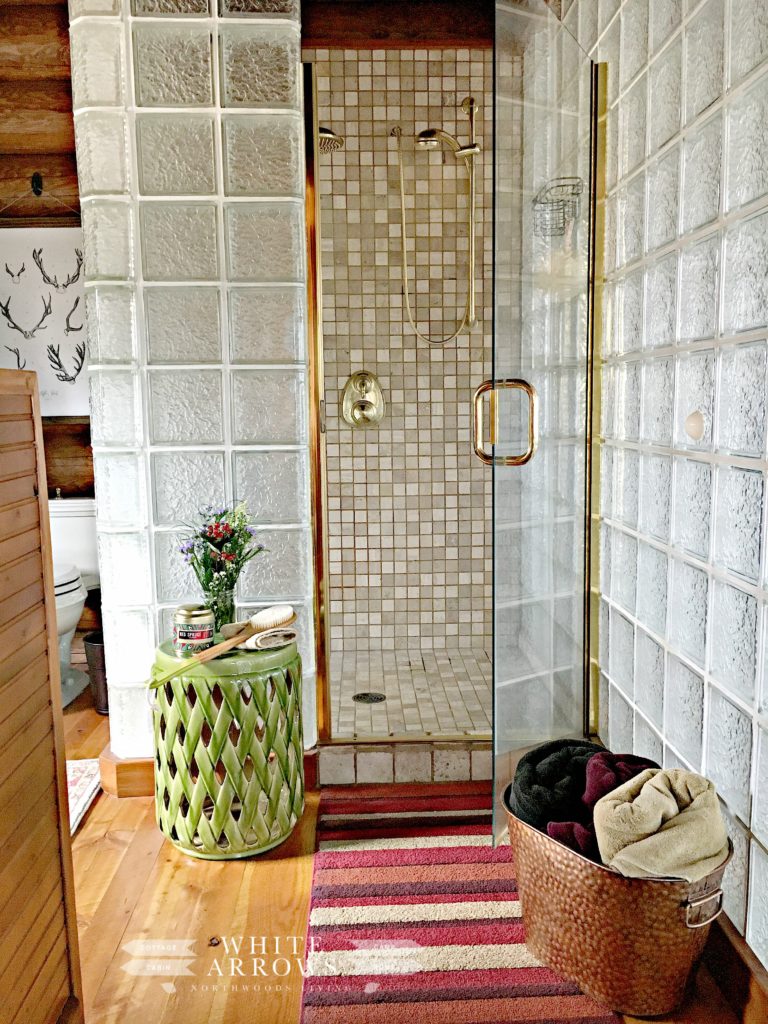 Hydrating
Have hydrating products for my skin and lips is important too.
We sell great self care products in my Shop. We sell Pendleton yoga mats, beautiful water bottles to encourage hydration, books, lip scrubs and balms, candles and so much more. SHOP HERE.

I consciously try to stay hydrated all the time, but especially in Winter. I have a few helpful ways I do that. One is to use a pretty vintage glass, every time I walk in the kitchen I take a drink from it and refill.
Bedding
One of our favorite rituals as soon as the temperatures drop in the Fall is to switch into our flannel sheets and cozy bedding. See more of our bedroom in THIS POST.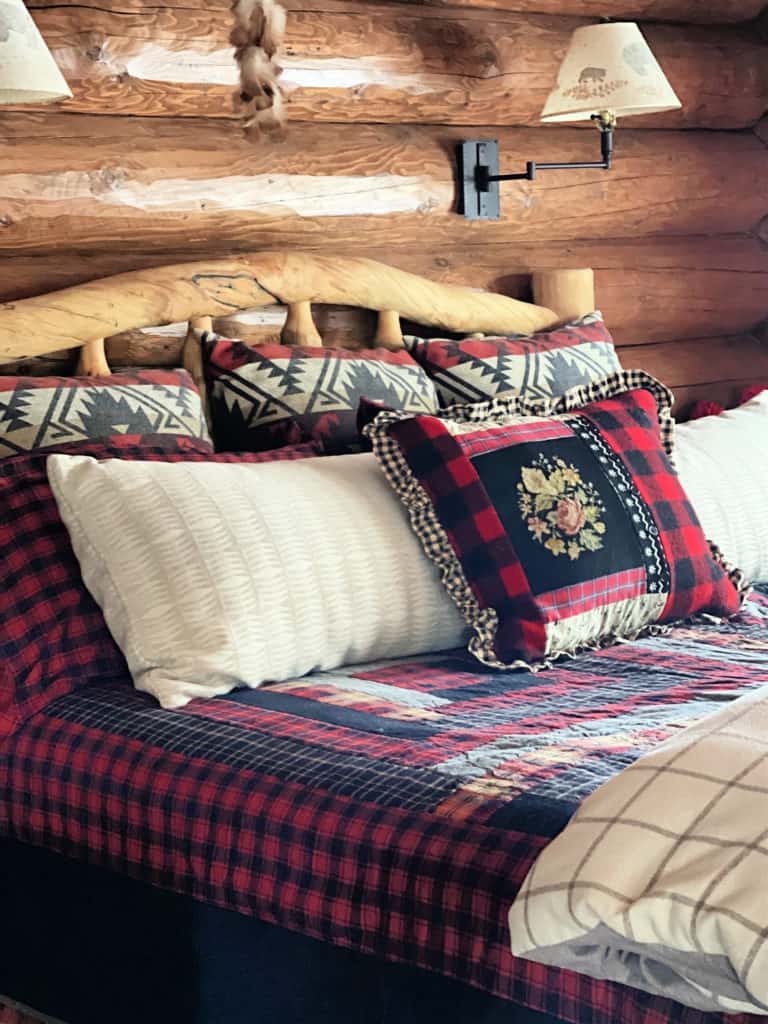 Robes & Pajamas
We are like the Brady Bunch around here. Remember how they always put on a robe? We love to throw them on too after a bath or shower. We also love great pajamas.
There are some nights where we aren't hungry for dinner. We do a workout, sauna, shower then get in jammies to curl up by the fire to read and talk for the rest of evening.
And if we aren't enjoying a glass of wine, we love to have coffee. I sometimes like coffee better in the evenings. I drink Decaf all the time, so it doesn't affect my sleeping. I switched several years ago.



Treats
A cozy treat in the evenings is a great way to end the day. My husband is a sweets guy, always growing up in a house that had desserts. I grew up not having desserts, so it still feels weird to me that he (and all my kids!) look at me after dinner with big grins and ask what's for dessert.
Most nights it's their favorite cookies, Tate's Chocolate Chip Cookies, because they are so easy to have on hand and they taste so good. They taste exactly like the chocolate chip cookies my husband's grandma was famous for!

A great pair of slippers is also a must. I have a few pair I love to throw on like these furry, buffalo plaid Birkenstocks.
This pillow is a a favorite. I love the mix of fabrics and trims. We make and sell pillows like this in my shop. See more pillows HERE.
My diner mugs and the beautiful fox tray are some of my finds when I was out #thriftingwiththegals. I have a few Instagram friends that wish we could all go antiquing together in the same place, but since we live all over the country, we do it virtually over Instagram Stories each week sharing what we find. Once a month we do a blog hop together too. Follow Along and Join In!
Do you love Vintage? Join my Facebook Group, Call Me Old Fashioned! Join HERE!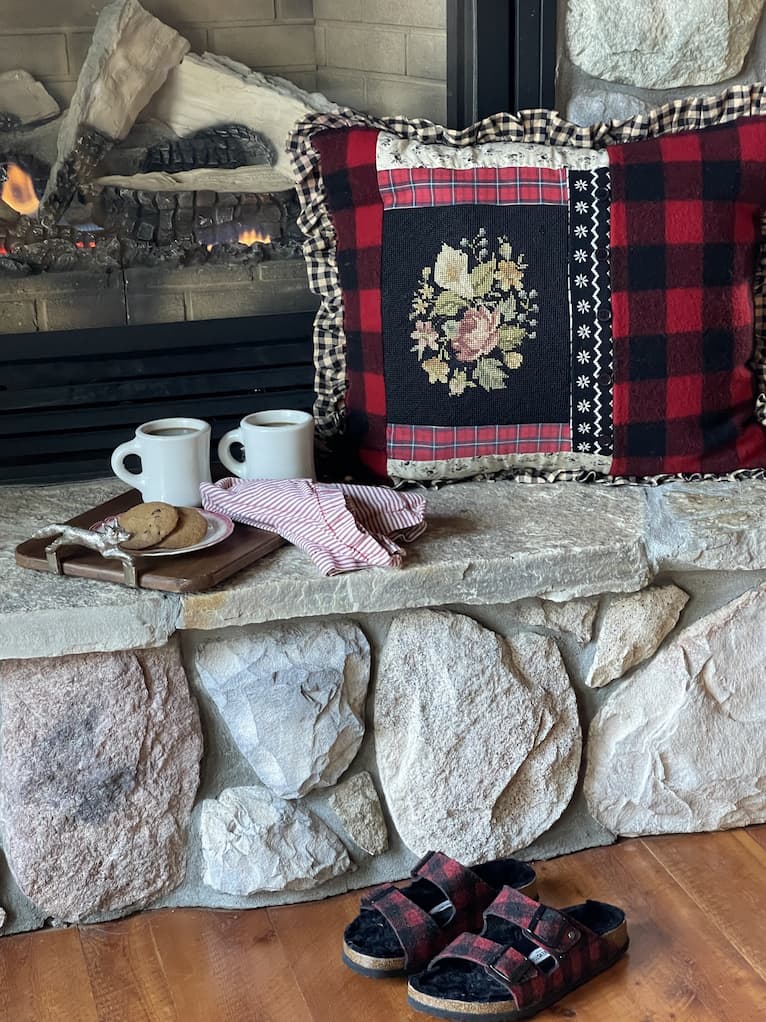 Another thing we love to do at night is watch a show. We have watched some great ones lately:
Oslo
Resistance
Brain on Fire
Munich, The Edge of War
The Trial of the Chicago 7
Worth
Good Night, Sleep Cozy!
FOLLOW ALONG
Instagram ~ Facebook ~ Pinterest ~ Twitter ~ YouTube ~ Tik Tok ~ Liketoknow.it ~ Podcast