I have spent the last week decorating for the Lioness Holiday Home Tours in Manitowish Waters, Wisconsin. Julie, of Northwoods Home Rentals, asked me to decorate one of their gorgeous rental properties that was being featured this year on the tour. We had so much fun working on this project, especially the Christmas Porch!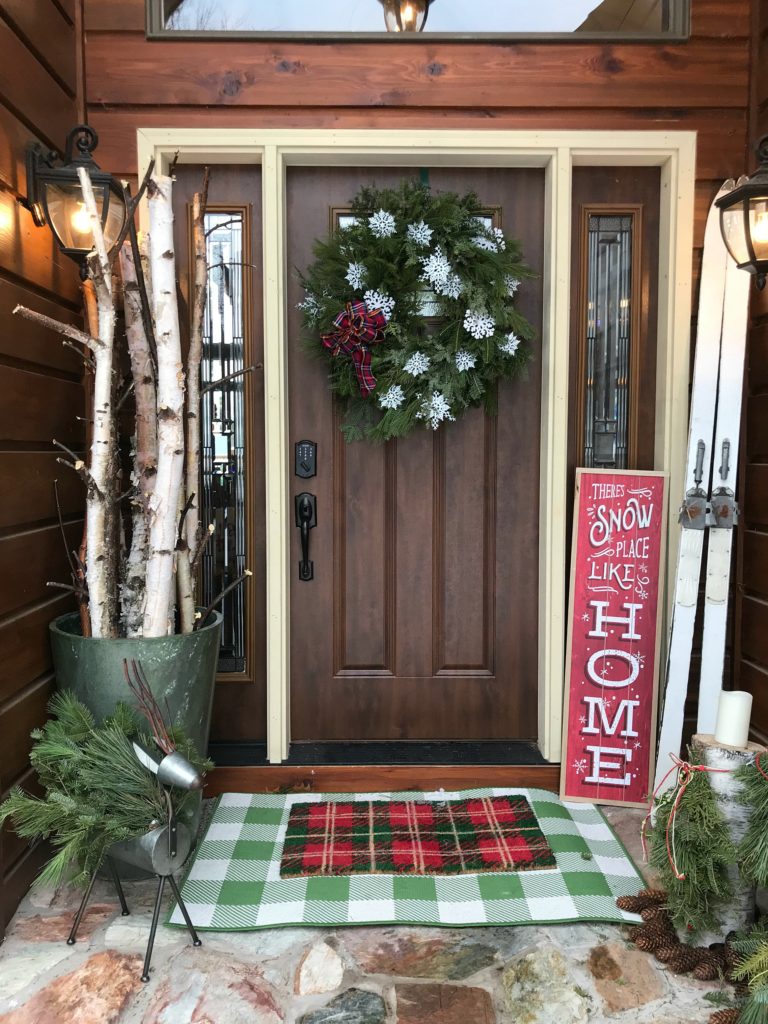 I'm excited to share with you how we decorated the front porch of this lakeside home as part of the Christmas Porches & Holiday Door Decor Blog Hop organized by Amber of Follow The Yellow Brick Home.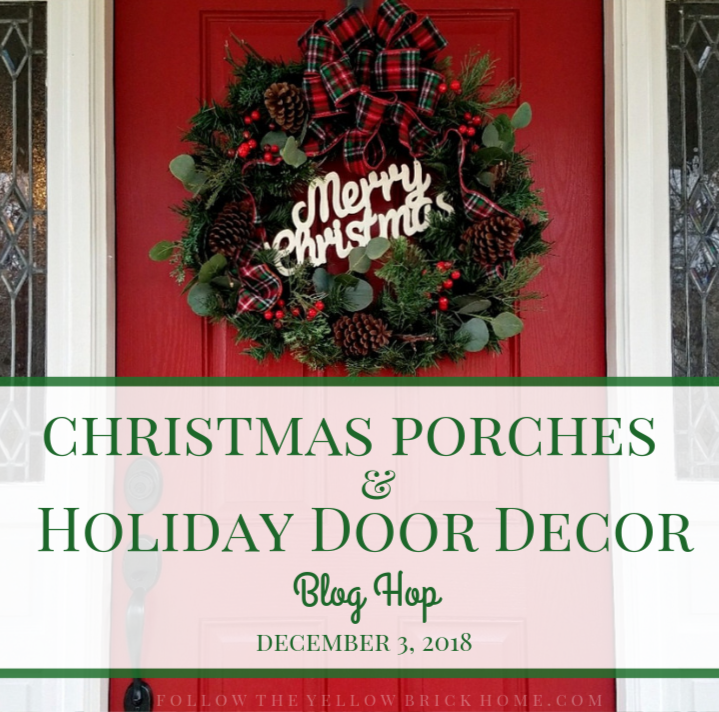 If you are coming over from Beauty For Ashes, then you have just visited one of my favorite blogs and I'm sure you are feeling inspired! There is a full list of all participating in this Blog Hop with links at the bottom of the post, so you can be sure to not miss any!
Now, welcome to Manitowish Waters "MW", Wisconsin. MW is part of the Lakeland Area of the Northwoods, were we live. It is the most charming small town with amazing restaurants, quaint gift shops, one of my favorite coffee shops and amazing bike and hiking trails. To read more about MW visit my friends Becca and Elizabeth of Northerly Collective. You'll quickly find out why this is such a popular vacation destination!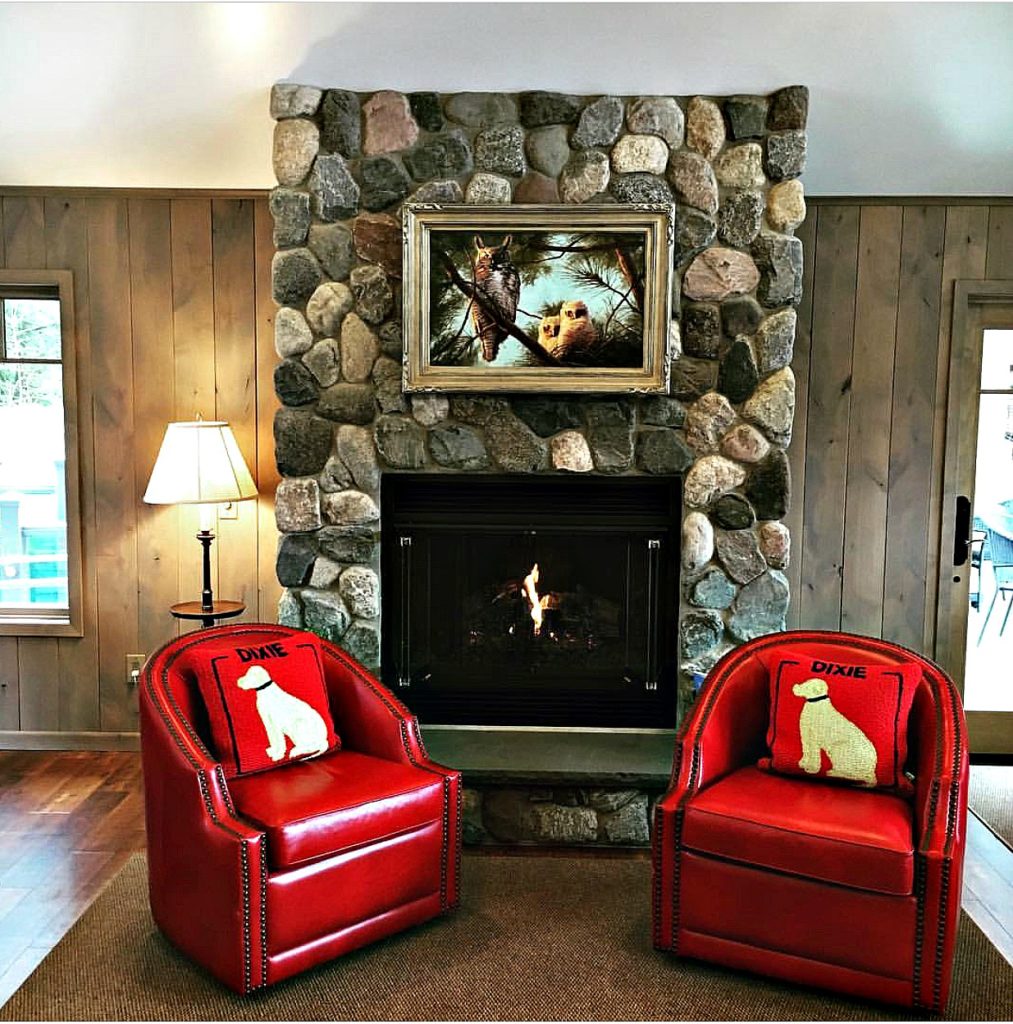 Dixie's Coffee Shop
I worked with Northwoods Home Rentals, a professional property management company that rents unique homes, cabins and lodges. For this Tour we decorated the Grand Getaway.
For the front porch we wanted to carry on some of the themes we had going on when you walked in the front door- birch, plaids, Christmas colors of reds, greens, whites, and snowflakes. You can see more of the interior tour in this post.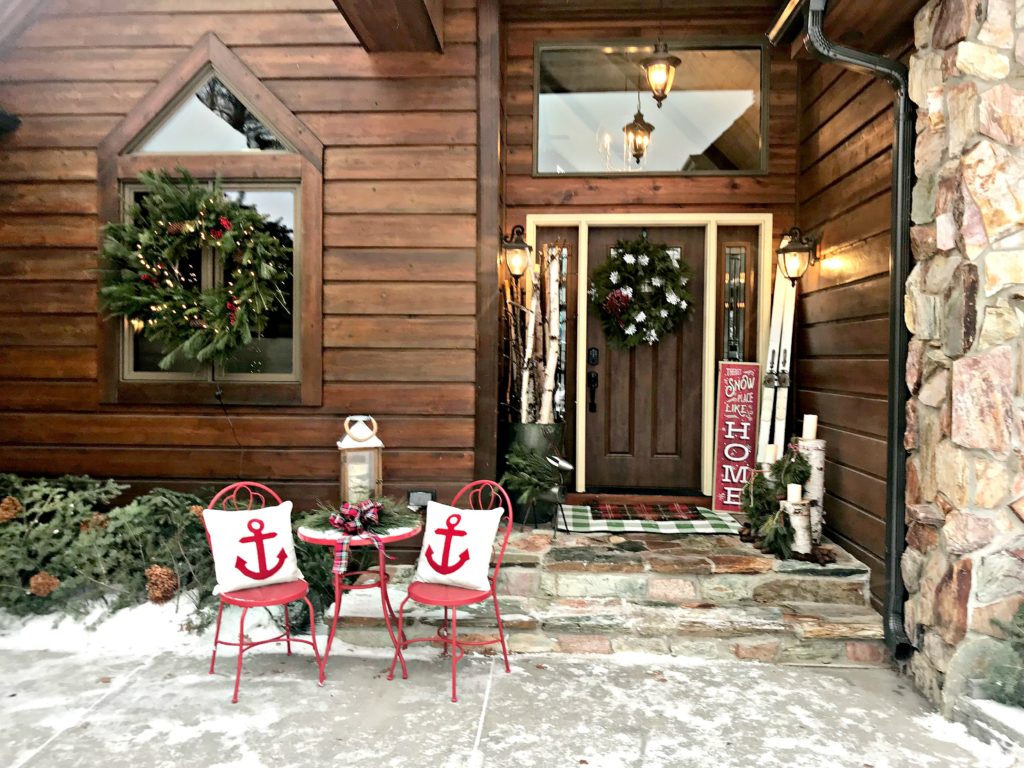 My favorite red bistro table made it's appearance here. It really gave the home curb appeal. You may remember the story, that I bought this table at the end of the season at Walmart and a lady tried to buy it from me in the parking lot! I'm so glad I didn't say yes! We added a lantern, some greenery and a plaid bow that matches the wreath on the front door.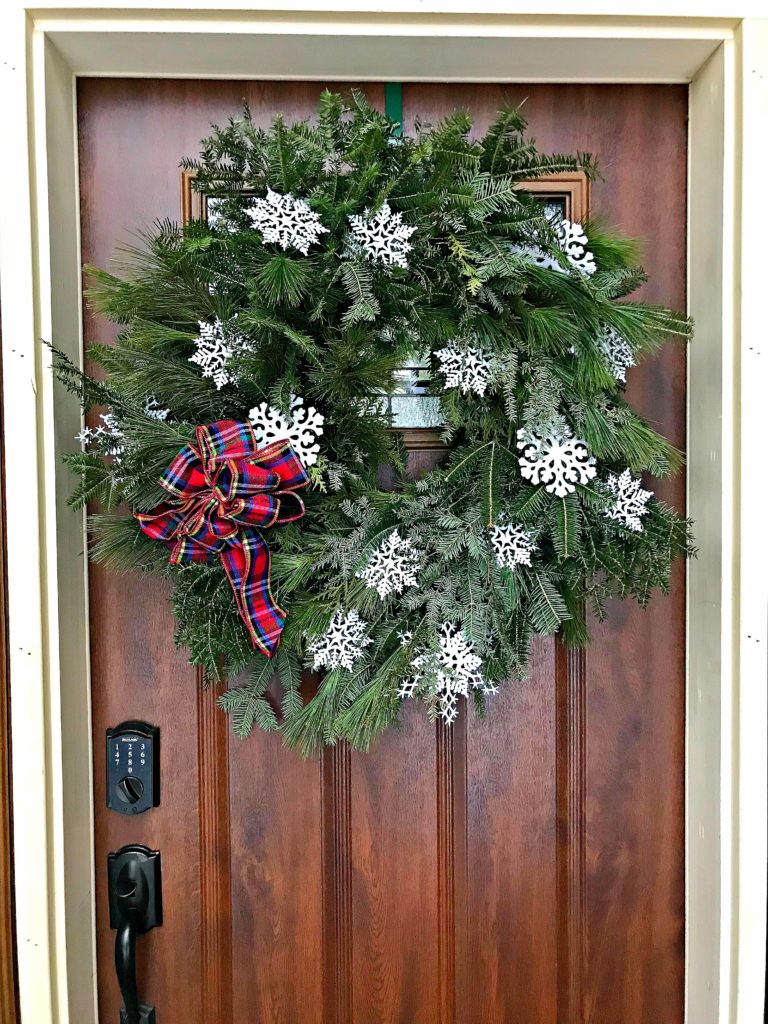 Julie learned how to make her own wreaths this year and between the gorgeous ones she made, the ones donated by the Lioness, and the Chamber we had beautiful wreaths everywhere. To the one on the front door we added a plaid bow and attached snowflakes. To attach the snowflakes we used Christmas tree hooks.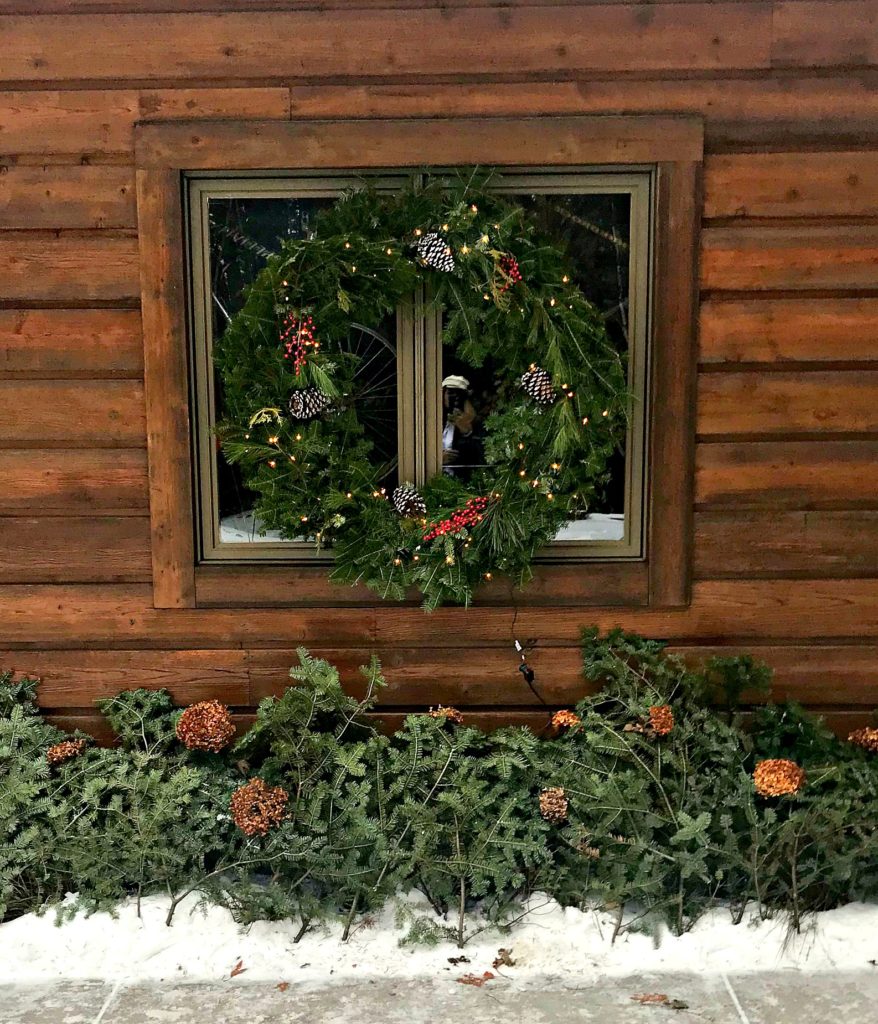 Another of the gorgeous wreaths hangs centered over a side window to the garage. Pinecones, red berry sprays and lights were added. Below the window and in all the front garden beds fresh cut greens were layered on top of each other branch out and greenery toward the home. Dried hydrangeas were tucked in throughout.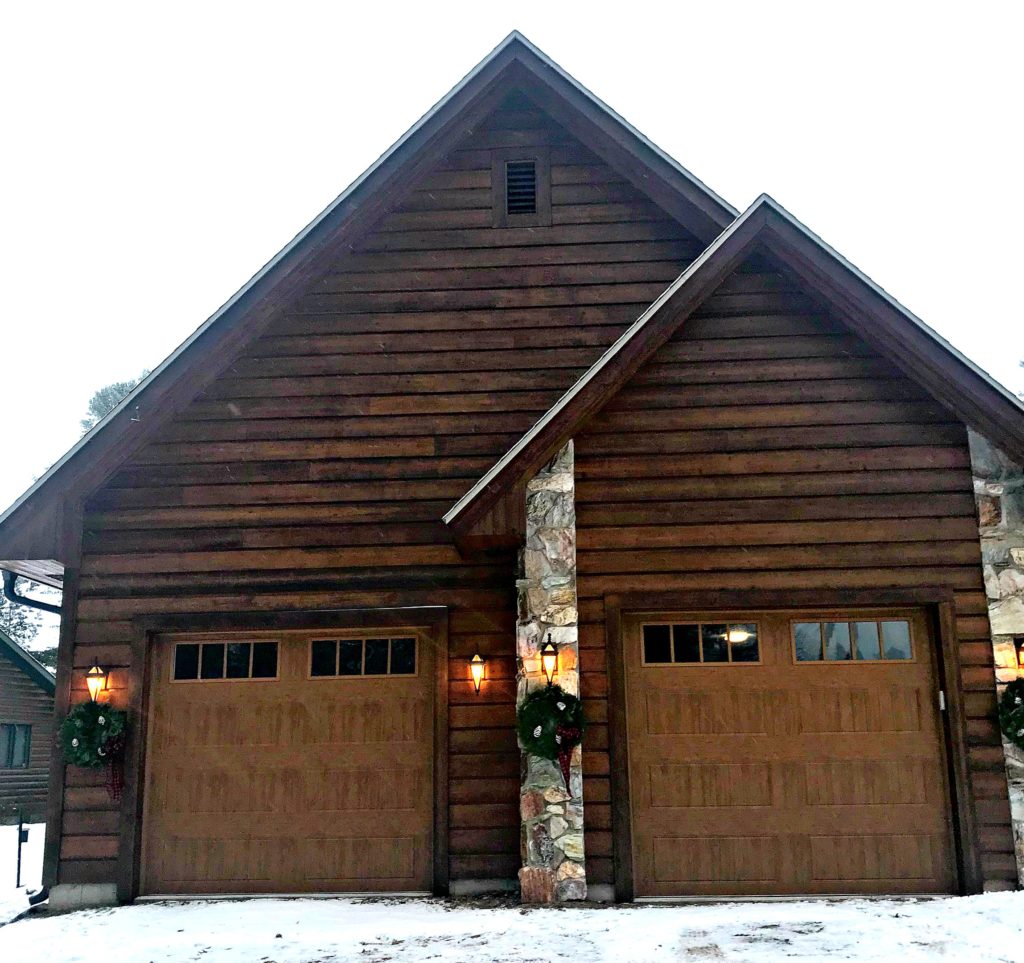 On the garage sconces we hung smaller wreaths and attached buffalo plaid bows to the bottom and left long tails on the ribbon of the bows.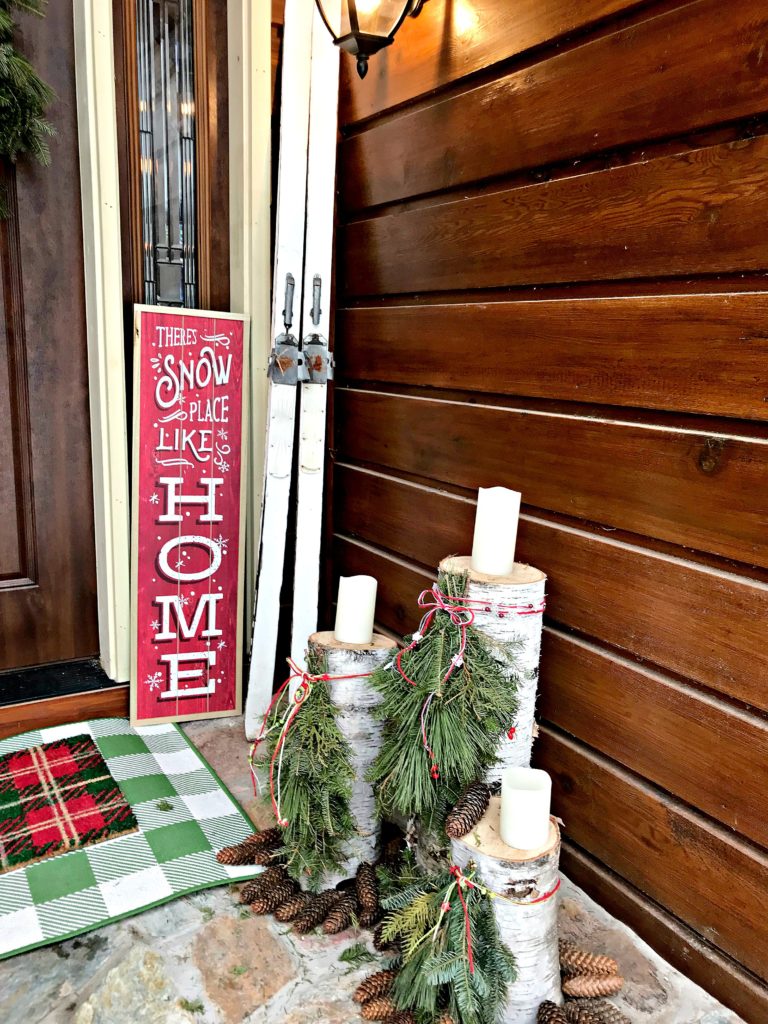 Julie's husband Joe cut some birch into three different sized stumps. Julie tied greens on with fun gift wrap string, surrounded them with pinecones and added candles on top.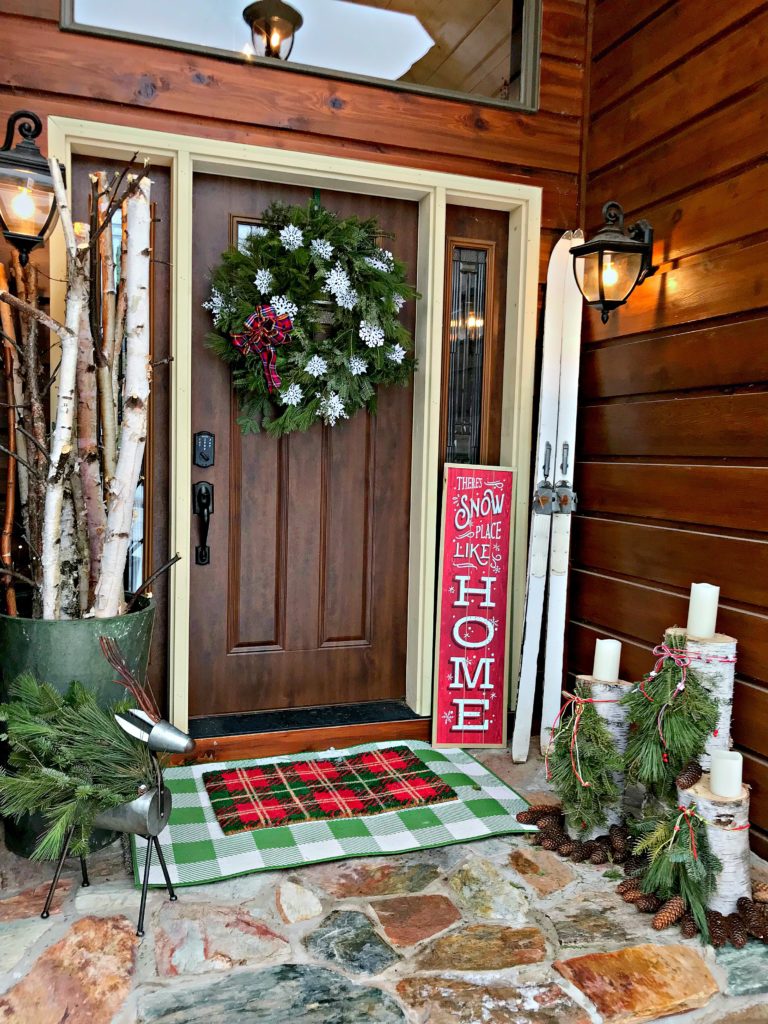 The finishing touches were layered plaid rugs. The green and white was my favorite rug I used in Spring, Summer and Fall. For Christmas I just layered a red plaid mat to the top. A pair of vintage white skis I got at the Duluth Junk Hunt were leaned in the corner next to a cute "Snow Place Like Home" sign. Julie's metal deer planter found a perfect spot filled with greens.
Thanks so much for visiting! Next up is the gorgeous Thistle Key Lane ! Be ready to Pin away on your Pinterest boards, she has so many beautiful ideas! And thanks again to Amber Follow The Yellow Brick Home for organizing this Hop!! You will find the full list of blogs and links on the Hop below.
(Affiliate Links are shared for your convenience, read my full disclosure here.)
Get the Look


Join Me as I share more inspiration with you each day on:
Instagram ~ Pinterest ~ Twitter ~ Facebook


Tour Links


Follow The Yellow Brick Home | Our Southern Home | Decor To Adore | Have a Daily Cup Of Mrs. Olson


    My Thrift Store Addiction |    Petite Haus |                Let's Add Sprinkles |          Botanic Bleu


The Painted Hinge|   Virginia Sweet Pea |    County Road 407 |      The Crowned Goat


Belle Bleu Interiors |     Art and Sand |         Katherine's Corner |        Lora Bloomquist


Beauty For Ashes | White Arrows Home | Thistle Key Lane | Le.Cultivateur | Decorate and More With Tip