Thanks so much to Amber of Follow the Yellow Brick Home for hosting another inspiring Winter Home Tour. I'm so excited to be a part of another one of her beautiful blog hops.
This "Keeping It Cozy" Winter Blog Hop brings together twelve blogging friends sharing our Winter decor, recipes and inspiration for staying cozy all Winter.
If you are coming over from my friend Kim's at Shiplap & Shells, I know you were left in awe of her amazing home, gardens and views. She has such style and gifts for making everything she touches beautiful!
I'm excited to welcome you now to our Wisconsin home. We live in a lakeside log cabin in The Northwoods area of the state. We are way Up North in a popular tourist area known for it's thousands of lakes and many forested trails giving an abundance of recreational activities to locals and tourists alike.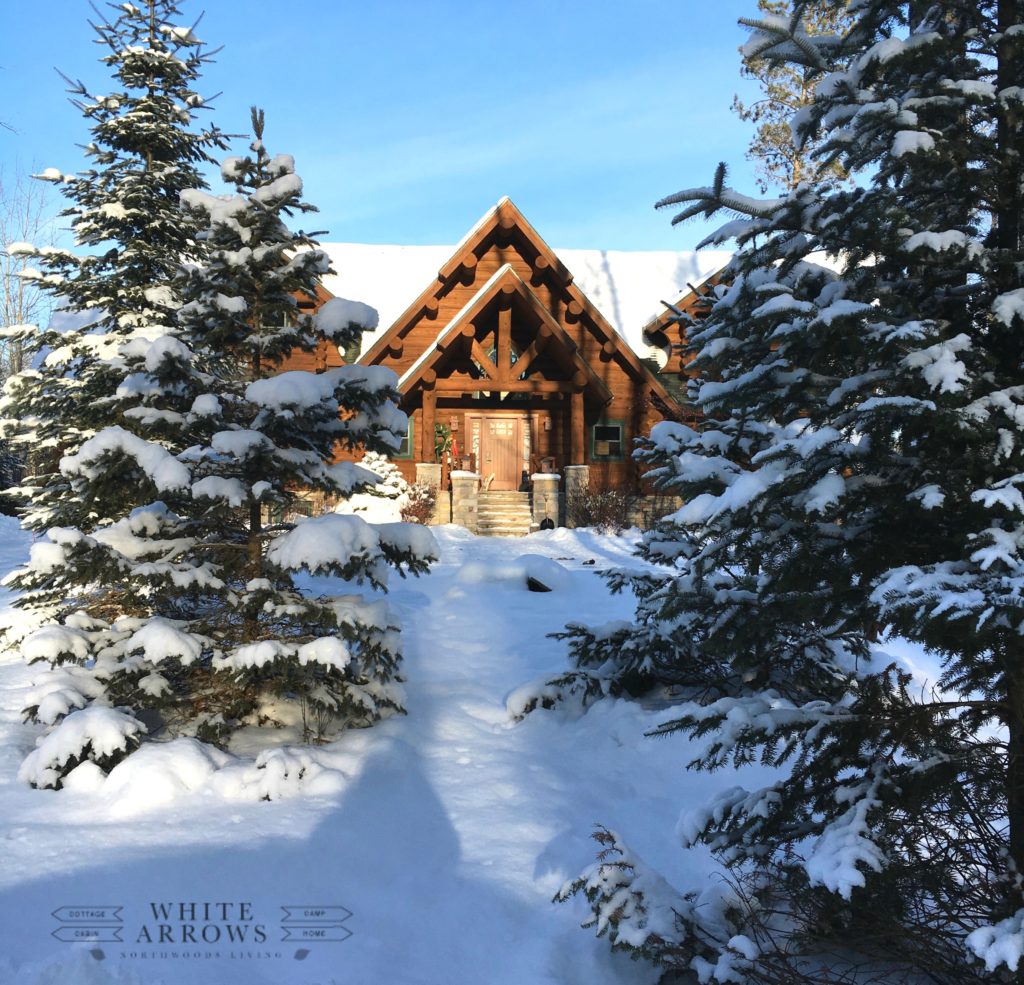 More Winter Decor Inspiration:
The Mantel
My house is full of vintage and antique items that mix in with new decor. I love the collected look of a home filled with special finds.
The mantel is all about Winter snow this year. The vintage skis and showshoes are fun finds over the past few years.
The giant snowflakes, the warming hut sign and the Pray For Snow Art are all from my shop, White Arrows Home. You can shop there in person in Minocqua Wisconsin or online from anywhere. SHOP HERE.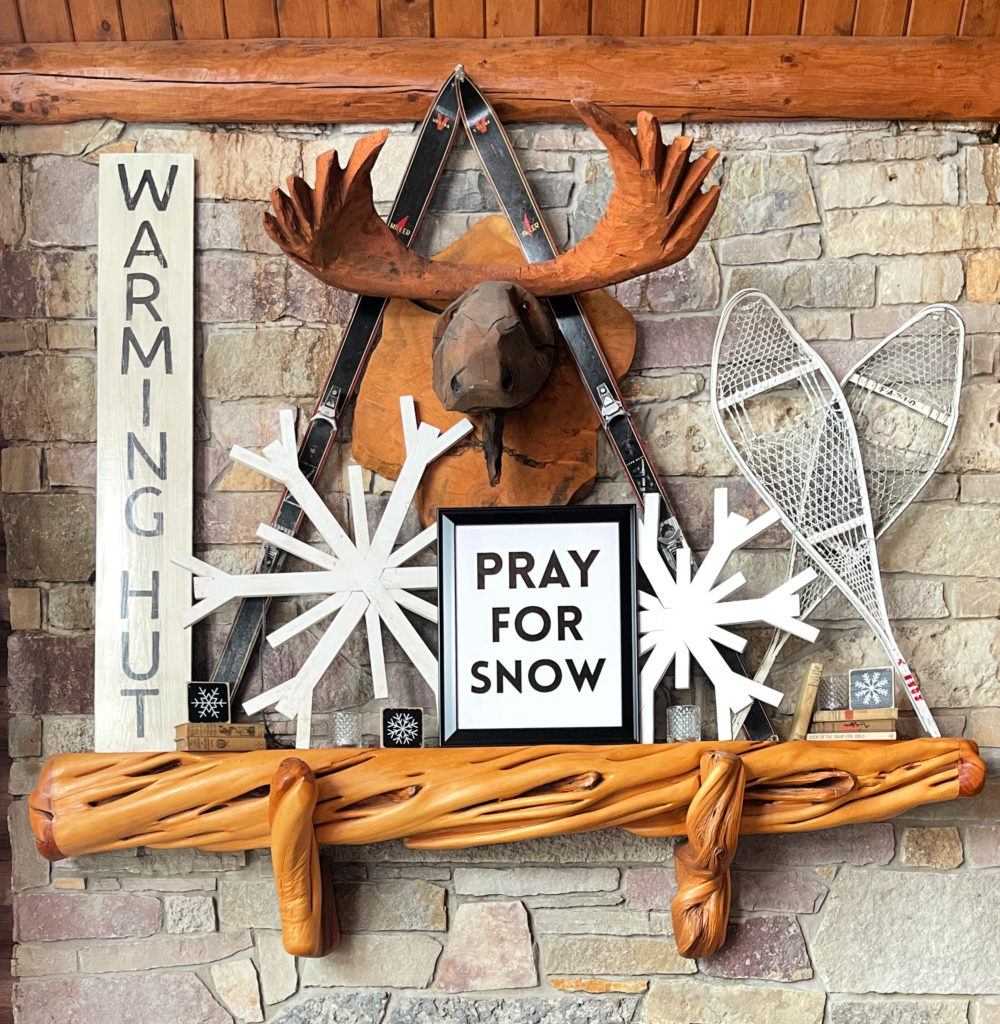 Last year I used some of this same decor down on our little boat sheed.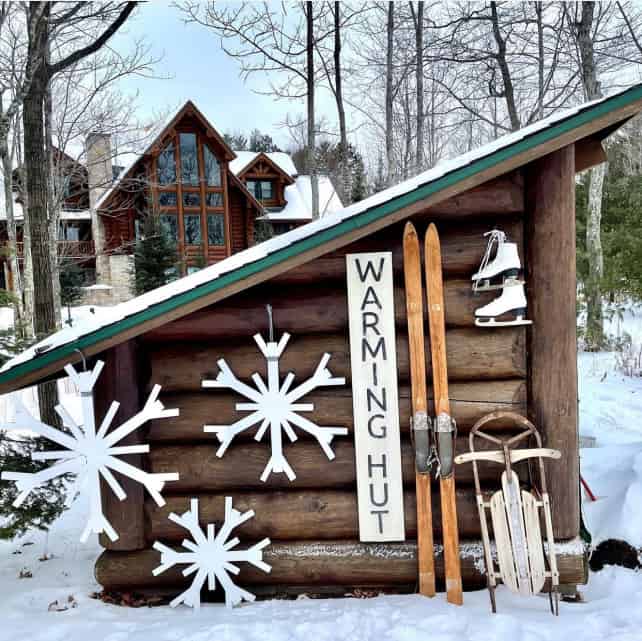 Back on the mantel I used vintage books found while #thriftingwiththegals to stack Target Dollar Spot wooden block snowflakes and Walmart votives. See More IN THIS POST.


The Entryway
I use reds and greens in my cabin all year long, not just at Christmas. But I switched out my Christmas pillows on the bench for this nordic winter sweater design and a custom Chandler 4 Corners pillow with our town on it.
We are in love with our Ruggable rugs. They vacuum so easily and can be thrown in the washing machine so they always look fresh and clean. The pad underneath is also just the right thickness for looking plush and feeling comfortable.
Follow along on the blog to get more details on each of the areas of my Winer decor. When new blog posts come out I email a quick notification right to your inbox. SUBSCRIBE HERE.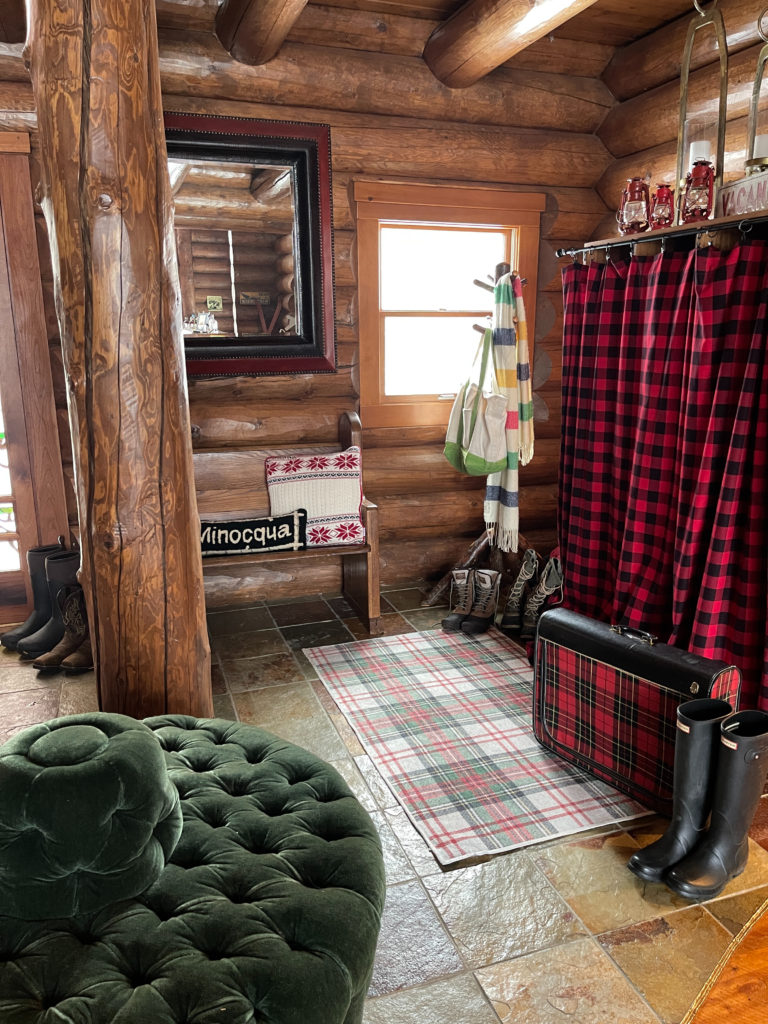 The Sideboard
On the outside wall between the kitchen and dining room I have an antique sideboard. It was the first antique Brian and I bought together. We found it in an old barn in Iowa.
I decorated it with Winter white trees from my Christmas decor and tied the styling to the mantel by adding a giant snowflake into my antique Hawkeye basket and some wooden Target Dollar Spot Ski themed finds.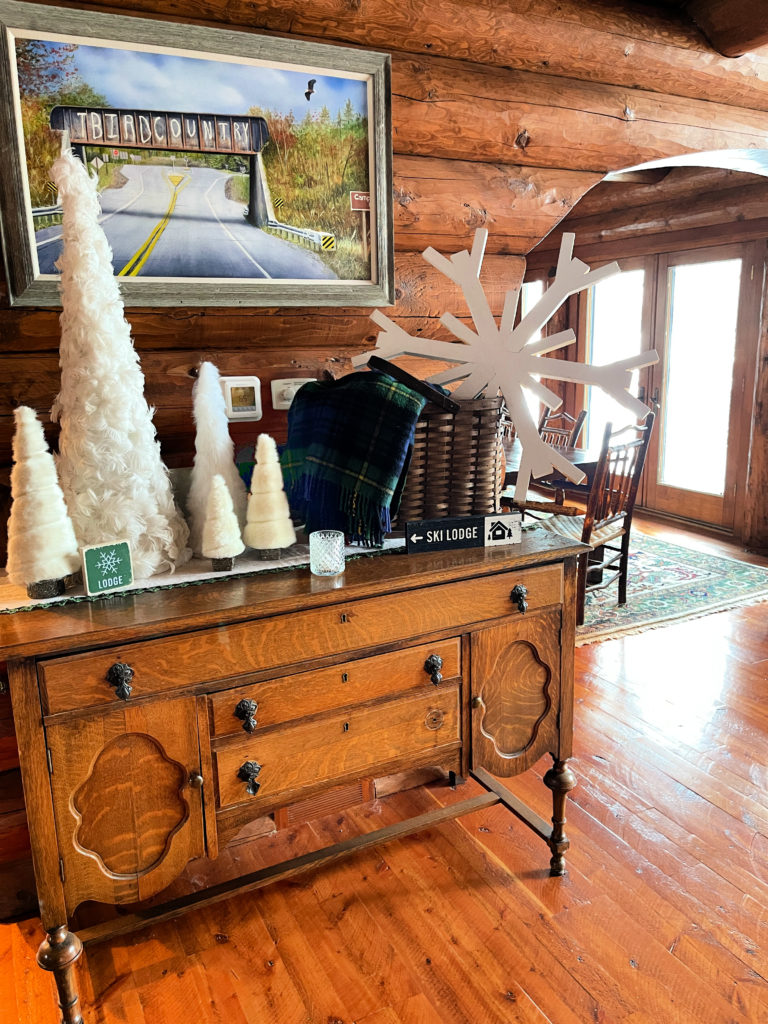 The Kitchen
In the corner of the Kitchen/ Dining Room I have a little shelf where I hold my favorite dishes. Seasonally, I often change what's on top. For Winter I set up a little Hot Cocoa station centered around this beautiful antique Cocoa box.
Here's another fun Hot Chocolate Bar post I did. READ HERE.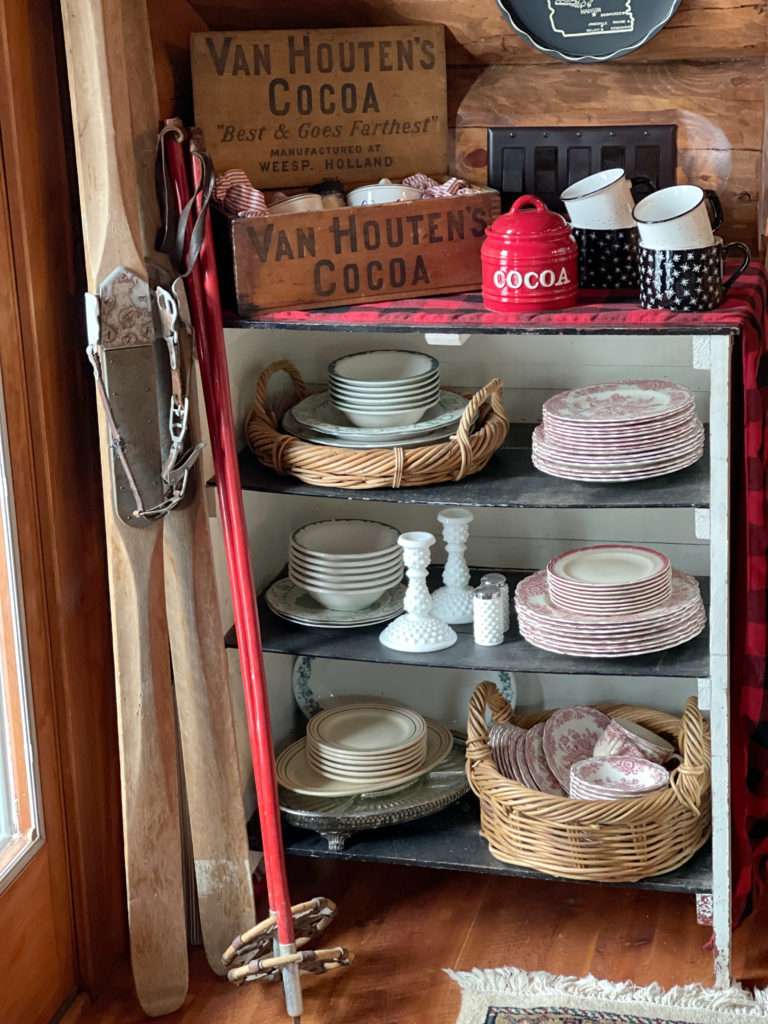 The Coffee Table
On the coffee table I have a stack of some of my favorite cabin books. We just interviewed the author Chase Reynolds Ewald and photographer Audrey Hall of this Rustic series on my podcast. It's a two part interview full of inspiration! LISTEN HERE.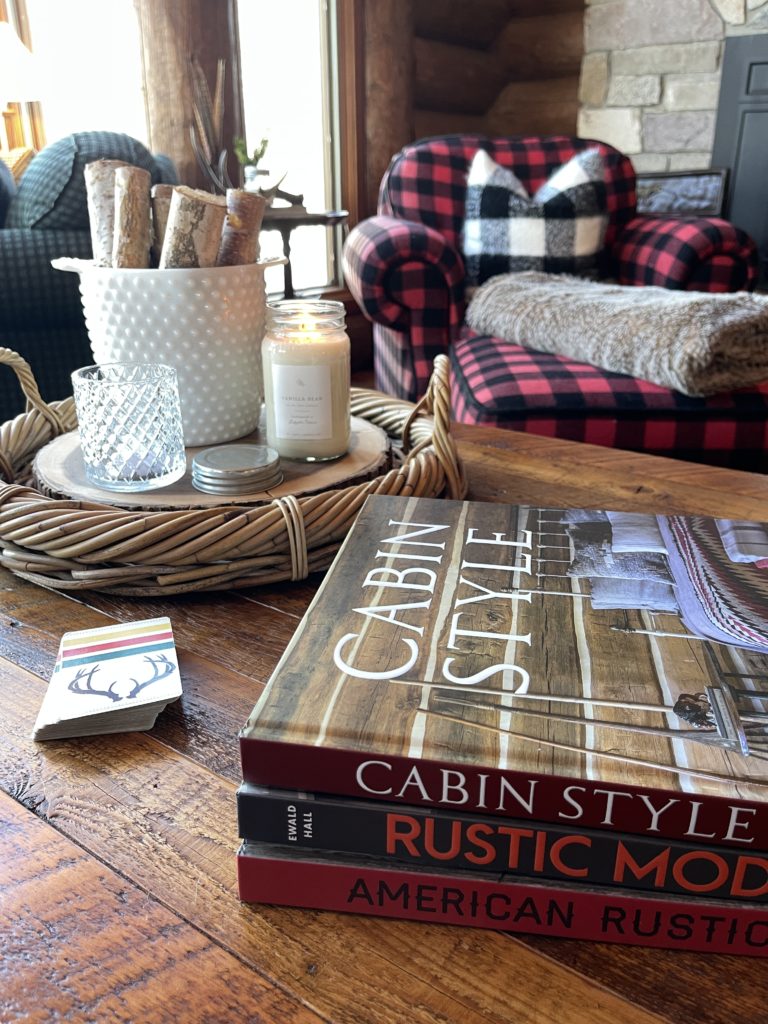 The Bedroom
We made our room extra cozy this year with a beautiful quilt from VHC Brands and custom pillows and duvet.
See more of our Winter Bedroom IN THIS POST.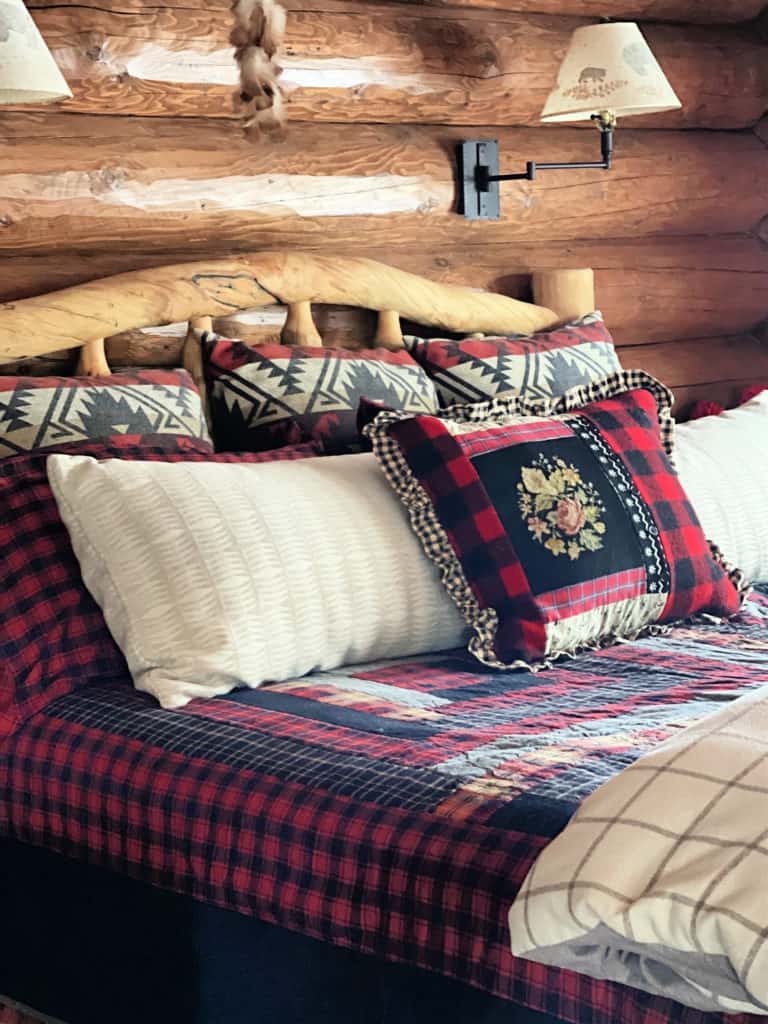 If you haven't had a chance to see all the blogs on the tour yet, see the list below for links to all of them or start at the beginning visiting Amber of Follow the Yellow Brick Home. Her historic home is always decorated so perfectly in every season.
Take the Tour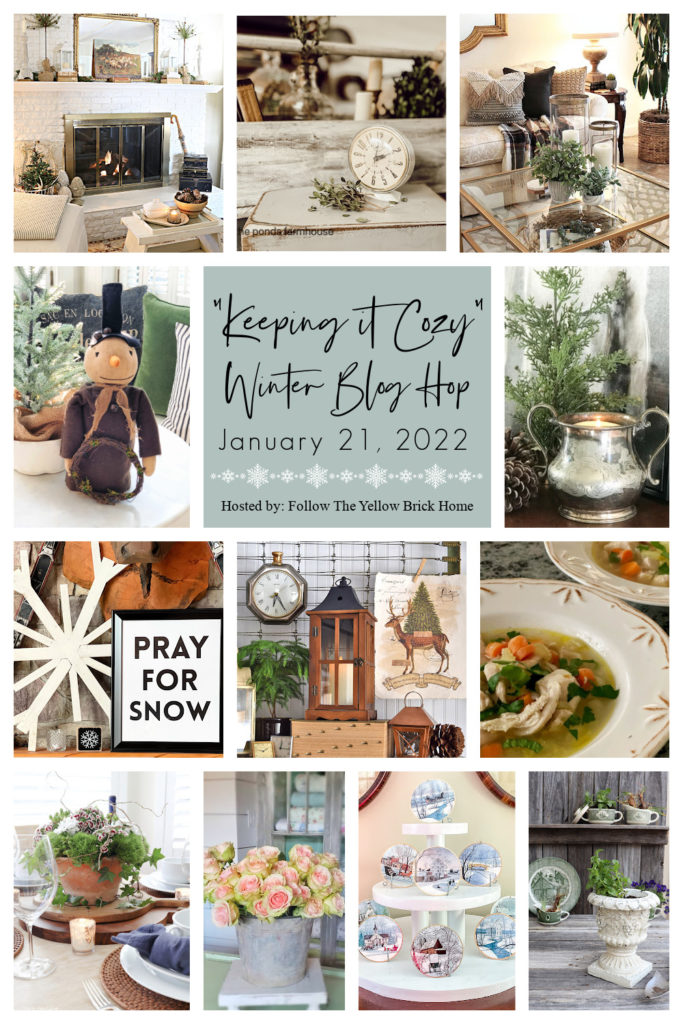 You are invited to the Inlinkz link party!
Follow the Yellow Brick Home ~ A Stroll Thru Life ~ Common Ground ~ Bricks 'n Blooms ~ Decor to Adore ~ The Ponds Farmhouse ~ County Road 407 ~ Lora Bloomquist Create & Ponder ~ Thistle Key Lane ~ Sweet Pea ~ Shiplap & Shells ~ White Arrows Home
FOLLOW ALONG
Instagram ~ Facebook ~ Pinterest ~ Twitter ~ YouTube ~ Tik Tok ~ Liketoknow.it ~ Podcast