Bedroom decor in the cabin for Winter is full of warm colors, warm bedding and warm accessories.
(Affiliate links are used for your convenience. Read my full disclosure here.)
One of the coziest rooms in our cabin is our master bedroom. In the Winter it's even cozier as we add layers to stay warm.
Warm Colors
Warm Bedding
Warm Accessories
Our bedroom is on the first floor of the cabin and is separated from the hallway by a door and alcove. I love the arched entry.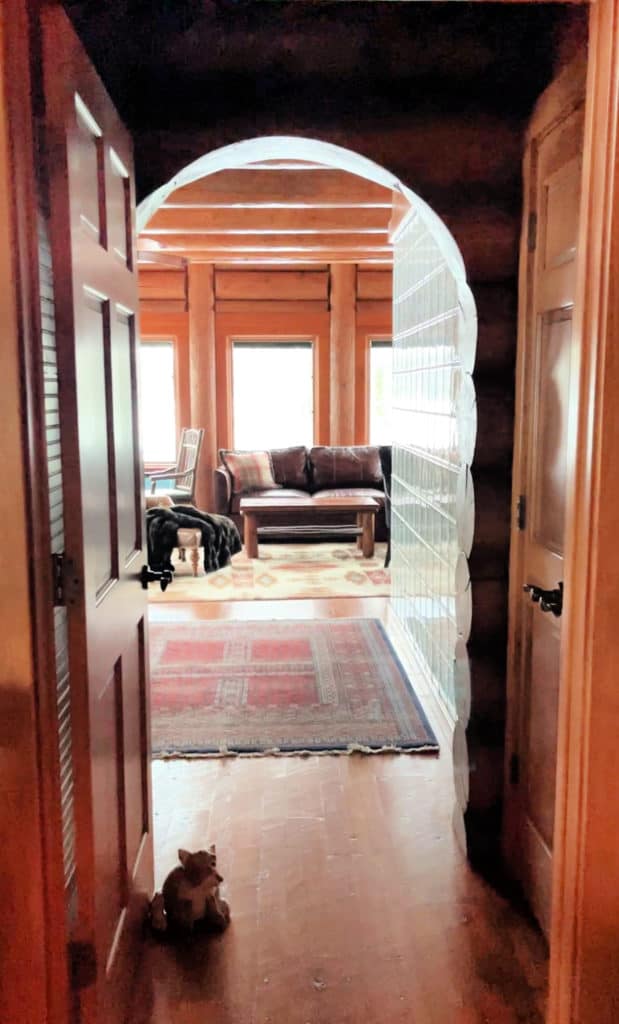 Our cabin is full log so all the electrical, plumbing and HVAC is within the logs. I love the beams on the ceiling and all the wood details that were added. We did not build the cabin, but are the second owners.
The couple that build the cabin left all the photos from the process and it is fun to see what all went into the planning and how it was put together, just like my kids built Lincoln Log houses when they were little.
One area of our bedroom is a big space that we had to decide how to use. For a few years when my husband was working from home we had a big desk in here. He could come in our room and shut the door from distractions.
Now it's transitioned into a beautiful, inviting sitting area.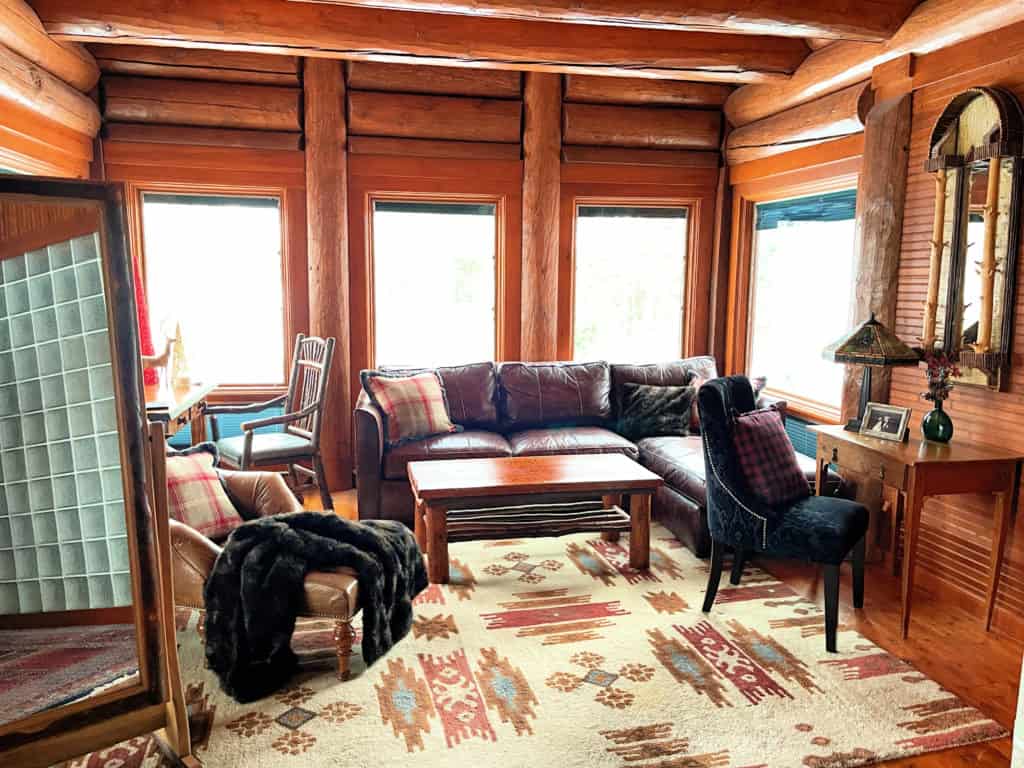 We added a warm area rug, a deep chocolate brown leather sofa with a chaise on one end and a leather, tufted library chair and footstool. I like mixing different tones of brown leather, but typically only two different ones in a space.
A fur throw over the footstool adds another layer of warmth.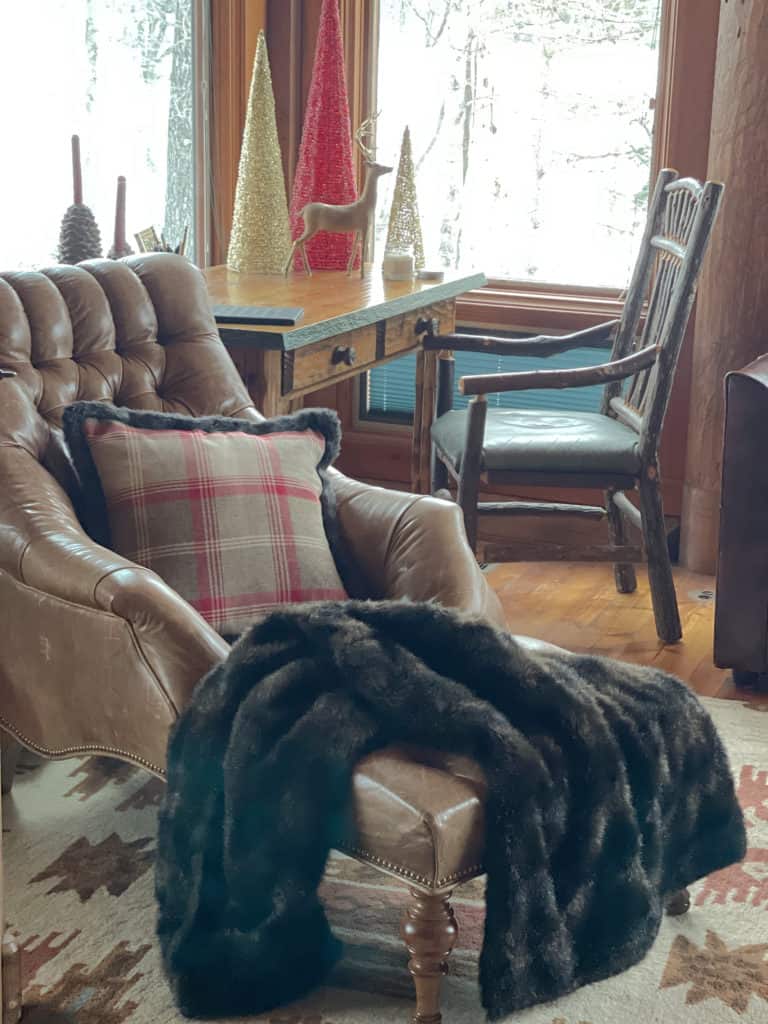 Even though we took out the big desk, we kept some workspace in this area. But we chose desks that didn't monopolize the space. This rustic desk has a view out to the lake. In Winter the lake freezes over. It provides beautiful views still and lots of fun snowmobiling, ice fishing and ice skating.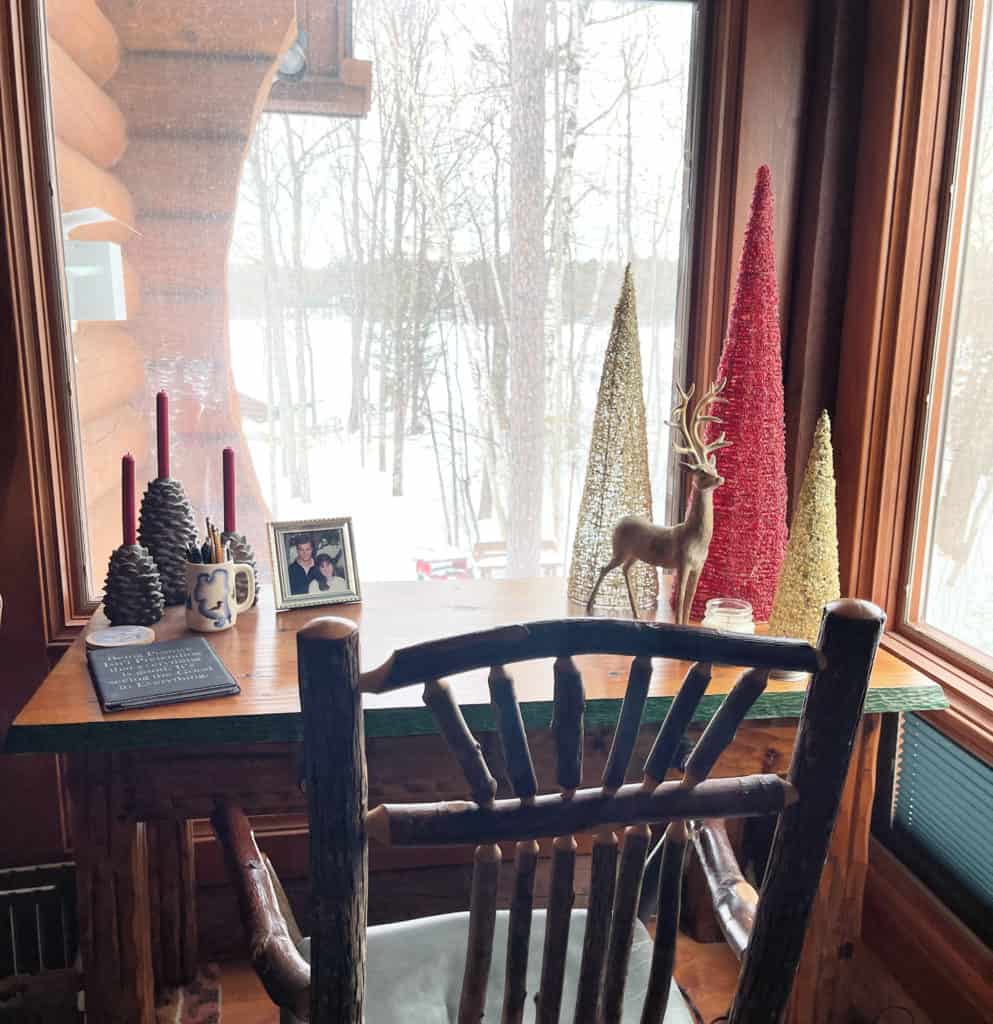 For the Holidays I added a few elegant beaded trees in burgundy and gold and a gold deer.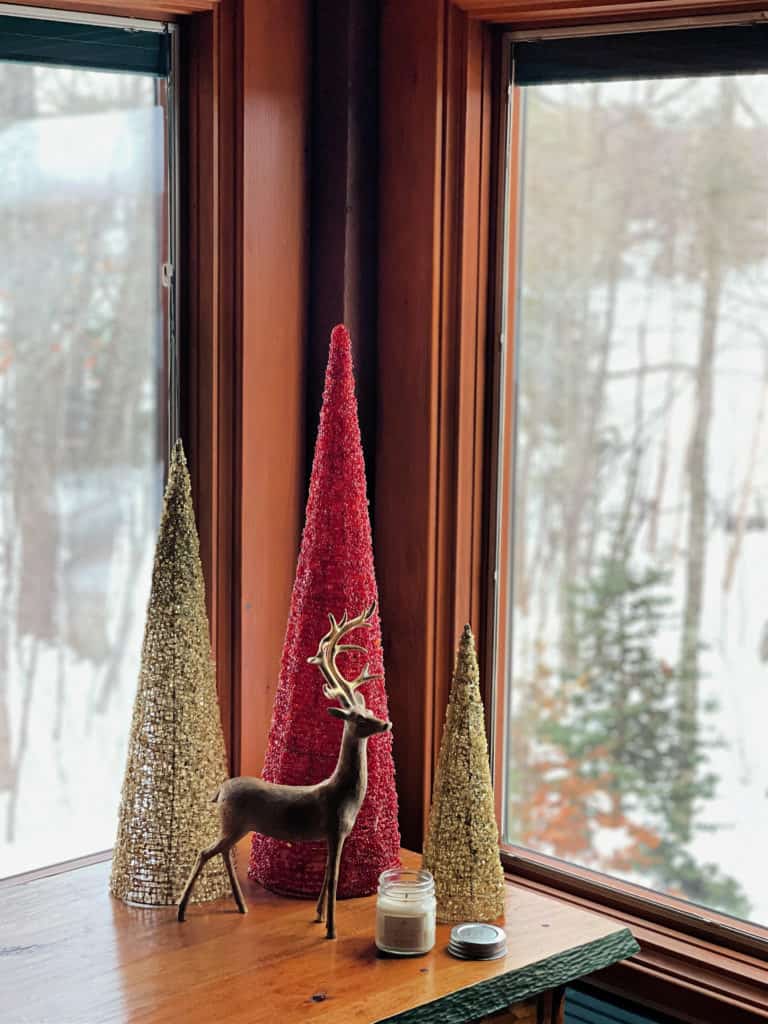 Another way I add warmth is by lighting candles. I love Antique Candle Company brand candles. They have the most lovely fragrances to choose from and burn so well. They make my house smell so good! Shop their amazing candles HERE.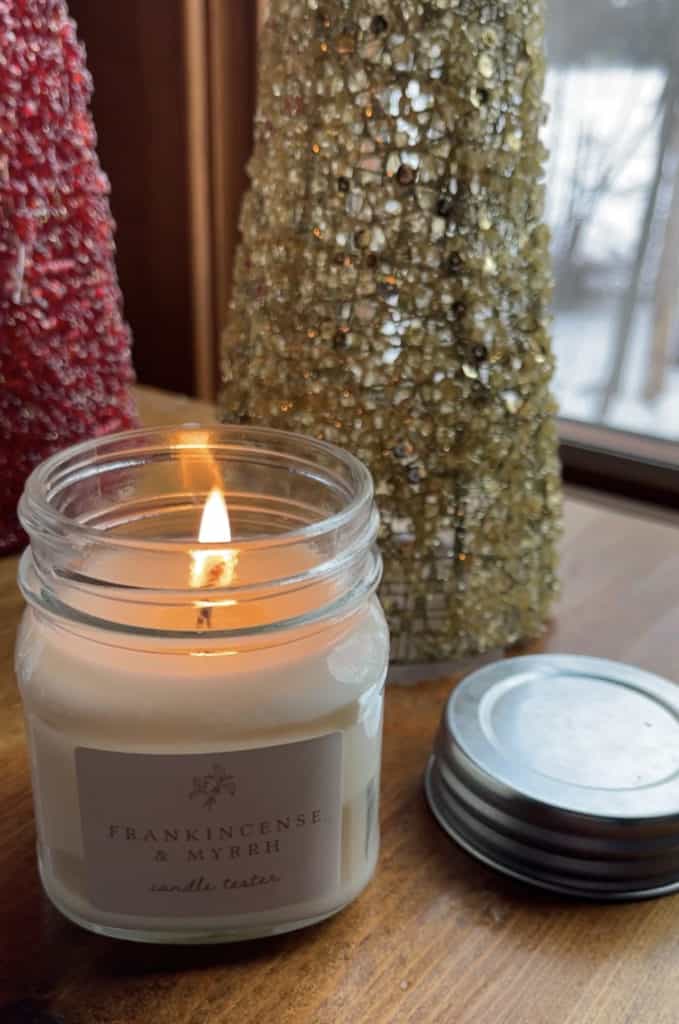 You can see the glass block wall of our bathroom through our mirror.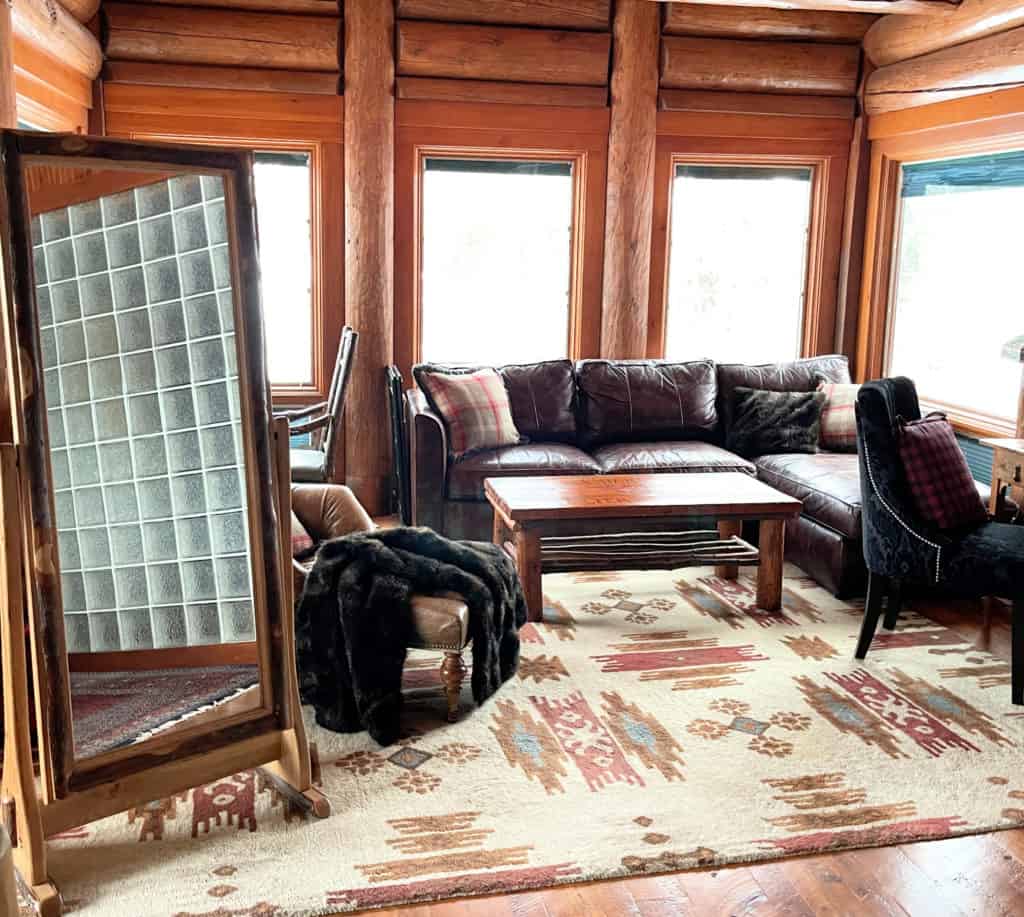 A second smaller desk sits on the opposite wall of the bigger one. At some point I may put a dresser here to help make space in our small closet, but for now I love the airiness of this small table.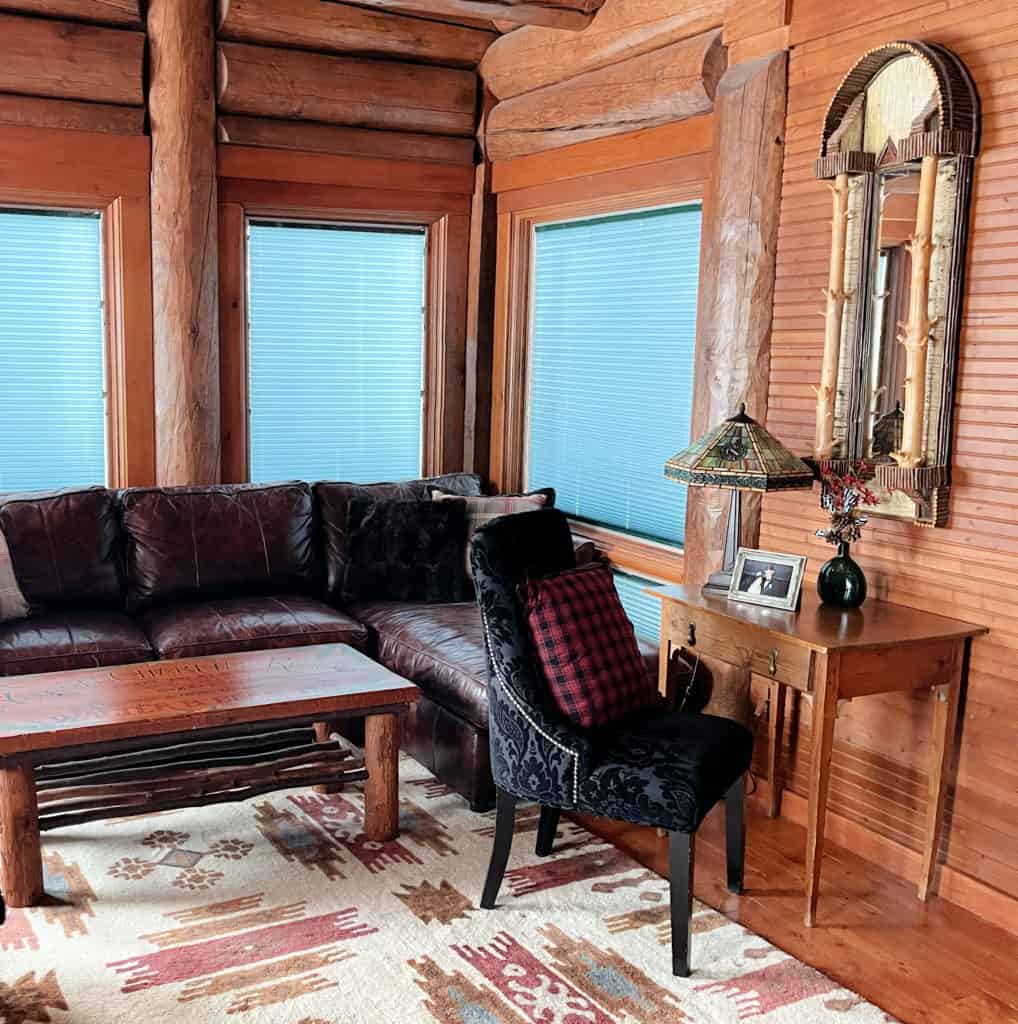 Any room where I can, I add velvet. And this black velvet damask chair gives another warm texture to the space. The plaid pillow is from VHC Brands.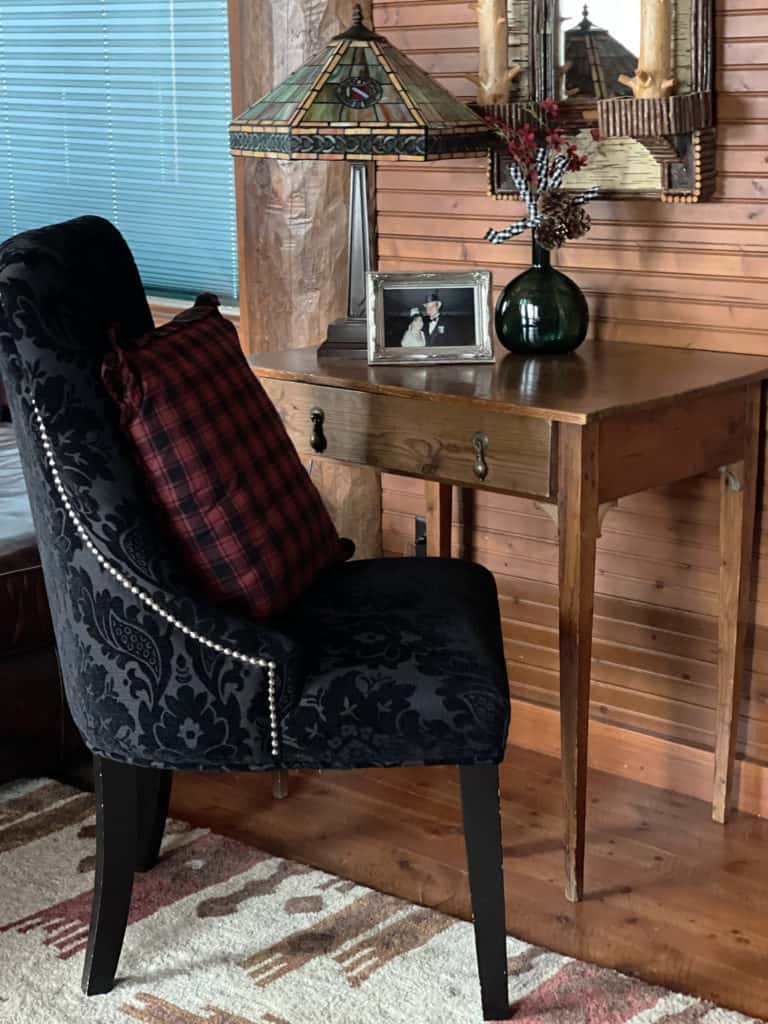 The Tiffany style lamp gives a warm glow anytime of the day. Evenings I love lamp lit rooms and the glass on this lamp is really beautiful. The photo on the table is of Brian and me at a New Year's party in 1999!
I collect green glass vases and the one on the desk was given to me by my grandmother. I added some pinecones and plaid ribbon for the holidays.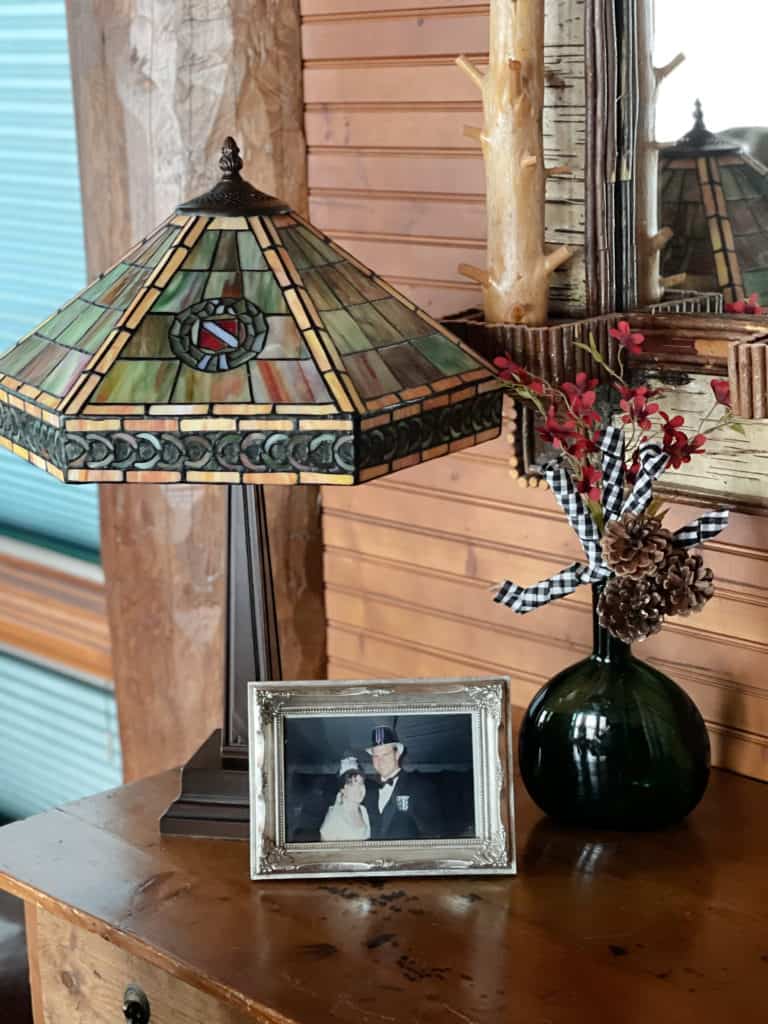 The artistry of the mirror above the desk makes it one of my favorite pieces in the cabin. I love the mix of woods, birch and twig designs.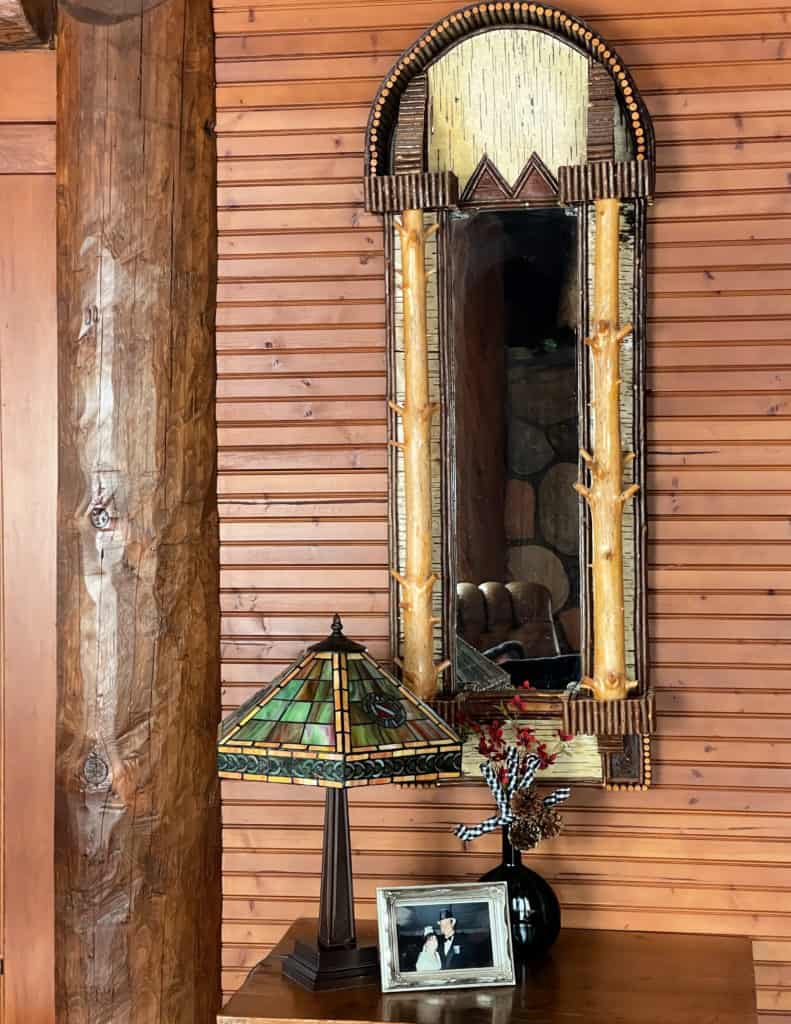 Each night as we come in to get ready for bed, we turn on the gas fireplace to warm the room up. It's beautiful to watch too!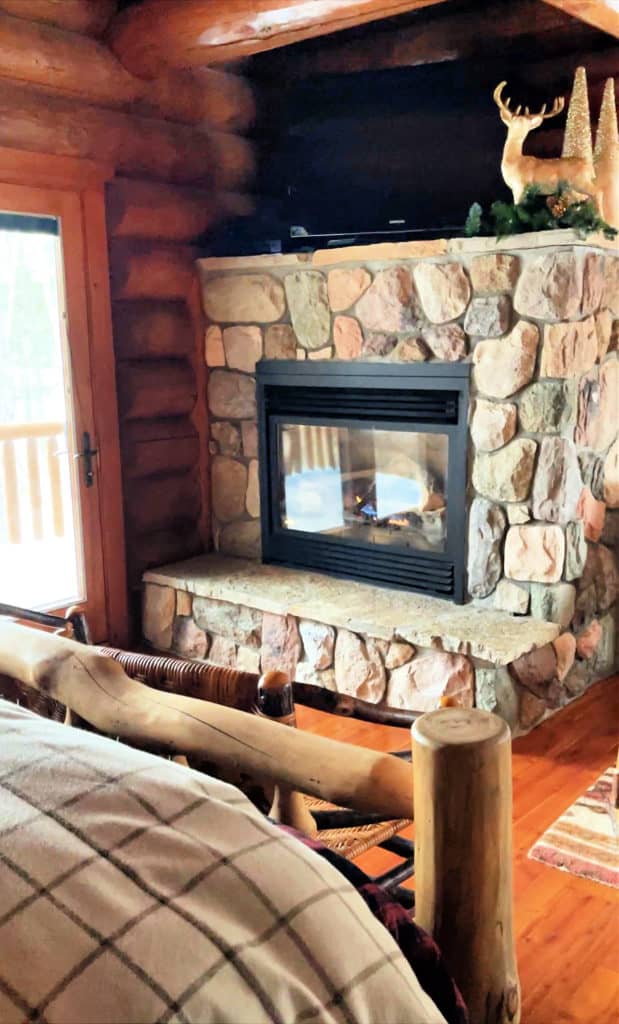 I added two glittery gold trees and a big deer next to the television above the fireplace. I few sprigs of greenery under the deer add to the woodsy touch.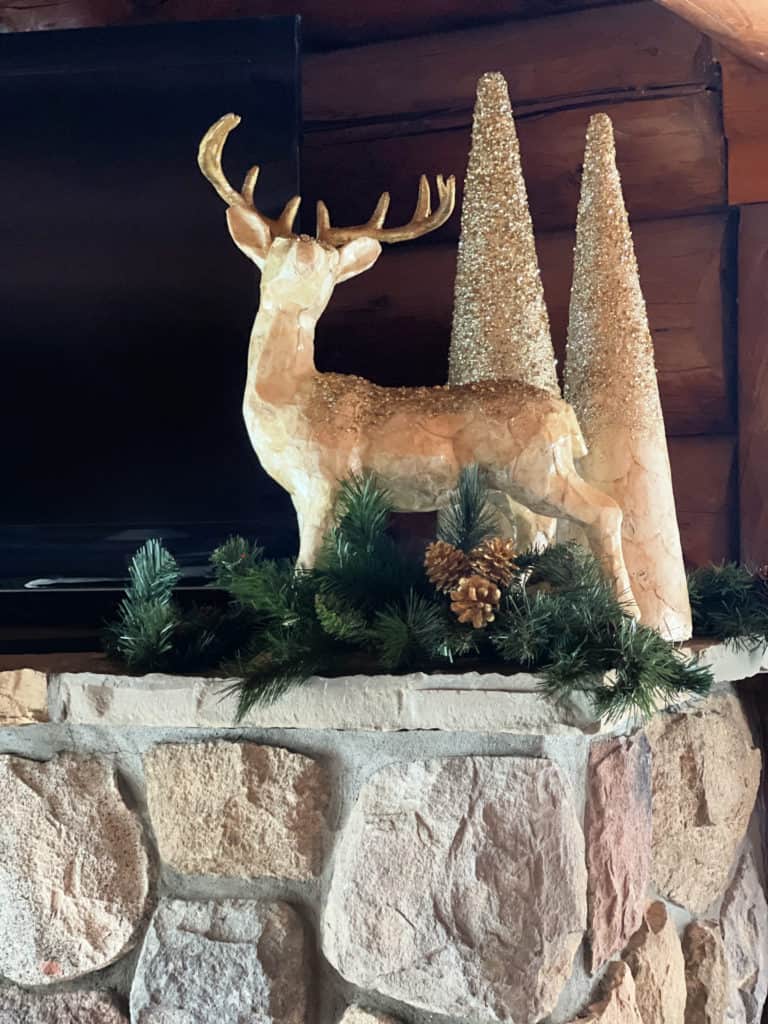 Our carved log bed is King sized with reading lamps above. Our bench is from Old Hickory, a favorite company of mine. You can see how I incorporated one of their beautiful chairs into a bedroom redesign IN THIS POST.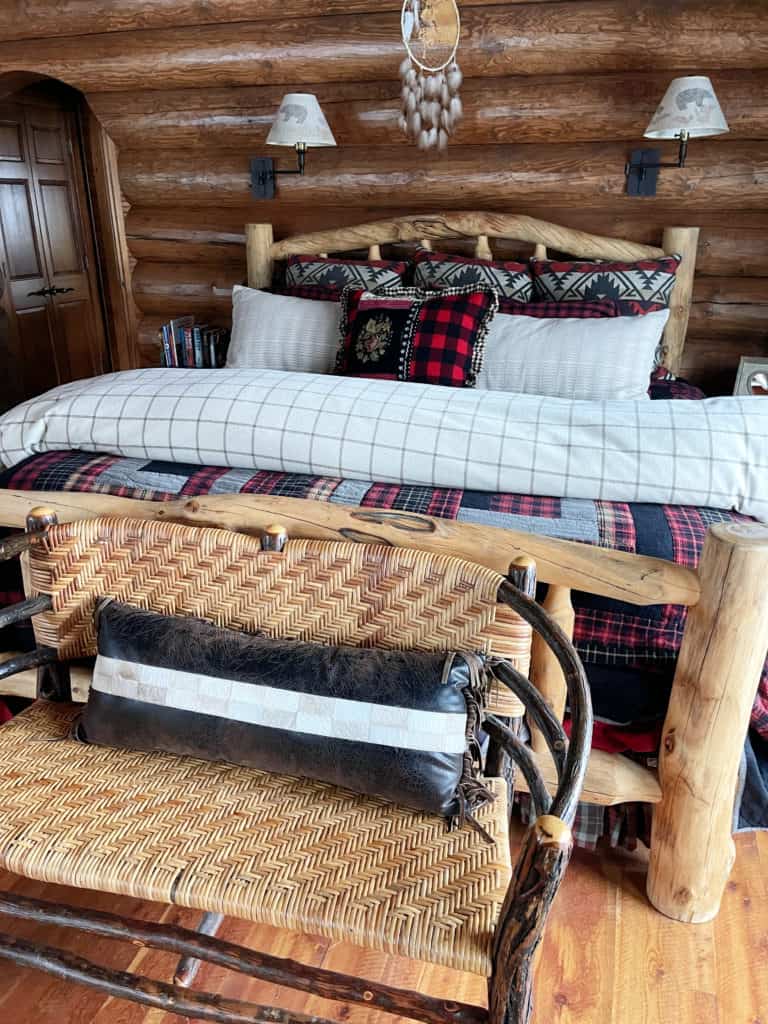 I'm all about warm layers on our bed. I want just the right amount of weight on top of me while I'm sleeping. We always love switching into our flannel sheets in October when the temperatures start to drop.
Then on top we always add a coverlet and our flannel duvet. But, even with the duvet the weight and warmth has never been right. This month I found the answer.
The addition of this beautiful Cumberland quilt from VHC Brands.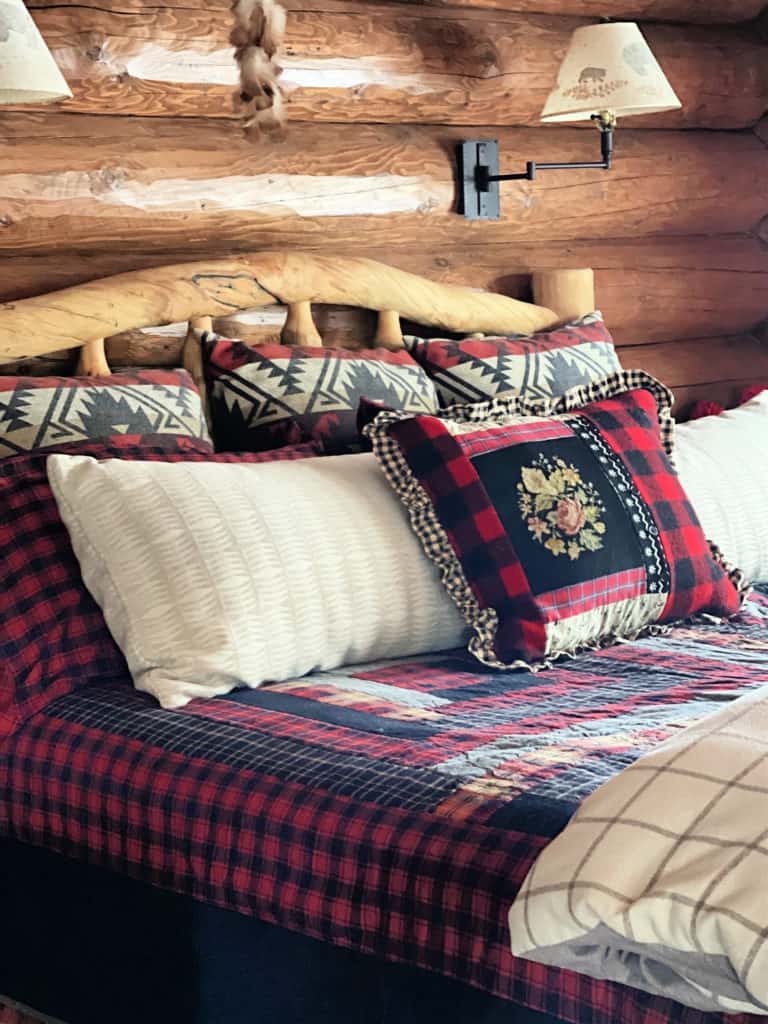 VHC Brands has become one of my favorite places to find decor for our home. Did you see the pretty Christmas decor we got from them this year IN THIS POST?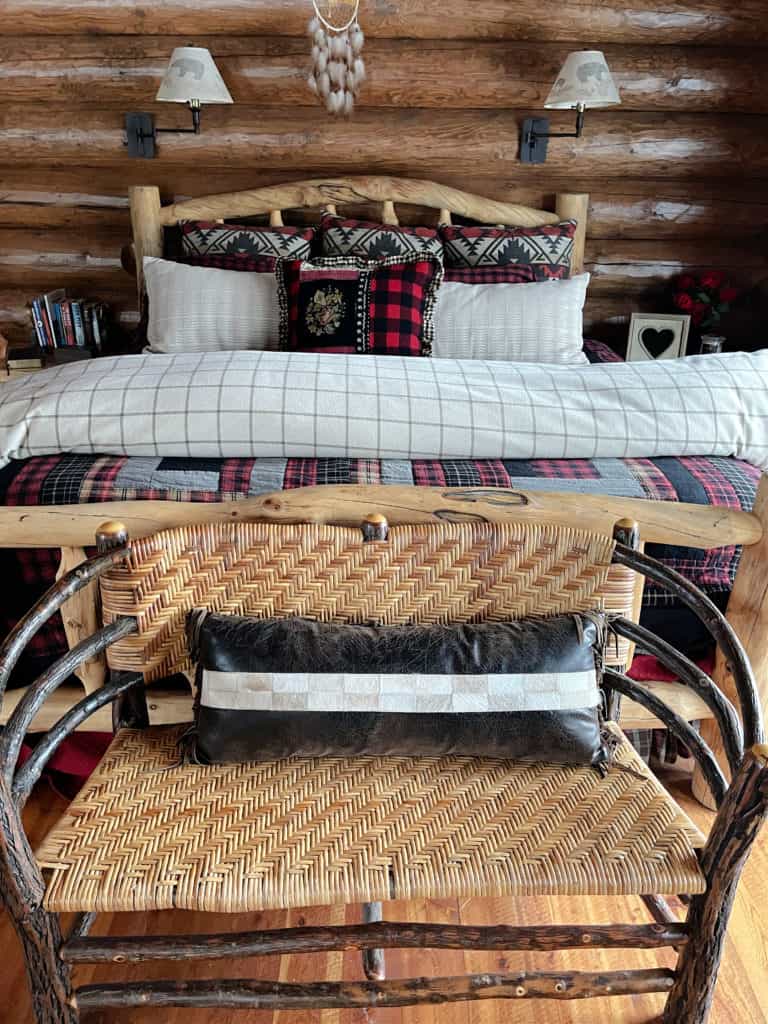 Layers of pillows add so much to a made bed. We make our bed every morning. Usually its whomever gets up last. Then every time I walk in my room during the day I feel at peace and it warms my heart.
We love the addition of the buffalo plaid Cumberland pillowcases from VHC Brands to go along with the new quilt. I think my favorite part of our bedding and room is that it's a perfect blend of masculine and feminine rustic patterns.
The front throw pillow is handmade with a piece from a vintage embroidery pillow and favorite fabrics.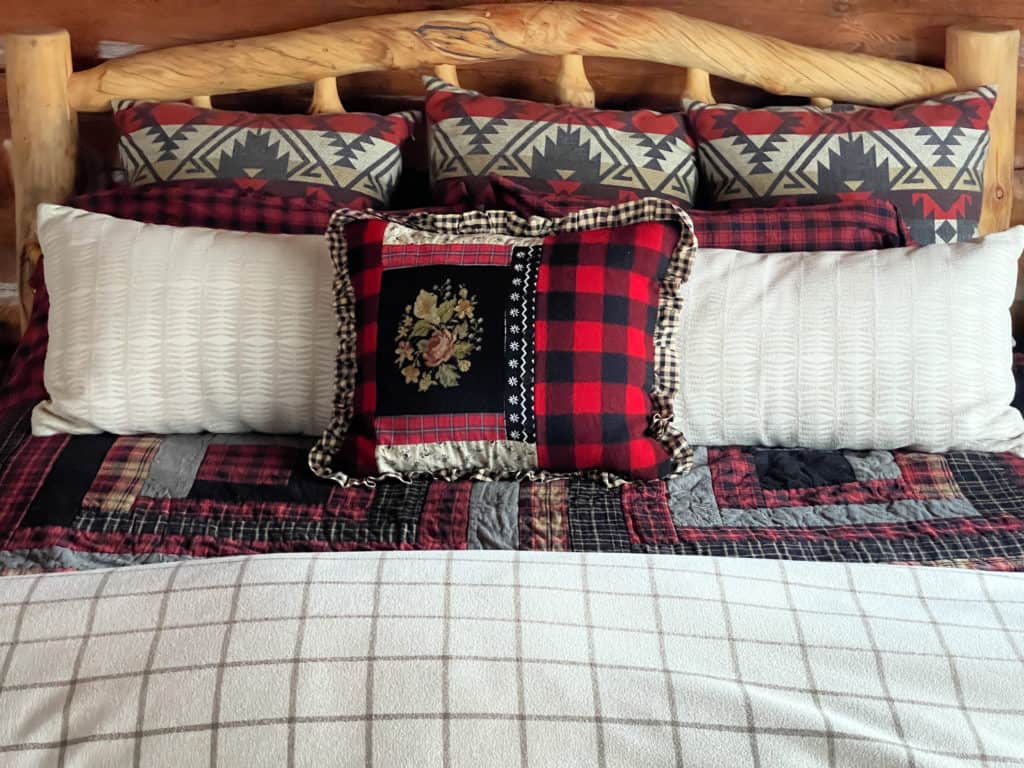 Get the Look


To see more of my home and decor CLICK HERE.
FOLLOW ALONG
Instagram ~ Facebook ~ Pinterest ~ Twitter ~ YouTube ~ Tik Tok ~ Liketoknow.it