(Affiliate links are used for your convenience. Read my full disclosure here.)
If you look outside my windows this time of year it is often gray skies and dirty melting snow. It's what we call mud season. There are no flowers or greenery yet coming up in the woods.
I live in The Northwoods of Wisconsin, about four hours north of Milwaukee where the lakes that we boat on all summer freeze hard enough in the winter to drive a truck on.
We love living here in every season, but in Spring I have to add some of my own sunshine and flowers.
I grew up in Texas, where Spring was my favorite season, with fields full of bluebonnets popping up and covering the ranch I lived on. I do miss those wildflowers and warm Spring days.
So now Up North, I "plant" my own flowers indoors until I can see them outside. Here are some of my favorite ways to do so.
SUBSCRIBE HERE so you don't miss any inspiration!
Tulips
It's mid April and the snow is just starting to melt this year. So our Spring bulbs have yet to make an appearance popping up from the ground. Luckily there are sightings of them in the grocery stores and florist shops.
I love tulips in every color, they are just the happiest flower. Often, I pick up a bouquet to add lots of joy inside our home. They look beautiful in any container. It's so quick to fill a pitcher with water and add the tulips in.
They are also my dad's favorite flower, so it makes me smile to think of him when I see them.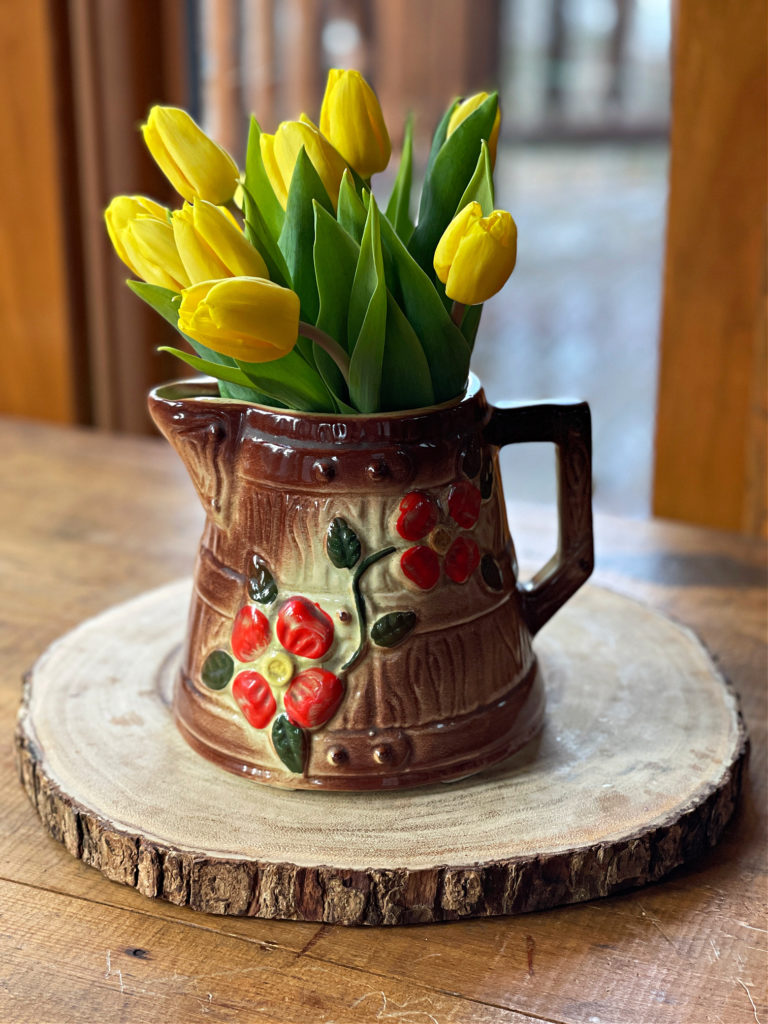 Grocery Store Bouquets
Deciding on which bouquet at the grocery store can sometimes be hard. So I just go with the first one that catches my eye that day. Then I find a vase to compliment the bouquet when I get home. This is such an inexpensive way to add fresh flowers and bright color to our cabin each week.
Arranging flowers is a great way to add calmness into life too. Ikebana is the Japanese art of flower arranging.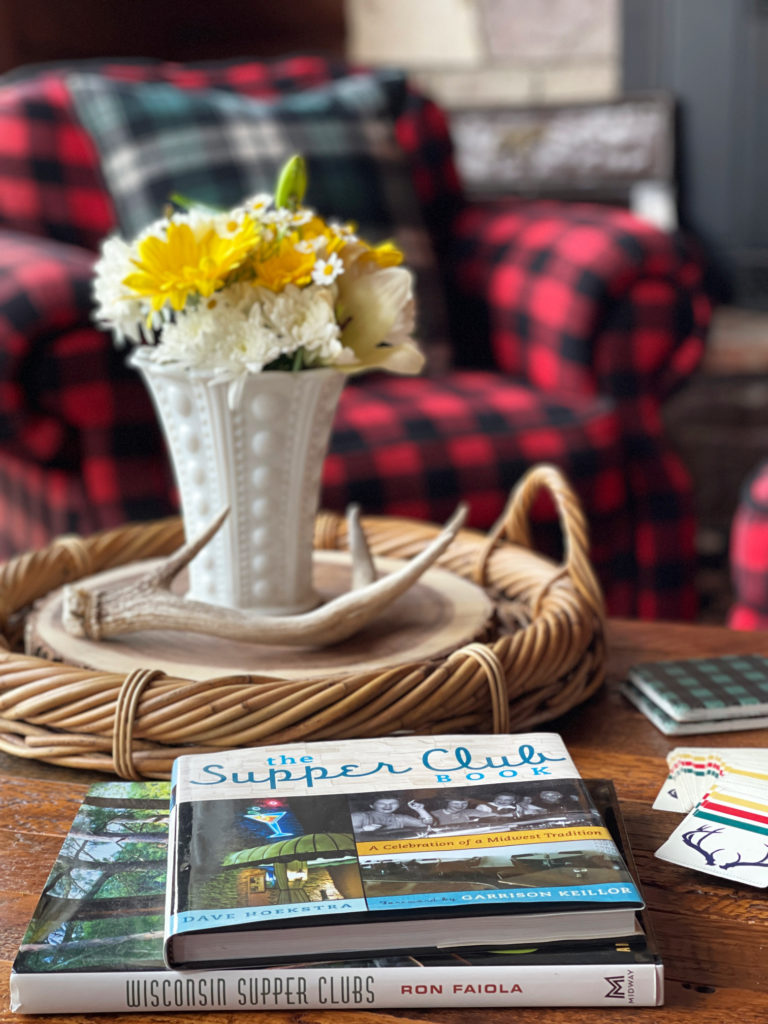 Ceramic Bouquets
I first fell in love with these porcelain flower figurines when I inherited one from my grandmother. When my grandmother passed away my aunt had special items we could each pick from out of my grandmother's apartment and I chose these.
When Grandma had moved to her apartment from her house, she had passed on many things to me at that time, so there were only a few things of meaning left to choose from after she passed away. I loved brining home this pretty bone china bouquet. Now I see them often in antique shops and just love them.
They are a great way to add flowers and color inside. And I never have to water them!!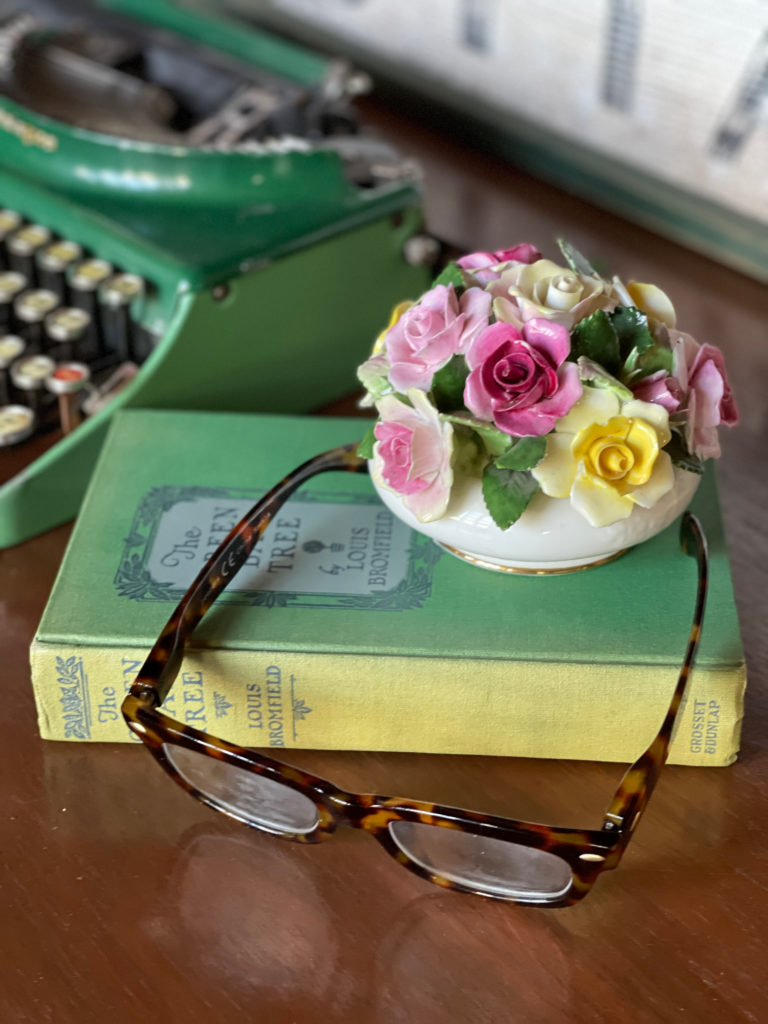 Faux Stems
One of my favorite things to change out and decorate seasonally is my antique Hawkeye basket. I added a bunch of faux paper whites to it this Spring and styled a vignette on the table in our Entryway. You can see more IN THIS POST.
I have stashes of different faux stems in my storage room that I've picked up from time to time at Hobby Lobby and can pull from when I'm decorating for holidays, parties or seasons. I have different flowers, colors and greenery.
Watch for the sales and pick up new stems then. Because they are faux they can be reused every year stretching the dollars.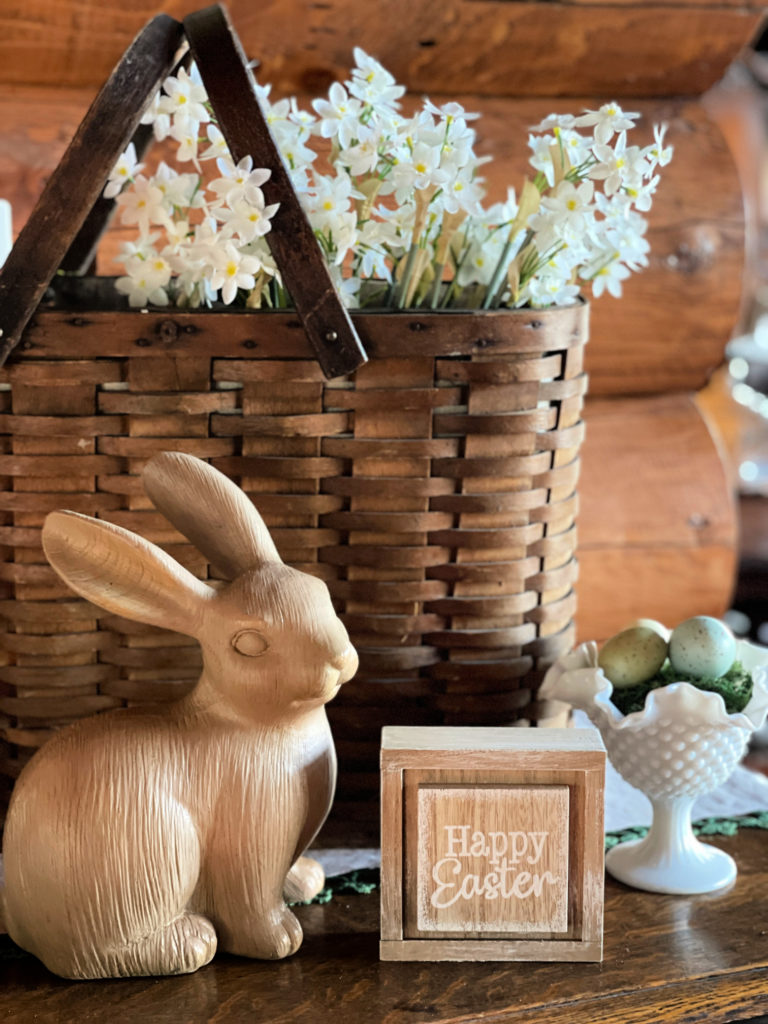 Potted Blooms
Walmart is one of the first places to have beautiful potted blooms this time of year.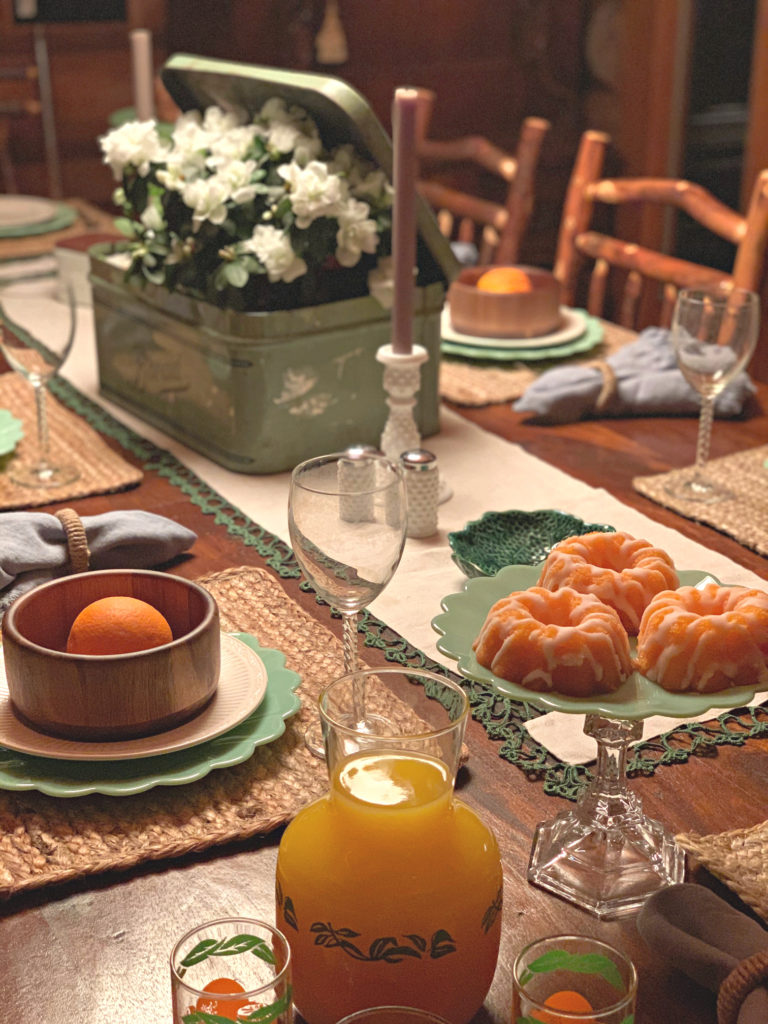 Herbs
Not flowers, but adds such beautiful freshness and green to bring in herbs to the kitchen.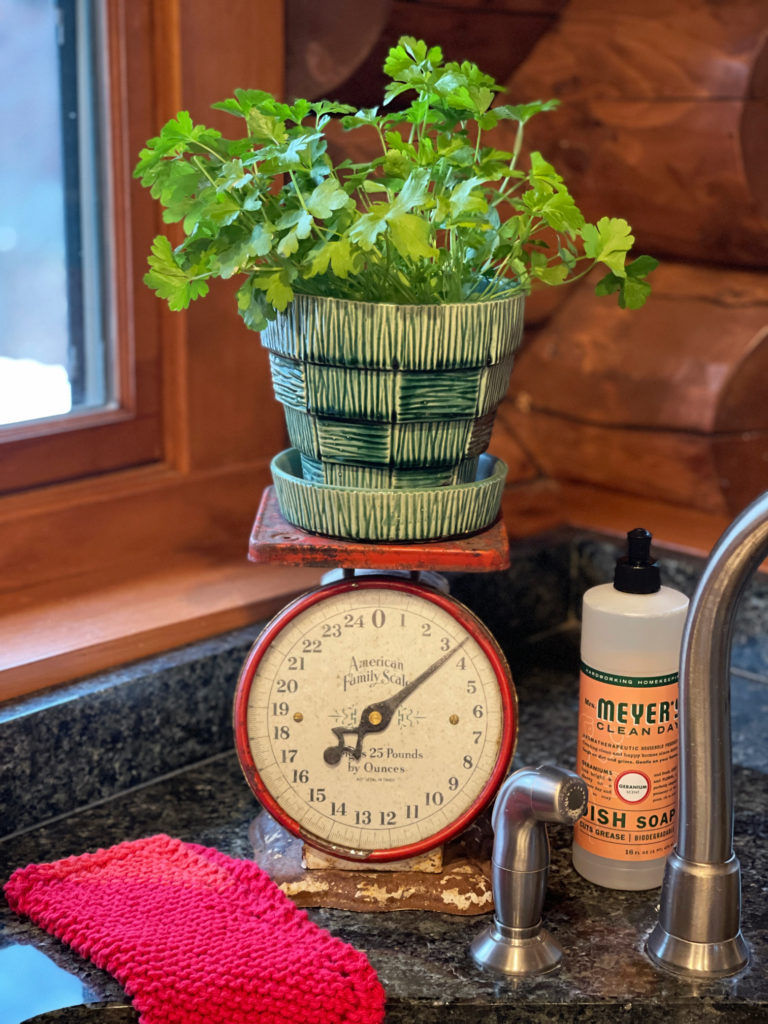 Daffodils
Just like tulips, it's so wonderful to bring in daffodils to my Spring decor. I can grab some at the grocery store or use faux flowers. I picked up these at Walmart years ago and continue to enjoy the bright cheery yellow they add on my desk.
I split up the bouquet and add just one flower to each vase.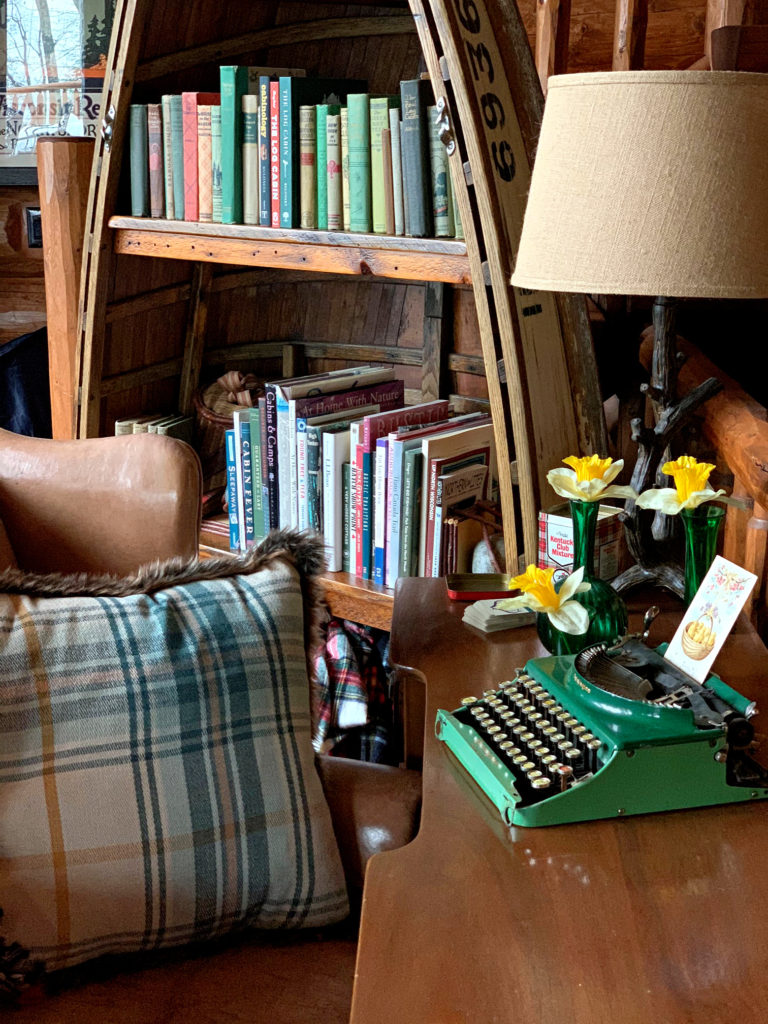 Wreaths
You can make a beautiful first impression with a colorful Spring floral wreath on the front door.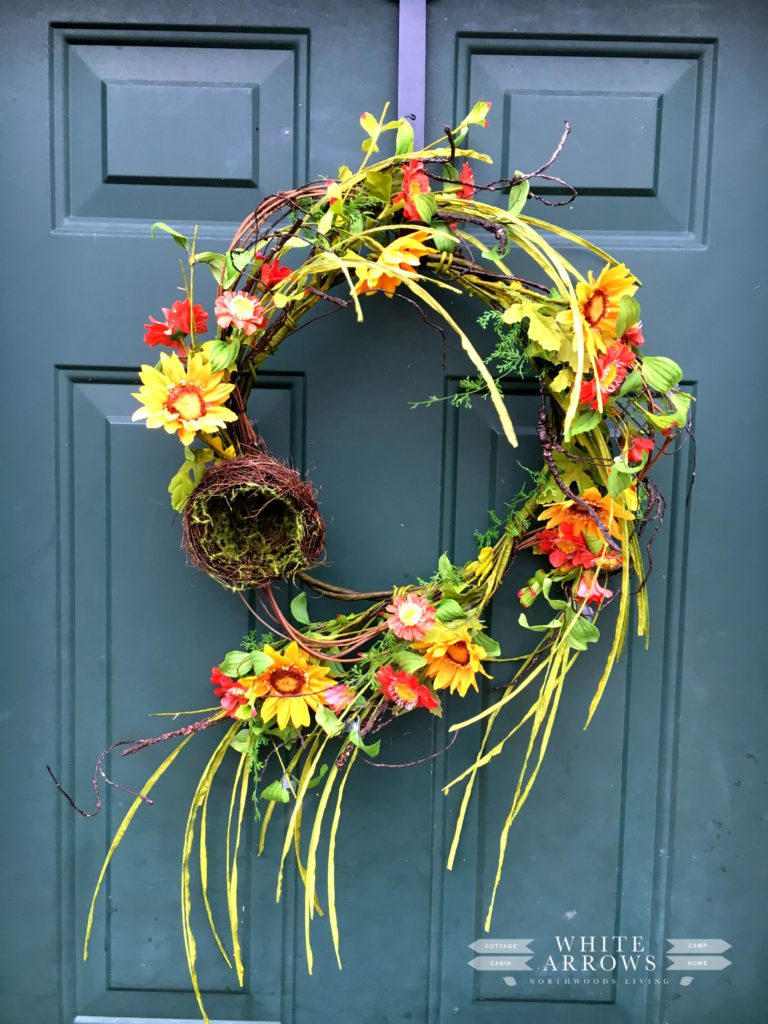 There are so many ways to add the color you are craving and the freshness of flowers inside while we wait for Spring outside.
For more inspiration enjoy these posts:
FOLLOW ALONG
Instagram ~ Facebook ~ Pinterest ~ Twitter ~ YouTube ~ Tik Tok ~ Liketoknow.it ~ Podcast