I gave the entryway a Spring refresh inspired by the monthly Pinterest Challenge Blog Hop.
I'm so excited to participate in another Pinterest Challenge hosted by Cindy of County Road 407. Each month a group of bloggers come together using one inspirational photo from Pinterest and then styling a space in our own homes based on that image. This month's challenge: How to refresh the entryway for spring.
It's so fun to see how different everyone's blog posts turn out as we all add our own styles to the challenge. Find links for all bloggers on the tour at the bottom of this post.

This month's inspiration photo is from Sand Dollar Lane. Leen styled a beautiful table for Spring in her entryway.

Here's the elements I'm seeing in the photo and adapting to my own style:
A console table
Basket of blankets on the bottom shelf
A Stack of books on the bottom shelf
Three little pots on the bottom shelf book stack
A lamp to the left
Two pots with plants
A statue
A tray on the right holding three bottles, a candle and a pitcher of greenery
If you are coming over from my friend Cindy's of DIY Beautify, welcome to our lakeside log cabin home in The Northwoods of Wisconsin. I love Cindy's style and was so inspired by her take on the inspiration photo. Weren't you?
The entryway to our cabin is an important place. It's the drop zone for our big family of seven and our dogs.
I want it to be welcoming as they come home each day. I want it to be organized where each kid has space for their belongings, a drop zone where they can keep track of everything and hide it away out of sight. Our cubbies work great for that.
After the front porch it's the first impression guests have as they come to visit.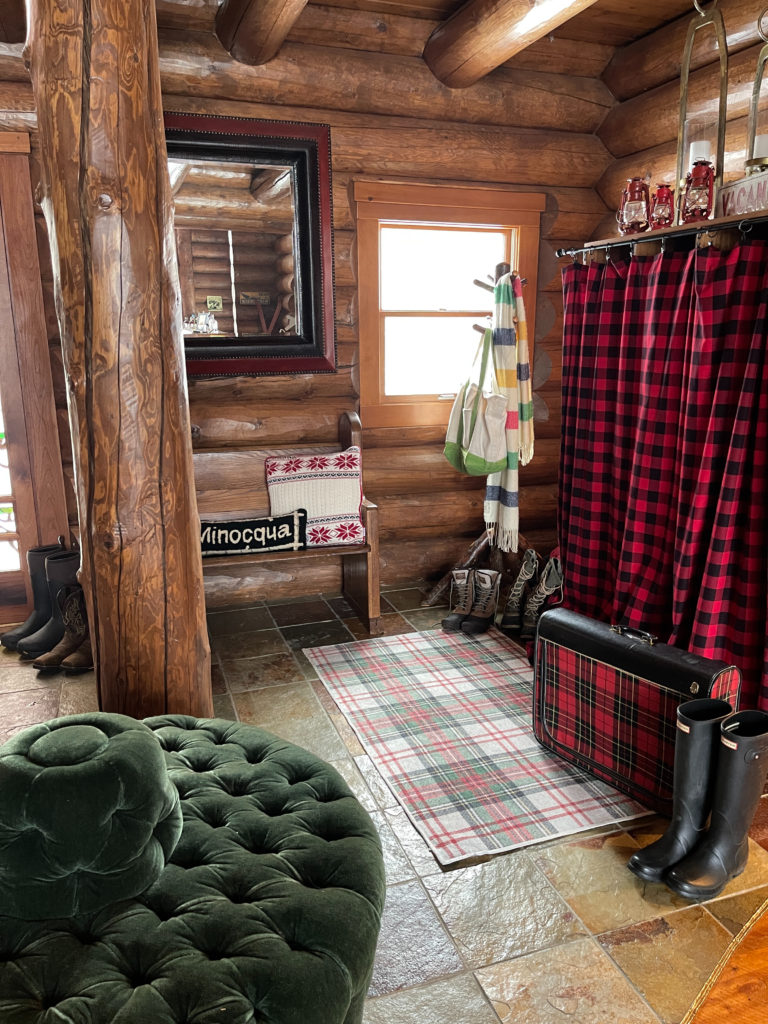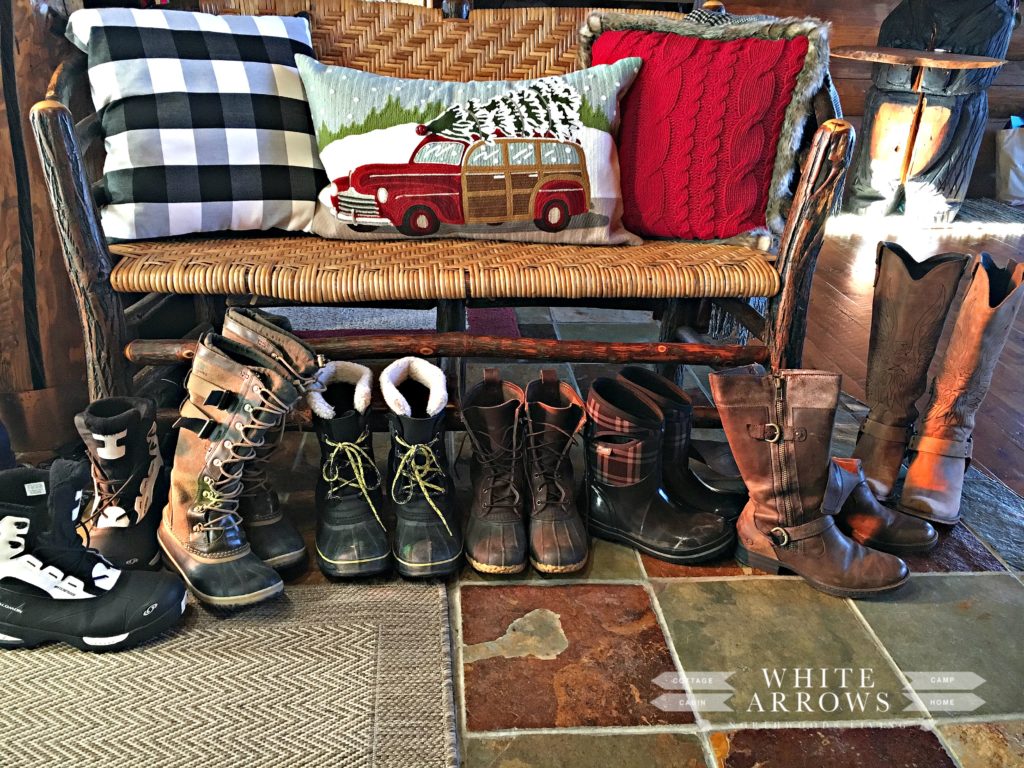 Our entryway in the guest house is also fun to decorate for the seasons.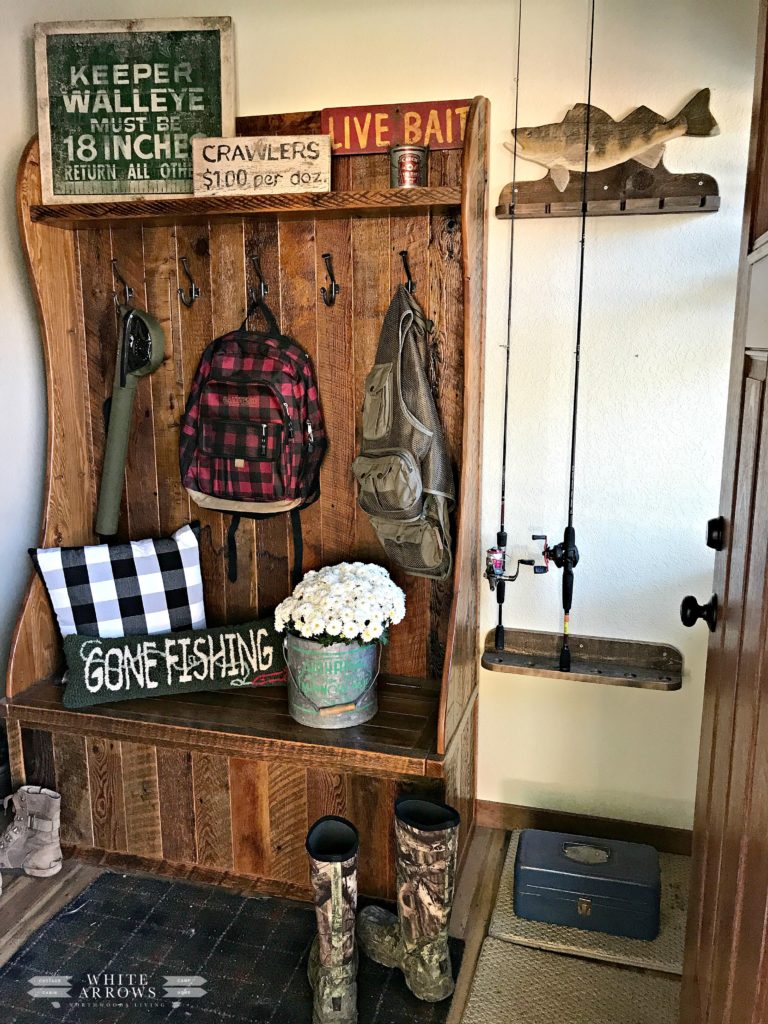 As I styled my entry table the one thing I wanted to do was spend no money. I wanted to just "shop my house" and pull things out of seasonal storage or repurpose them from other areas of my house.
It feels so good to just use what we already have and not feel the pressure to run out shopping.
Here's my take on the Pinterest Inspiration Photo:

A Console Table
We have a sideboard that always sits in the space just next to the entry between the kitchen and dining room. I style it for the different seasons and holidays.
It was the first antique piece Brian and I bought together. We found it in a barn in Iowa and it has traveled with us every time we move. I love it just as much now, as I did then.
Here it was this Winter.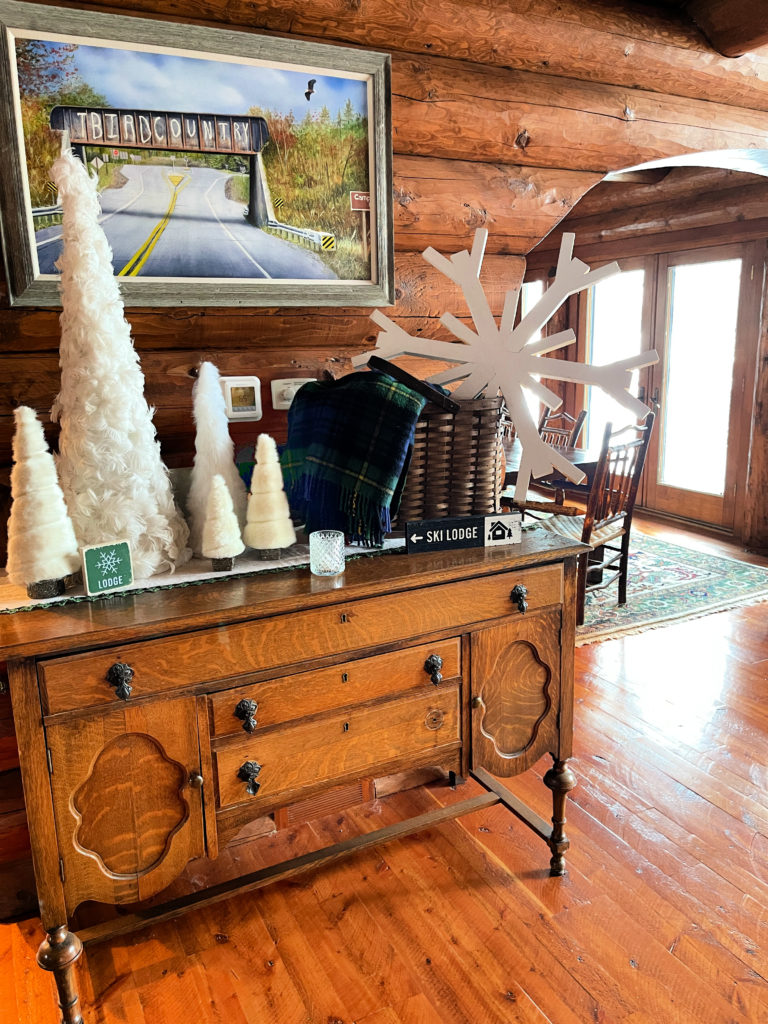 Basket of Blankets
I collect vintage plaid camp blankets and always have them ready and available to grab and cuddle up with. In the Fall I hang them on the hooks on our back patio to use by the campfire. During the Winter I lay them over the arms of the chairs and sofas and keep them in a basket on the bottom of the bookshelf. In the Summer they are perfect for picnics.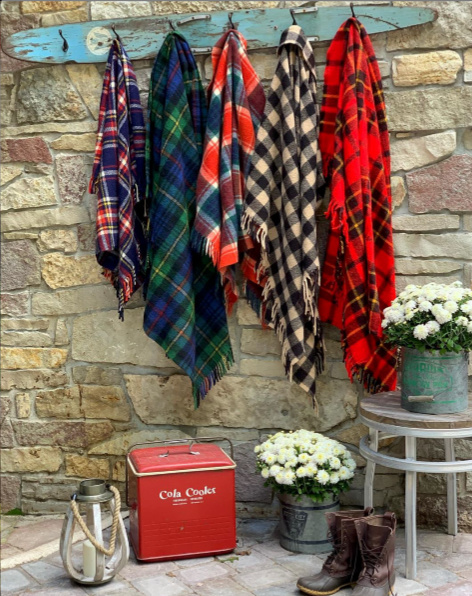 Inspired by the photo for this month, I'm adding a basket of blankets under the entry table.



A Stack of Books
There are stacks of books everywhere in our house. We are all readers, so have bookcases full of books.
Beautiful coffee table books are one of the things I love to collect.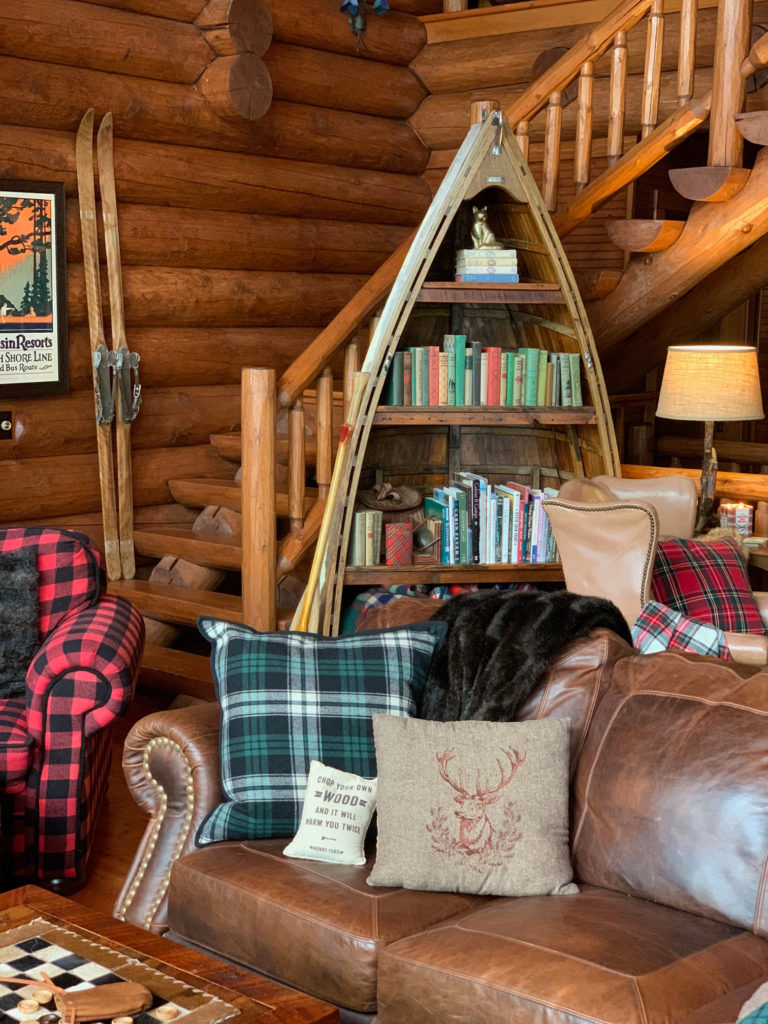 I grabbed some of my favorites and stacked them under the table inspired by Leen's photo.

We sell lots of blankets in my shop, White Arrows Home. You can visit my brick and mortar store in Minocqua, Wisconsin or shop online anytime from anywhere. We even offer $15 flat rate shipping (not furniture.)
Several of the authors of my favorite books, I've been honored to interview for the podcast I cohost, The Cabincast. You can listen HERE.


Pots With Plants
This time of year my eyes are craving green and I love to add plants around the house.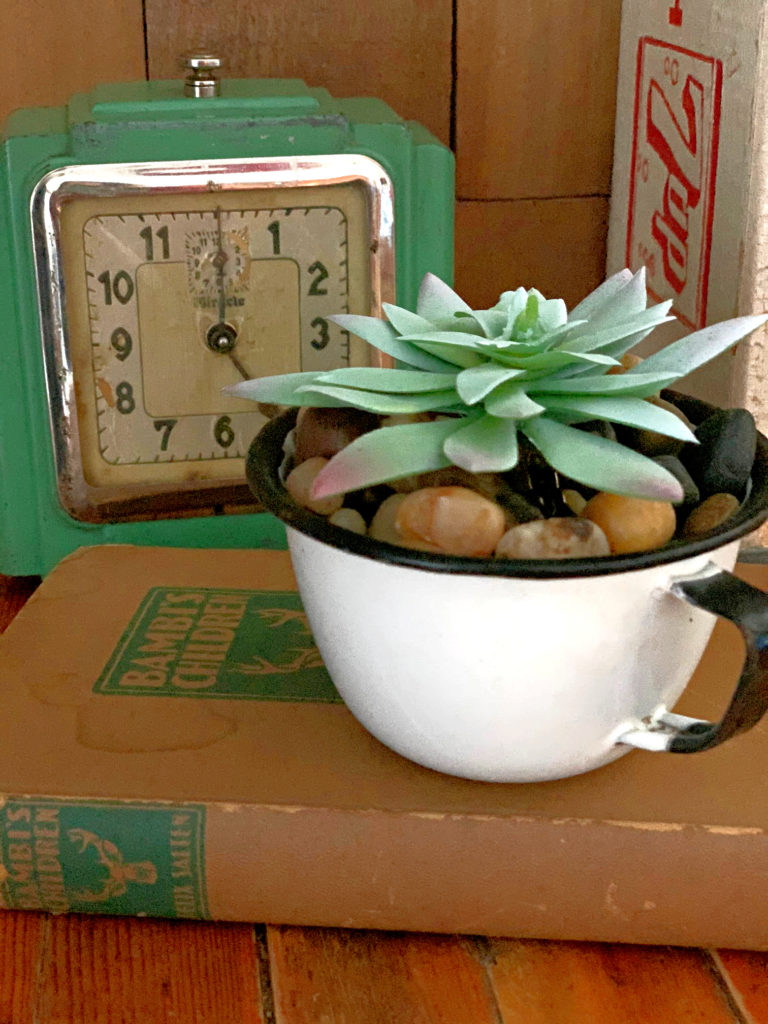 For this challenge I gathered some of my McCoy pots and moss balls to use for the greenery in pots.



Lamp
Lamp light is one of my favorite things. It's the easiest way to make a room cozy, inviting and welcoming. One place I have never added a lamp is on this entry table and I am loving it here. It is beautiful in the evenings.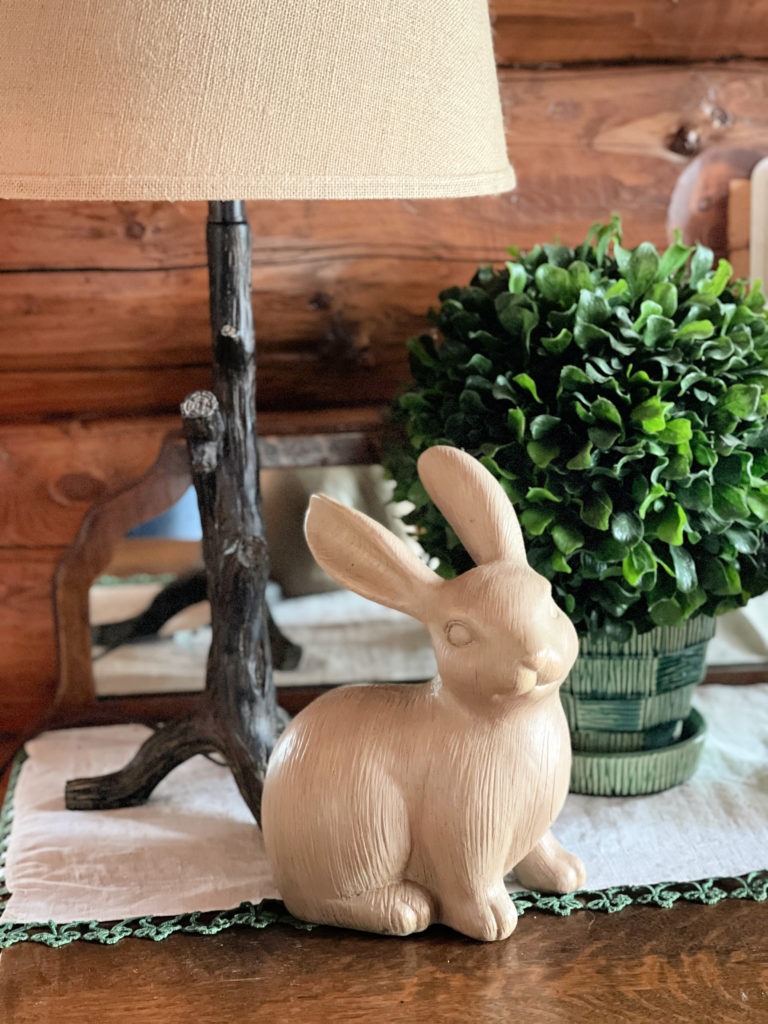 Bunny
I have several bunnies I love to decorate with as we get close to Easter. I chose this one for the challenge.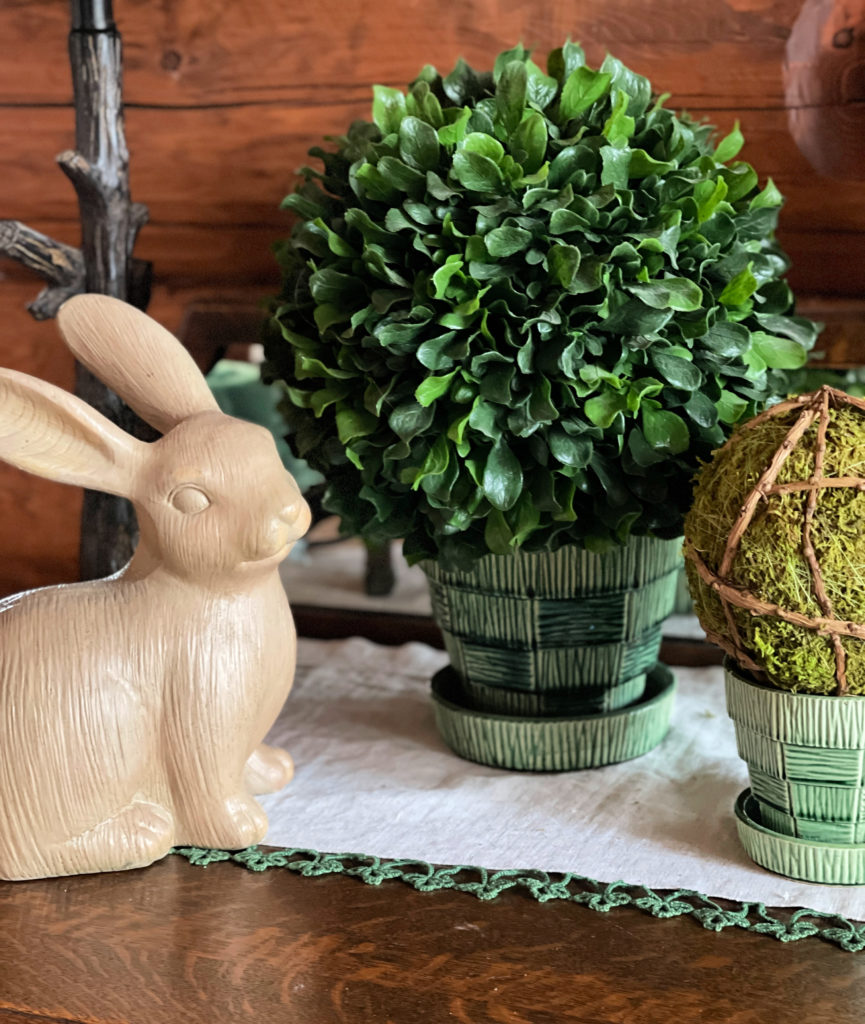 A Tray Holding Three Bottles, a Candle and a Pitcher of Greenery
I used one of my basket trays with a wooden charger to hold three green glass vases from my collection. For the pitcher I used my vintage silver trophy full of white blossoms.
The woven basket tray was originally purchased and used in my wedding. We used lots of beautiful big baskets on the food buffet and I have loved using them in my home ever since. This Winter it was on my coffee table. See more of my Winter decor in THIS POST.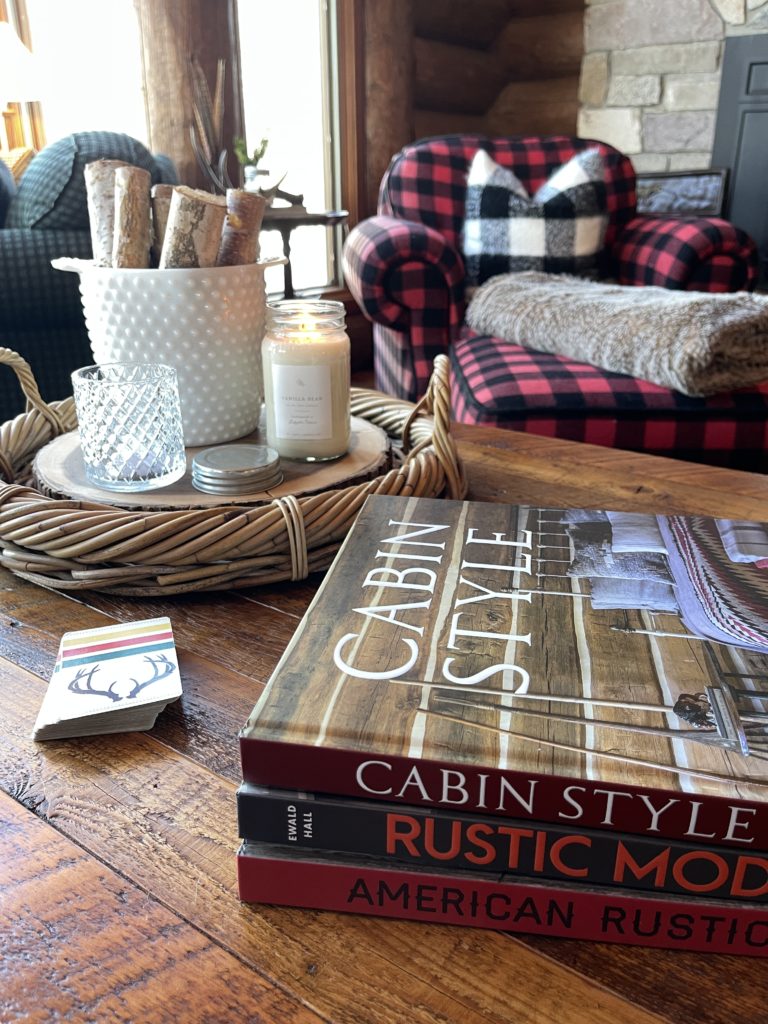 I started collecting green glass vases in high school. The little one with the scalloped edge was my first one. I love them and how many sizes and styles there are and how affordable they are to collect.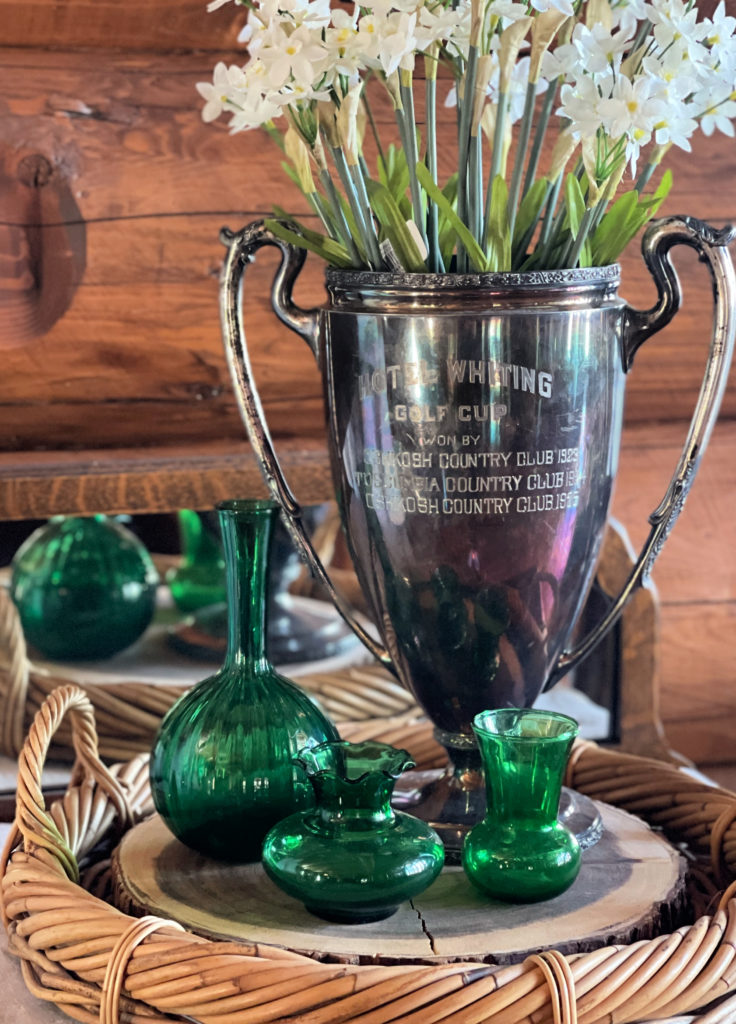 Thanks so much for visiting!
Want to see past challeges:
Next up on the tour you are visiting one of my favorite homes, my friend Kim's at Shiplap and Shells. Her 100 year old cottage is so full of charm and style and her gardens are amazing too. You will be so inspired.
Take the Tour
You are invited to
the Inlinkz link party!
County Road 407 ~  DIY Beautify ~ White Arrows Home ~ Shiplap and Shells ~ Our Southern Home ~ Bluesky At Home ~ The House on Silverado ~ Lora Bloomquist ~ The Ponds Farmhouse ~ A Stroll Thru Life ~ Thistle Key Lane ~ Everyday Edits
FOLLOW ALONG
Instagram ~ Facebook ~ Pinterest ~ Twitter ~ YouTube ~ Tik Tok ~ Liketoknow.it ~ Podcast