Decorating with red, white and blue for the Fourth of July and all Summer long.
(Affiliate links are used for your convenience. Read my full disclosure here.)
I want to thank Amber of Follow The Yellow Brick Home for including me in another one of her fun tours! I'm excited to be joining some talented blogging friends today to share ideas for the Fourth of July. We have recipes, DIYs, entertaining and decor ideas.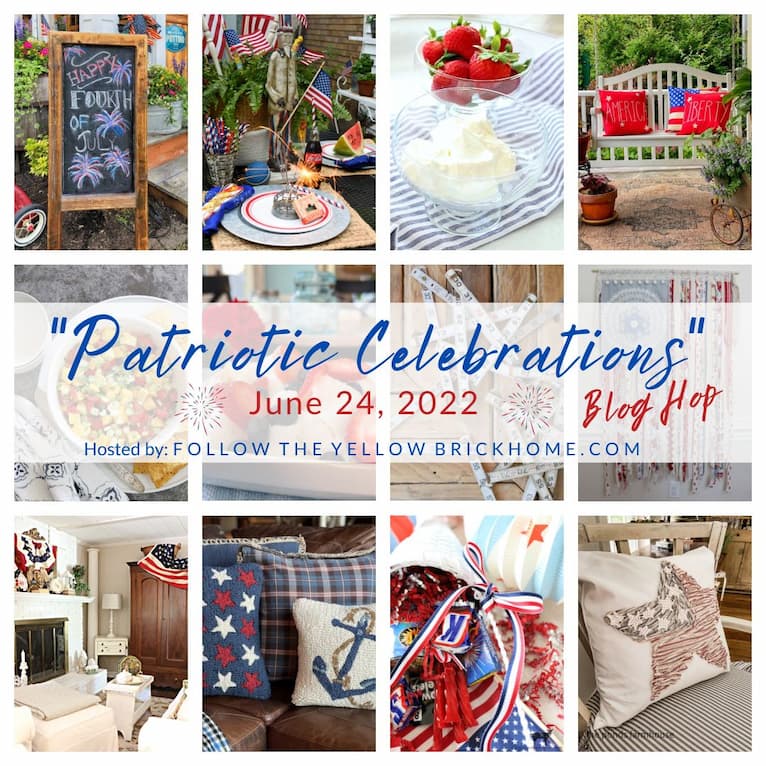 If you are coming over from my friend Michelle's at Thistle Key Lane, aren't you excited to try her Mango salsa? I sure am! Michelle inspires me so much!
Red, White and Blue Decor
I'm a collector. I have things that have been passed down to me from my grandmothers and my mom and i have things I have found over the years.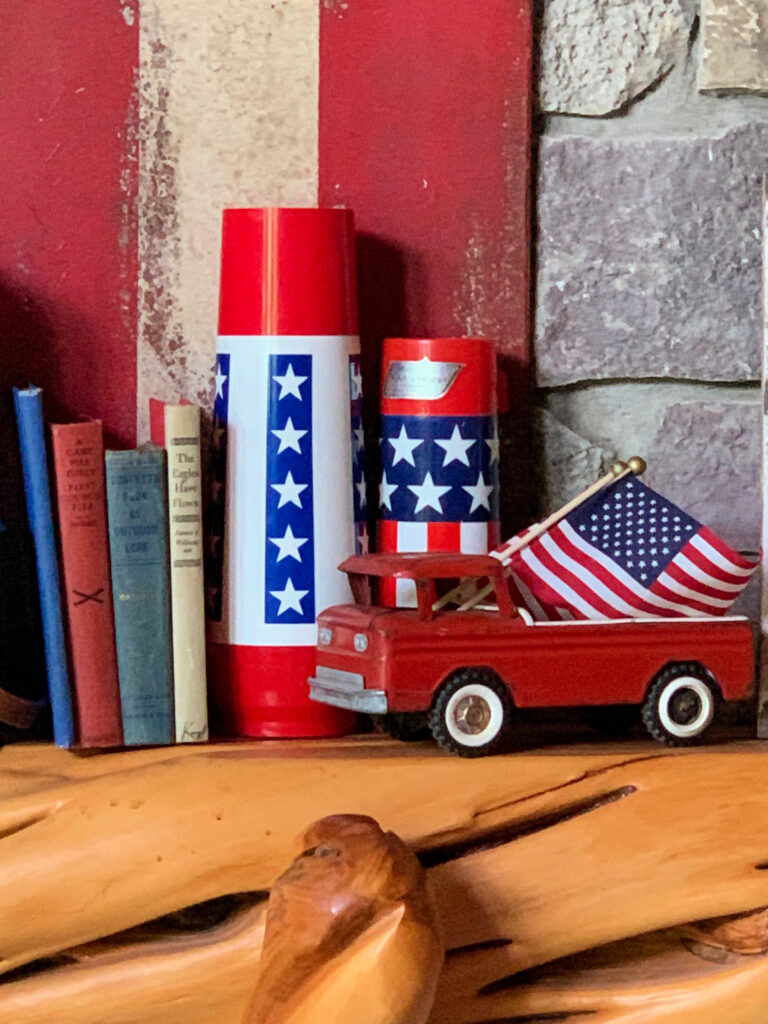 Want to get daily encouragement? SUBSCRIBE HERE so you don't miss any posts!
One of my hobbies is antiquing. I love to stop in local antique shops often to peek around and I love to go to vintage markets and new shops with my girlfriends. I even have a group of girlfriends on Instagram that I go thrifting with. We share our adventures in our stories with the hashtag #thriftingwiththegals. Once a month we share a blog hop showing how we style our vintage finds in our homes.
Red, White and Blue Tablescape
Blue and white dishes in sets or mismatched is something I love to pick up. I love using old things in new ways like these juice glasses to sip wine.
The needlepoint on these napkins endeared me to them right away. For my table cloth I simply chose fabric from Walmart so I could get exactly the look I wanted. Table cloth options are so limited, but with fabric there are so many options.
My centerpiece was done in seconds when I added a white flowering plant to an old minnow bucket.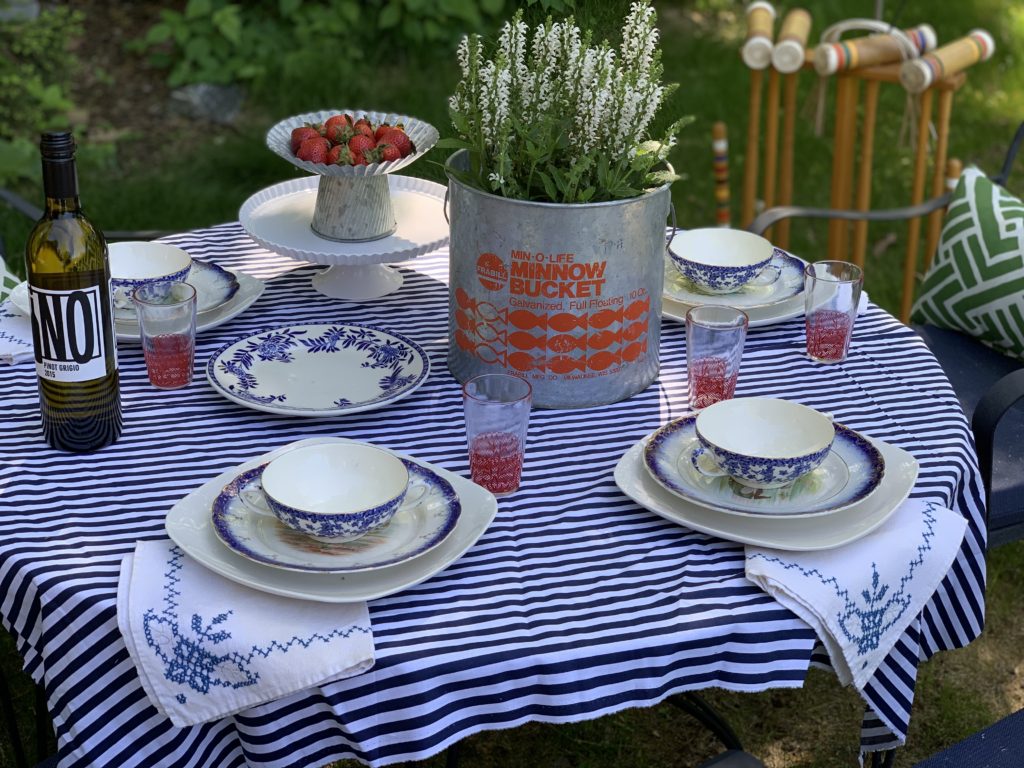 Red, White and Blue Mantel
Living on the lake I love to decorate in red, white and blue all Summer long. A few years ago I styled our mantel with nautical artwork, milk glass vases and flags.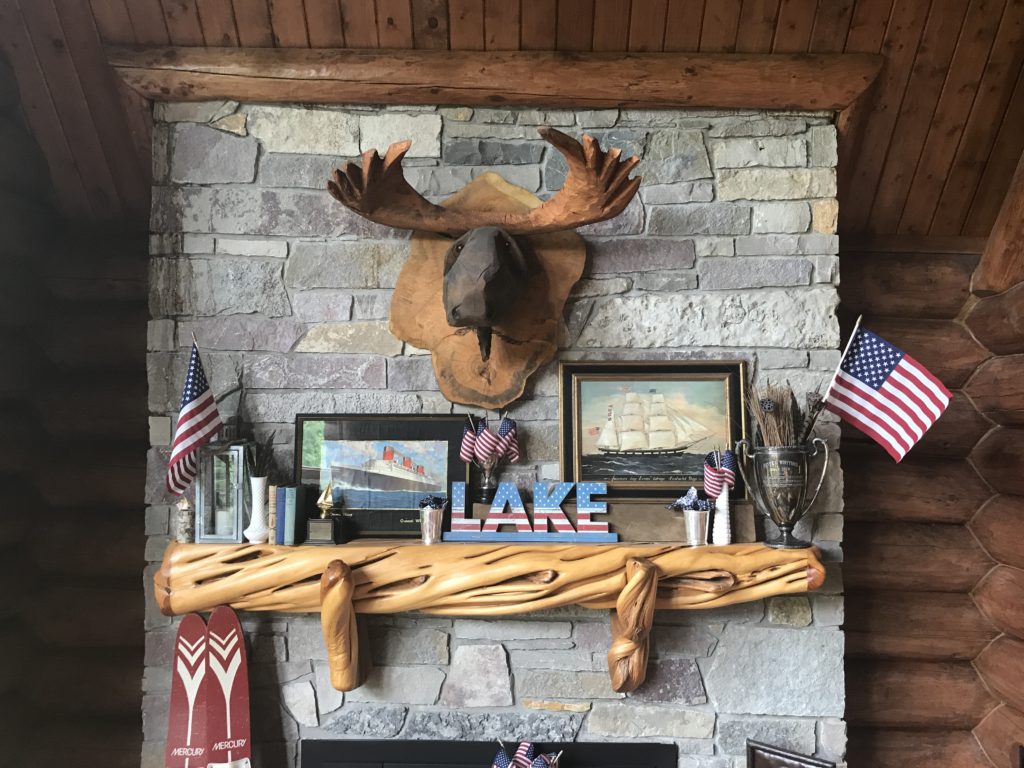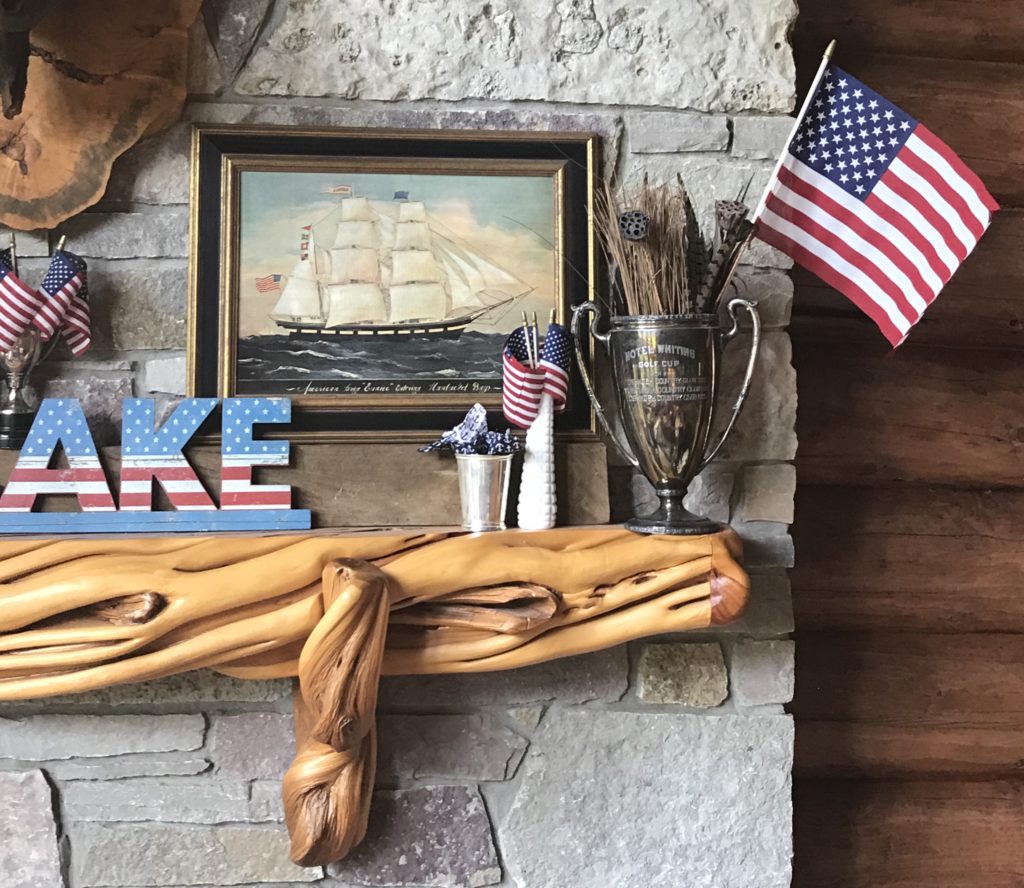 Red, White and Blue Dining Room
Instant art happened when I hung a weathered 48 start flag on the log wall of our sunroom. This Summer I made a big change and moved the dining room to the sunroom and made a sitting area in the dining room. We are loving the change.
One of my vintage camp blankets becomes a table scarf. An old drink carrier full of pop bottles holds flags- a quick, inexpensive centerpiece.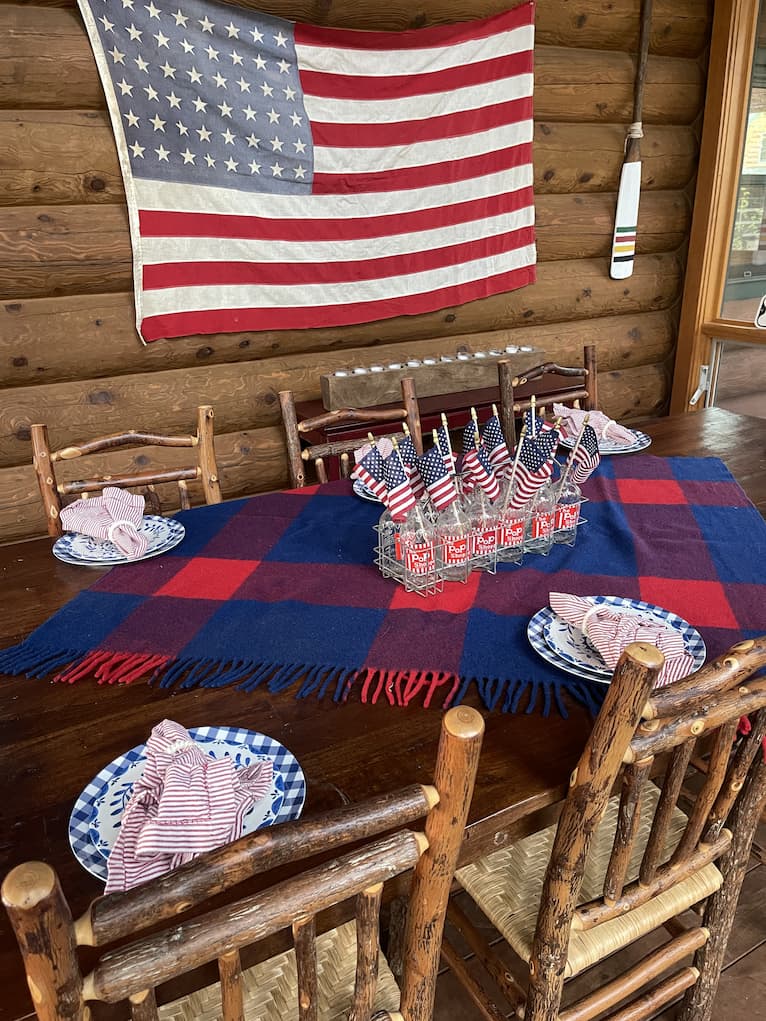 I layered our outdoor melamine plates and bowls with my striped napkins and DIY nautical rope napkin rings.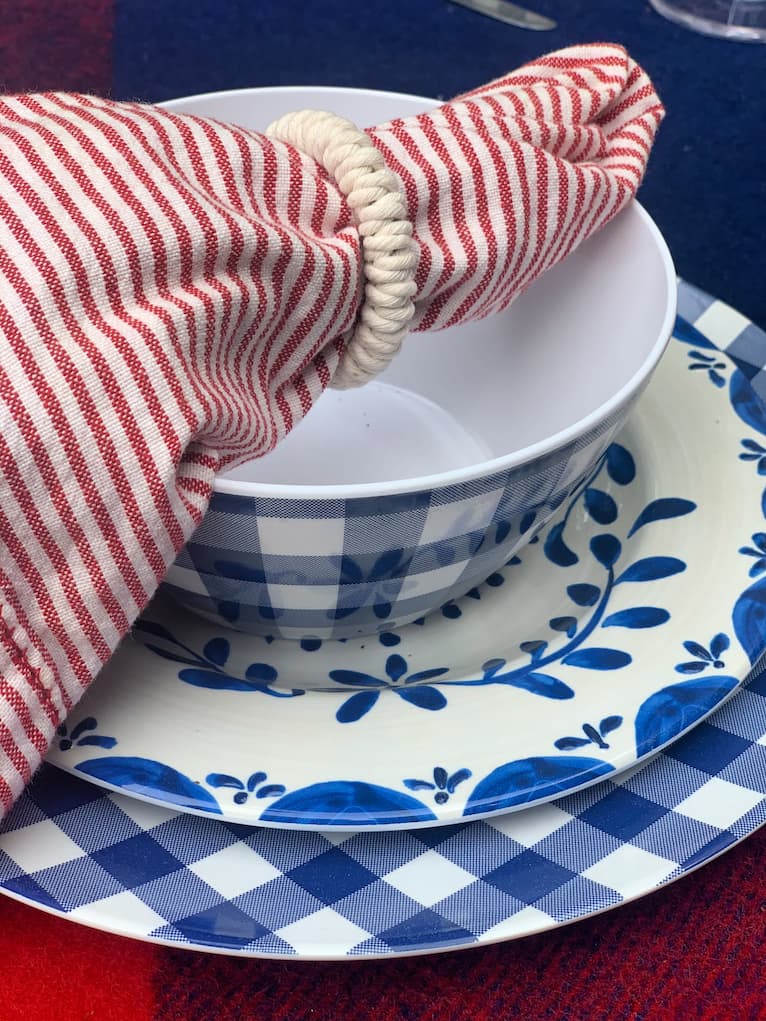 Reds
When I'm decorating for holidays or certain themes I go around and "shop my house." This time of year, I will go around and shop for red items I have around like these polka dot glasses. They will be perfect for drinking, adding in tea lights or holding flowers.
This Fall I'm planning to turn my laundry room storage into my dish storage. Stay tuned for this fun project and see it go from my head to reality. It will make searching through my vintage items so much fun.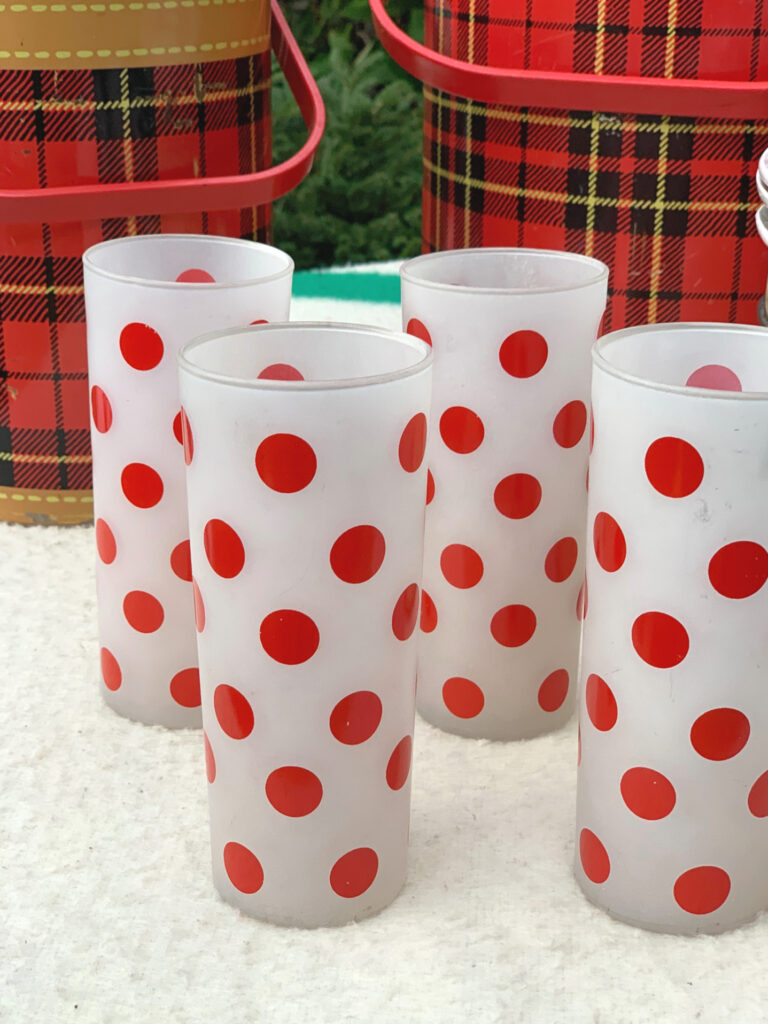 Using flowers to add in color is one of the fastest ways to make a beautiful statement. Grabbing a bouquet at the grocery store and then using a vintage container like this pewter mug is a quick, easy and pretty way to add in something fresh and special.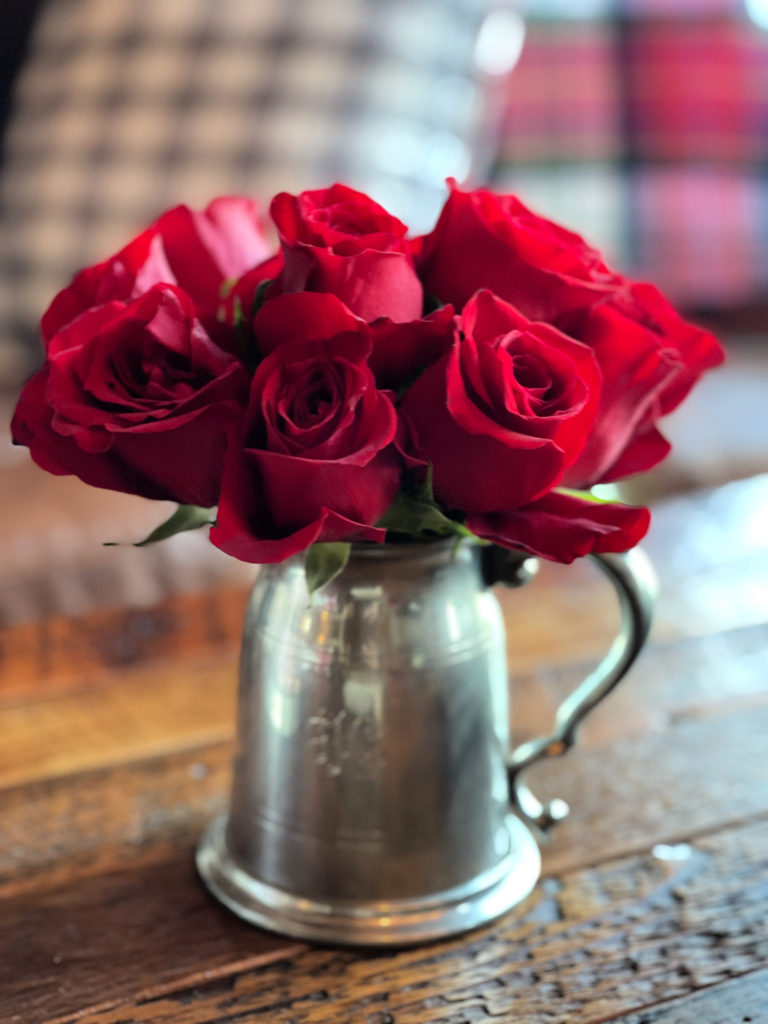 Whites
I pull in whites in many ways and use other shades of neutrals as well like white candles and the tans and whites of nautical rope. I DIYed these candle holders with nautical rope and I did the same with white rope for my napkin rings I shared above.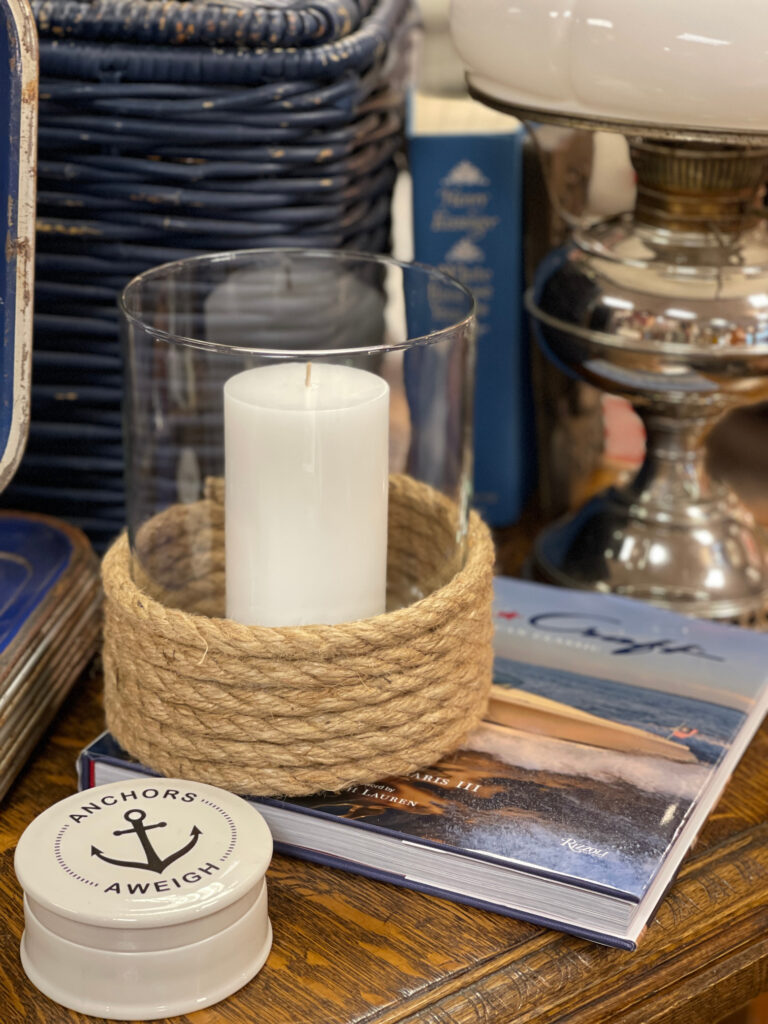 Milk glass is one of my favorite ways to bring in white. I love collecting milk glass and using it all throughout the year. I showed some ways I use it in THIS POST.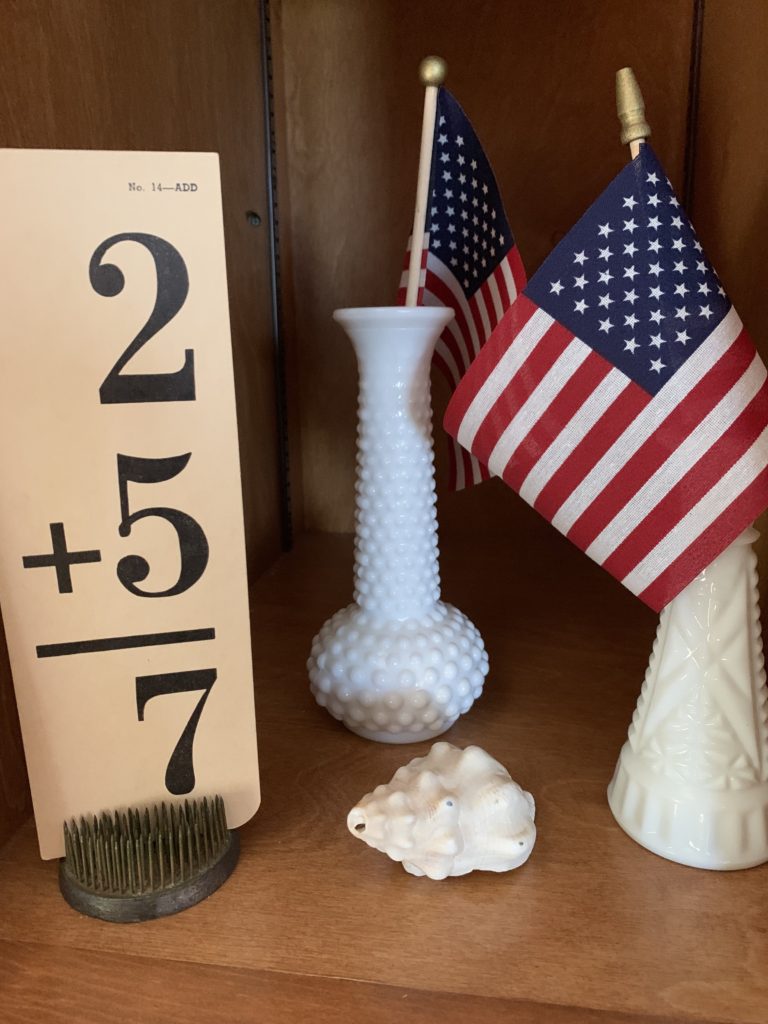 Blues
There are so many fun ways to pull in blues like with pottery, books and flowers.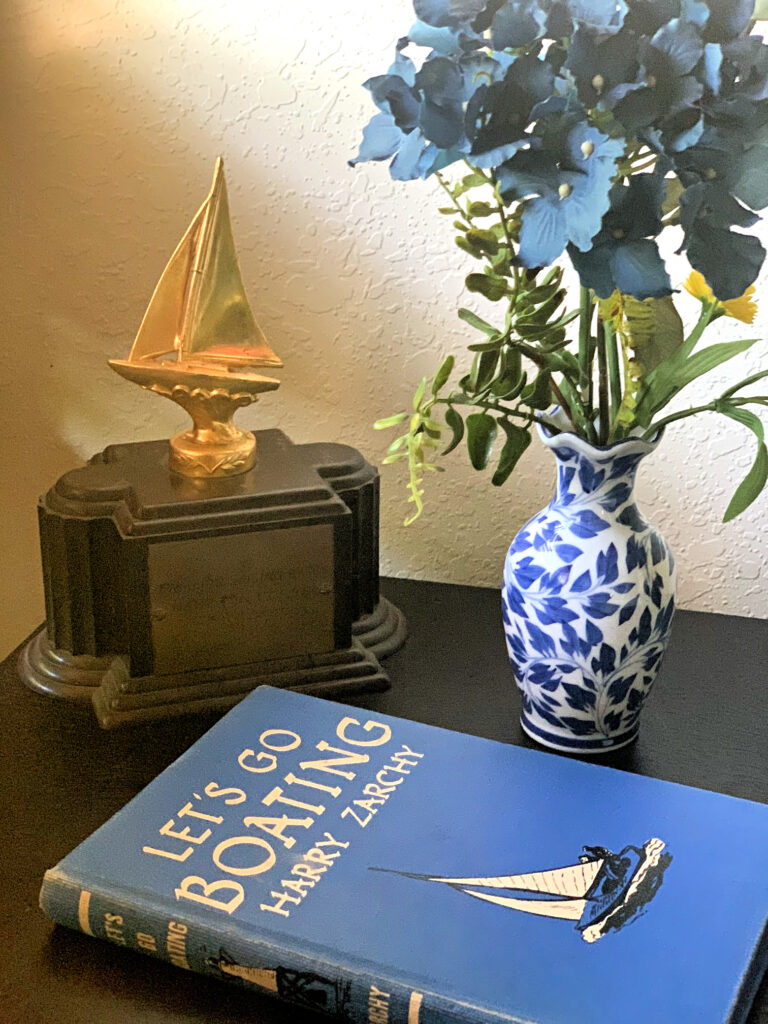 This blue on blue plaid chair is a favorite of mine from Old Hickory and the star rug from Chandler 4 Corners. I was even able to find a blue electric heater fireplace. All these additions were part of The One Room Challenge I did to restyle my daughter's bedroom.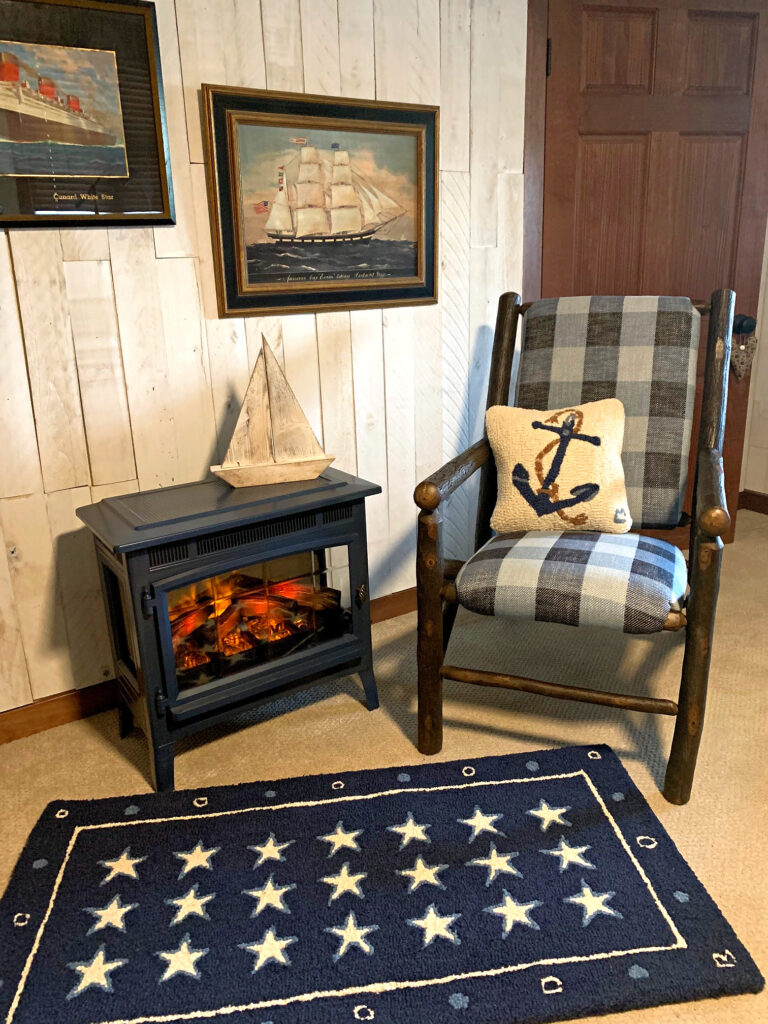 Grouping books in one color shade like these in blue is a great way to add in a certain color.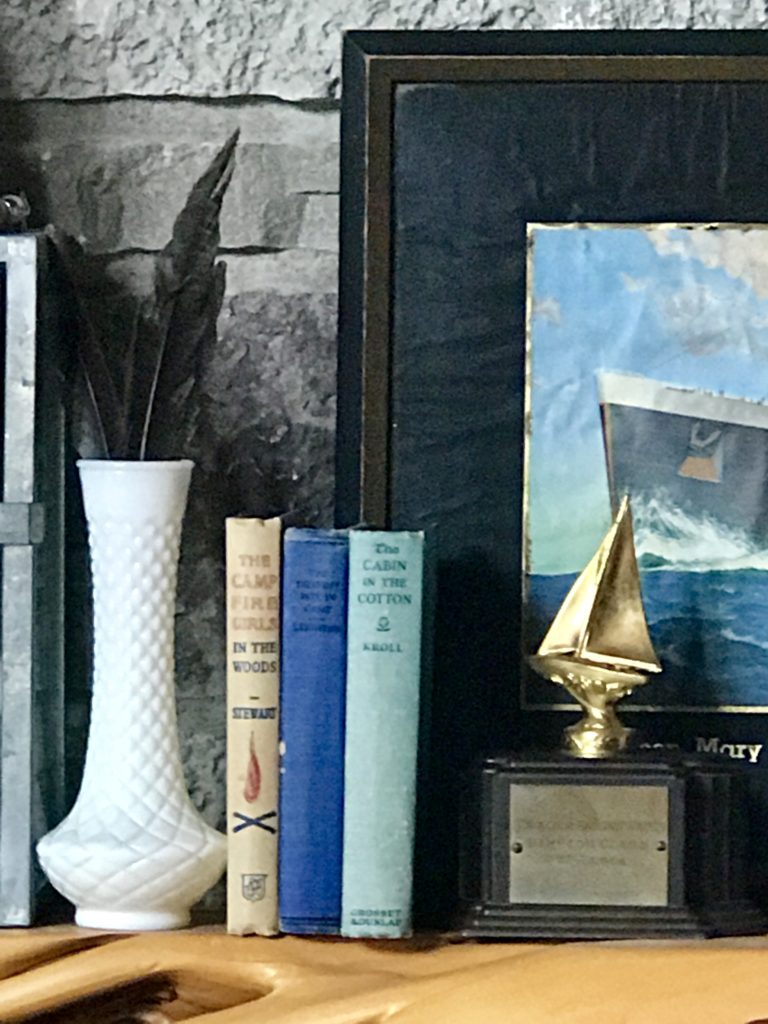 Pulling It All Together
Throw pillows and blankets are one of the easiest ways to add in color for the seasons or holidays.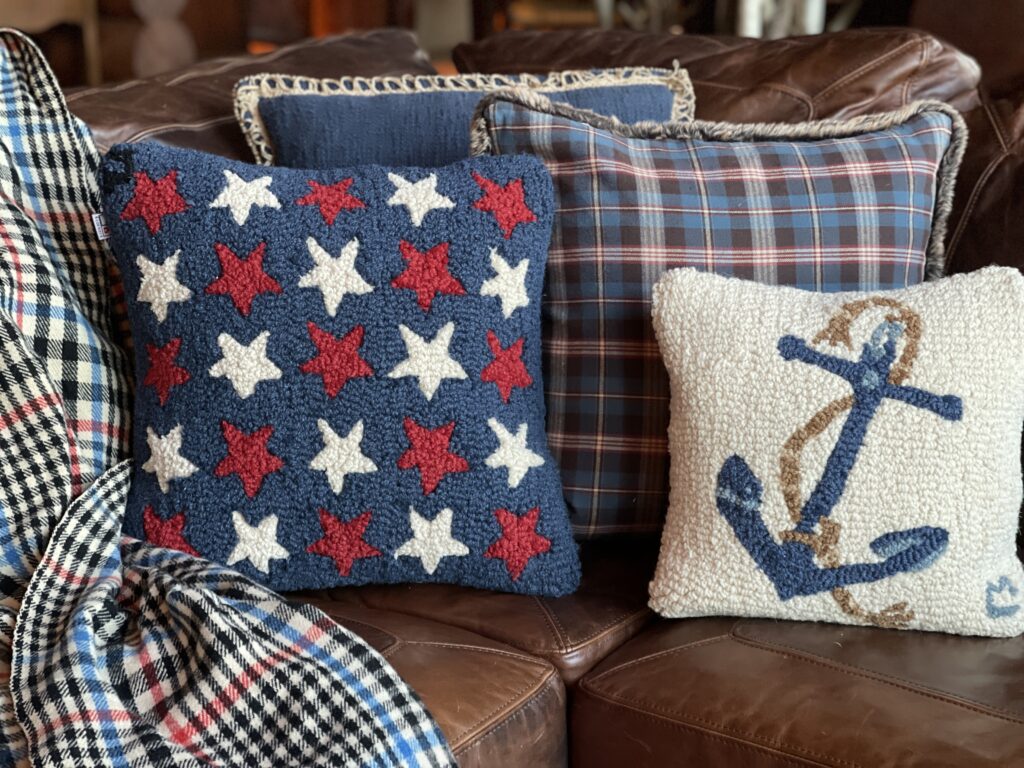 Mixing my old and new, I bring together reds, whites and blues for the Fourth of July and all Summer at the lake.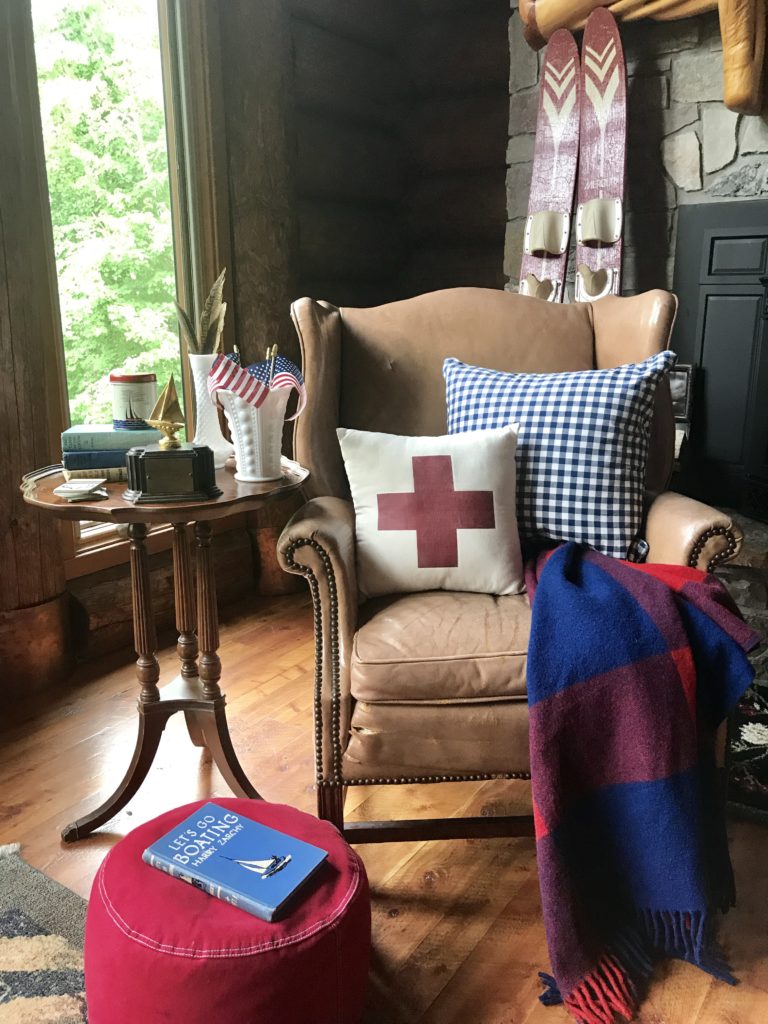 Thanks so much for joining me on this patriotic tour of reds, whites and blues! You are now on your way to Follow The Yellow Brick Home and my friend Amber's beautiful historic home in Kentucky where you will be so inspired by her patriotic decor ideas.
Take the Tour
You are invited to the Inlinkz link party!
Follow The Yellow Brick Home ~ Decor to Adore ~ Common Ground ~ Shiplap and Shells ~ County Road 407 ~ The Ponds Farmhouse ~ The Tattered Pew ~ Bricks and Blooms ~ The Crowned Goat ~ Lora Bloomquist ~ Thistle Key Lane ~ White Arrows Home
Fun 4th of July Finds


FOLLOW ALONG
Instagram ~ Facebook ~ Pinterest ~ Twitter ~ YouTube ~ Tik Tok ~ Liketoknow.it