Ideas for decorating a lake house with nautical and inspiration from the water.
When my friend Amber of Follow The Yellow Brick Home asked if I would like to join in a Nautical Decor Home Tour, my quick answer was "Yes!" I love decorating our lakeside log cabin home with nautical touches.
(Affiliate links are used for your convenience. Read my full disclosure here.)
If you are coming over from my friend Laura's home, you've just been in my home state of Texas. She writes the beautiful blog Decor to Adore and is sharing about traveling in Palm Beach. Have you ever been there?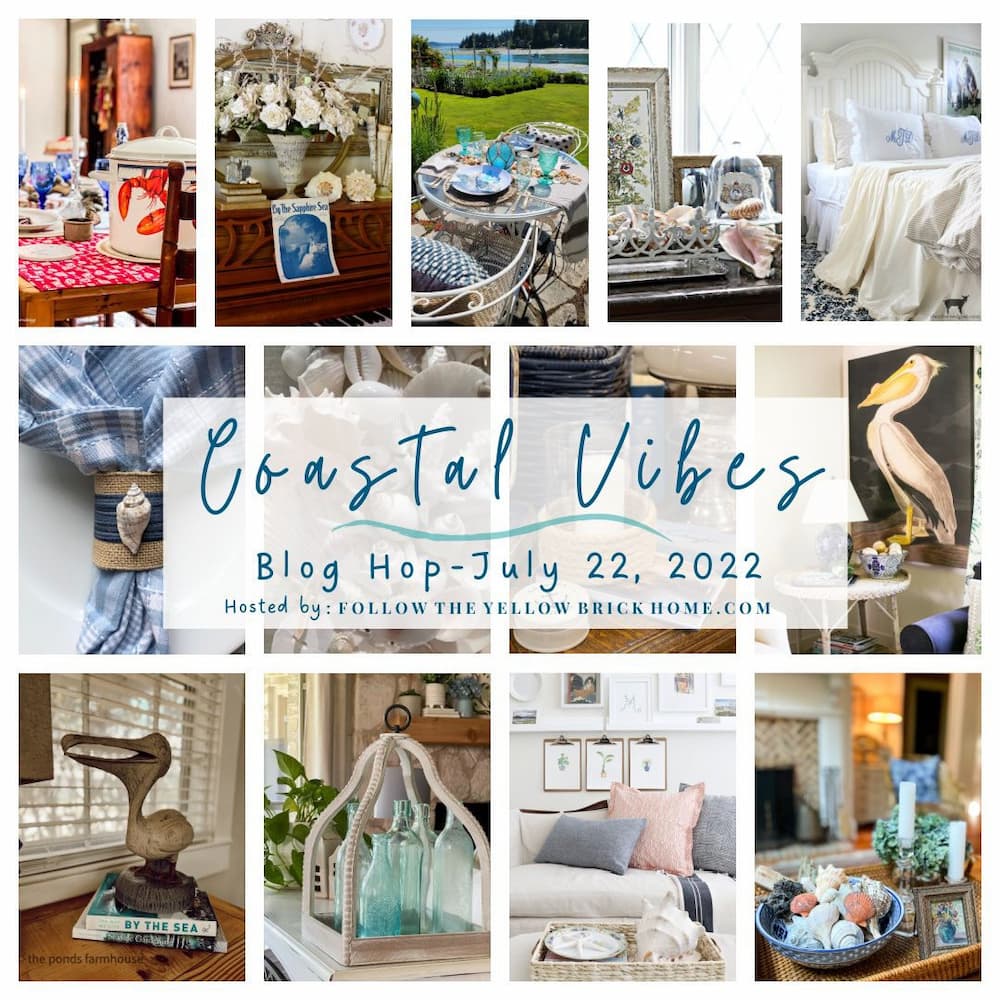 Growing up in Texas, I never dreamed I'd live way Up North in Wisconsin! You can read more about how I ended up here on my About Me page.
The area we live in is called The Northwoods and it is full of lakes and forests. Most everyone I know lives on a lake here. Kids take life jackets and fishing poles everywhere they go because they will probably end up on the water at a home or a friend's.
We live in a full log cabin on the banks of one of those lakes.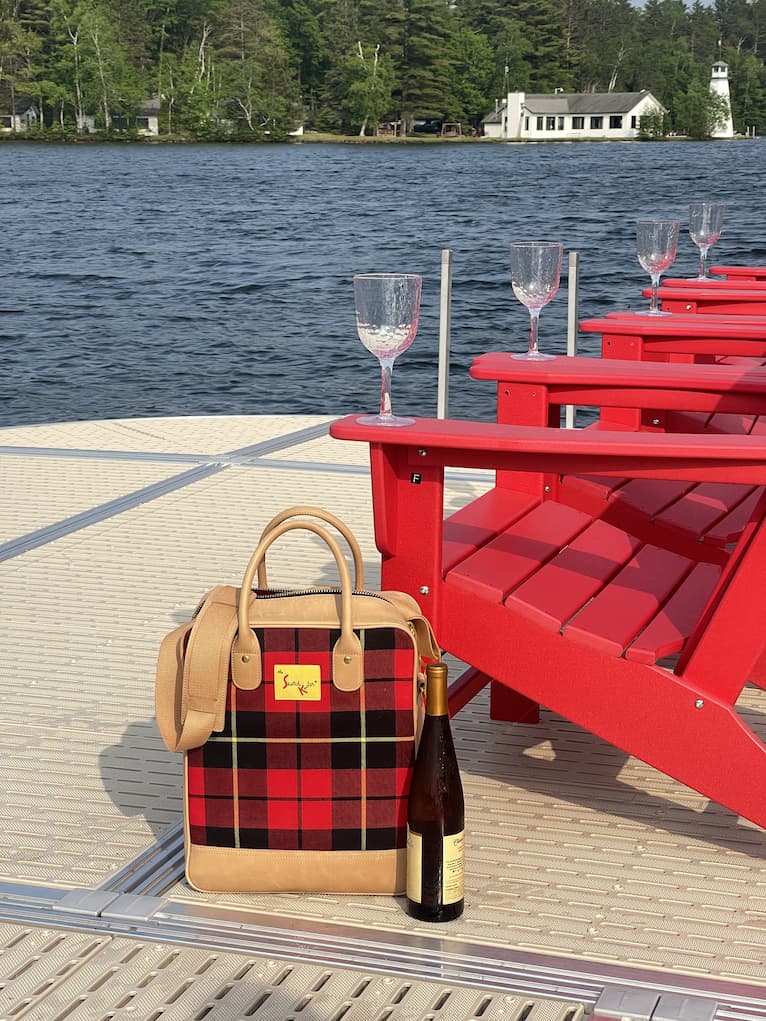 It's easy to use classic decor and then add in fun nautical and lake elements both old and new. I love to hunt for vintage and antique treasures, especially when I'm out Thrifting With the Gals! My friends Rachel and Ann and I thrift "together" even though we live far away. Rachel is in North Carolina and Ann is in Vermont and Maine.
Old minnow buckets is one of the things I always have my eyes out for. I love using them in so many ways, here I used them as a pot on the front porch. I wrote about how I use minnow buckets IN THIS POST.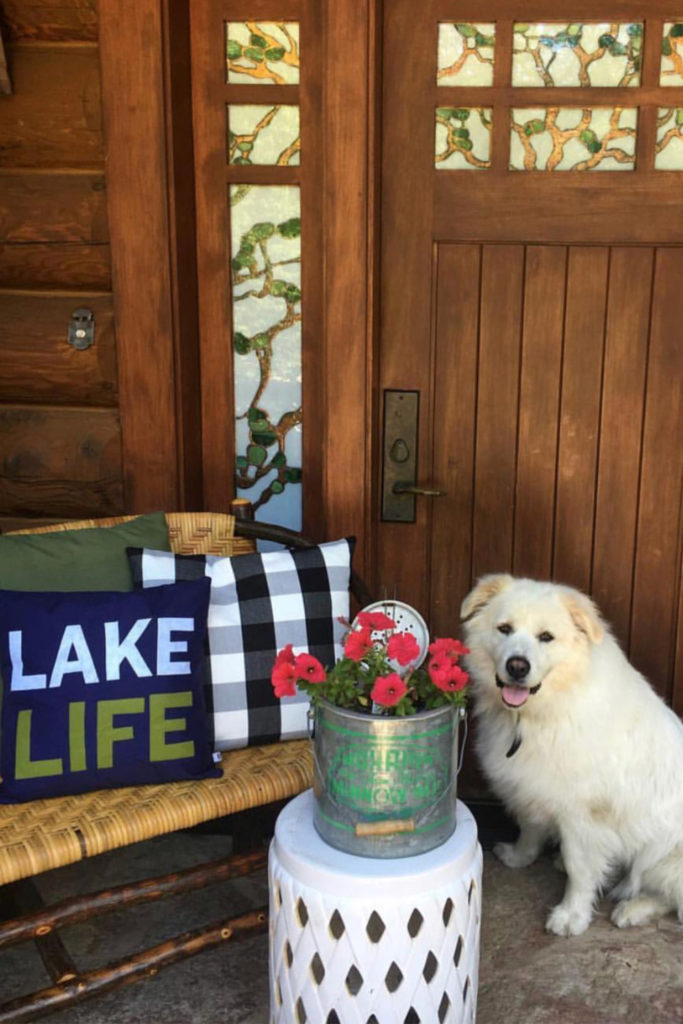 Old water skis are something else I love to collect. Here I hung one on our guest house doors. I love the nostalgia they hold for bygone memories of wonderful Summers at the lake.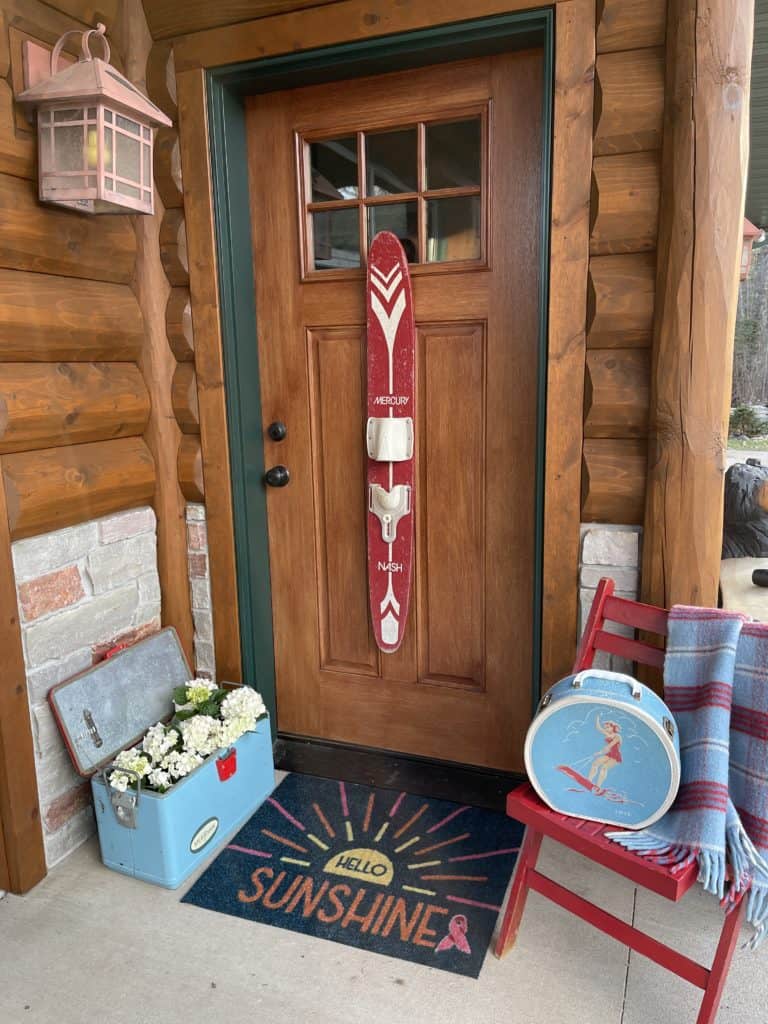 Anchor Decor
Anchors are something I love to decorate with as well. These US Navy dishes are a favorite find. I love the pattern, but also the honor they give to my Grandfather who served in the Navy. I'm keeping my eyes out for more.
Here I used another minnow bucket as a vase.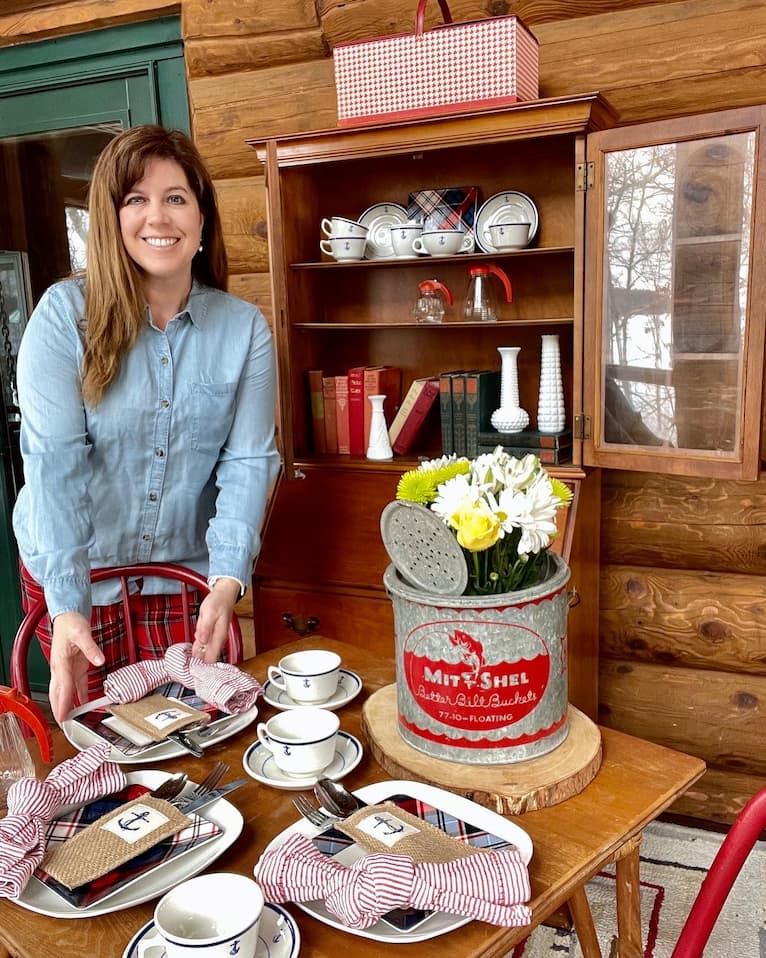 Red, whites and blues are great to decorate a lake house all Summer long from Memorial Day to Labor Day. I shared more ways I decorate with this patriotic color scheme throughout the season in THIS POST.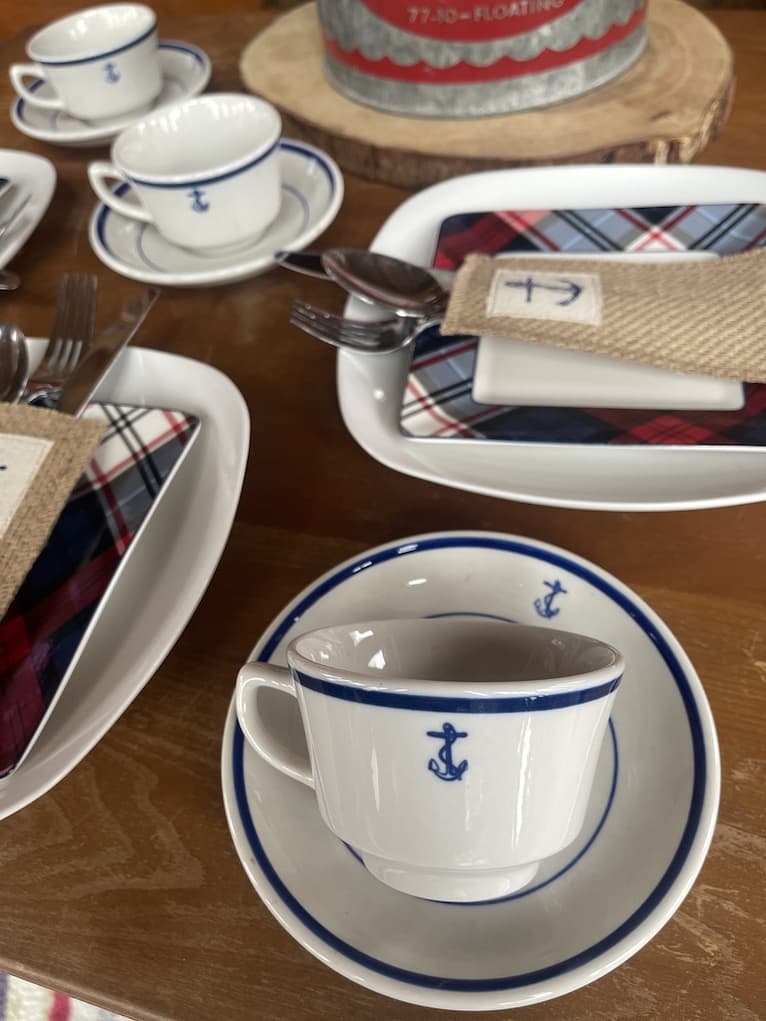 I found these great canvas pots at a favorite local garden center and loved using one as a centerpiece for a casual dinner.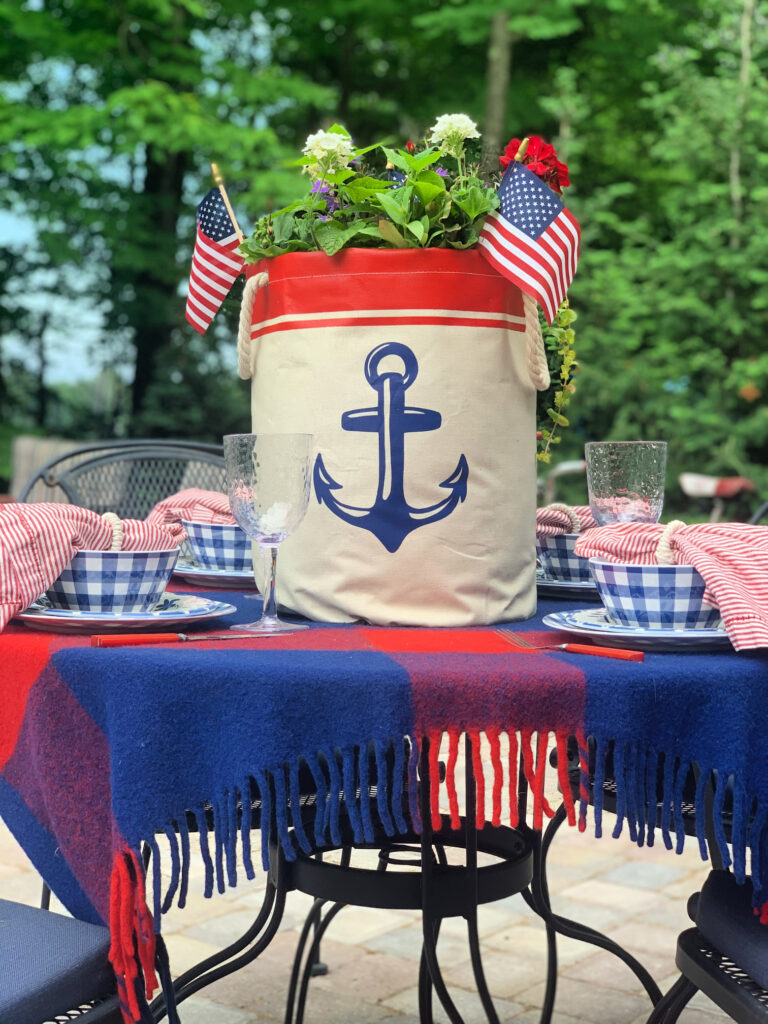 Fishing Decor
Fishing paraphernalia, like my minnow buckets, is a big part of lake house decor. I love antique creels and old fishing guides. I turned one old fishing guide into a wall mural by getting the cover blown up into by a mural company. You can read about the project IN THIS POST.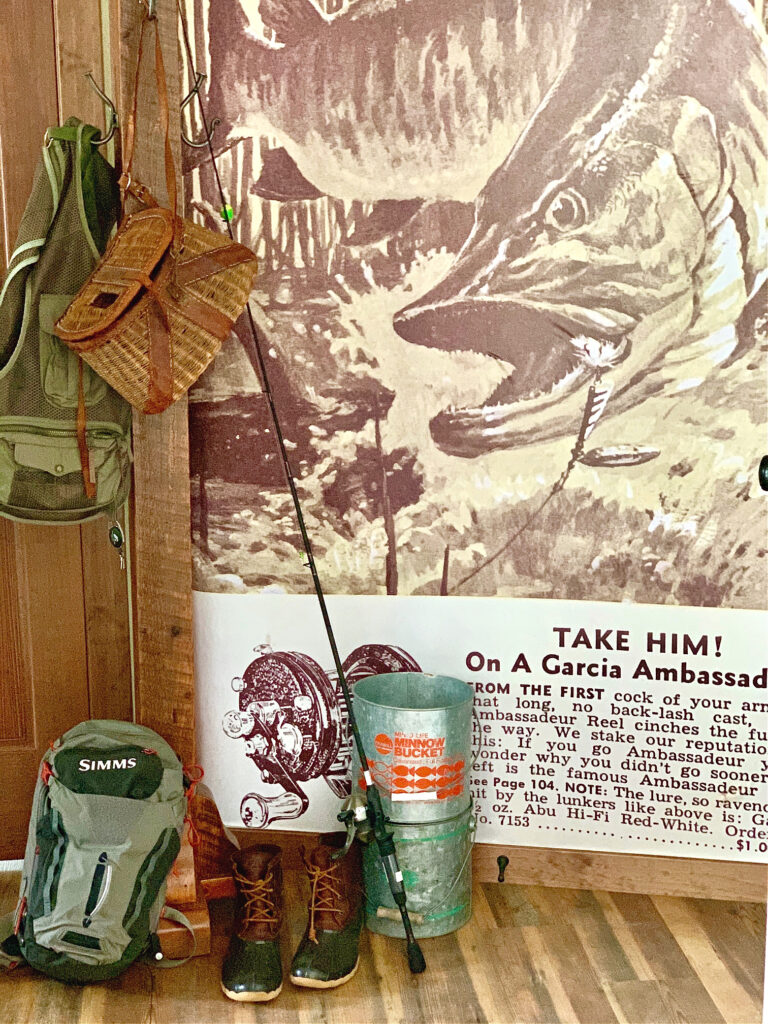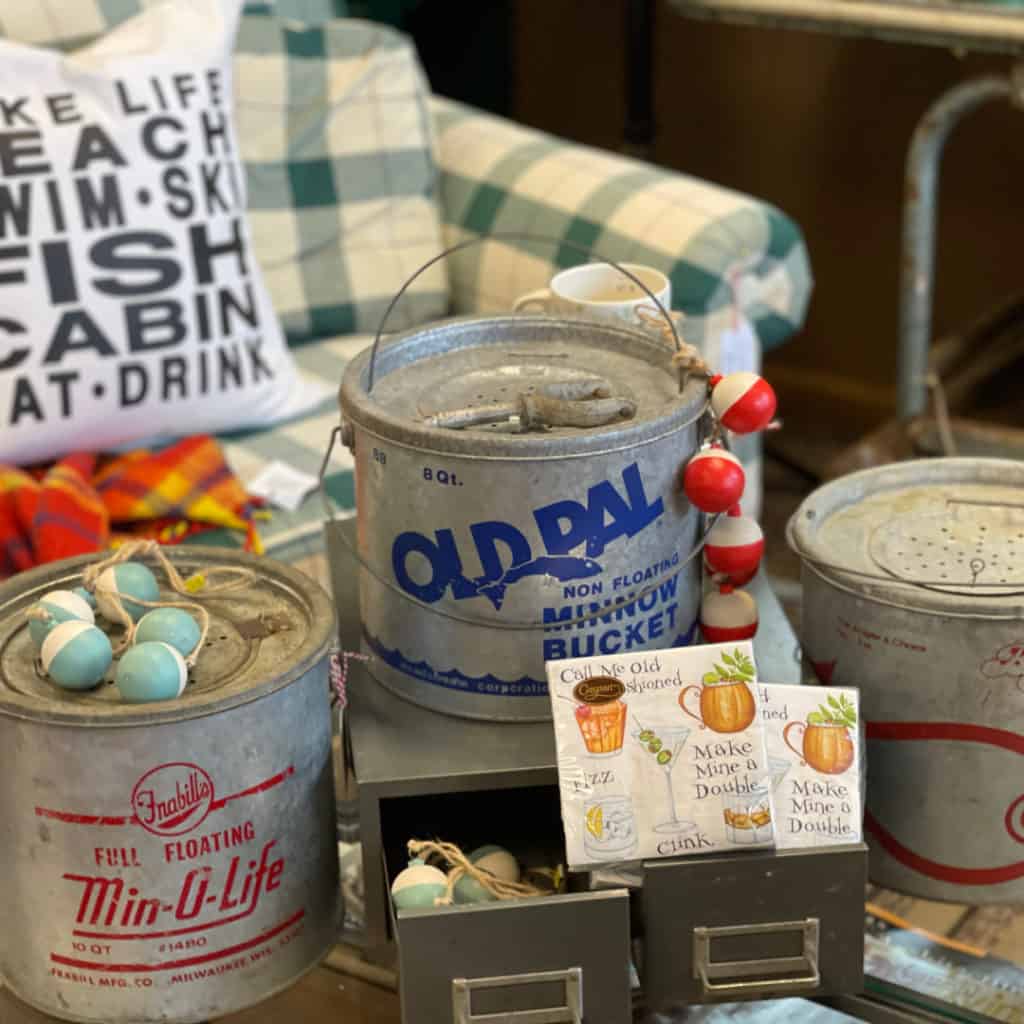 Boating & Birds
Even things you may not usually think about as decor can become works of art when styled well like an old boat motor cover.
I also like decorating with wildlife we see around the lake like loons, ducks and geese.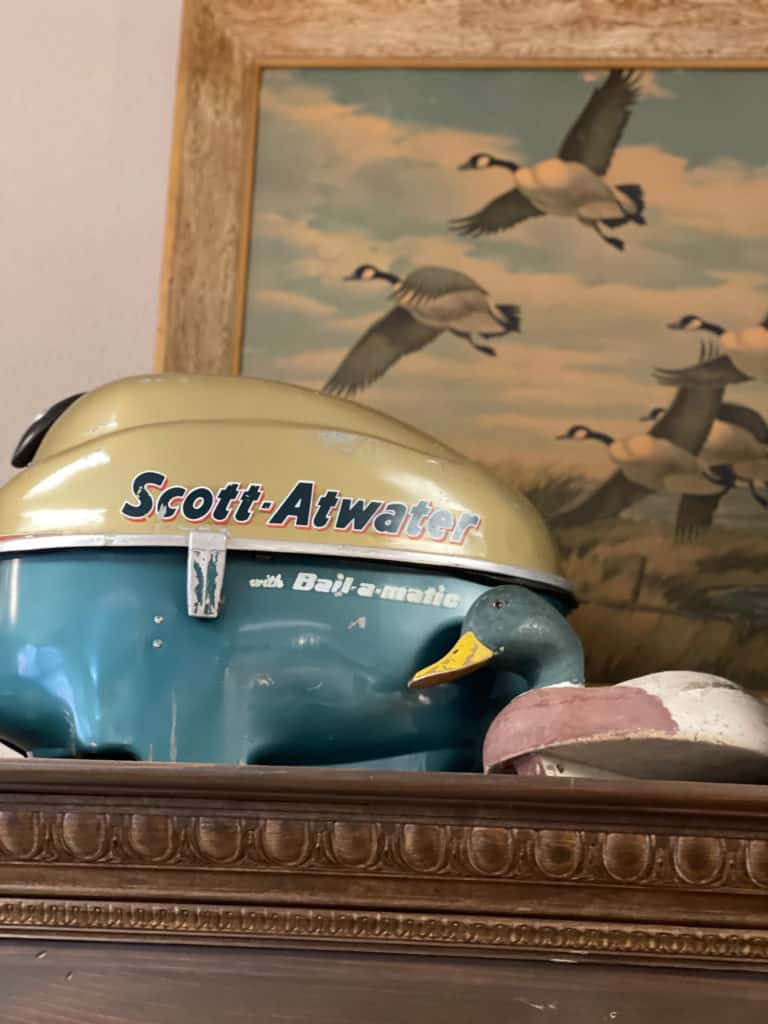 This loon and baby statue is made of concrete. It's the perfect addition to our side porch. Seeing and hearing the loons is one of my favorite things about living on a lake. We interviewed a loon specialist on my podcast (Episode 46) and it was such a great and interesting episode. LISTEN HERE.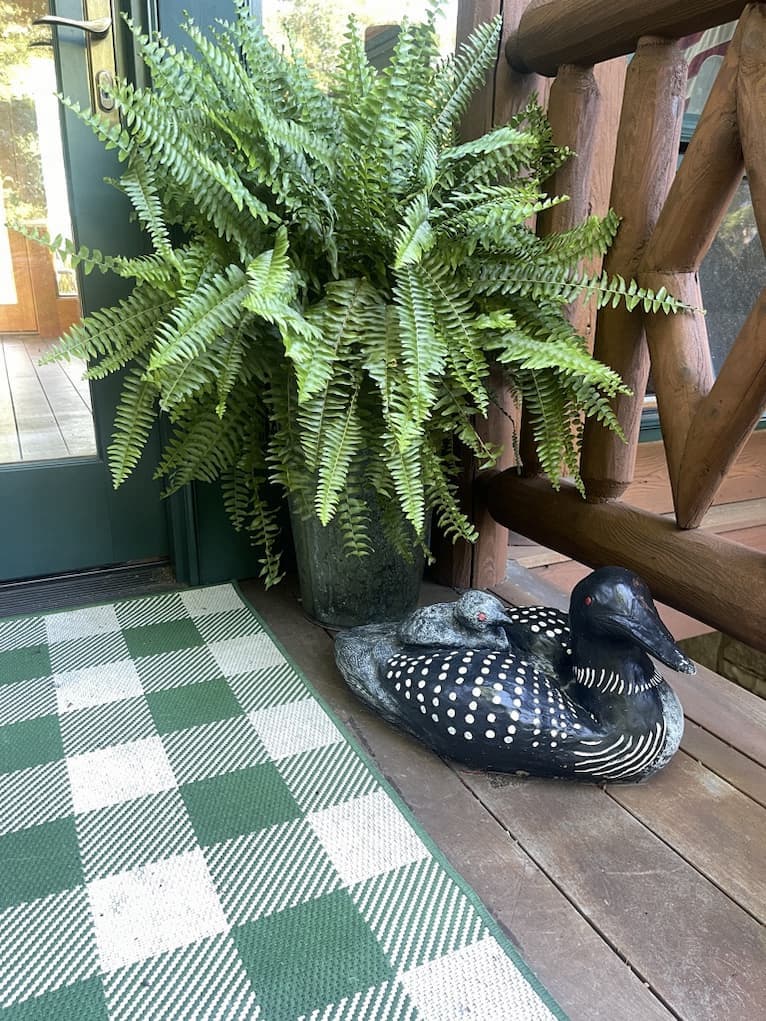 Nautical Rope
I love decorating with nautical rope. I DIYed these candle holders and love how they look in so many different spots in my house. See the full tutorial IN THIS POST.
I also love books about the water whether they are new, like this Criss Craft book, or antique ones.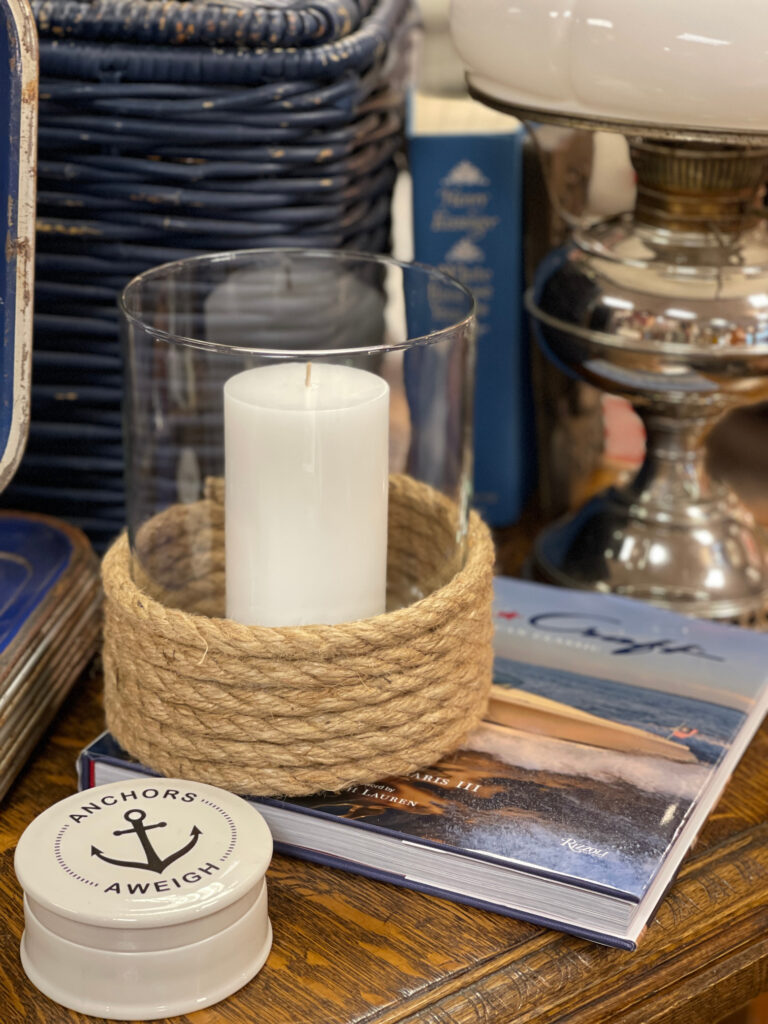 Nautical Flags
Nautical flags are so fun to use. Whether you have them all mixed up or they spell something. They are great as wall art or as a banner.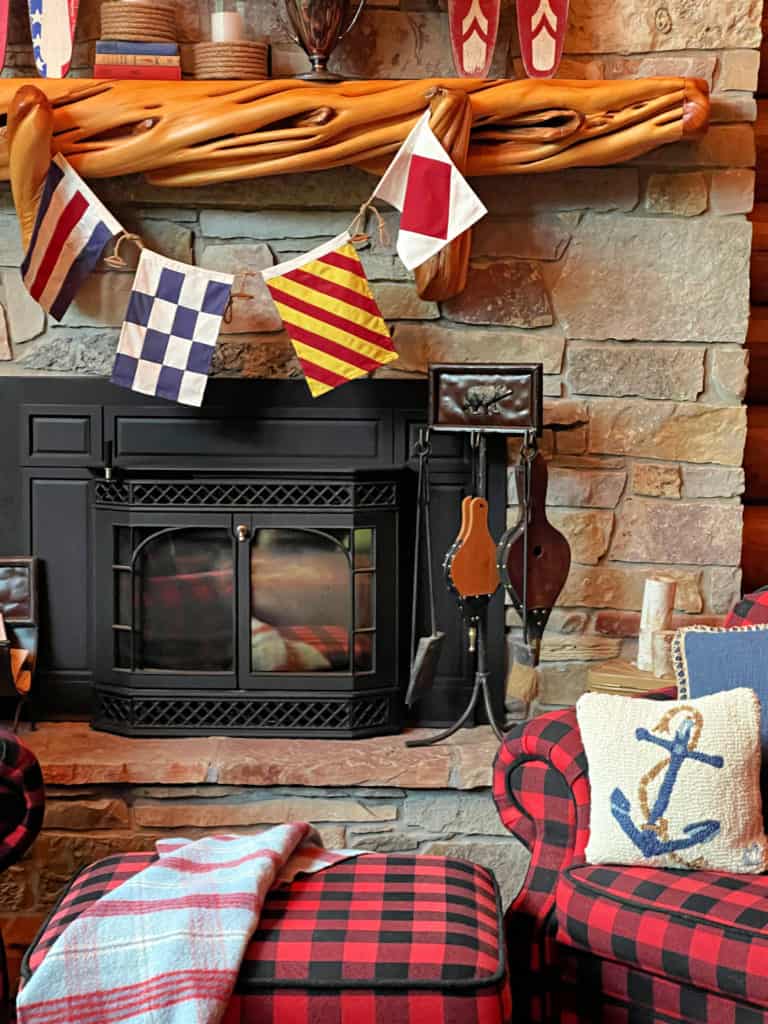 Want to get daily encouragement? SUBSCRIBE HERE so you don't miss any posts!
Paddles & Oars
A Nautical Bedroom
You can just add touches of nautical decor as I have in most parts of my house or seasonally. But you can also take the theme to a whole room like a bedroom, nursery, playroom, office or man cave.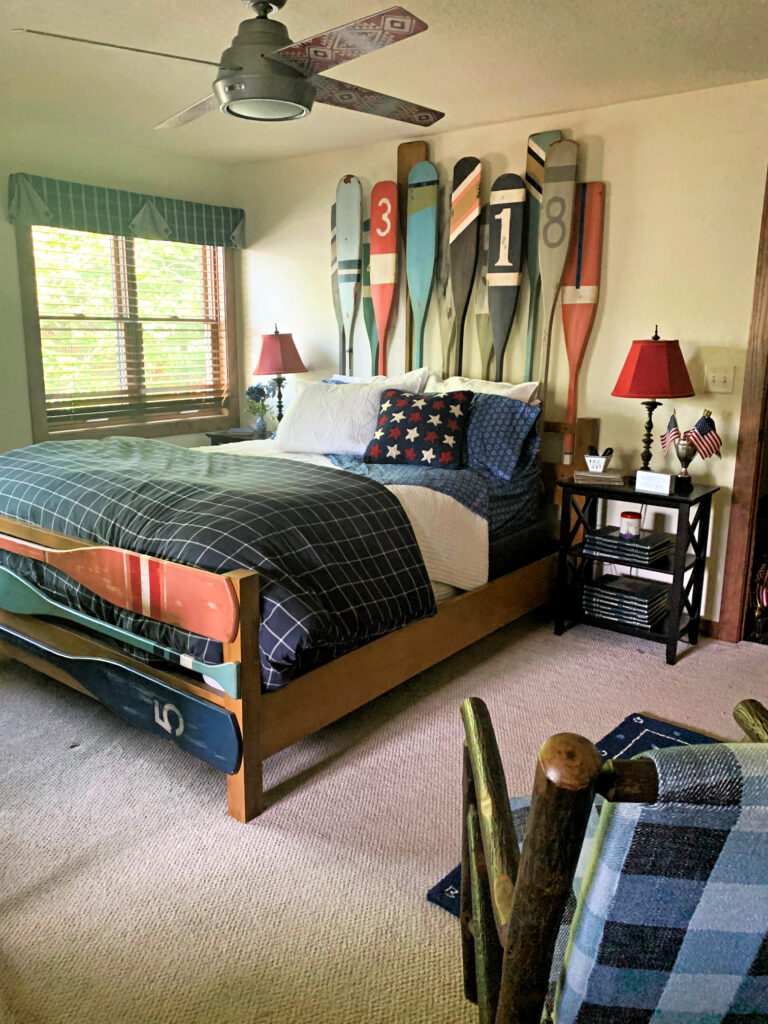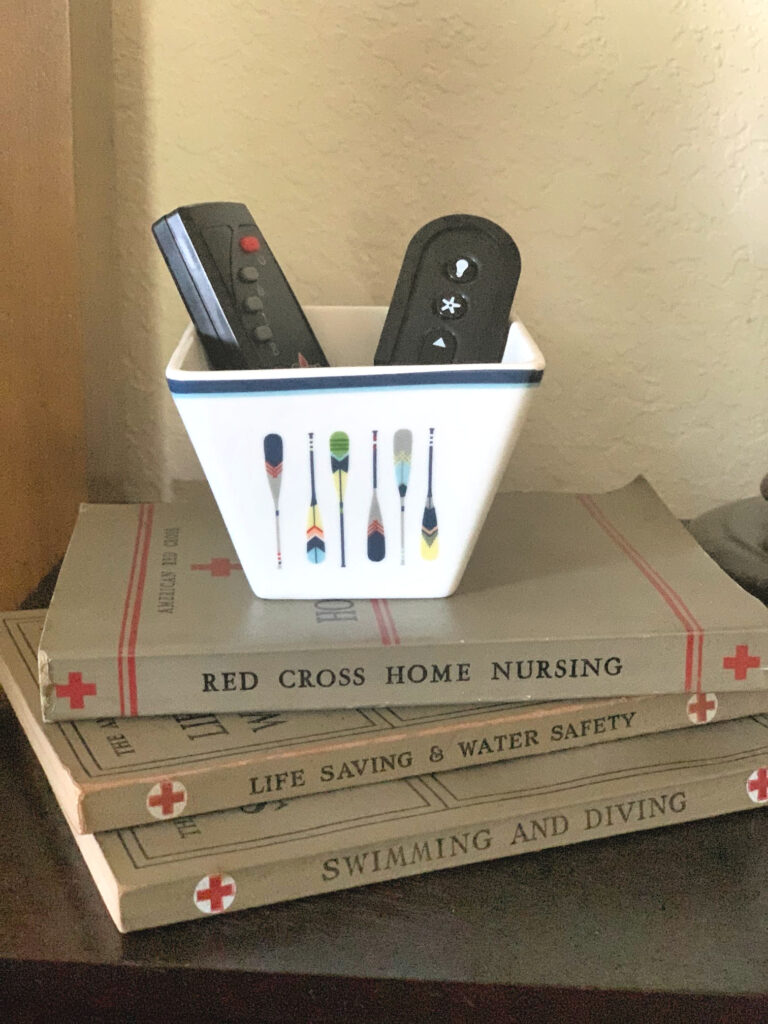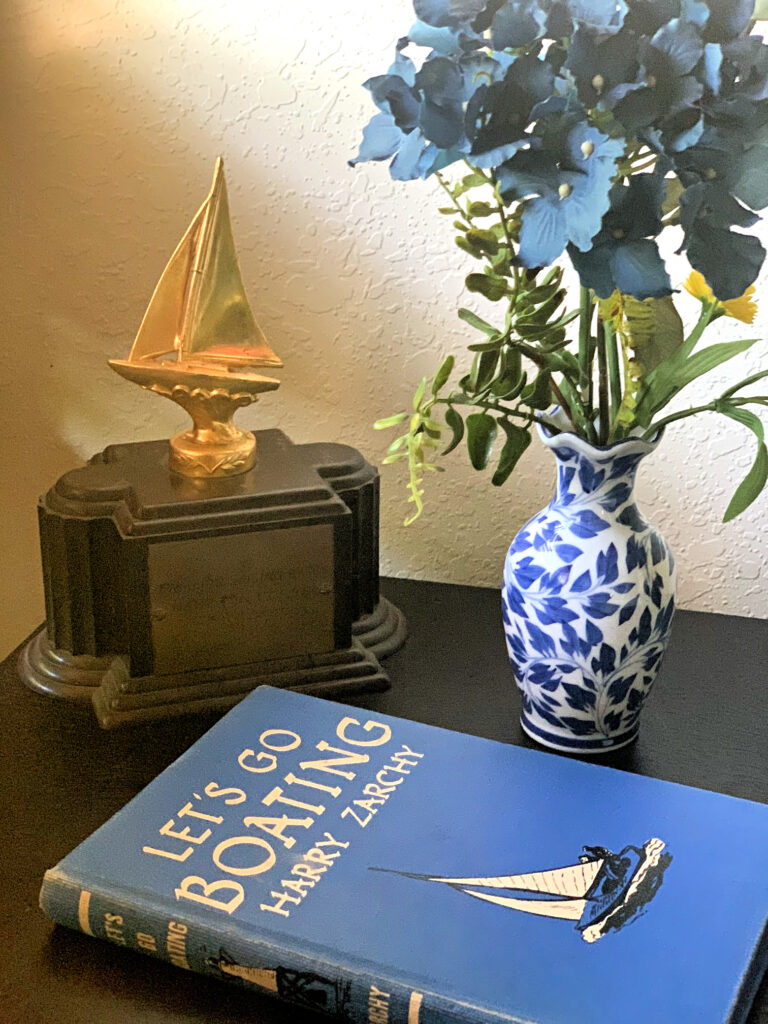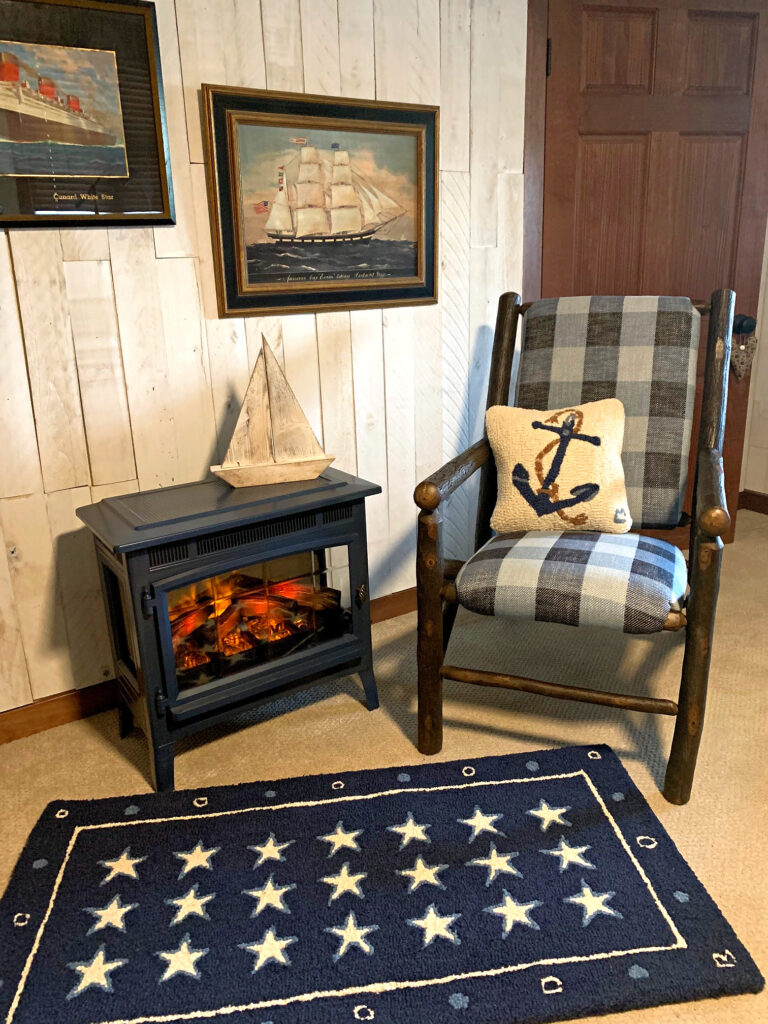 Nautical Bathroom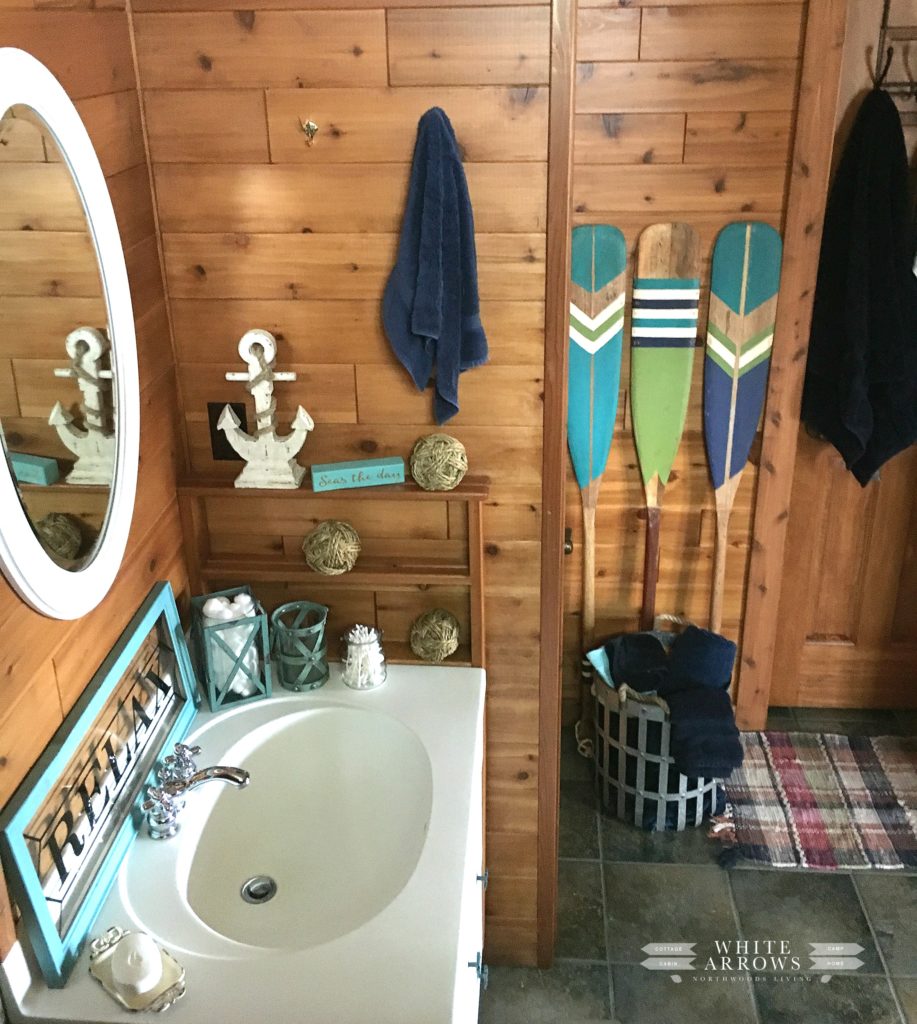 Nautical Porch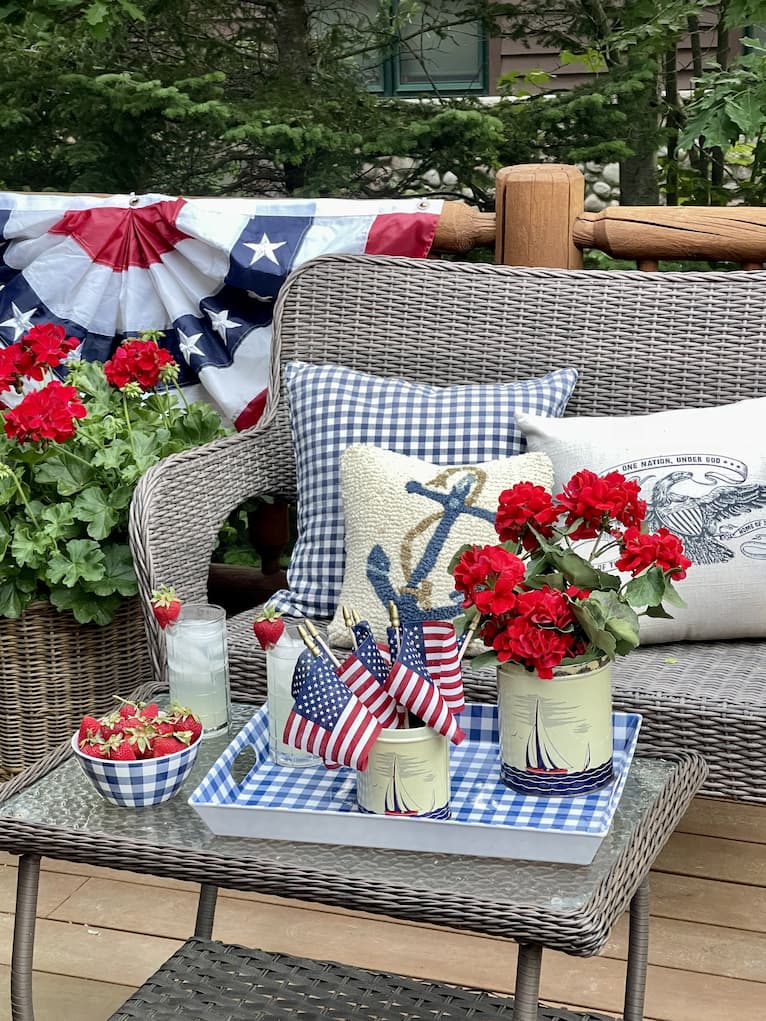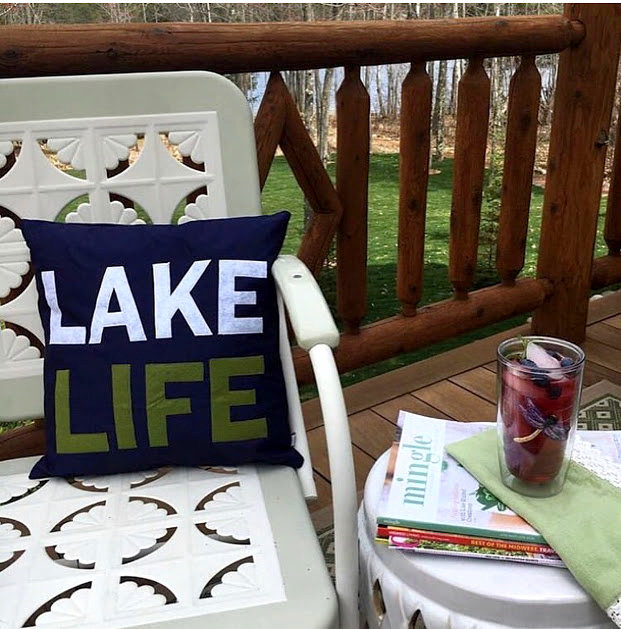 Next up you are headed to the beautiful home and blog of my friend CoCo at The Crowned Goat. She's sharing wonderful budget friendly decorating tips for Summer.
Take the Tour
Follow The Yellow Brick Home ~ Our Southern Home ~ Common Ground ~ The Tattered Pew ~ The Ponds Farmhouse ~ Calypso in the Country ~ Shiplap and Shells ~ Decor to Adore ~ White Arrows Home ~ The Crowned Goat ~ Thistle Key Lane ~ Dabbling and Decorating ~ County Road 407
Get the Look


FOLLOW ALONG
Instagram ~ Facebook ~ Pinterest ~ Twitter ~ YouTube ~ Tik Tok ~ Liketoknow.it