A thrift store find becomes a fun upcycle as a DIY vintage inspired first aid kit box.
It's time for another round of the monthly Thrifty Style Team blog hop of inspiring upcycles, DIYs and thrifty finds. I'm excited to share my DIY vintage inspired first aid kit box. A big thank you to Julie of Redhead Can Decorate and Michelle of The Painted Hinge for hosting!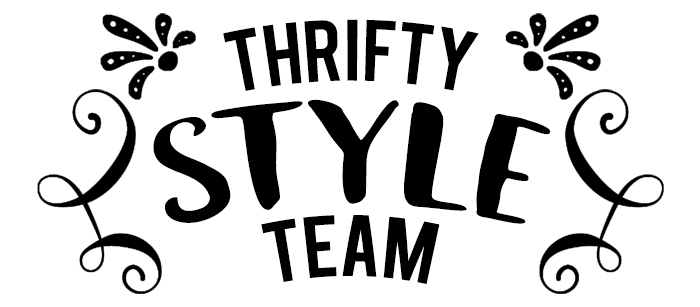 (Affiliate links are used for your convenience. Read my full disclosure here.)
You may be coming over from my friend Lora's at Lora B Create & Ponder. She's my talented "neighbor" over in Minnesota. I love seeing her projects! I'm always so inspired. For a full list of all participants and links see the bottom of my post.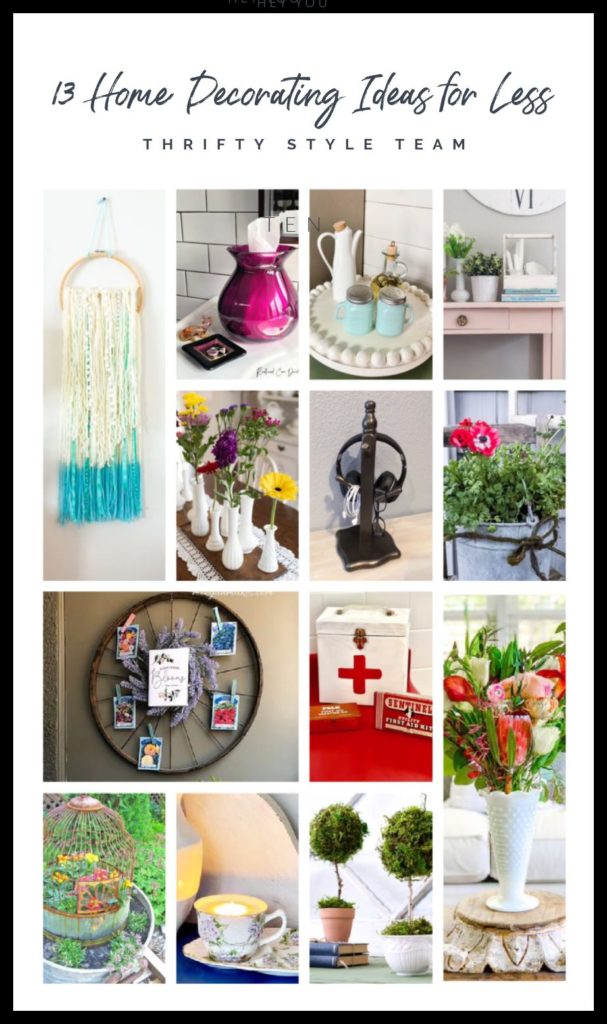 Now welcome to our lakeside log cabin home, Camp Paradise. We live in The Northwoods of Wisconsin.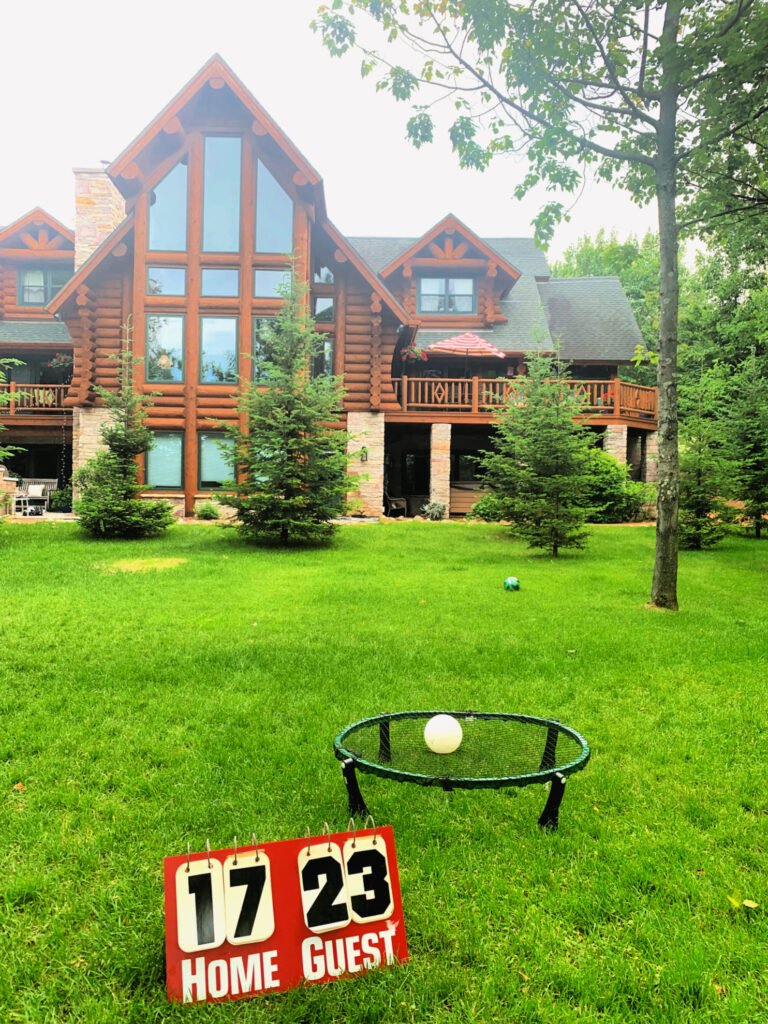 The DIYs I choose are always Simple + Quick + Inexpensive. This project was under $20, and only used one new object and some supplies I had around the house. Finishing this DIY took under half an hour.
Last month's Thrifty Style Team project is still a favorite recent craft and this month's is one too.
Each Wednesday on Instagram I join some friends for #thriftingwiththegals and we share in our stories our adventures to antique shops and thrift stores. A few weeks ago I saw this green cardboard box for $3 with a lucite handle and I had a fun idea to give it new life.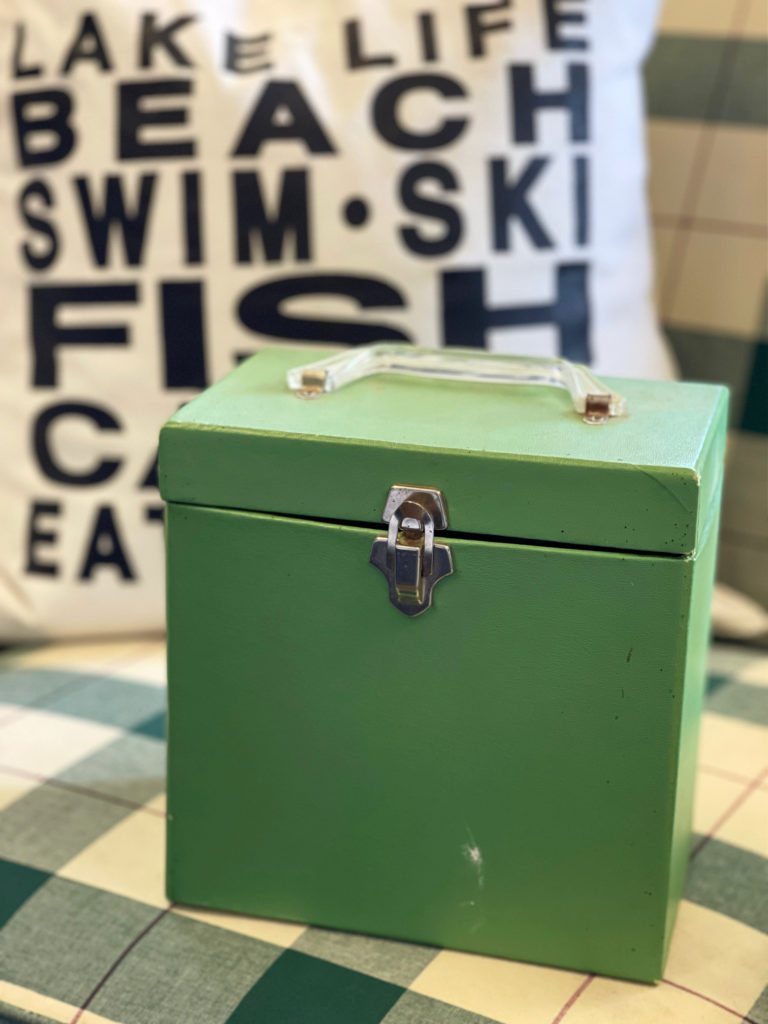 Our basement bathroom off the bunk room is decorated with a scouting theme. My inspiration was this shower curtain. I bought it six years ago on a trip to Nashville.
My dad gave my sister and me a trip anywhere we wanted to go with him for Christmas. We picked Nashville. We had so much fun! One of the days we drove to Franklin, I couldn't wait to check out the antique shops. In one of the stores I found this great shower curtain.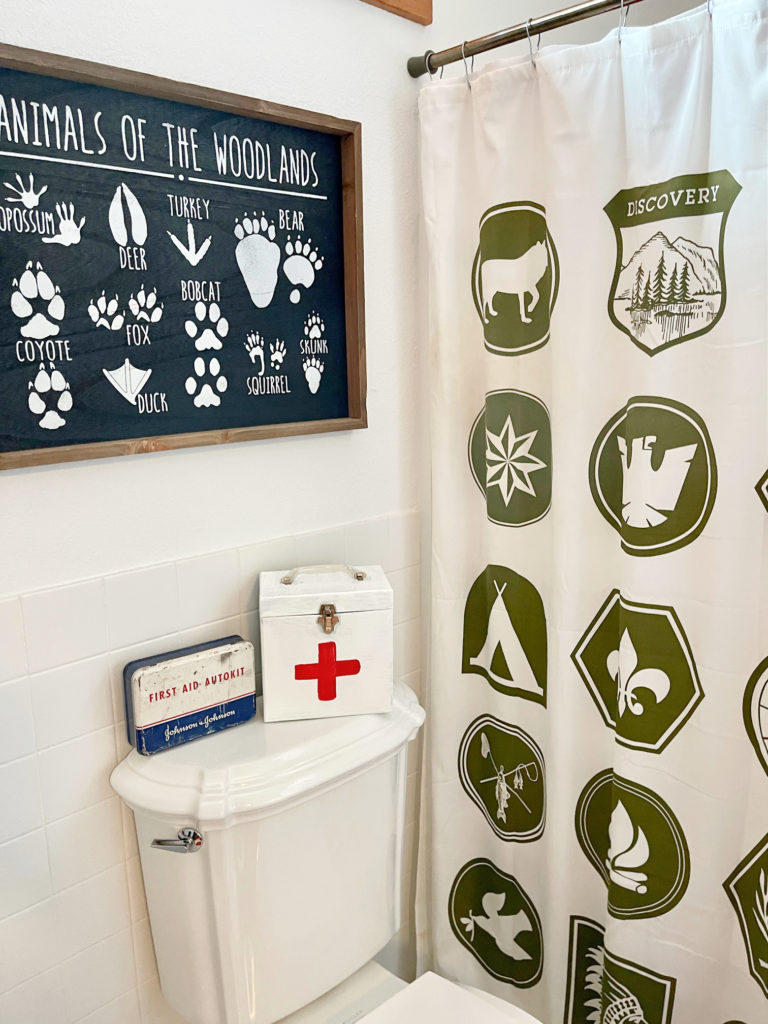 We are the second owners of our cabin. The white cabinet with the red top and the red and white floor were already there. So were the cute moose knobs on the drawers and cabinets.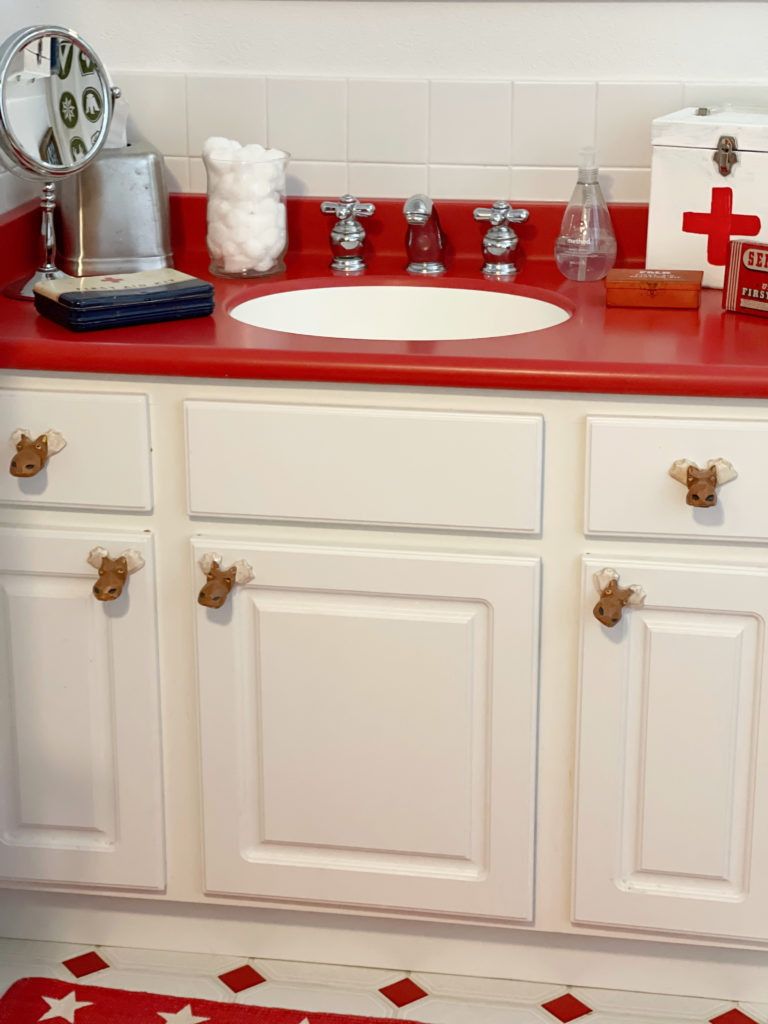 I collect vintage first aid kits and decided to display them in this bathroom. Several are lined up in the tall window ledge. Some I keep on the vanity.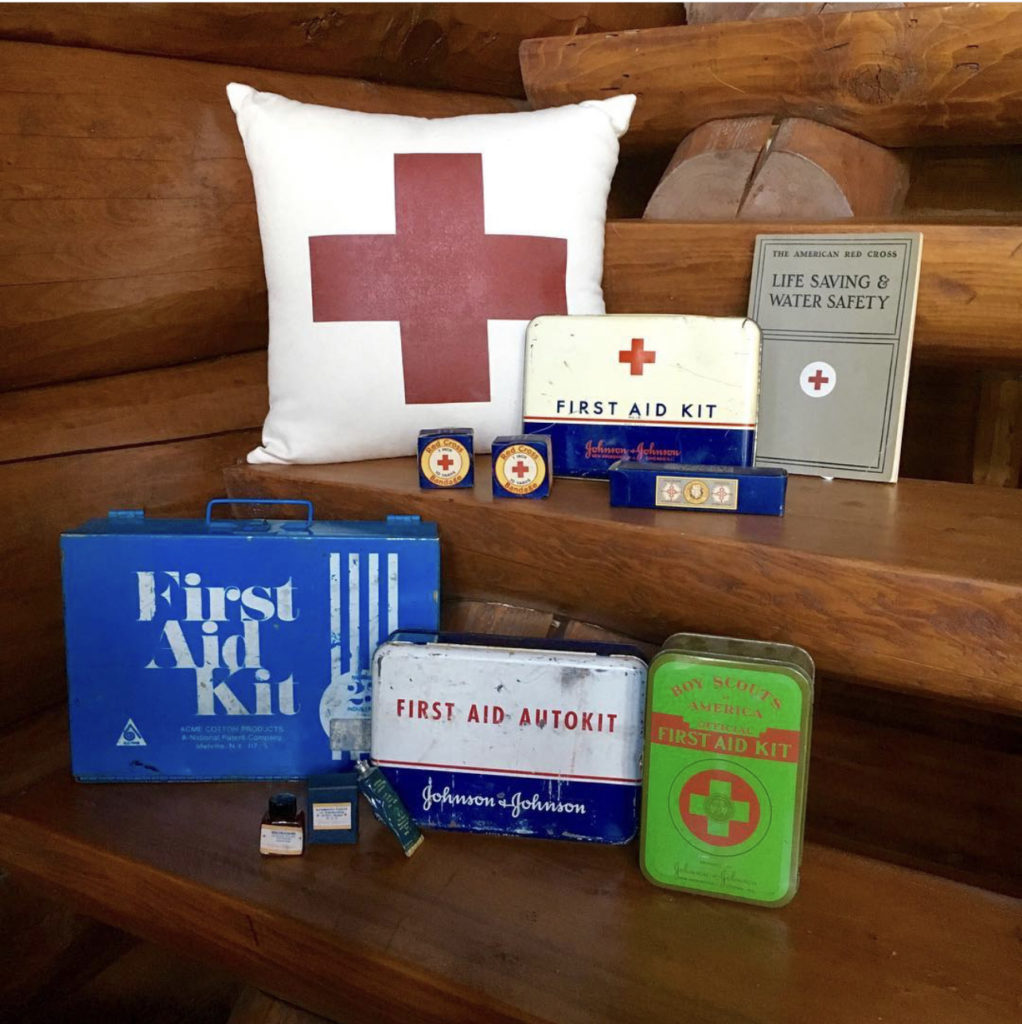 So I grabbed some red and white craft paint and some paint brushes from our our craft cabinet and got to painting.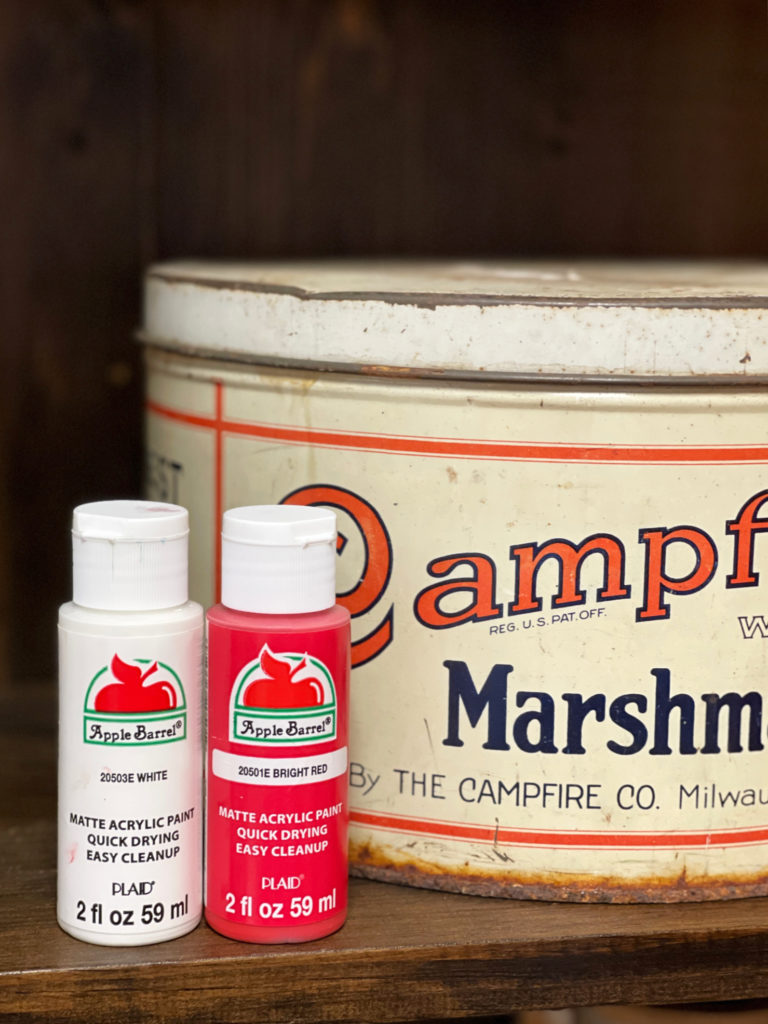 I used a big sponge brush to cover the box with white paint. I kept space around the handle and hardware.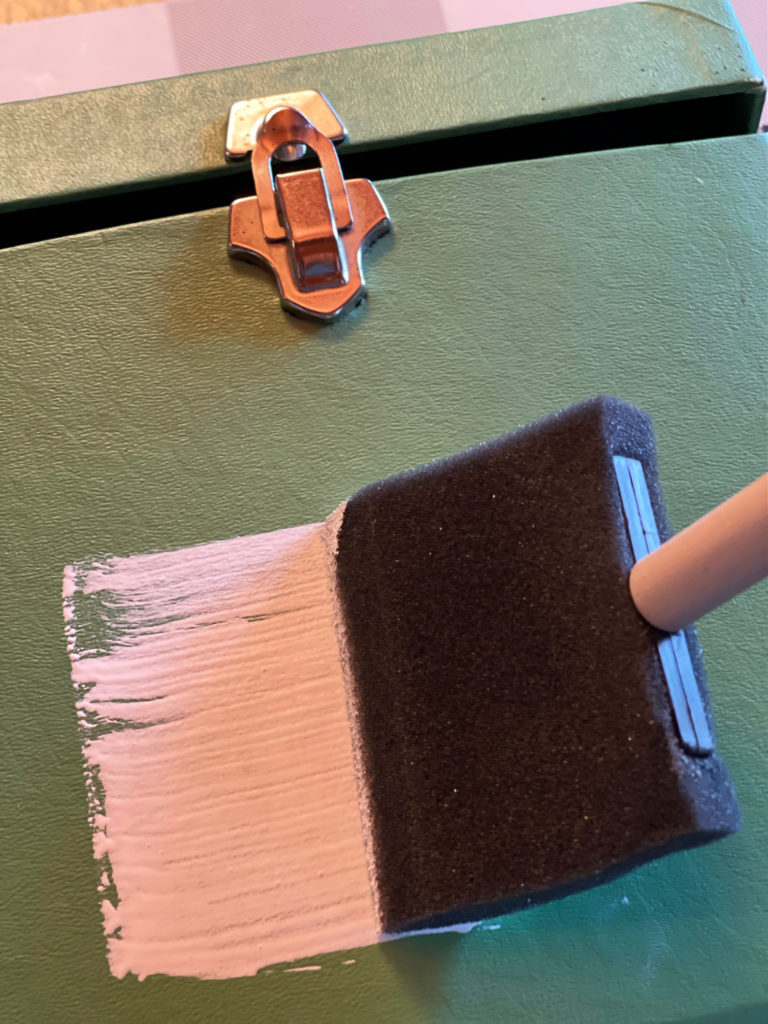 Then I used a small paintbrush to paint around the details.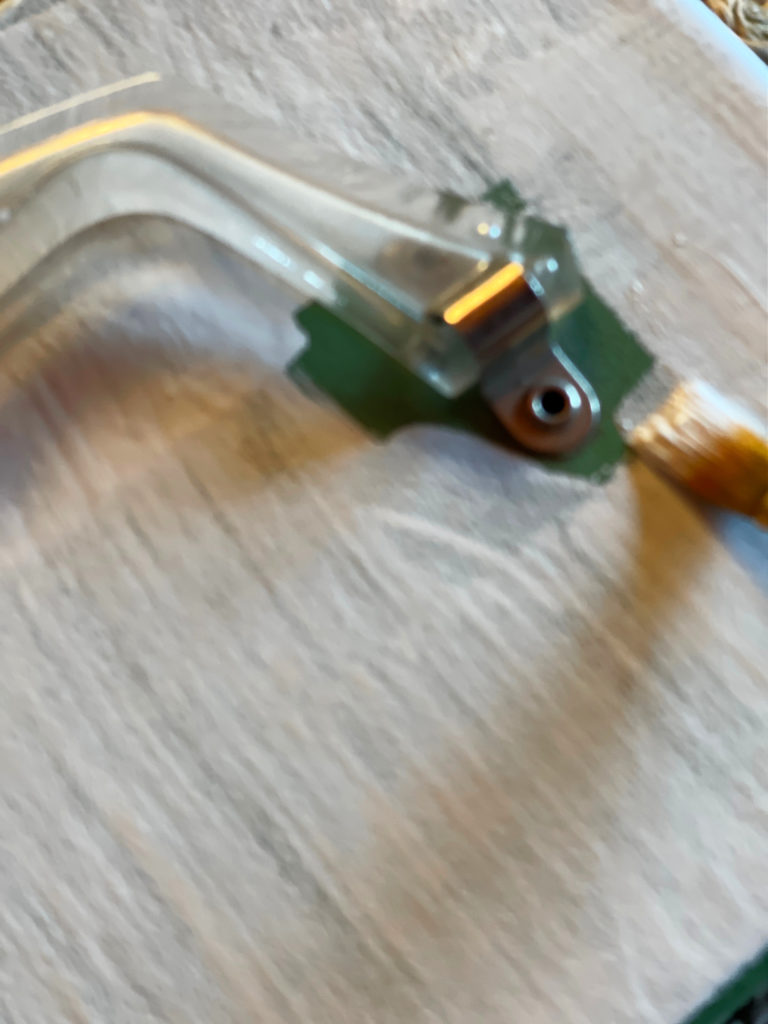 I freehanded a red cross with a wider paintbrush. You could easily make a stencil if you are worried about free handing the design.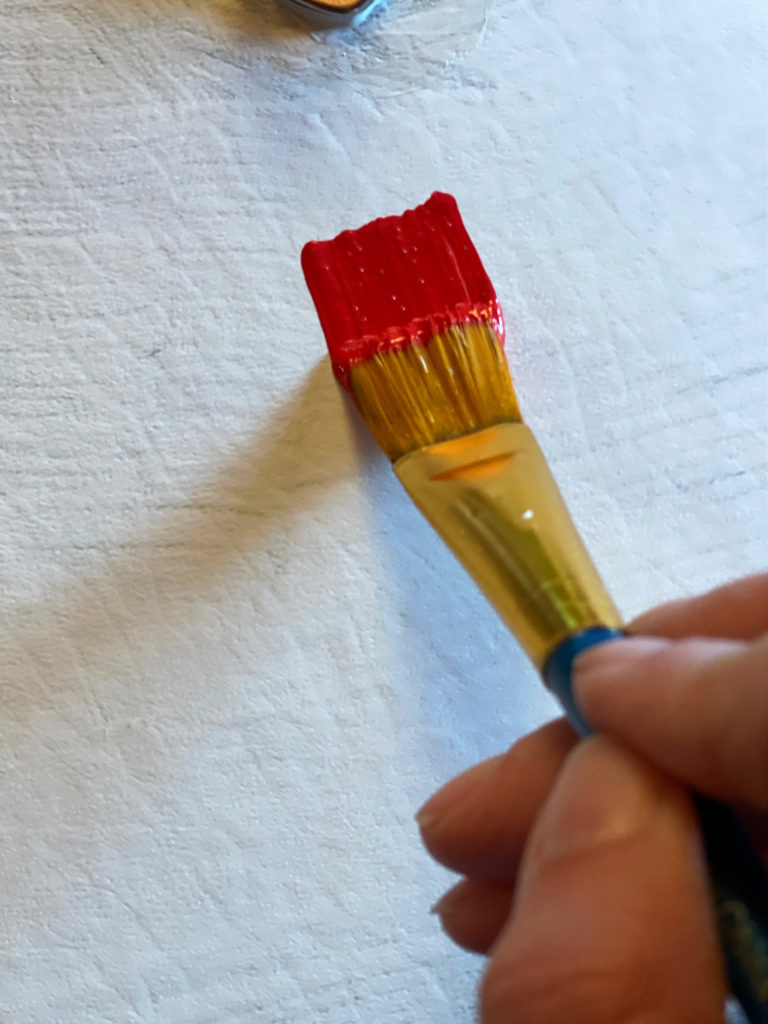 The finished first aid box fits in so well with my collection and decor. It's great for extra storage too.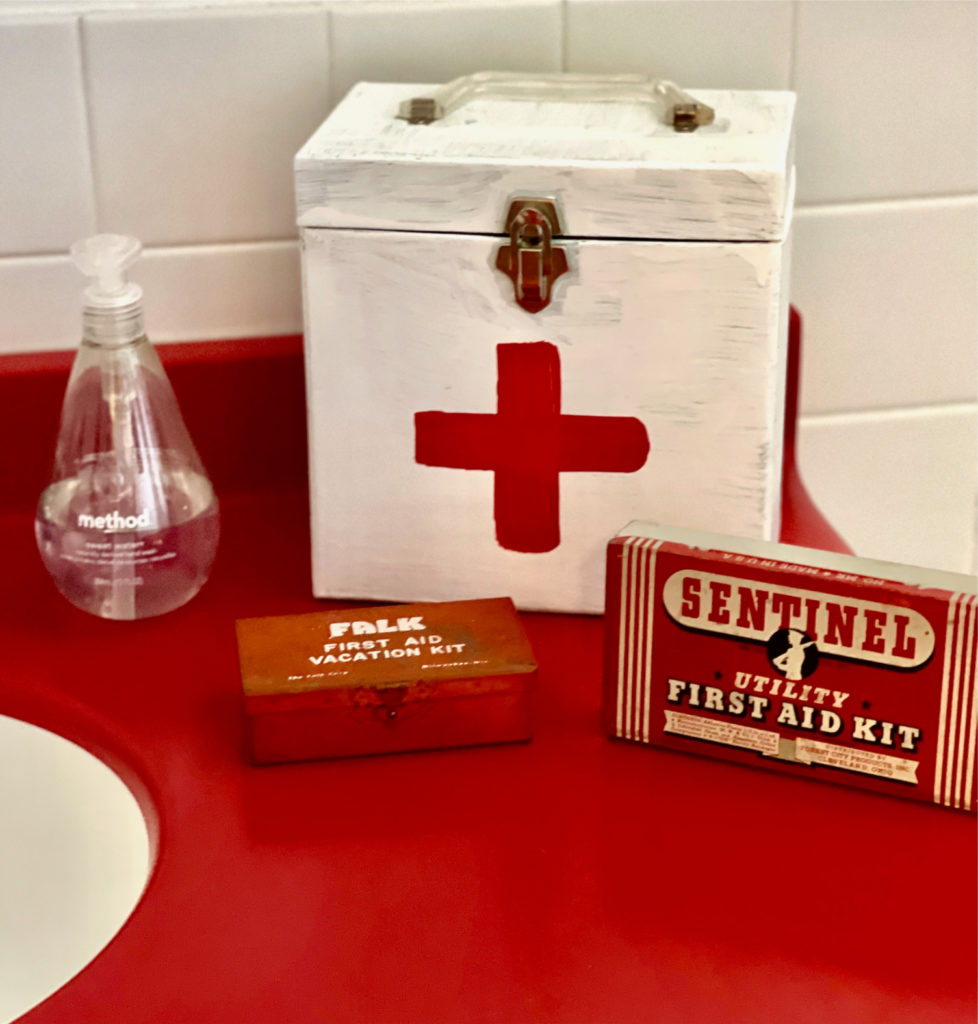 I always love to keep accessories in the bathroom that make you feel a little pampered like a makeup mirror, a jar full of cotton balls, a box of kleenex…
In each bathroom of the cabin we also have one drawer we keep extra travel size toiletries in case guests forget something. They don't have to stress, ask or take time to run to the store when they could be on the lake. They can just take what they need from the drawer.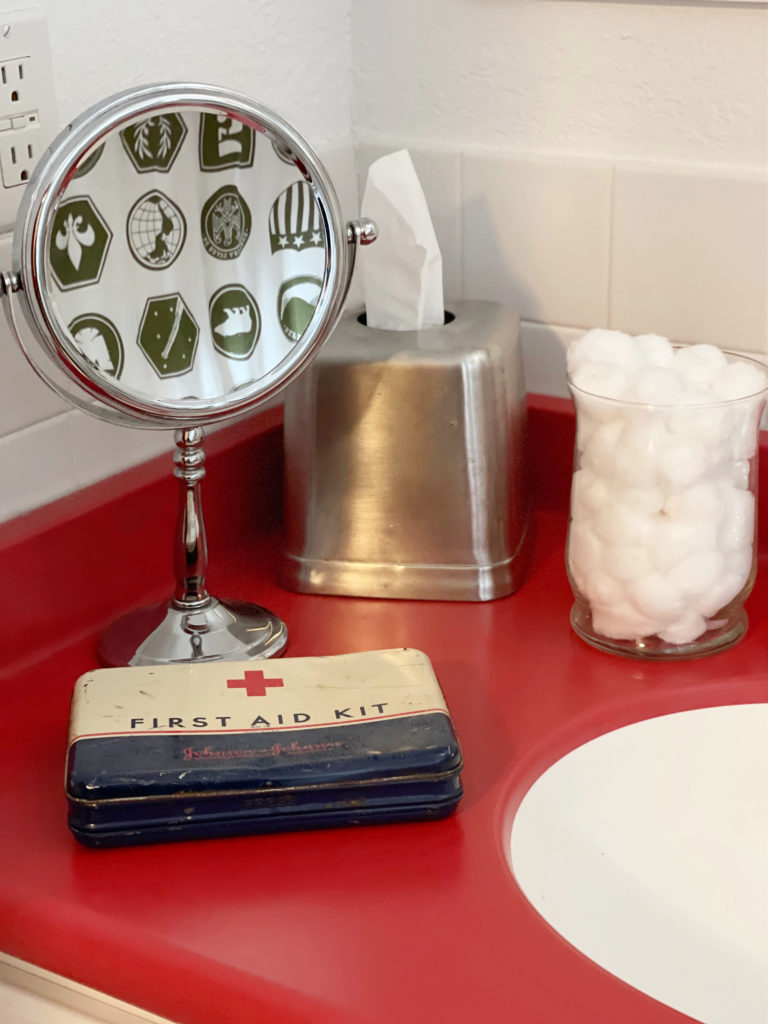 I picked up two red rugs with white stars on them from Hobby Lobby. The Animals of the Woodlands sign is from Hobby Lobby too.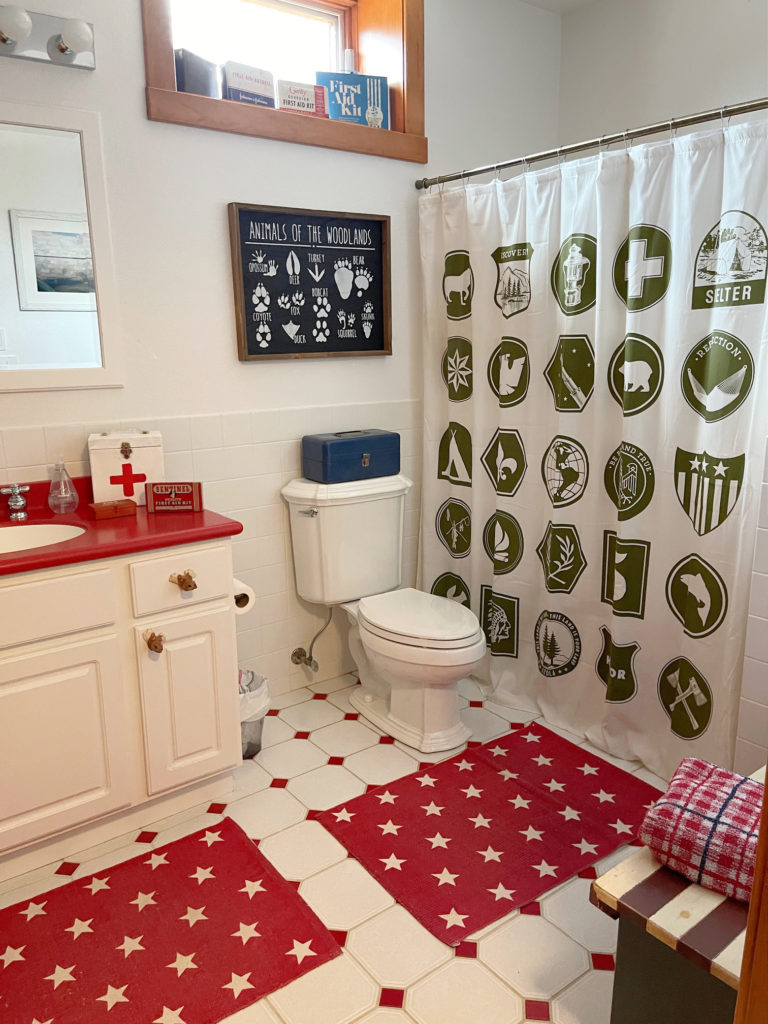 The American flag bench works great to store towels on the shelf and hold items for guests using the bathroom. I got the bench for a wedding shower gift. My girlfriends threw a party where everyone who came was given a month and had to give a gift inspired by the month. It was such a fun idea for a party. I got so many great gifts, like this bench from who had the month of July.
Other Posts to Enjoy
Flower Arrangements in Vintage Containers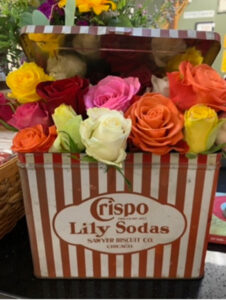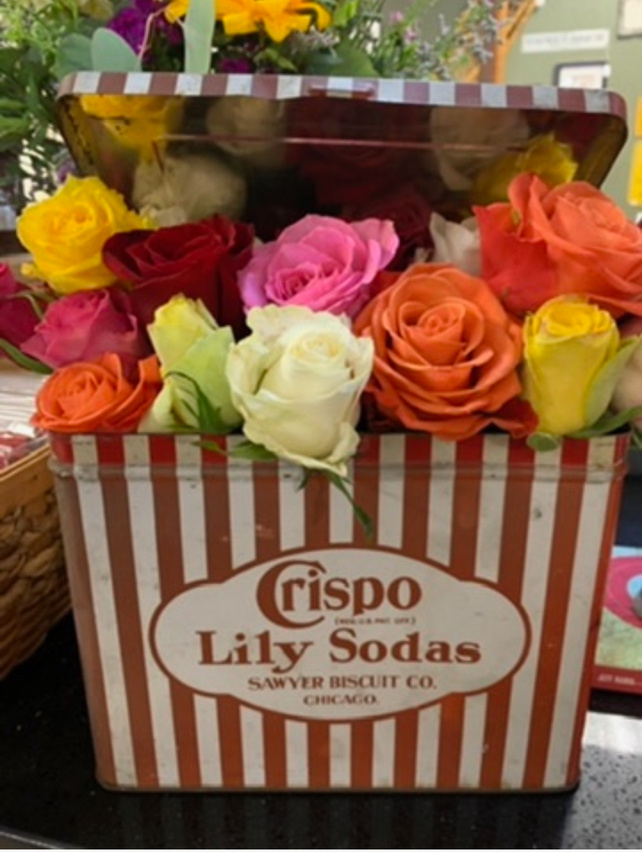 Use Your Vintage Treasures as Sidetables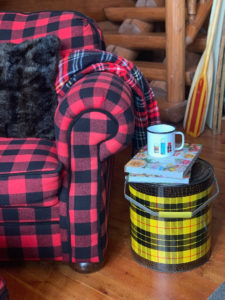 Wall Mural From Vintage Fishing Ad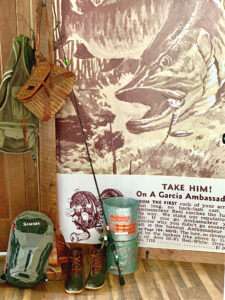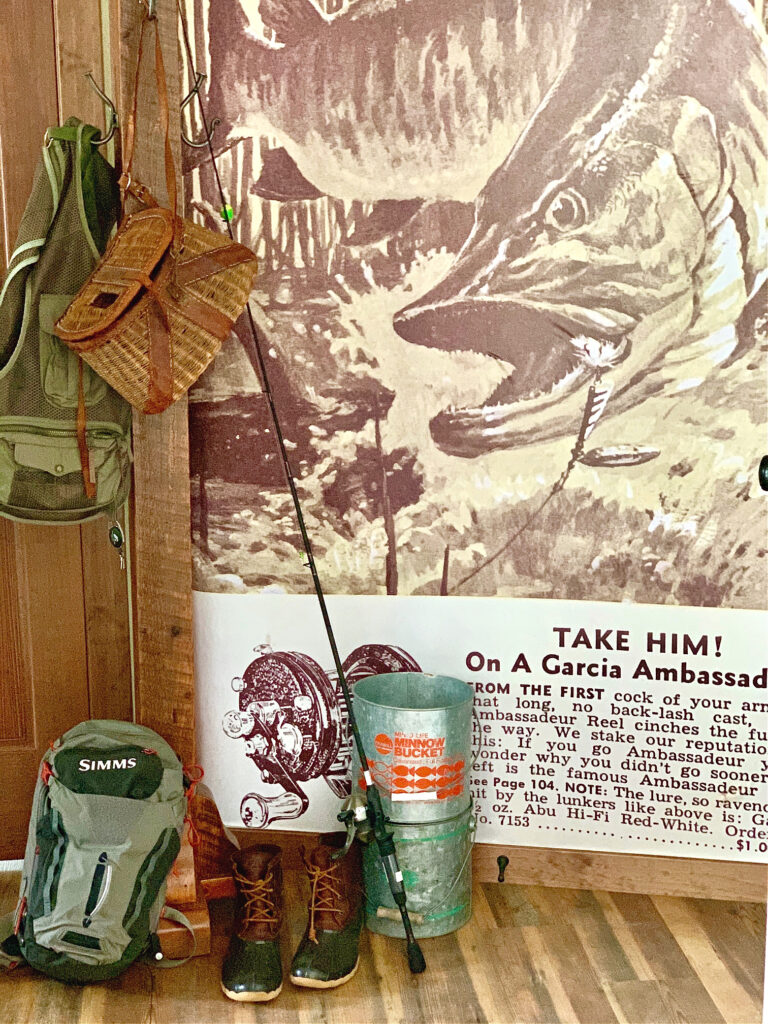 Project Supplies
Next, you are headed over to Our Crafty Mom. I find so much inspiration from Michelle's posts and I know you will too!
Take The Tour
Get the Look
FOLLOW WHITE ARROWS HOME


Instagram ~ Facebook ~ Pinterest ~ Twitter ~ YouTube