Decorating Home Office Spaces in my Fall Home Tour of Beautiful Work Spaces and Desks.
One of my favorite spaces to decorate are desks. I love styling them to look beautiful in a room when they are not being used and making them an inviting spot to want to sit and work.
Often I work sitting at the dining room table or in my favorite buffalo plaid chair by the fireplace, but I also love to do certain things at a desk like write a letter or sit and type a blog post while looking out at the beautiful views out of our windows.
I'm so excited to be joining my Marty of A Stroll Thru Life for another Fall Home Tour, today sharing beautiful work spaces and desks! Marty's tours are one of my favorite's for all the inspiration they give each season! There are 28 blogs participating this Fall over five days and you can find links to all their posts at the bottom of the page.
(Affiliate links are used for your convenience. Read my full disclosure here.)
If you are coming over from my friend Kim's blog,Shiplap and Shells, welcome to our home in The Northwoods of Wisconsin. Didn't you love the ideas she had for saving time and money. I always get so much inspiration from Kim!
Living Room Desk Decor
One of my favorite desk spaces is in our Great Room. Just under the stairs I have a book case made from an antique boat and a desk with a leather wing chair.
The desk was originally a vanity that I took the mirror off.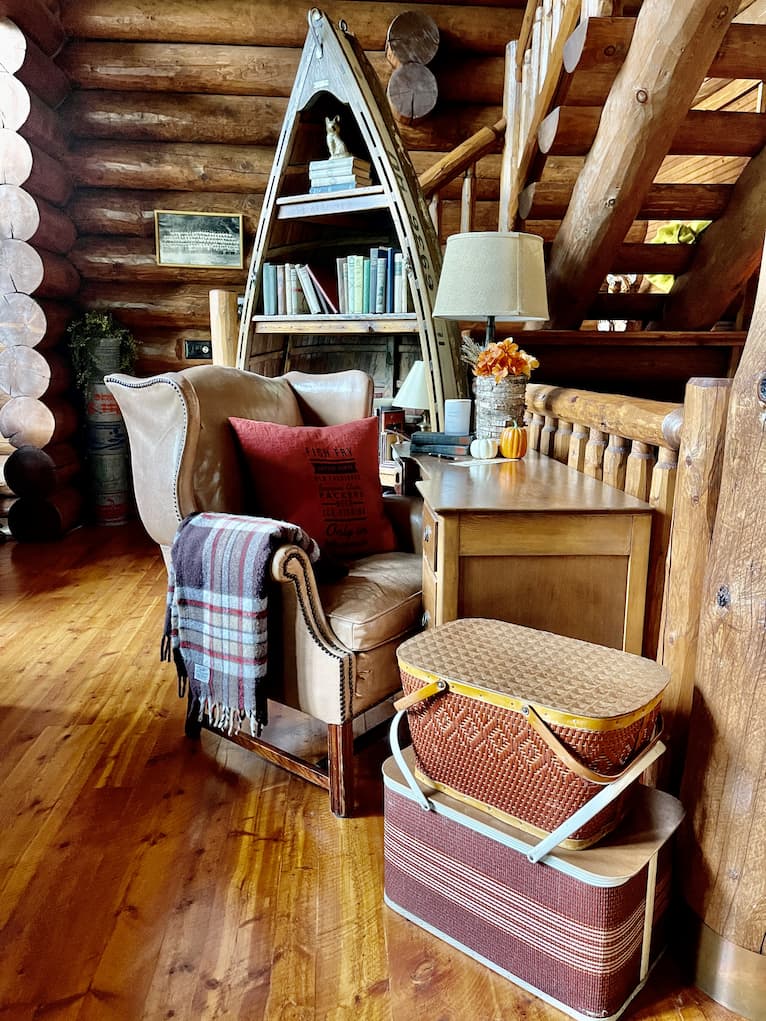 Seasonally I change the color of the vintage picnic basket stack at the end of the desk (this Summer I had green). I also change the pillow in the chair and the blanket to colors for the time of year.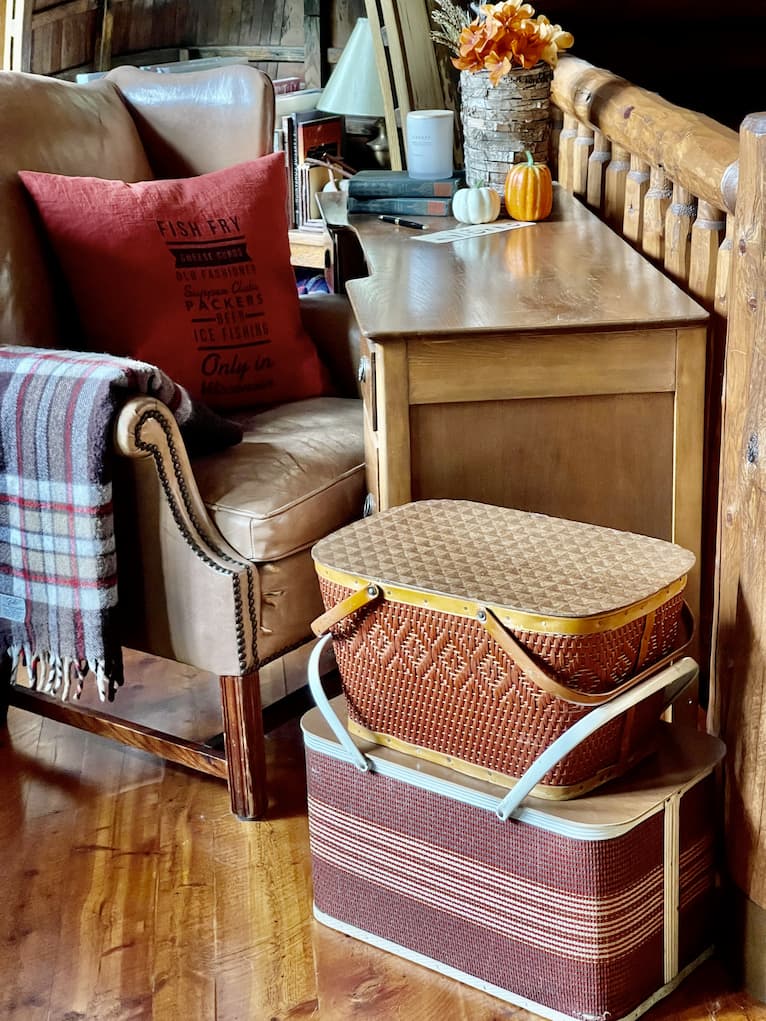 Wisconsin is a special place and this pillow sums up many of the reasons why.
This old wing chair was a favorite find years and years ago. I found it in a favorite antique shop, The Harp Gallery in Appleton, Wisconsin. It reminded me of the one my grandfather sat in when I was a little girl. I would sit with him in the early evening and eat hard pretzels out of a Charles Pretzel tin.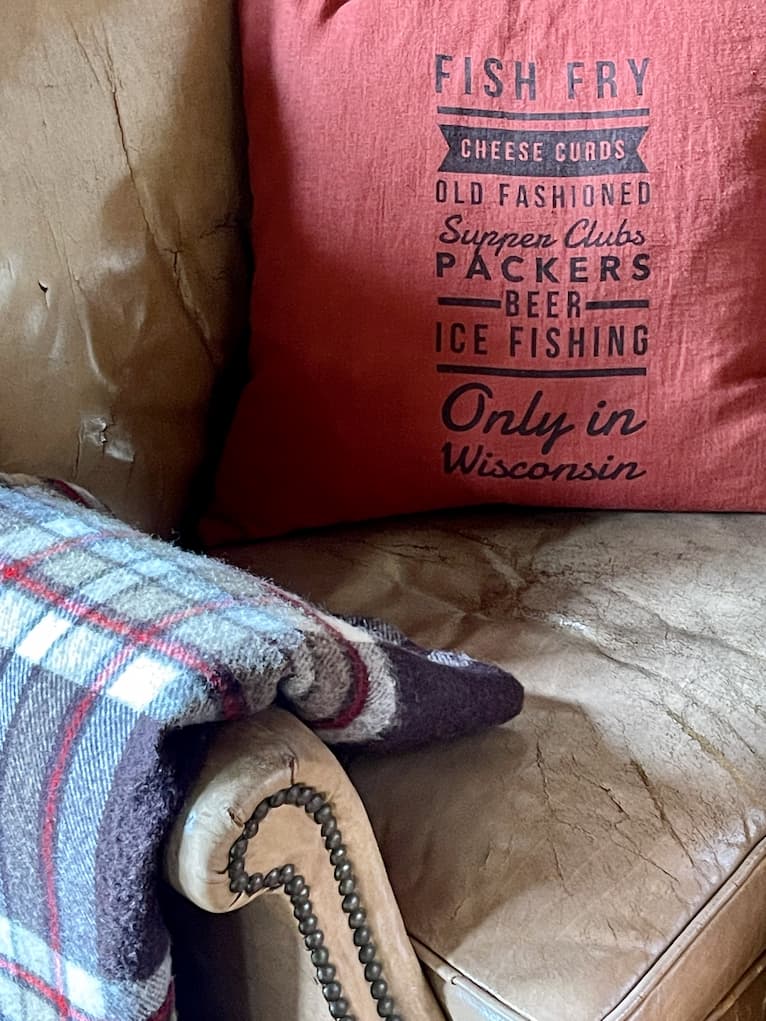 On the corner by the lamp I added a few touches of Autumn with some Faux floral flowers in a birch vase and some little pumpkins.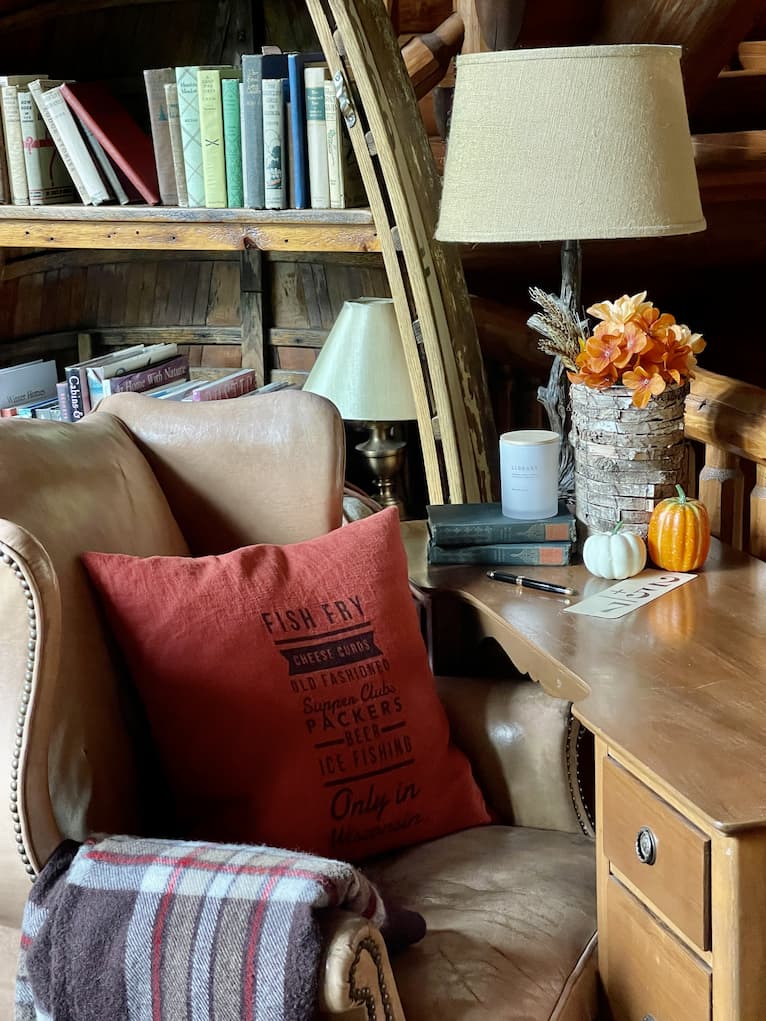 Decorating a Small Desk
In my bedroom I had a small wall outside our closet that I set a small desk at. It's the perfect spot for the warm light of a Tiffany style lamp.
One of my favorite totes from Duluth Pack holds my current projects and books. I carry Duluth Pack in my shop and love all the styles! SHOP HERE.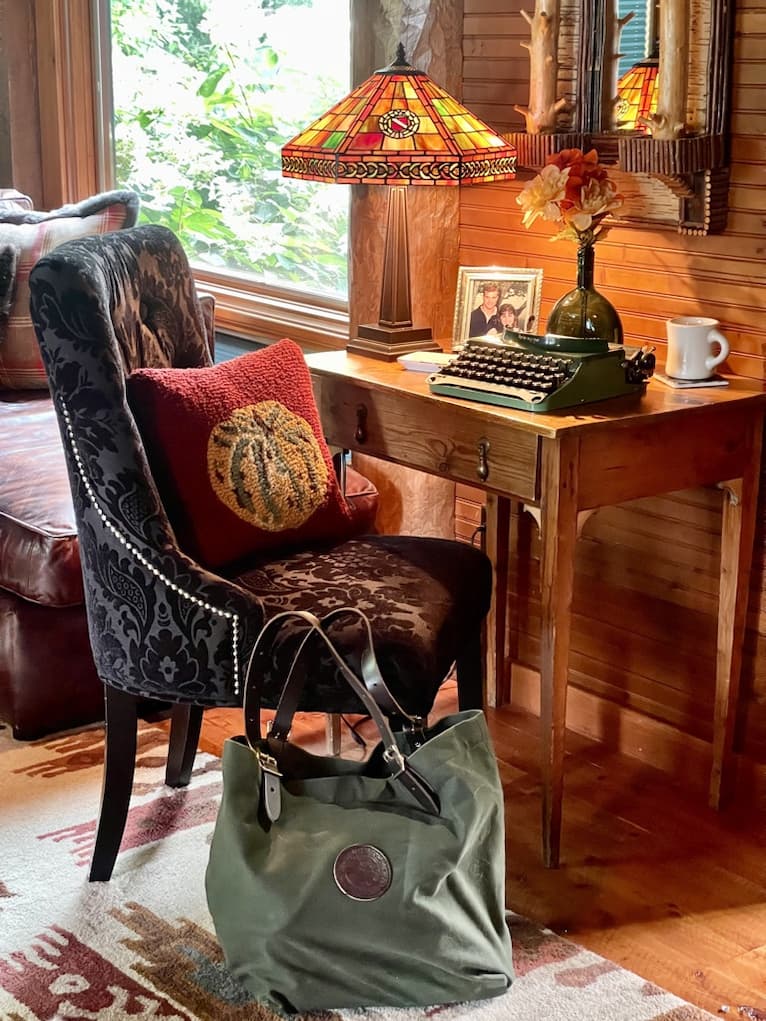 I love old typewriters and this little green one is a favorite.One of my customers just shared with me that Tom Hanks is a collector too and recommended a book he wrote, Uncommon Type. I just ordered it and can't wait to read it!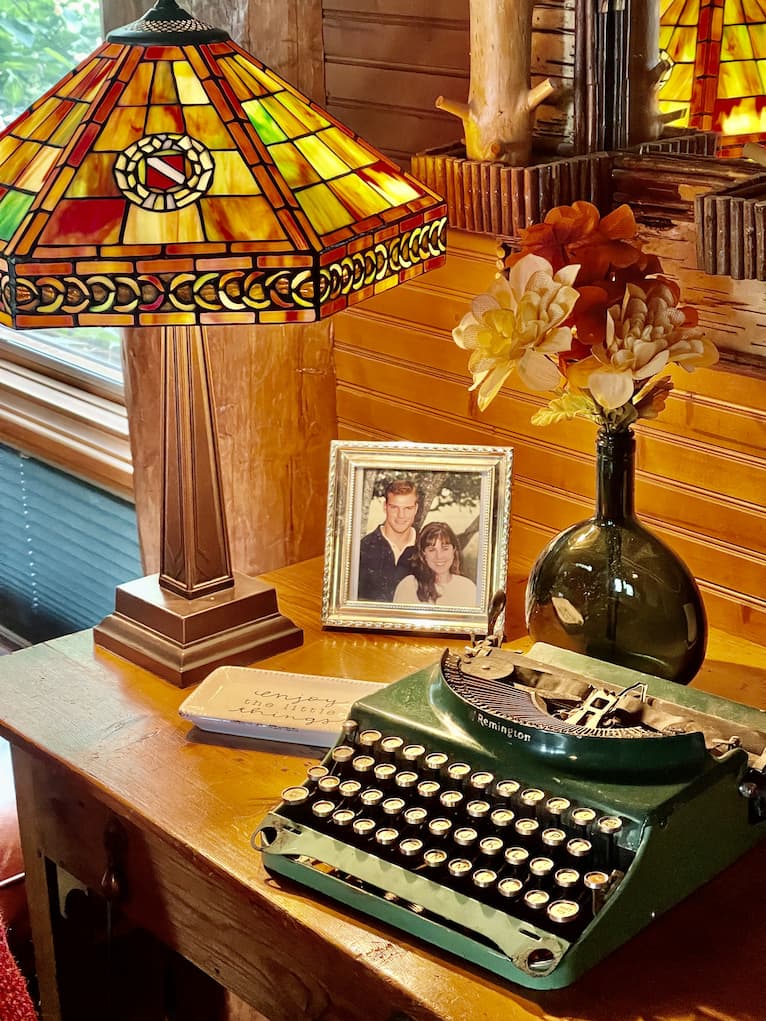 Another collection I have is green glass vases. I set one on my small desk with some faux Fall florals in it.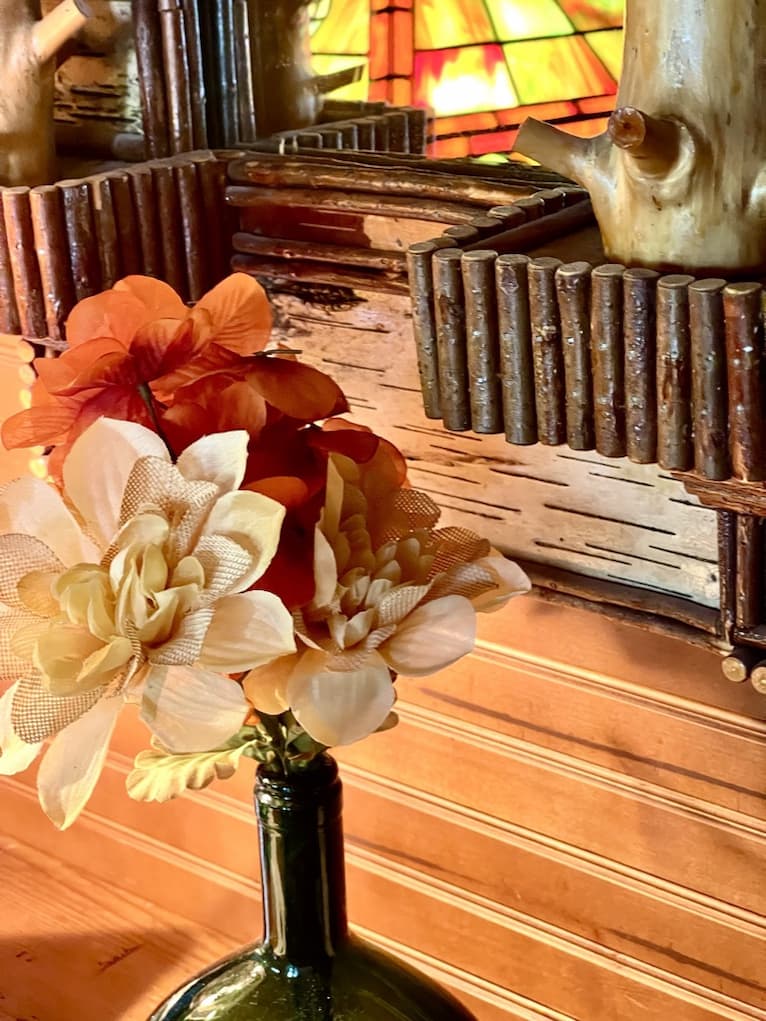 I added a Fall needlepoint pillow to the chair. Just two simple touches- the florals and the pillow give enough Autumn vibes without over doing it.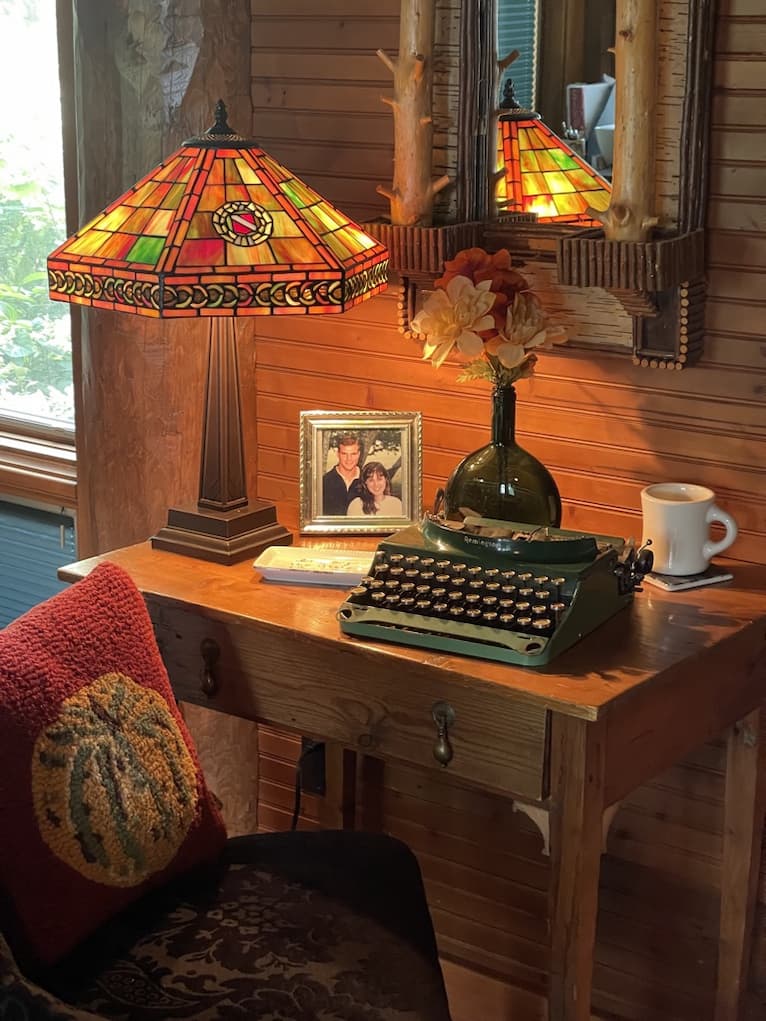 A sweet little tray a follower gifted me sits on the desk too with a great reminder! I've been stopping once in a while throughout the day lately and counting up to ten things I'm thankful for in that moment. It takes only a few seconds and keeps me focused on the positive and the blessings.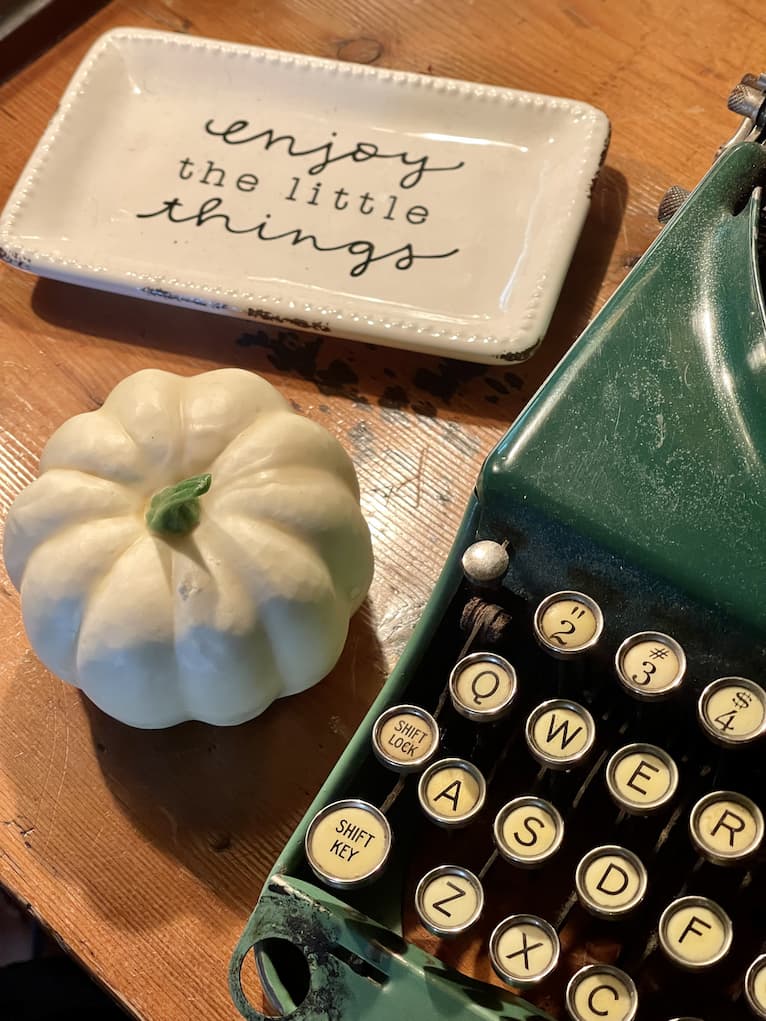 Teen Girl's Desk Decorated For Fall
My daughters and I have lots in common and I have so much fun with them! My oldest is decorating her first house and it is stunning! She has such amazing ideas!
Her younger sister, my sixteen year old loves to decorate too and this is the desk in her room. She loves to do her homework here and moves the typewriter out of the way when she starts, but like me, she loves to have the desk organized and styled when she's not sitting at it.



A sweet little McCoy pot sits full of white pumpkins next to her typewriter and Bible Verse display.


Her room is decorated in khakis, blues and whites and is so classy and cute! Follow along for more future tours and peeks of her sweet room.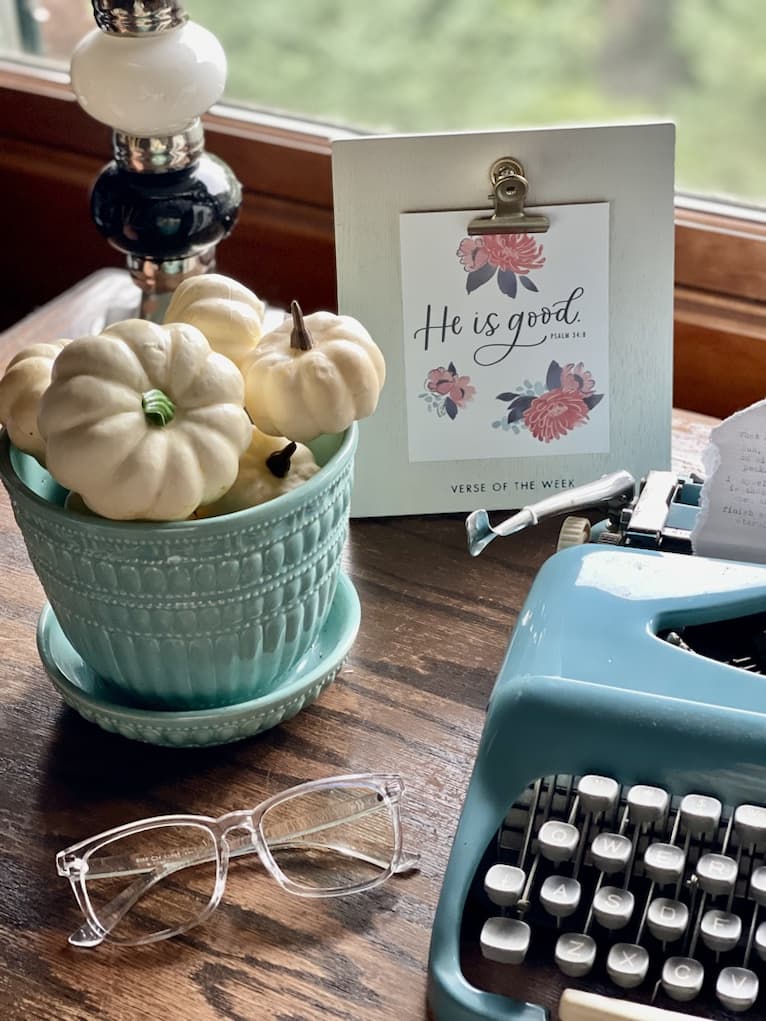 Her friends know her well. Last year for her birthday they gifted her this vintage pitcher full of pens along with a gift certificate to the book store. It was such a special gift idea!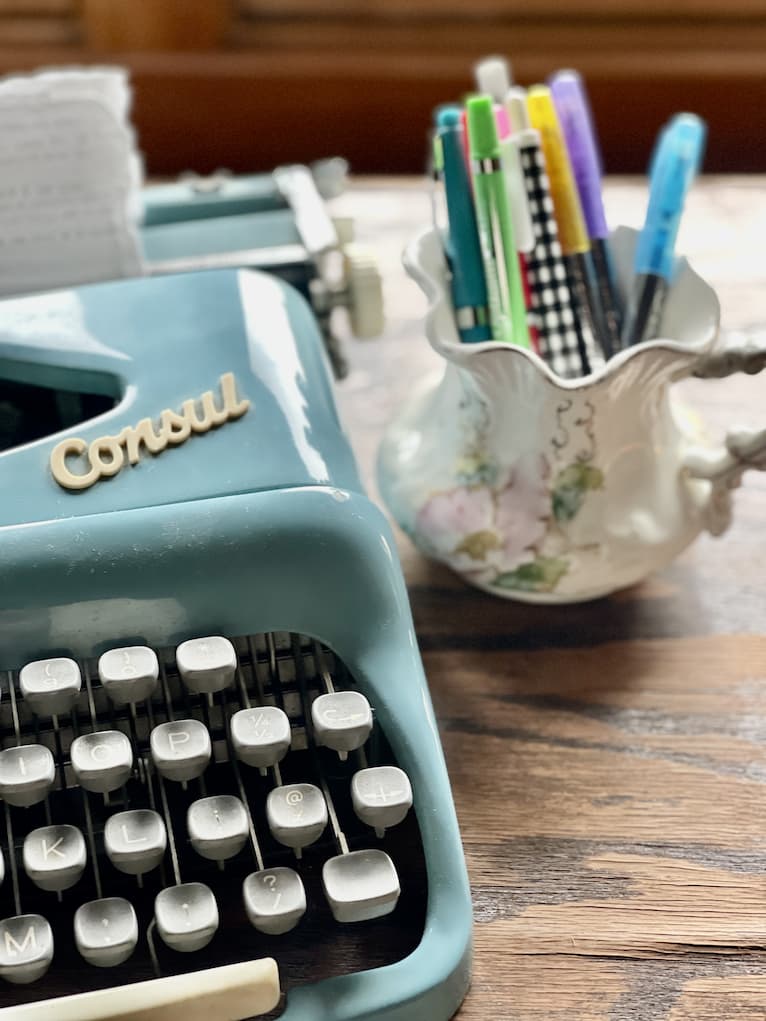 Home Office Desk
We have a desk that overlooks the lake where I often like to work. Adding a Fall pillow of bird feathers and some of my deeper toned collection pieces give Autumn Vibes.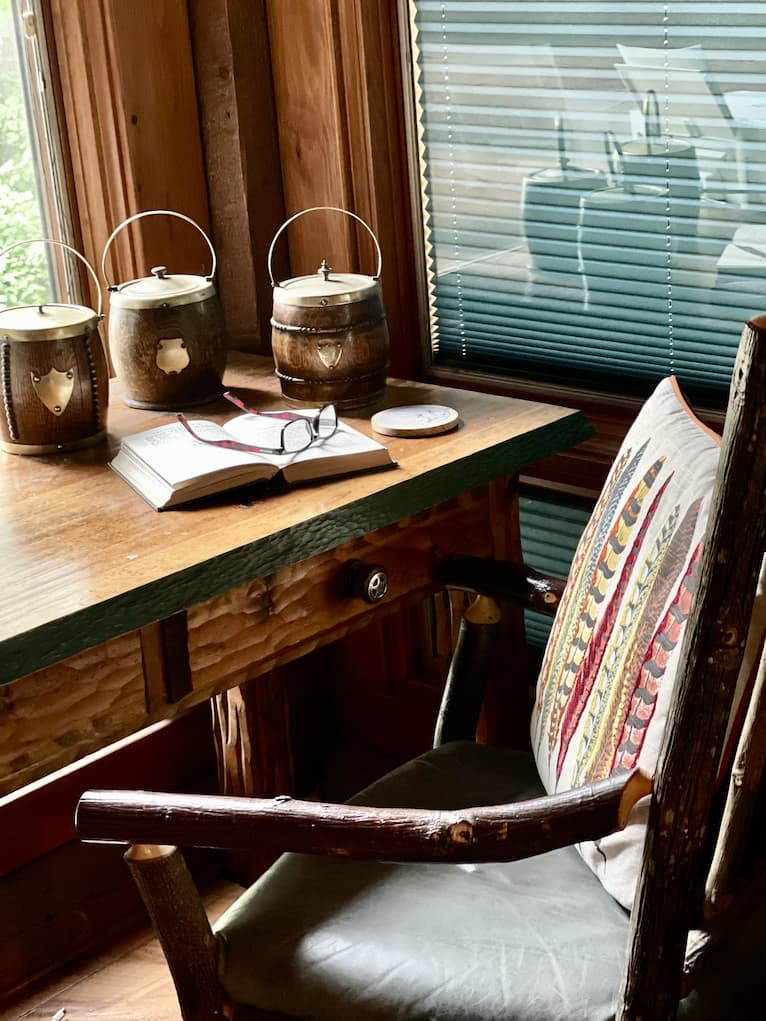 Antique wooden biscuit barrels are something I always keep an eye out for. I love this little trio.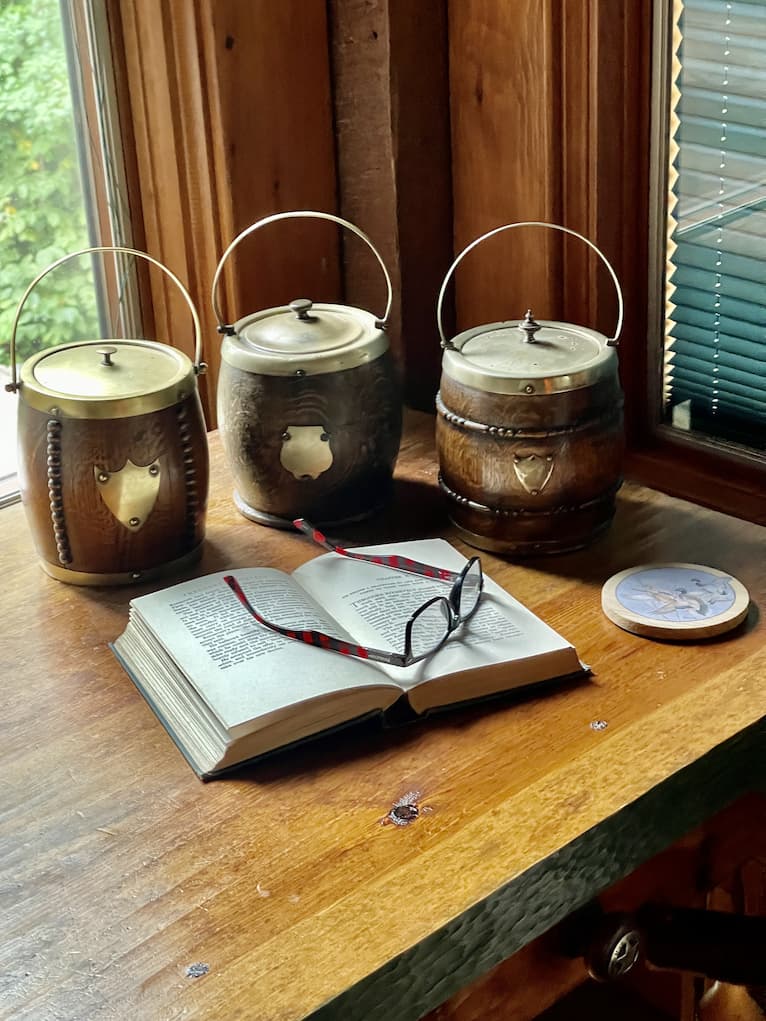 They've also looked beautiful full of pheasant feathers or flower bouquets.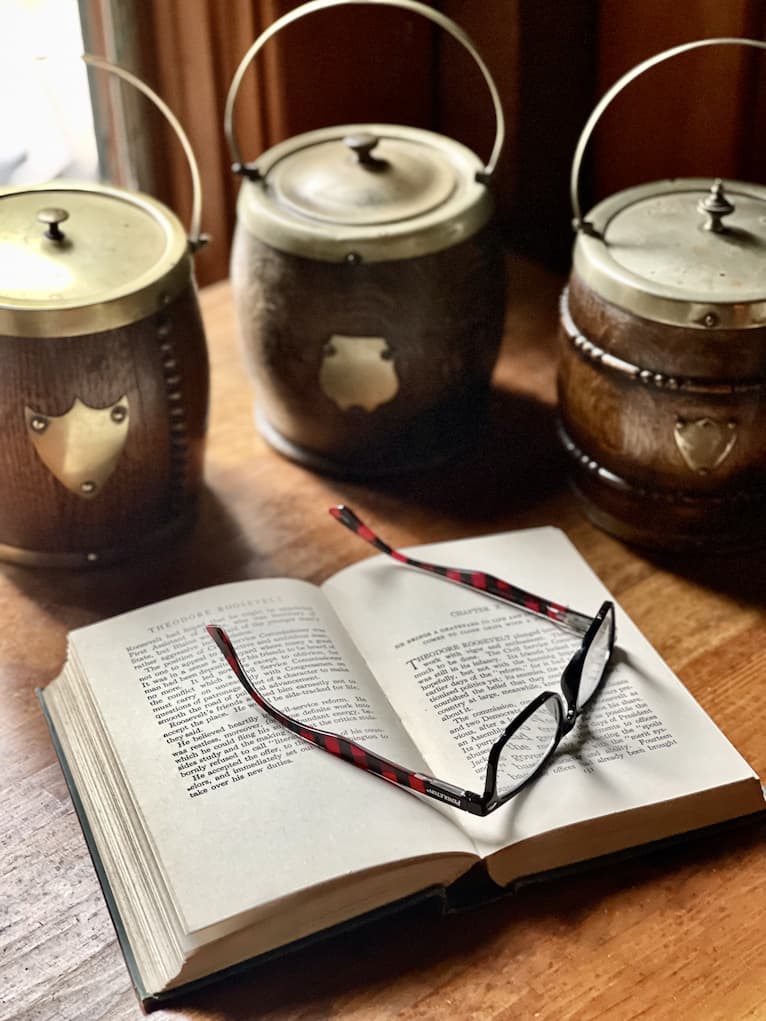 Adding Fall Decor
It's easy to style a corner of a desk still leaving room for working. You can add:
A Candle
A Stack of Books
A Few Pumpkins
A Small Floral Arrangement
A Fall Colored container of Pencils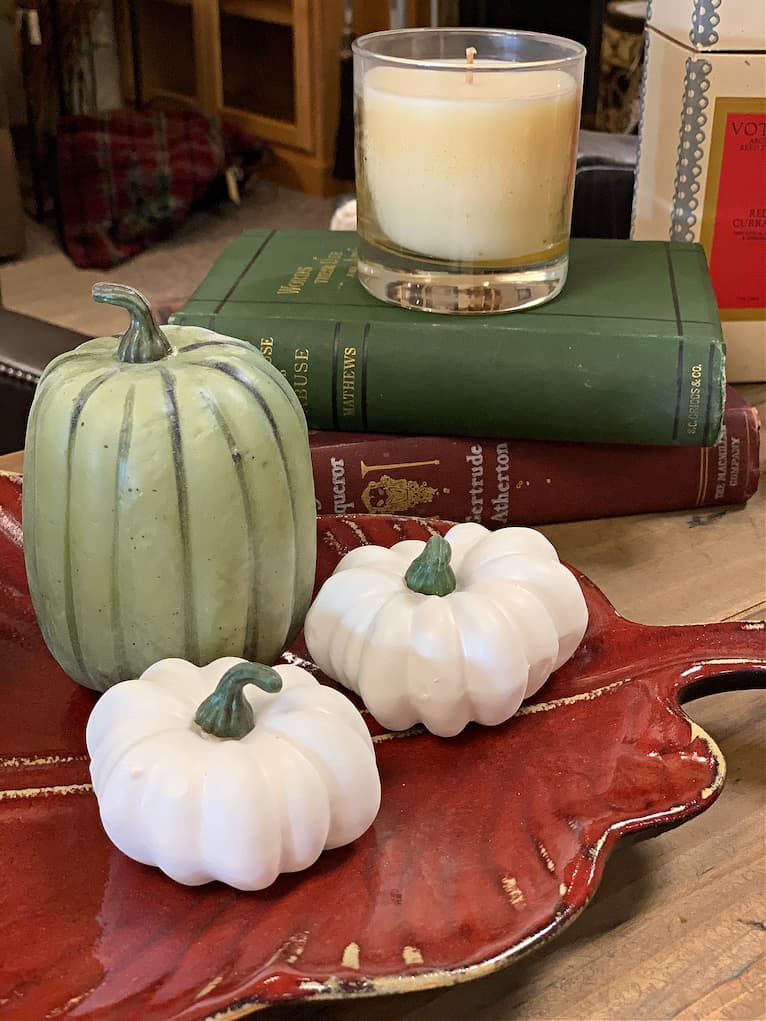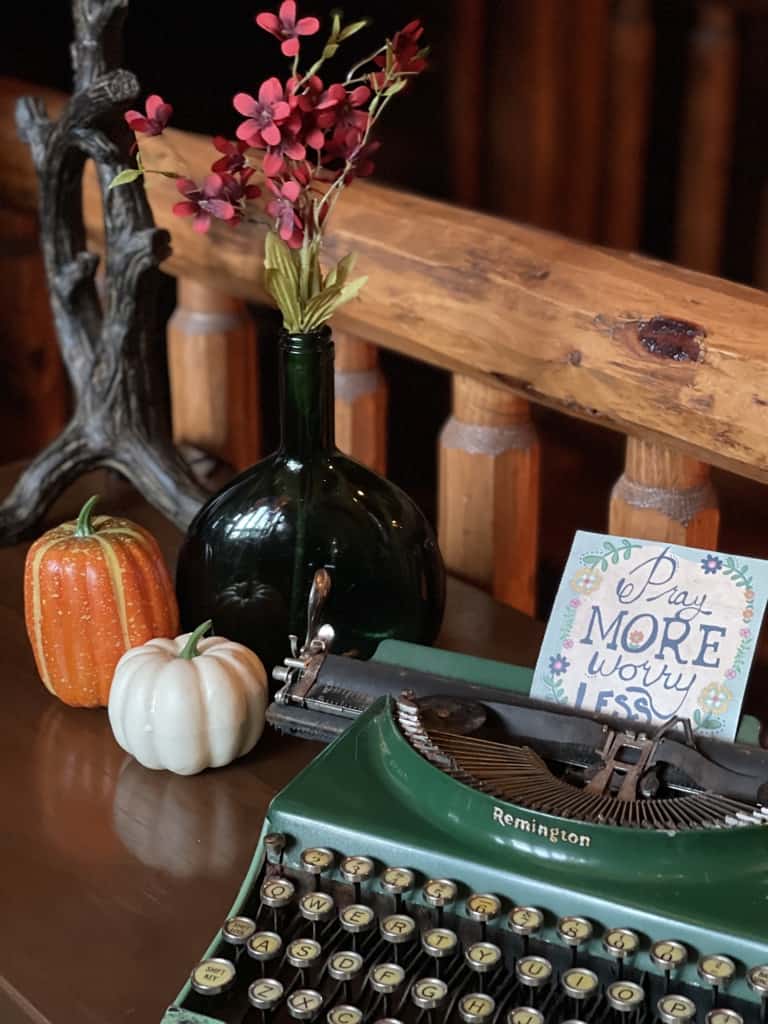 Books
Next to your desk you can place a bookshelf, a stack of books or a revolving bookcase.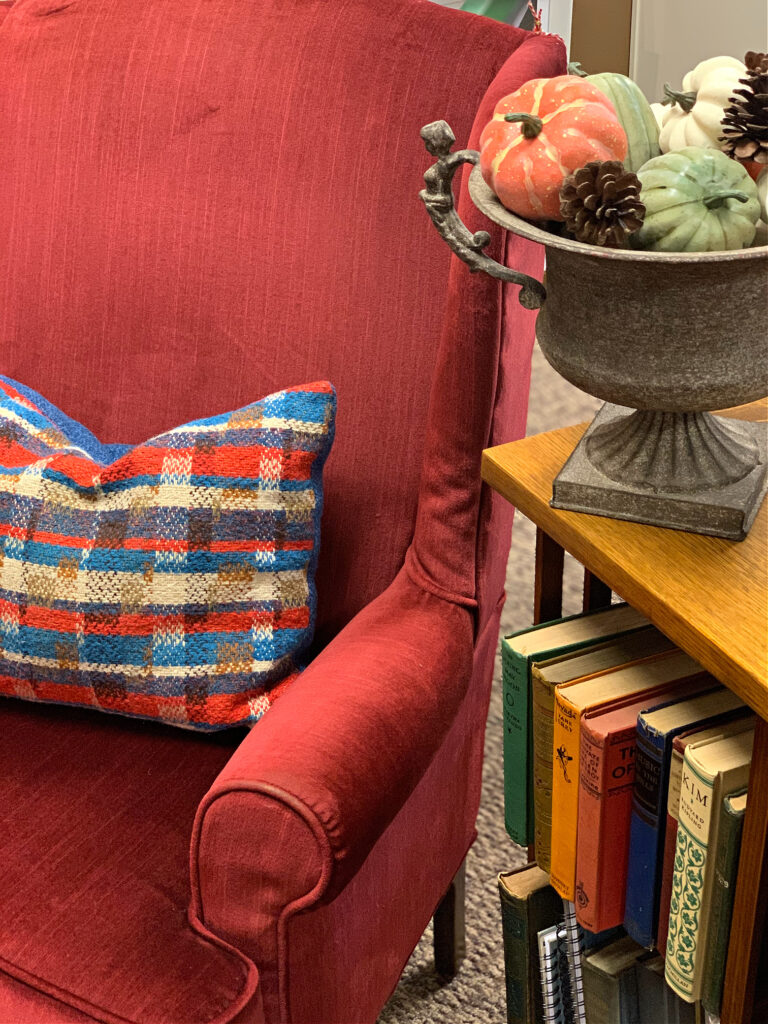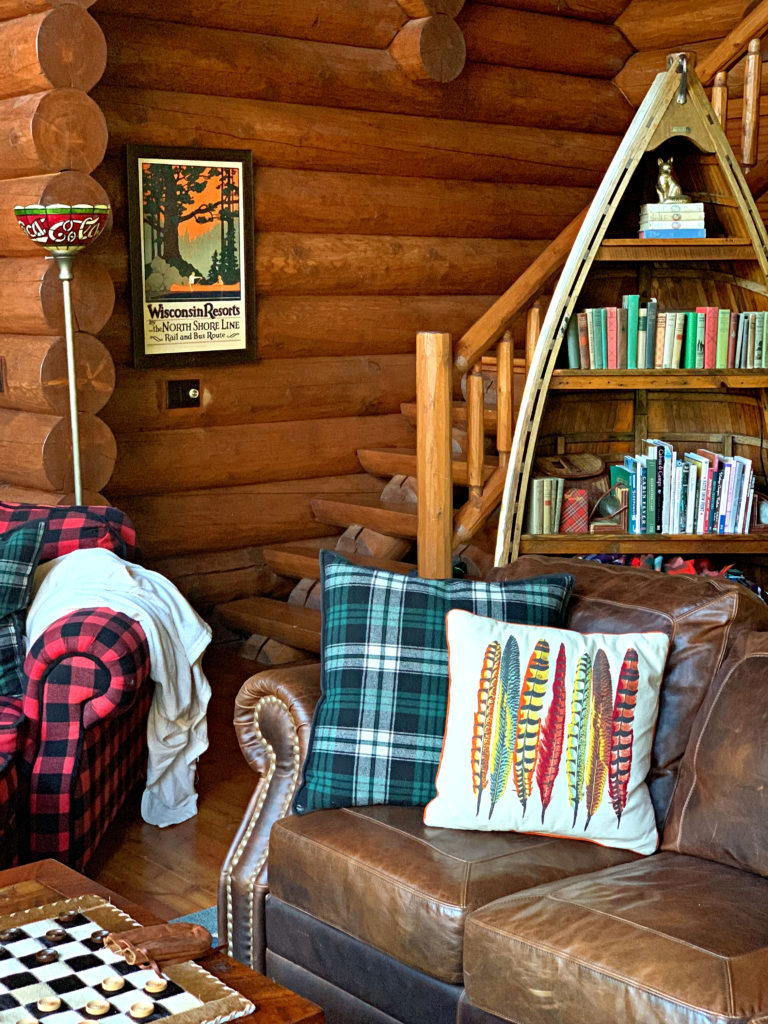 Next up you are heading over to Clean and Scentsible blog where you'll find more wonderful Fall inspiration!
Thanks so much for visiting! Keep following along to see how the views out of our windows changes as the leaves change color and the snow comes. Every season is beautiful in The Northwoods and I love sharing it all with you!
Take the Tour
Monday September 12 Lineup

A Stroll Thru Life – The Stonybrook House – StoneGable – Shiplap and Shells –
White Arrows Home – Clean and Scentsible.
Tuesday September 13 Lineup

Decor to Adore – Simply2Moms – 11 Magnolia Lane – Calypso in the Country –
Country Road 407 – Pink Peppermint Design
Wednesday September 14

Whispering Pines Homestead – Cuckoo4Design – Southern State of Mind –
This is Our Bliss – Thrifty and Chic
Thursday September 15

Our Southern Home – Southern Hospitality – Hymns and Verses – Worthing Court –
Southern Home and Hospitality – Remodelandolacasa
Friday September 16

Pasha is Home – CitrineLiving – Quarters One – Up to Date Interiors –
FOLLOW ALONG
Instagram ~ Facebook ~ Pinterest ~ Twitter ~ YouTube ~ Tik Tok ~ Liketoknow.it