White Arrows Book Club #10
My monthly book selections for The White Arrows Home Book Club are sure to inspire you, keep you curious and give you joy as you take time to enjoy reading.
Each month as I choose what books I want to read, I get so excited to share them with you. I am reading each book right along with you deciding what applies to my life from my Wait Time Book and my Quiet Time Book. I'm getting lost in my Just For Fun Book and actually feeling excited to clean my house with my Chore Time Book.
(Affiliate Links are shared for your convenience, read my full disclosure here.)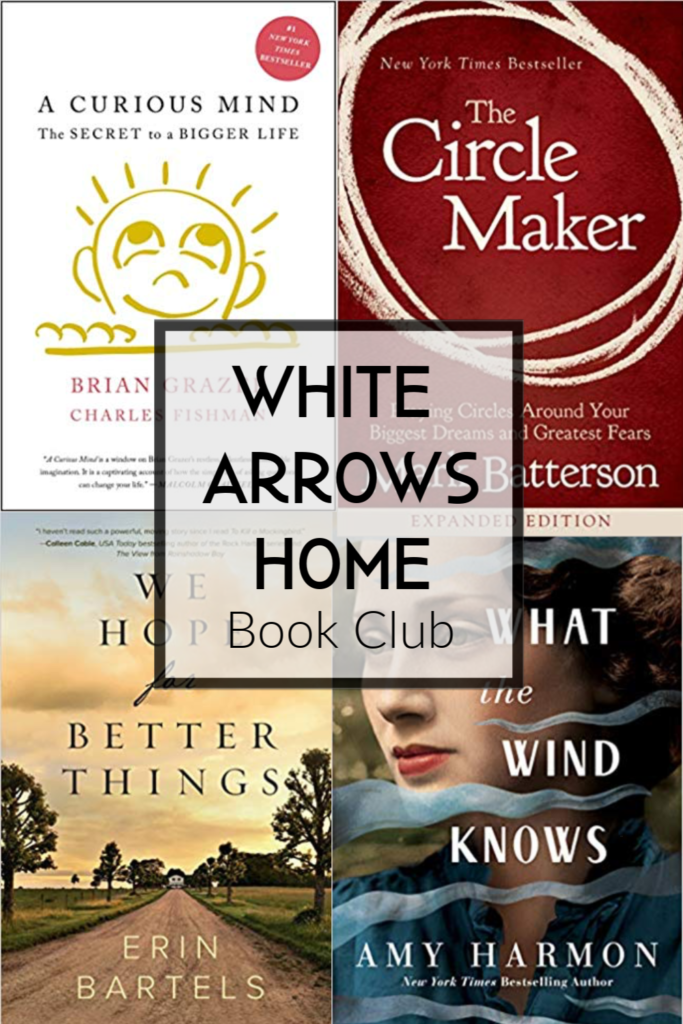 That's how I get so many books read in a few weeks. I break them into my day. Read more about how I fit in reading in this post.
I can't believe this is the 10th month for the White Arrows Home Book Club! I hope you have been able to find some new favorites from what we have read so far!
If you are new to the group, welcome! Number one thing to know is that this is a no guilt book club! Read what you want. Read all of them along with me or choose just one. Decide what you have time for and what interests you.
Wait Time Book
This Month I'll be Reading
While I'm waiting at soccer and football practices this month I'll have A Curious Mind by Brian Grazer in my car. Waiting is never frustrating when I have a book along! In this book, Grazer ( an Oscar winning producer) shares how Curiosity has been his secret and how we can all channel our curiosity to lead bigger lives. I'll keep a highlighter close while reading this one!
Quiet Time Book
This Month I'll be Reading
A few weeks ago I was talking with a friend and she shared that she has loved reading Mark Batterson's books. While deciding what my Quiet Time Book would be this month I went through my Amazon "save for later" cart and The Circle Maker by Batterson was waiting there from months ago. I quickly moved it into my "to buy now" cart. Sharing the legend of Honi the Circle Maker gives a springboard for Batterson to share insights into how to pray audacious prayers around your biggest dreams!
For the Love of Reading Book
This Month I'll be Reading
Are you a fellow Outlander lover? What the Wind Knows is possibly taking us on a similar journey as Anne, the main character, travels to Ireland to spread her Grandfather's ashes in his homeland he has told her so much about. While there she is pulled into another time and finds herself in Ireland 1921! Romance + History + Suspense – all themes I love in a novel!
Chore Time Book
This Month I'll be Listening To
I keep an audio book going on Audible at all times. I love to listen to one while I'm cleaning, gardening or driving. We Hope for Better Thingsis a top fiction choice on Audible taking us back and forth between 1960's Detroit and the civil war exploring race relations, love and empathy. The recommendations, I read on Amazon, for this book make it a must read for me!
How can you make time to read in your day? Can you read along with me in your wait time, quiet time or chore time? Find other books from the past month's Book Clubs, interviews with authors, my take aways from some of the books and more by following the BOOK CLUB tab at the top of the page.
What Else to Read
Here are just a few of the past White Arrows Home Book Club selections that I really enjoyed. Are you already reading along with me? What's been your favorite book so far? I'd love to have you share in the comments.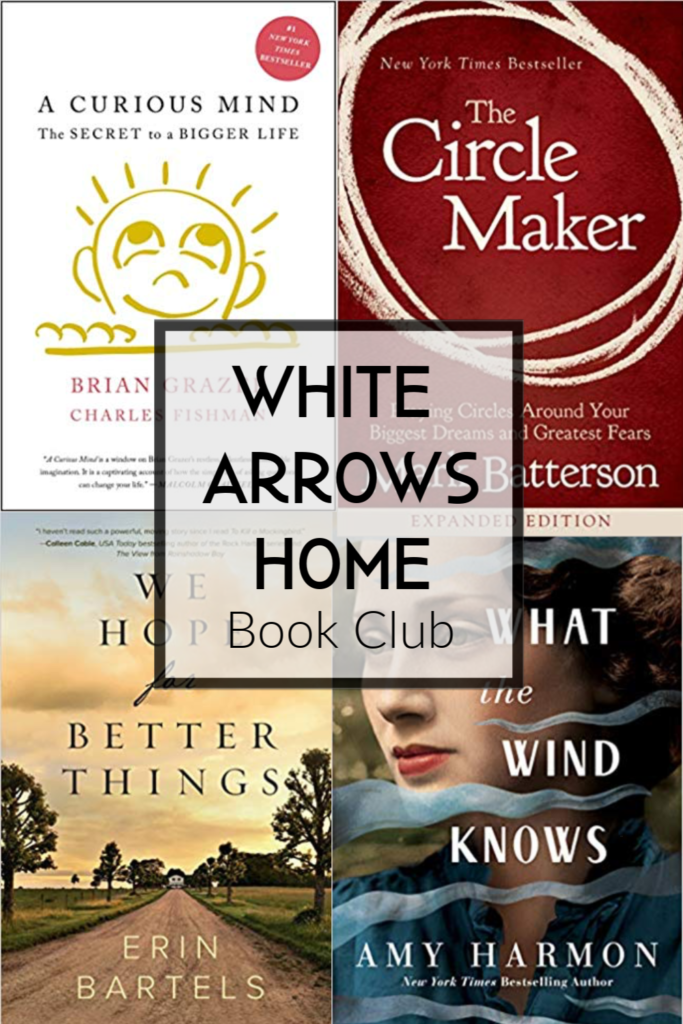 Join Me as I share more inspiration with you each day on:
Instagram ~ Pinterest ~ Twitter ~ Facebook