From My Neck of the Woods is my weekly round up where I share what I've been up to and what's inspiring me from this past week.
(Affiliate links are used for your convenience. Read my full disclosure here.)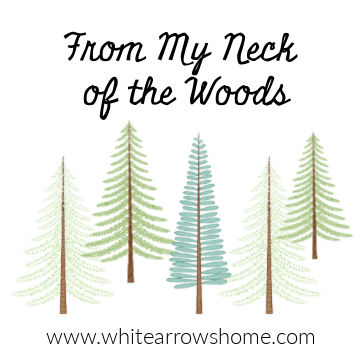 We just got back from a week in Montana at my parents' house. We've been going every Summer since our kids were born so there are lots of traditions they love to do like hike up the mountain and go fishing. One thing may have became a new tradition.
My husband has always wanted to take our surf boat out with us when we drive to enjoy on the lake out there. So this year we pulled it out and it was so much fun! We had a blast swimming and surfing and driving around the lake.
The other thing they love to do is play Spikeball.
I had fun sharing my Strawberry Pretzel Recipe.
Recently on the Blog
Lots of inspiration fills this week's Welcome Home Saturday!

Here's a quote I loved this week! When you sign up for my daily emails, I send more printable inspiration. Screenshot it to use as a screensaver. And follow me on Twitter where I share encouragement throughout the day.



A Few of My Favorite Things This Week- Traveling Must Haves


In The Shop
Can't get to Minocqua? Shop online! All online orders from White Arrows Home receive $15 domestic FLAT RATE SHIPPING !!

On the Podcast
Each Friday a new episode of The Cabincast podcast goes LIVE. This week, Episode 35, was an amazing interview with Donna Peak, Editor in Chief of Log and Timber Home Living. Catch up on our most recent episode and those you missed LISTEN HERE. And read about Episode 35, "That Log and Timber Home Life," in THIS POST.
Read about Episode 34, "The Call of the Loon," in THIS POST.

More Inspiration I'm Loving!
Enjoy the rest of the weekend!
FOLLOW WHITE ARROWS HOME 


Instagram ~ Facebook ~ Pinterest ~ Twitter ~ YouTube ~ Tik Tok ~ Liketoknow.it