Pick up your homemade pies from Sweet Pies of Mine Fridays and Saturdays at White Arrows Home.
(Affiliate links are used for your convenience. Read my full disclosure here.)
We are so excited to have Jackie of Sweet Pies of Mine as part of White Arrows Home each weekend. Their pies are all homemade from crust to filling to topping as much as possible- homemade whipped cream, maple tapped from their own trees, fresh picked strawberries when in season.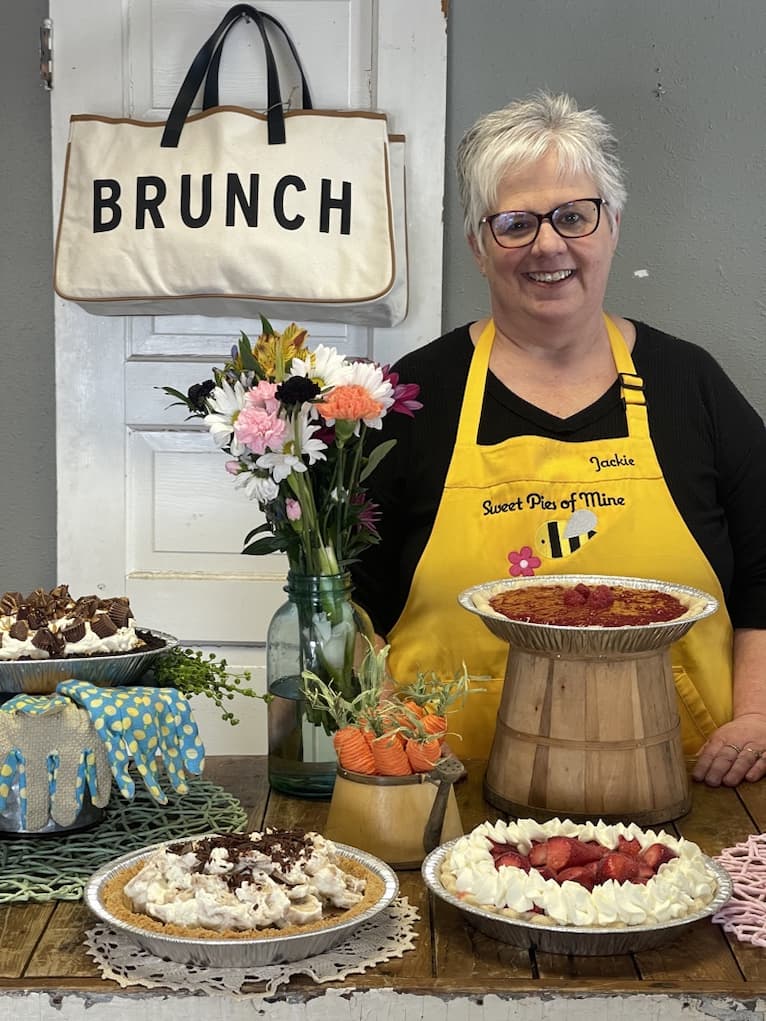 Jackie always decorates our bakery counter with a different theme using her vintage and seasonal decor. It's always so beautiful.
I love pie all year long, but there is something about it in Summer. It's the perfect Summer desert. I'm excited to share with you as part of my Summer of Sunshine Series here on White Arrows Home blog that my shop is the perfect place to pick up your Summer pies!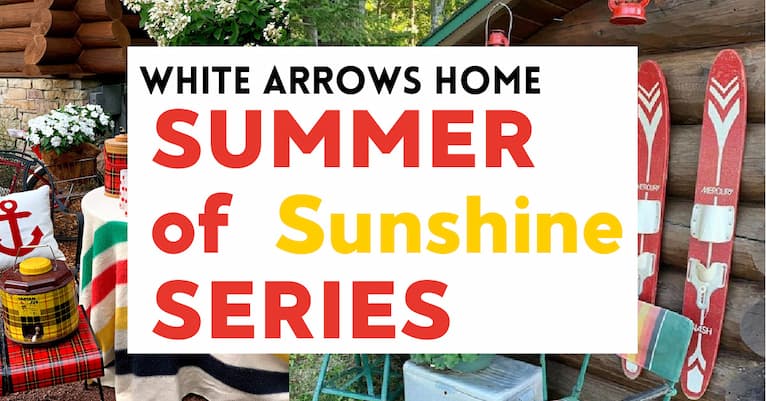 SUBSCRIBE HERE so you don't miss any inspiration!
We first invited Jackie to do a pop up shop selling her pies after seeing her on the news. Diana, Shopkeep at White Arrows Home, brought me the idea after seeing Sweet Pies of Mine interviewed while at a local event.
One of my dreams is to have pop ups every Friday and Saturday at our shop that can showcase other vendors, even non profits like the Girl Scouts selling their cookies. We've hosted artists and authors, bakers and makers.
So as our following and traffic continues to grow I hope our pops will too. I see it as a way to add another layer of interest for our customers, support start ups and smaller businesses who don't want their own store front and connect the talented people creating and making with potential customers.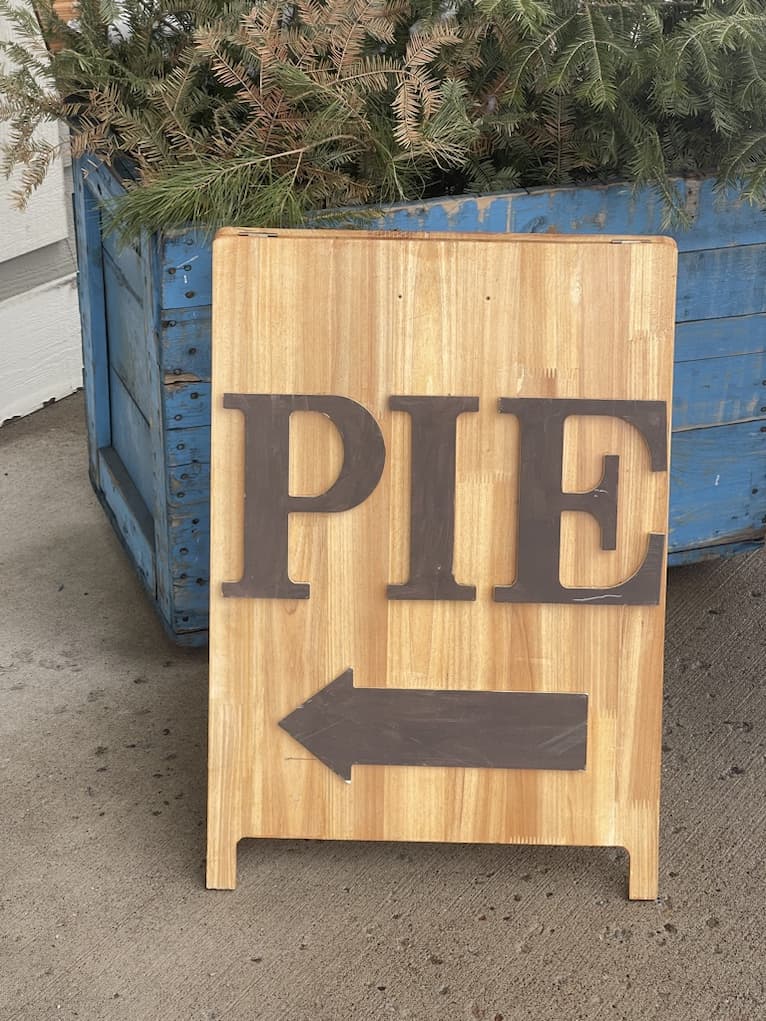 Everyone raves about all of Jackie's pies, but so far the Key Lime gets the most feedback. Customers who dub themselves Key Lime connoisseurs and those who spend a lot of time in Florida have all said Sweet Pies of Mine's Key Lime is the best they've ever had.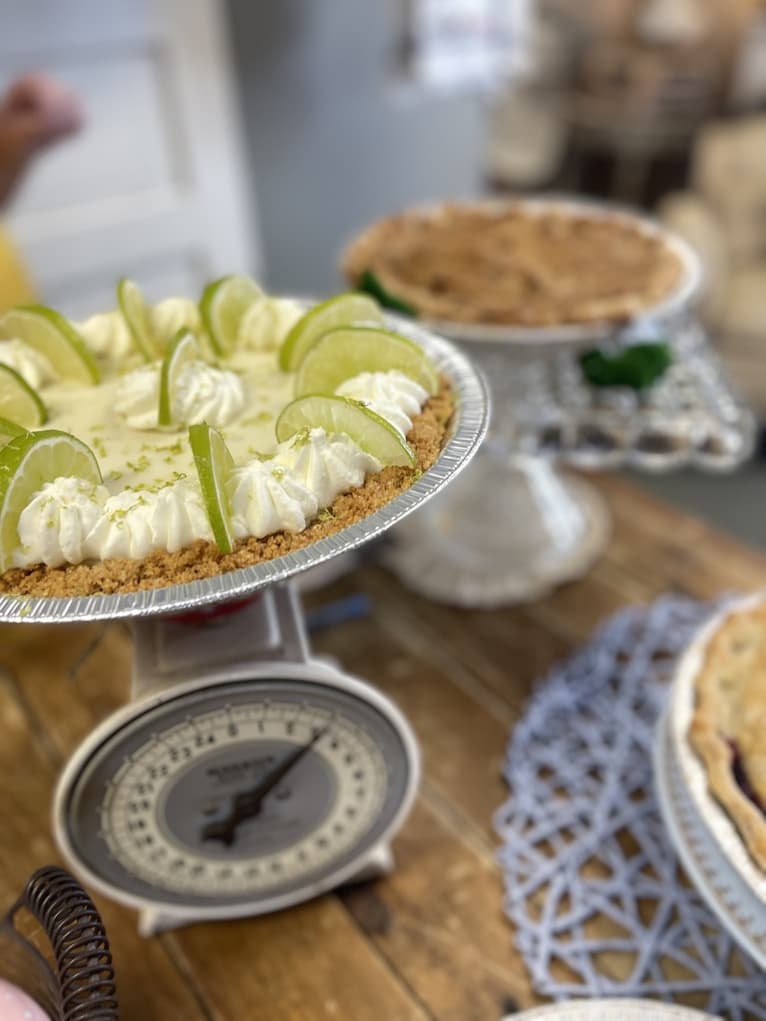 Inspiration for her baking came from Jackie's grandmother, Bea. You can read the story on the Sweet Pies of Mine website. Jackie uses a bee in her logo to represent her grandmother's influence.

Graphic Source: https://sweetpiesofmine.wixsite.com/pies
Jackie's two daughters, Kate and Kendall, are her helpers and we love when they are in The Shop too. They not only help Jackie bake, but come to help sell sometimes too.
I'm very intentional about surrounding myself with positive, uplifting, hard working, joyful people and Jackie and her daughters are exactly that.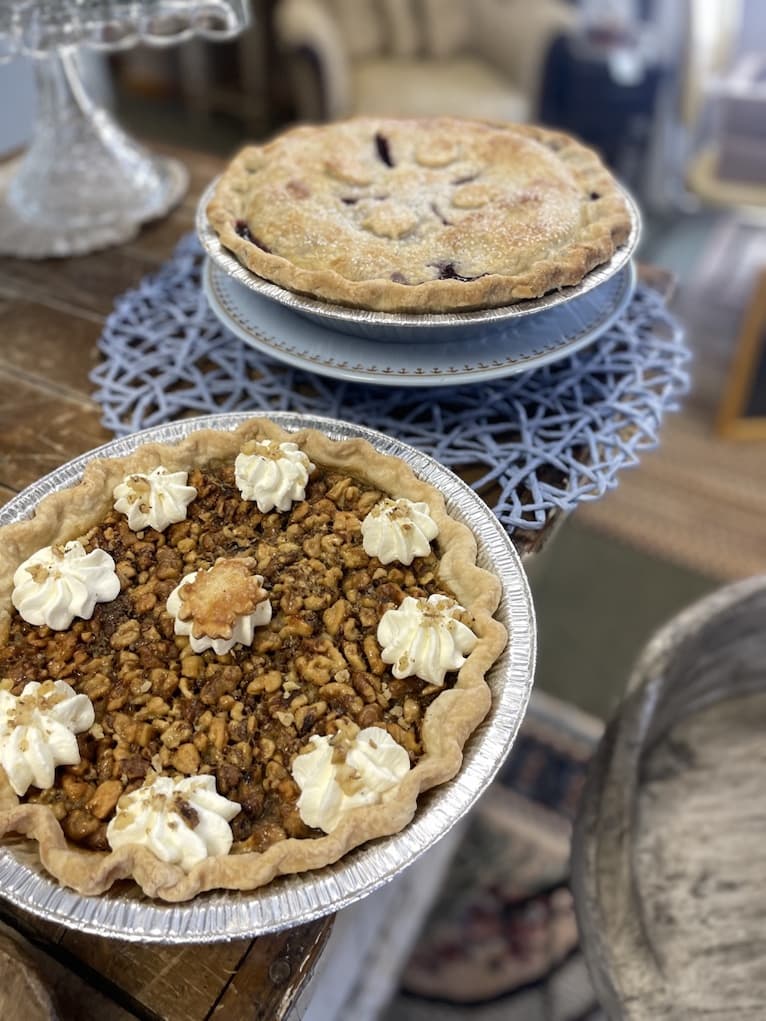 I'm on a plan to try at least one different pie a week and then I'll know which is my favorite. In my house everyone is different. Brooks loves the strawberry. For Landry it's Dutch Apple. Barron always chooses pecan. Do you have a go to favorite pie?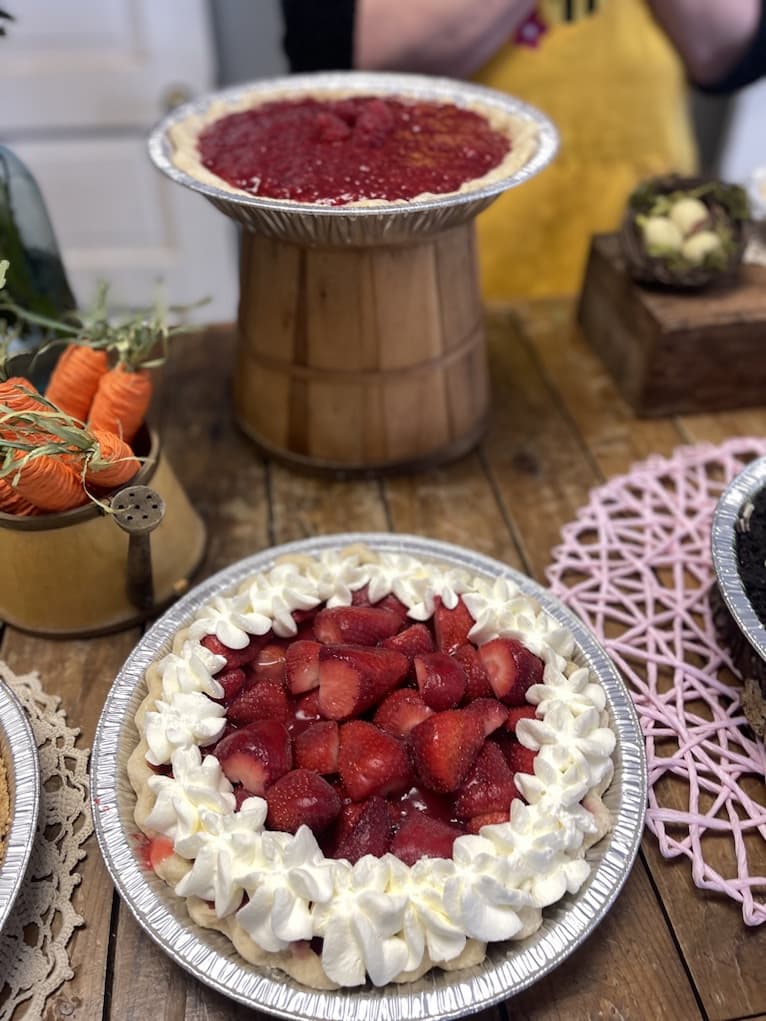 The Mad For Mint is next on my list! I love mint chocolate chip ice cream and give me a grasshopper anytime so I know this will be a winner! Look at the detail and care Jackie gives to every pie. She cuts no corners!
On their website you can find a list of all the flavors and varieties of pies Jackie makes. She even makes savory pies like If you are looking for something special for your wedding or event, reach out to Jackie.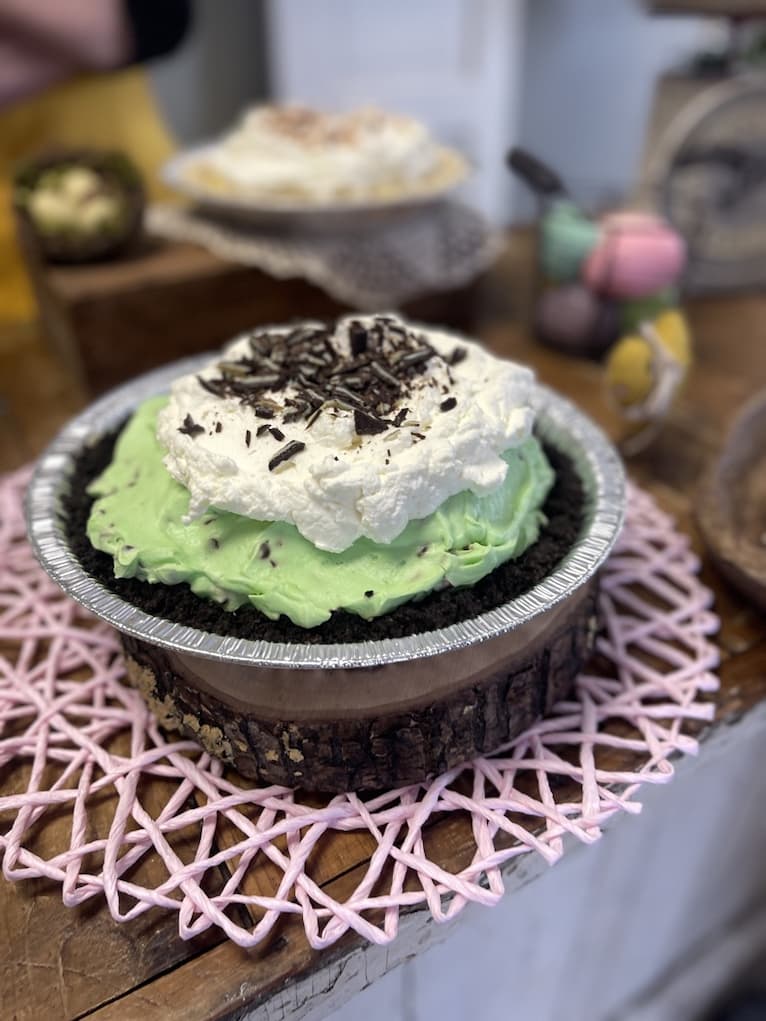 If there's a certain pie or pies that you are wanting, you can put an order in and then Jackie will bring them to White Arrows when she comes and you can stop in and pick them up. Otherwise she begins selling around 10:00 a.m. both days and stays until sold out. So you can play the odds and see what's left when you stop in.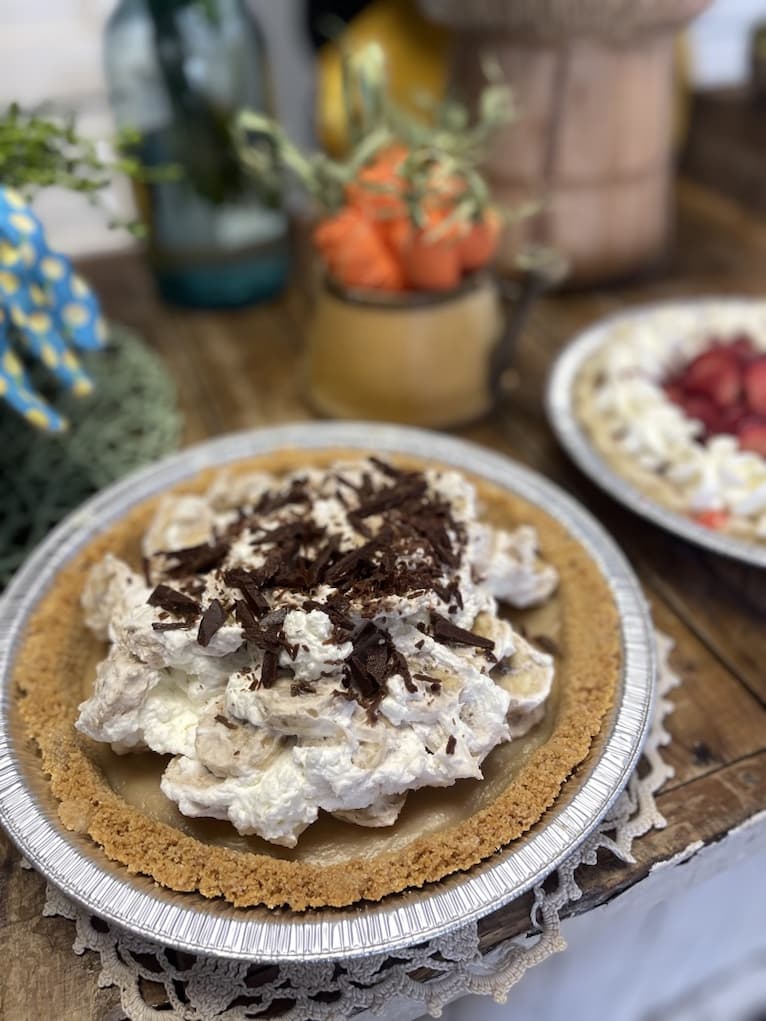 So plan to stop in Fridays and Saturdays on the dates below to pick up your own pie for the weekend!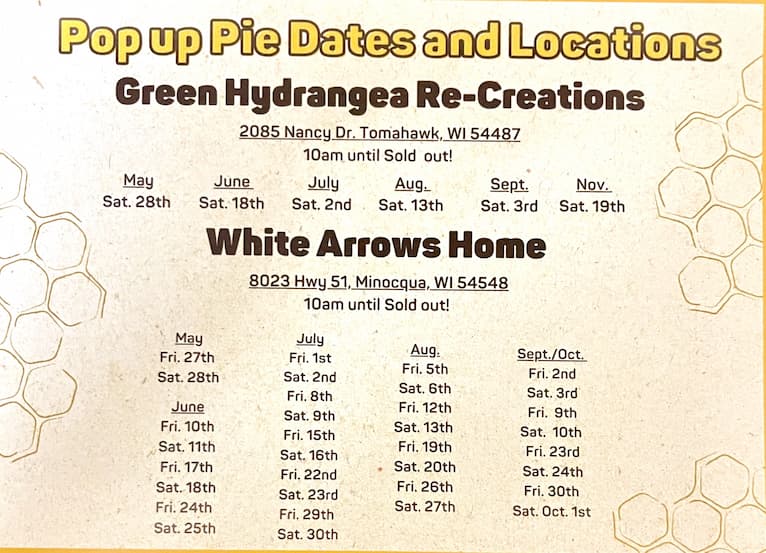 FOLLOW ALONG
Instagram ~ Facebook ~ Pinterest ~ Twitter ~ YouTube ~ Tik Tok ~ Liketoknow.it