Summer porch decor that gives a home curb appeal and a welcoming look all season long.
(Affiliate links are used for your convenience. Read my full disclosure here.)
I'm sharing some of the ways I've decorated our front porches for my Summer of Sunshine Blog Series I've been doing this June.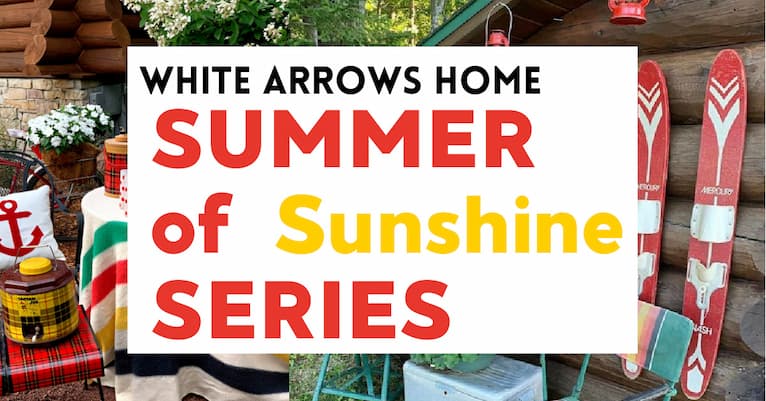 Past Summer Porches
I love decorating all my porches. The front porch to our main house is my first priority, but I don't like to neglect the guest house or the entrance to the garage.
As you pull into the driveway of our property it opens up to a circle drive with a garden in the middle and three buildings around the outside. There is the main house, the garage and the guest house. It's important to me to make sure that the three buildings work well together in a cohesive look.
I've never been as happy with how things have come together as I am this year. I feel like we've really dialed it all in the way we will want it for years to come which will save us time and money going forward.
Let's take a look back before I show you how it is today. Here's some of my favorite ways I've styled my porches in past Summers.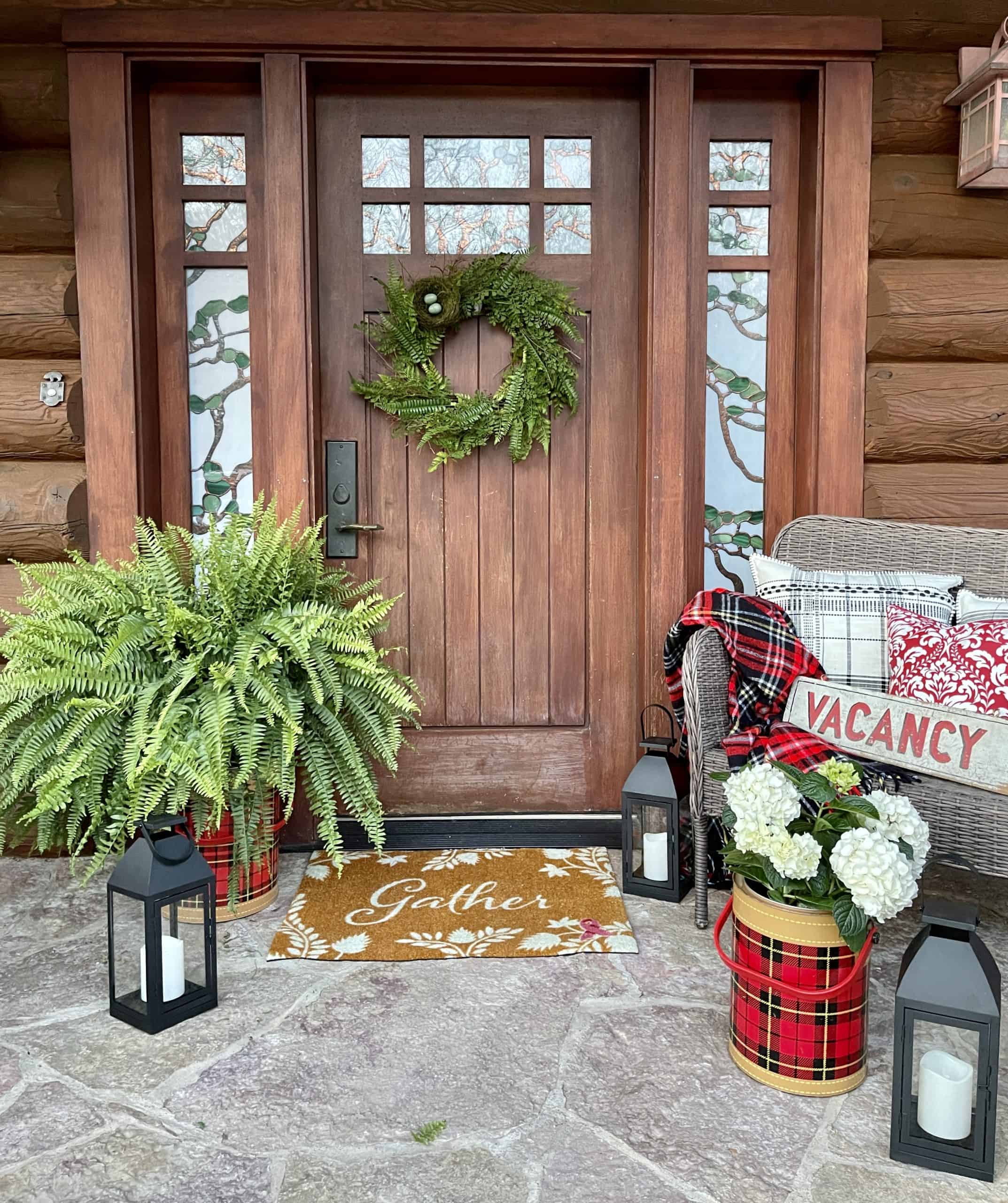 You will see many of the same elements and pieces from year to year. I may update a few things, but I tend to choose things I love and reuse them annually. I know you may have many questions for me right now and I'll answer them later in this post.
Where do you store everything in the off season?
Do you keep all the antiques out all the time?
Where do you shop for your porch decor?
See more porch inspiration in my recent post 9 Inspiring Summer Porches.
The Front Porch
This year I did three new things to the front of the cabin.
hanging geraniums
red Adirondack chairs
green wicker
I have always wanted to have hanging red geraniums off the cabin and this year we finally did it. I preordered the geraniums from JJ's Acres and Brian added the hooks. Weekly I use a ladder to climb up and prune them and I have long hose extensions to reach up and water.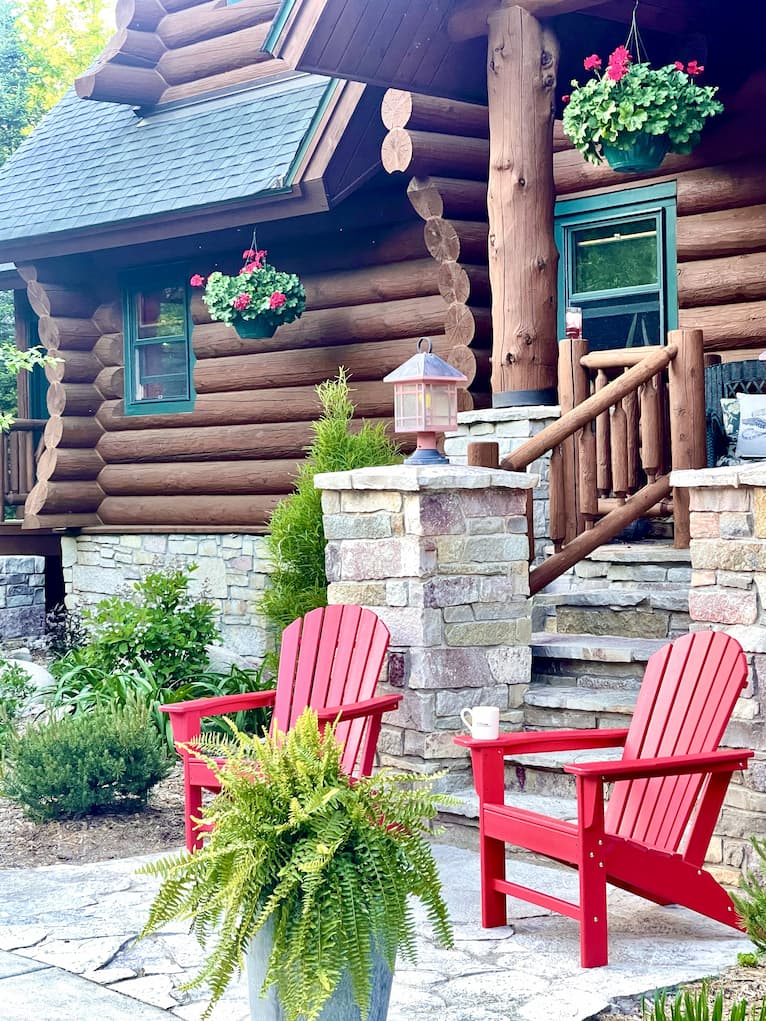 We added red Adirondack chairs to our new dock and put two in the front of the house as well.
And on the front door I added a wreath from Round Wreath. I love the ferns and daisies that reflect the wild ones that grow in the ditches on the sides or the roads Up Here.

Our green outdoor wicker furniture was always on the sunporch, but this Summer I turned the sunporch into our dining room and the wicker needed a new home. I love it here and think it will stay here. It has become my daughters favorite reading spot.
When Scout was a puppy she chewed on some parts of the chairs. Brian sanded the areas down this weekend and repainted. Now they look brand new. Follow me in Instagram and Facebook stories to see projects like that.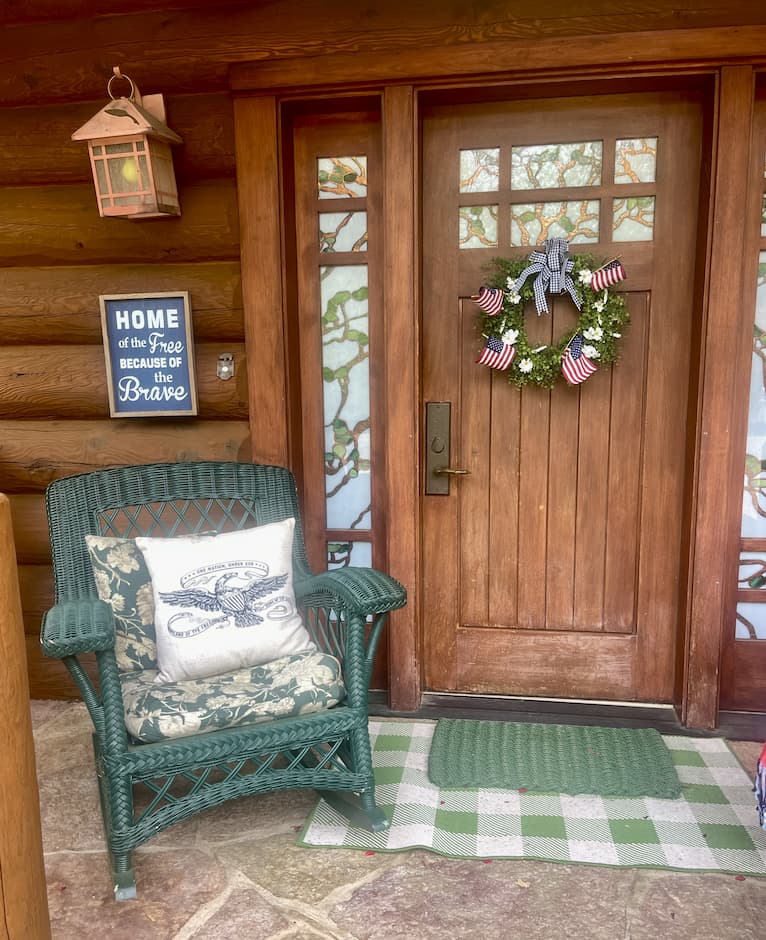 The Guest House Porch
Our guest house gets used more than just when guests are here. My college kids rooms are there when they are home visiting or for the Summer. Our work out space is also in the guest house so it gets used daily.
And the way the guest house is situated on the driveway it can be seen all the time so I love to include it in my decorating.
This year I brought our old metal table and chairs up to set right off the porch by the grill.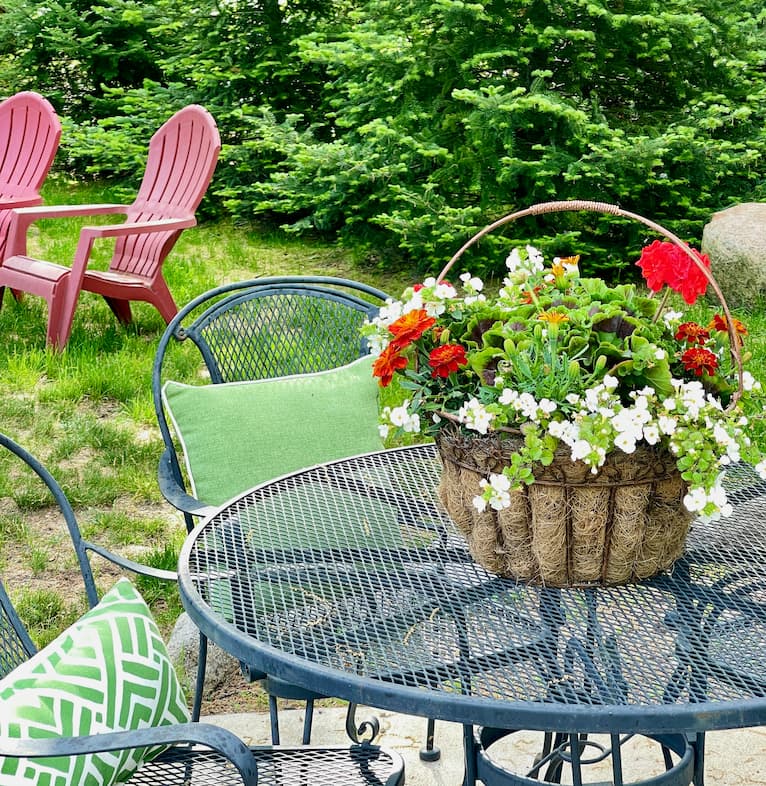 Brian has a grill on the back patio over looking the lake and also one under the overhang of the guest house front porch. We probably use the grill at the guest house the most, so I decided to add a pretty and comfortable spot for us to sit and hang out while he is grilling. The kids are usually playing bags or basketball out here while we cook.
The Garage Entry
When i decorate outside the garage door I like to add
a rug
some flowers
some seating
some vintage
a wreath
This year outside the garage I pulled over our retro metal gliding loveseat. There are lots of times we love sitting out here waiting for guests to pull up or watching the kids play driveway games like basketball or four square.
I use red geraniums all around in the Summer and put a pot beside the door as well as pulling it all together with some faux geraniums in the wreath.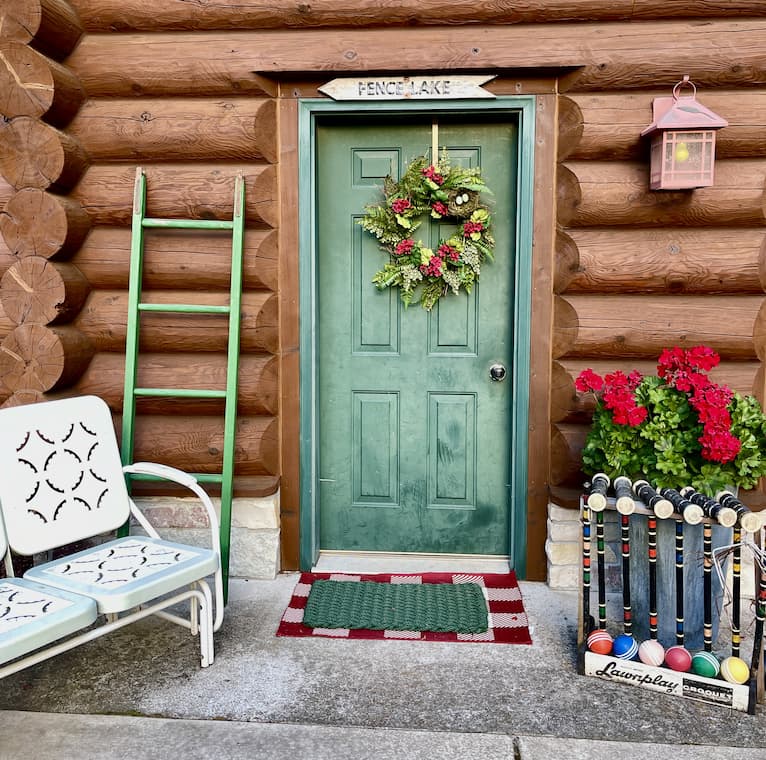 The white arrow is a nod to the white arrow signs all throughout The Northwoods that hang on the sides of the road pointing you to businesses and homes. We have these custom made for our customers at my shop.
That croquet set. My kids actually take it and play it in the backyard. It's a fun Summer game. I found it at a flea market years ago.
Holidays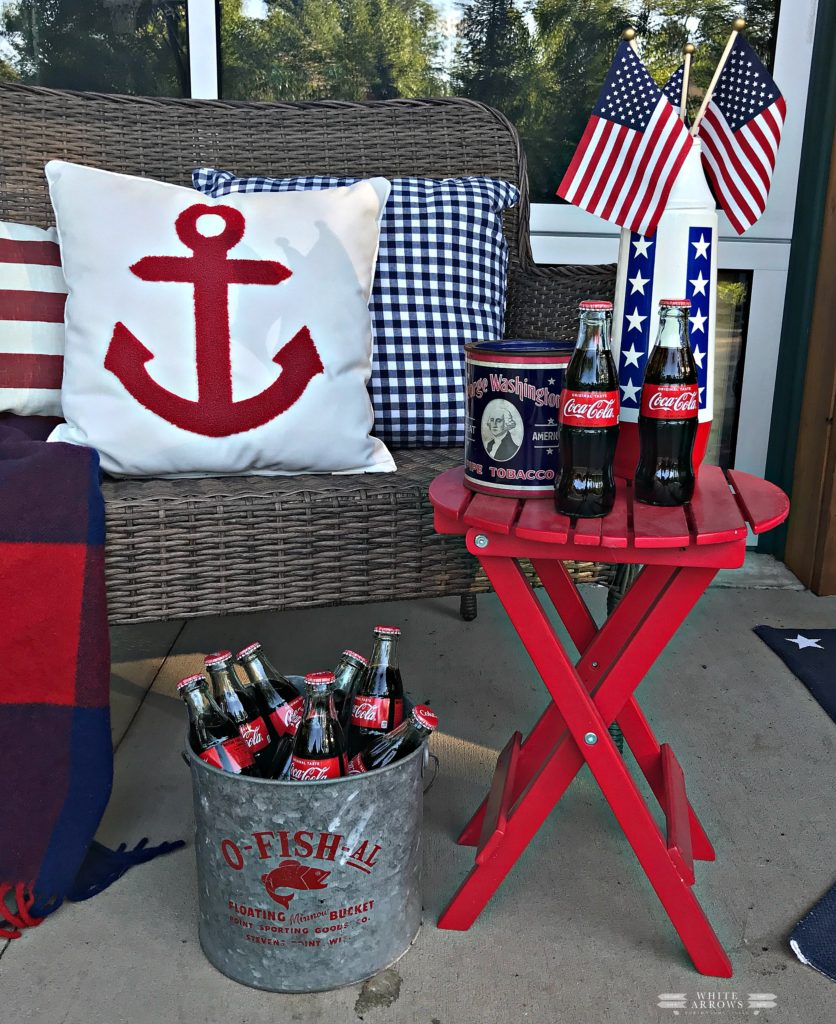 Sometimes I keep my Americana up all the way from Memorial Day to Labor Day enjoying the red, white and blue all Summer. I decorate with so much color that even if I simply tuck flags in for the actual Holiday weekends then it still works to leave my regular decor up and just add in or change out a few accessories and add flags.
Here's how I added Patriotic touches for Memorial Day Weekend this Summer. I took the flags out and I'll add them back in July 4th.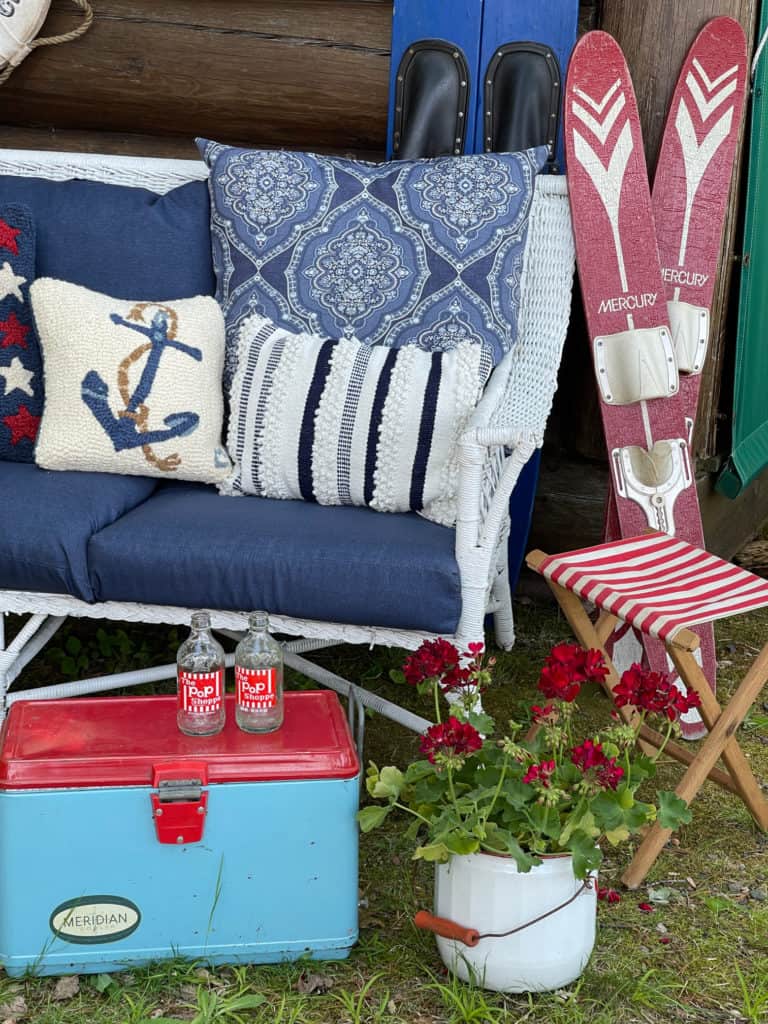 Porch FAQ
Where do you store your outdoor furniture in the Winter?
We have lots of space under our sunroom porch and deck where we tuck the outdoor furniture when the snow starts to fall. Some of the furniture though like our patio set is ok out in the elements. We take all the cushions and put them in giant garbage bags and store them in the garage attic, but the furniture pieces stay where they are.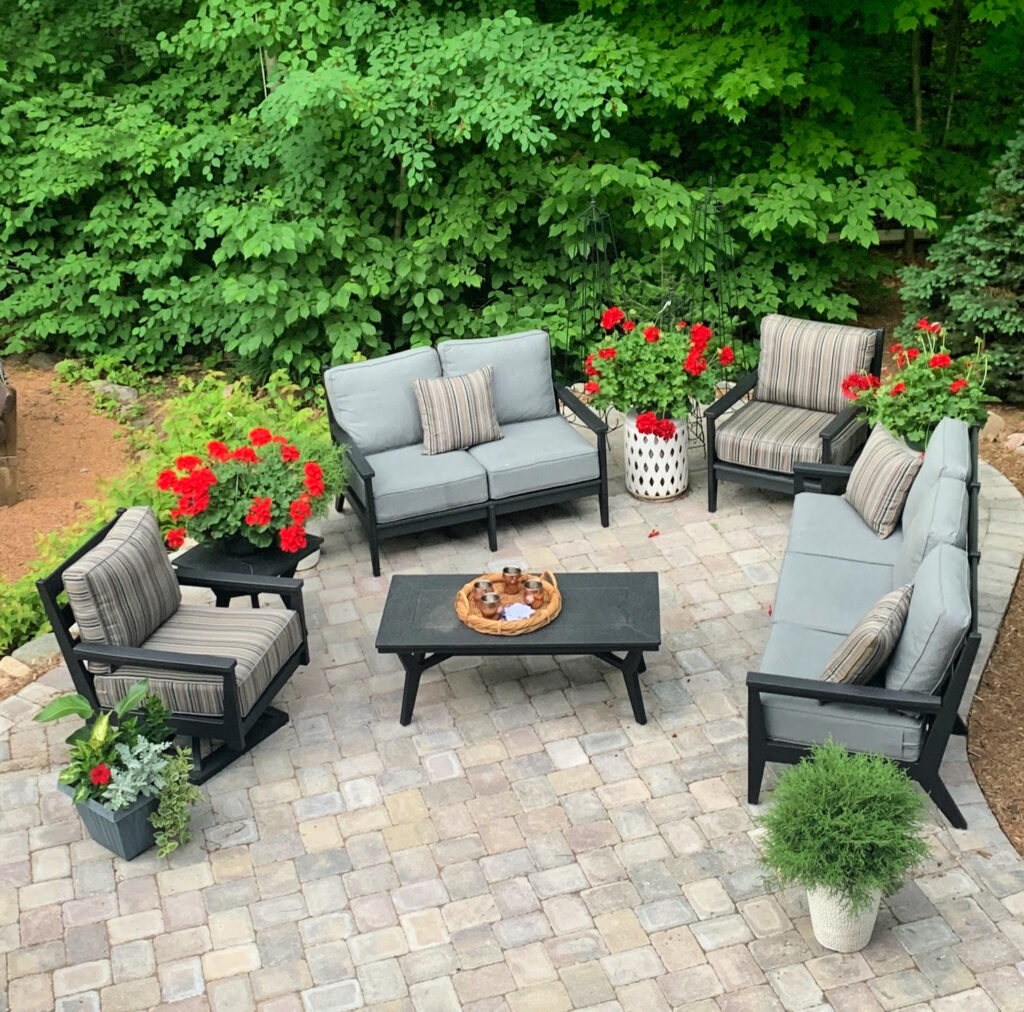 See our patio remodel project in THIS POST for Part One and THIS POST for Part Two.
Do you keep your vintage items out in the elements?
I do not keep my vintage pieces out every day. Some of the pieces I only have out when I'm having people over and I want the curb appeal and welcoming feel of the decor. Other items I keep out, but bring in at night or when its going to rain.
Some pieces can stay out on our front porch because it's a covered porch and out of the elements.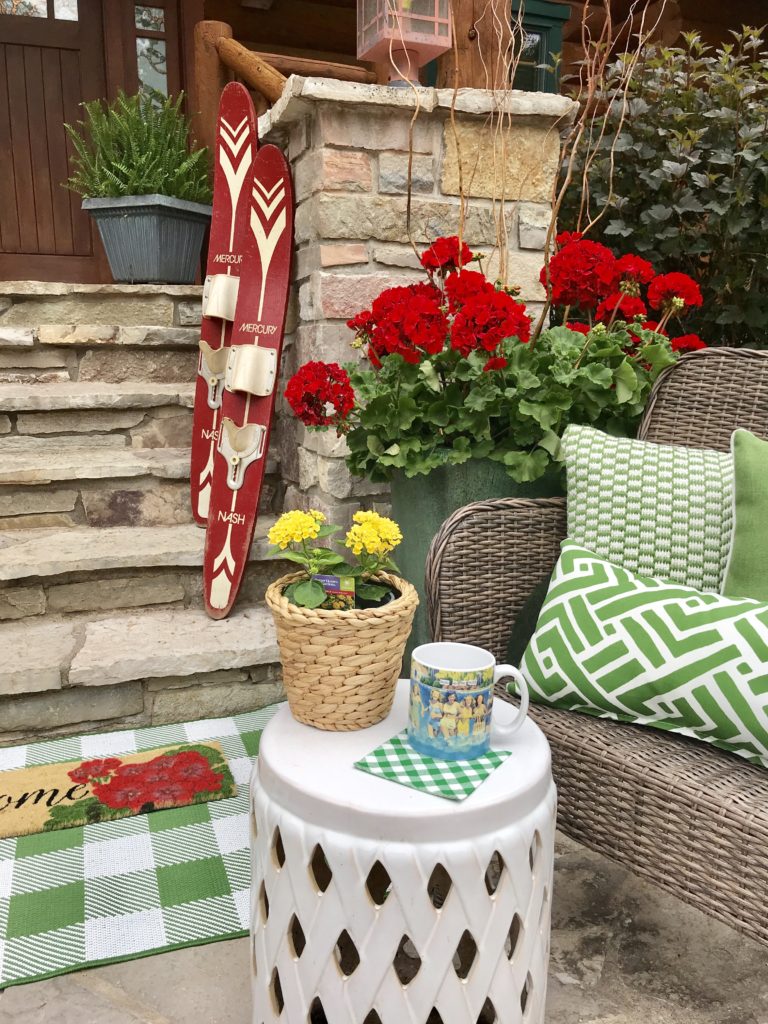 I think about rain. I think about wind and I think about sun exposure for pieces that may become faded if left too long outside.
Where are your favorite places to shop for your porch?
There are many places I love to shop for my porch decor, furniture and accessories.
Walmart, Target and Hobby Lobby
Locally I love JJ's Acres
Antique shops and thrift shops
A Few Other Outdoor Spaces
There are other outdoor spaces I like to decorate and I'll be sharing more ideas this week as part of a Blog Hop Tour.
I love decorating my 1974 Vintage little camper. We are making a spot for it on our property where it will sit under string lights when I'm not taking it places with me.
My camper was turned into a little office and hang out space and can be used as a spot for me to get out of the house to work, to meet up for a date night cocktail or even guest quarters.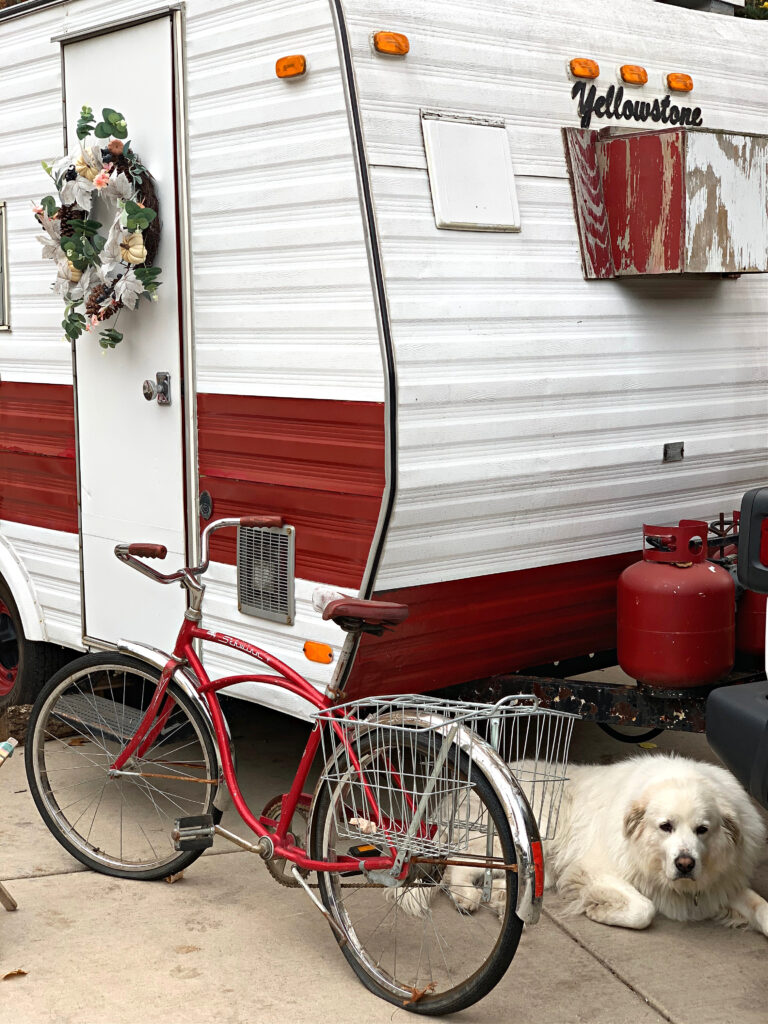 Our little boat shack down by the lake is another favorite spot for me to decorate. It's like the front door when you look at the cabin from the lakeside.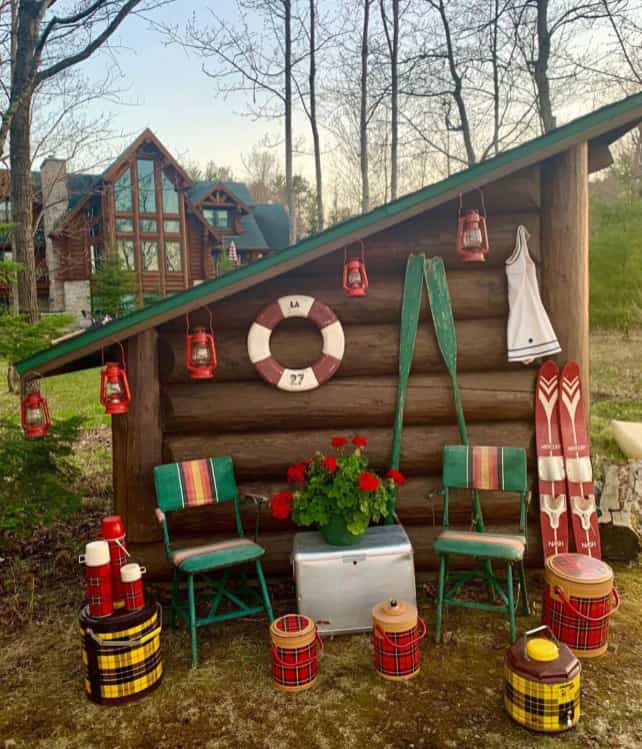 Want to get daily encouragement? SUBSCRIBE HERE so you don't miss any posts!
Get the Look


FOLLOW ALONG
Instagram ~ Facebook ~ Pinterest ~ Twitter ~ YouTube ~ Tik Tok ~ Liketoknow.it