I'm so excited to be participating in another Bloggers' Best Summer Home Tour with 29 other home decor bloggers. Thank you so much to my friend Kelly of The Tattered Pew for organizing all the inspiration and including me in it!
You'll find links to all the blogs participating at the end of this post.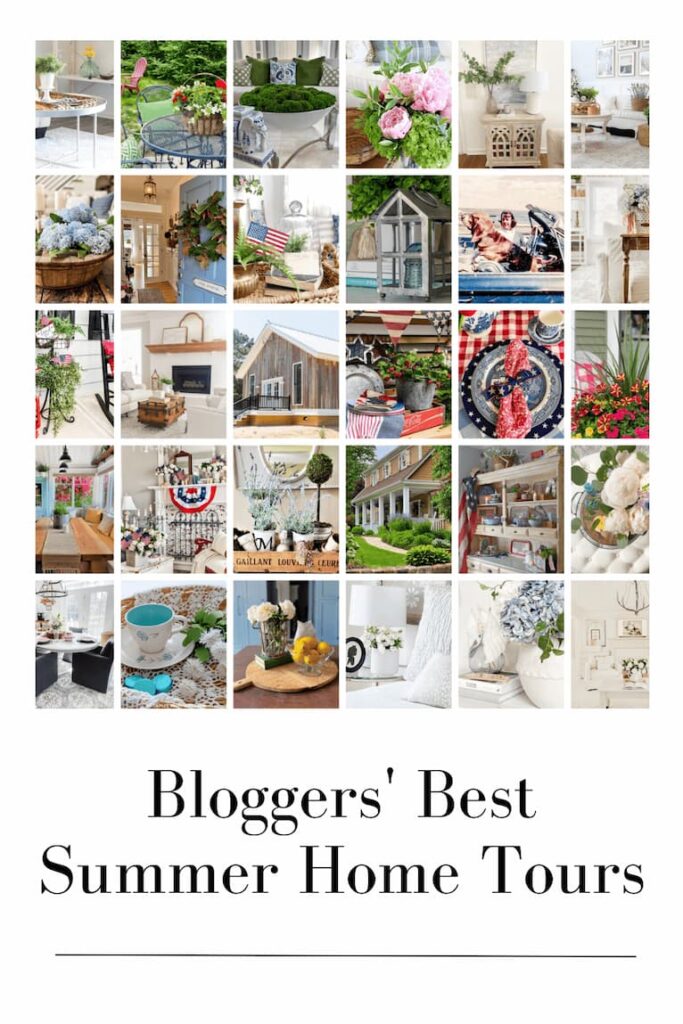 If you are following the tour in order then you just came over from one of my favorite blogs, Peacock Ridge Farm! Renea shares so much inspiration from her lakeside cottage on this tour.
You are now getting a tour of another lakeside home, our cabin in The Northwoods of Wisconsin. I'm excited to share with you our outdoor spaces where we spend so much time all Summer long.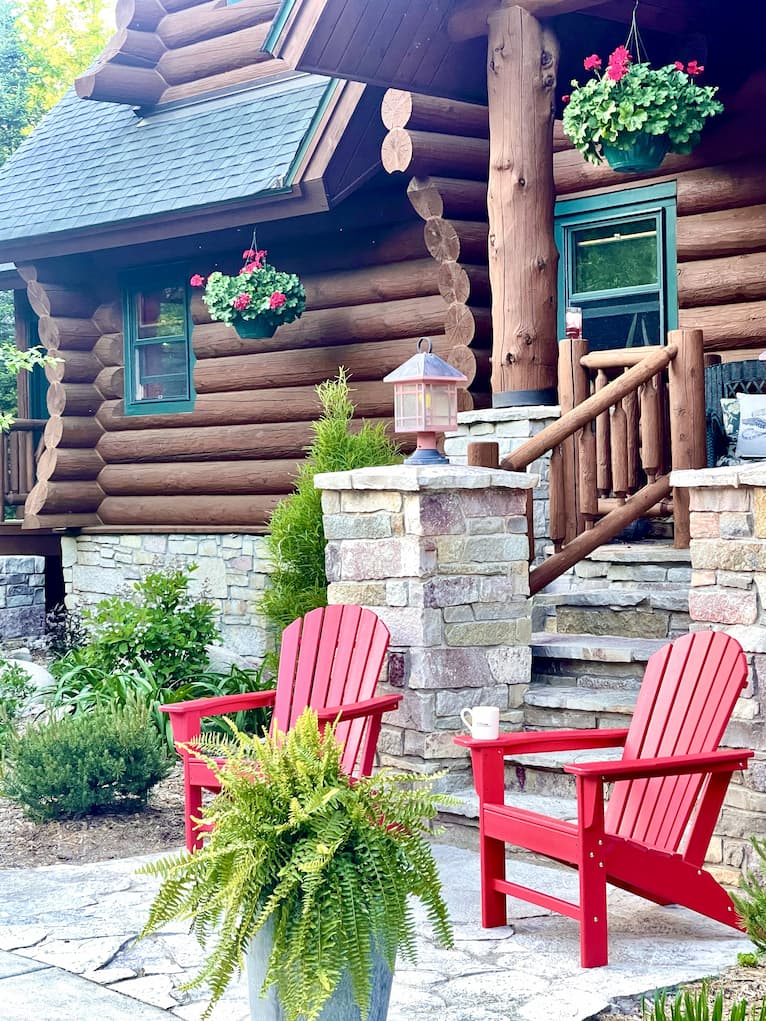 The Driveway
It may seem weird to include the driveway in our outdoor spaces, but we spend a lot of time out here. In my recent post, How to Give Your Home Curb Appeal, I share about how our house, garage and guest house are laid out on one side of the circular driveway to compliment each other.
My husband keeps a grill under the covered porch of the guest house and uses it several nights a week. The kids play basketball, four square, whiffle ball and throw bags (corn hole) on the driveway while he cooks.
I have a little table by the grill where we can enjoy appetizers and conversation.
Groupings of red Adirondack chairs are set around the front yard.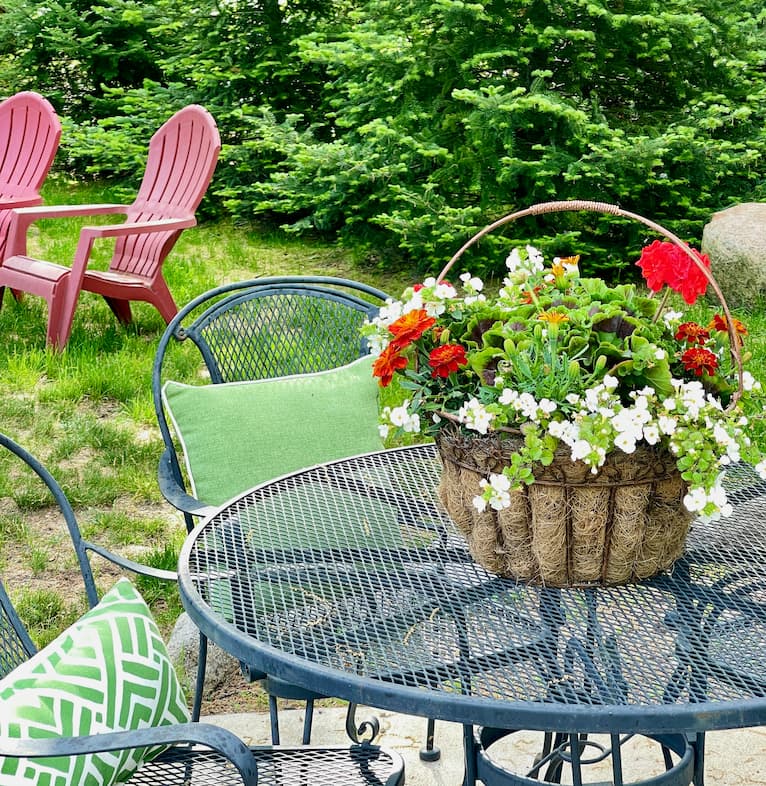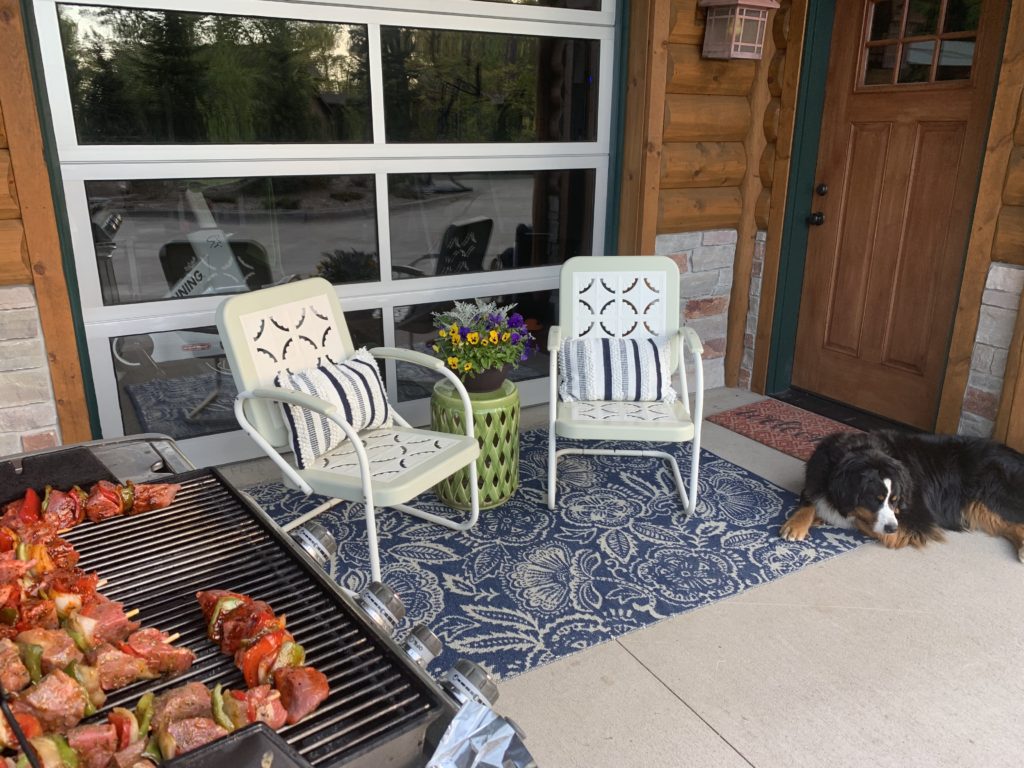 The Back Patio
We spend a lot of time on the back patio too. It was a fun remodeling project a few years ago. I wrote about it in THIS POST and THIS POST.
We love gathering in this outdoor living room surrounded by the woods and enjoying views of the lake.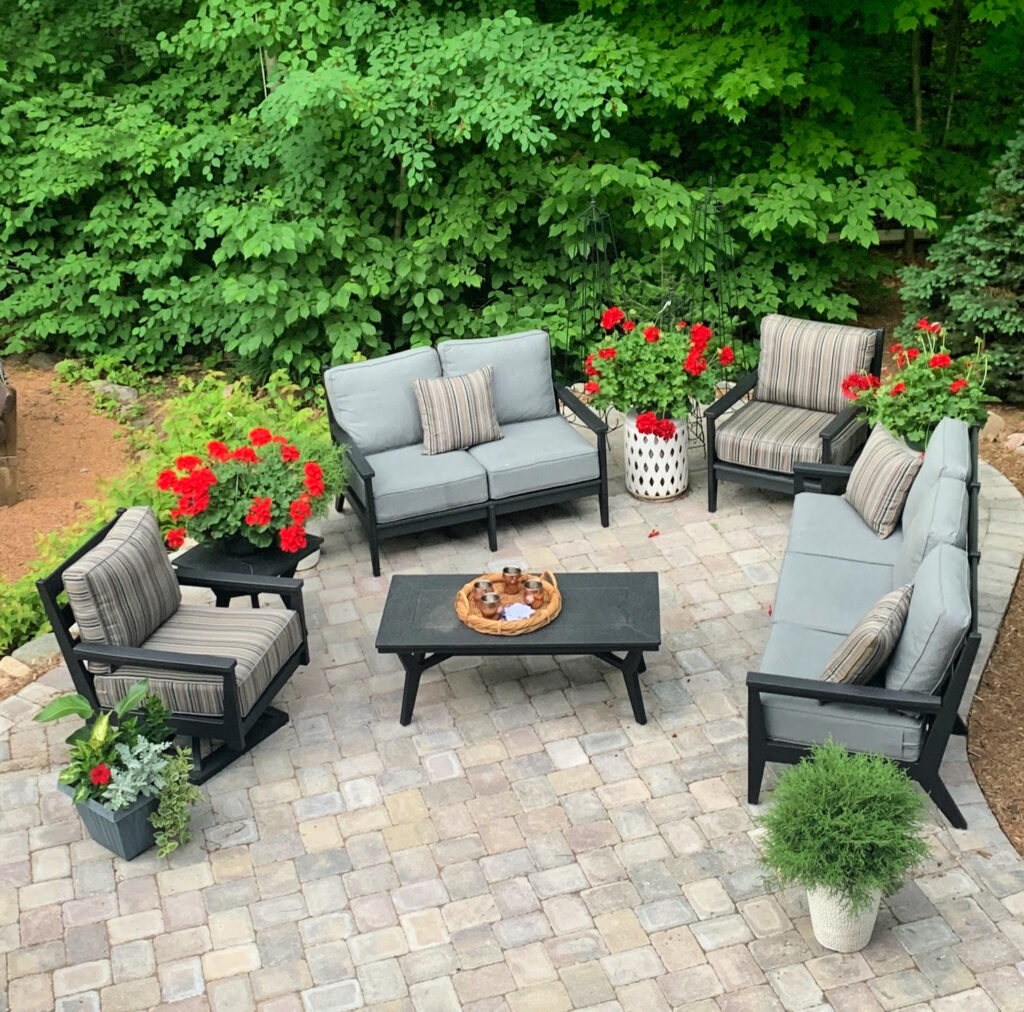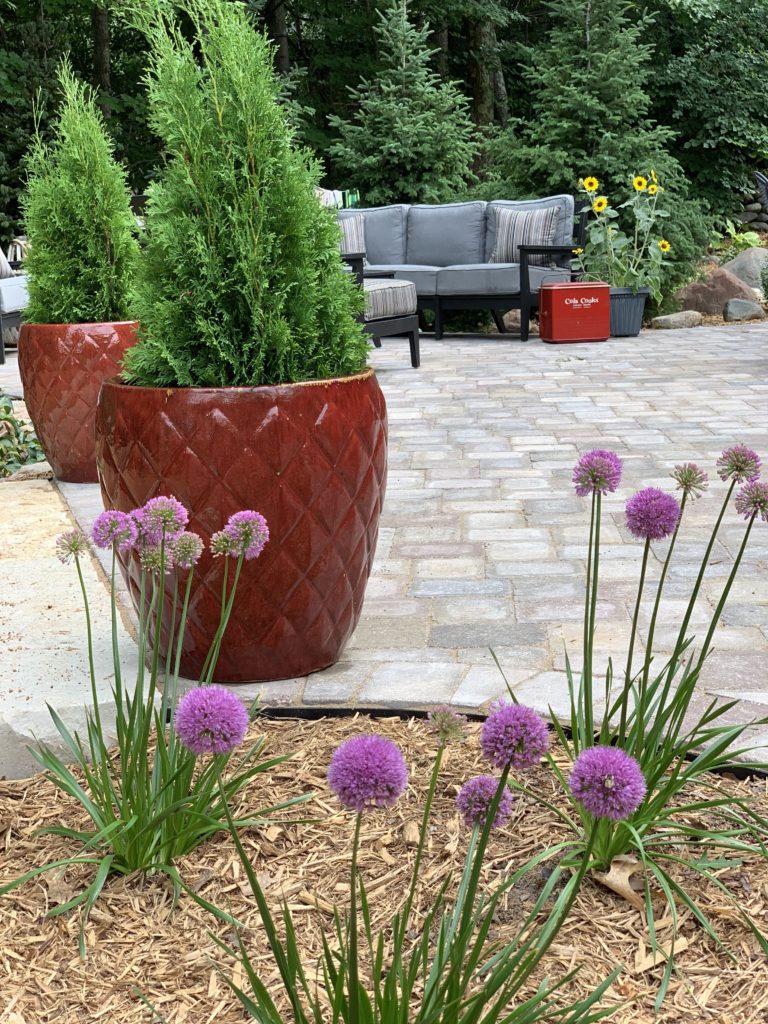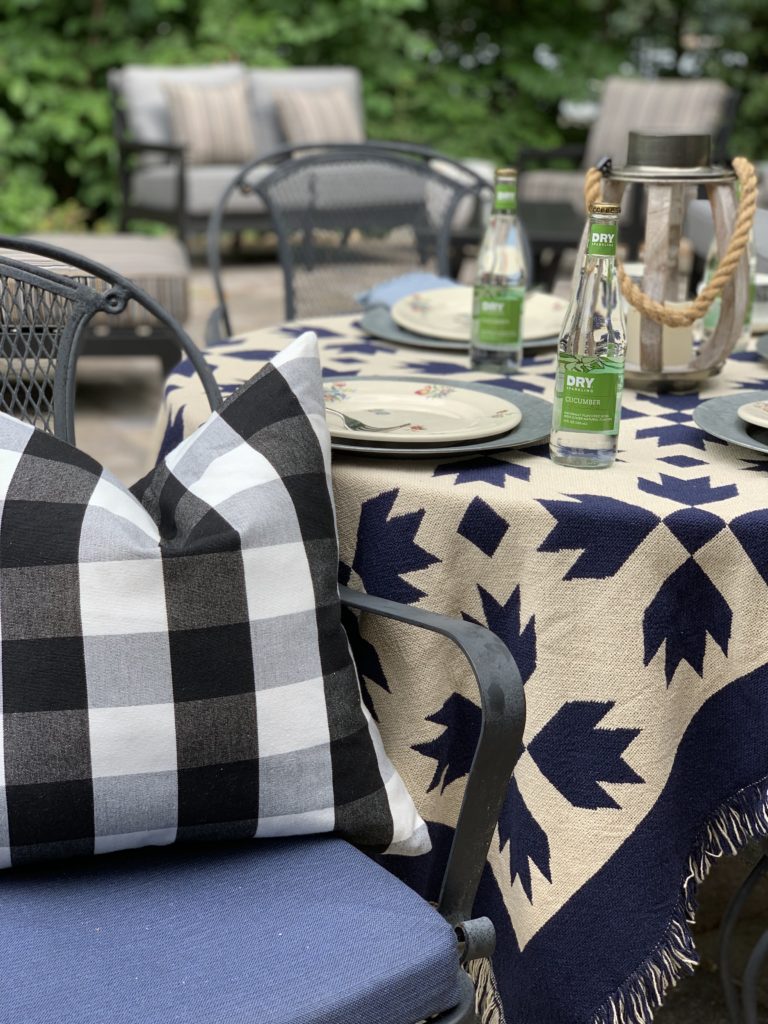 It's such a great spot to eat as well. Brian has a grill on the back here on the patio too. It's built inside the bar.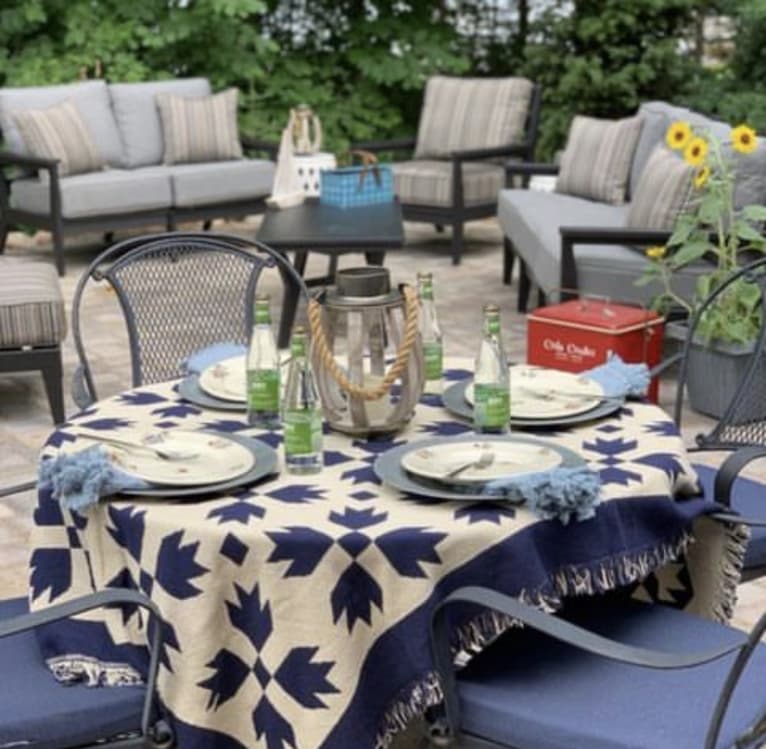 I love to decorate outside spaces just about as much as inside and I approach this decorating the same way with spaces where family and friends want to linger longer, having conversations where they can reconnect.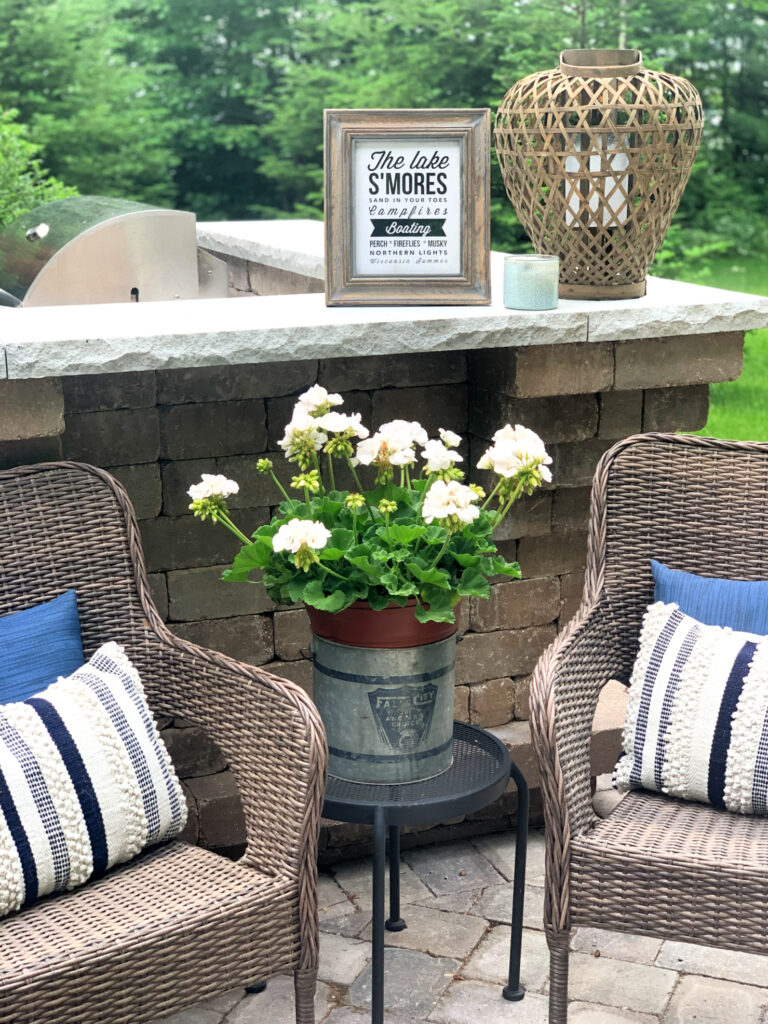 We added a privacy curtain around the outdoor shower. It was so easy to do. Here's our tutorial in THIS POST.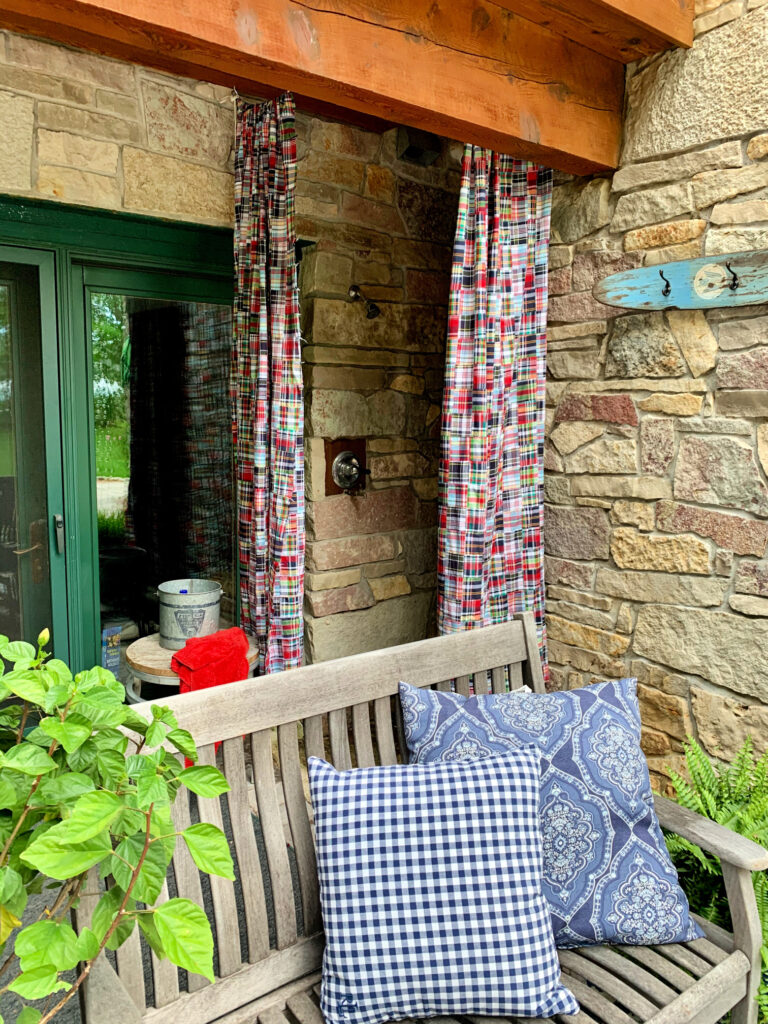 I love to set up self serve beverage stations so everyone can make drinks as they need them.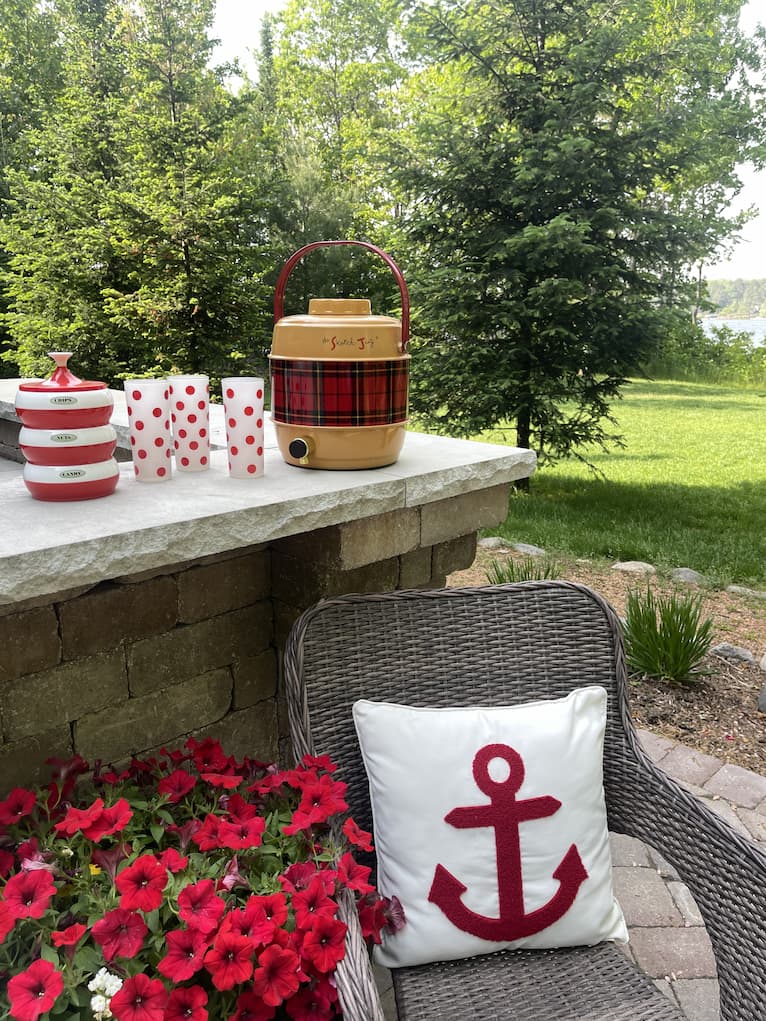 Did you know Skotch Kooler is back? We interviewed the owners on my podcast, The Cabincast too. It's a great American innovation story!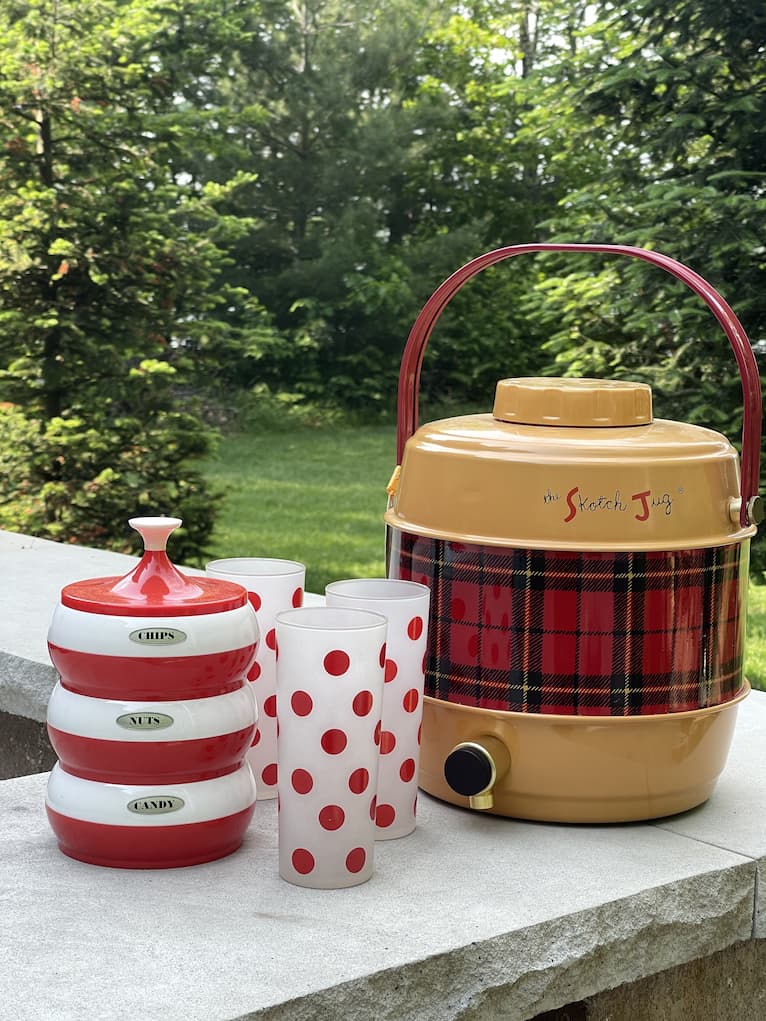 If you love vintage and antique pieces as much as I do, you'll love shopping at White Arrows Home, my storefront in Minocqua, Wisconsin. We are open every day, except Sunday and also carry everything online so you can shop from anywhere.
The Back Porch
Honestly it's usually hard to decide where to sit when I'm reading, working, and entertaining. The back porch is anther fun place to be.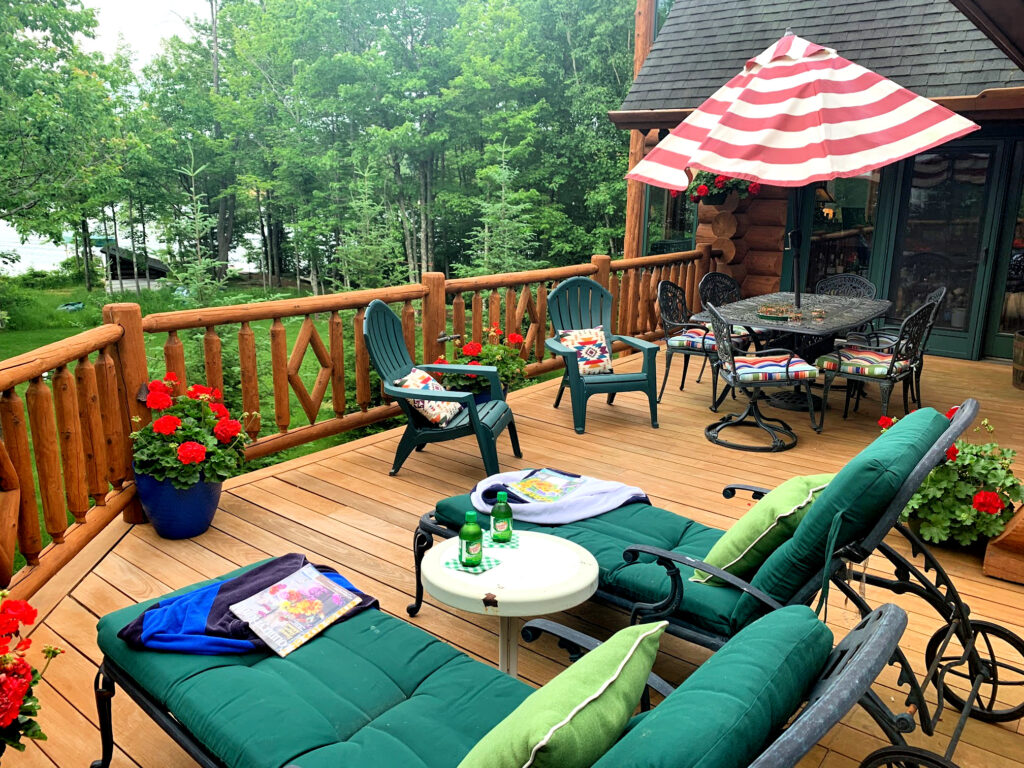 After a day on the lake, but before dinner, I always like to put out some snacks or charcuterie board.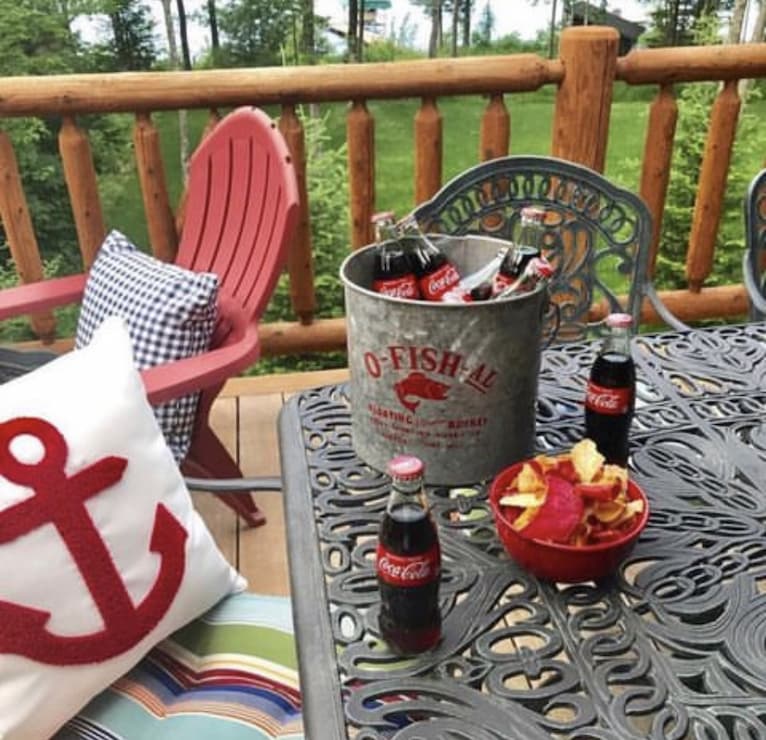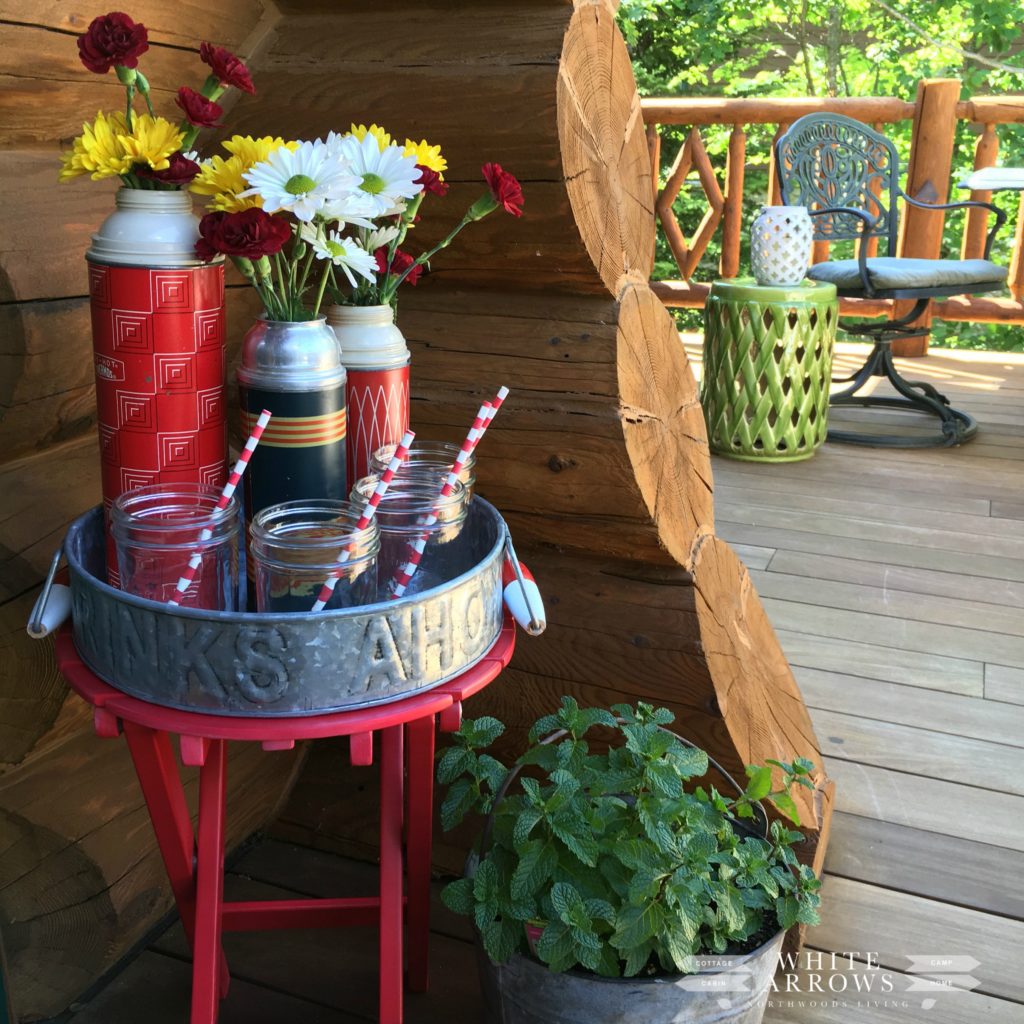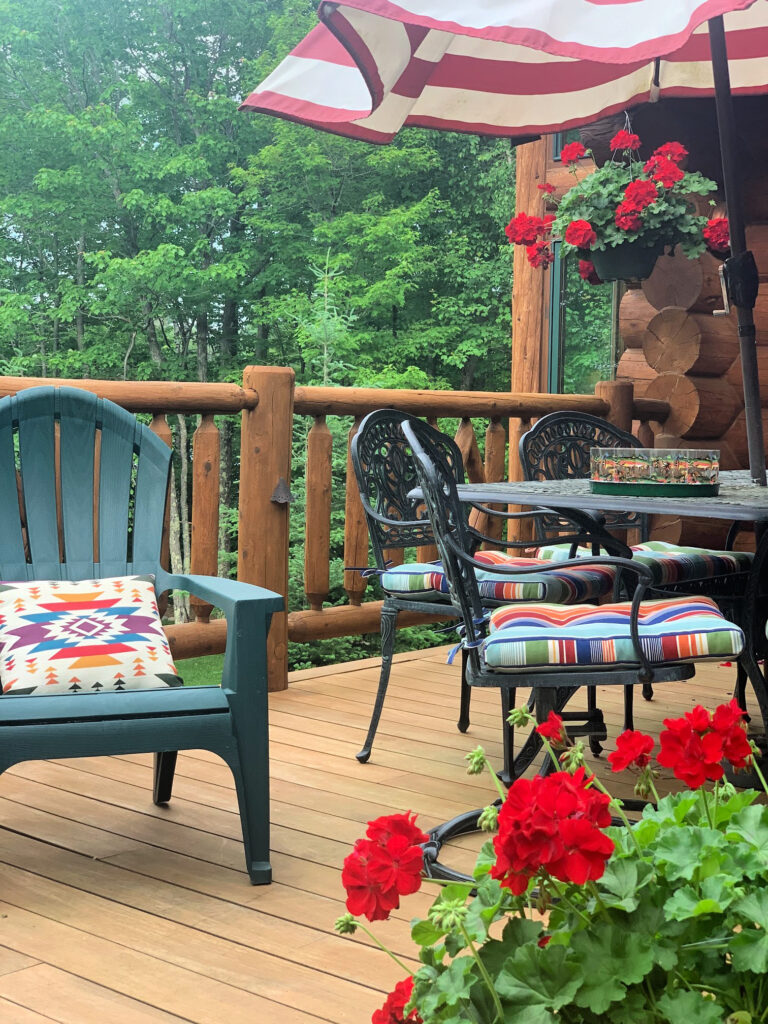 Relaxing with a stack of magazines is one of my favorite Summer Hobbies!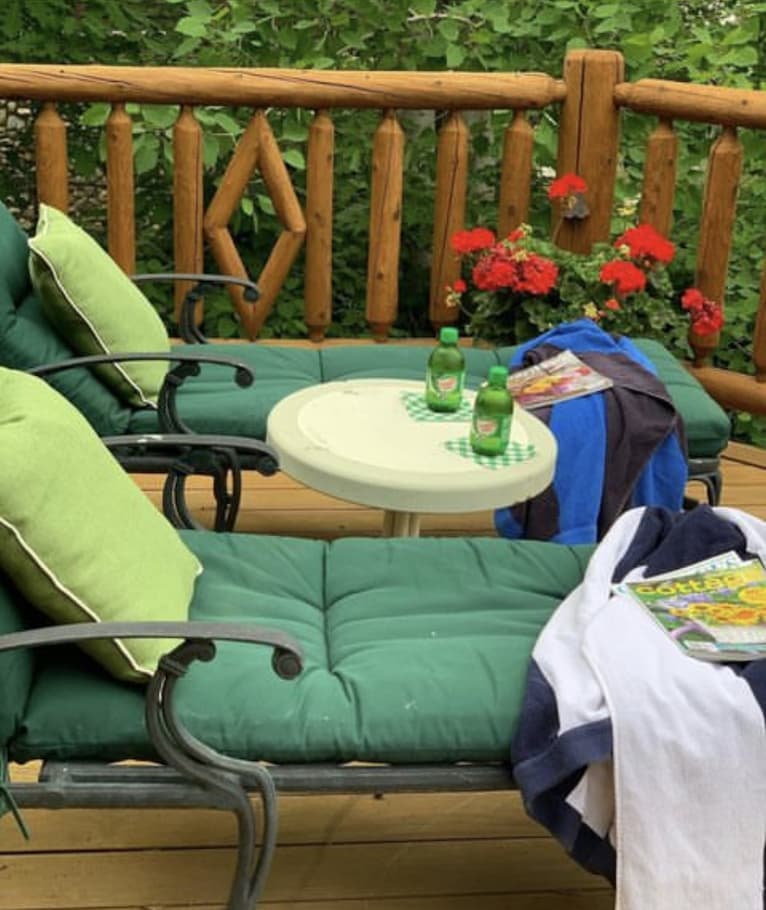 Bedroom Porch
The Dock
Another favorite spot in The Summer is to hang out down on the dock. We enjoy it when we are watching the kids swim, reading and waving at boaters going by. It's the perfect spot for a glass of wine.
And my Skotch Kooler hard tote holds the wine bottles and keeps them chilled in style.
You can see more of how I decorate with Skotch Koolers, new and vintage, in THIS POST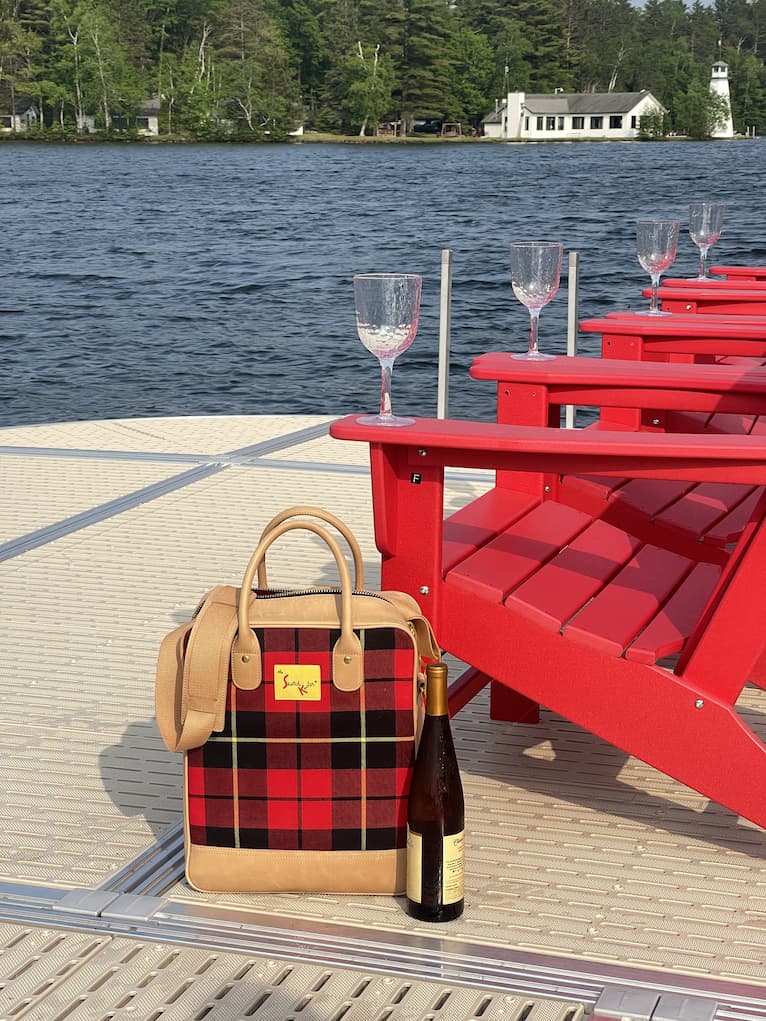 One year I decorated for a Patriotic picnic.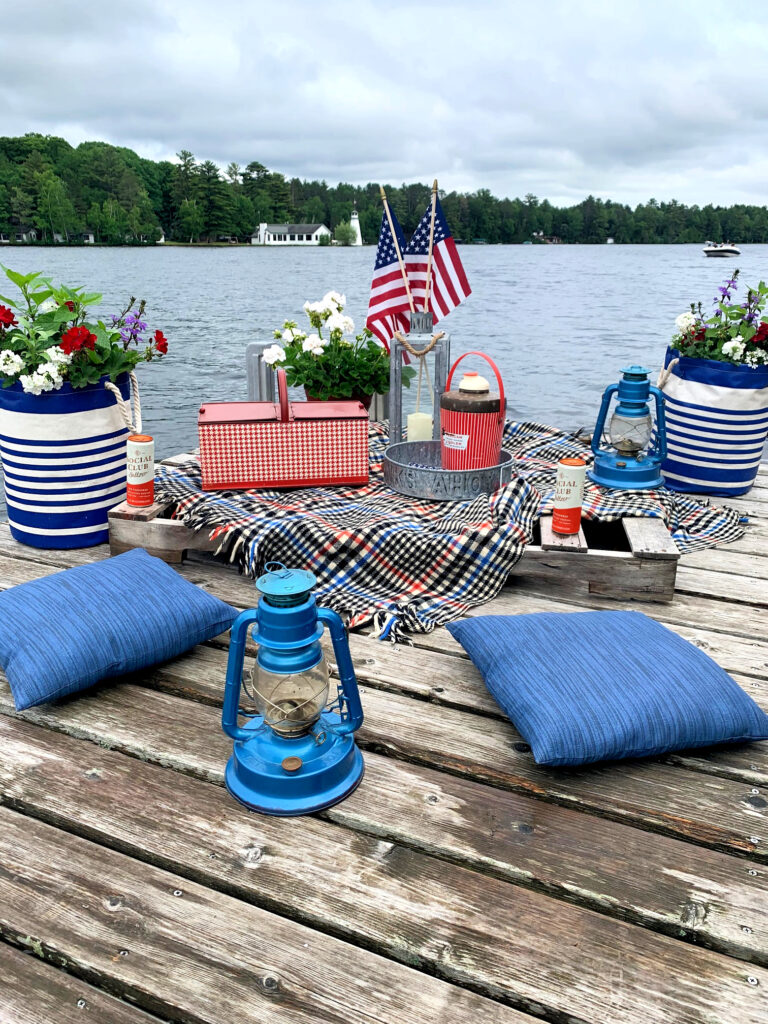 Another time I had a tropical party.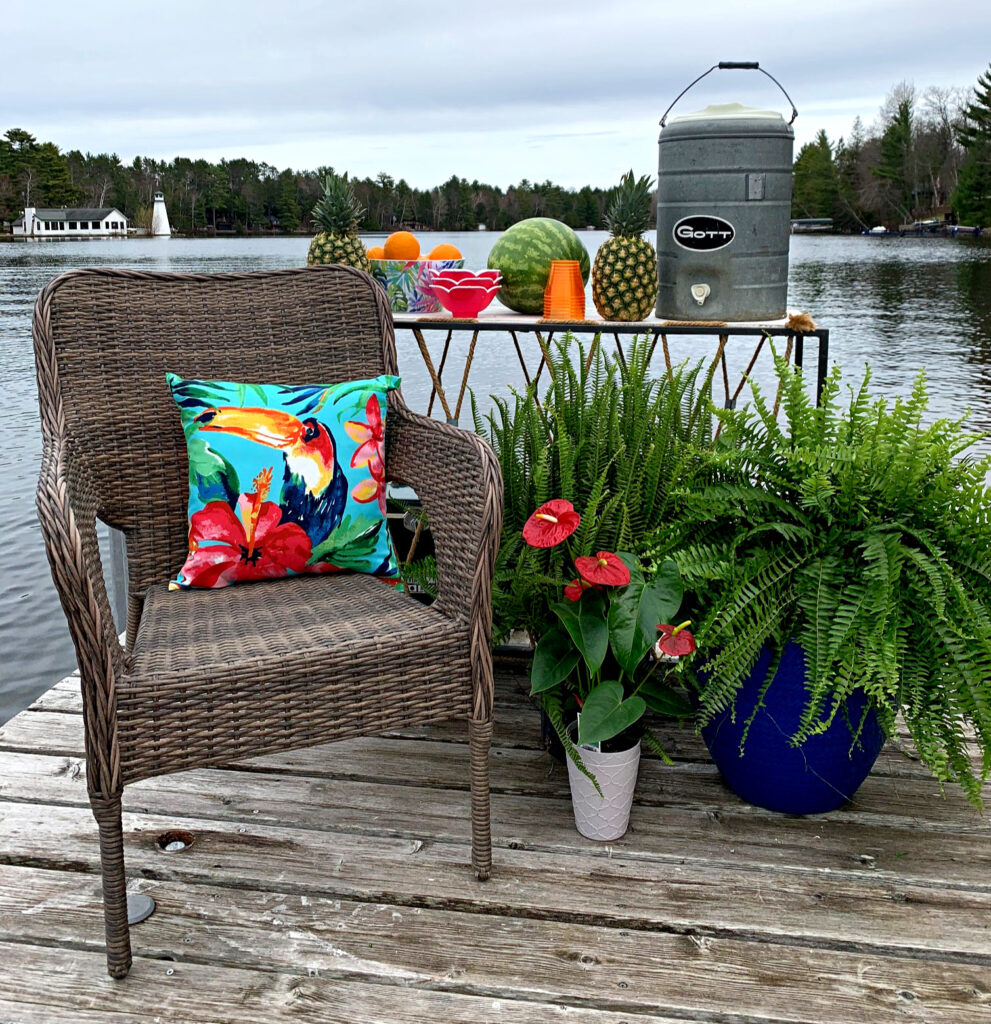 And it's fun to pull out all the red, whites and blues.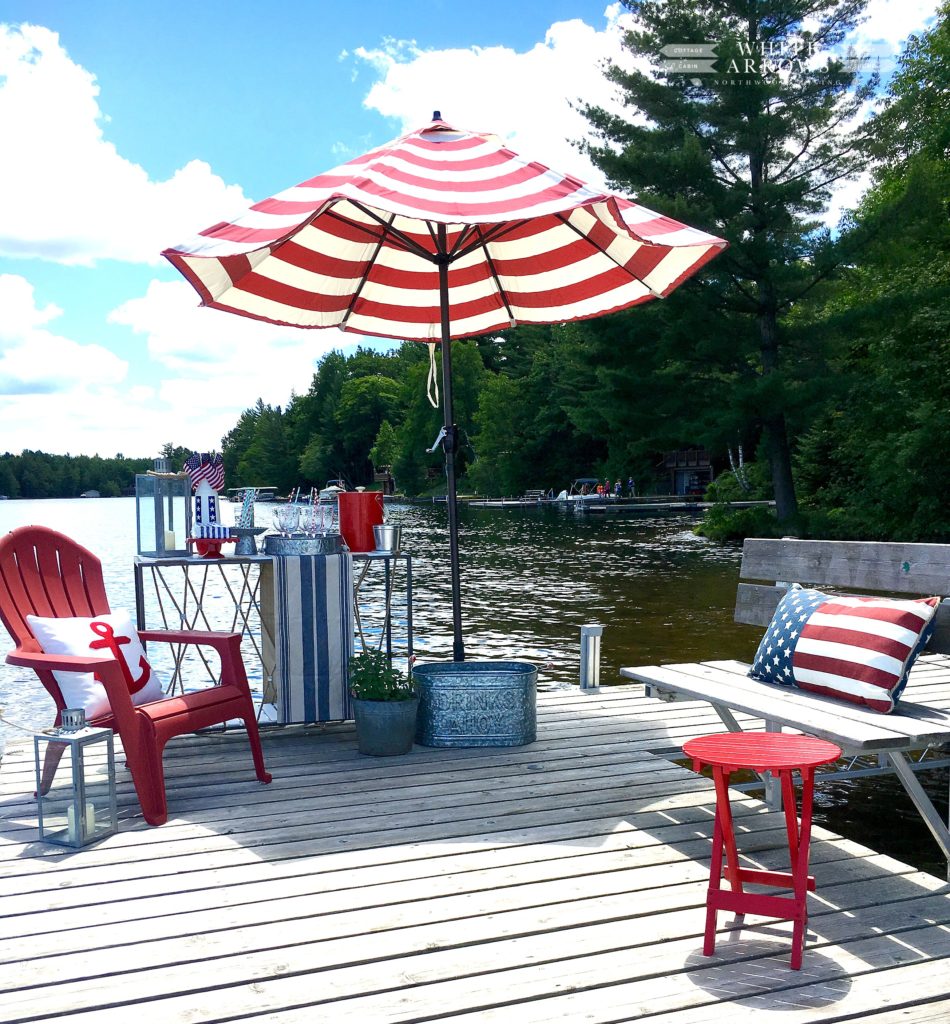 And sometimes it's fun to just come down on the dock right away in the morning with my coffee or in the evenings with a glass of wine.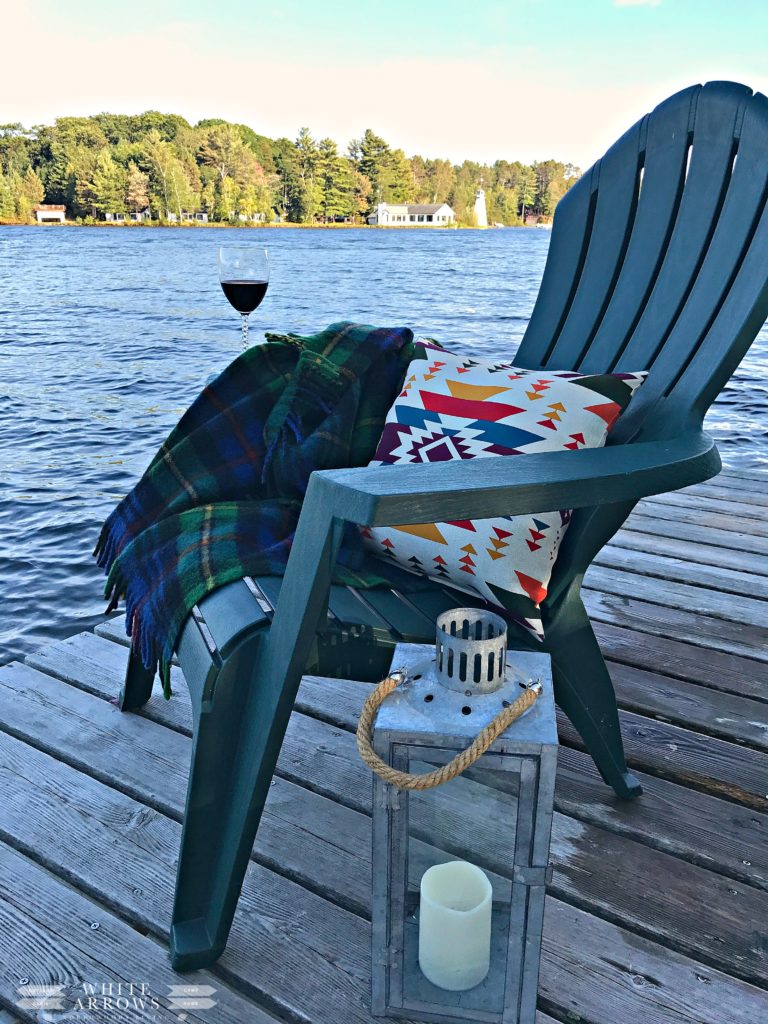 Thanks so much for coming to visit! Next up on the tour, you are headed over to my friend Pasha's at Pasha Is Home. Her blog inspires me so much and I know you will love it too!
Take the Tour
Bloggers' Best Summer Home Tours
This week I am joining some of my blogging friends for the Bloggers' Best Summer Home Tours. Thirty talented and creative women will be opening their homes up for you to tour all week long. You can visit each summer home tour by clicking the links below.
Monday's Tours


The Tattered Pew / Cottage On Bunker Hill / She Gave It A Go
Cottage In The Mitten / Stonegable / My Wee Abode
Tuesday's Tours


Thistle Key Lane / Midwest Life & Style / White Lilac Farmhouse
My Thrift Store Addiction / Willow Bloom Home Blog / Dabbling and Decorating
Wednesday's Tours


Bricks 'n Blooms /Amy Sadler Designs / Peacock Ridge Farm
White Arrows Home / Pasha Is Home / The Ponds Farmhouse
Thursday's Tours


Simply2Moms / Country Peony / Southern Home and Hospitality
Shiplap and Shells / Eleanor Rose Home / Cloches and Lavender
Friday's Tours


Le Cultivateur / Lora Bloomquist Create & Ponder / Noting Grace
My Family Thyme / Vintage and Grace Living / County Road 407
FOLLOW ALONG
Instagram ~ Facebook ~ Pinterest ~ Twitter ~ YouTube ~ Tik Tok ~ Liketoknow.it